Free eCommerce FAQ Generator v1.0
Why Do You Need FAQ in your Store?
Making a FAQ page is a smart choice. After all, you're not going to answer the same questions over and over again.

In fact, big brands like WhatsApp, Amazon, and Walmart have it.
Just in case you're wondering why everyone keeps a FAQ, keep reading and move onto the next section:
Why Do We Need FAQ in Our Store?
A FAQ page addresses the possible questions, concerns, and objections with well-detailed answers for customer queries; both basic and advanced.
It provides additional information about the business and can work as the 1st point of contact for the customers.
It also acts as a guide and a trust-builder for the customers around the site and convinces them to buy more.
Over time, the FAQ section holds great potential to improve the ranking performance.
Besides, it includes an overview of your business and its support system to save time for customers and your customer team.
How Can We Add FAQ to Your Store?
Our FAQ generator v1.0 allows you to avoid the headache of coding. 
You can simply use the schema of HTML codes and copy the entire FAQ sheet. 
With this tool, you can create as many effective questions as needed on your Shopify store. 
Now whenever you add FAQs to your store, you should remember the following things: 
Add it to the menu
Define your questions and write clear answers
Include a search bar
Categorize your questions
Link to the relevant posts
How Does the FAQ eCommerce Generator v1.0 Works?
Step 1: Visit Free eCommerce FAQ Generator v1.0.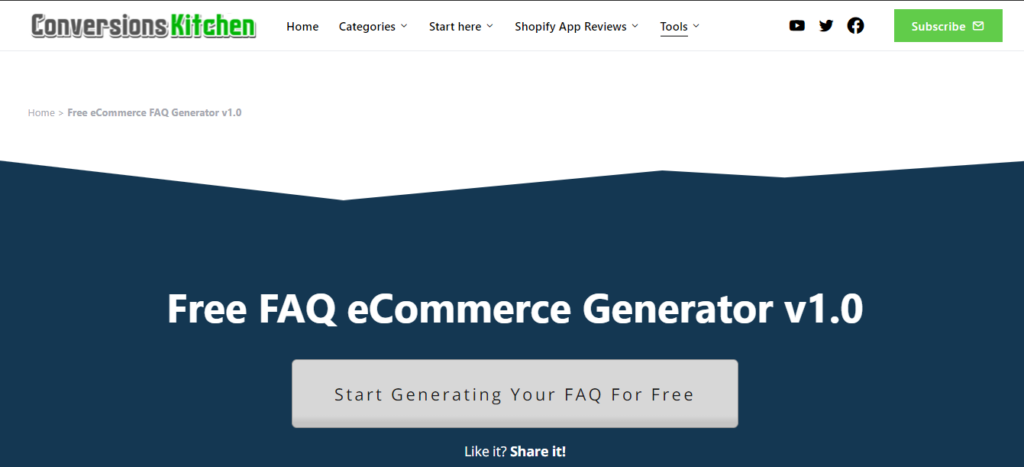 Step 2: Click on the white button – Start Generating Your FAQ for Free.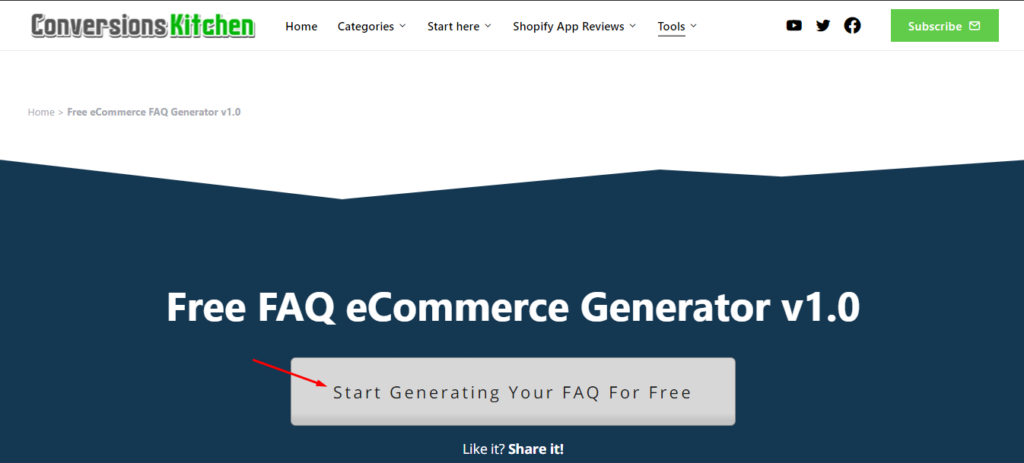 Step 3: You get 2 options to generate FAQ page for your eCommerce business:
Generate FAQ from Template

Add More Questions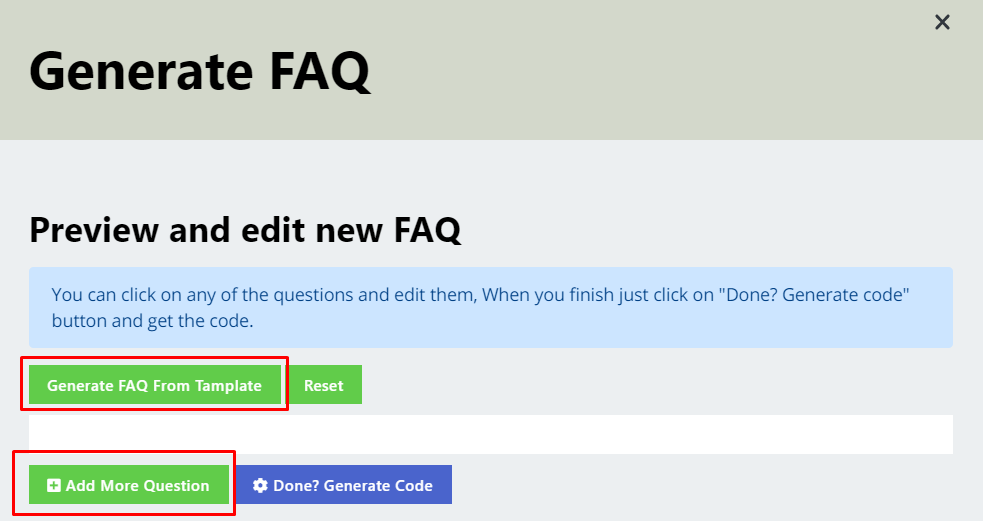 Step 4: When you click on Generate FAQ from Template, you get a set of questions that you can just edit and use.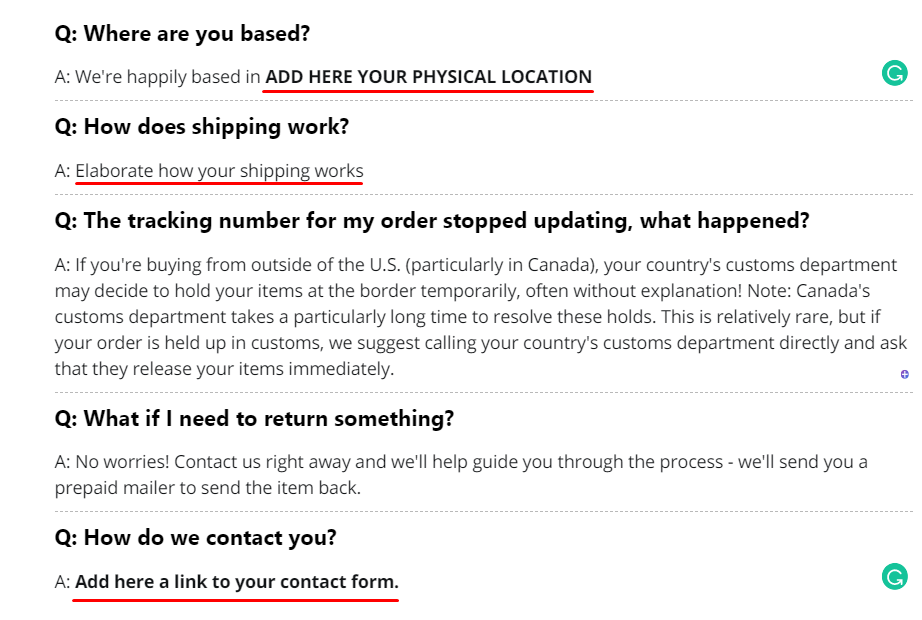 Step 5: The Add more question button can be used in 2 ways:
Click on Generate FAQ from Template and then Add More Questions to add some of your own questions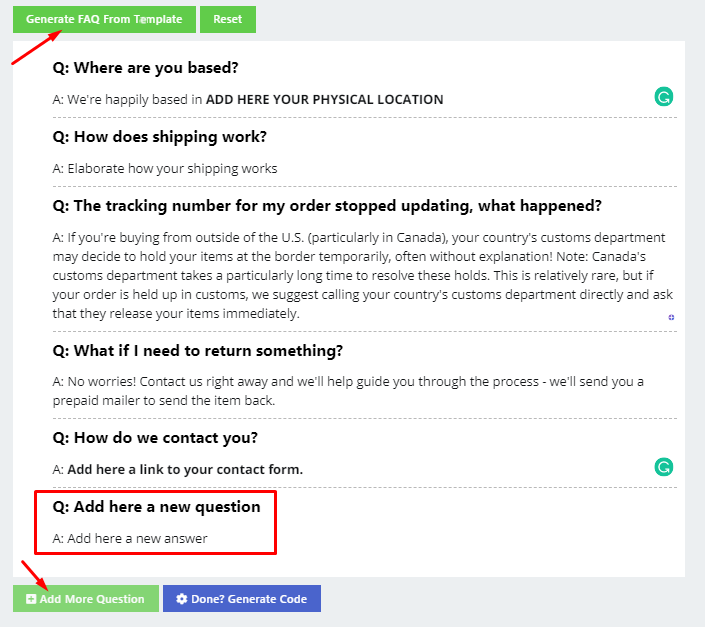 Start creating your own FAQ page from scratch by clicking on

 Add More Questions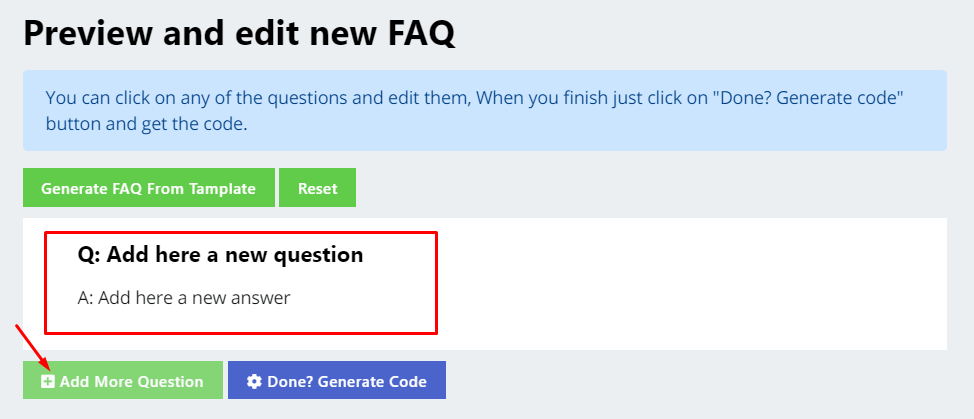 Step 6: When you're done with your FAQ page, click on Done? Generate Code Button to generate a code, which will be copied and pasted on your shop's FAQ page.

Click on Copy To Clipboard to copy the code.
There you go, now all your customer queries will be solved!
What Questions Should You Answer for Your Customers?
In the FAQ page, you need to enlist a series of questions and answer them from the customer's point of view.
It's more like going to a shop and asking the seller about the product or service, its benefits, prices, shipping, or refund.
The most common questions the customers ask can be narrowed down as follows:
What is the return policy?

How can I receive the refund?

Can I make changes to the order I've already placed?
Does the product include any additional taxes or duties?

When will I receive the product?

What should I do if I receive a damaged product?

What should I do if I never receive my product?
Where is your business located?

How do you make your products?

Where do you get your materials from?

How should I contact you if my questions are not answered here?
What Topics the FAQ Should Cover?
The FAQ section should be designed to reassure a few factors for the customers so that they find your business a more reliable one.
Some of these factors include:
The FAQ should address the common questions about the safety and security of the products you're selling.
For example, a brand like Bootea addresses concerns for the detox product line when used during pregnancy.
The FAQ should answer how the user should get started with the product.
It should also address if there's an issue the customer might face while using it for the first time.
Customers tend to ask for the product features quite often. So the FAQ should answer some of the core features that the customer looks for.
In the FAQ, emphasize the promise to increase trustability.
For example, cosmetic brands talk about their cruelty-free products to make a promise and gain more sales.
Where to Put the FAQ Page?
There's no straightforward answer to where you can put your FAQs, it mostly depends on your business, its market, and the customers.
As far as we know, it should be placed in such a section where users can easily access.
The most common places to link the FAQ Page for your product-based businesses are as follows:
About Us

Website footer

Integrated product page
Does FAQ Page Boost Your SEO?
The FAQ focuses on helping customers make an educated decision while buying your product. Google highly values this strategy.
Therefore, it can improve SEO rankings. Other than this, you can also use the FAQ as the sitemap and incorporate the keywords into an on-page copy.
The FAQ section could also be leveraged by including the long-tail keywords that the customers search for.
The structured data, optimized title, and meta descriptions used in the FAQ greatly help the page to rank higher in the SERP (Search engine result pages).
As a result, your website gets more and more organic traffic and the business eventually gets better than yesterday.