The pandemic has made a significant impact on online businesses and has made many people set up Shopify store.
I'm guessing you've already heard of the platform and probably also heard something about dropshipping, and you want to learn more.
The eCommerce space has grown from $1.3 trillion dollars to $3.5 trillion since 2014. So by the end of this year, it's projected to reach $4.97 dollars. And Shopify is the most preferred platform for creating online stores as it runs over 1,000,000 businesses in 175 different countries. It's sick, isn't it?
Shopify has all kinds of users – from small, unknown startups to big corporations like Nestle, Pepsi, and Tesla Motors.
It truly is the best place to start your online business. So let's just see how we can leverage it to our advantage.
Benefits of Setting Up A Shopify Store 2021
Set up Shopify Store Easily
It's almost effortless to create a store on Shopify. It doesn't take a lot of technical knowledge or skills, just a few simple steps that you have to follow. After that, you will just need to look up some online guide on how to import a product, create a domain, begin selling, and you're good to go.
Different Price Options to Set up Shopify Store
Whenever you begin on Shopify, you want to have a free trial for 14 days. There are three subscription plans available on the platform, along with a fourth, which is a special version that you want to skip for now.
In terms of growth, the number of people working on them, and the current customer base, each of these plans is created to suit different businesses. That makes it possible for every type of company to use Shopify as their online store platform.
Great Design Customization
The incredibly cool thing about using software like Shopify for creating your website is the fact that even though you don't have to code, you can still create an online store that looks extremely professional and can fit any type of business.
Shopify offers a couple of free themes you can choose from, along with 60+ paid ones that you can customize for the goals you have. By the way, you can change the color scheme, edit the photos you upload, and optimize the overall user experience.

Integration with third-party apps
Setting up a Shopify store is made even easier with third-party applications that can be easily integrated. You may not believe this but there's literally an app for everything – from turning your store into a dropshipping one to payment applications, SEO-specific tools, and much more.
Therefore, it enables you to get different options into your site without having to code or do anything on top.
Useful SEO and Marketing tools
One of the most difficult things is to make your brand popular. It's fairly easy to create an online store and to get products in it but for your venture to be profitable, you have to find a client base that wants whatever you have.
The cool thing about Shopify is that it has an SEO feature integrated even in its most basic package. Yes, this allows you to make your site rank higher in search engine results. And guess what? This is not everything as you can also use the platform's analytic tools to track and measure progress.
Some of the most valuable tools in Shopify are related to e-mail marketing, popup, product reviews, etc.
Additionally, with some Shopify plans, you can create a blog tied to your website, which is a great tactic to help you bring traffic and build a customer base.
Awesome Customer Support
A thing you always want to look for with any platform is if they have reliable customer service. This can be a key for you, especially when you're stuck while creating the website or if there's an error that needs urgent fixing.
Shopify's support works 24/7 and can be reached via three separate channels – mail, chat, and phone. Along with that, you have access to a bunch of articles that can give you a step-by-step solution to your problem.
How to Set Up Shopify Store – Step-by-Step Way!
Visit the page https://www.shopify.com/ and click on the "Start free trial" button in order to register.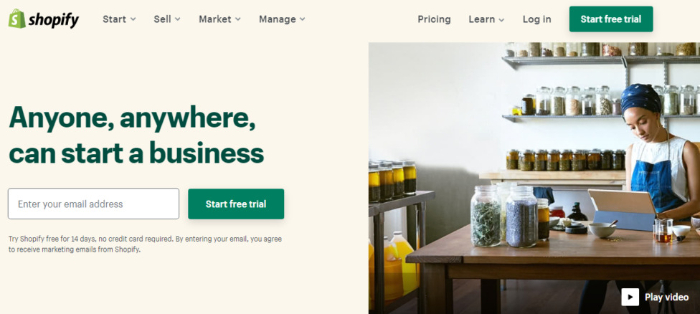 Enter the required information below and then click on "Create your store."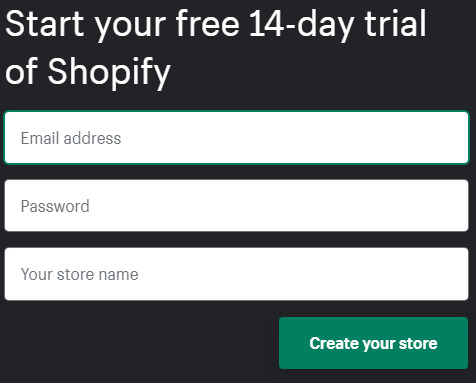 Fill in the details asked, or just skip it and move on by clicking on the "Next" button.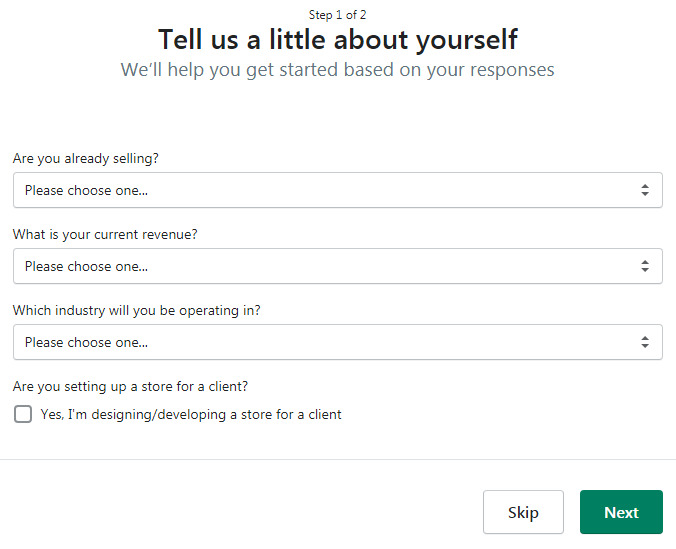 Fill in all the required fields on the next page and click on "Enter My Store" when you're done.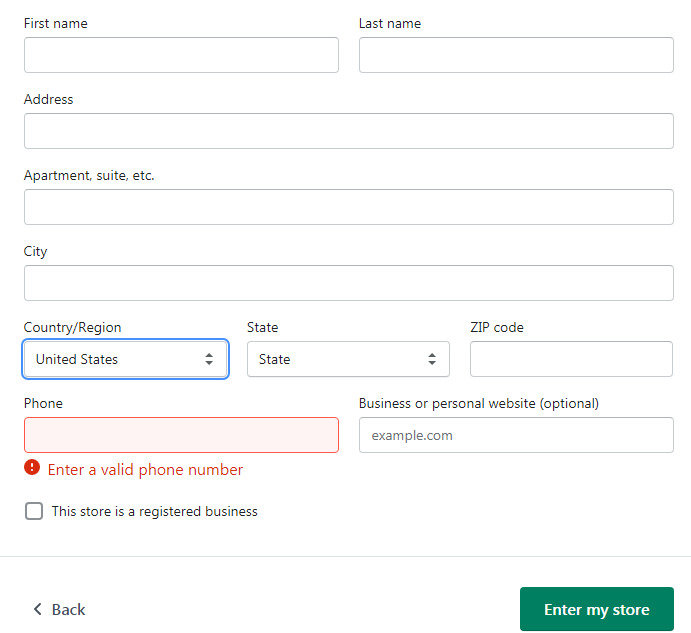 There you go, the first part is done. Now let's move on to setting up a domain for your store.
Set Up An Elegant Theme for Your Shopify Store
On your store's homepage, click on "Online Store" and then choose "Themes."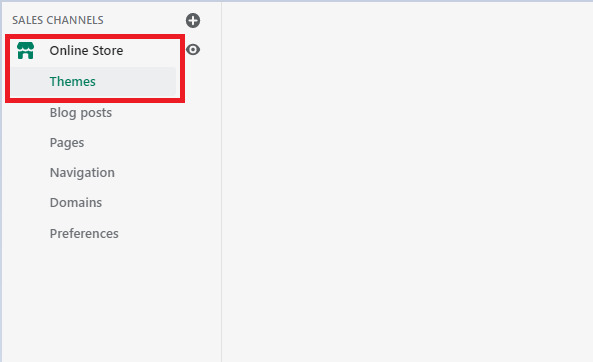 Can you see the theme library? Of course you can, go ahead and choose either a free theme or a paid one to make your store look great.

After picking one of the two options, select the design you want for your store.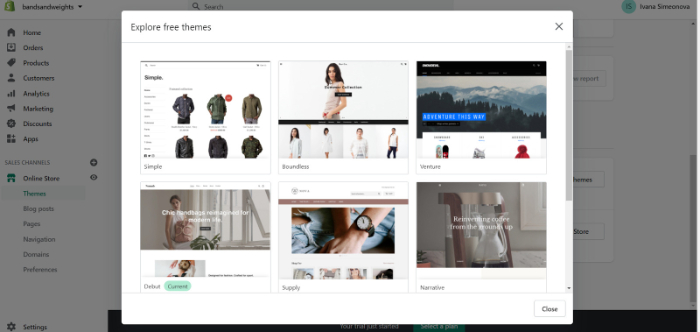 Now choose some customization options and click on "Add to theme library" so that it can be applied.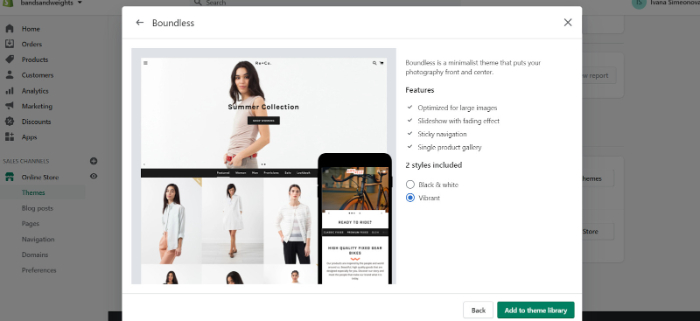 That's it. Now your theme has been applied to your store.
Add Products to Your Shopify Store
In order to add products to your store, you need to install a dropshipping app. You can do that by going to "Apps" from the homepage and clicking on "Visit the Shopify App Store."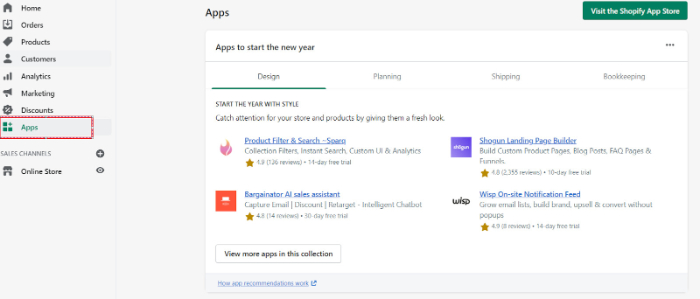 In the app store, type "Oberlo" in the search bar and click on "Enter."

Once you find "Oberlo," click on it and choose "Add App."

From there, complete the installation steps clicking on "Install App."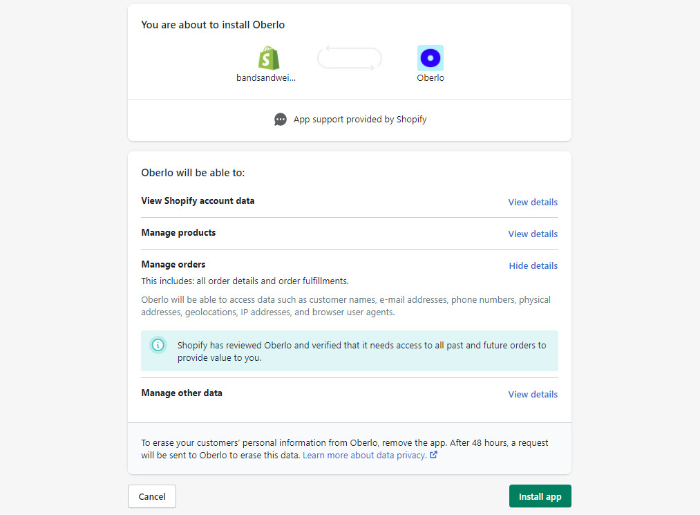 Create an account with "Oberlo," and once done, click on "Explore products."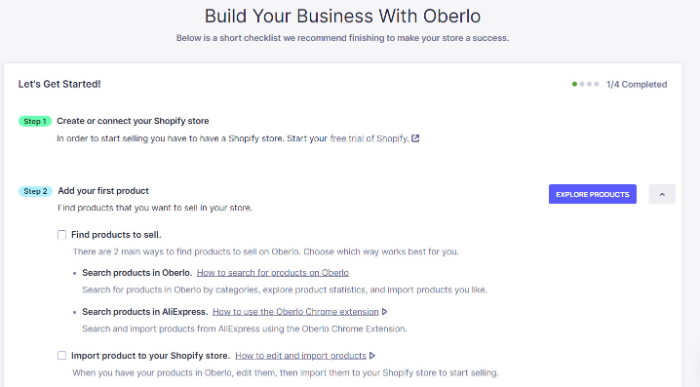 From there, search for the product that you want to sell and find it.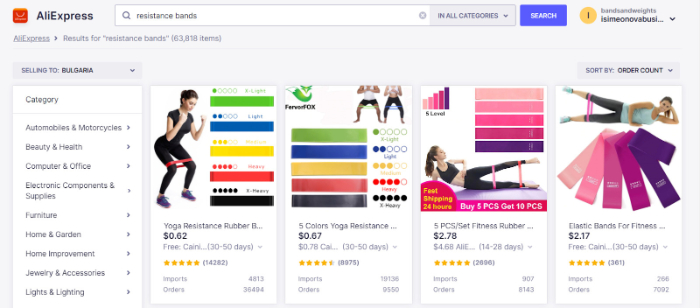 After opening the product, click on "Add to import list."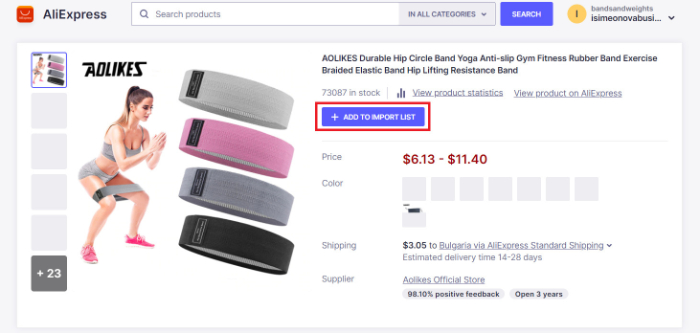 On "Oberlo" page, go to "Imports" and click on "Import to store."

After that, click on "Edit Product on Shopify."

Click on "Edit Product on Shopify." Once you do so, choose what image to use and which products to offer and then click on "Save."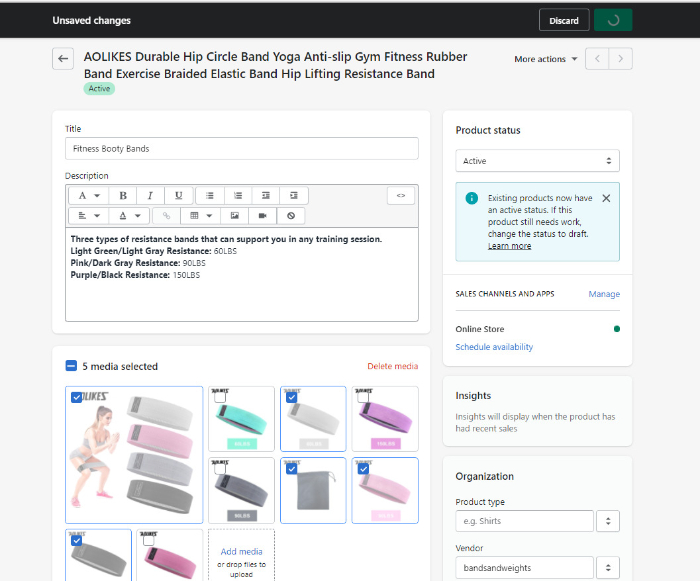 That's it. You have added your first product.
Setting Up Payment for Your Shopify Store
Go to "Settings" and from there choose "Payments"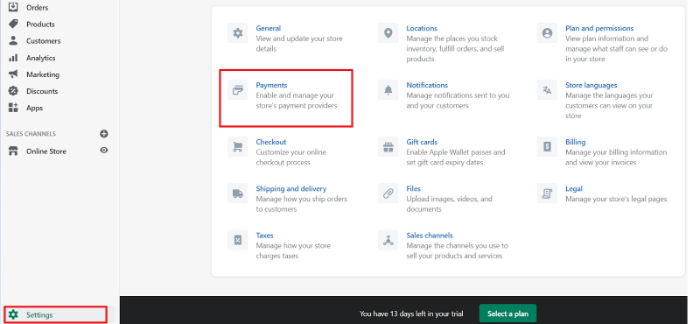 Choose the option that fits well and tie your account to it.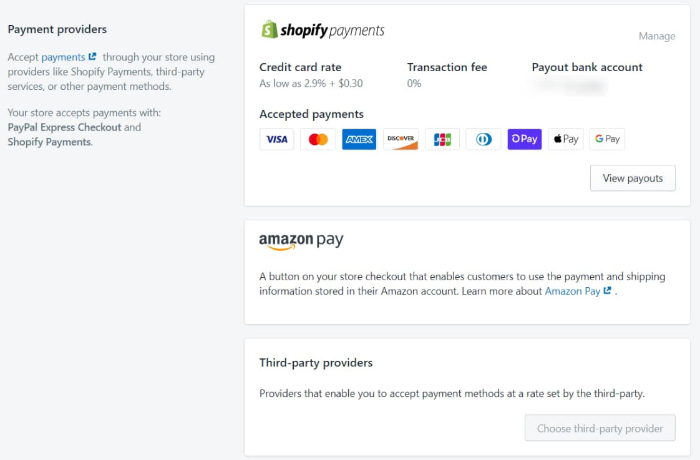 Setting Up Shipping and Delivery on Shopify
Go to "Settings" again but this time choose the "Shipping and delivery" tab.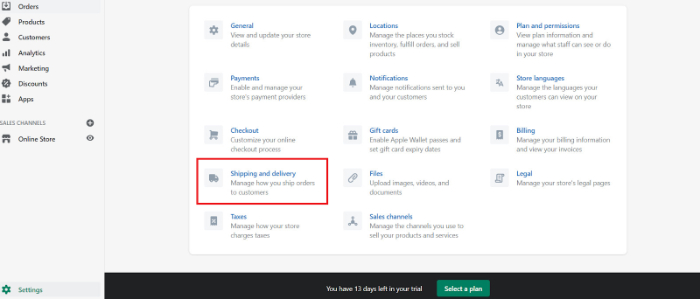 From there, you have to choose whether you want to have custom shipping rates or general ones. Here is the difference:
General shipping rates are for the same shipping rules for all of your products. To set this option, you don't have to struggle much as it comes by default.
Custom shipping rates are for having different rates for each product or region so that you can set up custom shipping profiles. These profiles have to be created manually and you can have up to 100 of them.
In order to set-up a general shipping rate, click on "Manage rates"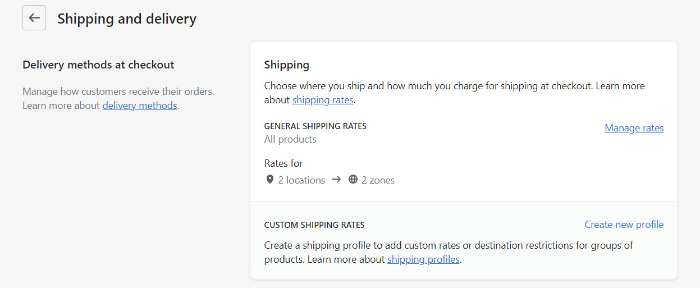 In the Shipping from section, choose "Oberlo."

After that, in the Shipping to section, get to set the shipping zones and rates to set things up accordingly.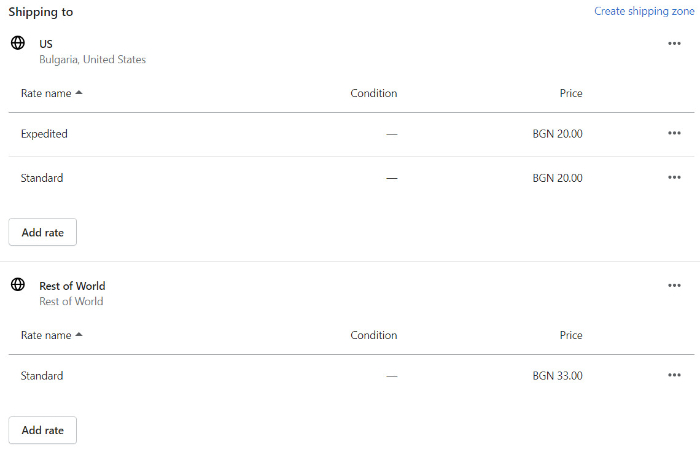 Is Using Shopify Store for Your Dropshipping Business Worth It?
Shopify is definitely worth it if you're looking into starting a dropshipping business. It's the holy grail of eCommerce platforms and that doesn't happen overnight.
Setting up a Shopify store is easy to do, fast, and the website is super reliable. More importantly, you can find a lot of support in the community of business owners. They can be of aid whenever you need guidance and help.
To go along with that, Shopify also offers fair prices and good scaling options so that you can skyrocket business without any worries.