Shopify Vs WooCommerce is a battle dragging for ages. Both of these platforms assist you in setting up a profitable, safe, and sustainable business in today's date so that you can turn your passion into a full-time business.
Shopify and WooCommerce are amongst the top eCommerce platforms that help you sell products online. I will tell you the features of both platforms, how to set them up, and most importantly, the benefits of each platform over the other one.
In the end, you will have a clear cut winner eCommerce platform for the kind of business you wanna start online!
Shopify Vs WooCommerce Overview – Which Is More Powerful?
Shopify Overview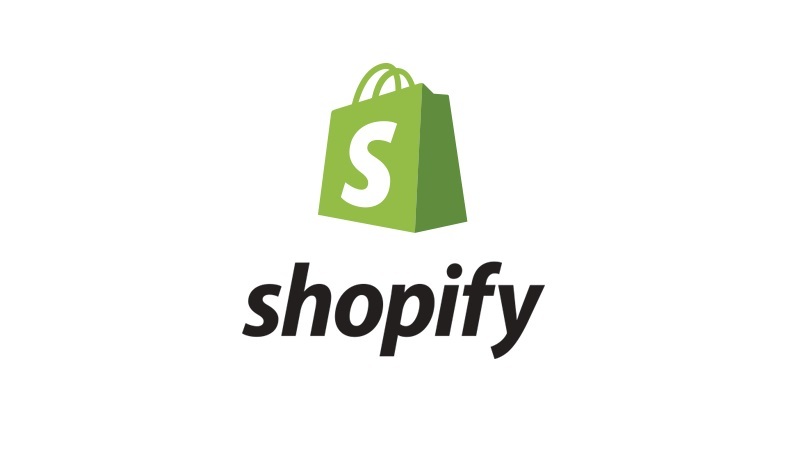 Shopify is an easy to use platform with high scalability potential. You can set your store in a few minutes and start selling products immediately. Let's have a look at what the platform has to offer:
Shopify Storefront
Storefront is equipped with 70+ pre-built templates
Customize each template to match your brand design and color
The templates are mobile-friendly
Customize your templates with simple drag-and-drop features along with HTML and CSS code snippets
Import an already bought domain name or buy a customized one from the Shopify storefront
Shopping Cart in Shopify
Get a free SSL certificate with your Shopify store
Get automatic shipping rates from all the major courier services worldwide
Numerous payment gateways to choose from
Set your own shipping rates for different products and countries
Store Management
Get your customer's info and order history in just a click
There are several app integrations that you can make use of to do a successful dropshipping business
Enable customer account creation at checkout to build a regular customer base for your store
Choose from several email templates and optimize your cart abandonment process
Marketing & SEO
Do search engine optimization on your store with several available apps and reach at the top of the search engines to increase your reach
Encourage your customers to leave product reviews and display them on your storefront to gain trust
Give discounts and boost your sales and conversions
An ability to sell all of your products on a Facebook business page
Products in Shopify
Manage your inventory with Shopify by tracking products sold and available
Offer different product variants such as sizes, colors, material, etc
Import/export products via CSV files if needed
Add product images on every product page so that customers can have a look
WooCommerce Overview
WooCommerce is a customizable, open-source eCommerce platform that lets you sell products on your WordPress built website with ease. All you wanna do is add the WooCommerce plugin, set it up, and get started with selling. There are numerous features you can use to your advantage in WooCommerce.

WooCommerce Storefront
Create and customize the homepage design, menus, and site structure of your storefront with a simple drag-and-drop builder
Get 140 region-specific payment gateways worldwide
The WooCommerce dashboard gives perfect store management, automatic tax calculation, and many other parameters
Marketing
Reward your customers for submitting a positive review of the product
Encourage visitors to buy products via content marketing, SEO, and upsells
Email your customers who abandon cart to reel them in again
Automate the whole email marketing process with powerful integrations
Selling And Enhancing
Sell any type of product you want on the store – physical or digital
Use integrations for store look enhancement, marketing, and other parameters
Get help from the support team and forum if you're stuck with any issue
Optimize and Grow
Lift your sales with Google product listings, promoting your store on social media channels, and email campaigns
Make your store recognized worldwide with multilingual content, prices, and currencies
Install Jetpack from WordPress and make your WooCommerce store secure
Shopify Vs WooCommerce Comparison
Benefits of Shopify
From setting up your store to scaling your business, Shopify is user-friendly and an easy to learn platform
The templates used in Shopify are SEO optimized, mobile responsive, and visually appealing
There are uncountable Shopify apps that can be integrated with your Shopify store to boost conversion ratio
High security and reliability on Shopify sets it apart from other eCommerce platforms
Shopify is a globally hosted eCommerce platform, therefore stores have super-fast loading speed even if your store is packed with features and products
Benefits of WooCommerce
Change the themes of your website quite easily with WooCommerce, whether free or paid
The wide range of 'Plugin' integrations helps you achieve any kind of custom functionality
Compatible with almost every 'WordPress' theme you wanna use
The platform doesn't require any prior eCommerce knowledge, you can just install and start learning the platform as you use it
The analytical aspect of WooCommerce is quite strong with its inbuilt analytics dashboard
WooCommerce Advantages Over Shopify
Website's Functionality
With WooCommerce, you don't have any limit on the product variants you can sell of a product. Shopify tends to put an upper cap of 100 variants per product and 3 total options for a product irrespective of any plan you choose.
Another thing to notice is the customization power. Being a WordPress tool, you can customize each and every page of your eCommerce website via CSS and HTML. On the other hand, Shopify lets you customize via HTML, but it's limited to just the homepage of your store.
Payment Options
WooCommerce has more payment options than Shopify and it also supports a ton of niche payment gateways, which isn't the case with Shopify. Shopify also charges an extra fee if you use some external payment gateway.
Open Source Store
The fact that WooCommerce is a part of WordPress gives you uncountable options when it comes to customizing and integrations. On the other hand, Shopify is a closed platform where your customizations and integrations are limited.
Shopify Advantages Over WooCommerce
User-Friendliness
WooCommerce and Shopify are both user-friendly but Shopify manages many parameters for your store and its great interface gives it an edge over WooCommerce.
Store Launch
For WooCommerce, you have to first buy a hosting, domain name, install WordPress and then finally install WooCommerce plug-in and set it up. Yeah, it's as tiring as it sounds! But if you choose Shopify, all you need to do is create a Shopify account, select a domain, and choose a theme. That's it, Shopify will take care of the rest.
Store Maintenance
Shopify has its own hosting and the platform takes care of your store maintenance without temporarily closing the store. The platform will automatically update new changes and notify you. But remember, WooCommerce is an integral part of WordPress, you will have to update things manually, and there will be a downtime while doing it.
Shopify Vs WooCommerce Price Comparison
How Much Does Shopify Cost?
With Shopify, you get 3 pricing options to choose from. Basic Shopify, Shopify, and Advanced Shopify. You get a 14-day free trial with any of the plans you choose. Apart from this, you also get 2 options – Shopify plus for large business starting at $2000/month and a Shopify lite plan for just $9/month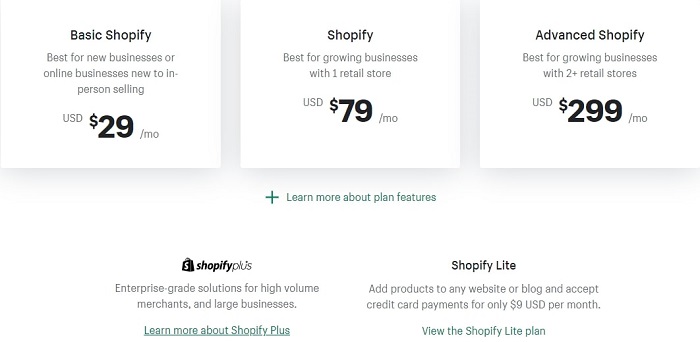 How Much Does WooCommerce Cost?
The WooCommerce platform is a plugin in WordPress which is free to use but not completely. In order to have it for free, you have to spend on Bluehost eCommerce hosting which costs around $15.95 per month (only if you buy for a year). Otherwise, it would cost $29.50 per month.
And yes, don't worry about the domain name as it comes along with the hosting for free.
So, the platform, unlike Shopify doesn't have a recurring fee except for the hosting you take.
Due to extremely different approaches in both the platform's pricing strategy, it's tough to declare a clear winner out of the two. Let's now see how you can set up each platform and get started!
Setting Up Shopify and WooCommerce
Shopify Setup
Step 1: Sign up with Shopify visiting https://www.shopify.com/ and clicking on the "Start free trial" button.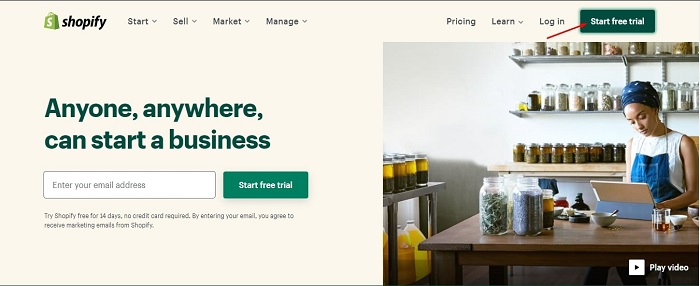 Step 2: Enter your email ID, password, and store name, and click on "Create your store."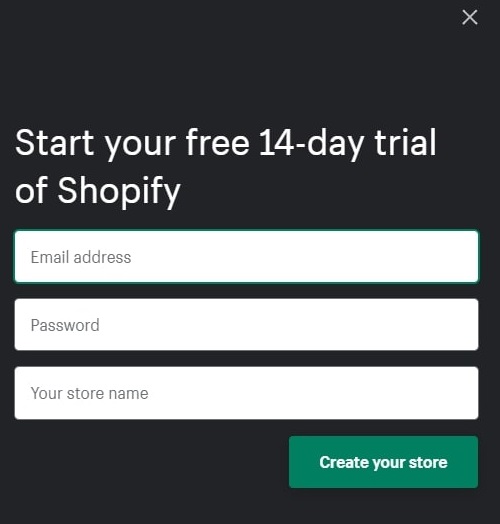 Step 3: Fill in the details asked, or just skip it and move on by clicking on the "Next" button.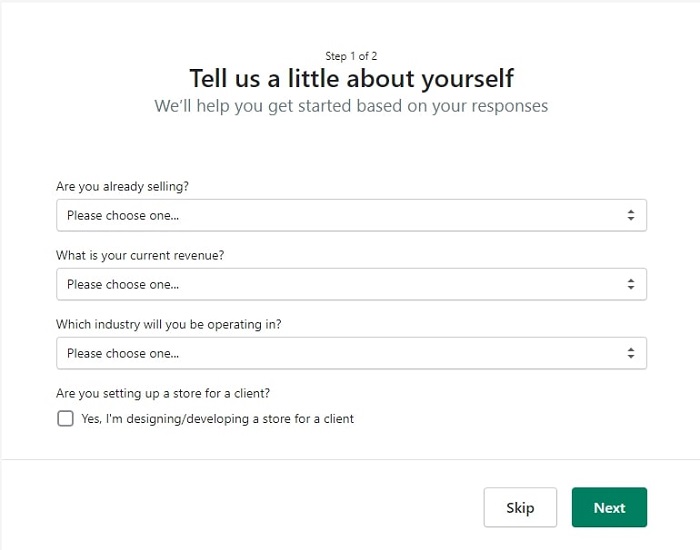 Step 4: Fill in the required fields on the next page and click on "Enter My Store" when you're done.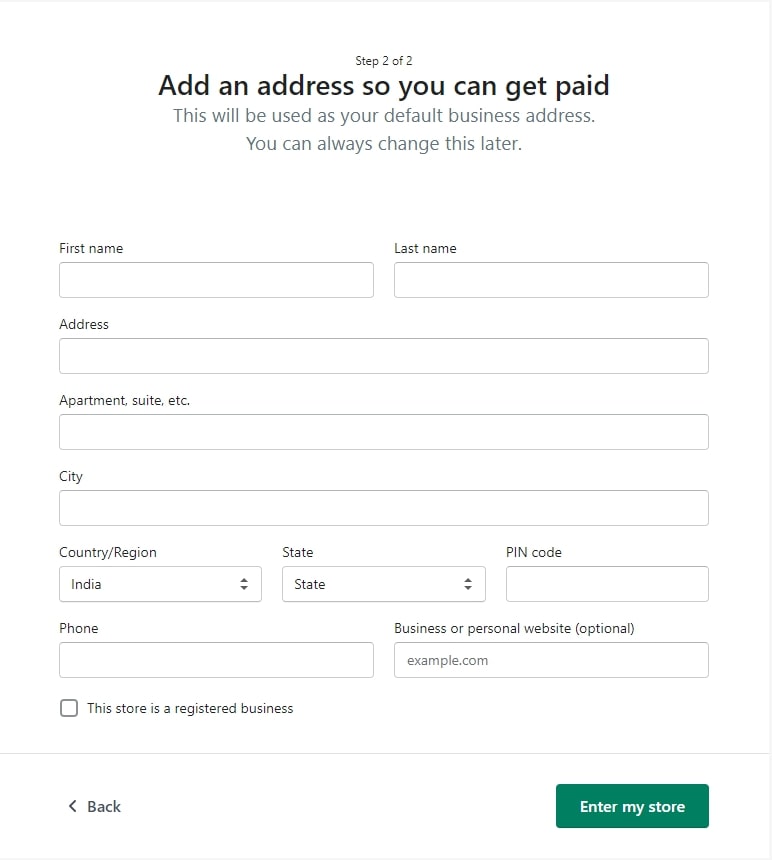 Step 5: There you go, your storefront is ready! Now you might wanna start making your storefront look real and set other parameters right. Here are some things you want to set:
Plan Selection
Add/Search products to sell
Customize your theme
Add a domain name
Install Shopify apps
Setting up payment gateway
Shipping address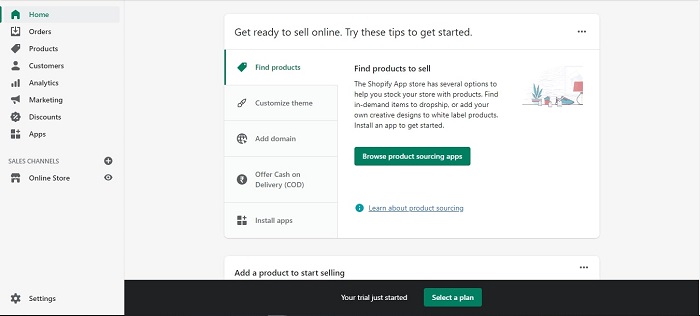 WooCommerce Setup
Step 1: Install WooCommerce plugin from WordPress. Go to Plugins -> Add New, type in WooCommerce, click on the 'Install Now' button, and then 'activate' it.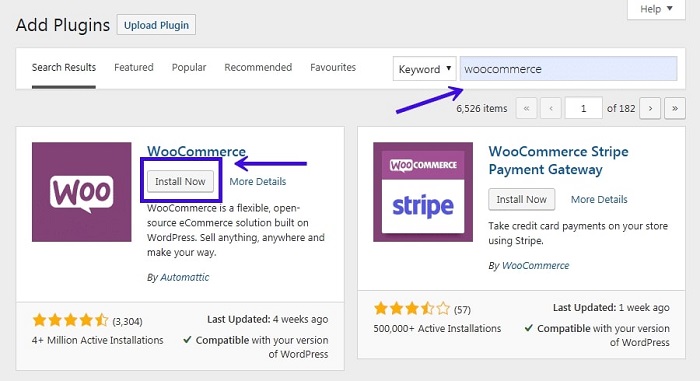 Step 2: A setup wizard will pop up on the screen. This will help you set some key configurations of the plugin. Fill in all the required fields in the Store setup tab and click on next.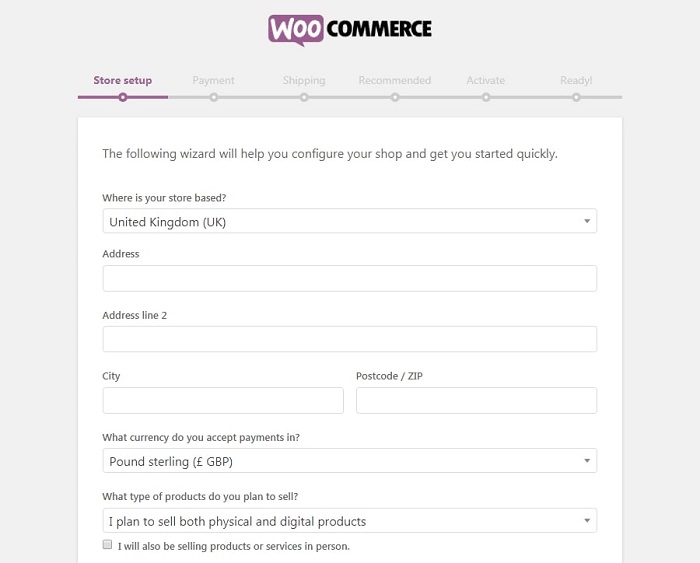 Step 3: Choose the payment gateway you wanna use with your eStore.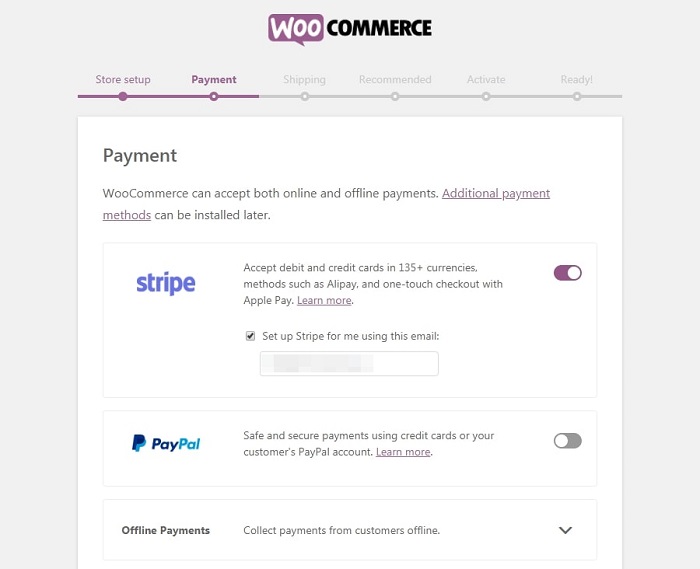 Step 4: On the shipping screen, configure the zone, rates, and locations to be covered.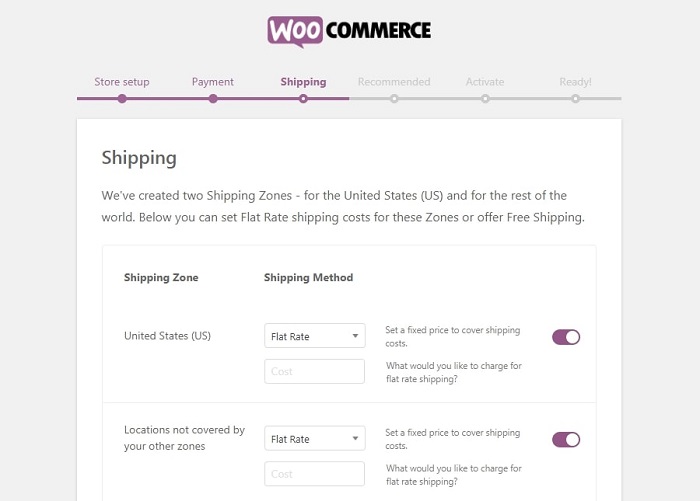 Step 5: So, your basic WooCommerce shop is ready, now you can set some advanced options. These are the key to make a successful eCommerce store. So select the add-ons you want along with WooCommerce.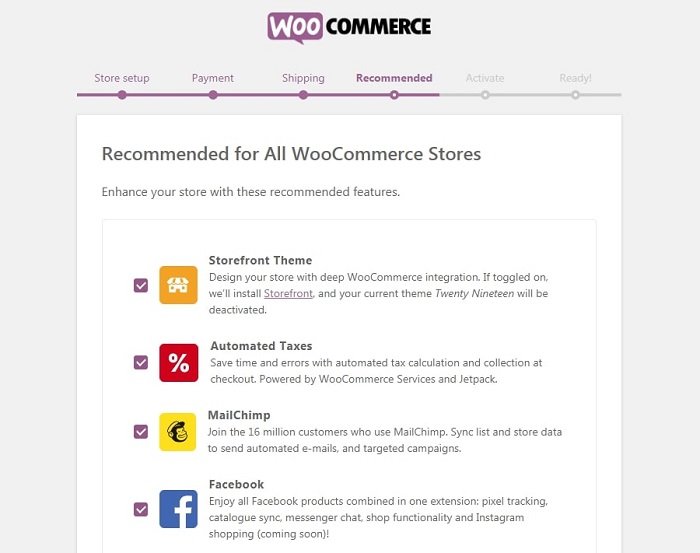 Step 6: Complete the setup process.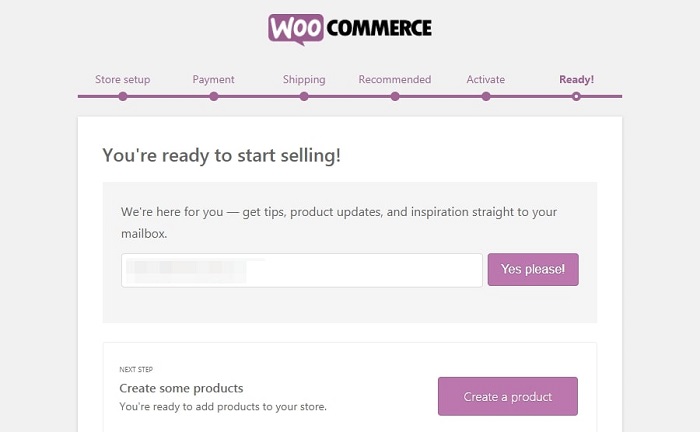 Shopify Vs WooCommerce – Winner!
Both of these eCommerce platforms have great sets of features and are excellent to make a successful storefront. However, choosing a winner out of the two is quite tough. The winner of this comparison depends upon your requirements. What do you prefer in your store?
If you want your platform to be more flexible and controllable, go with WooCommerce. Another reason you can opt for WooCommerce is simply for the love of WordPress's user-friendliness.
Although, if you want a clean, user-friendly interface and want to save time that goes into maintenance, Shopify is your go-to option.
So make sure to know your requirements, sit back and think which platform will cater to your needs. Once you're done thinking, act upon it and create something profitable 🙂