An effective eCommerce marketing strategy is one of the most crucial things you need to grab Burj-khalifa-like profits for your online store. You know why? Well, a great strategy ensures that you're targeting the right people and creating the relevant content that appeals to them.
Today I'm not gonna barge you with complex marketing lingo. Instead of that, I'll explain to you what all the jargon means and provide you with actionable steps that you can leverage to create an effective marketing strategy.
First, we will learn eCommerce marketing concepts like upselling, cross-selling, abandoned cart recovery, and remarketing. After that, we will discuss how you can utilize different types of eCommerce marketing strategies like email marketing and content creation to scale your eCommerce business successfully.
So, let's get started!
5 Types of eCommerce Marketing You Should Do!
Upsell & Cross-Sell Your Products
Upselling is an eCommerce marketing technique that tries to make a customer spend more by purchasing a premium or upgraded version of the current product. On the other hand, cross-selling involves selling complementary items to the customer.
Here's how upselling is done:
You choose multiple similar products with better features and higher prices to display them on the product's page.
This range of choices contributes to FOMO (Fear Of Missing Out) and pushes customers to make more than one purchase.
Clinique is one evergreen example of upselling: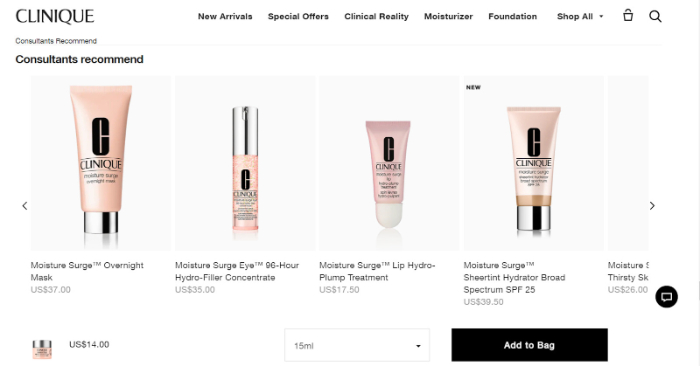 You can see a range of products added under its 'consultants recommend' section that would make a buyer pause and think whether they should add another item to the cart.
A good example of cross-selling would be Bucket Bike's strategy. They ask the customers if they'd like to purchase additional accessories for their bikes.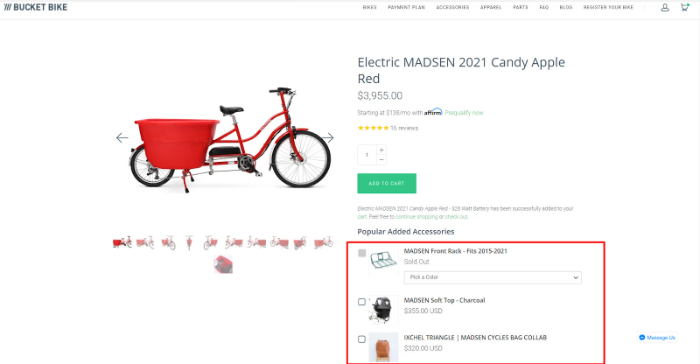 Now that we have a basic idea about upselling and cross-selling, let me tell you how you can use these marketing strategies for your eCommerce business.
How to Upsell & Cross-Sell?
There are two best instances to upsell and cross-sell. One instance is when the customer adds a product to their cart (post-cart). On the contrary, another instance is when the customer makes the purchase (post-purchase).
Let's see how you can do post-cart upselling and cross-selling while marketing your eCommerce store.
Post-Cart Upselling
Frequently Bought Together
By demonstrating how other customers have bundled more items with their purchase, your store can drive visitors to purchase more than one product.
Amazon is a leading example of how it does its cross-selling by suggesting the additional items that go well with the item just added to the cart.
Besides, it also makes it easier for the customers to bundle three items together to drive more purchases.

Offer a choice
If a customer chooses a less-priced item, you can leverage this opportunity to show how powerful your other products are.
MacBook Air also uses the same strategy when a visitor chooses the MacBook priced at $999. Following up with the game they upsell other high-priced items and markets feature-packed upgraded MacBooks.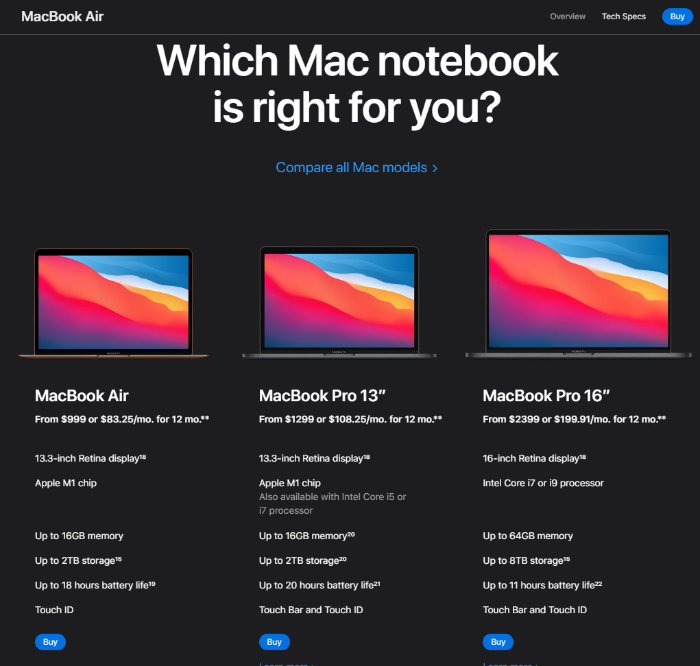 Purchase History
Your customer will forget what they've browsed in your store but you should subtly remind them about those time and again. Here's what Amazon does to remind its customers.

Post-purchase Upselling eCommerce Marketing Strategy
Here are a few great tips for post-purchase upselling.
Discount products: Reward your customers with discount codes after their first purchase so that they can have a reason to spend more!
Recommend Complementary Products: When you recommend relevant products to your customers, they're more likely to make another purchase. For example, if you have just sold a laptop, a trendy laptop case or a classy office bag would be a good thing for recommendation.
Gifts: When a customer picks the upsell, reward them with a freebie. This is one great eCommerce marketing tactic for those brands that are seeking to increase customer loyalty.
How Does Upselling and Cross-Selling Help Your Business?
Build Relationships with Customers
When customers realize that the premium packages provide great value for their personal or professional lives, they won't mind taking the deal and also become loyal customers.
Retain Old Customers with Perfect eCommerce Marketing Strategy
Advertising costs can reach high peaks when you're simply focusing on acquiring new customers without retaining older ones. It's much cheaper to sell something to a repeat customer than someone who hasn't heard of your brand. This is what makes upselling a great eCommerce marketing strategy.
Increased Conversion Rate
Customers are more likely to become repetitive customers because of the convenience offered by one-click post-purchase upsells. Besides, customers don't have to enter their payment information again.
Increased Customer Lifetime Value (CLV)
Simply put, Customer Lifetime Value is the total profit contribution you receive from a customer. A great eCommerce marketing strategy would aim for a higher CLV translating into each customer generates more revenue for your business without your brand having to invest anything extra.
Post-Purchase Upselling Increases Sales
Post-purchase upselling allows customers to add another item to their order without risking any conversion from their initial order. In addition, you can increase the probability of customer retention offering discount codes.
Cautions While Upselling and Cross-Selling
Pushy Perception: Your store might come across as pushy when you repeatedly contact your customers to purchase products. So, have a compelling strategy in place before sending those promotional emails.
Time-Consuming: You might end up spending too much time while optimizing your campaigns. To overcome this flaw, start using automation solutions.
Lowered Brand Image: Visitors may be fatigued seeing your upselling attempts over and over again. This may damage your brand image, lowering your conversions.
Make Sure to Optimize Your Store for Reducing Cart Abandonment
You made an excellent eCommerce marketing strategy and attracted large traffic to your store but you still see people adding products to the cart but very few sales. Hmm.. disappointing!
Shopping cart abandonment is a huge obstacle for eCommerce store owners to overcome. According to Statista, the biggest reason for cart abandonment is unexpected shipping costs.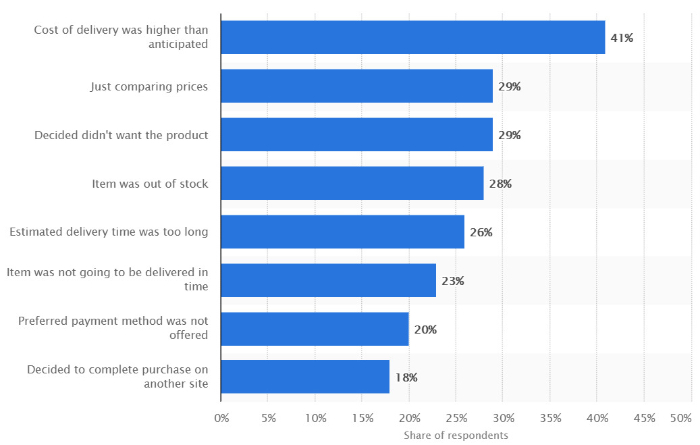 So, how can you overcome these issues and prevent customers from abandoning their carts?
Tip 1: Increase Trust
Since customers will be entering their financial and personal information during the checkout process, they will expect that their details will be stored safely and that payments will be processed securely.
And how can you increase trust?
Follow PCI compliance guidelines to store credit card details safely
Make sure your SSL certificate for your site is intact
Reviews from previous buyers can be great for increasing your store's credibility
Utilize a high-quality fraud management system for your eCommerce store that detects and prevents fraud
Display trust seals and signals like 'PayPal verified' throughout the process, so that customers can know their information is safe
Tip 2: Be Transparent About Pricing
Hidden costs are a no-no when it comes to purchasing a product. Your customers will be dissatisfied if they're not provided with full pricing details, taxes, and shipping costs.
A big point to note here is – many customers add items to shopping carts to determine what the total cost for their order will be. So, ensure that your customers get full pricing details before they checkout.
Tip 3: Leverage Cart Abandonment Emails
When your customer abandons their cart at the end of the process, you're still in luck because you got their email address. Set up an automatic trigger to send an email notifying them about the products they've left in their cart.
An attention-grabbing subject line, call to action in the email body, and good graphics would work like a charm.
Here's an example: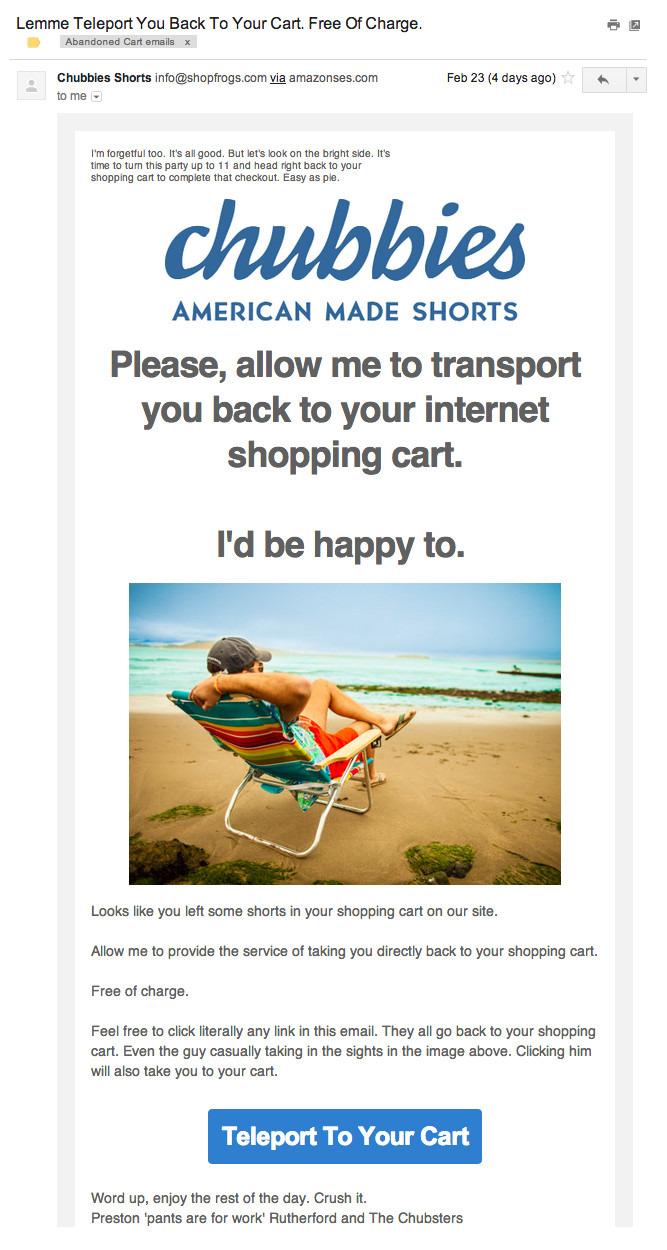 Tip 4: Use Remarketing
Couldn't you obtain the email of your customers? Not a problem! Facebook Pixel or Google Adwords have you covered.
When your visitor leaves without making a purchase, the Facebook pixel or Google Adwords stores their cookie information. You can use this information to create a Facebook or Google campaign and target those audiences who didn't make a purchase.
Not only this, you can produce image and video ads easily using their respective Ad galleries. Assessing campaign statistics is easier as you will have reports of how your campaigns perform and what finances are involved.
Tip 5: Add Social Proof to Your Store
We all love the human touch at an online store. It increases the credibility of your store and people find something to relate with. Here's how you can add social proof to your store:
Follow up with customers and request a product review
Feature testimonials on other landing pages of your site
Here's an example of social proof from PRESS London: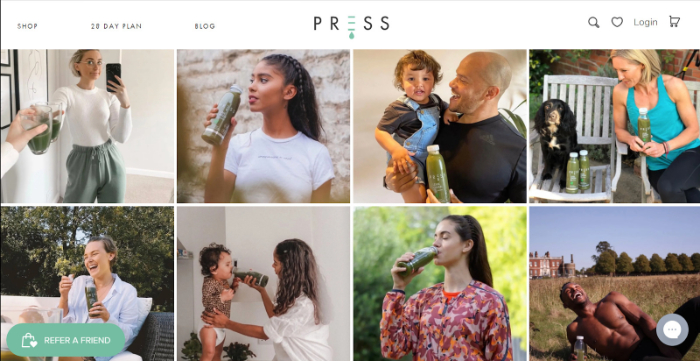 How Does Reducing Cart Abandonment Help Your Business?
Apart from the obvious benefit of generating more sales, abandoned cart recovery is a powerful eCommerce 808080marketing strategy that has the following benefits:
Improved conversion rates: Abandoned cart recovery reminds forgetful customers to return to your eCommerce store. To motivate price-worrying customers, you can offer a promo code and drive sales.
Better customer experience: Although customization takes a little more time than usual, it ensures better cart abandonment recovery rates. So customize your message dynamically including the name of the product and the other details while notifying your visitors.
Enhanced customer relationships: Customers feel valued when a store takes the effort to email them and notify about what they left in their carts.
Leverage Facebook to Grow Your Business
Facebook is a great platform for eCommerce marketing because of its business-friendly nature and diverse data ranges. You can do more than just gaining all the insight of your target audience. Instead, you can utilize Facebook's vast information of user demographics and likings to attract visitors to your business.
How to Grow Your Business Organically with Facebook
It's relatively simple to start making initial sales through your Facebook store. Also, there's no hassle of maintaining two inventories because you can manage your Facebook store inventory through Shopify. Besides selling products, your Facebook page can build brand loyalty.
Run Facebook Ads for Your Store Products
Tip 1: Using Multi-Product Ads for your Store
When you list more than one product in your ad, there are increased chances of conversion.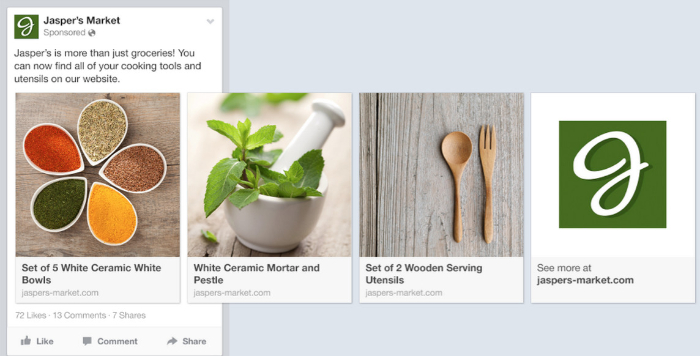 Benefits of Multi-Product Ads
Multi-Product Ads increases the selection offered to your customers
Show the different benefits of a single product
Relevancy is the key that gets you more sales
Tip 2: Run Retargeting Campaigns
For running retargeting campaigns, you will need a Facebook pixel on your website. Let's just first understand what a pixel is.
A pixel is nothing but a JavaScript code that you place on your eCommerce store. After attaching the pixel, every time a visitor arrives at your store, the pixel drops an anonymous browser cookie in the visitor's browser.
Retargeting Facebook ads are shown to visitors who came to your store but navigated away without purchasing anything.
Facebook Pixel will have access to standard events for reporting product IDs from your catalog, products added to the basket, and much more.
Tip 3: Leverage Lookalike Audience
Lookalike audiences are those who have similar online interests and demographics to your current user list. Interacting with your lookalike audiences is a great way to obtain wider impressions. When Facebook reaches out to such an audience, it prioritizes those users who are more likely to convert.
A great point about Lookalike Audiences is that the performance continues to meet KPIs for a long time. However, you should have a hands on eCommerce marketing strategy to successfully convert more sales through Facebook.
You can achieve this by regularly updating your customer lists, segmenting your customer lists, and customizing the Facebook pixel on your store.
Optimize Your Email Campaigns
Email campaigning is an effective marketing strategy if done the right way. Here are a few tips to optimize your email campaigns for your eCommerce business:
Make Your Customers Feel Valued
Send your customers a welcome email as soon as they make a purchase or when they subscribe to your mailing list. Run a campaign in time for the holidays to promote self-gifting and show that you care.
Also, don't forget to express your gratitude to your highest-value customers. Send a personal note expressing your appreciation for their business.
Incentivize Your Subscribers & Keep Them Updated
Provide your mailing list subscribers with exclusive promo codes, freebies, and gifts, targeting a segment of subscribers.
Along with this, share relevant blog posts or content to have customers some benefit from their recently purchased items.
Seek Feedback and Reviews
If someone visits your site but subscribes to your mailing list, politely inquire about their experience and how you can improve it. Also, ask for feedback and reviews whenever a customer receives their product.
Now that we know how we can optimize our email campaigns, let's discuss how we can leverage content marketing to engage our customers and drive more sales.
Start Content Marketing
Content marketing is an effective eCommerce marketing strategy for distributing content that engages your target audience and motivates them to purchase or interact.
High-quality content can improve search and social media traffic while compelling readers to share it on different social media platforms, which also increases your brand's credibility. Here's how you can build an effective eCommerce marketing strategy with content creation:
Blogging – The Evergreen Method
Apart from customer engagement, blogging has SEO benefits. Creating better quality content and incorporating the perfect keywords, your blogs will attract amazing search traffic.
Tip: Having guest posts on your blog can also boost the credibility of your brand to a great extent.
Podcasts – The MOdern Method
Podcasts have been becoming increasingly popular over the past few years. Since podcasts are quicker to digest, marketers are using them in their content marketing campaigns to establish credibility and add a human touch among their target audience.
Your brand's unique value proposition increases when you invite guest speakers on your podcast. Adding a Call To Action at the end of your podcast increases the conversion rates, allowing you to provide educational value and receive monetary value in return.
Hosting Webinars – Great way to Interact Live
A webinar is a live discussion or educational session. Your brand can host live audiences through webinars or can archive webinar recordings for future use in the form of email campaigns.
Webinars can be particularly helpful. After all, they establish your authority in the niche because they allow you to interact with influencers, target audiences, or potential partner brands on a joint platform.
Final Thoughts on eCommerce Marketing
Having the right eCommerce marketing strategy is extremely profitable for your online store. It comes packed with great customer acquisition and retention benefits that you can't easily ignore.
After all, marketing is all about how effectively you can reach your word and work towards the wider audience.