ReConvert post purchase upsell is a Shopify app by Stilyo. As the name suggests, it assists you in customizing your 'Thank You' page and increases your ROI with one click upsell.
Did you know the probability of upselling a product to an existing customer is about 60-70%? Yes, this probability can turn into profitability if you know the art of upselling.
If you've not been leveraging any upselling Shopify extension so far, you're missing out on a great chunk of revenue.
So without any further ado, let's just look at features of ReConvert post purchase upsell Shopify app.
7 Features of ReConvert Post Purchase Upsell
Product Upsell Feature
The product upsell feature gives you 2 options to create new templates. In case you don't want to create your own, you can just scroll down a little to explore the prebuilt free templates.
When it comes to using free templates, the process is self-explanatory. If you want to create & customize your own template, let's go!
How to Create A New Template in ReConvert Product Upsell
Step 1: First, open your ReConvert post purchase upsell app. Go ahead and click on "Create New Template ."

Step 2: Give your template a nice name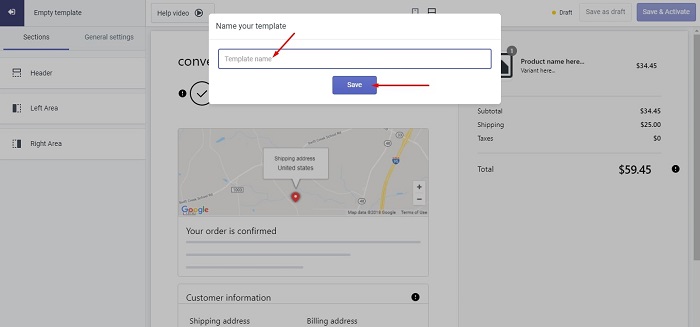 Step 3: Can you see 3 vertical sections on the screen? The first one starting from the left side is the 'header' and the other 2 representing 'right' and 'left' area of the 'Thank You' page section.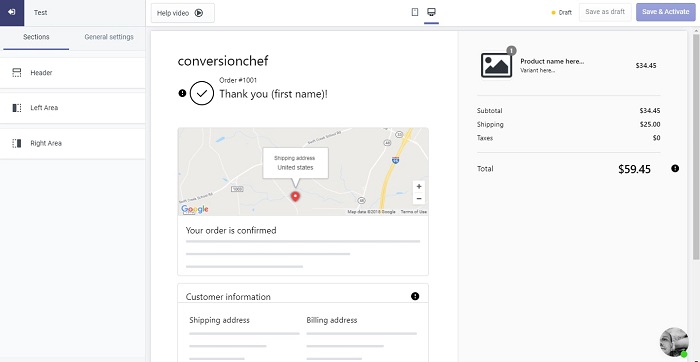 The 'Thank You' page has 3 customizable sections:
Header section
Left area
Right area
As you can see, the app is detail-oriented. If you want to modify the exact left or right area, you can do it from the left pane.
Step 4: Click on the section you wanna edit and then click on the "Add Section." Now you will see a drop-down with several customizable widgets. Use whatever fits well.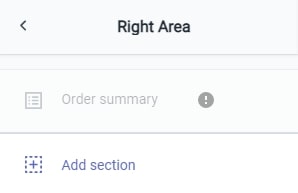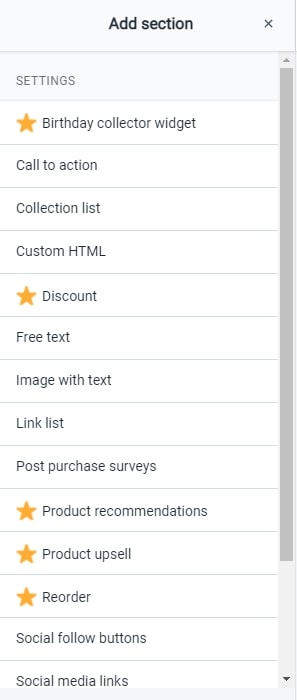 Now that you know how to add a section in ReConvert Post Purchase Upsell, let me show you an easy way to add a widget on your 'Thank You' page:
Choose the widget from the customizer (Ex: Product Upsell), and hit the 'Add' button.
Set the Product title, offer expiration date, and upload a product image (do this via customizer)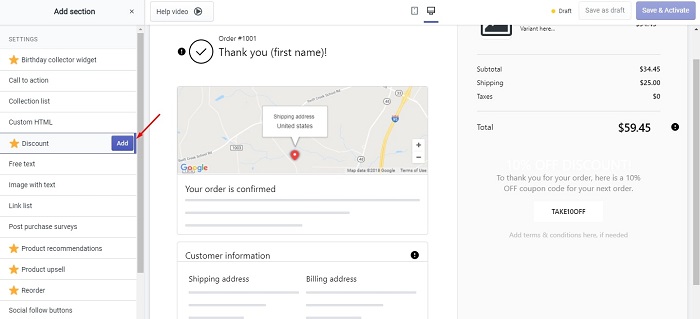 Therefore, that's all you need to create your own template. From now on, we're gonna make this template stand out with some spicy additions.
Pop-Up with A Time-Sensitive Offer
Pop-ups are a great way to display discounts and a sense of urgency. If you can leverage these pop-ups with time-sensitive offers, you're gonna hit bounty. Let me show you how it's done!
How to Add Countdown Timer in ReConvert Post Purchase Upsell
Step 1: Head-over to the customizer section and click on 'General Settings.'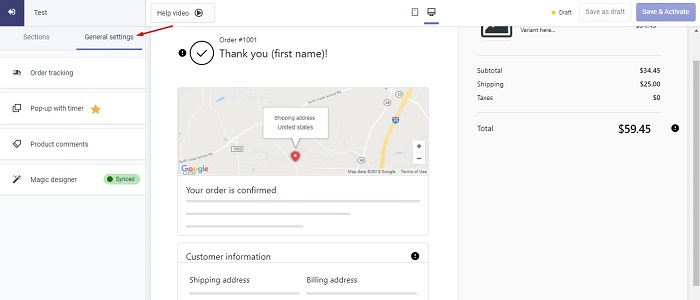 Step 2: Click on the tab, 'Pop-up with timer'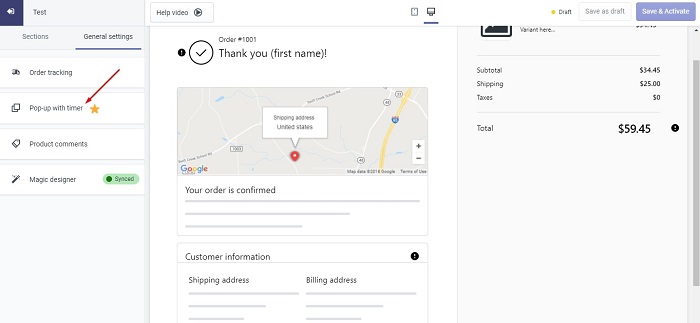 Step 3: Check the "Enable pop-up" box.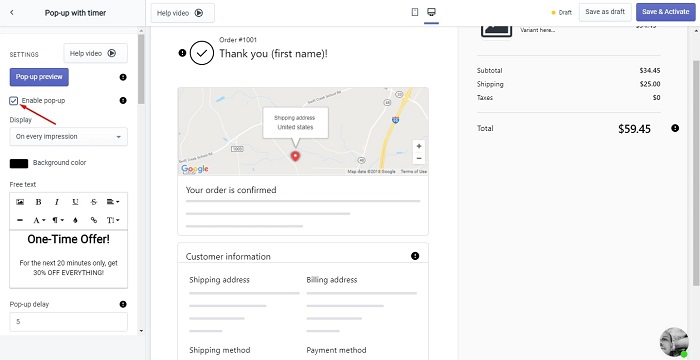 Step 4: Choose the pop up frequency from the 3 options given in the 'display' drop-down menu.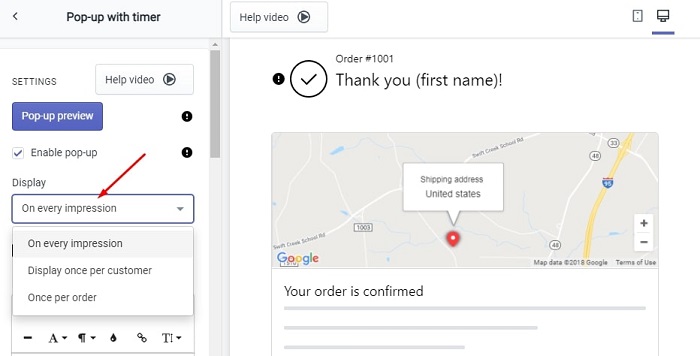 Step 5: Now is the time to be creative because there are many things you can do with your creativity. So what are you waiting for? Style it the way you want.
That's it, your pop-up is ready!
A Pro Tip: Make your pop-up look beautiful by inserting a GIF, product image, simple text, and most importantly, a countdown timer.
Revenue Generated By the App
Reports are as crucial as features as they help us track the business pretty well. Once you scroll down all the way to the bottom, you will find a way to reach the dashboard. From there, you can see how much money the app has made you so far.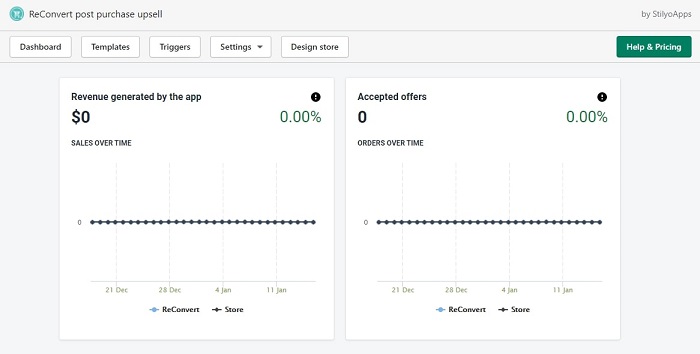 Apart from revenue, you can also see the orders generated right next to the revenue generation graph. Although it's also about revenue, this metric still helps when you plan out things.
Reorder Feature
The reorder feature enables you to offer the same product at a discounted price. This could be an excellent way to please repetitive buyers. And not only this, you can customize the looks of your offer via customizer and put it on the 'Thank You' page of any product you want.
Product Recommendation
In this section, you can recommend similar products, products of the same brand, or products that people buy with the purchased product.
Birthday Collector Widget
You can simply ask for the customer's birthdate and recommend them products based on their age or give them something special on their birthday as a gift!
What About A Discount?
I don't think there's a creature on earth who hates free money. Probably, that's why the app makers have put a way for you to add a nice discount offer on your 'Thank You' page.
Pros and Cons of ReConvert Post Purchase Upsell
Pros
User-friendly drag and drop 'Thank You' page application
Numerous great features assist you in squeezing the maximum possible revenue from the 'Thank You' page
Quick response from their customer support
Cons
Repeated email collection from their customer support
How Much Does ReConvert Post Purchase Upsell Cost?
In the beginning, you can start for free with the ReConvert post purchase upsell app. Once you feel it's what you need for your store, you can upgrade to any of its paid plans. To summarize it's paid plan better, I've mentioned a nice chart for you.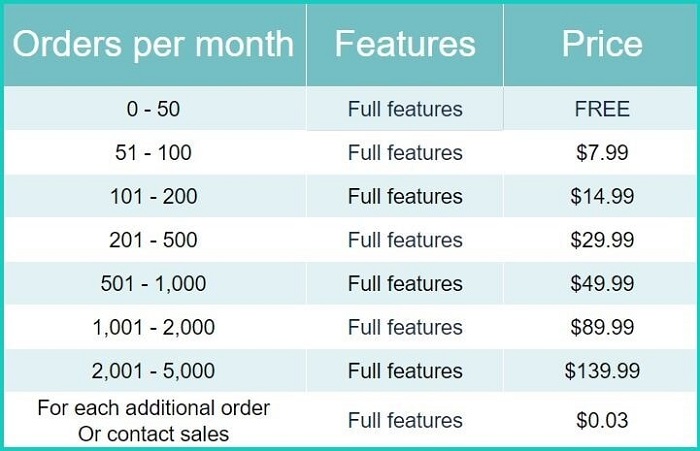 Is ReConvert Post Purchase Upsell App Worth It?
Upselling is always an advantage for any e-store. Not practicing upselling won't get you the extra revenue you can get while expanding your business.
So not losing sales for free is something I would never avoid. It's totally worth it with the features, reasonable pricing, and technical customer support it offers.