Doing proper niche research, it took me 6 months to get 5,000 visitors per month.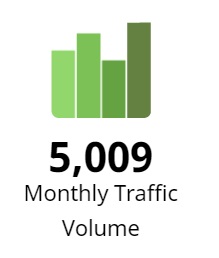 And the best part? These days I see figures like these in my affiliate dashboard. All thanks to niche research!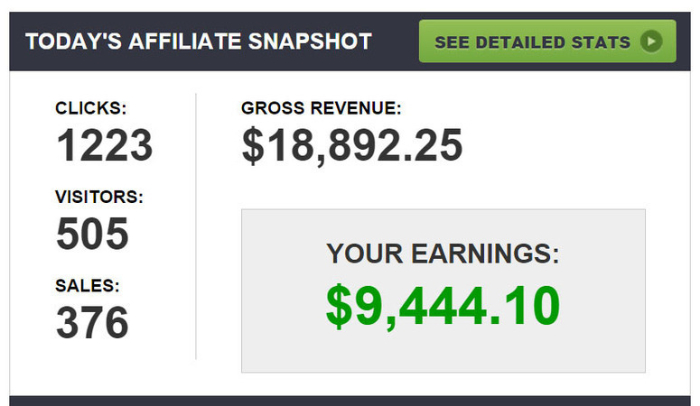 If I would've picked a terrible niche, no matter how good my SEO was – this blog of mine would've failed.
To see what my niche research process looks like, go through all of these points one by one:
Know Your Audience to Know Your Niche
Niche research is a prerequisite to ensure smooth sailing in an industry.
Because being a generalist in the corporate world could take you on slippery grounds. You better stand by this quote by Confucius:
"The man who chases two rabbits catches none."
To stand out in today's competitive market, you need to strike the right balance between money and passion.
Even though finding a niche and identifying the right audience is simple, it's not easy. To carry out proper research, you have to:
Conduct an idea extraction session with your target market
Go through multiple niche-specific forums
Take a look at the front page of the internet – Reddit
Ask questions or see already asked questions on Quora
Having a well-defined target market also plays a crucial role in the niche research process.
For instance, an interior design company prefers homeowners in the age bracket of 35 to 65, having income over $150,000.
To get demographics, sources like Statista, Gallup, Pew and Census are best. These 4 can help you determine the size and location of the population you're targeting.
However, the next step in this process is to choose the most important demographics like:
Age
Gender
Education
Income level
Ethnic background occupation
Developing personas give companies the power to create appealing content for the targeted market.
According to Statistica, 90% of companies who leverage buyers persona understand their buyers better and this leads to higher conversions.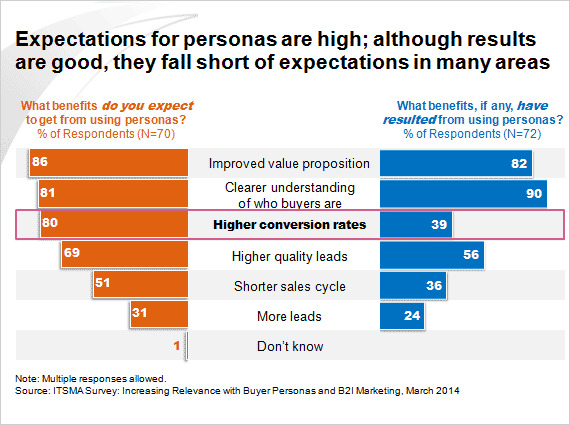 3 Ways to Gain Knowledge About Your Market
Grasping a market and its technicalities is tough.
So go through these 3 tips to get a proper estimation of your market's size.
Talk to Potential Customers: Get in front of the target customers and ask them about their desires and pain points
Google Keyword Planner: Use it to find out search volume, competition, and CPC of any keyword you want
YouTube: Research for a niche on Youtube to get trending and unexplored niche ideas
Decide Upon a Business Model & See the Niche's Profitability
Before you create the final design, understand what your prospects offer.
Analyze the top products in the chosen niche and evaluate what it costs to fulfill those requirements.
Also, determine how much time it takes to satisfy one customer. If you can't get much information about the selected niche, take it as a red flag.
Work hard to find a niche that brings good profits.
And by the way, no matter what niche you're in, you can increase the profitability of your niche from these sources:
Leverage Affiliate Marketing & Earn Via Commission
This involves driving prospects towards an offer.
If they convert, you get a commission.
There is a wide spectrum of affiliate programs available in various genres.
Launch An Online Store & Sell Products that People Need
The year 2021 was a big boon for online shopping market.
According to statistica, around 2.14 billion people worldwide shopped online with a revenue generation of $4.891 trillion.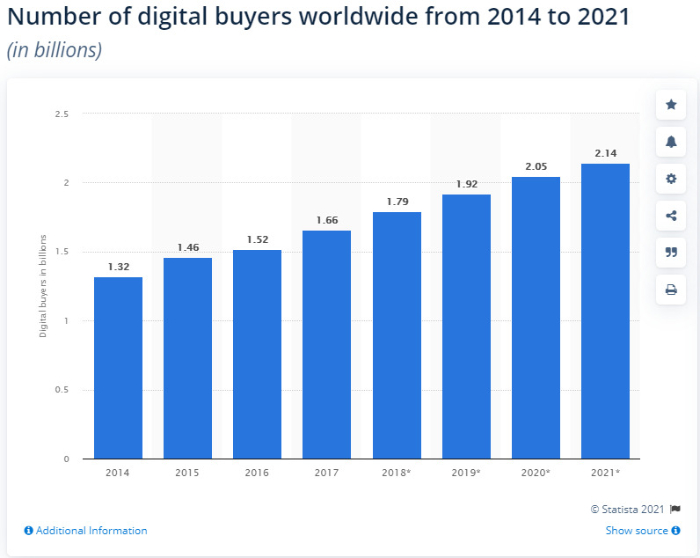 Having an online store can make your life easy.
Why?
It brings the products to a customer's doorstep rather than them heading out to buy one.
Adapt Dropshipping and Try Setting Up A Passive Income
2018 was the year when dropshipping was hyped.
Grand View Research valued the dropshipping market at $102.2 billion.
The researchers also mentioned that the market is expected to register a CAGR of 28.8% from 2019 to 2025.
But why this dropshipping hipe?
Dropshipping is easy for store owners as well as customers. Why so?
For store owners, there's no need to manage or maintain an inventory, it's more like an on-demand selling store.
For customers, they just have to click on the product they like, pay its price and grab it.
Leverage Ad Networks to Get Consistent Earnings
A study from w3techs.com revealed that about 45.5% of the websites use Google ad networks in some way or another.
Ad networks have proven to be safe, consistent, and an easier business model for many.
It involves ad placement on a website and getting paid for each user session.
Have A Look At the Keywords After You Finalize the Niche
It's crucial to know the keywords used by your potential customers.
After all, you can determine what they like and how you should conduct niche research.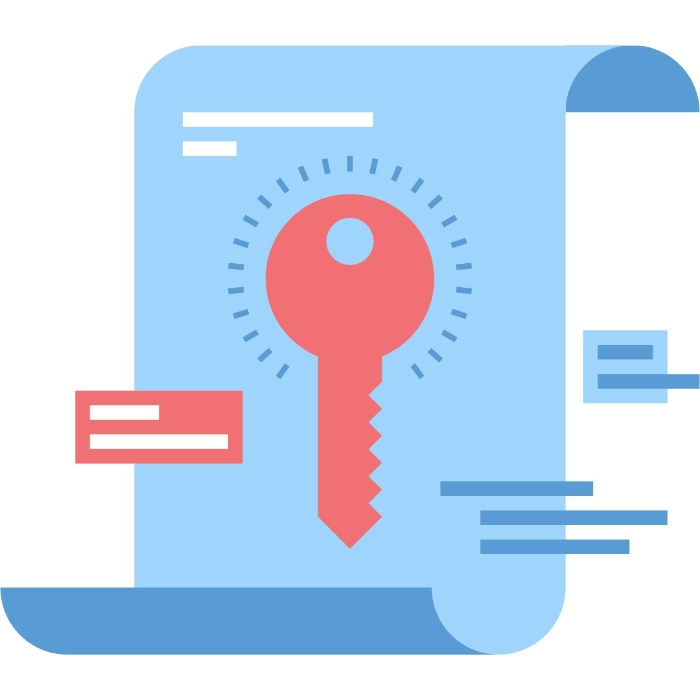 Initiating basic Google search can make a headway in this process.
Once you have a good list of keywords, add them to a keyword tool.
Some examples of keyword research tools are KeywordsFX and Free Keyword Tool powered by WordStream.
Using these tools, you can focus on the following aspects of keyword research:
How difficult is it to rank a keyword?
How many people looked up and clicked on that keyword?
Are there any keyword variations with better outcomes?
If you want to deploy those keywords for a PPC campaign, you should focus on the cost-per-click (CPC) section.
This tells you the average amount companies pay when someone clicks on their ad for a specific keyword.
More importantly, it will let you determine the best keywords and set bids for PPC ads.
Take A Look At Whom You're Up Against – Competitor Identification
Learning about existing competition is an important component of niche research.
It's rare for niche ideas to be the only ones in the industry. There is a strong likelihood of having at least one competitor with similar products.
The results from Google keyword search have 2 categories:
Paid
Organic
Pay attention to the sites that rank top on the organic results page. And then, aim to get your name at the top of that list.
For this purpose, learn what your competitors are up to. Look for the weaknesses in their structure, for example:
Poor Content Strategy: When your competitors fail to express their expertise creatively, establish your credibility with a brilliant content marketing plan
A Corporate Environment: Get a rock-solid business model and outthrow your competitors with it
Capitalize on Keywords: Get a list of keywords with high search volume and low competition
4 Best Tools You Can Use for Niche Research
Google Trends – Know What's Trending
Do you know how many people use Google Trends? Here's its organic monthly traffic:

Google Trends is a platform where you can just search what's viral, popular, or what people are interested in the most.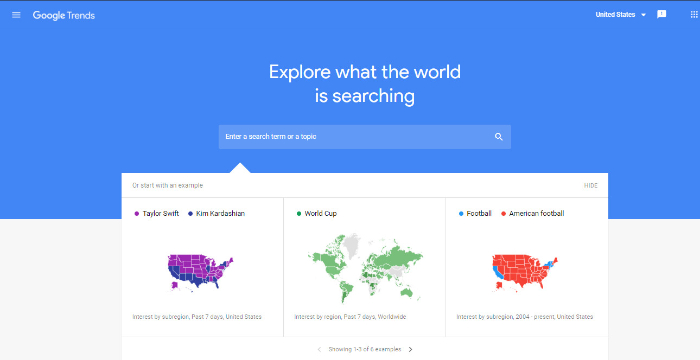 Let me show you an example.
Let's say we're trying to find whether NFT (non-fugile token) is a trending topic or not.
I will just head over to Google Trends, type in NFT, and that's it!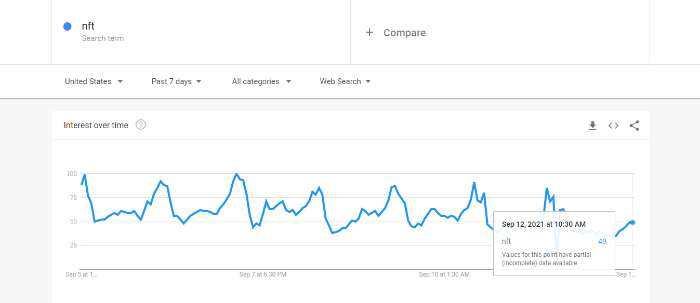 I got a graph showing me the daily searches on NFT (49 for Sept 12, 2021, which is quite high).
With this data, we can decide whether NFT is something we should work upon.
Apart from this, we can compare 2 similar hyped topics like NFT and crypto.
Just add crypto in the compare column shown on the page and press enter.

With Google Trends, you also come to know which state is searching the most for the keyword you put in.
Here's what I found for NFT:

SEMRush – Track, Analyze & Optimize
SEMRush is one of the most accurate SEO tools because of:

From traffic analytics to backlink analysis, you can know everything about your website or competitor's website in detail.
The tool has 6 domains:
I will just give you an overview of each domain.
SEO – Search Engine Optimization
The SEO domain has a long list of individual tools.
To get in-depth knowledge, take a look at these tools:

The most powerful tool that can help you take your competitors down is the domain overview.
Let me just show you what this tool can do!
So, I just put in https://shopify.com/.
It gave me the following stats:

Organic Search Traffic: Gives you the number of organic visitors to your website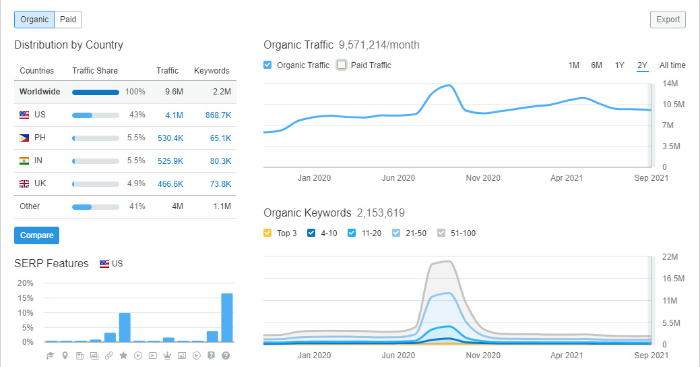 Paid Search Traffic: Number of visitors who landed on the page via ads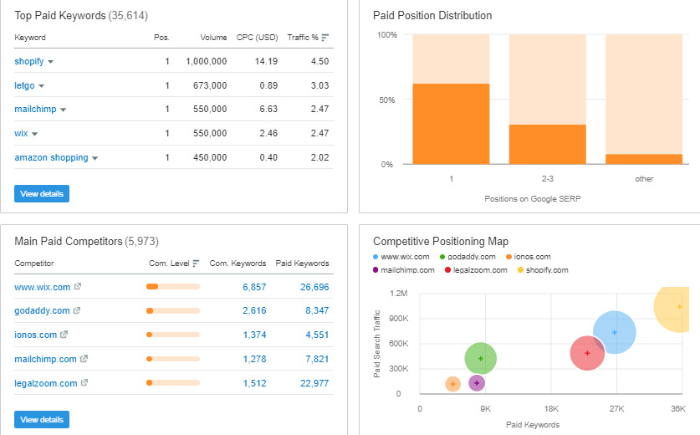 Backlinks: Number of do follow and no follow links on the domain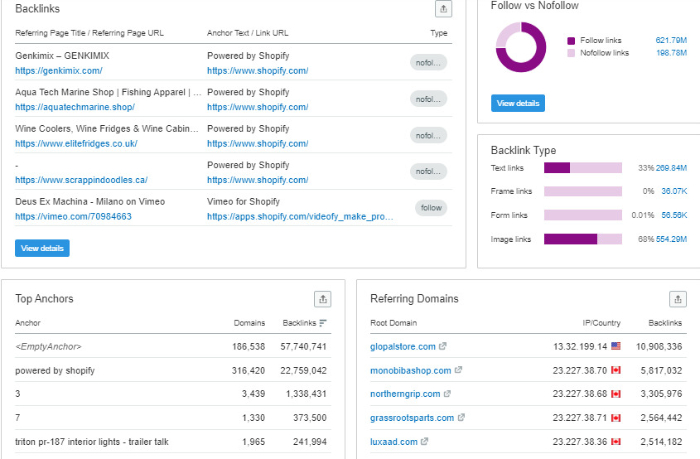 Display Advertising: People who landed on the domain via display advertising

The above details can be used to spy on your competitors and know how they're doing in your niche.
With SEMRush, there's no limit to the data you can extrapolate for your and your competitor's business.
Google Keyword Planner – Get High Traffic Keywords
Being a Google tool, Keyword Planner finds the most accurate keywords.
A few months ago, I wanted to create a website on NFT. Here's how I performed my keywords research:
Step 1: Head over to Google Ads.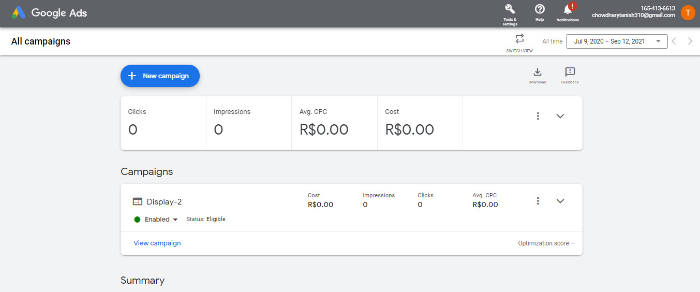 Step 2: Go to Tools & Setting and click on Keyword Planner.

Step 3: Click on Discover New Keywords

Step 4: Wrote NFT in the search box and clicked on Get Results
Step 5: We get a list of keywords with all the important statistics like these:

My #1 Technique to Get the Most Out of My Niche Research
Most people ignore little chunks.
Whenever I start doing my niche research, I take out wide topics and narrow them down to something specific.
In fact a while ago, I was searching about cars and ended up picking inline engines.