Finding the most profitable dropshipping niches in 2021 is a tough nut to crack. Before drawing up any conclusion, you have to collect data, analyze it, and most importantly, peep into your own head.
A good niche should be a balance between profit and passion. If you're going for a dental niche and have no passion for it, you won't be able to go for the long run.
Similarly, if you love sewing and if there's no money in that niche, it's not worth it.
That's quite a terrible position, isn't it? Don't you worry, I've done all the heavy lifting for you so that you can know what the most profitable dropshipping niches in 2021 are.
Don't collect and analyze any data. Look at these, pick at least 3, and narrow them down further to something that fits based on your profit-passion analysis. 
5 Most Profitable Dropshipping Niches in 2021 – Here Are They!
Women's Clothing – Evergreen and Trending!
Women's clothing has been quite a famous niche for a long time. The profit you get in clothing is quite great, especially for women's clothing.
Now that the lockdown has lifted in most of the countries, people started going out, roaming around, and traveling to tourist spots. Who would mind wearing a new piece of clothing before meeting the people they love?
So, keep an eye out for women's clothing as it can bring you great profits.
Here are a few ideas on high ticket dropshipping products you can sell in the women's clothing niche:
Dresses
Bottoms
Tops & Tees
Hoodies
Jackets
Jumpsuits
Result of Google trends for women's clothing in the past 30 days: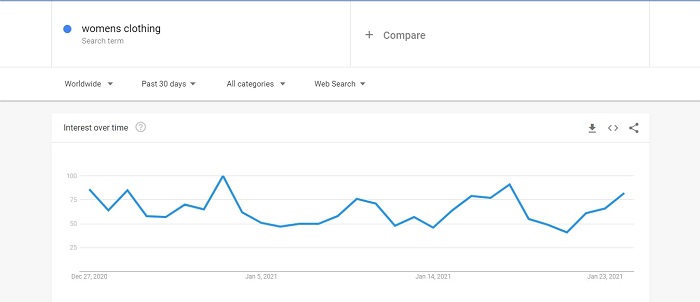 Sell Men and Women Jewelry in 2021
Jewelry is the most important part of anyone's wardrobe. Without jewelry, the attire doesn't get the required finesse. So, selling jewelry in 2021 is a great idea. Original or artificial, people wear all kinds of jewelry for every occasion or simply while heading out!
Here are some best dropshipping products 2021 in the jewelry niche:
Women/Men rings
Fine jewelry
Magnetic jewelry
Bracelets
Have a look at the google trend for jewelry in the last 30 days.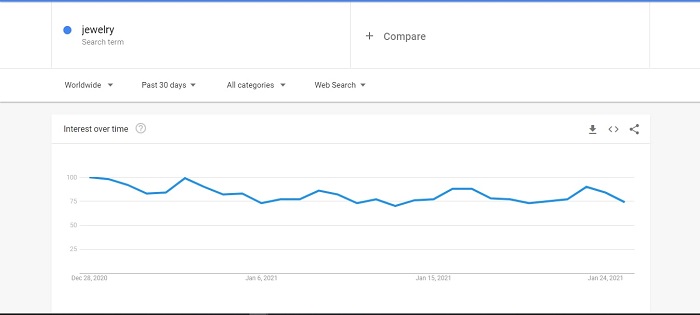 Sell Equipment for Home Bar – One of the Most Profitable Dropshipping Niches in 2021
Heading to a bar daily is often expensive and time-consuming. Many people wish to drink alcohol daily, but it's not possible for them. Either they have no time to go outside or money. In that case, these drinkers try their best to set up a bar at their home.
So selling home bar equipment is an untapped and one of the most profitable dropshipping niches in 2021.
Make sure to target adults who are making good money, like in 25-50. People at this age always try to save time and have the money to pay for equipment. And guess what? Some of these would build it up for pride.
Try starting with small bar equipment like steel straws, shaker/mixer, etc. Once you have your feet in the industry, you can gradually expand to tables and chairs. But as said, bigger profits require bigger risks.
Anyway, look here, the phrase bar equipment has been trending recently as well.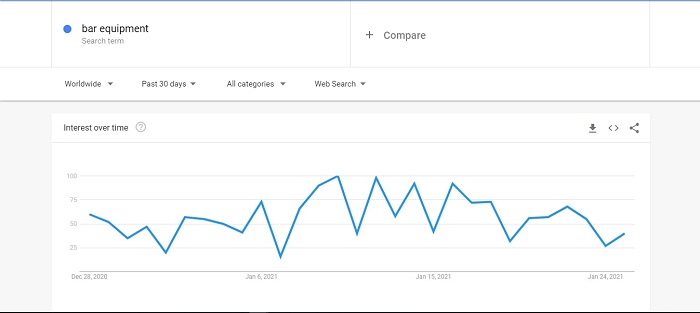 Build A Store Around Home Garden Equipments
Corona has made people realize nature's worth. In fact, some even think it's nature's wrath. So day by day, some people are getting friendly with the environment and trying to spread as much greenery as possible.
The right and best way that people do it is by building a garden at their home or in the space they have outside their homes.
But remember, not all people are doing it because of Corona. Some people do it for the love of the environment so that they can get the aesthetic appeal, and some are even doing it to get herbs.
However, it's also a great idea to sell artificial garden pieces of equipment as many people tend to put artificial flowers and grass in their balconies. Yes, there are some people who love to decorate.
Selling both artificial and natural home garden equipment is definitely one of the most profitable dropshipping niches you can try.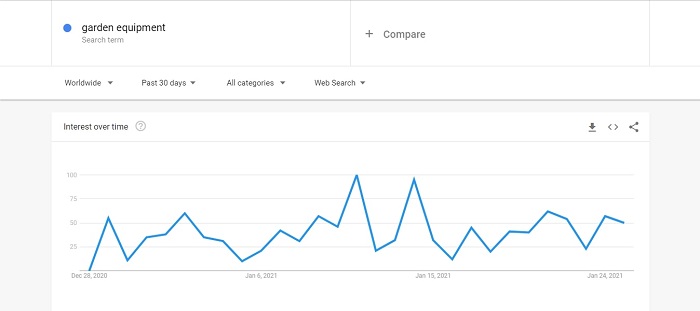 Open A Dropshipping Storefront of Fitness Trackers
Fitness trackers have been in the hype recently. After the launch of these small yet amazing trackers, many people have started using them quite often.
You can just go around, have a walk, or an intense gym session – the fitness tracker, will track down your health vitals along with the phone notifications, isn't that amazing?
What people like about these trackers is the ease of getting all the notifications on their wrists.
I bet some of you reading this have a fitness tracker already! So why not sell them as it's already proven as one of the most profitable dropshipping niches in 2021.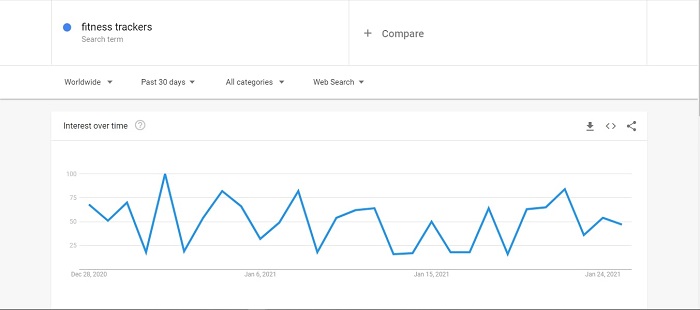 2 Dropshipping Niches to Avoid in 2021
If you're just starting off with your dropshipping business, you might wanna avoid these niches:
Electronics: Could lose a lot of money if the product is not up to your buyer's expectations
Health products: The risk with health products is high as you could get a subpoena for selling a harmful product without any knowledge of it
Finding the most profitable dropshipping niche for your business is of prime importance. You don't wanna switch between niches time and again as it's not cheap to do so. Make sure to get it right the first time.
I would say the 2 most profitable dropshipping niches 2021 that you should aim for are "Women's Clothing and Home Bar equipment." However, it's your decision what niche you wanna dropship in.
Picking a niche looks like a small decision, but your entire dropshipping career depends on this.