As you know, a Shopify theme can turn a business into an overnight success or into a total failure. Okay, that was a bit dramatic, but you get my point – it is important.
The looks and performance of your store leaves the biggest impression on customers at first. By having a stylish, well-functioning, and professional theme, you ensure that your business is on the right track. 
Today, we will let you in on all of my secrets and give you the best tips on how to find the best Shopify theme.
So, buckle up and let's get started. 
What to Look for When Choosing A Shopify Theme?
Choosing the right theme isn't just about finding something that looks good and has a standout design. It's much more than that. Your theme has to be aligned with your brand's personality and color schemes, as it is just one additional way to present your company to the world.
Now, let's talk about some key aspects you should pay attention to while on the hunt for a Shopify theme.
Main Features & Functions
Think about all the features you want and need for your store. Write them down. Now that you know what you're looking for, you can begin your search.
It's important to determine which of these features are "nice to have" and which are "must-haves". That way you know what sacrifices you can make while picking up a theme for your store.
Our advice is to look for themes that have most of the features you want. In case there are one or two things that are missing, you can always get a developer to do them later. If you want to cut down on cost, then look for a theme that has all of the features from the get-go, so you spare development costs.
Look for Niche-Specific Themes
There are thousands of Shopify themes currently available on the internet and you will go crazy if you start looking through them all. That's why 'filtering' is a pro tip for saving time, so you only see themes that are related to your market segment. So, while hunting for a perfect store theme, consider what is your niche, how many products you plan on selling, and which advanced functionalities you may need.
Search for Mobile-Friendly Options
Users love fast-loading websites. Speed is such an important factor when it comes to SEO ranking. According to online portals, around 40% of users will close a website if it doesn't load in 3 seconds.
In order for your store to be fast and responsive, it needs to run a lightweight, optimized
theme. The focus of such themes is on high performance, thus they tend to lack crazy
animations, fancy scrollers, and other unnecessary details.
Most lightweight themes are also simple and minimalistic. These themes aim to make website navigation easy. In recent times, more and more people are doing their shopping online on their mobile devices, thus such lightweight themes are perfect for stores. It promises consumer satisfaction and in turn, creates a good image for the brand.
Optimized Checkout Process
Look for themes that offer an easy two or three-step checkout process. Research shows that businesses lose a ton of potential sales due to long and demanding checkout processes. So, make sure you avoid that.
Our recommendation is to look for Shopify themes that have well-designed add-to-cart buttons and that allow for changes to be made to the checkout form. That way, you can simplify the process even further by only requesting the information you absolutely need. Remember, a happy customer will always come back. 
Great Design & Aesthetics
One of the most challenging aspects of eCommerce is retaining people on your website. Nowadays, we are bombarded with pictures and information. So, it's really difficult to get someone's attention for a longer period of time.
One way to achieve this is by having a store that is aesthetically pleasing and attractive.
In our opinion, the right Shopify theme is always the simplest one. It has an attractive
storefront. It has colors that match those of your brand. And most importantly, it has an
easy-to-use interface.
Now, you know what to look for when searching for the perfect Shopify theme, so let's
take a look at our favorite themes, both free and paid for.
Best Free Shopify Themes You Should Look for in 2021
Startups are usually a bit tight on money and are always looking for ways to cut costs whenever possible. For these ventures, I always advise that one should simply choose free themes at the beginning. You can find tons of great options available online, so you'll still be able to create a professional-looking, responsive store.
Let's take a look at some of the best free themes out there.
1. Debut – A Light Tone Theme
Debut is a free of charge, light-in-tone Shopify theme that's ideal for stores that have a carefully curated selection of products. Even though it has a simple design, it still packs a lot of premium features.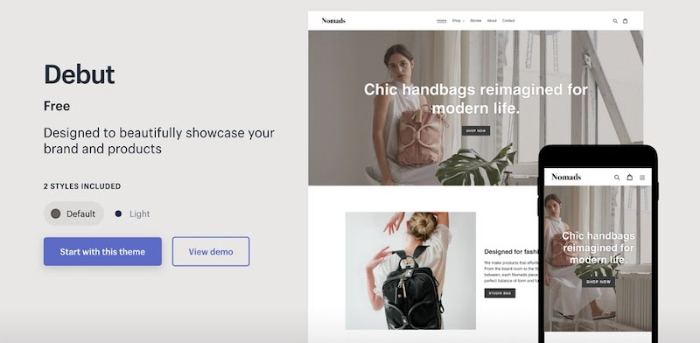 Features of Debut
Product Filtering
This feature lets customers filter the products they desire, whenever they are searching for a product on your website. Let's say, you sell furniture. There is a customer on your site, looking for chairs and tables only. Now, with the filter option, they can get rid of all the unwanted products that may cramp up the search result.
Multi-Level Menus
Debut allows its users to create a menu and a submenu below it. This makes product categorization a lot easier for both you and your customers since you can section the store well.
Promotional Banners
Do you know those small lines that contain text and run on the top side of websites? This is called a promotional banner. With Debut, you can feature these promotional banners on your website. They come in handy when you want to offer promo codes or promote sales.
Pros & Cons of Debut
Pros
Demo versions available for the desktop and mobile
Clean and minimalistic style
Easy to use interface
Packed with additional features
Cons
Not ideal for companies that have a large selection of products
I would personally recommend the Debut theme for more artistic, exclusive businesses that focus on style and love minimalism.
2. Minimal – A Modern Design Theme
Minimal is the perfect theme for fashion retail stores. It has a clean, simple design that
offers its users the option to neatly organize a variety of products with ease. It also has
optional features like slideshow and product videos that can help attract more
customers.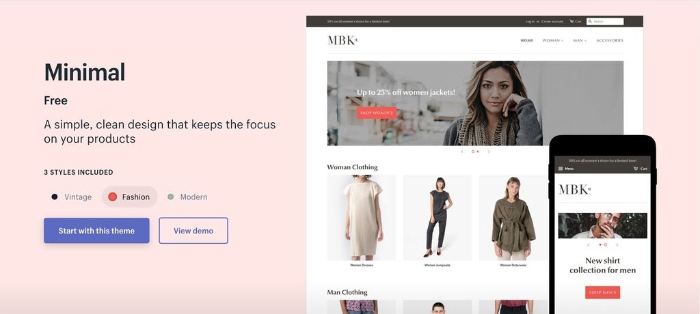 Features Of Minimal
Slideshow
Minimal lets its users add several banners, include announcements, and even add product images in a slideshow format. Another good thing is that you can make these images clickable which will lead customers to their desired page.
Video On The Home Page
There are very few themes that allow you to put a video on your home page and Minimal is one of them.
Product Image Zoom
This is a feature that a lot of companies use, so basically, whenever customers hover their mouse above a product image, it will automatically zoom them in.
Pros & Cons of Minimal
Pros
Minimal is great for stores that have a large inventory but still want a clean and simple design
A combination of vintage and modern design makes it a perfect match for fashion boutiques
Terrific for start-ups as it is free to use
Cons
Minimal is my personal go-to theme for stores that deal with clothes and accessories. It is simple, yet elegant and can be used for a variety of different products.
3. Brooklyn – A Classic Theme
This theme is called Brooklyn and it honestly looks and feels like New York City. It has a classic, yet modern vibe. It's the perfect theme for contemporary stores that are into selling more exclusive products that appeal to modern society and urban customers.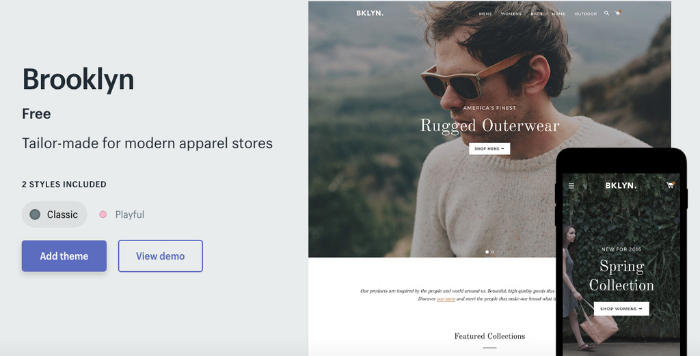 Features Of Brooklyn
Dynamic Product Display
If you start using the Brooklyn theme, you will notice that the website will automatically adjust the spacing of photos to make them look more liquid. This means that even if you upload only two images, to a row that can fit five, the theme will automatically fill in space, so it doesn't look empty.
Slide Out Cart
I really enjoy using this feature as a customer. It allows you to view your cart, while still searching for other items in the store. This way you don't have to go back and forth between the product page and the checkout page. It really simplifies the checkout process and can quickly boost sales.
Image Slideshow
With this theme, you can use slideshows as a way to market different products. On each slide, you can put an image of the product and on the other side you can add an important message about the product or even about the company.
Pros & Cons of Brooklyn
Pros
Sleek, unique, and modernised design
Available for both desktops and mobile version
Versatile and can suit different businesses
Cons
Doesn't fit well enough for every niche
For me, Brooklyn would be a perfect fit for an art store that sells exclusive products. It can also be used for something like a tattoo parlor, as the theme carries an artsy vibe.
4. Venture – The Outdoorsy Theme
When I look at Venture, I imagine myself hiking around mountains, hunting, and lighting
fires. It's a theme that gives you an adventurous feel. It has the ability to speak to
extroverts that love the adrenaline rush and the presence of mother nature.

Features of Venture
Single Featured Product
This is a great feature to have if you really want to emphasize one product. It lets you highlight an item and put it in the centre of the page. It can come in handy when you have to do promotions, or you have a new and an exclusive item in the store.
Product Filtering
Venture is a theme best suited for large stores that have a lot of products in their inventory. It's a very useful feature for customers, as they don't have to spend a lot of time mindlessly scrolling through the store until they find the desired product. Instead, with product filtering, they can customize their search and only see items that interest them.
Multi-column Menu
This is yet another useful feature for bigger stores. With Venture, you get a multi-column drop-down menu that features product details and images. That way, your customer will see the content of each menu, right as they click on it.
Pros & Cons of Venture
Pros
Tailor-made for stores with large product catalogues
Offers the option to create a highlight for flagship products
Very fast and responsive
Cons
A niche-focused theme for a specific type of business
I would recommend Venture to all entrepreneurs that sell products in one of the following categories:
Hiking
Outdoor adventure
Extreme sports
Winter sports
5. Prestige – A Classy Theme
Prestige is the go-to option for all the sellers of premium products. The theme oozes style, class, and minimalism. It supports high-definition product images, which makes it perfect for showcasing the detail of exclusive items.

Features Of Prestige
Image Hotspot Linking
Image hotspot linking is a lot like tagging your friends in Facebook photos. However,
instead of people, here you can choose to tag a certain product in a picture and thus
lead the customers to the product page from where they can purchase the item.
It works great for businesses that rely on visual aspects for the sale of their products.
Social Media Icons
With Prestige, you can integrate your social media apps into your store. The theme offers icons not only for Instagram and Facebook, but also for Pinterest, YouTube, and Twitter.
You can add the icons to the top of your page or at the bottom, depending on your preferences.
Story Timeline
Customers love to know the history of a company as it makes them relate more to the brand. It makes them feel like a part of the brand. Thus, making them a long time users and loyal customers. 
The Prestige Theme offers you a "timeline section", where you can add special dates for your company and short texts that tell customers what happened during these dates. For example, you can add the year 2016 and then add a short write up that says the company was founded in the same year.
The timeline feature can be used on your landing page, as it helps build the reputation of your company in the eyes of potential customers.
Pros & Cons of Prestige
Pros
Comes with an option to build a visual timeline to tell your brand's story
Perfect for companies that rely on great images and storytelling for marketing
Excellent customer service team that's ready to assist at all times
Cons
This theme can look plain if it's not redesigned correctly
When I look at Prestige, I imagine stylish restaurants in Paris, beautiful, well-dressed people, with class and elegance. That's why I find it perfect for stores that offer premium products. This theme is quite elegant and it provokes a sense of sophistication in customers.
Best Paid Shopify Themes – Super Helpful for Outcompeting
Free themes are a stellar option for companies that have just created a name for themselves in the market and don't have the budget to cover larger expenses. But things are different when you have the money to spare.
In my opinion, if you've got the finance part under control, you should definitely take a look at the paid options, which are within your budget.
Read on to know more about the best paid themes on the market here:
1. Ella – The Five Star Hit
Ella is the most popular theme on Envato Market. It has a 5-star rating and over 16k downloads. If you take a look at it, you will understand why this theme has become such a big hit with creators out there.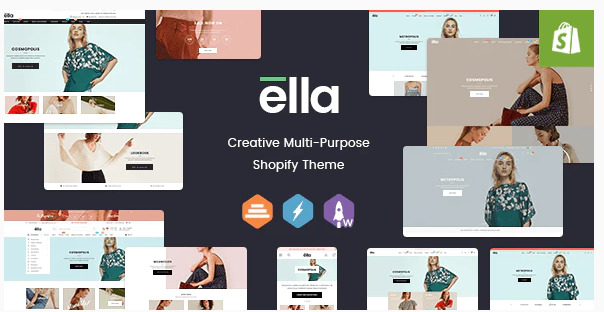 For just $69, you get a versatile theme with multiple layouts and styles that give you the needed flexibility to create your own design.
Features of Ella Shopify Theme
Seamless Checkout Process
Ella has multiple cool features related to the "add-to-cart" feature. When the customer wants to purchase an item, instead of refreshing the whole website, Ella just refreshes the cart icon at the top of the page, thus making the user experience more enjoyable.
Another special feature is the "drop-down cart" feature. This lets the users see the whole content of their cart in a list, when they click on the cart icon.
Infinite Scrolling
Instead of having to go to the next page to view products, you can enable Ella's infinite scroll feature. With this feature you can just let customers freely browse the product page without needing to click anywhere else.
This is a really great feature as it helps boost your store's SEO ranking and helps you garner more organic traffic.
Out of Stock Notification
Whenever a product is out of stock, you can enable this feature and let customers submit a form, so they can get notified whenever the item is back on the website. By doing this, you can make sure you don't lose any potential customers just because a product was not available at the moment.
Pros & Cons of Ella
Pros
An integration with Instagram Shop makes it great for brands with a big social media presence
Offers smart search and product suggestions, which helps boost sales
Great customization and fast loading
Cons
Best-suited for only those stores that sell a lot of products
I recommend Ella to all owners of fashion eCommerce stores, as I deem it to be the best fit for that type of business niche. It has a really modern style and it's terrific at showcasing a variety of products.
2. Parallax Effect – A Theme for A Visual Experience
Parallax is a Shopify theme created by 'Out of the Sandbox', and it mainly focuses on visual storytelling. This theme offers a ton of cool features including multi-level menus, which make site navigation easy for customers.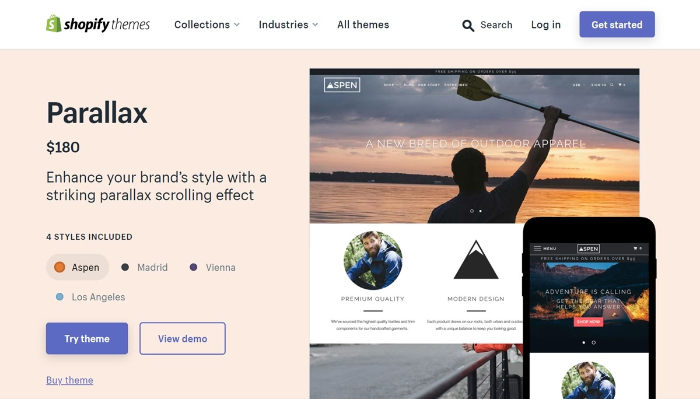 This Shopify theme also has the parallax effect, which allows the user to see an object from various perspectives,
thus creating a feeling of movement as the users scroll through the store website.
Features of Parallax Effect
Quick Shop
By using this feature, you let users open a condensed version of the product page, without having to leave the one they are currently on. This way, they can get more information about an item and even add it to the cart without getting redirected across the website.
Promotional Banner
This feature helps the brand to draw the attention of site visitors to the current offers, promotions, or sales you're doing in the store.
By having a good promotional banner active, you can show your customers that they can get a great value offer immediately, without having to earn a membership first.
Video Content
The Parallax theme lets you feature videos on both your home and product pages. It is
a really great option to have, because the visual medium is sometimes the best way to
market certain products.
Pros & Cons of Parallax
Pros
Has the ability to incorporate videos on the store
A really cool checkout process, due to the slide-out cart feature
Fantastic customer support ready to assist at all times
Cons
One of the more expensive themes on the market which costs around $180
Parallax is a great option for eCommerce businesses that offer a service, instead of a
product. This theme is built in a way that emphasizes storytelling and so it can help
create a real connection with customers. If you are a brand that focuses on content
marketing, we feel Parallax is a good option for you.
3. Turbo – The All-Around Theme
Turbo is a true powerhouse when it comes to Shopify themes. It is an eye-catching
theme, designed to be fast and mobile-friendly. It is an outstanding choice for stores
with large product catalogs, especially Shopify Plus merchants, as it is able to handle a
huge amount of traffic.

Along with this, Turbo has outstanding features including call-to-action buttons,
predictive search, and advanced layouts.
Features Of Turbo
Creates a Lookbook
This is a terrific feature, especially for a fashion store, as it allows you to build a lookbook of pictures that show how your products are being worn or used. This can serve as a great marketing tool, as people love to look at beautiful pictures and imagine themselves as the ones using/wearing the item.
Advanced Mega Menu
With the advanced mega menu, you can combine a lot of elements such as menus, text, and images into an endless combination in the layout. It's a great choice for stores that have large inventories. You can use this feature to promote sales, featured items, or upcoming collections, as it allows customers to see images instead of text and makes navigation more intuitive.
Predictive Search
This theme has a unique, professional feature called 'predictive search'. If you choose to utilize it, your customers will be able to quickly look for what they want. It helps them to save time and massively improves the customer experience, as it makes navigation easier.
Pros & Cons of Turbo
Pros
Multiple designs make it suitable for various niches
Updated for free on a regular basis
Offers a lookbook or gallery page which is good for stores that sell clothing
Cons
Such great features come at a price which ends up at $350
Turbo is an outstanding choice for bigger companies and enterprises. It is very fast,
mobile-friendly, has tons of different designs and layouts, and various premium features.
It can be a bit too pricey for start-ups and small scale business models, but is a great fit
for bigger projects.
4. Roxxe – Great Value For Money
Now, it's about time that I introduce you guys to an all-around Shopify theme. Roxxe is a multi-purpose theme that can work for stores in almost every industry. Roxxe's features are easily adaptable and the design can quickly be changed, depending on your needs.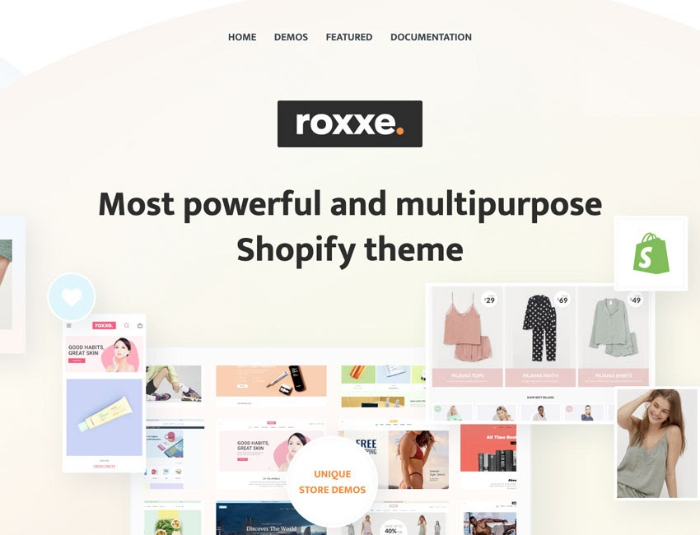 One of the best things about Roxxe is that it has several themes integrated into it, with different skins made for specific industries – from automobiles to baby products.
Features of Roxxe Shopify Theme
Quick View
Roxxe allows customers to quickly review any product detail with a box pop-up, which gives them the needed information without redirecting them to another page.
Another cool thing is that product pages come with review options and social sharing. Also, items are usually displayed in a grid format that lets viewers see most of the product line-up from the get-go.
Mega Menu
This feature lets you customize a complex drop-down menu and create a specific structure for your store to suit your business model. This is especially useful if you own a store that has a lot of inventories and different product categories.
Header And Footer Optimization
Customers have access to a powerful search module that helps them navigate the store. You can also display login and registration forms at the top of your screen and link social networks such as Facebook and Instagram.
In the footer area, the theme provides a newsletter subscription form that helps you grow your email marketing list.
Pros & Cons of Roxxe
Pros
Cost-effective, as Roxxe, with all of its functions, costs only $39
Quite versatile and can be used by a variety of industries
Fast and responsive, great for SEO optimization
Cons
May look a bit too generic and doesn't make your brand stand out from the competition
We would recommend this theme to just about any entrepreneur, regardless of their niche. It's highly versatile, stylish, and modern. If the personalization is done correctly, it can work great for any company. 
5. Fastor – The Best-Selling Theme
Fastor won the 2019 Best Selling Shopify Theme Award on Themeforest. It's a multipurpose, responsive, and well-designed theme, which is loved and preferred by many merchants. Fastor has over 87 demos and quite good extensions. It also gets constantly updated with cool and useful features.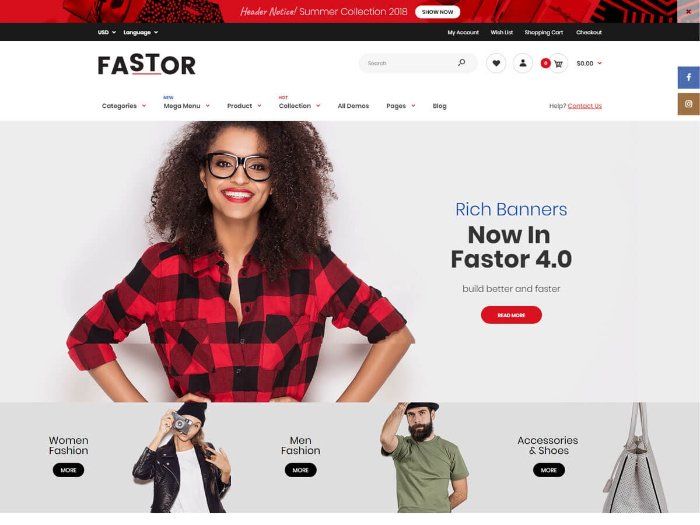 Features Of Fastor
Built-in Pop-ups Tool
Fastor has a lot of built-in pop-up tools, which helps in engaging customers and
increases the conversion rate of your store. You can use the notification pop-up to
showcase your current sales or new products. It also lets you encourage purchases by
offering discount codes.
Store Customization Without Coding
This theme allows you to create banners, customize headers and add content in a very easy and simple way, without you needing to have any prior coding knowledge. It's very intuitive and can be utilized even by people who have no prior experience in creating online stores. It also lets you put your own ideas in the designing of your website.
SEO Optimization
Fastor has incredible speed, helping your store's SEO ranking. But even more than that, the theme's layout and navigation are made in a way that it gets your store noticed by the search engines. This can be of crucial importance for stores that have just started out, and it helps in building your organic reach, thus increasing your traffic.
Pros & Cons of Fastor
Pros
Highly economical – $39
Advanced product filters are amazing
A sales badge that would eventually increase the revenue
Cons
Fastor gets a tad bit overused because it's one of the most purchased themes
Fastor is an all-around, great theme for any kind of eCommerce store. We really don't think you can go wrong by picking it. However, if you are using this theme, then you should focus on customising the design of the theme to make your brand stand out from the crowd. 
Final Words
There are many places that offer beautiful and responsive Shopify themes, and there are a dozen different themes available for every kind of eCommerce store that exists under the sun.
Thus, we want you to remember that there's no such thing as a universally perfect
option. Each theme has a unique usage and your job as a business owner is to find the
one that fits your project.