We all must have heard the saying, Don't judge a book by its cover. As good as it sounds, the ground reality of Shopify theme often turn out different. Visual objects appeal to human beings more than we think. Whatever information we receive through our eyes, we carve all those different emotions and beliefs based on how something looks.
It's human nature and thus, unalterable.
In our case, if your store doesn't look polished and professional, you will fall short in generating a ton of sales and you might lose out on having that sharp spike in the growth curve of your business.
However, it's not a no-hassle task to achieve that shiny and sleek look of your store, especially when you're just starting out.
So I'm here to help you find the best places for some elegant Shopify themes.
Importance of Having A Beautiful Shopify Theme
Even if you think that products, shipping rates, and customer service are the only factors that need everything to be perfected, you still need to have some time to focus on the way your store works and looks.
Before we dive right into the places, let's just see what impact a beautiful Shopify theme can make and what should we look for while purchasing one.
First Impression is The Last Impression
When you're just starting out and no one knows who you are and what you stand for, the first impression you leave on potential customers plays a pivotal role. This is It's what separates successful start-ups from the ones that fail miserably.
Internet users have the attention span of a goldfish. Research shows that 40% of users will leave a website if it doesn't load in 3 seconds. Now, what does that tell you?
That quick load times are a must for customers, which indicates you should ensure your Shopify theme is fast and optimized for your store.
If you make the right choice, you can get a theme that kills two birds with one stone – fast and sleek.
Create A Long Lasting Brand Image
When your customers visit your store, "oh! It's that brand!" should flash upon their minds. Your Shopify theme can be a wonderful way to do that. You can get customers acquainted with your brand image by using specific colours that fit your company's style, along with your logo and other images. You can seamlessly make a lasting impression on viewers and really stand out from competitors this way.
When people get a notion of your brand and they remember you by something, even as little as the logo or slogan, you will for sure start getting more sales. How many times it had happened to you that you remembered a brand by the colour of its logo or maybe the font of its landing page? Memorable brands have a better reputation, they seem like a legitimate business and not another generic, shady online shop.
Drive More Sales
The bottom line for any company is generating revenue and increasing sales. By creating a functional and visually appealing website, you ensure your potential customers an amazing experience.
By engaging audiences and creating a lasting impression you will be able to generate more traffic to the store and thus, get higher revenue.
Now that you know why Shopify themes matter, It's a great time to you all about the best places to look for great Shopify themes.
Checkout the Shopify Theme Store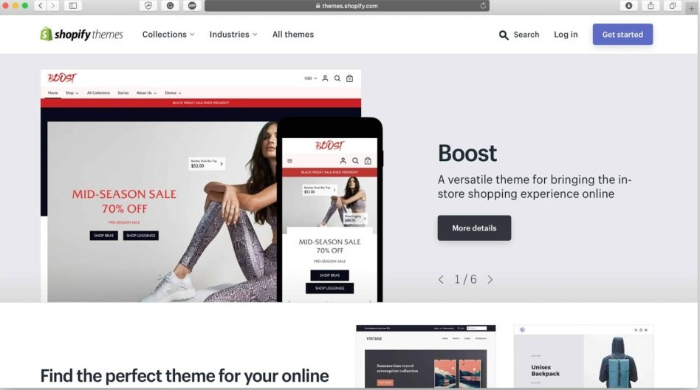 I'm starting off with the most obvious place possible – Shopify's own theme store. And even though it may seem like a generic and easy place to look at, I can assure you will not be disappointed.
Let's take a look at some of its stand-out features.
Key Features of Shopify Theme Store
Plethora of Choices
What I love most about Shopify's very own store is their inclusivity – they literally have something for everyone. When you look through the catalogue, you will find free themes, which is a good-to-go for startups with a lower budget, as they are professional without making a hole in your pocket.
For businesses with more financial freedom, the Shopify Store offers multiple premium paid themes that are made by professional designers and are sleek-looking and original.
Find the Right Fit For Your Brand
One really cool feature that the Shopify store offers is the option to filter themes by the industry in which you operate in. This helps you to cut down on time and saves you from scrolling for hours through ones that just wouldn't fit, as you can view only the themes that fit your brand perfectly.
There are a ton of industries available, so you can rest assured yours is somewhere in there too:
Art & Photography
Clothing & Fashion
Jewellery & Accessories
Electronics
Food & Drinks
Home & Garden
Furniture
Health & Beauty
Sports & Recreation
Toys & Games
Other
Pros & Cons of Shopify Theme Store
Pros
A vast array of options are available that fit every type of business model
Has well-designed themes that are optimized for the platform
Offers both free and paid options suited for every type of company
Cons
It's tough to stand out amongst competitors as too many companies use these themes
Even though it may seem like the most basic option out there, I still believe that the Shopify Theme Store is an excellent place for finding the right theme for your brand. I especially recommend it to start-ups, as a superb way to get a great design and functionality without any additional cost.
Out Of The Sandbox
Out of the Sandbox is one of the most popular theme sourcing tools on the market. It was created back in 2011, in Ontario, Canada, and has since gotten over 800 positive reviews on Shopify's store.
Key Features of Out of the Sandbox
Beautiful designed, customizable themes
Out of the Sandbox offers only 7 themes for Shopify stores. And you can say they've chosen quality over quantity. All of their designs are visually stunning, responsive and what's even better? They are customizable.
What I love the most about Out of the Sandbox is that they have created themes that allow easy personalization, so you never feel like you're just using a generic template. All of the themes get regular updates, which ensures that you will never miss out on a cool new Shopify feature.
Incredible Customer Service
If you're a young entrepreneur, who is just starting his first store, you'll need all the help you can get. That's when you'll start loving Out of the Sandbox. They have an incredible customer support team, that's always there to assist when you need help setting up the theme on your store.
More than that, they have a ton of free resources available on their website, including a knowledge base for all theme-related topics.
Pros & Cons of Out of the Sandbox
Pros
Offers beautifully designed and fully customizable themes
Great customer support team and a great community that is always there for additional help
The themes are fast and responsive, which is great for SEO
Cons
Limited options as only 7 themes are available
Out of the Sandbox for me is the perfect choice for all those looking for a sure thing. When you get a theme from them, likely, it will be worth your time.
Pixel Union
If there's a leading agency for creating Shopify stores, then it's Pixel Union for sure. The company started operating back in 2009 and since then has amassed a list of impressive customers including Tesla, BBC, and The White House.
Let's take a look at what makes them unique.
Key Features of Union Shopify Themes
Beautifully customized Shopify themes
A real stand-out feature of Pixel Union is the ability to create your own Shopify themes. If you want to have a personalized theme for your store, you can request one by writing to them directly.
Afterwards, they will design it exactly as you imagined. For that to happen, you simply have to give them as many details and information as possible, so they get a real sense of what you're looking for.
You'll also need to set a budget, as they can make themes that cost anywhere from $4 to $2000.
Special Shopify Theme Finder
Pixel Union has a really cool way to show you which exact theme will fit your store. It's through an app on their website called 'Shopify Theme Finder'. What does it do? It runs you through a questionnaire that aims to grasp the niche and size of your store. After you've answered the questions, it gives you a list of recommended themes that you can then select for your website.
Pros & Cons of Union
Pros
A wide variety of theme options
Great for businesses that want a custom-made Shopify theme
Offers great support and a lot of resources to help out starting business
Cons
Could be an expensive option, so it's more exclusively available to more financially stable companies
Pixel Union is perhaps the best app for creating Shopify themes. It offers some pre-made beautifully designed ones, but moreover, it lets users create a custom option that actually fits the image of their brand. It's a great option for businesses that want to stand out from the competition by having a personalized look and feel.
Troop Themes
Troop Themes is the place to go for companies that lean more towards the creative side of life. All of their themes are easy to customize, modular, and artistic looking. Troop Themes was created by a Canadian-based development team that strived to target more artistically inclined businesses.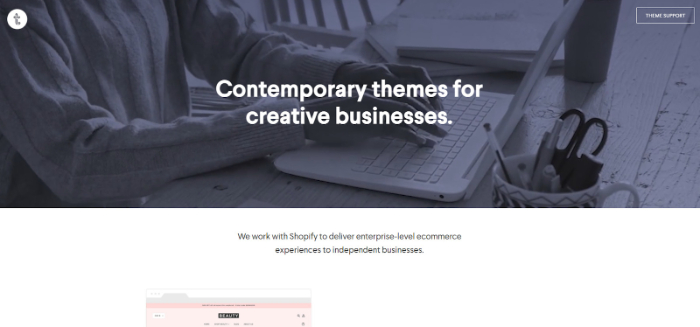 Key Features of Troop Themes
Each Theme Has A Demo
Troop Themes offers its users the option to demo all of their themes, before making a purchase. That allows customers to make the best choice of several options without any confusion, as they can see exactly how each one will fit their store. I find this to be extremely effective, as oftentimes people get stuck between three options and waste too much time and effort trying to make the correct choice. The decision becomes much easier to make after going through the demos.
Free Upgrades Are Always Available
Troop Themes are focused on keeping their customers happy and that's why they try to give you many benefits free of charge. For example, once you purchase one of their themes, you get all of its updates automatically, without having to pay extra. I think that's really cool, as it means that you are always up-to-date with the most recent features.
Pros & Cons of Troop Themes
Pros
Automatic updates for every purchased theme
A demo version is available for testing before buying
Great integration with Shopify that creates a seamless experience
Cons
Very limited choices of themes that are focused on one niche
Troop Themes has great options for those more creative-type businesses. It's also a stellar choice, no matter how far along in your entrepreneurial journey you are. Their designs are a good fit for both budding start-ups and established companies.
Underground
Underground has provided Shopify themes since 2008. They're one of the most experienced developers and are well-known for providing high-converting, gorgeous-looking designs.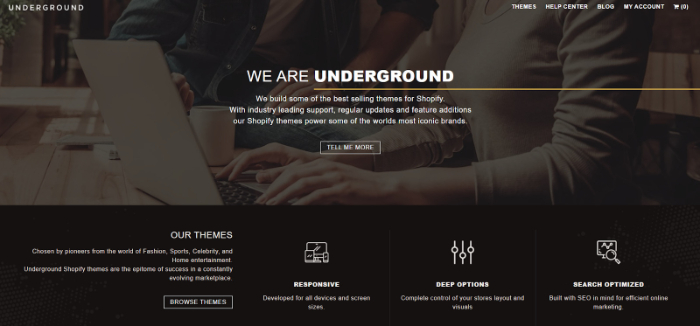 Key Features of Underground Shopify Themes
Incredible Customization Ability
What makes Underground different from everyone else are its incredible, high-quality designs. Whenever you look at one of their themes, professionalism and effort are evident. Considering that, it's incredible that they offer you such a wide variety of customization options for each of their themes.
Each Theme Serves A Purpose
Undergrounds offer a total of 5 themes and each of them is created for a specific type of business.
The Icon is best-suited for shops that offer many, different products as it's made to show photos beautifully.
The Vantage is the perfect choice for companies focused on content marketing, as it makes sure to showcase pieces in the best light possible.
Mr.Parker is the ultimate fit for fashion and apparel companies. It has an incredible blog feature, as well as cool marketing pop-ups designed to attract clients.
The Fashionpolism is for all those of you looking for an elegant and sophisticated feel for your store. In my opinion, a great choice for shops designed to sell watches or jewellery.
The Testament is the option for smaller brands that still lack inventory, as it focuses on big, beautiful imagery that could be used as a cover-up.
Pros & Cons of Underground Shopify Themes
Pros
Extraordinary themes that stand out amongst the competition
Combines a premium feel with customization abilities
All themes are made in order to help increase conversion rates
Cons
I'd recommend Underground to those business owner who's looking for elegance and class. They offer a few themes, but they're all sophisticated and professional-looking, making them the perfect fit for brands that want to convey class and style to the customer.
Final Words
I hope that by now you're convinced that Shopify themes are, indeed, important. In this article, I've given you my favourite places to go, whenever I'm looking to switch up the design of a store.
As a final word, don't forget to always make the choices that fit your brand. Don't go for the current trends or the too-outlandish themes, instead trust your gut and choose the one design that speaks to you and looks like the company you want to have.