Having a shipping policy template simplifies the tedious task of crafting a shipping policy for your dropshipping business. With a good template, you can solve most shipping-related queries that buyers might have.
Knowing why you need a shipping policy is essential before you begin crafting one, so let's get to know that first.
After this, we will learn how you can use free shipping policy templates to craft a policy tailored to your dropshipping store. And obviously, we will direct you towards free shipping policy templates to make it easier for you.
So let's get started!
Try our new shipping policy generator for free.
Why Do We Need A Shipping Policy Template?
The key idea behind having a shipping policy template is awareness. Your buyers need to know when and how their products will arrive.
Most buyers decide whether or not to purchase depending upon shipping durations. If you don't clearly provide them with shipping information, they would make assumptions. And as you know, assumptions are not any good for business.
For now, I can't go for one solid reason as there are many that explain why you need a shipping policy page!
A Good Shipping Policy Template Reduces Abandoned Carts
Knowing when the product ships and delivers is a crucial part of whether your customer would make the purchase or just leave it in the cart.
When you craft an informative shipping policy using a good template, you show buyers a concern. When the customer knows that you care about these things, your sales skyrocket.
Save Your Customer's Time
Show that you respect your customer's time. If you don't have a shipping policy or have a poorly crafted shipping policy in place, your customer will be lost for answers.
Often, customers will just drop the idea of making the purchase instead of asking you the question. Don't give them the chance of leaving your store. So, use a good shipping policy template to have your dropshipping business's shipping policies in place.
A Shipping Policy Template Increases of Getting Recurring Customers
Customers love a smooth delivery process. If they know that your dropshipping business is committed to providing them with great customer service, they will always consider buying again from your store.
This is how your dropshipping store can develop trust with your customer.
Grab Increased Transparency
Consider two people- a sneaky person with a sinister vibe and a friendly person who openly answers your questions.
Who would you do business with?
Almost all of us would choose the second person. Similarly, your customer would choose a dropshipping store that is transparent about its policies.
Now that you know why shipping policies are important for your store, let's see what details make a good shipping policy template.
What Details Should You Have in A Good Shipping Policy Template?
To craft a detailed shipping policy, you should think of what questions you would ask while purchasing something online. A good shipping policy template contains transparent information about its processing time, Covid-19 shipping restrictions, handling, and much more.
Here are some other crucial things that you need to be taken care of right:
Easy to Find
it's a must that you put your shipping policy on your store's footer. Also, you should aim to put your shipping policy page near the checkout process so that your customers are fully aware of your shipping policies before making the purchase.
Handling Policies
If you sell fragile or perishable goods, let your customers know how you handle the shipping of these products.
Tip: Try to Stay Away from Fragile Products
Order Processing Duration
Keep your customers informed about how long it will take for their purchase to get ready for shipping. Do mention any delays caused due to holidays or Covid-19 restrictions.
Covid-19 Shipping Policy
Your best bet is to have a Covid-19 shipping policy in place. It should communicate if any lockdown restrictions delay shipping or if you need to follow special procedures like contactless delivery.
Unless you run an eatables or healthcare product-related dropshipping business, you can simply dedicate a small section in your shipping policy template for Covid-19 restrictions. For businesses related to eatables or healthcare products, you can use a separate Covid-19 shipping policy template.
Domestic and International Shipping Policies
If you ship internationally, it's best suited that your shipping policies reflect anything that your international customers should be aware of.
Don't forget to mention those countries where you offer special shipping policies or in case you don't ship to certain locations. Besides, let your customers know that you put shipping restrictions due to legality issues, you don't discriminate against certain locations.
Transparent Returns, Refunds, and Cancellations
Besides having dedicated policies related to the three topics, you can also briefly summarize your return, refund, and cancellation policies to give customers a crystal idea of what might happen after buying.
Shipping Costs
Ensure that the shipping policy template you choose includes shipping costs related to different locations. If your store offers free shipping above a certain threshold, mention that as well. Or, if you offer free shipping, let your customers know about it.
Oberlo Shipping Instructions
If you use Oberlo for your dropshipping business, you should definitely check Oberlo's shipping policy details. On most product pages at Oberlo, you can find the potential shipping cost, shipping methods, and the estimated delivery time.
Note: Oberlo only imports the product cost to Shopify but doesn't import its shipping information. So, you have to do it manually using Admin settings on Shopify.
Different Delivery Options
Do you offer standard shipping or multiple shipping options? Do you directly ship to a customer's location or offer in-person pickup and local delivery options? If you offer pickup, what are your rules related to it?
Answer all these questions and add them to your shipping policy. You should think from your customer's perspective. Answering what questions you would have as a customer is the best way to draft your shipping policy template.
Possibilities of a Shipping Interruption
Let your customers know if there are shipping disruptions due to manufacturing delays. If Covid-19 restrictions might delay international shipping and delivery times, inform your customers as well.
Some Examples of Good Dropshipping Shipping Policy Templates
By checking a few examples of informative and simple shipping policy templates, you can get a good idea of how you can craft the perfect shipping policies for your store.
Turning Shipping Policies to Q&As
People don't really like a huge wall of text. You can simply break down your shopping policy into a Q&A format and improve your shipping policy's readability and relevance. Here's an example from S'well.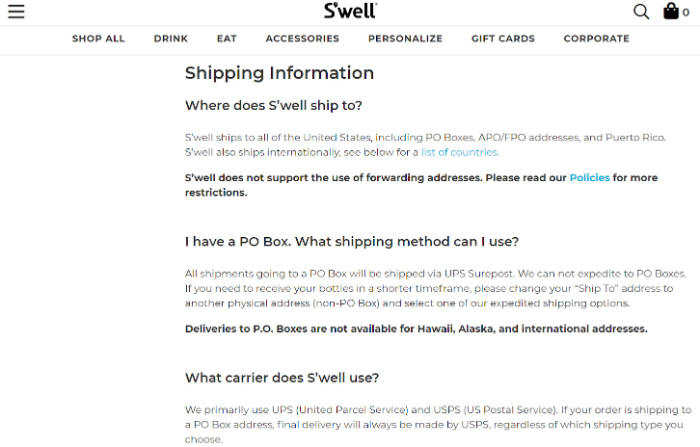 S'well also links the readers to the Policies page for further reference and notifies them about not permitting forwarded addresses. As you scroll down on the page, you will find how it neatly divides domestic shipping policies from international ones.
Using Neatly Designed Boxes
Luxy Hair organizes the shipping details in a neat table so that the customers can quickly navigate how long it would take to receive the product and through which service the product will be shipped.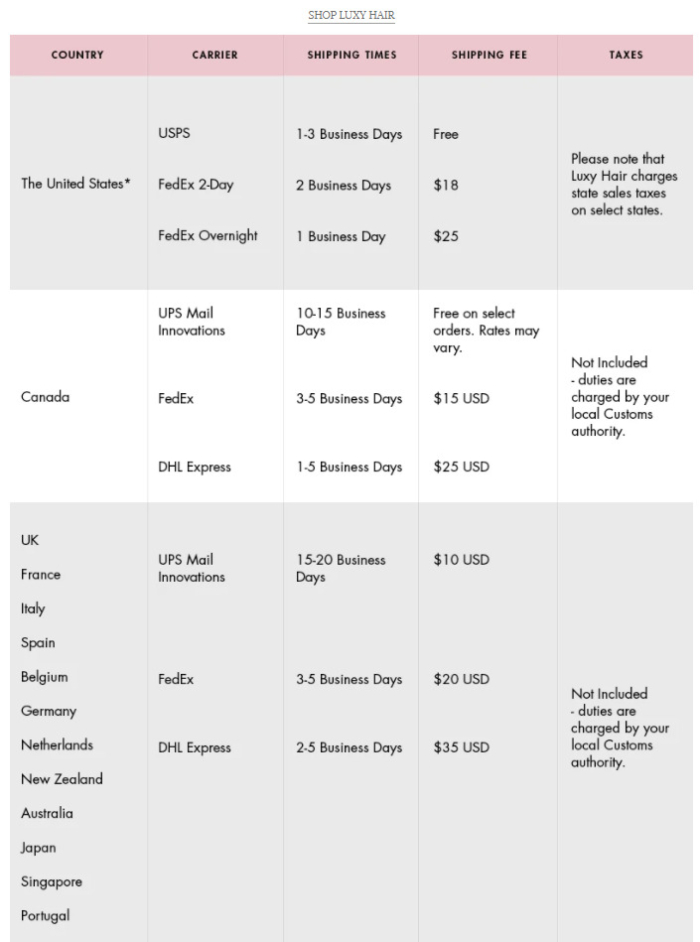 Luxy Hair smoothly provides buyers with an estimated window of when they should expect to receive the product, which is really a great idea to keep the transparency between your customers and your business.
Detailed Answers
Allbirds does a great job to explain how and when the customers will receive the products, based on different delivery options and order processing times.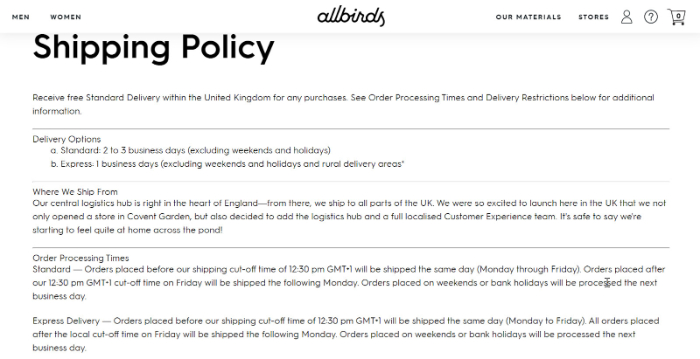 Being detailed enough, they don't leave customers hanging and confused about the shipping and delivery process. If you have the right shipping policy templates, you can easily make your shipping policy detailed.
Where to Link Your Shipping Policy Page On Your Dropshipping Store
When you have a shipping policy in place, let your customers know about it. Link your shipping policy page at places where customers can easily find it. Here's where you should link your shipping policy page:
Website Footer

Everyone locates the website footer whenever they require important information. So, you should definitely display your shipping policy page in your website footer.
In Shipping Banners or Announcements
Does your store offer free delivery over a certain amount of purchase? Cool! Did you advertise this fact? I'm sure you did. So, add a small link to your shipping policy on the banner as well.
You can simply do something like this: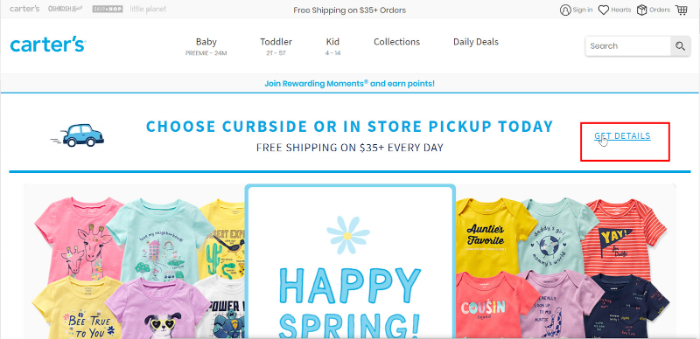 Product Page
Your customers will check for how long it takes for the delivery and how you handle shipping. So, your store should add a shipping policy to your product page and reduce the risk of abandoned carts.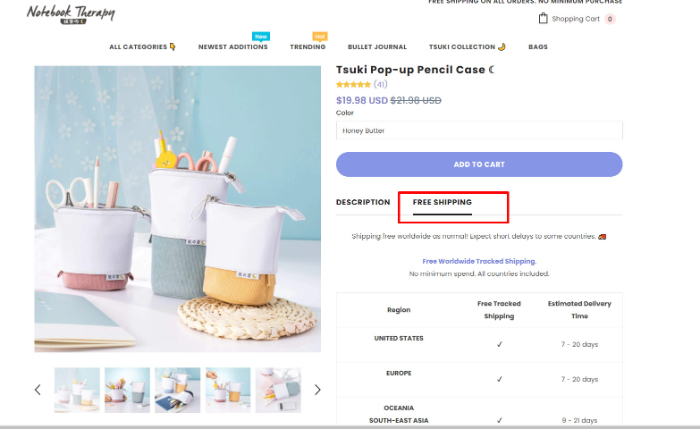 Notebook Therapy smartly promotes its FREE SHIPPING policy on the product page, helping store visitors get a clear idea of the expected delivery time based on their location.
FAQ Page
You should add your shipping policy to your store's FAQ page since most store visitors would head to the FAQ page whenever they have queries before making a purchase.
Cart Checkout Page
When a customer gets baffled about paying $9 in taxes, your shipping policy must give them the answer. It's always recommended that you link your shipping policy page to your dropshipping store's checkout cart.
Please note that we've seen where you can link the shipping policy page, let's see how you can use the free shipping policy templates.
Time to Get A Great Free Shipping Policy Template!
Here are some great free Shipping policy templates by TermsFeed, which helped me a lot at some point.
Remember one thing – converting a visitor to a customer heavily depends on your shipping policies. A transparent shipping policy sets up and maintains customer expectations with your store's shipping practices.
Better customer trust will always result in better sales for your dropshipping store. So remember to update your shipping policy page constantly.