The world of digital marketing is adrift with new terminologies – landing pages, landing page builder, lead generation pages, sales pages, and so on. Well, if you are looking to land more customers – the one thing you really need to focus on is your landing page.
So what is a landing page? Simply put, it's a page that the customer arrives upon.
People might tell you that landing page is a whole different thing. Let me tell you that any page can be a landing page. Just look at the these two words:
Landing
Page
Basically, it's a page where customers land. Anyway, today we're specifically referring to pages that make some sort of offers. As these are the ones that result in maximum lead generation.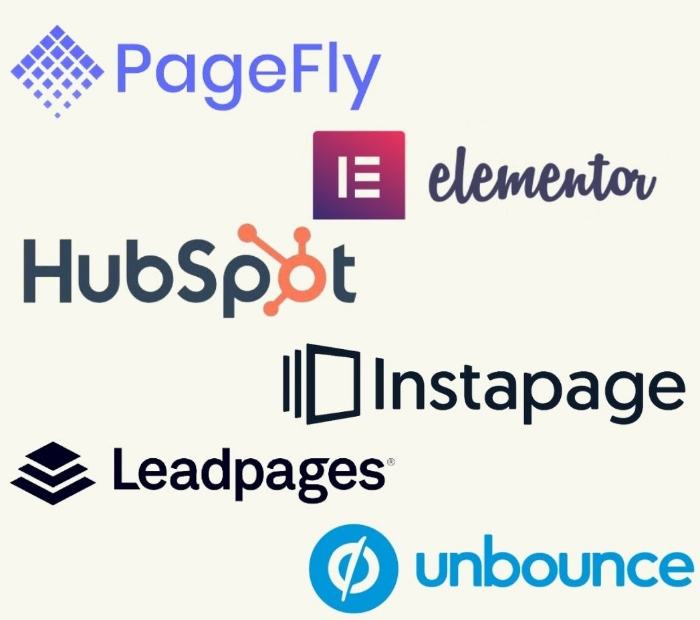 Around 68% of businesses use landing pages within their marketing scheme. And if the thought of creating one terrifies you – don't worry we've discussed the best landing page builders of 2021 and the landing page templates they offer.
5 Best Landing Page Builders for Your eCommerce Store
Landing page builders are essential tools that can help you create a landing page from offered templates or from scratch. A good builder will offer options to code, customize, integrate CTAs, and most importantly – offer user analytic reports!
PageFly – Landing Page Builder for Shopify
Pagefly is an easy to use and a modern landing page builder for Shopify. It's one of the most used Shopify landing page apps used on Shopify.

The ultimate goal of PageFly is to ensure that their customers are well equipped with everything they might need to build a stunning landing page.
Read this Pagefly Shopify App article to know everything about the platform.
Elementor – Best Landing Page Builder for WordPress
Elementor was founded in 2016 as a way for WordPress users to easily edit their websites without the help of a coding professional.

As one of the most beginner-friendly landing page builders, Elementor is used by over 5 million professionals.
Features of Elementor
300+ unique design templates that you can drag and drop onto your site
Offers a visual workspace so you don't need to work with HTML
Over 80 different design elements and widgets like icons, dividers, buttons, forms, etc
Integrate any WordPress plugin – be it related to contact importing or email marketing
Comes with responsive editing that adapts itself for viewing on both desktop and mobile
Enjoy a visual workplace for designing pop-up ads and forms as well
Set up content upgrades so that you can hide premium content from free users
Get access to a theme builder that can pick up on the existing theme of your site
Pros and Cons of Elementor
Pros
Gives free version to experiment
Get access to a huge template gallery along with an Elementor library access
Create extremely complex and intricate websites using the very easy-to-use drag-and-drop editor
It's beginner-friendly and has a short learning curve
You can get community help anytime
Cons
Some features like content upgrade and pop-up builder are only available in the Pro version
Elementor does not offer 24 x 7 chat support hence complaints may take time to get processed
Elementor Integration
You can integrate Elementor with pretty much every major marketing tool. Their list includes MailChimp, Aweber, Drip, Hubspot, ActiveCampaign, Zapier, and GetResponse.
Elementor has a wide range of features as far as landing page builders go. More importantly, the free version has pretty much provided everything that an SMB would need! The integration with other apps is extremely smooth. The UI is clutter-free and easy on the eyes.
Some top design and architecture brands like Korytko Design use Elementor. A simple visit to their domain will assure you of Element's ability.
Hubspot – Create Landing Pages that Convert
Few in the realm of digital marketing may not have heard the name HubSpot. Since 2006, HubSpot has provided everything a digital marketer would need.

From customer management systems to landing page builders, HubSpot offers some of the best and most reasonably priced tools for marketers.
Features of HubSpot
Add dynamic content to your page
Offers a visual workspace along with a drag-and-drop editor
Gives an opportunity to do A/B Testing which means you can try out up to 5 different variations for each landing page
Design sign-up forms that can be submitted in a single click to save the user's time
Gives suggestions to improve the SEO performance of your landing pages
Pros and Cons of HubSpot
Pros
Personalize the content of the landing page based on the user
Allows users to run tests to check the expected performance of their landing page
Get detailed metrics to access all types of user data like click rates, bounce rates, average screen time, etc
Cons
Use the free version to create up to 20 landing pages
Can't buy the HubSpot Pro landing page builder only
Need to buy the entire HubSpot SEO toolset
Hubspot Integration
Hubspot has an App Partner Program which allows it to integrate over 500 different tools seamlessly. This includes Intercom, NeverBounce, the Google Suite, Proposify, Microsoft Teams, Shopify, and much more.
You can integrate it with Salesforce in both ways. This means you can access Salesforce click rate data on Hubspot and vice versa.
Overall, Hubspot offers a pretty convincing deal. And for any feature that you can't find in the free version – you can opt to get an integrated widget. With the entire Hubspot toolkit, you will be able to get an even deeper insight into your user's patterns and preferences.
Instapage – The Geeky Landing Page Builder
Sometimes Landing Page Builders might simply not be enough. You might also need auxiliary tools that allow you to test the pages, loading speed, and user engagement.

With Instapage, you can get everything you need along with a 4.2 times higher conversion rate!
Features of Instapage
Instapage has over 500 different layout templates that you can choose from
They have a feature called Global Blocks that allows you to scale your landing page in a single click
Leverage A/B testing to select the most engaging option
Create dynamic content with 1:1 ad-to-page personalization
Use Instapage's collaboration feature to add members
A visual and highly intuitive drag-and-drop editor
The editor provides real-time suggestions and edits to cut down lengthy review processes later
Pros and Cons of Instapage
Pros
Improve your page loading speed by up to 3 times by using the Thor Render Engine
Easily send and receive reports between teams
Provides user heat maps to gauge engagement
Cons
Need to work separately for the mobile version of your page
No free trial version available
Instapage Integration
Currently, Instapage can integrate with over 120 tools. For marketing automation, you can avail HubSpot, Marketo, Autopilot, Keap, and much more. For Email Marketing, the list includes MailChimp, Aweber, GetResponse, Emma, Drip, FreshMail, etc. You can even get Zoho, Salesforce, Pipedrive, and SugarCRM for sales support.
With Instapage, you can get the biggest template library on this list. Besides, they have a special package to boost eCommerce sales.
The package includes more mobile responsive layouts, quicker optimization, and the ability to make personalized content. Instapage offers not one but six robust tools. Probably, that's why it's certainly one of the best landing page builders for e-commerce sites.
Leadpages – Build, Test, Optimize
If you're a small business owner, Leadpages is among the best landing page builders for you. The tool is smartly designed to make your job easier.

Anyone can sign up for the Leadpages webinars to learn more. Over 40,000 SMBs use Leadpages to build their amazing pages!
Features of Leadpages
Consists of more than 200 different landing page templates in their library
Incorporate a transaction gateway on your landing page to sell products and services
Create up to 5 accounts and collaborate in real-time even with free trial version
Get SEO suggestions while creating a landing page
Add a Global footer on your page which will be displayed on all pages and can contain Help, FAQ, etc
Leadpages will pay your domain registration fee for a year (if you have a paid package)
Use the drag-and-drop editor to design pop-up ads, alert boxes, drop-down menus, sign ups forms and more
Pros and Cons of Leadpages
Pros
You can publish your site with Leadpages Domain with lpages.com as the domain behind it
You can build your very own 404 error page
With global settings, you can set your brand theme and follow the same patterns everywhere. This includes font style, height, etc.
14-Day free trial
Cons
A little bit expensive considering other landing page builders
Leadpages Integration
You can integrate various sales, CRM, eCommerce, and marketing & automation apps with Leadpages. The list includes some top platforms like Google Analytics, Shopify, AWeber, ActiveCampaign, Calendly, PayPal, and more.
Leadpages has excellent abilities to run A/B split testing. Their low price range and the domain integration makes them ideal for any SMB looking to start on their digital journey. As a matter of fact, you can get the entire Leadpages tool to get more in-depth analytics, PPC rates, marketing campaigns building, etc.
Unbounce
For eCommerce stores, Unbounce stands out amongst all landing page builders. Their tools can let you build captivating pages with CTAs, customized features, and stand-out promotions.

Features of Unbounce
Access over 100 different landing page templates in their library
Offers a smart traffic feature and intelligence converter to convert users with best results
Publish your landing page immediately to your domain using their built-in WP plugin
Comes with an extremely intricate and well-built split testing tool
Add customized features by coding HTML, Javascript, or CSS
Unsplash partnership allows you to access thousands of free high-resolution images
Pros and Cons of Unbounce
Pros
Schedule seasonal offers and customize your landing page for it in a few clicks
9 different safety features including SSO log-in and two factor authentications make it highly secure
Pop-up building and designing tool with a drag-and-drop editor eases up the work
Templates are highly customisable even without coding
Cons
Paid plans can be expensive as compared to others
Split testing can't be performed on pages that were never created using Unbounce
Unbounce Integration
Unbounce proudly presents that they have the highest integrations among landing page builders. The current tally stands at 3,000+ apps and tools.
The list includes tools like Google Suite, Pipedrive, MailChimp, Slack, ActiveCampaign, Salesforce, Pardot, Zapier and much more. You can connect to just about any CRM and marketing tool with this software.
Unbounce allows quick publishing and updating of webpages. This feature can save a lot of time, especially during seasonal campaigns.
Along with this, the Unbounce marketing tool can set seasonal campaigns beforehand and update the landing pages when needed.
Unbounce constantly updates itself so that all landing pages created are up to AMP standards. However some of the features like the AMP landing page are only available in the higher plans.
Best Landing Page Builder for Your eCommerce Store
Among all landing page builders, my first suggestion would be Elementor. Its free version is one of the strongest on this list. I've myself leveraged its free version to design many pages.
The flexibility of Elementor allows both beginners and professionals to use it to create layered pages. It doesn't matter whether you're as non-technical as my grandma or a coder, it would suit you well enough.