A single product Shopify theme have been making rounds on the internet ever since the advent of eCommerce.
Over the years, Shopify has created multiple templates for its users. Choosing one that fits the requirements of your e-Business is a tardy process.
To save you from the hassles of choosing the perfect Shopify template, we have come up with a list of the top 10 best single page Shopify themes.
Top 10 Single Page Shopify themes in 2021
Citrus – One Page Shopify Theme
Citrus is one of the top-ranking single page Shopify themes designed by Buddha Themes. It is an aesthetic theme. Stores like jewellery, watches and digital gadgets can highly benefit from the elegant style of this theme.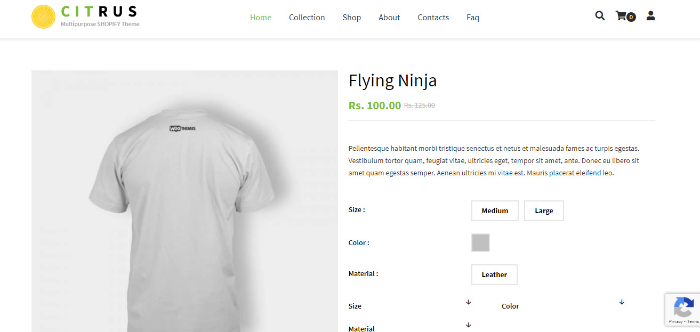 Here are the features of Citrus:
Features of Citrus
Citrus is compatible with browsers that include IE9, IE10, IE 11, Google Chrome, Safari, and Firefox
This theme is created with Shopify 2.0
Files include CSS files and JS files for a catchy display
The layout of Citrus is highly responsive
Contains powerful admin module for theme management
The theme contains integrated Google fonts
Slider effect added for customer engagement
Custom styled checkout and member section available
Pros & Cons of Citrus
Pros
Citrus offers customizable options for layout details
Parallax Effect granting a 3D view
Works with various browser
Looks good on various devices
Provides smooth functioning
Cons
Customizable options are slightly difficult to operate
Can be hard to understand for a new user
Does not support high resolution
Citrus is best for you if you are looking for a single product store. Since Citrus is highly responsive and customizable, it is a perfect candidate for our '10 Best single page Shopify themes in 2021' list.
Xcop – One-page Entertainment-Based Shopify theme
Xcop is one of the best digital entertainment themes by Shopify in 2021. It can be used for services like TV entertainment, luxury music shopping, projectors, and other devices. Xcop is designed by Buddha Themes.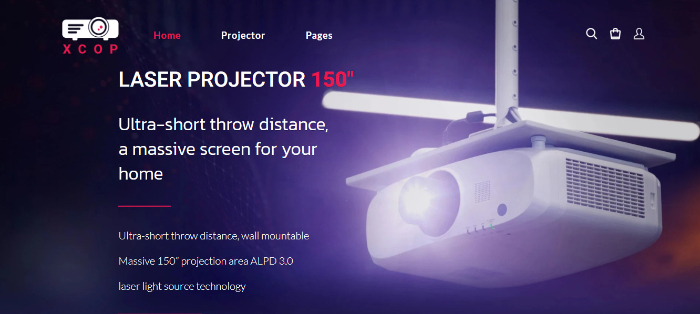 Read on to know more about the features of XCop:
Features of XCop

XCop is created with Shopify 2.0
It supports over 4 columns
CSS files and JS files are included
Ajax shopping cart and product filter added
Inbuilt newsletter pop-up feature
Compatible with all the latest browsers
Order tracking feature available
Quick shop and Cloud Zoom available
Pros & Cons of XCop
Pros
Highly responsive layout
Inbuilt strong admin panel
Easy to customise
Various selling and customer engagement features present
Cons
No high resolution provided
Crowded menu
No Gutenberg Ready
Xcop is surely one of the best themes in the market. It has an attractive layout and is fully equipped with customer management tools. It is one of the best electronic one-page Shopify templates in 2021. Those who are looking forward to starting an online electronic business should definitely consider this Shopify theme.
Single Store – Minimal one-page Shopify Theme
Single Store is one of the most elegant minimalist one-page Shopify themes available in 2021. It is created by Xlent Themes.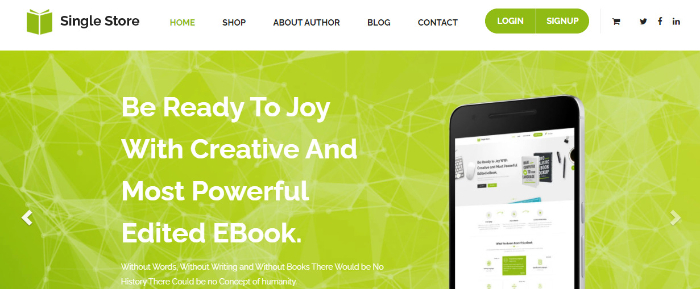 Here are the feature of the Single Store Shopify theme:
Features of Single Store theme

Compatible with several internet browsers
Well documented
Built-in Bootstrap slider
Unlimited colours available
Newsletter feature in-built
Detailed product labelling and structuring
Swatch style integrated
Cross-browser support available
Pros & Cons of Single Store
Pros
Various customer engagement tools available
Smooth functioning due to Cross-browser and Product labelling
Elegant layout and design
Great compatibility
Cons
Single column provided
No high resolution provided
Single Store is one of the most elegant and minimalist Shopify themes. It is easy to use and understand and easy to operate. It is a definite recommendation for those who are looking forward to venturing into eCommerce.
iooi – A Modern Shopify Theme
Iooi is created by Buddha Themes. This theme is predominantly used by entrepreneurs who are into the medical-related eCommerce business.

Here are the features of iooi, which make this theme a perfect match for medical businesses:
Features of iooi
Highly optimised for premium quality service
Drag and Drop Shopify builder available
Stylish Slider integrated
Ajax Wishlist and Tag filter integrated
Product comparison available
50+ homepage sections for smooth functioning
User friendly and highly customizable
Pros & Cons of iooi
Pros
Reliable support provided
Extended support available
Social media integrated
SEO optimised
Highly optimised and mobile-friendly
Cons
No High resolution
Url structure is not 100% customizable
Iooi has a highly optimised and customer-friendly layout, which is necessary for retaining customers in the long run. The social integrations this theme has to offer is one of its best features. It is a definite yes when it comes to choosing a template for your business.
Acua – Medical Stores & Health-Related Shopify Theme
Acua is a soothing one-page theme created specifically for health stores. It has a very calm layout and offers a colour pallet that is appealing and comforting.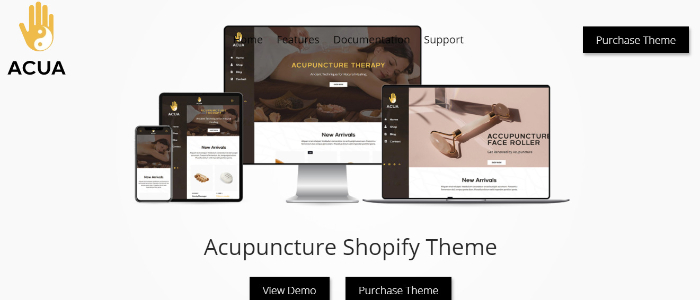 Here are the features of Acua:
Features of Acua
Social integration for customer engagement
Integrated SEO for better results
Google fonts added
Coded with the latest HTML5 and CSS3
Extensive documentation added
Support system available for customer queries and problems
Pros & Cons of Acua
Pros
Soothing themes and setup
Faster loading available
Various browser compatibility
Highly responsive layout
Customer support available
Cons
No High Resolution available
Minimalist design
Tailored for health-related eBusiness
Acua is highly recommended to those who are looking forward to setting up a medicines-related eCommerce business. It comes with no hassles and can be operated without any prior knowledge of coding. For these reasons, Acua has been one of the top-selling Shopify themes in the market.
Electro – Gadget & Devices Shopify Theme
Electro is one of the highest-grossing themes provided by Arena Commerce. Such a theme comes with optimized colour pallets and it's also less crowded than other electronic services related themes.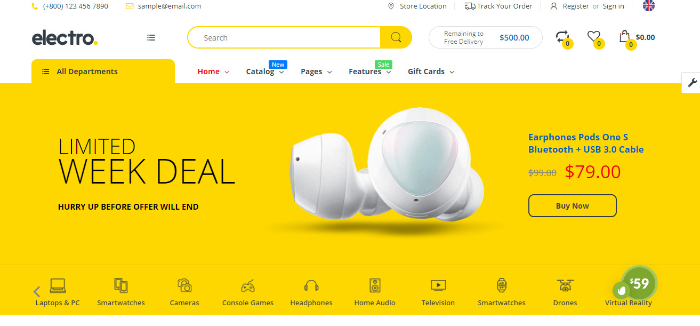 Here are the best features of Electro:
Features of Electro
Fast and easy installation
Unlimited designs to choose from
Customizable headers
One of the best and uncomplicated Mega Menu in the market
Variation Swatches are built-in
Advanced and Custom Metafields
Predefined page templates available with specific block layout
Customer engagement tools available
Pros & Cons of Electro
Pros
Simplistic design
Clear and direct layout
Built-in customer support features
Cons
Relatively high costing template
Too many paid setups
Electro is surely different from all the other electronic eBusiness related templates in the market in 2021. It has a clear and distinctive look and a relatively good rating on the internet.
More importantly, it's one of the most elegant themes that are readily available for electronic and digital eCommerce business. This template is quite experimental and is a go-to option for several entrepreneurs.
Handy – One-page Luxury Goods Shopify Theme
Handy is one of the best templates of 2021 by Arena Commerce. It has been specially integrated and optimised for small screens like mobiles.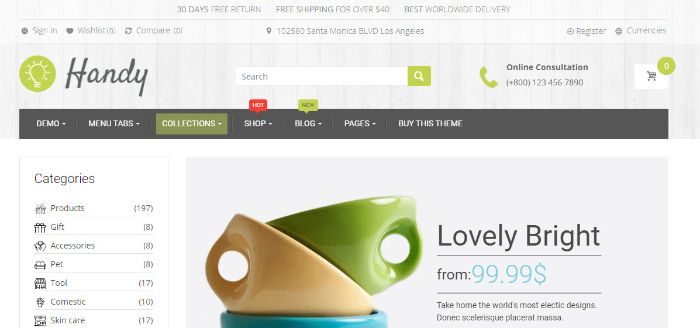 Following are the features of Handy:
Features of Handy
Mobile-first design
Search-focused menu provided
Multi-column menu provided
In-built quick link contact bar
Custom promotion tiles available
Free theme update provided
Pros & Cons of Handy
Pros
Easy theme setups
Amazing support system
Aesthetic layout
Cons
Low functionality
UX can be further developed
Pricey template
Handy is specifically created for mobile viewing thus it is the best fit for selling luxury clothing business. It has a simplistic and elegant layout that makes it more appealing. The support system of this theme is also worth mentioning. Overall it is a good template but is a bit pricey.
Furnito – Furniture store Shopify theme
Furnito is a highly responsive Shopify template created by Template Monster. It is packed with all the necessary eCommerce tools.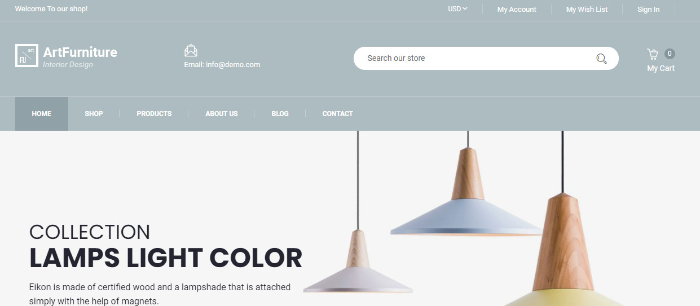 Read on to know more about this template's features:
Features of Furnito
Responsive design and layout
Bootstrap 3.0 supported
Strong Admin panel
Customised Modules
Multiple languages supported
Web forums included
Pros & Cons of Furnito
Pros
Future updates available
6 months of support provided
Extended support available
Online Chat support available
SEO optimisation
Cons
Highly-paid theme
Costly add-ons
Furnito is one of the best themes out there in the market. However, it is relatively costlier than its peers. It is best suited for luxury goods. Pre-established business models can highly benefit from this Shopify template.
Ella – Multipurpose Shopify theme
Ella is a multipurpose Shopify template created by Halo Themes. It is an all-in-one Shopify template that grants its users multiple layouts.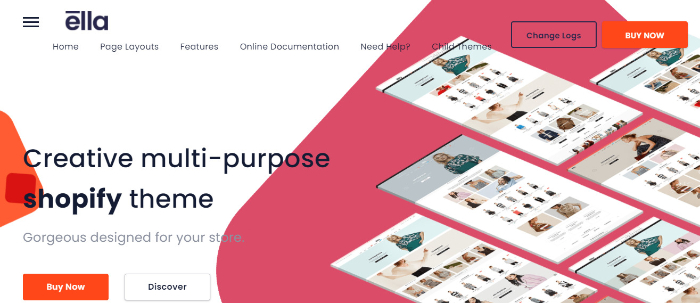 Read on to know more about this top-notch Shopify template:
Features of Ella
17+ homepage layouts and skins
16+ child themes
RTL support
Multiple languages available
High-Resolution feature
Compatible with Bootstrap 4.x
Layered PSD and CSS files
Pros & Cons of Ella
Pros
Easy to Use
Fast and optimised navigation
Smart search options
Highly updated
Cons
Ella is one of the most attractive templates in the market. It is highly recommended and holds the second position in our list of best one page Shopify themes. It's is highly customizable and can perform a high range of functions. Those who are looking to grow their eCommerce business must consider this template before making a purchase.
Wokiee – Single Shopify theme
Wokiee, created by P-Themes, is one the best themes in the current market. Reportedly, it has over 50,000 active users.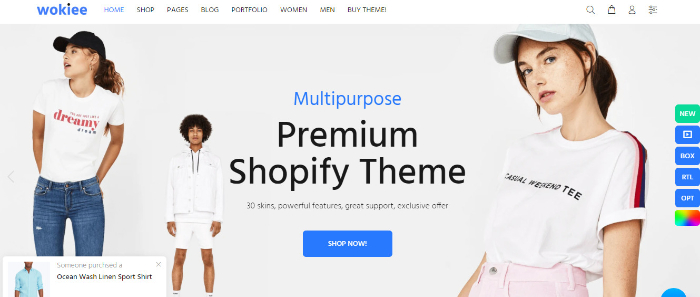 Read on to know more about the features of this Shopify theme:
Features of Wokiee
Compatible with BootStrap 4.x
Well documented presentation
Excellent responsive layout
High resolution provided
Various skins added
Elegant and clear design
Pros
Supports 3D model and videos
Ajax support provided
Quick view pop up
Google rich snippet tools
Pros & Cons of Wokiee
Pros
3D support
Easy to use
High resolution
Highly updated
Cons
Wokiee is so far the best template that we have come across. It provides the best and the most updated features. This template has garnered several eyes and has over 50000 active users, which shows the efficiency of this template.
The Best Single Product Shopify Theme You Want for Your Store
The above themes have been tested for a long time. The best single page Shopify theme depends on what store you're planning to build.
Choosing a stunning theme is one of the pillars for your Shopify website. If you choose a theme that your audience doesn't like, your bounce rate will be up the roof. The profits you expect to achieve will never be possible with a theme that's not fit for your audience.
So, make sure to choose a theme that you think will be perfect for your audience.