Hmm… So you need the best dropshipping product research tool. It means you've neglected the latest rumor which is – dropshipping is a dead end this year!
Even I would argue that's not the case at all and you're right.
In case you're still in doubt, let me tell you that such a business model can still be successful and you can develop a company using it, but to do so, you want to find a product that can generate money, not depression.
So forget all the hurdles and let's see what are the best dropshipping product research tools that can help us bank some money this year. In other words, get your mindset right!
Why Do You Need A Dropshipping Product Research Tool?
When you sit on your laptop assuming product research is easy and I can do it myself, I would like to point out that without proper dropshipping product research tool, it's as promising as not being covid positive after coming in contact with a Covid patient. In simple words, it's not a great idea to start off without proper tools.
In 2021, the eCommerce sector is growing steadily, and many new businesses open every day. Therefore, the competition is enormous and being able to stand out can be incredibly challenging.
If you don't wanna be stuck in an oversaturated market, you have to perform outstanding analysis on the different market niches and find an epic product to sell.
More than that, nowadays most well-known companies use a ton of tools to help themselves make informed decisions.
A Pro Tip: Tools at the end of the day are just tools! Don't rely on them completely. However, taking the help of a great tool is like a boost to your business.
Let's now check out a few of the reasons why you should be using a product research tool.
Scan Multiple Products At Once
Many business owners spend a ton of time doing product sourcing because finding the right thing to sell is the essence of creating a successful company. A product research tool can make the process a lot easier because unlike humans, applications can scan multiple products at once. That can save you loads of time which can be leveraged to think about other critical matters.
Analyze the Product Performance Worldwide
Even if you plan on only selling in the US, it's good to know how the product is performing in other major marketplaces like Europe and Asia.
Product research tools can scan foreign marketplaces and give you data around them. You have to remember that data is crucial in the eCommerce world. Good information can be incredibly valuable for any business, especially if you plan to expand your business to varying niches.
Performing Analysis On the Competition
If you wanna outrank your competitors, spying on them (of course in an ethical way XD) will be of immense use.
Leveraging a good product research tool will help you:
Get the data for products that are trending on your competitor's website
Grab products that are just starting to rise in sales
Capture the products that you wanna stay away from
These insights will be crucial for you as they will ensure your product investment safety. Besides, with the use of these tools, you can see how competitors are doing, what their stores rating is, and how many reviews they've got.
See Estimation of Profit And Resources
Another really cool and useful feature of all product research tools is their ability to provide you with estimated expenses and profits. That way, you can avoid falling into obvious traps.
For example, products with high sale prices may seem appealing at first but when you dive into the data, you will see their major downsides (they can be too expensive to ship).
Although dropshipping doesn't require the massive investment of having a warehouse and inventory, you still have to spend a hefty amount of cash on the domain, hosting, applications, and marketing service. These costs can quickly add up so don't forget to keep an eye.
Most Product Research Tools Have A Ton of Other Features
Look, when you first get into dropshipping, you feel like you're getting thrown in the middle of the sea, in an endless body of water filled with tools, applications, and services you need to have.
Many young entrepreneurs feel lost and find it difficult to understand what they actually need and what's just not worth investing in.
So I'm here to save you some time and cash, giving you a list of product research tools that I've used to find the winning products. These tools won't only give you products but also teach you how to market the products.
Now, let's take a look at the best dropshipping product research tools.
AliExpress Dropshipping Center – A Great Dropshipping Product Research Tool
Jack Ma is the famous founder of both Alibaba and AliExpress. The original AliExpress site was launched back in 2010 and since then, a lot of enhancements and different tools have come out.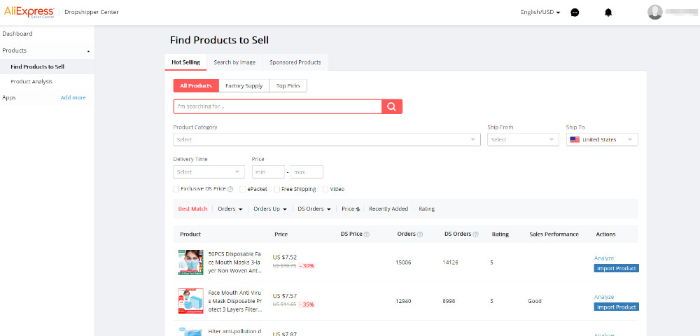 As you have probably already figured out, the AliExpress Dropshipping Center is just one additional service that the huge marketplace offers to potential business owners.
This product sourcing tool actually has two main functions:
Finding products to sell
Performing analysis on them
Let's now take a look at both sets of features and how they can be useful to you.
Features Of AliExpress Dropshipping Center
Look for Hot-Selling Products
With such products, you can see all the best-sellers in a particular niche. It's a great way to get more ideas about different products that your store can potentially offer.
Search for Products By Images
This is one of my favorite features. Basically, it offers a way to find exact replicas of things you're looking for selling.
The process is quite simple, just upload a photo in the AliExpress Dropshipping Center and the tool will itself search through AliExpress to find products similar to the one you wanted.
Has A Designated Page for Sponsored Products
As the name suggests, people pay extra to be on this page so that they can stand out with their brand. Even though most brands If I were you, I would honestly utilize this page for getting fresh ideas and inspiration and not really for finding great suppliers or winning products.
A Product Analysis Tool
The AliExpress Dropshipping Center also offers a product analysis tool which is really simple to use and gives a lot of information.
With this tool, you simply need to post the URL of a product sold on AliExpress, and then you will get graphs filled with data on how it's selling, its rating, and so on.
There's also a sales volume rating system that grades products from 1 to 100 (with 100 being the highest score), based on how many sales the product generates.
Please keep in mind that this product analysis tool only gives the sales volume for the particular store whose URL you gave it. This means that the product itself can generate higher sales if you combine data from all the stores that are offering it.
Pros and Cons Of AliExpress Dropshipping Center
Pros
Offers a variety of product research tools to suit any kind of business idea
Has a decent product analysis tool that can make the correct decision if you're wondering about a certain item
It's quite simple and easy to use
Cons
Can be used only for products that are on AliExpress
Overall, the AliExpress Dropshipping Center is free to use, user-friendly, and offers a good amount of product research tools. It provides users sufficient information and data on products that can be helpful to any struggling entrepreneur.
Ecomhunt Dropshipping Product Research Tool
Ecomhunt is an app founded by Mordechai Arba. It's a really popular product research tool that offers new winning products on a daily basis.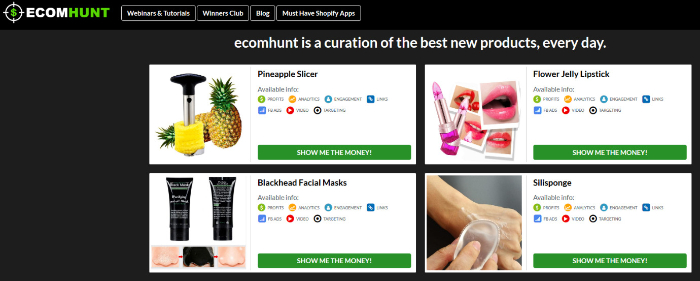 It's a great application, especially for beginners who don't have a lot of experience with dropshipping and its different aspects.
Ecomhunt is a two-in-one tool that offers winning products as well as marketing strategies. Let's see some of its key features.
Features of Ecomhunt
One-on-One Help From A Consultant
For inexperienced business owners, this may be a lifesaver. Ecomhunt offers you the opportunity to have a personal consultant that can help you with choosing the right products to sell.
Product Information
Ecomhunt offers an in-depth product description that you can later use for our own website. Along with that, it offers you a ton of terrific product images that have just the right amount of details, so you know what you're looking into before offering.
Profits And Costs Estimation
With Ecomhunt, you will get a recommended selling price for each product on the platform. More than that, you will also see what the cost of the product will be and what the expected ROI is.
Saturation Inspector
This is a really cool feature that shows you how many shops are currently selling the product you're looking at. However, you have to remember this will not always be 100% accurate data and you shouldn't fully rely on it. After all, it's just a tool.
Facebook Ads And Statistics
With Ecomhunt, you get engagement stats of Facebook Ads that are used for marketing specific products. This gives you essential insights into engagement without actually going on Facebook to see the ad for yourself. Not only this, you can also see the Facebook Ad with all the comments it gets.
Another really cool feature of Ecomhunt is that it shows you which demographic you should target on Facebook with specific ranges for age, country, and sex. That's particularly useful for young business owners that don't have a lot of marketing experience.
eBay And AliExpress Sales Statistics
With this feature, you will be able to see how the product is currently selling on two of the biggest marketplaces – AliExpress and eBay.
The only downside is that it doesn't have all the information for each of the products.
Pros And Cons Of Ecomhunt
Pros:
Easy to use and offers a ton of information
Offers more than just product sourcing as it has integrated marketing features
Great for new entrepreneurs that don't have a lot of prior experience
Cons:
Some of its features don't work for every product
D-Nicheur Product Research Tool
D-Nicheur is a US-created application that offers a revolutionary solution to product sourcing. Its founders were first budding business owners that were testing anywhere from 200 to 500 products per week for their own stores and provided all of the ones they aren't using in a Facebook group.
However, soon the interest got extremely high and they created the D-Nicheur tool. Now, the app offers users several different ways to find winning products, so let's take a look at them.
Features Of D-Nicheur
A Winning Product Catalog
D-Nicheur gives its users three winning products every day. It's similar in some ways to Ecomhunt but what makes it stand out is the fact that they test the product themselves before offering it to their members.
Google Footprints
Google has a specific feature that may help you generate product ideas. It's called footprints and by using a very simple technique, you can get a list of all current Shopify stores.
Well, D-Nicheur takes that idea to the next level as they offer an opportunity to combine dozens of Google footprints.
The only downside is that there's a learning curve to this method.
Easy LLA Maker
Easy LLA Maker helps you find audiences connected to your niche on Facebook. It uses a simple script to generate the email addresses of members that belong to particular Facebook groups.
Once you do so, you can integrate those email addresses to your similar audiences.
Pros And Cons Of D-Nicheur
Pros
D-Nicheur offers different products every day and makes sure not to oversaturate the market
The app offers products that have already been tested and saves you testing time
It does more than just product sourcing as it offers examples of potential suppliers and Facebook Ads
Cons
Need to get on a paid plan for premium features
D-Nicheur is a great tool that can do simple things well enough. It generates tested and working product ideas, giving users marketing data and access to suppliers.
Sell The Trend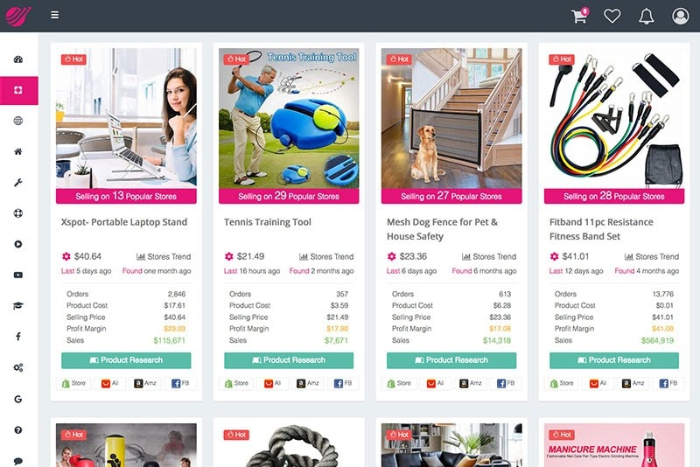 Sell The Trend is one of the most popular product research tools you can find. It's an all-in-one app that offers a ton of features that can save you loads of headaches and money.
Unlike all the other apps we've looked at until now, Sell The Trend actually combines 4 different product sourcing tools in one and each comes with its own features.
In order to avoid further confusion, let's just now take a look at all the tools that Sell The Trend offers.
Features of Sell The Trend
AliExpress Trend Explorer
With the AliExpress Trend Explorer, you can see all the hot products, upcoming trends, and new items on AliExpress. You can sort these products by price, amount of orders, or rating.
What I really enjoy is analyzing the graphs you get next to each product, which show you data related to how the product has been performing in the past and how it's looking currently.
Products that are in demand usually have a graph that's constantly moving upward.
The only downside to this tool is that it can get overwhelming as it offers tons of products and data for each one. But if you're a detail oriented person, you will be happy to know you can research all day long using it.
Amazon Trend Explorer
I'm certain that you can guess what this tool does by now. Most importantly, you know that Amazon is the world's most popular marketplace and it's a great place to look for ideas for winning products.
Using this tool of Sell The Trend, you can see all the popular products, current trends, and fresh items.
Each product has the so-called Trend points next to it, which indicate how popular it is currently.
This is a great tool to use as it enables you to do in-depth research on Amazon products without actually having to visit the website and spend hours looking through the different menus.
Shopify Store Explorer
Essentially, this app gives you two options: product research and store research. I'll explain a bit. If you choose the product option, you will get information on each product offered on Shopify. There are specific filters you have to click on, so you see only the dropshipped items.
This is a great way to scan the competition and make sure that the market isn't oversaturated.
With the store explorer, you will see a list of every store on Shopify and here again, you can use the filter to only look at the dropshipping sites. It will show you how much traffic the store is getting, app costs, and their social media profiles.
I'm in love with this tool because it offers an easy way to scan the competition.
Nexus Product Research Tool
This is another tool that separates Sell the Trend from the rest of the competition. It's their most powerful app, built to save you time.
It's for every busy budding entrepreneur that doesn't have the time to look and use each of the above-mentioned tools separately. Nexus is a combination of all the other Sell the Trend apps and it shows data on both stores and products.
Pros And Cons Of Sell The Trend
Pros
Combines a ton of useful tools in one place and saves your cash and time
All of the apps are easy to use and offer loads of detailed data
Great fit for both experienced and novice entrepreneurs due to its variety of options
Cons
Since there are several different apps, Sell The Trend has a learning curve, and it's not that easy to use
Sell The Trend is a terrific 9-in-1 product research tool that equips users with everything they need to perform world-class analysis on the market and find winning products.
Dropship Spy
Dropship Spy was founded by Tristan Glaves, who was on a mission to create a tool that helps entrepreneurs start winning by giving them access to products that are worth investing in.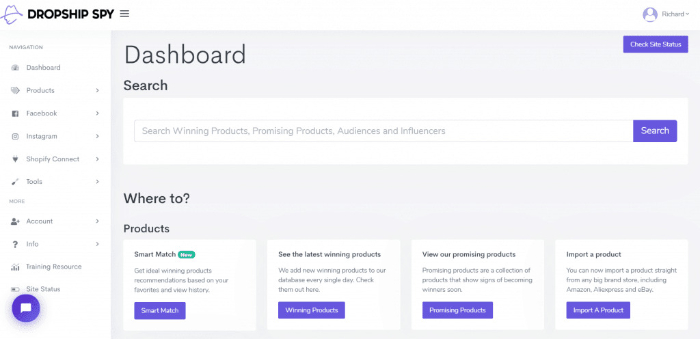 Today, Dropship Spy is one of the most popular apps on the market for product research. Let's see why that's the case.
Features Of Dropship Spy
Winning Products Tool
This will show you all the winning products they offer currently. From there, you can filter based on your specific niche or by a keyword. That way, you can narrow the results to your area of interest.
The tool offers a lot of other sorting options, you can filter products by engagement, likes, and other ways as well.
One thing I really love is that they have a lot of information for every product. Instead of talking more about it, I will just let you see one example.
Just look at how many graphs and data you're getting. So much so that it even gets hard to read at times.
Promising Products Tool
Here you will see items that still can't be categorized as "winning," but that has the potential to turn into such in the near future. It works the same way that the winning products tool does and it gives you just as much information.
Smart Match
This tool gives you the so-called smartmatches, meaning it will show you products based on what you've previously looked at or put in your favorites.
Product Spy
You can name this tool the AliExpress copycat and it will be a 100% accurate name. What it basically does is provide you access to all products that are currently on AliExpress and all the stats on them. In order to use it, you just type in a keyword and you can see items that match it on AliExpress.
So honestly, this part of Dropship Spy is a miss. It's just not a useful tool but a weird integration of AliExpress onto this platform.
Pros And Cons Of Dropship Spy
Pros
Offers a ton of different product research tools in one place
Has great in-depth charts and information on all the products
Variety of tools to try out
Cons
Winning products shown to you are not exclusive, so the market saturation for these products is quite high
Dropship Spy is similar to Sell The Trend as it offers many product research tools, allowing you to perform good market analysis and find new trends.
What makes it stand out from the other tools is the amount of data and information you can get for every product. It's mind-blowing and it certainly is great for detail-oriented entrepreneurs who like to take calculated risks.
The Future Of Dropshipping in 2021
Even though many are doubtful and thinking, will dropshipping be a successful business model in 2021? I'm not though!
In my opinion, as it's with any other business venture, success will come only if you work hard, you're dedicated, passionate, and smart with the way you manage your company.
By saying that, I want to emphasize something – I don't think that dropshipping is easy and you shouldn't think so too. It's as hard as any other business model and it requires just as much focus and knowledge. That's why I believe it's key that you get as much help as possible, especially in the beginning when you're entering into unknown waters.
That's why in this article, I decided to focus on product sourcing tools. To ensure your success, you have to believe in what you're selling and must have researched before creating the store for it. Product research tools can become your best virtual friends in the journey to finding your company's niche and best-selling products.
Always Remember: In 2021, it's tough to stand out in the eCommerce space. And by utilizing product research tools, you can be certain you're not doing what everyone else is and that you're not entering a market where the ROI is extremely low.
I always say this to all of my friends – yes, you can start a dropshipping business, and yes, it can work and win you money but for that to happen, you have to do proper analysis and planning beforehand.
Final Words
As a last note, I just wanna add that whenever you are choosing which product research tool to use, you have to keep your company's size in mind. If you have more people working with you, it's okay to choose an app with multiple tools since you have more sets of eyes to work on analyzing data.
However, if you're doing this on your own, my advice is to focus on the one-in-all apps as they can be a lot easier to process and understand.