$159+ BILLION – That's the market size of Dropshipping this year. And guess what? This may rise to $476.1 billion by 2026.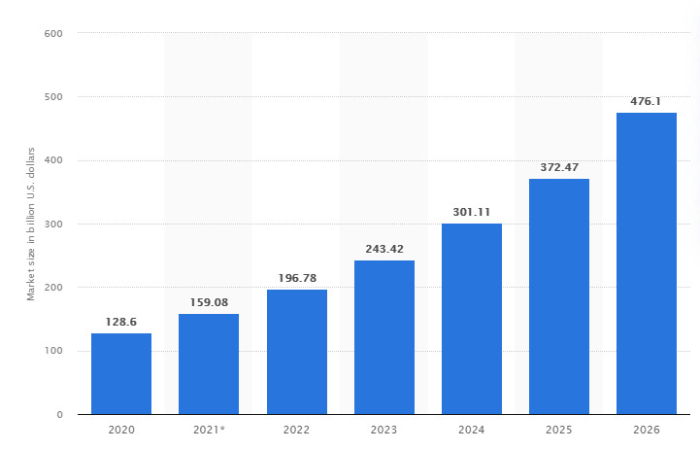 Sure the market is competitive but there's a way to stay ahead of the dropshipping game. And for that, you need to leverage the best dropshipping tools and resources.
In this list, I've talked about those tools that I've used to outcompete with my competitors.
1. Google Trends – Know What's Trending
On 11th May 2006, Google launched this epic tool Google Trends.
As the name suggests, this one of those dropshipping tools that lets you know what's trending.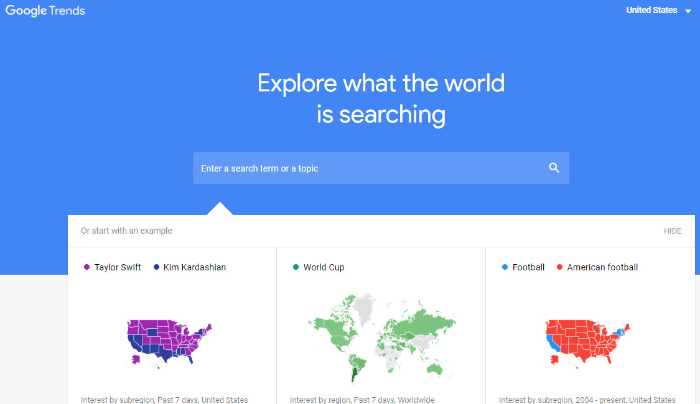 When I started my dropshipping store, Google trends was the first tool my mentor recommended.
Here's how I leveraged it:
I typed in the keyword "Coffee"-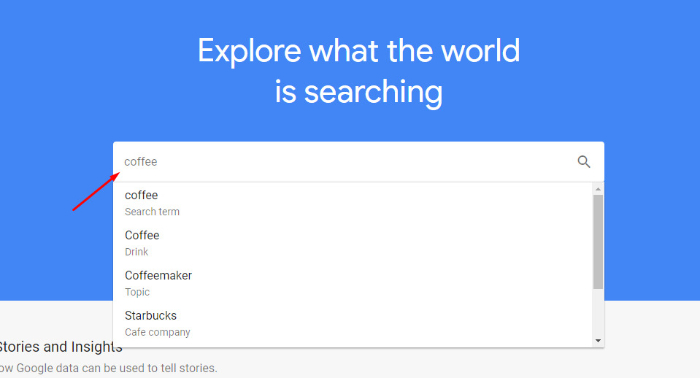 Here's the trend I got:

This graph shows how often Coffee has been searched by Americans in the last 12 months.
To explore this keyword further, you can also change location, period, category, etc.
Google Trends is a gold mine for those who sell location-specific products.
Here's how:

The interest by subregion section shows you the search volume state-wise.
So if you're trying to sell coffee in Hawaii, the campaign will be effective.
Along with this, the related topics and queries section helps you mine keywords for your store's blog.

Anyone will be confused while picking up a trend among these 3:
Coffee
Tea
Ice cream
In this case, I'll simply compare trends to ensure success. Here are some trend lines that made my work easier: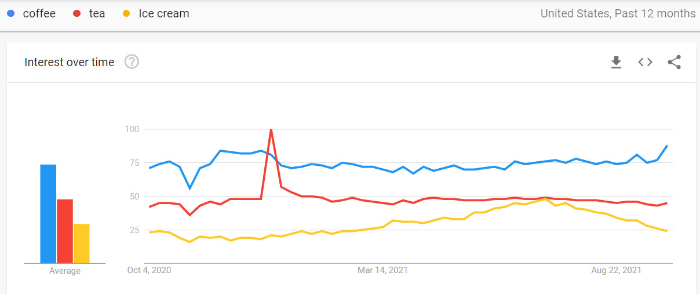 The tool also shows what's the dominant keyword in every US subregion.

Except for South Dakota (tea dominant), every subregion in the USA is coffee dominant.
2. Sell The Trend
Rush Wi founded Sell The Trend in April 2017.
Like Google Trends is for finding a trending niche, Sell The Trend is for finding viral products!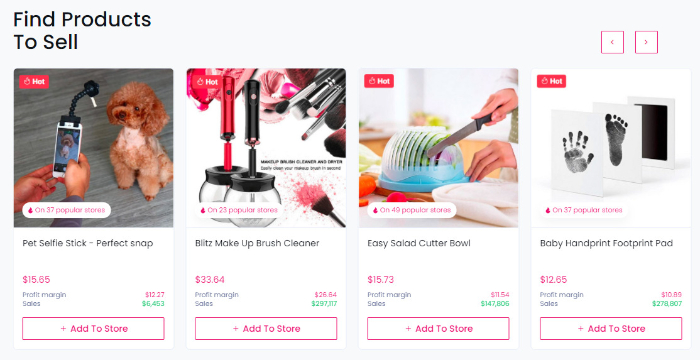 Although this dropshipping tool started as a product finder, later it became an all-in-one dropshipping solution.
Let's have a look at what this solution has to offer.
Product Explorer: 7 million products in 83 varying niches to choose from
Store Automation: From setting a high converting landing page to shipment, everything can be automated
1-Click Product Import: After finding the perfect product, 1-click is all it takes to import the product to your store
Supplier Database: Connect with 1200+ trusted suppliers worldwide
Automated Order Fulfillment: Ship the product and update the customer in a click
Marketing Tools: Reach the right audience and get them down to your funnel
NEXUS Product Research: Next-gen AI product research tool that examines 26 data points for each product
3. Oberlo – The Best Dropshipping Product Research Tool
The Slimas brothers, Andrius, and Tomas founded Oberlo in 2015.
According to Digital – 6,500 Shopify store owners who used Oberlo made $3.6M in sales.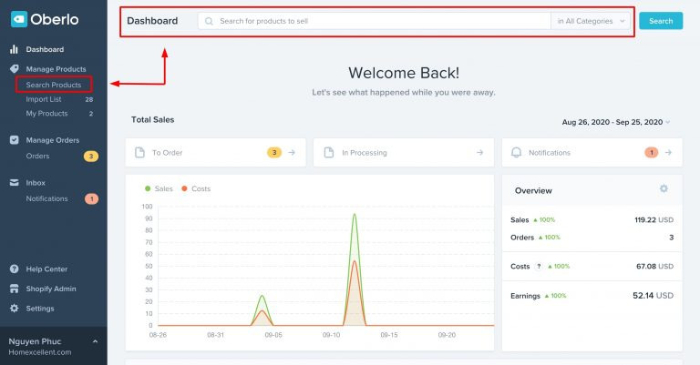 Oberlo has millions of products in almost every niche. More importantly, its data can help you pick most-winning products and details like:
Product Title
Images
Videos
Description
Besides English, there are other popular languages you can choose to work with:
French
Spanish
Italian
German
Brazilian Portuguese
As far as I know, adding products with Oberlo is super easy. Just install its Google Chrome extension and press a couple of buttons.
If I talk about customer service, it's active 24 X 7.
4. Dropified – One of the Time-Saving Dropshipping Tools
In 2015, marketeer Chase Bowers founded Dropified.
I've leveraged Dropified in the past and have got several winning products out of it!
Here's a screenshot of my dashboard when I made around 2.2k in just 2 days: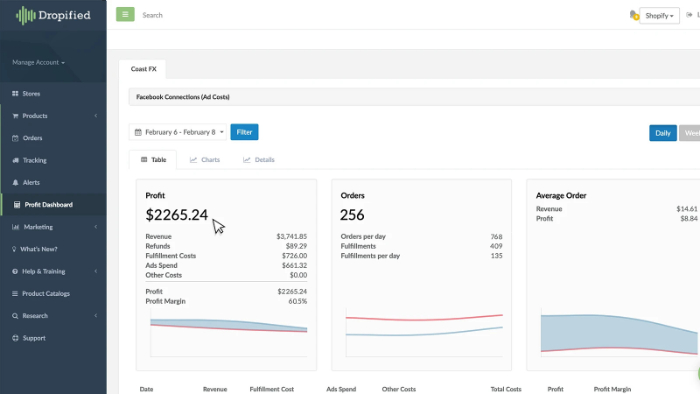 The platform has some amazing handpicked suppliers. Each supplier is trustworthy and has competitive products.
Some of the known and trustworthy suppliers that Dropified has are:
AliExpress
eBay
Alibaba
Etsy
Wayfair
Wish
You can import products to your store in just 1 click.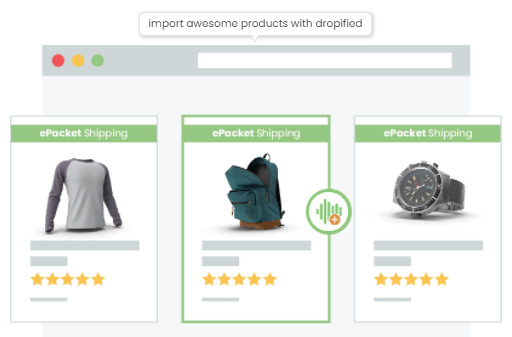 Want to save time? Set up Dropified to automate the whole process from ordering to delivering.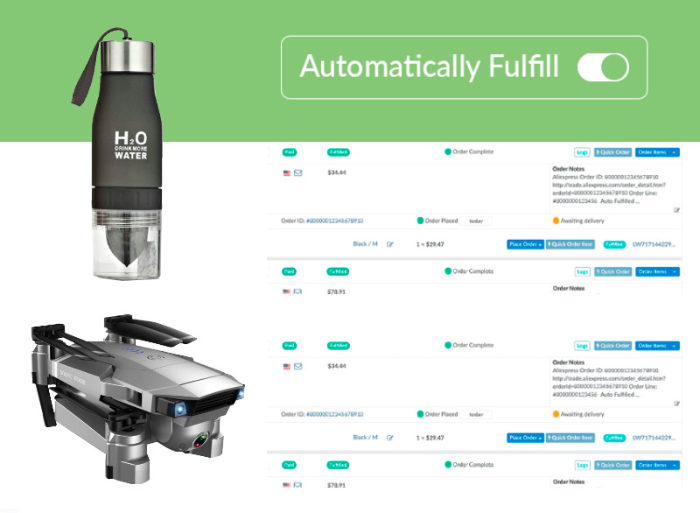 With Dropified, you can bulk order products from different suppliers.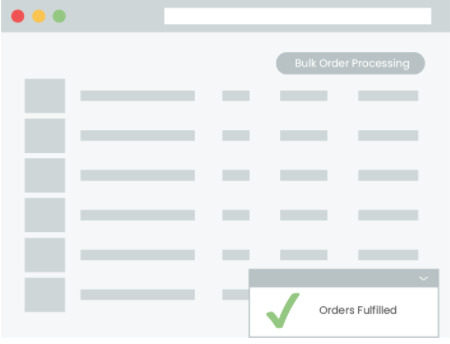 For all the products you choose, edit and adjust its:
Price markup
Price value
Compare-at price
Default weight unit
Fixed weight
You don't have to sit and do this for each product.
The tool comes with a default setting that can be applied globally to your store. Just put in the parameters and automate the process.
Dropified also comes with a tracking order feature that enables your customers to live-track orders.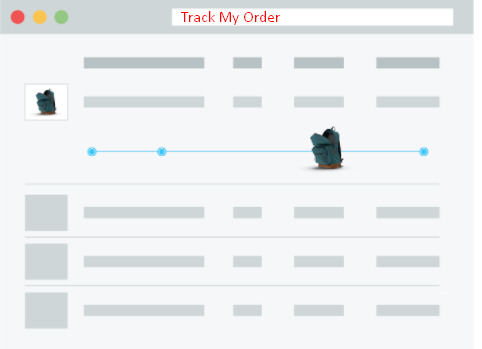 #Bonus: When you sign up even for the free version of this tool, you get in-depth training videos.
5. Ahrefs – A Dropshipping Tool to Get Customers Organically
Dmitry Gerasimenko founded Ahrefs in 2011. Here are some powerful uses of this tool you should know about:
Analyze your store's traffic, backlinks, traffic value, etc.
Spy on your competitors
Check your store's health
Mine money keywords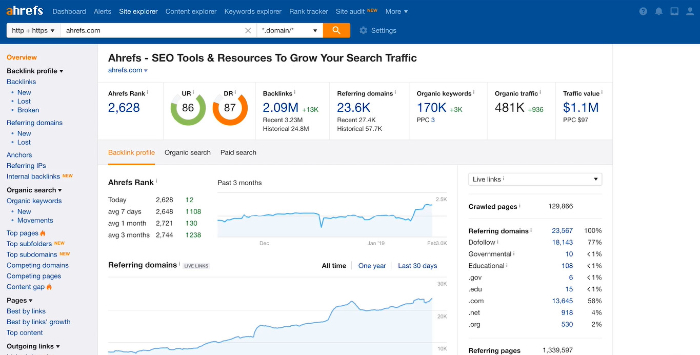 When you start a blog, you need keywords for the right direction. And fortunately, Ahrefs has one of the most accurate keyword research data.
The Keyword Explorer feature allows you to research keywords on Google, YouTube, and Amazon.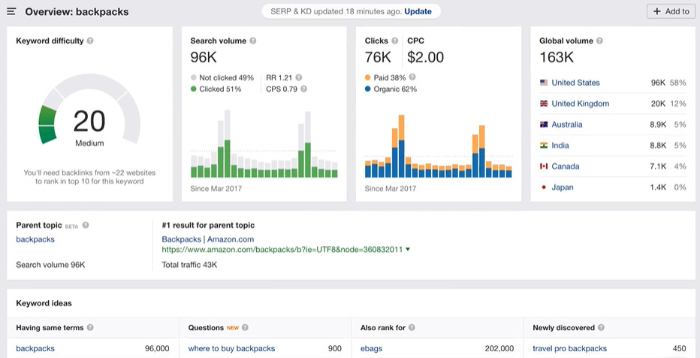 Along with On and Off page SEO features, Ahrefs is one of those few dropshipping tools that helps you with technical SEO.
It has a Site Audit platform where you can check:
Crawled URLs
Health Score
Issues with the site (if any)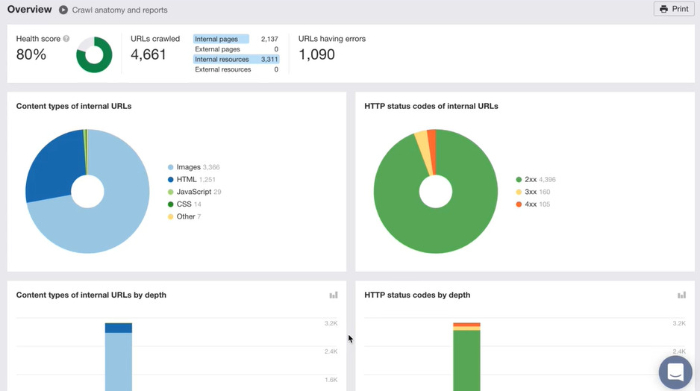 Knowing how your website performs on Google is important.
With the Rank Tracker of Ahrefs, you can check your website's traffic and several other parameters.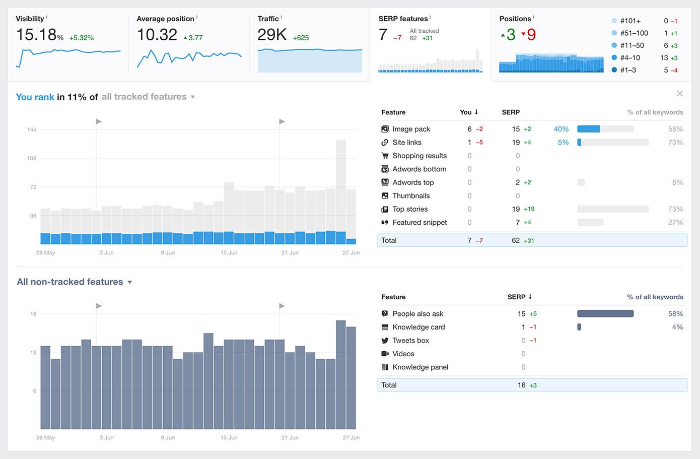 To find what type of content is performing great in your niche, leverage Ahref's Content Explorer.
With content explorer you can:
Research topics for your blog page
Find linking opportunities
Get social and SEO metrics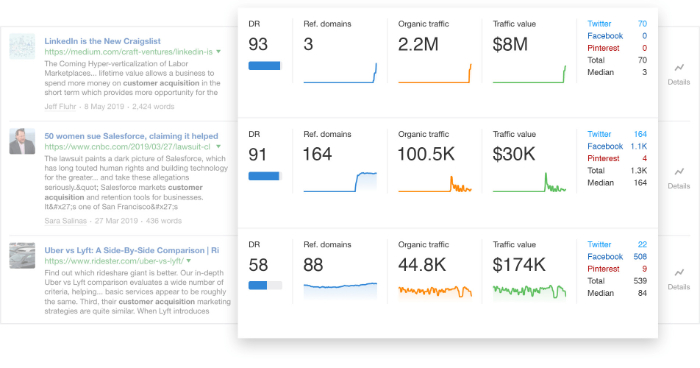 6. AutoDS – Leverage Automation & Save Time
Lior Pozin founded AutoDS in 2016. You can leverage the tool only when you've a store on:
Here's a screenshot of the eBay dashboard put up by AutoDS on their site.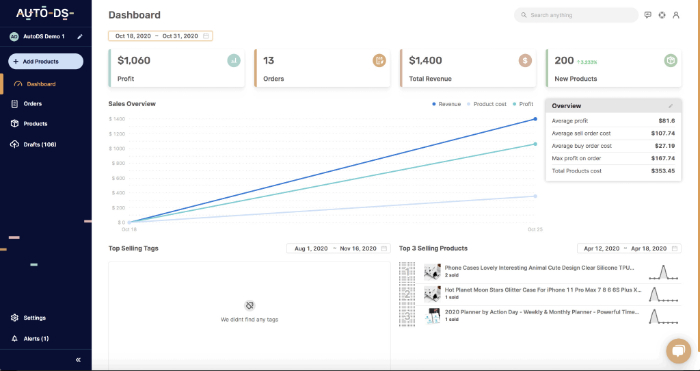 $1k in 18 days to start with isn't bad at all. Of course, only an experienced person can pull something like this.
But…
On the positive note, this shows this platform's capability.
The AutoDS also has 25+ elite suppliers to choose products from. These suppliers are from the US, EU, and CN.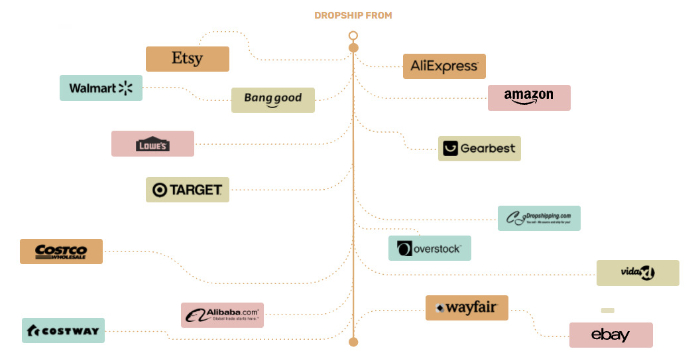 When it comes to the product tally, you can expect around 500M+ products!
You can import a product you like to your store in a single click.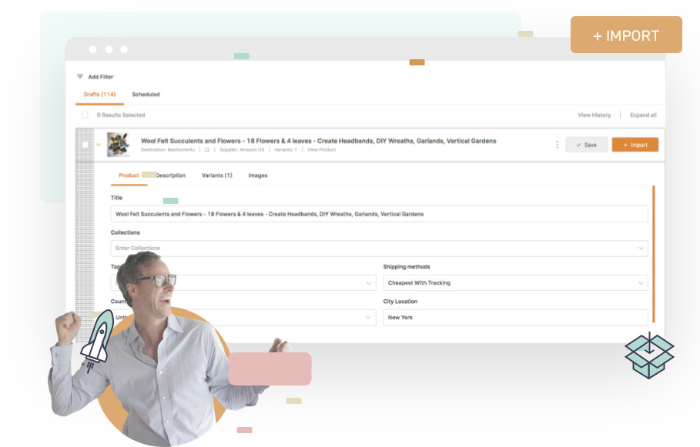 Normally, when your supplier changes the product prices, you have to renegotiate with them manually.
With AutoDS, it's an automatic process. So no need to manually check the prices every now and then.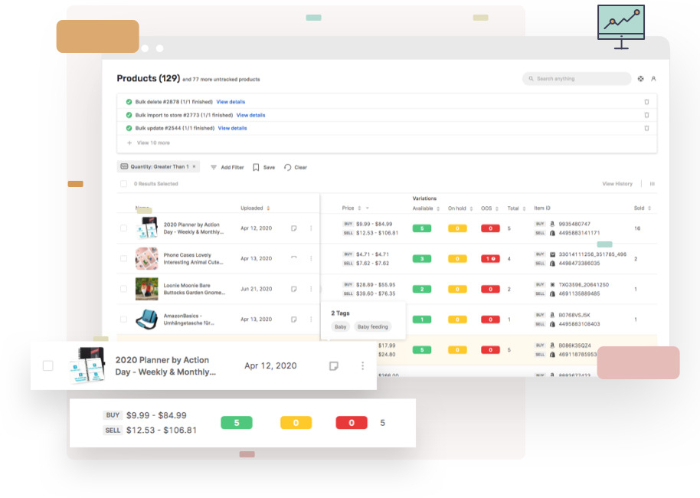 Fulfilled by AutoDS takes care of accepting and processing orders while you're away from your computer.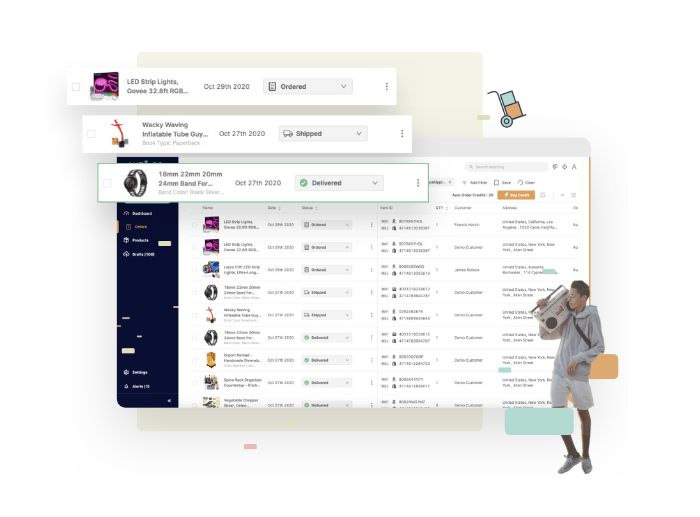 7. Glorify App – A Dropshipping Tool to Create Winning Images
Omar Farook founded Glorify App in 2019. They were a group of 7 people when it all started.
But here's what they achieved after putting their heart and soul into Glorify for 2 years:

This app is used to create stunning product images which increases conversions.
According to a study by Jerome Bruner, people only remember:
10% of what they listen
20% of what they read
80% of what they see
So creating images that are attractive is one of the most important parts of dropshipping.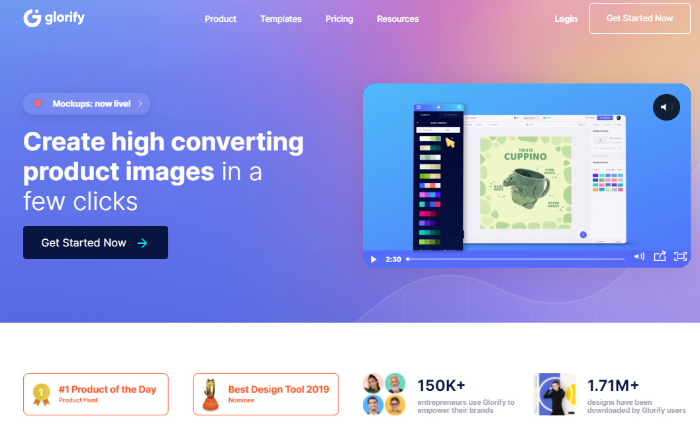 The app is loaded with features that helps you create attractive product images for your dropshipping store:
Create realistic mockups for each product
Resize your images to any format quickly
Leverage 2 million+ icons imported from Icon8 and Noun project
Get a background remover
Give objects dimensions to build a 3D image
Use 5 million+ photos by Pexels, Pixabay, and Icon8
Make a brand kit for your store
Spice things up – leverage models from Icon8 in your product images
15k+ templates to choose from
Multiple storage options to choose from
But what really sets Glorify apart from other designing apps?
If you consider other tools, some are too basic for a designer and others are simply too advanced for non-designers.
Glorify has found that sweet spot and struck the right balance. It's a perfect tool for both designers as well as non-designers.
Google Analytics – Keep Track of Your Store's Performance
On 14th November 2005, Google launched this historic tool called Google Analytics.
According to BuiltWith, about 28 million website owners have Google Analytics in their toolkit.
Analytics can analyze and show you how each page of your store is performing.
The Overview tab in Google Analytics shows you the users coming to your store in real-time.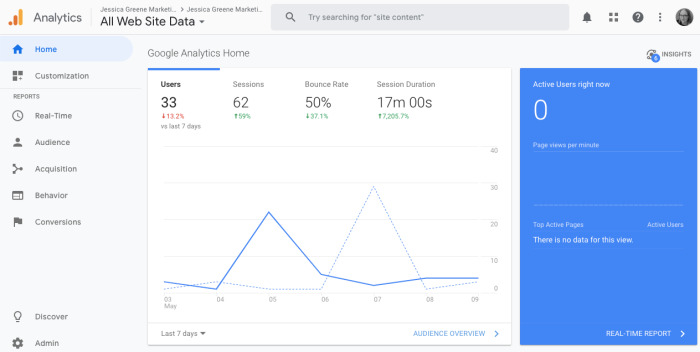 Google Analytics can help you understand your audience better.
The Audience tab tells you a lot about people coming to your site due to following measures:
Active Users: Users who are currently live on your store
Lifetime Users: Users you've acquired in the lifetime of your store
Audience: Know audience demographic and several other insights
User Explorer: Shows you how users react to the changes you make to your store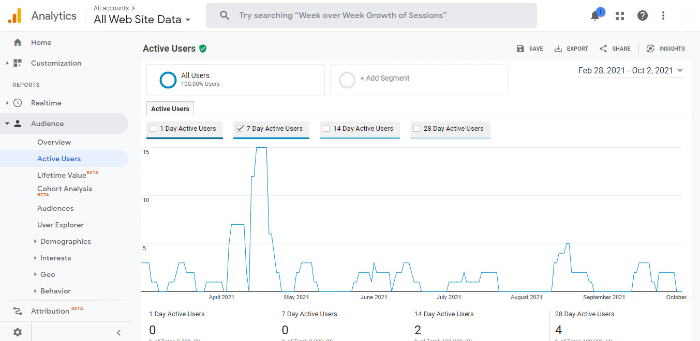 Next up is the Advertising reports. With Google Analytics, you can get insights about any Google Ad campaign you run for your store.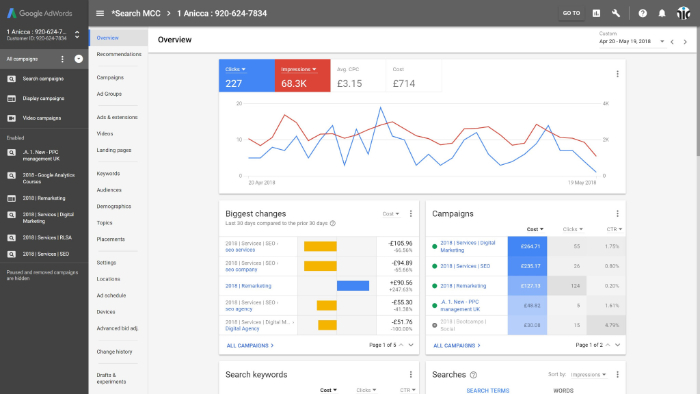 It also shows you Acquisition reports.
Basically, this refers to how you acquire users, their behavior post acquisition, and conversion pattern.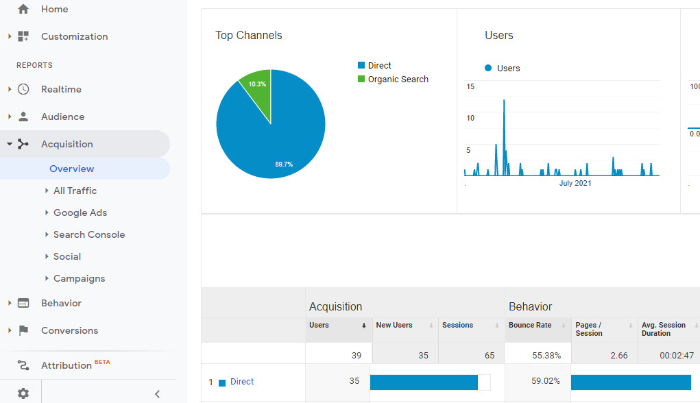 You can also see user behavior in detail with Google Analytics.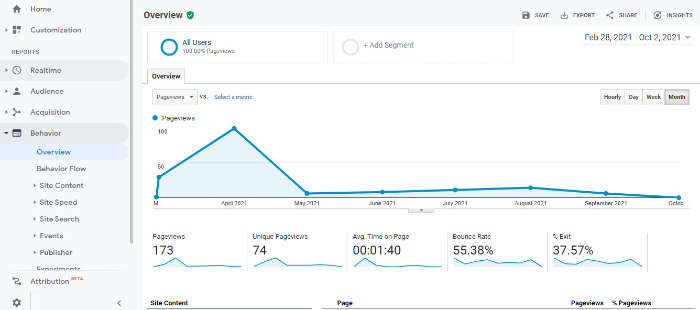 There's a lot more you can do with Google Analytics. Here's a Google guide you can read and know all about its potential.
9. Hotjar – A Dropshipping Tool to Boost Conversions
David Darmanin founded Hotjar in 2014. According to the company, about 900,000 websites leverage Hotjar.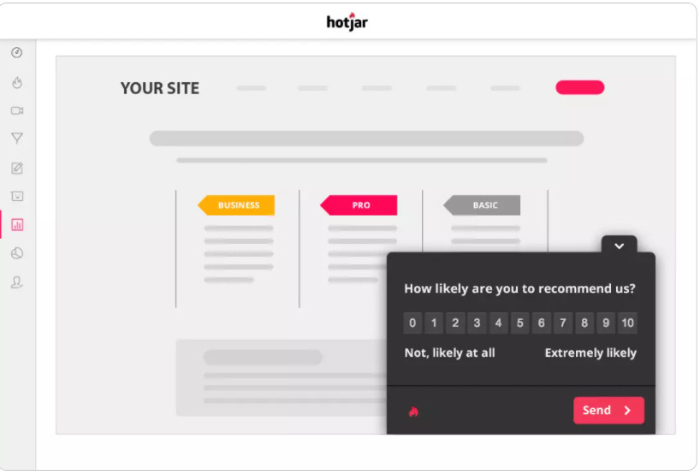 Let's see how you can leverage this tool to know user behavior and use it to your advantage.
Hotjar gives you heatmaps of every single page on your store.
Heatmaps are visual representations of where users click, move, and scroll on your store.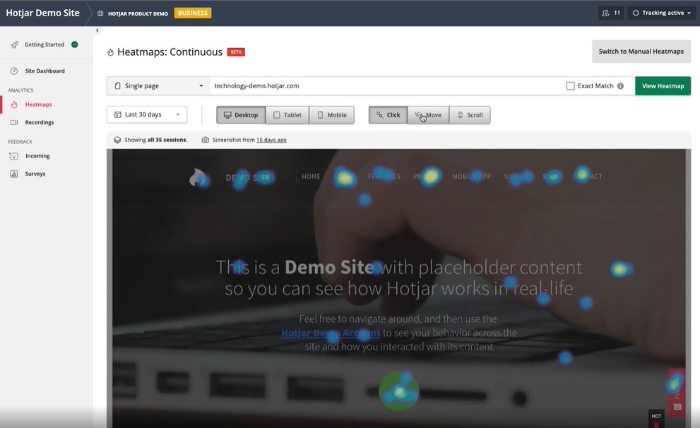 With this thing, you can know where to put your prominent buttons and icons to increase conversions.
Putting up something like this, you can record every user's journey on your store.
The moment a user lands on your store, their screen will be recorded.
With each recording, you can see the user's:
Mouse clicks
Mouse movements
U-turns
Rage clicks
Identify where your funnel can be optimized and solve major problems in seconds.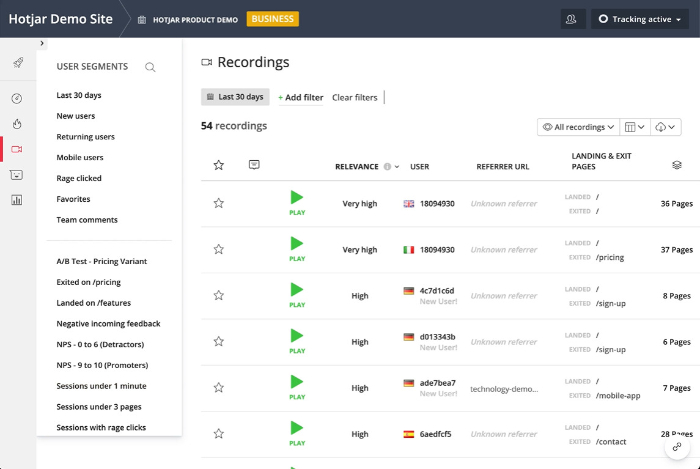 Create surveys for your customers with Hotjar. Know what's bothering them on each page of your store.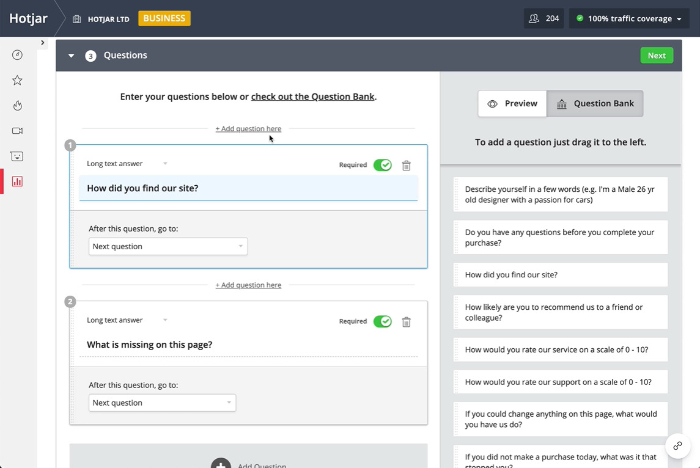 And then, put these surveys below each page and ask users to fill them.
To get an insight from your customers, you can also Insert a real-time suggestion box on your page.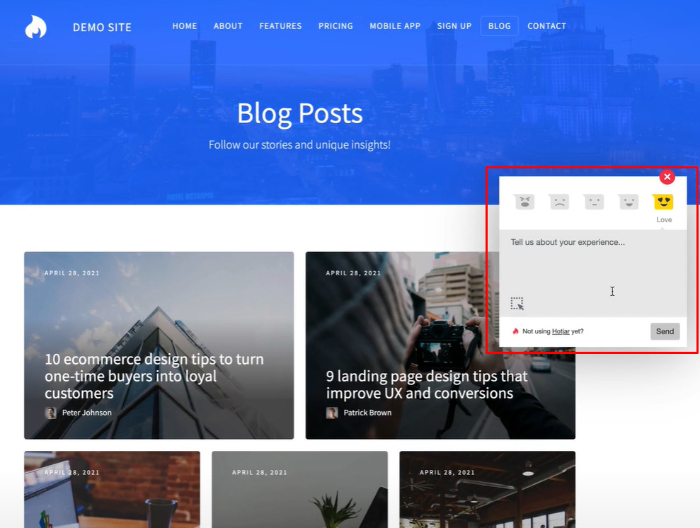 10. Tailwind – A Dropshipping Tool to Promote Your Store On Social Media
Daniel Maloney founded Tailwind in 2012. Since then, over 500,000 of the world's leading brands and 400 top agencies leveraged Tailwind.
The platform makes the promotion of your business easier on social media, specifically on Pinterest and Instagram.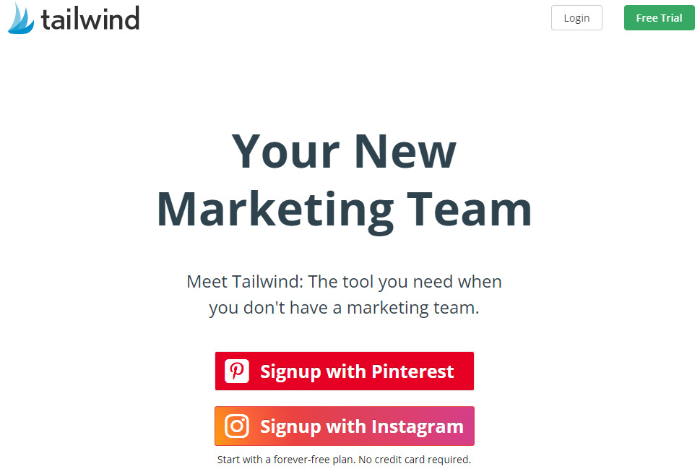 The tool lets you automate social media post designs.
It has the ability to generate hundreds of posts optimized for Instagram, Facebook, and Pinterest.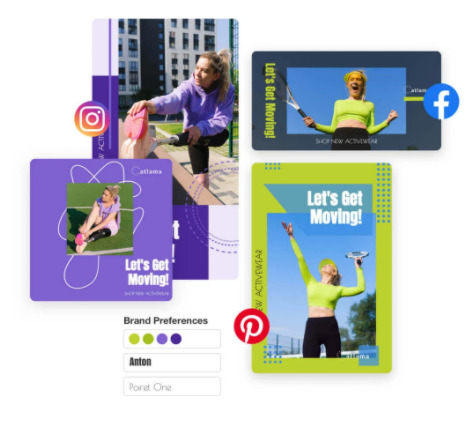 With Tailwind, you can customize each design and personalize posts to sync with your brand's theme.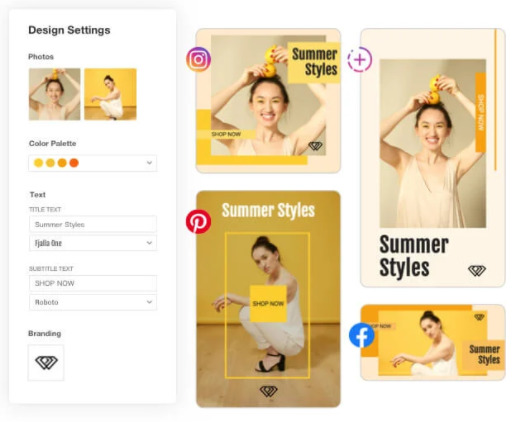 You can also schedule posts for a whole week in just 15 minutes.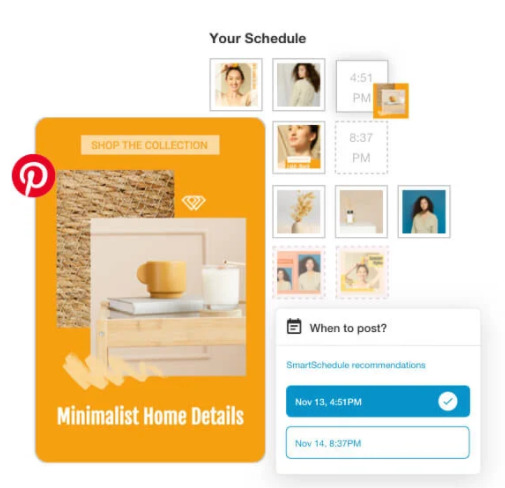 Here's a small infographic published by Tailwind. It shows what results their customers get: