The current web hosting market size sums up to $131.4 Billion. And not only this, it's expected to reach 216.6 $Billion by 2025.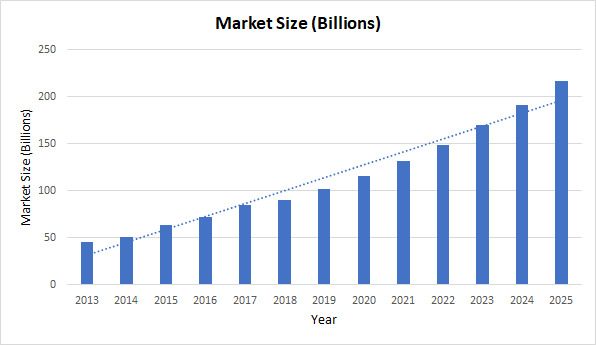 Out of all hosting services, best WooCommerce hosting services powers 29% of the online stores across the globe.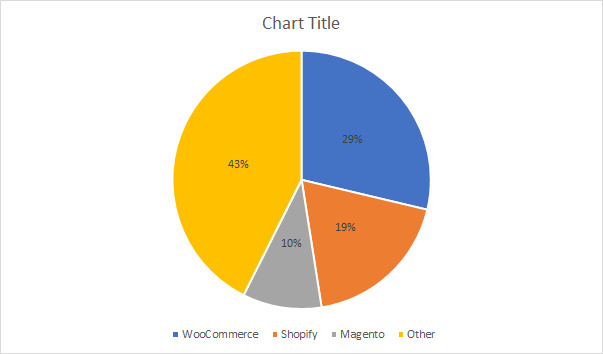 The reason behind such a huge segment is affordability. And I'm sure you pretty much know about this already.
So without discussing more about WooCommerce, know this:
I've separated this entire list for 3 most common types of businesses:
Startup
Growing
Large
So pick your list based on the type of business you're in.
Best WooCommerce Web Hosting for a Startup
1. Bluehost WooCommerce Hosting
About 1.2% of websites leverage Bluehost.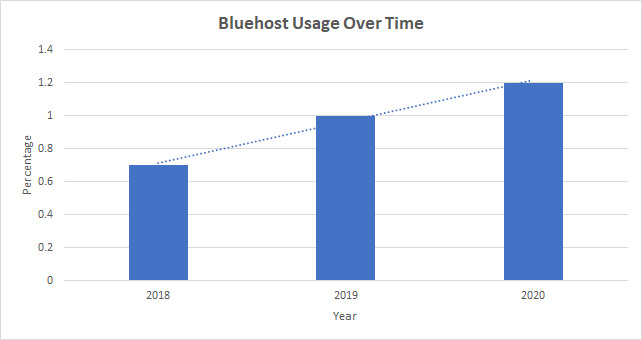 From 2018 to 2020, the increment in usage of Bluehost was 70%.
In 2020 alone, 189 Million websites were active on the web.
So that means:
2,268,000 (1.2% of 189 million) websites leveraged Bluehost in 2020.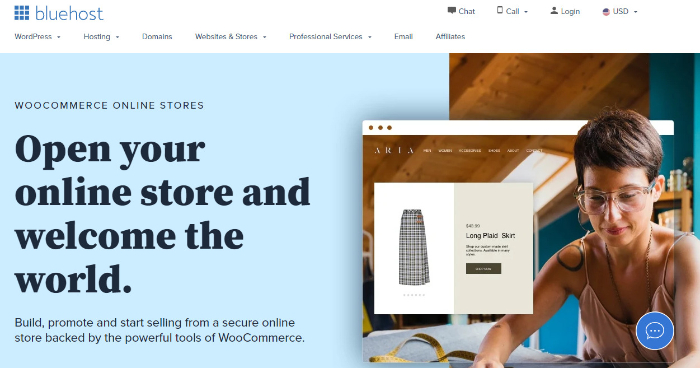 This hosting has 2 different WooCommerce plans:
Standard – $12.95/month
Premium – $24.95/month
Bluehost WooCommerce Plan Features
Free SSL certificate to secure all transactions online
Site load speed optimization with multiple caching layers
Monitor store's performance and important KPIs
Free domain name
Get verified on Google My Business
Premium package with unmetered bandwidth
2. SiteGround – High Performance Hosting
Ivo Tzenov founded SiteGround in 2004. At present, about 2.8 million website owners trust SiteGround.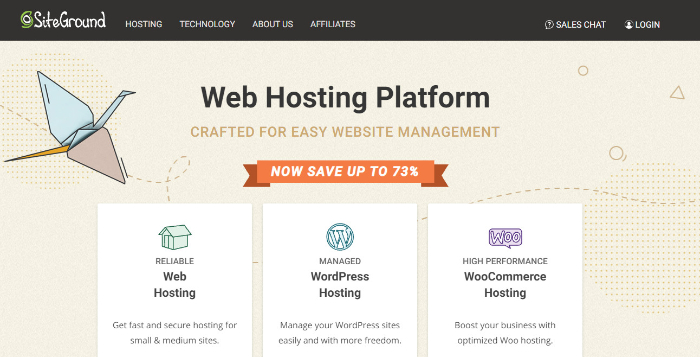 The platform has one of the cheapest WooCommerce hosting plans:
Startup: $3.99/month
GrowBig: $6.69/month
GoGeek: $10.69/month
Features of SiteGround WooCommerce Hosting
Free Cloudflare CDN
Smart caching, specifically made for WooCommerce to make page-loading faster
All plans come with SSD servers, PHP 7, and Opcache
Easy-to-install free SSL
Automatically updates for WordPress and WooCommerce
Daily backups and up to 30 copies of your store
An AI anti-bot system to block millions of security threats
Create a copy of your website and A/B test new strategies
Web Application Firewall (WAF) to keep your store safe
3. GoDaddy – Sell Anything, Anywhere
GoDaddy is the third most popular hosting solution worldwide.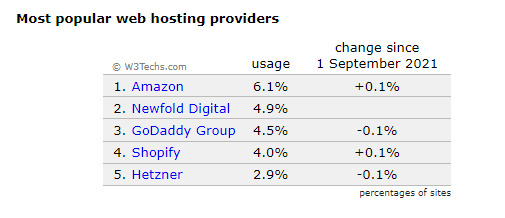 Founded by Bob Parsons in 1997, it has become one of the most popular websites in the world.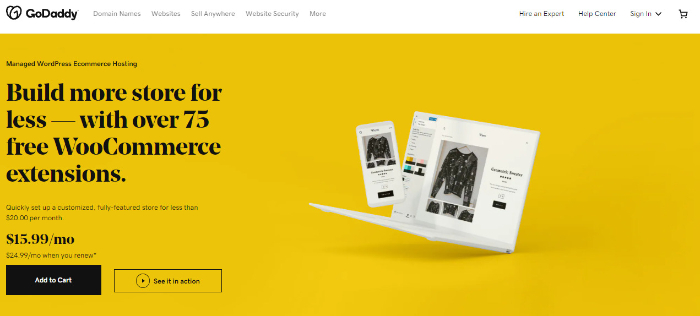 GoDaddy's WooCommerce hosting is available at $15.99 a month.
Features of GoDaddy WooCommerce Hosting
Free SSL certificate
A free domain name and a business email
Get unlimited storage and visitor allowance
Website backup protection with 1-click restore
99% uptime guarantee
CDN boost optimized the store load time by 50%
Automatic WordPress and security updates
Get 24/7 customer support
1-click migration tool
Free access to premium WooCommerce extensions
List unlimited products on your store
4. DreamHost – Fast & Secure WooCommerce Hostings
DeramHost is used by 0.6% (1,134,000) of websites worldwide.
That makes it the 11th most used web hosting in the world. Although this is not a great rank, it's a decent one!
In 1996, 4 geeks came together and made DreamHost a reality:
Dallas Bethune
Josh Jones
Michael Rodriguez
Sage Weil
New Dream Network is the parent company of DreamHost.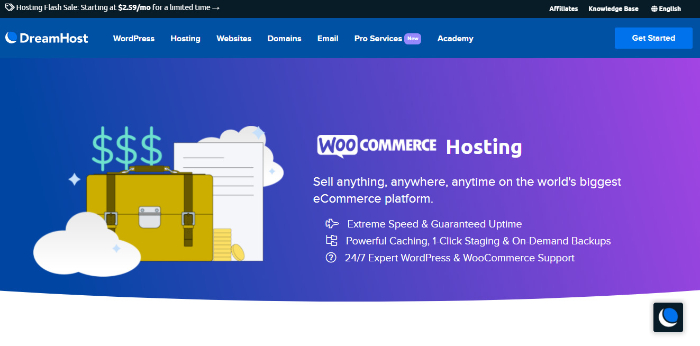 It has 3 WooCommerce hosting plans:
Basic – $12/month
Plus – $24/month
Pro – $79.75/month
DreamHost WooCommerce Hosting Features
Next-gen cloud tech with server-level caching makes your store fast
Keeps WordPress up-to-date
WAF takes care of all the malware
24 X 7 live chat support
Pre-installed WordPress and WooCommerce with all the premium themes and plugins
Server level caching for optimal store speed
SSD storage gives 200% better performance than normal hard drives
WooCommerce Hostings Perfect for Growing Stores
5. Pressable – A WordPress Hosting Solution
In 2010, two friends, Vid Luther and Wes Wilson found Pressable. After buying the common stock from the founders, Automattic acquired Pressable in April 2015.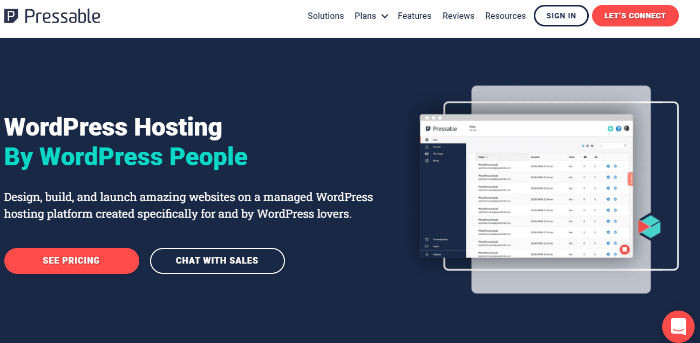 Automattic is also the parent company of WordPress. This makes Pressable a perfect hosting for WooCommerce.
Here are 4 different plans you can find on Automattic:
Entry – $37.50/month
Starter – $58.33/month
Pro – $87.50/month
Custom
Features of Pressable Hosting Solution
100% uptime guarantee
Free global Content Delivery Network
State-of-the-art NVMe server specifically designed for WordPress
Automatic failover system monitors servers and assigns a healthy server to manage site crashes
WordPress hack recovery assistance to get back your store after getting compromised
Free SSL for encrypted transactions
6. Liquid Web – Affordable WooCommerce Hosting
1% (1.89 million) of the total websites worldwide leverage Liquid Web. It's the 10th most used web hosting in the world.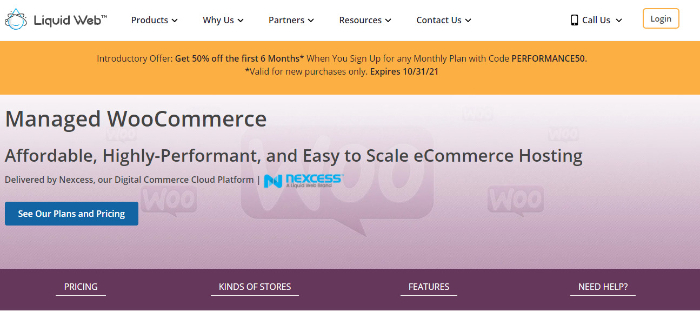 If we talk about WooCommerce, Liquid web has 6 plans:
Starter – $9.50/month
Creator – $39.50/month
Merchant – $74.50/month
Standard – $149.50/month
Growth – $274.50.month
Enterprise – $499.50/month
Features of Liquid Web WooCommerce Hosting
500 free and 1000+ paid eCommerce themes
Beaver Builder to customize your store as per your needs
Mobile responsive themes
Get free migration service of Liquid Web – White Glove
7. Hostinger – Fast & Easy to SetUp
From 2006 to 2021, the usage of Hostinger has increased unexpectedly.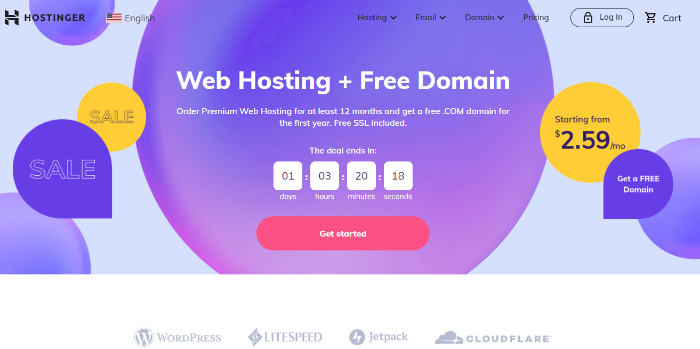 In 2006, 0.1% of websites worldwide used Hostinger, which rose to 1.1% in 2021.
That's a 1000% increase!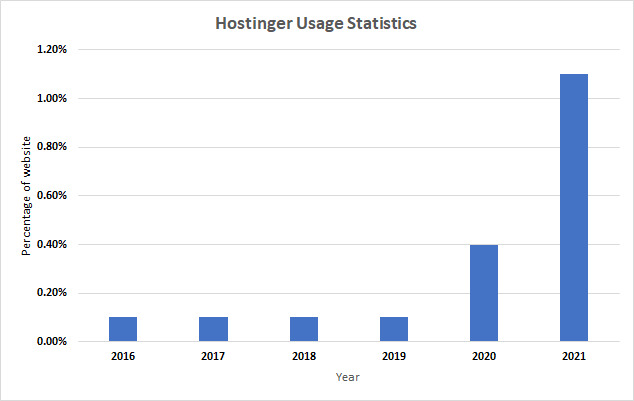 Hostinger has 3 plans for WooCommerce hosting:
Starter – $ 3.99/month
Premium – $11.59/month
Business – $23.99/month
Features of Hostinger WooCommerce Hosting
Latest PHP and HTTP/2 for best performance
Free domain with 12-month order placement
Custom control panel with GIT integration
Multi-tier caching setup to enhance store's performance
Unlimited database with all the plans
Get free migration available anytime
24/7 customer service for all plans
8. Kinsta – A WordPress Dedicated Hosting
Kinsta was launched in 2013 and has been rapidly growing ever since.
Let alone solopreneurs and freelancers, 20K+ companies have switched to Kinsta.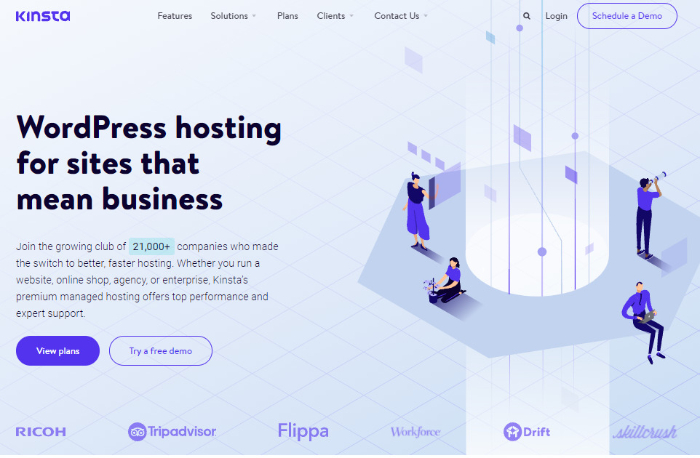 Most companies chose to go with Kinsta because they handle such traffic with ease:

Apart from this, Kinsta has a lot of plans to choose from:
| | |
| --- | --- |
| Plan name | Price (per month) |
| Starter | $30 |
| Pro | $60 |
| Business 1 | $100 |
| Business 2 | $200 |
| Business 3 | $300 |
| Business 4 | $400 |
| Enterprise 1 | $600 |
| Enterprise 2 | $900 |
| Enterprise 3 | $1200 |
| Enterprise 4 | $1500 |
Features of Kinsta WordPress Hosting for WooCommerce
The isolated software container technology maintains traffic surges quite easily
Server-level caching for WooCommerce stores to make them faster
Runs malware scans regularly
Supports IP Geolocation blocking
Automatically bans abusive IPs
Daily automatic backups to keep your eCommerce data safe and secure
Free WooCommerce migration
Monitors each website 720 times a day to ensure security
28 global data centers to choose from
WooCommerce Hostings for Large Stores
9. WordPress VIP – The Perfect Solution to Go Big
When you already have a store doing great, you might think about going big. In that case, WordPress VIP is the best hosting to have.
After all, who would know more about WooCommerce than their creators!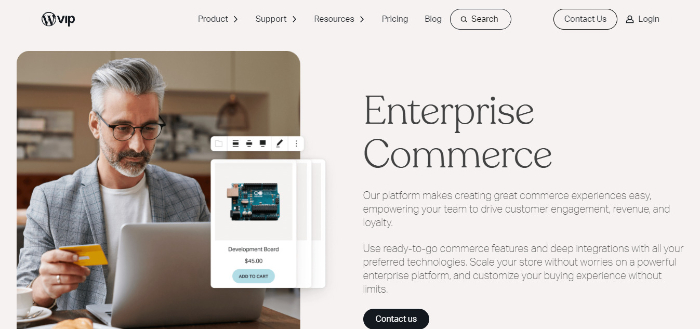 If we talk about online marketing, content and commerce are the new power couple.
With WordPress VIP, you can unleash the ultimate power of both these elements.
When it comes to the commerce part, WooCommere sets you up for success.
The content part is handled by the leader of the IDC market space in 2020 – WordPress.
The VIP plan comes with Gutenberg visual editor to build new pages. The editor is completely drag-and-drop which makes it easy to use.
Traffic spikes will not be a problem anymore. The containerized infrastructure with a global presence makes sure of it.
The whole infrastructure you get with WordPress VIP is personalized for WooCommerce. And this ensures optimal performance.
All the security with WordPress VIP is flawless. They follow SSAE 18 SOC 1, SSAE SOC 2 certifications.
Additionally, the VIP cloud hosting is certified under EU-U.S. and Swiss-U.S. Privacy Shield Frameworks.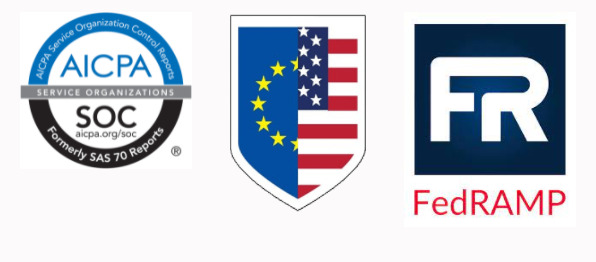 Global commerce option of the hosting lets you sell products in any language or currency.
10. WPEngine – The Fastest WooCommerce Hosting for WooCommerce
WPEngine is used by 2.2% (~4 million) websites worldwide.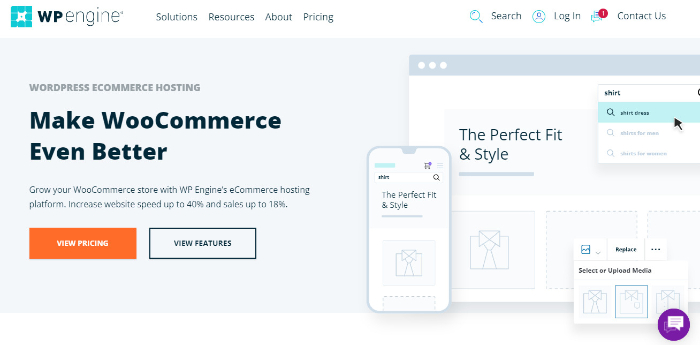 The Custom WPEngine plan is a perfect one to scale your WooCommerce business.
Features of WPEngine Enterprise WooCommerce Hosting
Dedicated and high-availability architecture
Compute-optimized infrastructure for optimal loading time
WooCommerce optimized plugin updates for your store
99.99% uptime guarantee
Advanced security
A 24/7 dedicated support team
Technical health evaluation
WPEngine promises a 40% increase in page load speed optimization. Their hosting is made explicitly for WooCommerce that makes this possible.
Its instant store search feature (powered by ElasticPress) increases coverall conversion up to 18%.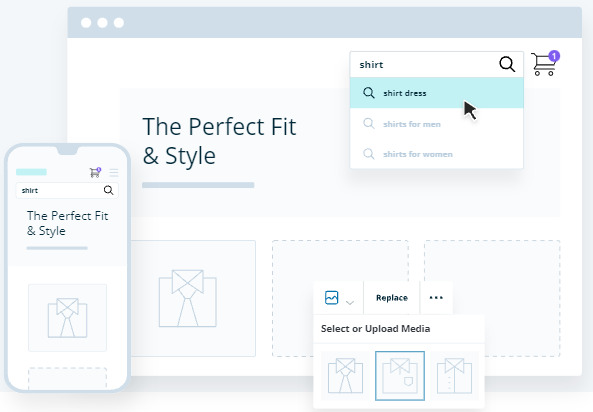 The Bottom Line
These are the 10 best WooCommerce hosting services that I think are the best ones.
For starters, WP engine and Bluehost are great due to the uptime guarantee and security they offer.
But later on, it's smart to choose WordPress VIP to take your store to new heights.