If you are a dropshipper who constantly scours AliExpress (or Banggood) for product ideas, AliShark can be your holy grail. It is a quintessential dropship spy and product research tool used by thousands of dropshippers globally.
The platform is designed by the developers of the Shopify app known as Hurify. It aims to tremendously cut out the pain that Shopify dropshippers undergo when looking for unique product ideas.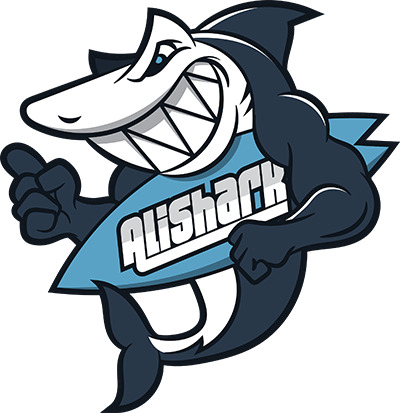 AliShark's product filtering and information gathering capabilities are good enough to find unique products quickly. In this comprehensive review, we will have a look at the various features and capabilities offered by AliShark along with the factors that make it one of the hottest dropship spy tools around!
What Makes Alishark the Perfect Dropship Spy?
Finding unique and high-performing products for dropshipping can be a tough trick, but sellers must leverage it to boost their sales metrics. In simple terms, what AliShark actually does is, it constantly scrapes AliExpress's server to find high-selling products.
It even provides a live sales tracker (with hourly updates) for every product that AliExpress has to offer. How cool is that! And that's not all. AliShark has a few other tricks up its sleeve:
Live Product Search Results
AliShark's live product sales counter helps drop shippers in finding high-selling products in real-time. This feature is also immensely useful in identifying rising (or dying) trends in real-time. You can find products that are already selling well, along with the ones that have dwindling sales.
One-click Product Details
The AliShark platform can provide you with all the information related to a product in a single click. Check whether the item has a product video, whether it's available for dropshipping, has ePacket, pricing information, total order count, sale demographics, top dropshippers who sell the product, 2-6 months sales history, and other relevant data. If you are on a hunt for already successful products, this feature can act as a bridge to help you get there.
Product Performance Overview
Product testing can be a costly affair. With the product performance overview, you can fetch the 2-6 month sales (and Wishlist) figures for any product. This feature is extremely handy while predicting trends, and helps you in identifying prospective high selling products.
Top Countries With Dropshippers
This feature allows you to identify the countries in which the selected product is selling the most. You also get a list of top dropshippers who are selling the most.
Matching Pages (Competition Analysis)
Wouldn't it be wonderful if you could get a list of stores selling the same product? Matching Pages enables you to get a quick look at your competitor's pricing strategy, ad placement, and layout so you get a better sense of product-related ideas.
Advanced Filter Options
The filter options that AliShark provides are some of the most comprehensive that you could find. If the above features didn't make you flinch, the product filter options certainly would! You have an expansive set of filters at your fingertips that can help you in identifying exactly what you are looking for.
Features of Alishark
AliShark is a comprehensive search engine for products that needs to be as feature-rich as possible. It is perhaps one of the most comprehensively featured product research platforms available for dropshippers.
After the feature set review, you will get a better sense of whether sites like AliShark deserve a shot.
Leverage Filters in Alishark to Refine Your Spying
Filter By Source
It is just plain simple. You have two product sources to choose from – AliExpress and Banggood. You can choose either one of them or both at the same time.
Filter By Categories
This works exactly as you think it works. By default, AliShark displays products from all categories. You are at the liberty of deselecting categories of choosing only the categories from which you want products to be displayed.
Filter By Niches
The filter by niches features works splendidly with the category filter feature in exploring the right products. You can choose specific product niches to be displayed in your search results. Keep in mind that no product niche exist by default.
Filter By Top Countries
This option enables you to find high-selling products in specific countries. For example: if you choose the United States and the UK, you would be presented only with the products that are best-selling in those countries.
Filter By Shipping Methods
AliExpress offers two shipping modes: ePacket and AliExpress Standard. This filter helps you in finding products with either of the shipping modes.
Filter By The Shipping Country
If you want to view products that are shipped from a specific country, this feature can be helpful. Suppose if you want to view products that are shipped from the United States (or any country for that matter), now you know how to find them.
Filter By Price
We suppose you get the gist. You can use this feature to find products that are in a specific price band. For instance, if you want to view products only in the $10-$20 price range, you can fill $10 in the 'From' box and $20 in the 'To' box. Similarly, if you only want to view products that are above $20 (or any price for that matter), you can enter $20 in the 'From' box and leave the 'To' box empty.
Filter By Total Order Count
Well, as the name suggests, this filter helps you in finding products with a specific order count range. You can set in any number of order counts for products and you will be presented with products that meet the criteria.
Filter By Period Orders
This is a filter that allows you to filter products that were ordered in a time frame chosen by you. You just have to enter a timeframe and the filter fetches only the products that were sold in that specific period.
Filter By Daily Orders
You can filter orders based on daily order volume. The way this works is you choose a minimum order count (say 1,000) which is entered in the 'From' section and the maximum order count (say 10,000) in the 'To' section. Now AliShark only displays the products that have a minimum order count of 1,000 and a maximum order count of 10,000.
Filter By Votes
Products on AliExpress tend to get a fair bit of buyer reviews. If you only want to view products that have received a specific count of reviews, this feature can certainly prove very helpful.
Filter by Wishlist
This filter helps you in finding the most wish-listed items on AliExpress. Since the item is already on a lot of wishlists, it has a significant chance of selling more.
Filter By Product Age On Aliexpress
What if you only want to view the latest products on AliExpress that were added in the past week, or so? It is an excellent option if you want to view only the latest products, or the ones that were added before a week, two weeks, as so on.
AliShark Advanced Features
Filter By Video
Product videos tend to attract more eyeballs than plain images. By selecting this filter, AliShark only displays the products that have an available product video on AliExpress.
Is The Product Being Dropshipped
This feature allows you to check whether the product is being purchased by the same supplier.
Accepts PayPal
If you only want to see suppliers that accept PayPal as a payment method, this is it. You can filter sellers that accept PayPal as a payment method by choosing the 'Accepts PayPal' filter.
Filter By Saved Products
Once you activate this filter, AliShark only displays products that you have saved. You can also access your saved product by clicking on the 'Saved' button on the top of the interface.
Filter By Time
This filter can be found by clicking the little calendar at the top right. Through this option, you can choose how the time range to display the number of orders, wishlist items, and so forth.
Sort By Options
The sort by options feature helps you in sorting products based on product growth, wishlist count, price, and so forth.
Filter By Keywords
You can either define one or multiple keywords for your product search, or you can exclude keywords of your choice. The amazing thing here is that you can enter any number of keywords that you want.
Random Button
The 'Random' button populates your screen with a plethora of random products from every niche and category. Every time this button is pressed, you will be presented with a freshly curated product list.
How to Leverage Alishark for Your Dropshipping Business
Using Alishark for your dropshipping business is not rocket science. Just follow the steps below.
Create a new Alishark account.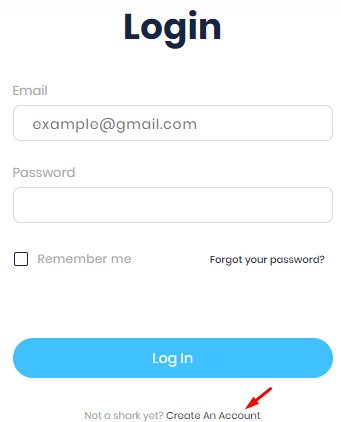 Fill in the details asked and click on Sign Up when done. Don't forget to accept the terms and conditions.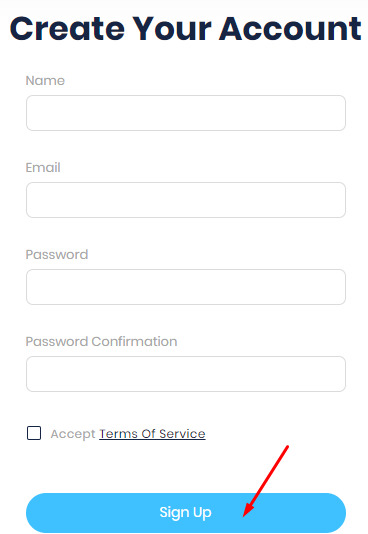 Select the mode of payment.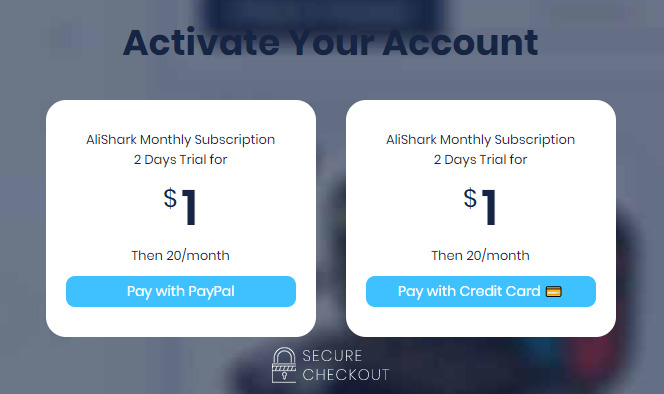 Once you're done with the payment, you'll get access to the innumerable features of this great tool.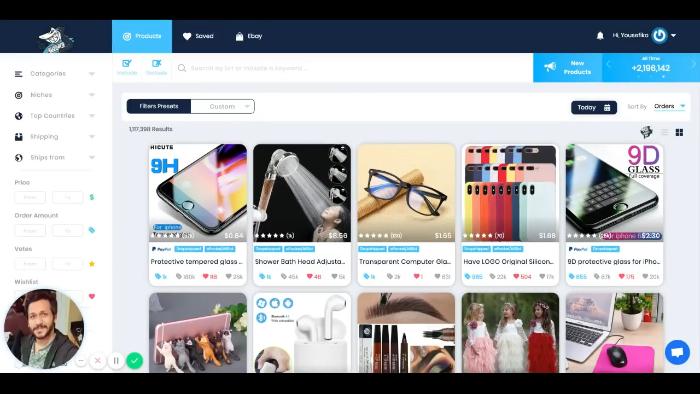 Let's first see how to filter the products. You can filter the days, sort the products by order, wishlist, or price. You can use the left tab filters for even more enhanced spying.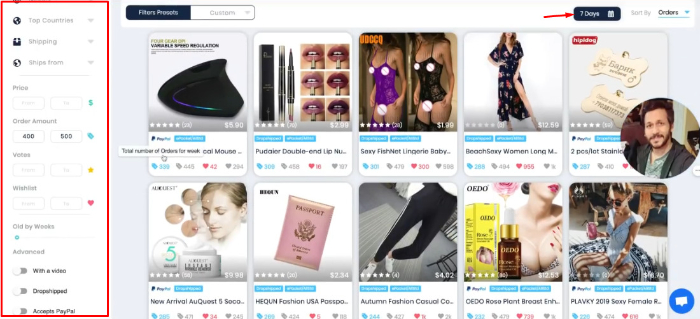 There are a bunch of things you can spy on with Aliexpress. The first one is the total orders placed for a particular product. You can see that simply by hovering on the shown icon on the product thumbnail.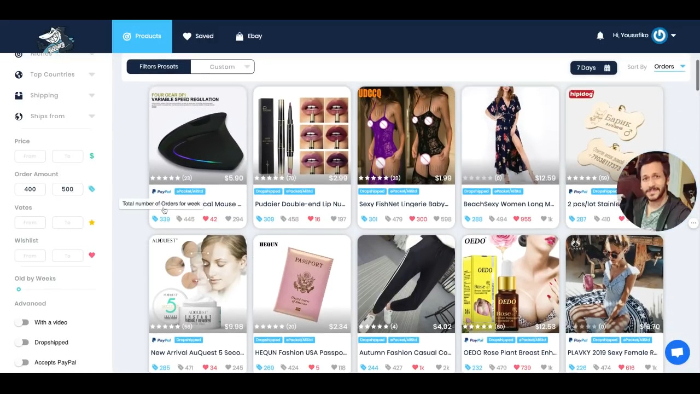 Once you click a product thumbnail, you can do several things. For starters, if you like the product you can just see it on AliExpress in detail or directly import the product to your Shopify store.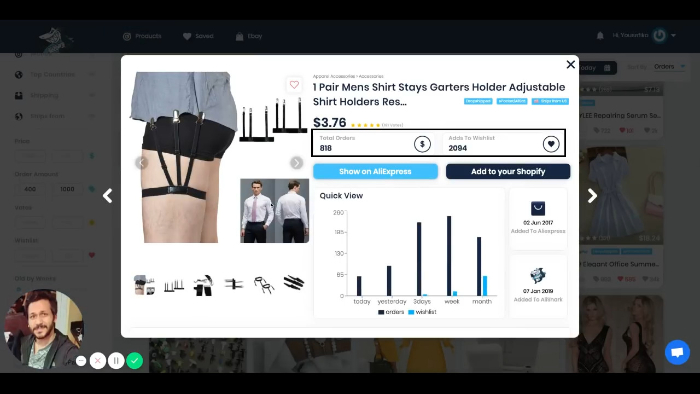 You can analyze the product sales growth with the graph you get on total orders for the product V Days.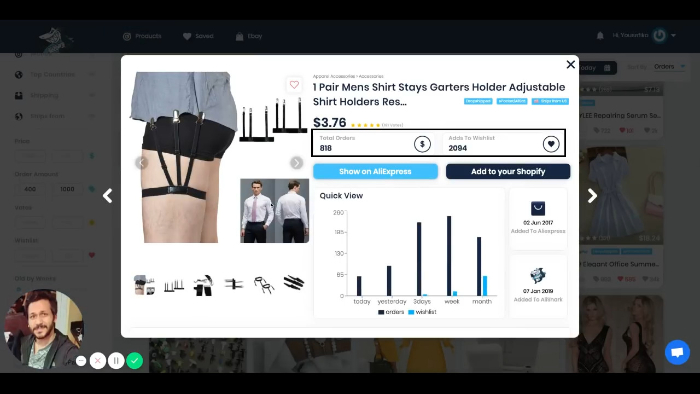 Product performance is another element you wanna keep an eye on. Analyze the product trend from here.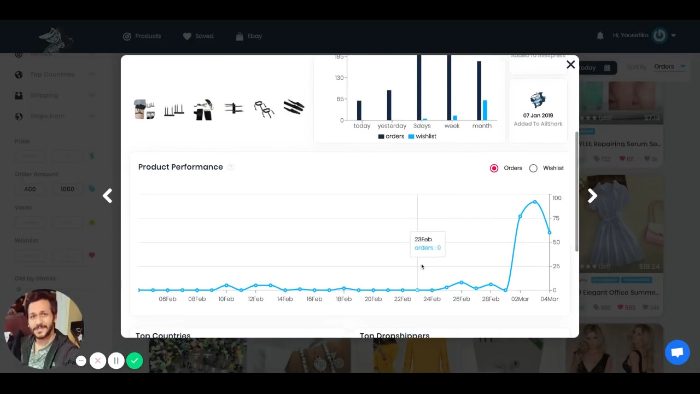 See where this product is being sold the most and unlock the name of the dropshipper who's selling it.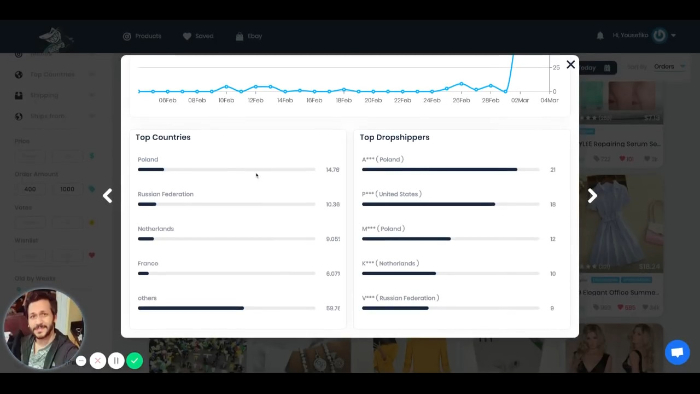 You can also see which stores are selling the product.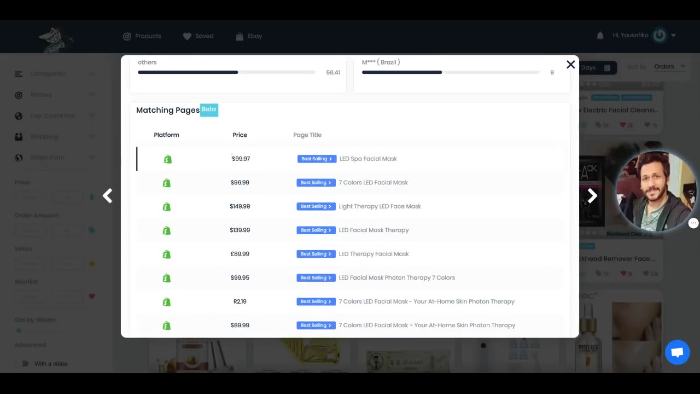 Pro Tip: Analyzing your competition is the best way to get even more product ideas and outrank them eventually.
If you wanna find a great product for upselling. Here's a cool trick to do it. Open the product you see potential in on Alishark. And click on the sub-category of the product. You will find it in the top left corner, besides the product image.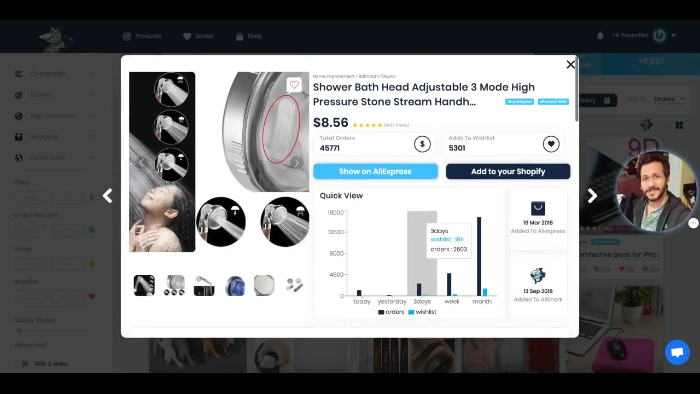 With this you get all the trending products in the bathroom fixtures category that you can upsell.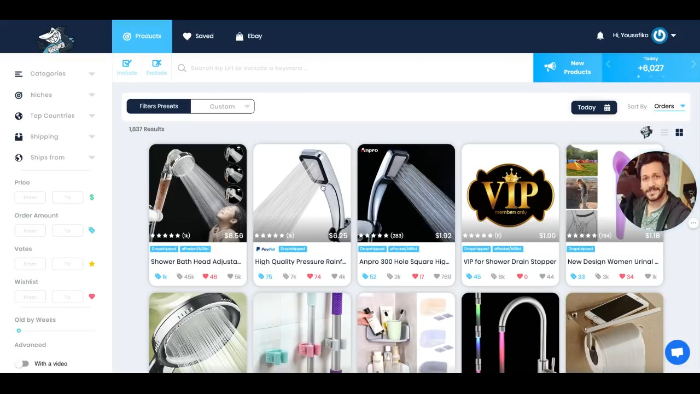 Pros and Cons of Alishark
Pros
Quick initial setup. If you are a novice dropshipper who is looking for a product ideas to dropship, AliShark could be very useful.
You can filter products in accordance with any criteria that you seem fit. The range of options available enables you to perform any sort of product research seamlessly.
2 day trial for $1. This is perhaps the best option for dropshippers who want to try out the tool before taking the plunge for $20/month. Nobody wants to be stuck with monthly payments for a tool which they don't prefer using.
Cons
No Facebook Ad targeting options. If you want a dropship spy tool with Ad targeting feature, it's better to look elsewhere.
Not too many tutorials available for new users.
Is Alishark Your Best Bet in 2021?
AliShark is one of the best product research tools on the market, and it is well worth the money if you are a novice or even an experienced dropshipper. When compared to the amount of money that you can make through optimal product research, $20 is a drop in the bucket.
AliShark will save you hours of searching for hot sale items by providing you with relevant statistics that you would otherwise have zero access to. You'll also significantly improve the chances of success with dropshipping and find a plethora of winning items for your shop.
We hope that this AliShark review has assisted you in finalizing whether or not to purchase AliShark, and has provided you with a comprehensive rundown of the feature set on offer.