In recent times, Shopify has been a clear leader in the eCommerce platform space with its users loyal and generally happy with its service. But one size does not fit all, and often users want to explore different eCommerce platforms to suit the specific needs of their project, or to set themselves apart from their competition.
So let's take a look at some of the alternative platforms to Shopify; why users choose these platforms, and what to look for in an eCommerce site and its services.
Best Shopify Alternatives – Features You Should Look for in These!
There are certain things that you must always keep in mind while looking for alternatives. Making a mental note of the important factors allows you to narrow down your choices and get a clearer picture of what you are looking for.
Like all other things, there are a few important features you should be mindful of when it comes to free ecommerce platforms too.
Keep in mind that the importance of all of these Shopify alternatives might differ for you. Unlike Shopify, platforms that you choose next should not cause the same issues and troubles.
Your Shopify Alternatives Should Be Easy to Navigate
Most users that use online platforms quote that difficulty and trouble with the interface is one of the main reasons why they tend to abandon a website.
No matter how long you have been selling your products through an online site, if the website doesn't provide ease, navigation, and accessibility, chances are that your experience of it might not be one of the finest.
Similarly, while looking for Shopify alternatives, ensure that you first check out how the website compartmentalizes its categories, filters, checking-out option, shopping list, etc.
Your customers will be attracted to what is quickest, easiest, and fastest. Therefore, choose a platform that provides all of these so that you don't have to keep switching sites later on.
To achieve above-mentioned 3 things, try looking at the eCommerce platform with the eyes of a customer. Make a list of how visually appealing the pictures are, how easy it's to report a problem, etc. After this process, if you believe that your customer might be happy with the same, safe to say the platform is a great one.
Reviews Make A Huge Impact
Another important thing about Shopify alternatives is gauging how they manage their reviews and customer feedback.
As somebody who understands how the cycle of looking for products and shopping works, you surely understand reviews affect the decision-making of your customers.
Watching other people provide positive feedback can sometimes be the final push they need to go ahead and buy your product.
However, this is certainly a double-edged sword that needs to be looked at with caution. The chances are that if products on an eCommerce website have all positive reviews, then they are auto-generated by bots and systems.
This is a tactic that customers are now well aware of. A site that provides holistic and versatile reviews is one that buyers tend to trust today. Do check out this feature before fixing upon Shopify alternatives.
Did you know more than 90% of customers check reviews before buying a product?
Perks for Customers
When an eCommerce site wishes to retain and satisfy most of their customers, they go an extra mile to make them happy with additional benefits. There are some websites that are rather monotonous and bland. Simply speaking, they do nothing to make the people that use their platform happy.
Ensure that you check out all of the benefits that could be favorable to you. For instance, discounts on first purchases and offers on holidays are a great way to declare whether the platform is successful or not.
Furthermore, also take note of how often that website keeps its users updated about these various benefits. This can be through emails, text messages, pop-ups, etc. No matter what the way, ensure that your Shopify alternatives are taking that essential step.
Transactions & Payment
This is one extremely important factor that often tends to be overlooked in online shopping. A good store can be recognized by the variety it provides to its customers in terms of payment options. For instance, simply depending upon PayPal can sometimes not be enough.
Frequently, a customer reaches the end of the transaction but fails to go through because their preferred mode of payment is not offered. In case this happens, they will then look for the same or similar product elsewhere. This difference in choice comes from things such as security, accessibility, trust, etc.
Tip: Ensure that the Shopify alternative you choose offers banking transactions, fast payments, and the option of different currencies. While you may not believe now that you can have customers from overseas, this could potentially soon be true. It's best to be prepared for the same beforehand. This will take you one step closer to ensuring you are choosing the correct platform.
Related Items
This is perhaps the most underrated feature of all time! How many times did you click on a product, only to scroll down and find a better one? Due to this feature, customers have a wider range and pictures that they can look at before making their final decision.
Not only that, it's extremely beneficial for you too! For instance, if a customer is looking to buy a great pair of slip ons. It just so happens that you specialize in selling anklets. If these two products are advertised side-by-side, the chances are that the customer will be interested in yours too. You can even further customize the page and give them exactly what they are looking for!
This is a feature that the best Shopify alternatives must-have since it sometimes attracts people that were not even looking for your product. It can be a great way to boost sales and widen your target audience. Furthermore, you even get an idea of what are the kind of products and combinations people are looking for in the market today.
7 Best Shopify Alternatives You Should Know About
Now that you are aware of some of the key features you should be careful of while choosing a good eCommerce platform, it's time to do some detailed research. Here is a list of the 7 Best Shopify Alternatives with their own benefits and disadvantages. Ensure that you have in mind what exactly you are looking for. After that, you just need to find the right fit for your needs.
Volusion – Known for Increasing Sales 4X
Volusion is an award-winning eCommerce platform that has slowly made a massive name for itself in the market. Simply by looking at the homepage, you will know how committed they are to make sure their users have a great experience.
It's an app that was founded in 1999 in the United States and has since attracted a large and widespread audience from across the world. Like most Shopify Alternatives, it allows users to set up their own store, increase their marketing and database, and sell the products that they like.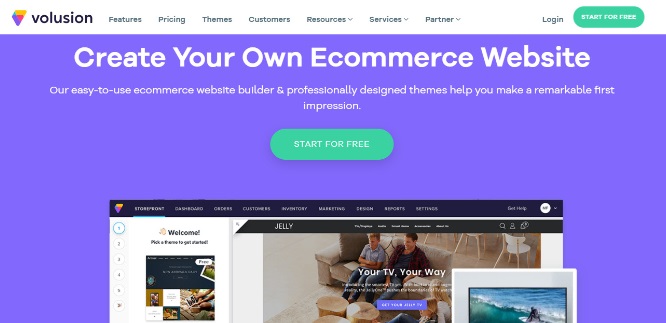 All that you need to do is set yourself up as a seller and create your own store online. Once you are done with the same, Volusion allows you to display your products and services to people from across the world. In this way, your target audience becomes a lot more diverse and extensive in number.
Features of Volusion
14- day Free Trial
SEO-rich website
Several other integrated apps and softwares
Built-in marketing tools
Pros of Volusion
Vast range of payment options
Great in terms of security
Innovative designs and themes
Round the clock customer and seller support
Cons of Volusion
Website and app takes time to load
Cannot blog on the platform
Now that you know everything there is to know about Volusion, the only thing left to do is try out their interactive software and establish yourself using their range of designs. This app is a must use if you wish to drastically increase your purchases with the help of the best tools available.
Magento – Makes Sense in Everything!
When it comes to Shopify alternatives, Magento top the list every single time. It has a long history of being managed by some of the best names in the market and that makes it so popular around the world.

There are only a few who are not aware of how eBay purchased the company in 2011. And later on, Adobe. This history of being managed and looked after by these high-quality names is one feature that store owners use to quickly establish their market.
Magento is known for the broad reach and options that it provides to its consumers, all of which are spread across the globe.
Therefore, places that you might not even have heard of will soon be where most of your consumers will be from. This, too, is another reason that makes Magento so sought-after and friendly to use regardless of the type of business.
Lastly, everything from pricing, commerce, packaging, buying, etc., is extremely simple here at Magento. This is a must-try for people just getting into the online business.
Features of Magento
Managed by Adobe Commerce
Products from all areas
Easy packaging and payment options
Comes with a blog
Pros of Magento
Simple to navigate
Flexible and scalable
App works smoothly
Great community assistance
Cons of Magento
Very few designs for free
Time consuming to set up
If you are somebody who is just looking to get into ecommerce and is actively looking for Shopify alternatives, then this is undoubtedly the best platform for you. Magento allows you to meet and interact with like minded people that you can share your ideas and products with.
Shift4Shop – Suitable for Everyone
While this may not be one of the most famous names in the market, this is a company that doesn't let you down when it comes to growth and progress.
Founded and started in 1997, it has slowly become the name for some of the fundamental changes and new software in the market. Unlike a few Shopify Alternatives, this allows the user to rely heavily on organic searches to gain customers.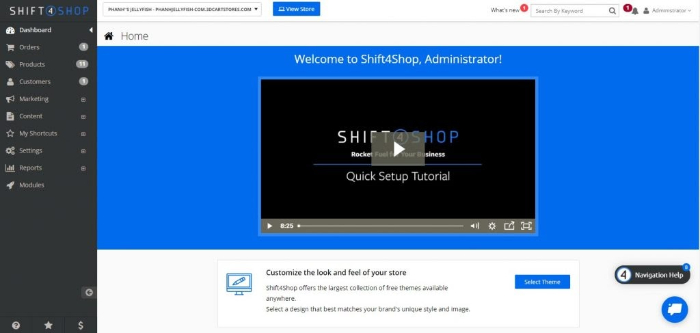 It's an eCommerce platform that makes it easy to create your own space so that you can start your business as quickly as possible. It has helped companies of all scales and sizes to establish themselves in the market and make their products readily available.
Furthermore, Shift4Shop also has a complete program for you that you can access simply by paying a one-time minimal fee. Since it's a vertically integrated online commerce platform, you will get to interact with as many people as possible and will not have to worry about your costs increasing.
This eCommerce platform prides itself on their 100+ payment options so that people can choose what they like and do not have to settle for anything less. Furthermore, it also comes with more than 50 mobile-ready themes that you can make the most of.
Features of Shift4Shop
Integrated systems
Works great with SEO content
Blog options
Works for small to large businesses
Pros of Shift4Shop
Wide variety of tools for customer maximisation
Comes with affordable and basic plans
Advance plans for better reach and service
Great security and payment options
24/7 Tech Support
Cons of Shift4Shop
Very few staff users available
Themes very similar in style
Very stagnant learning
WooCommerce – Economical & Simple Solution for WordPress Users
Regardless of how well-versed you are with online shopping platforms and eCommerce websites, this is one name that you certainly must have heard. It's one of the most renowned and top-notch Shopify alternatives that you must check out.
You may not believe that it was only launched in 2011, considering how well it has done for itself. Well, the credit goes to the WordPress too as everyone already know about it.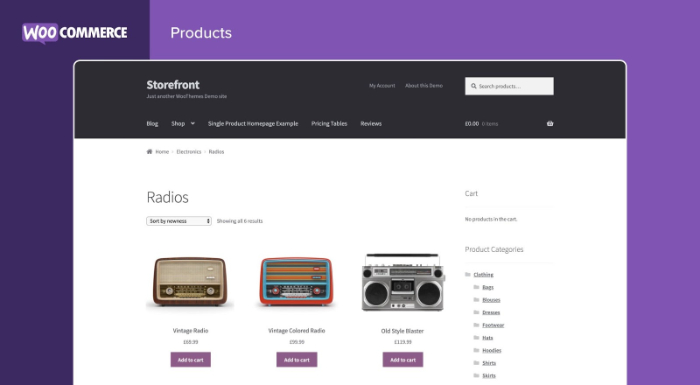 WooCommerce provides a diverse and skillful platform for people from all kinds of brands, businesses, fields, etc. it's pretty surprising to know that WooCommerce owns almost 23% of the market share of all economic platforms online.
What's more, is that the kind of security found here is unlike anything ever experienced on other Shopify alternatives. WooCommerce uses layers and layers of security and encryption so that a user's data is as protected as possible.
While most websites offer limited plugins to choose from depending upon their availability, you will never have to be dissatisfied when it comes to the plugins here. This is one of the best ways possible to increase your scalability little by little.
Features of WooCommerce
Run on WordPress
Plug-in software
Comes with codex and documentation
Licensed and authenticated
Pros of WooCommerce
Transparency throughout the platform
Easy to join and install
Setting up is extremely simple
Flexible payment options
Cons of WooCommerce
Issues with configuration
Sometimes plugins are out of date
Issues with image sizes
If you are somebody who has not been able to find the right amount of transparency when it comes to online shopping platforms, then WooCommerce is the best place for you. While most Shopify alternatives do not use WordPress, doing so has proven to be largely successful as well as extremely basic in terms of navigation. Do check it out!
BigCommerce – Fly Across Multiple Platforms
Like WooCommerce, this platform has steadily become popular among people looking for all sorts of products online. BigCommerce is essentially an eCommerce website known for getting things sorted without getting help from the 3rd party.
Founded in 2009, it now has over 600 employees who are constantly working to make every aspect and experience better for the users.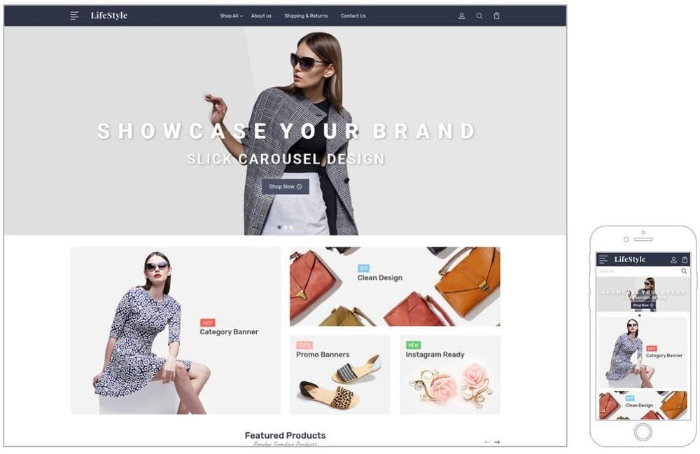 The list of Shopify alternatives is undoubtedly incomplete without mentioning this name. With BigCommerce, all that you need to do in terms of editing and beautifying your website is drag and drop things exactly where you want them. This is not only simple but an extremely quick process that will give you the perfect results you want.
The best part about BigCommerce is that it also endorses selling across different platforms. This means that while you are building a brand for yourself here, you can also simultaneously sell your products on Amazon, eBay, Pinterest, etc.
Features of BigCommerce
SEO features
Unlimited product selling
Plugins available
Satisfies a range of industries
Pros of BigCommerce
Can sell to different platforms
Not too extravagant
Easy to make your website
Different payment plans
Cons of BigCommerce
Some plans too expensive for large stores
Only 7 free themes available
Issue with speed
BigCommerce may not be extremely popular when compared to other names but it certainly has what it takes to slowly and steadily be the best. If you are someone who wishes to stay away from the technical aspects of making a website, you must opt for this and get your journey started as soon as possible.
Squarespace – Brings the Simplicity
The best part about eCommerce websites and stores is that sometimes, even an underrated name can give you unmatched features and options. One such name is Squarespace, which never leaves its customers disappointed. One key aspect about Squarespace that sets it apart from a lot of other apps is that they pride themselves on the simplicity of creation.
Founded in 2004, Squarespace has come a long way and continues to serve their customers loyally.
While a lot of Shopify alternatives aim to make their app the most intricate and sophisticated of them all, they sometimes lose the simplicity in doing so. This is where Squarespace does things differently. Below is also an example of a website built through Squarespace.
With Squarespace, you can keep sharing and publishing as many blogs as you like to retain your customers and share the aspects that you want to focus on most.
Makers have suggested that businesses with a small product portfolio who are looking to expand will be most compatible with Squarespace, as opposed to other Shopify alternatives.
By paying only around 25 dollars a month, you can have access to unlimited themes, blogs, and even get your own domain name to set yourself apart! Sounds exciting doesn't it?
Features of Squarespace
Template driven
Easy to set up store
Comes with drag and drop features
Creative blogs
Pros of Squarespace
Great for small scale stores
Does not require technical knowledge
Affordable
Comes with the agency to set things your way
Cons of Squarespace
Limited modes of payment
Very stagnant growth curve
Lesser add-ons available
Squarespace is a name that is slowly improving to make all of the features available that a seller could possibly need. Such creative and simple companies are undoubtedly the future of ecommerce, and will surely take over a lot of current Shopify alternatives. Go ahead and select a beautiful template for yourself to flaunt your products.
Big Cartel – Made for Artists
In an era of online stores that are in a race to provide as many different products as possible to their audience, Big Cartel believes in doing things a lot differently. It's a platform that small creators, artists, graphic designers, etc., can use to create and sell products the way they like.
Founded in 2005, Big Cartel is a highly tight-knit company that aims to stay this way in the future too. They have an extremely small group of employees and function independently when it comes to managing all aspects of the store.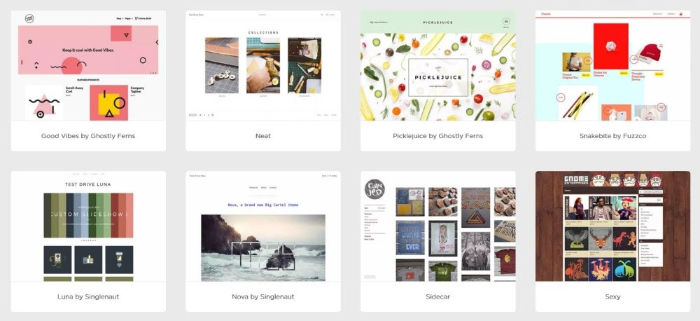 While most Shopify Alternatives focus on everything, Big Cartel's product is primarily known for is undoubtedly clothing. Having sold over 2 billion worth of items and services, this is the best place if you are looking for stylish and quirky clothes of all kinds. Brands like The Feebles, Uno, etc., can all be found here for the most affordable prices.
Features of Big Cartel
Created for artists
Small scale shops
Popularity in clothing
Different packaging options
Pros of BigCartel
Great for a particular niche
Easy to function and set up
Large inventory
Smooth payment
Cons of BigCartel
Comparatively less popular
Prices are not competitive
While Big Cartel is not as popular as other Shopify alternatives, you could surely consider starting out here before making the leap to bigger ecommerce websites. Try out how it feels to work with a group of small and independent owners, and get ready to show off your designs to the entire world!
Final Words
| | |
| --- | --- |
| Features | Best Shopify Alternative |
| Ease of Use | Squarespace |
| Setting Up | Volusion |
| Prices | Big Cartel |
| Customer Support | Magenta |
| Plug-in | WooCommerce |
| Customer Base | Volusion |
You are now aware of all of the best Shopify alternatives and their deeper functionalities, features, options, etc. After reading this, choosing the right ecommerce site for yourself should surely be a piece of cake. One thing to keep in mind though, is to keep in mind what your priorities are. Every seller has different preferences, and it's imperative to abide by them.
Ensure that you check out the website thoroughly and also do some market research before launching your products. After that, there is nothing stopping you from becoming successful.