With the rise in stay-at-home and work-from-home culture, there has been a great rise in the number of people who shop online. From buying groceries in one click to purchasing cutesy gifts for your loved ones, everything and anything can be bought online.
According to KPMG, eCommerce stores have created a trillion global online shopping arena where millions of consumers no longer go shopping but literally are shopping — at every moment and everywhere.

This growth of eCommerce sales is also supported by facts and figures, which you can see right above. Now that eCommerce sales are growing rapidly, let's see what are the best eCommerce platforms in the market that might help you in the long run.
10 Best eCommerce Platforms in 2021 – Among the Good Ones!
There might be hundreds of cake samples in a cake shop. However, you would order the cake that you think would taste well. The same applies to these best eCommerce platforms, except for the taste part haha.
Let's see the 10 best eCommerce platforms available in the market and what features make these platforms stand out.
Shopify – One of the Best eCommerce Platforms for Scalability
Tobias Lütke and Scott Lake started Shopify selling snowboarding equipment online. Being dissatisfied with the options they had, they decided to establish Shopify in 2006. Currently, Tobias Lütke is its SEO and the headquarters is in Canada.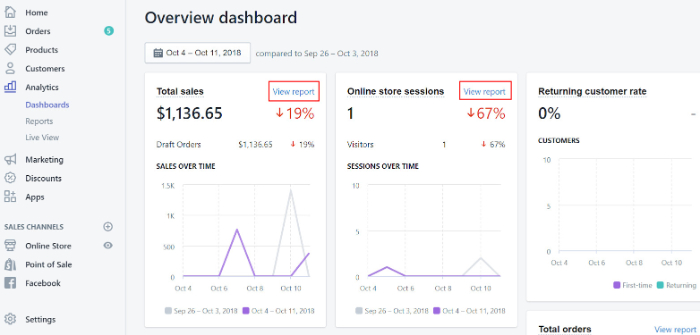 Features of Shopify
Customize your Shopify store to match your product and brand image using templates, and customizable CSS & HTML.
Sell internationally on Shopify in multiple languages and currencies.
Easily analyze sales, traffic, purchase rates, and customer demographics via Shopify's Sales Analytics.
Shopify comes with a 0 transaction fees platform called Shopify payments.
Comes with a mobile app that allows you to track sales, inventory, and much more while you're on the go.
Offers unlimited bandwidth and online storage so that your store can have the fastest browsing experience for your visitors.
Pros of Shopify
Seamless integration of extensions
Customizable templates for stores
70 payment gateways and custom domain name
Supports secure cart shopping along with discount codes and coupon generator
Cons of Shopify
Comparatively, transaction charges are high
Not easy to migrate your Shopify store to other platforms
WooCommerce – Best User-Friendly Platform
WooCommerce is an eCommerce website builder plugin that was introduced in 2011. It's a customizable and open-source plugin which works with WordPress.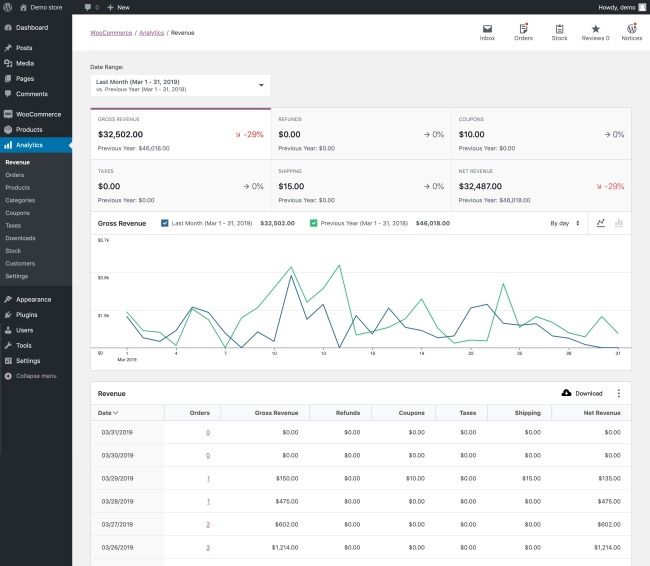 Features of WooCommerce
Embed products and enable checkout on any page for quicker sales with WooCommerce.
Set the right currency, language, and measurement units for your business.
Use WooCommerce to integrate eCommerce with WordPress for promotional content and a strong brand.
Have unlimited products and admin profiles as WooCommerce is an open-source plugin.
Built-in blogging features to engage your visitors so that you can turn them into customers.
Add custom tags and categories to help customers find what they want.
Pros of WooCommerce
Auto-detect the customer's location to simplify shipping and make tax calculations simpler
Enable guest checkout for those customers who don't want to register
Mobile app makes it easy to manage your store from anywhere
Allow other team members to work on the store using admin logins
Cons of WooCommerce
Plugin updates make it difficult for the store owner to keep the website up to date manually
Few integrations in WooCommerce are expensive and might exceed your budget
Wix- Best Drag and Drop Website Builder Platform
Wix is an Israeli based website building platform which was started in 2006. Currently, it's led by Avishai Abrahami who offers a range of features like Wix Stores, Wix Bookings, Wix LogoMaker, and much more.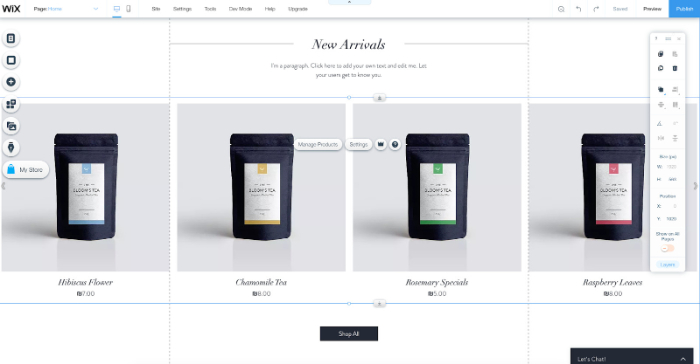 Features of Wix
Wix comes with an optimized mobile view that can be altered for mobile audiences.
Drag & Drop website editor makes it easier for beginners to get started.
Versatile in-built Image Editor with Text Editor and Free Fonts.
Enables you to attract repeated visitors and engage them with newsletters and blog posts.
Interact with visitors via live chat and create loyalty programs using Wix Ascend feature.
Lead generation gets easier as you can add customizable forms to collect contact details or to ask for product or store feedback.
Pros of Wix
Mobile-optimized website can build smoother interfaces for a mobile audience that drive more revenue
In-built contact forms save your time and can generate leads easily
Convert visitors to members, allowing them to create personal accounts using their own login credentials
Wix Ascend Feature makes it easy for you to connect with customers at a deeper level
Cons of Wix
eCommerce stores can't be migrated and you will have to build another eCommerce store from scratch, in case you wanna migrate to other platforms
Templates can't be changed once you use one for your store.
BigCommerce – Best Enterprise-friendly Platform 
BigCommerce was started in 2009 and its headquarters is in Texas. Being an established company, it has many deep roots. For now, you can see many expensive plans on BigCommerce. But, those are worth it considering the features we get.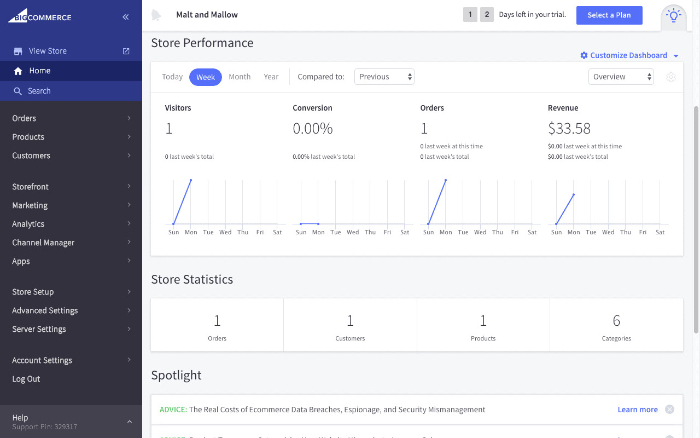 Features of BigCommerce
Ability to distinguish customer groups and target the most profitable audiences for the business.
Preview the website design before you choose it for your store.
Simplify the checkout with one-page and retain your customers with shopping cart recovery.
Supports payment options like PayPal, Stripe, Apple Pay, Amazon Pay, etc. Besides, it won't penalize or restrict you from using other third-party payment options.
Sellers that sign up for BigCommerce's Plus plan can create automatic discounts for customers tied to customer groups. There wouldn't be any need for third-party extensions.
BigCommerce grants you the ability to create default URLs (products, categories, and webpages) to improvise your store's search rankings.
Pros of BigCommerce
Brings one of the fastest web browsing experiences for visitors as it uses Google Cloud Platform for hosting
Bulk pricing and product editing options to organize store inventory
Customize the user experience and enable customer interaction with impeccable plugins
Unlimited staff accounts on any plan
Cons of BigCommerce
Not very beginner-friendly because its pricing is higher than usual market prices
SEO options are limited on BigCommerce and you might need to hire a professional for your store
Squarespace – Best Customer Engagement Platform
Squarespace was launched in 2004 and its headquarters is in New York. The company was established by Anthony Casalena and this guy is still running it.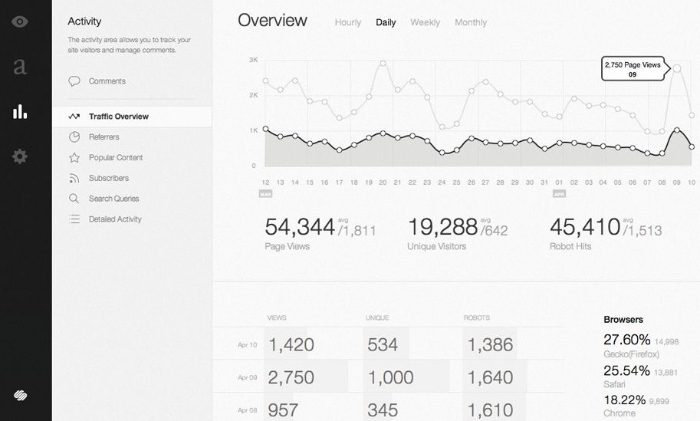 Features of Squarespace
Adding a customized announcement bar to engage your audience and attract their attention towards what's hot on your store.
Promotional pop ups to promote best-selling items or to convey a message to store visitors.
Abandoned cart recovery and advanced funnel analytics for Commerce plans.
Squarespace provides you with the unique ability to create Custom Redirects from your store or social media handles.
If you provide services on your eCommerce store, you can benefit from Squarespace's podcasting support that uses Audioblocks and iTunes tagging.
Efficient drag and drop feature that makes the designing easier.
Pros of Squarespace
Automatically post promotional content on social media right from your Squarespace dashboard
Incredible live chat customer service that is always ready to answer your queries
Intuitive website interface and a range of templates to choose from
Can add a bunch of widgets from Squarespace extensions marketplace
Cons of Squarespace
Lacks the depth of navigation for larger inventories
The website takes quite a long time to load on the mobile interface
Magento – A Design Oriented Platform for eCommerce
Magento positions itself as an open-source eCommerce store. It was initially released in 2008 and was acquired by Adobe Inc. in 2018. The biggest feature of Magento is – it's programmer and designer-friendly.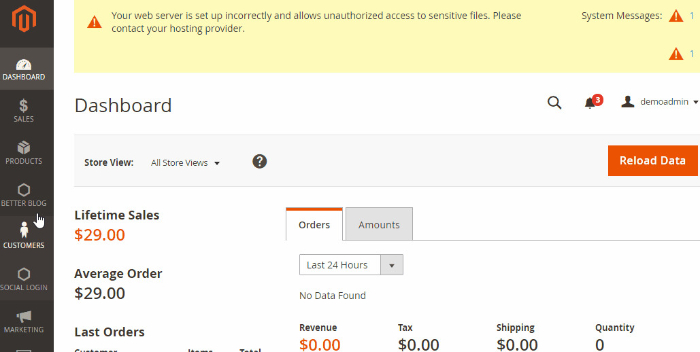 Features of Magento
Advanced customer engagement tools like Multi-tier pricing for quantity discounts and Minimum Advertised Price (MAP) to organize your selling activity.
Ability to generate flexible coupons with the ability to modify stores, customer groups, time period, products, and categories.
Provides the ability to edit meta-information for products, categories, and content pages.
SSL security support for orders on front as well as back end.
Gifting options during checkout for customers.
Comprehensive features allow us to add unlimited addresses and wish lists with comments.
Pros of Magento
Set tax rates per location, product type, or customer group easily
Allows guest checkout and also permits shipping to multiple addresses in one order
Integration with multiple PayPal gateways and Authorize.net
Contact Us form to generate more customers and create & edit orders from the admin panel
Cons of Magento
Customization is a little difficult because of Magento's slow loading time
If you're a startup, you might have to pay a little higher for technical experts to set your Magento store because it's not as easy compared to other eCommerce website builders
Shift4Shop – Best Customer Engagement Platform
Shift4Shop was known as 3DCart before November 2020. To look back into Shift4shop's history, we learn that it was founded back in 1997 and was headquartered in Florida. In today's marketing era, it's known for its point of sale retail stores.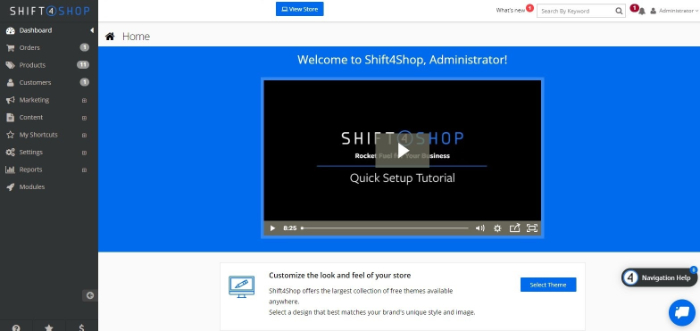 Features of Shift4Shop
It offers integration with Amazon, Quickbooks, eBay, and many more eCommerce giants.
Customers can have a safe checkout without worrying about any compromise on sensitive customer data.
Streamline your workflow using the Quick Edit Tab and make instant changes without navigating through your dashboard.
It makes dropshipping easy, allowing you to automatically email a supplier when you receive a new order.
In-built GDPR Toolkit makes your store GDPR compliant and good enough for customer privacy.
Pros of Shift4Shop
Built-in affiliate program allows your store to spend less time strategizing and more time doing
Display unlimited products and get unlimited bandwidth for certain paid packages
Integrate all feedback and review systems at one-stop
Visitor IP restriction to prevent fraudulent activity or to enable geolocation restrictions
Cons of Shift4Shop
The interface is not very intuitive and it has a steep learning curve for beginners
It's not up-to-date with the customizable templates that are used for eCommerce websites in 2021
Although the platform is free of any transaction cost, you have to pay for the transaction costs of the payment providers.
OpenCart- Best Payment Security eCommerce Platform
OpenCart was officially launched in 1999 and it's an open-source platform, which is well known for its anti-fraud security mechanisms and ensures customer data security during checkout.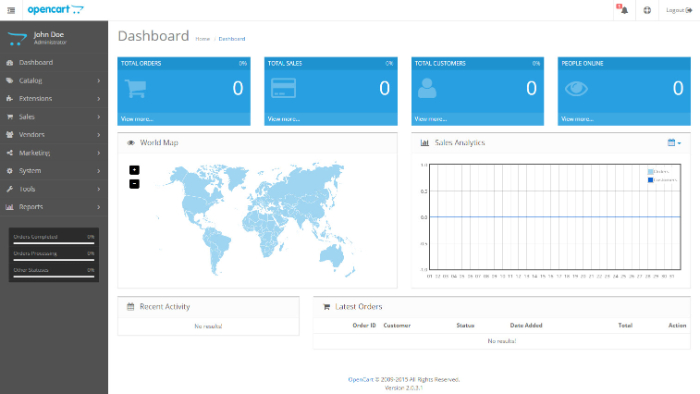 Features of OpenCart
Despite being open-source, it has free dedicated community support and also has a paid service that guarantees fixes for any concern that may arise.
Most add-ons on OpenCart are free of cost. Who doesn't like freebies?
The interface is quite simple and intuitive for beginners.
OpenCart has a huge marketplace of themes, plugins, and gateways to enhance your storefront.
Offers backup, restores tools, and printable invoices so that your store data can always stay secured.
Easier store management with advanced user privileges and separate access for users.
Pros of OpenCart
Complete reports and metrics regarding business performance and visitor habits
A large number of themes to improvise store experience for shoppers
Supports most payment gateways and offers quick checkouts
Cons of OpenCart
Some add-ons might be incompatible with another, causing you some trouble while starting your eCommerce store
Since it runs on an SQL database, it might get difficult to import your inventory list without going for the premium package
Ecwid – Best Seller-friendly Platform
Ecwid was started in 2009 by Russian Entrepreneur Ruslan Fazlvey. The best part about Ecwid is its free forever plan which allows beginners to pay 0 fees until they need to buy advanced features.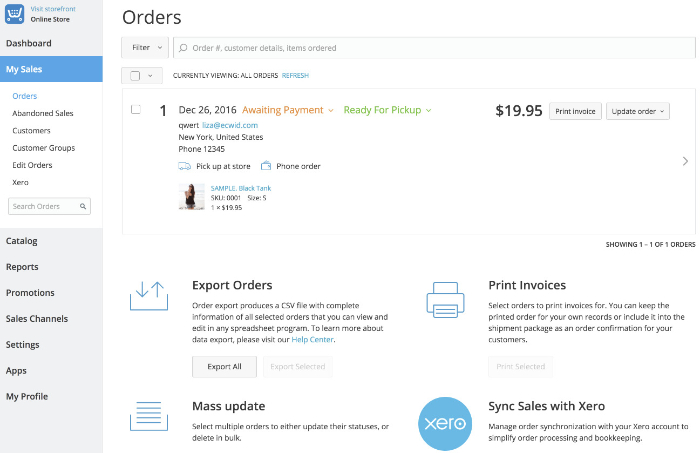 Features of Ecwid
No need to abandon your existing site, whether it's on WordPress, Wix, or anywhere, it can be added anywhere!
The free forever package is an attractive deal for beginners who wish to test the waters before running a fully-fledged website.
0 transaction fees saves you the extra costs whenever a customer purchases something. But please note, this fee is different from the one that payment providers charge.
Sell your products on Facebook and Instagram in a few clicks to increase your sales.
Automatic language detection for your international customers.
Ecwid provides a POS functionality that allows users to accept online product payments in physical stores.
Pros of Ecwid
One-tap checkout with Apple Pay
Integrate Ecwid with any existing website without ever worrying about site migration
Budget-friendly paid packages
Customer service is beginner-friendly and offers detailed answers to platform-related queries
Cons of Ecwid
Customization can get a little expensive and the templates are limited
Not easy to customize URLs of the products
Volusion- Best Easy-to-Maintain Platform
Volusion is an eCommerce solution that was first started in 1999. Its headquarters is in Texas and offers a range of products in the eCommerce industry like Shopping Cart Software, Search Engine Marketing, Custom Website Design, Credit Card Processing, etc.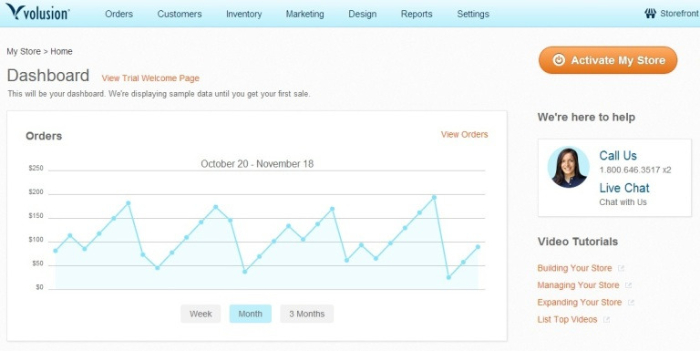 Features of Volusion
With an in-built Barcode Generator, you can create custom barcodes for your products.
Allow or deny certain traffic to your site with customizable firewall settings.
Expand your eCommerce store to Facebook, eBay, Amazon and customize your Facebook store right from your Volusion dashboard.
Make your product descriptions detailed by adding subcategories and uploading product images for those subcategories.
It offers an in-built homepage slideshow to feature your top products and discounts.
Specify shipping types, offer special discounts, and set overall shipping rates.
Pros of Volusion
Simple and intuitive instructions to help eCommerce beginners get started
Allows Subscription or Recurring Payments for regular customers
The page load time is less and has inbuilt functions to promote the visibility of your store
Deals of the day feature automatically update the products that are best-selling in your store
Cons of Volusion
The site search function is pretty unhelpful
Lack of themes and drag & drop feature makes it less customizable
The Best eCommerce Platform in 2021 – Let's Do the Rating!
| | | | |
| --- | --- | --- | --- |
| Based On | Platform's Name | Rating | Remarks |
| Platform's Age | Shift4Shop | 3/5 | Founded in 1997; A decent platform but outdated now |
| User Interface | Shopify | 5/5 | Highly user-friendly and modern |
| Experimentation | WooCommerce | 4/5 | Uncountable integrations gives experimentation opportunity |
| Scaling business | Shopify | 5/5 | Shopify app store has a lot of add-ons to help scale your business |
| SEO & Marketing | Shopify | 5/5 | Nothing can beat Shopify in SEO and Marketing |
Which eCommerce Platform is the Best One for You?
After assessing a host of eCommerce platforms, the best ones for building your eCommerce store have to be Shopify and WooCommerce.
Shopify provides an ever ranging list of features with such analytics tools that enable you to make data-driven business decisions.
On the other hand, WooCommerce is an incredible platform for those who want to do blogging on their store. As you know, when it comes to blogging, nothing can compete with WordPress.
Anyway, these 2 are great but we shouldn't underestimate others. What you should pick totally depends on your needs 🙂