Shopify vs WordPress is one of the most popular eCommerce platform battles. Both are capable of giving you your dream store.
On one end, Shopify's market share is about 21%. On the other, WordPress is the only strong competitor with a market share of 14%.
Deciding a winner would be quite tough here, but everything in the world has a winner and a loser! So, I'll show you the features, benefits, and pricing of both platforms.
So we will eventually know which one is the better in this battle of WordPress vs Shopify.
Without any further ado, let's get started!
Shopify vs WordPress – Which is More Powerful?
Shopify Overview
If you want a store dedicated to eCommerce that can scale up easily, Shopify should be your first choice. From a drag & drop builder to thousands of app integrations, almost everything is possible. Not only this, dropshipping on Shopify is way easier than on any other platform because it has an app for every purpose.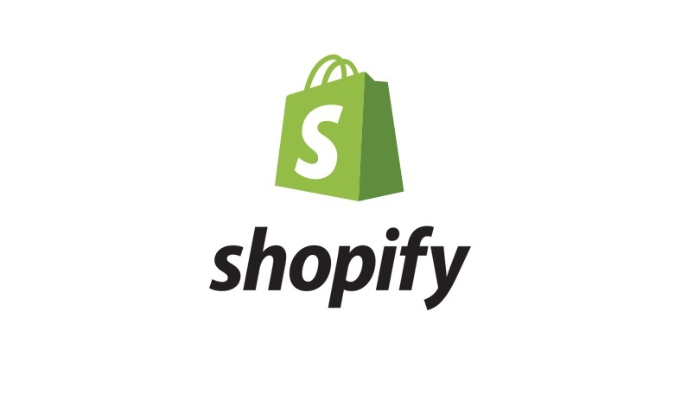 Let's see what else is Shopify holding up!
Features of Shopify
Supports Different Languages and Currencies
You can easily translate the contents of your website to suit your international customers. Besides, you can use Shopify's Geolocation integration for accepting payments in over a hundred currencies.
Optimized for Mobile Visitors
Online shoppers are increasingly turning to their mobile devices for purchasing. To be relevant to the market, Shopify's quick mobile optimization settings allow you to create a mobile-friendly storefront.
Shopify Payments
When it comes to Shopify vs WordPress for payments, Shopify is the clear winner. Your store loses a lot of money through transaction fees. However, Shopify solves this problem with its own payment gateway that has 0 transaction fees depending upon the paid package you choose.
Point of Sale (POS)
If you own an in-person/physical store, Shopify's POS has got you covered. Point of Sale (POS) is nothing but an app/software that tracks your physical inventory.
It syncs the data with Shopify for all of your active sales channels, retail locations, and online stores.

WordPress Overview
WordPress is an all-in-one website software. Using its great content management tools, you can keep your eCommerce visitors engaged.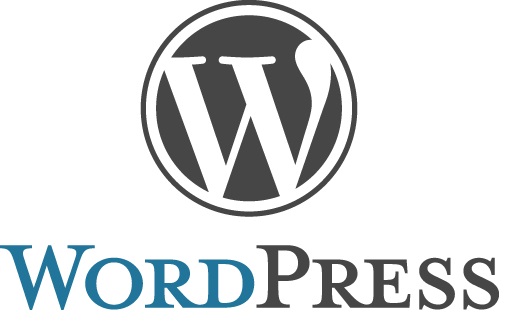 Although WordPress comes up with a steep learning curve for some beginners, its active community is always helpful in sorting your way through the process.
A point to note here is that there are 2 types of WordPress available:
WordPress.com
WordPress.org
You host the .org version by yourself. On the other hand, the .com version is a hosted solution. WordPress.org can get confusing for beginners, so we will stick to discussing WordPress.com throughout this article.
Features of WordPress
Site Migration
Since WordPress is a hosted version of the open-source version, you can easily migrate the site to another platform on your own or find someone else to assist you with the migration.
Wide Library of Plugins
There's no limit to the usefulness of plugins found on WordPress. You can automate email campaigns, add chatbots, generate invoices, and do much more with a few plugins and clicks.
Ease of Customization
If you're into web-design and visual aesthetics, you will fall in the love with the customization WordPress provides. You can easily modify the CSS/HTML code of your website and create multiple interactive elements to engage your visitors.
When it comes to Shopify vs WordPress feature comparison, customization options give WordPress a bonus point.
Browser and Device Compatibility
WordPress ensures that your website is compatible across all devices. So, you no longer have to worry about browser standards and optimizations.
Engage your Visitors
In this content-driven world, the best thing you can do to increase your sales is to provide your audiences with meaningful and relevant content. Not only will content creation improve your brand image, it will also inform your visitors about the purpose of your store.
So if we compare content management for Shopify vs WordPress, WordPress gets a plus point for having an extensive blogging system.

Shopify vs WordPress Comparison
Benefits of Shopify
App integration: Integrate your store with the various apps via Shopify store to scale your business
Easy to use and set up: Follow a simple step-by-step procedure to set your store up on Shopify
Visually appealing: Make a stunning store with attractive and search engine optimized templates
Security and reliability: Being a worldwide recognized brand, Shopify makes sure whether all of your information is secure or not
Fast loading speeds: You store loads at a lightning-fast speed due to the updating and latest technologies used
Mobile responsiveness: All the templates in Shopify are mobile, tablet, and desktop responsive
Benefits of WordPress
Fully customizable: Own the complete power to customize the CSS/HTML code of your themes while creating interactive popups and banners
SEO-friendly: WordPress is written in high-quality code, producing semantic markup and SEO plugins are used to further optimize your website
Website Structure: Create XML sitemaps that inform Google bots about the web pages that are worth crawling
Powerful features: Since WordPress is an open-source software, developers code a stream of new and advanced plugins to increase the efficiency of the platform
Simple content management: Manage content assigning editors, authors, and administrators
Community Support: The WordPress community offers free advice and support on various forums. Post your question and receive the solution in no time
Shopify Advantages Over WordPress
Ease of use
From set up to creating complex marketing funnels, everything is easy and explained in detail on Shopify.
You can set up Shopify within minutes and almost every app you integrate with your store has the setup method explained in detail.
If we look at WordPress, the setup is easy but has a lot of steps, and most of the apps are not easy to set up and use.
Official Customer Support
If you mess your WordPress storefront at 3 am, your only go-to is community-led forums. The next morning, you might need help from a tech-savvy friend or spend money on hiring a technical assistant who can fix the issue for you. Chances are your store will lose revenue in that much time.
On the contrary, Shopify comes with active customer support. Even if something goes wrong, Shopify's support team has your back.
Ongoing Maintenance
When we talk about maintenance, WordPress is a big upset here. There is quite a lot of maintenance required both for the websites as well as the plugins.
You have to manually update various things on WordPress and the site may show downtime during any kind of update or maintenance.
On the other hand, Shopify takes care of all the maintenance in the background, at times you won't even notice it.
For Shopify, downtime is a rare thing 😉
Affordable Pricing
Shopify is quite an affordable platform, you can start off just with a $29 basic Shopify plan and do pretty well with that only.
WordPress asks you for a domain name, a hosting (recurring billing), and if you want premium features, you must have WooCommerce premium.

WordPress Advantages Over Shopify
Personalize your Storefront
Shopify themes are quite rigid and don't give much room for customization. Editing the code of your eCommerce store theme is kinda clouded with confusion.
But, WordPress is here to save the day! You're in control of your site's customization. Along with this, you will also have a large number of free and premium themes to ensure the best website look and experience.
Amazing Content Management
It's not quite possible to run an efficient blog on your Shopify store. You will be more successful if you redirect traffic from another blog to your Shopify store.
On the other hand, WordPress is a champion of content management. You can build a great brand image, engaging your visitors with fun-filled and relevant blogs.
Search Engine Optimization
Both Shopify and WordPress have SEO capabilities. The downside of Shopify is that it's not easy to create neat URLs. You will mostly get "/pages/collections/products" in your URL. Also, your Shopify store's SEO is dependent on product descriptions that might limit your options.
And yes, how can I forget? You have Yoast SEO and other plugins to take care of your WordPress store's SEO.
WordPress is not a lot of things but it's good at creating clean and simple URLs for your site.
So, the clear winner of the SEO round in the Shopify vs WordPress battle is – WordPress!
Simplified Store Migration
When you plan to migrate your eCommerce store out of Shopify, you're out of luck. Since Shopify is a closed-source platform, you will not have access to site migration options and building another site from scratch would be your only option.
WordPress is open-source and gives you the ability to migrate your store without a lot of hassle. When it comes to site migration, WordPress emerges as a better option while comparing Shopify vs WordPress choice for your eCommerce store.

Shopify vs WordPress Pricing Comparison
How Much Does Shopify Cost?
Shopify comes with 5 plans to meet your eCommerce needs. When you're getting started, Basic Shopify is what your store needs. As you start seeing a good increase in your revenue, you should use Standard Shopify and unlock better features for your business. Ultimately, Advanced Shopify comes into action when your business brings in those big volumes of sales.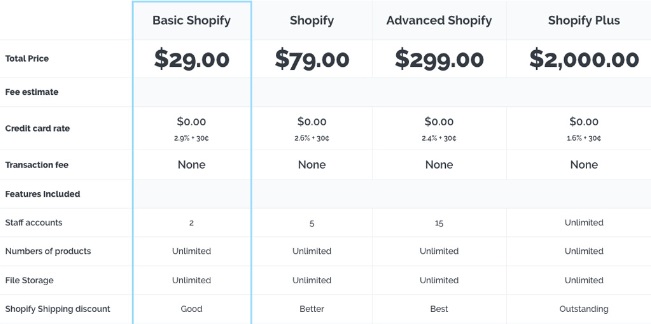 Basic Shopify
Cost: $29/month
The basic package is perfectly designed for people who are just getting started with their online business. It comes with a capacity for unlimited product listings, 2 staff accounts, and the ability to create discount codes.
Shopify Standard Plan
Cost: $79/month
The Standard plan works best for scaling your eCommerce business. It includes additional features like low payment processing fees and more staff accounts that are not included in the basic plan. The standard plan is usually for sellers who have been selling for quite a few months and have an international presence.
Advanced Shopify
Cost: $299/ month
Advanced Shopify is best suited for well-established eCommerce players. It's packed with features like advanced report building, USPS priority mail, and up to 20 staff accounts. Using this package, easier to manage large volumes of sales.
Shopify Lite
Cost: $9/month
I personally vouch for this feature for those businesses who gain visitors through blog posts. You can directly link a short window of your product with a 'Buy Now' button for different websites.
Customers can quickly checkout in a few clicks and you can gain multiple visitors to your website. This feature gives Shopify a bonus point in the Shopify vs WordPress battle.
Shopify Plus
Cost: $2000/month
Shopify Plus is meant for enterprise-grade businesses with an international presence. It's known for its super-fast checkouts and a huge range of personalized features to support big businesses.

How Much Does WordPress.com Cost?
If you compare the eCommerce plans on Shopify vs WordPress, WordPress has a lesser number of plans available. WordPress has two plans specially tailored for your eCommerce needs. Let's see which WordPress plan suits your business model.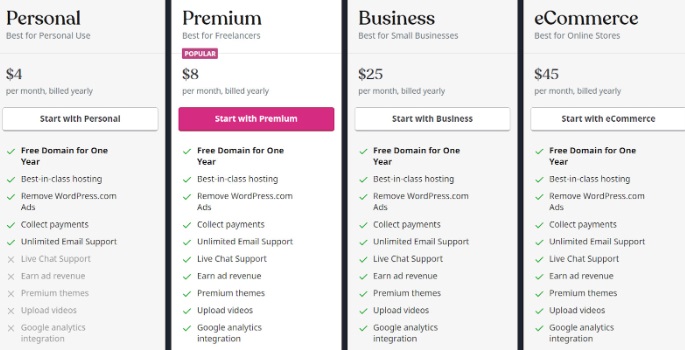 Business Plan – Best for Small Businesses
Cost: $25/month
WordPress Business plan allows you to set up an online store along with the ability to sell physical goods. You can install custom plugins and themes. Other than this, the package includes custom plugins and themes, Google Analytics, and 200 GB media storage.
eCommerce Plan – Scale your Business
Cost: $45/month
The eCommerce plan is ideal for those eCommerce businesses that are getting good sales. Its most notable features include:
Accepts payments without restrictions in 60+ countries
Top shipping carriers for quicker delivery
Premium theme design options
When it comes to affordability and convenience, Shopify is the clear winner. It offers straightforward pricing and doesn't come with hidden costs. In addition, it meets a range of eCommerce business needs, offering different plans. Besides this, WordPress can get expensive when you factor in the costs of integrations and plugins.
Now that you have a general idea about which platform out of Shopify vs WordPress suits your business, let's dive into how you can set your eCommerce stores using these platforms.

Setting up Shopify
Setting up a Shopify store is extremely easy and can be done in just a few steps. Here's an article which will show you how to set up your dropshipping store via Shopify from start to end!
Setting up WordPress
Setting up a WordPress eCommerce store is a time consuming task. You have to select a hosting -> Download WordPress -> Set WordPress Up -> Download an eCommerce Plugin -> Go through the plugin's installation wizard.
Here's a more detailed step-by-step guide that teaches you How to Make A WordPress eCommerce Website.
Final Thoughts
After reading this analysis about Shopify vs WordPress features, pricing, and profitability, you might have already declared your own winner.
WordPress has multiple features that offer a great room for storefront customization, SEO, and plugins. It's an open-source platform and has an active community of developers.
On the other hand, Shopify's intuitive setup, affordable pricing, and 24/7 customer service ensure a great experience for your eCommerce business. In fact, Shopify comes with a 14-day free trial so that you can test its features to your heart's content before committing to it.
So, pick the platform that best suits your needs and start building your successful eCommerce business today!