I'm back again with another blog post, which is a CJ Dropshipping review for those dropshippers who are not sure whether the platform worth it or not.
If you're curious to start a business with CJ Dropshipping, you must have heard that the company is not a new one, it started way back in 2000.
What you may not know is – Around 2015, the company became specifically great for dropshippers. Currently, CJ Dropshipping claims to have around 200 cooperated factories.
Not only this, there are various things that you're gonna know in this CJ Dropshipping review. Believe it or not, this is something that every dropshipper like you might wanna explore. So here we go!
Features of CJ Dropshipping
Comparatively lower price: When it comes to CJ dropshipping review about pricing, it's somehow similar to the AliExpress. Yes, the pricing of the products is low so that you can save some money for marketing as well. Probably, that's why most of the new dropshippers go with CJ and AliExpress instead of Alibaba.
Faster Shipping: CJ dropshipping has a worldwide shipping facility. Even after having a worldwide range of shipping, the company provides fast shipping service with efficient post offices. The average delivery time of the product is 8 days in the USA. If we talk about domestic shipping, its speed is even much faster.
Quality Control: CJ Dropshipping is signed with more than 30 ePacket countries and various Chinese post offices. If you're shipping to the USA, it will take more than a week. In case you're shipping domestically, it may take 2-4 days.
Impressive Support: CJ Dropshipping consists of more than 55 people from China and the Philippines that are ready to answer 24 X 7. Besides, you can talk to these virtual assistants in 3 languages. What I like the most is – we can talk over WhatsApp or Skype.
CJ Dropshipping Review – A Walkthrough of the Whole Website!
Collaboration with Online Platforms: Dropshipping becomes easier with CJ dropshipping because it collaborates well with platforms you're going to use. For example, Shopify, eBay, WooCommerce, Lazada, Shopee, etc.

CJ Dropshipping Warehouses: CJ has many warehouses across the globe in locations like the USA, China, Germany, Indonesia, Australia, Japan, Canada, and many more.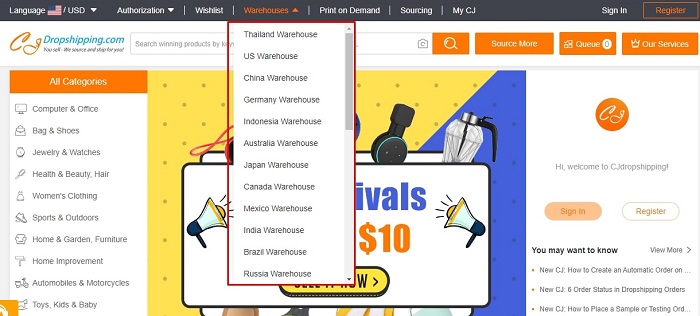 A Huge Pool of Product Categories: From small makeup brushes to big products like USB dishwashers, almost everything is available on CJ dropshipping. Search any kind of product you want, and you will get it on the platform.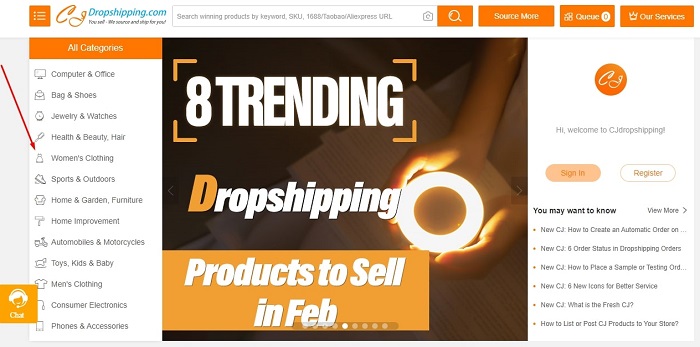 Super Deals: CJ dropshipping has one extravagance offer named- Super deals. In super deals, products are available at a lower price than general. Time and again, all kinds of products come under this section. These offers sometimes can make you huge profits.

Trending Products: Being a dropshipper, you don't wanna miss on trending products. After all, it's a great way to track down such products that are already selling. If you have been in the industry for a while, you might be aware of the fact that how profitable trending products get. The company constantly updates the trending page.

Shipping Cost Calculation: As you can see, from setting 'platform' to 'shipping method' – there's a lot that you can customize to your advantage. Being a dropshipping, having more control over things is what I like.

CJ Dropshipping App Features: CJ has an application, which can be run on both IOS and Android. With application connecting with products, keeping track of products until delivery, sourcing request, and putting orders in place is just one tap away.
How CJ Dropshipping Help Dropshippers?
CJ has a fixed process of workflow, and that is divided into two parts.
1. For those who have an e-commerce store:
Once the purchase decision of the product is made, the first step in business is store authorization. If the product is available in your store, then the next step is to connect. If the product is not available in your store, you can add it under the product listing.
Once you connect with the product, orders automatically pull into the action required, and the products are added to the cart. After confirmation, you will get a receipt and payment.
2. For those who don't have an e-commerce store:
Once the product's purchase decision is made, add the product into the SKU list- Stock keeping Unit List. Put order detail in an Excel file, for which template is available below. The products will be uploaded manually into the process required. The next step is to add the product to the cart, make the payment, and get a receipt of confirmation with payment.
To better understand those two workflows mentioned above of CJ, here is a flowchart that elaborates its process.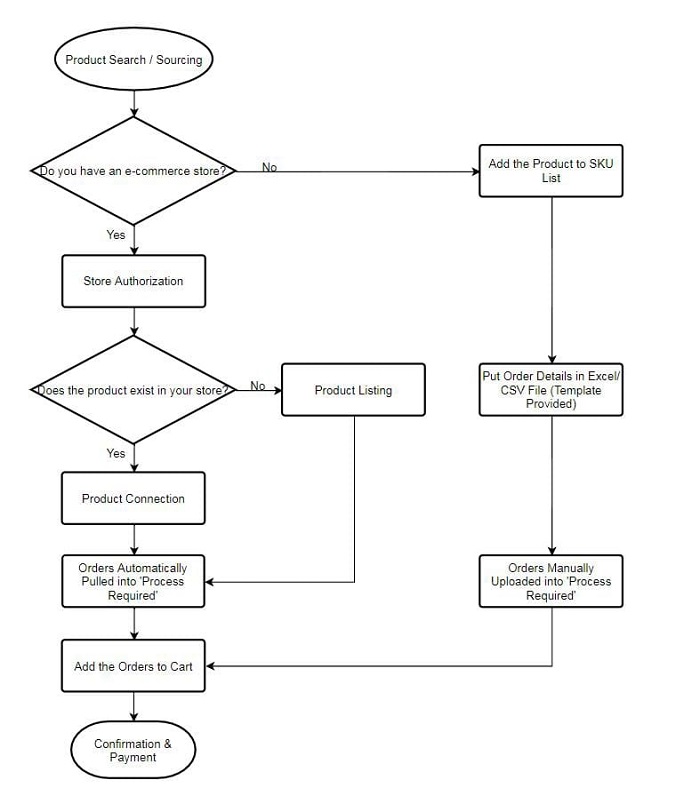 How to Make Money with CJ Dropshipping – The Real Way!
You may have other dropshippers saying, 'making money with CJ Dropshipping is as easy as cutting butter with a hot knife.' Actually, that's not the case. Although there's no inventory cost required, you have to invest efforts or money into the marketing.
Now the question is – how would you do the marketing? I'm gonna tell you that in later sections. For now, let's read a couple of things that you should know before starting a business on CJ Dropshipping.
Select A Profitable Niche
Your new niche should be between your passion and profit. More importantly, it should be something that could relate to the current scenario.
As you know, Coronavirus has made people sit in their homes. Now spin your head and think, what could be the products they may want to use being at home? In my opinion, here are some things that they wanna buy:
Home bar equipment
Home game room equipment
Fitness equipment
Hygiene products
Masks of various types
Home furnishing and gardening
And much more, just be creative! There are many untapped markets that only a few people know about. So, before niche selection, make sure to research well.
Time to Know How to Integrate CJ Dropshipping with Shopify
If you wanna import products from CJ dropshipping to Shopify, you have to install Importify, which is nothing but a dropshipping application.
You can just install Importify and get on with the application by following the steps given below.
Step 1: The first step you need to do is open the product you would like to import in CJ dropshipping, then click on the "Add" button.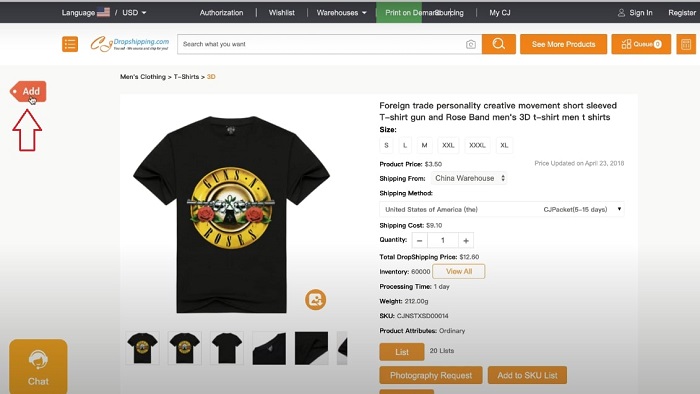 Step 2: The Importify tab would open up, where you can do several customizations
Edit the title and description of the product.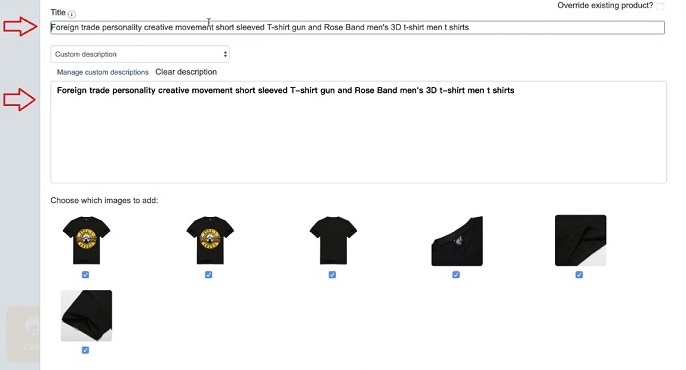 You can edit pricing details of the product

Also, you have the option to add a product-specific collection on Spotify.

Step 3: Once you're done, click on the "add to your Shopify" button at the bottom of the page and wait for Imporify to import the product.

Step 4: After receiving the success message, click on the "view," button and the file will be imported automatically to your Shopify store.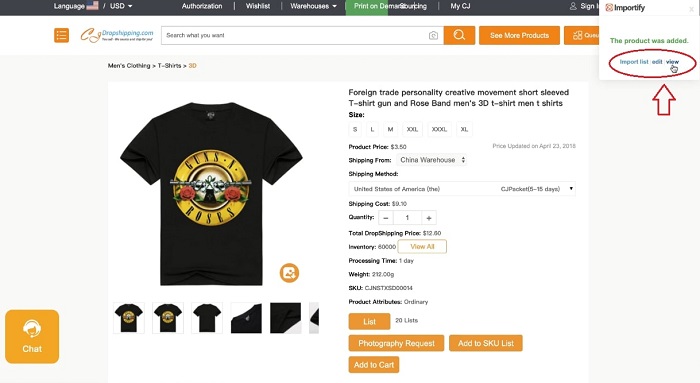 Promote Products with Shopify – The Right Way
Promotion of a Shopify store is a bit tricky, but modern problems require modern solutions 😛
Choose the right target audience and build a successful Instagram page. Instagram has always caught people's attention, and when you try to build an audience from there, the snowball effect does the work for you.
Learn SEO and make a blog so that you can drive organic traffic to your store.
You can also invest in Facebook marketing and advertising, making irresistible super deals
Leverage the power of Pinterest boards
Install a plugin like Referral Candy and let people work for you. Once they make a sale, you both can have a cut
Start a review YouTube channel
Capture emails and make a list of the traffic you will get from various sources. This way, you can reach out to those people who want to buy but are not sure.
Run the Business on Autopilot
Autopilot mode for online sites includes:
Superior inventory management
Automatic transaction receipt
Automated SEO tools
Improving overall workflow
So there's no need for any manual copy-paste work, CJ dropshipping has a special system that takes care of all automatic transactions and makes the workflow smooth.
Pros & Cons of CJ Dropshipping
Pros of CJ Dropshipping
Get good quality products at an affordable price so that you can make a good profit
Print-on-demand thousands of products with your logo and brand name
It doesn't matter in which niche you're doing business in because the platform is super versatile in that case
Free US warehouse inventory
With the collaboration of many post offices, CJ always ships on or before time.
Efficient customer care service
There's a mobile app for IOS as well as Android users
Utilizes secure payment methods
Its affiliate program makes it easy for you to earn even more!
Cons of CJ dropshipping
User-interface complexity
Rare delay in automated receipt
CJ Dropshipping Review – Is It Reliable for Dropshippers?
Of course, CJ Dropshipping is a reliable option for dropshippers but only for new dropshippers. If you're a professional, you might wanna go for something better like AliExpress or Alibaba.
The reason I mentioned Alibaba and AliExpress is because of the products they have. They have a great variety in quality. On top of everything, you should know that Alibaba group has dominated the market quite well in Southeast Asia.