Branded dropshipping is all about standing out from the crowd. Your store needs to be unique and must have that personalized touch to drives more sales.
Although branded dropshipping seems tough, it's not as complex as you think. Let me explain why!
Branded dropshipping means that you add your style and touch to your dropshipping store. The key idea behind branded dropshipping is – we're attracted to what we recognize, whether it's people or online stores.
When people are familiar with your brand, you start gaining sales. So, let's dive straight into learning how you can create the best branded dropshipping store in 2021!
10 Tips to Go from a Normal Dropshipping Store to a Branded One!
Have A Professional Name for Your Store
Your store name is the first thing your visitors will notice, so it should trigger an emotion or be something that's on top of their mind every time they plan to shop.
This is the key difference when it comes to normal dropshipping vs branded dropshipping.
Normal dropshipping stores often have a general name but branded dropshipping stores should have an impactful name. Although Google is not a dropshipping store, it has the kind of name you want for your store.

Anyway, here are four tips that I find quite useful while choosing a name for my dropshipping store.
Relate Store Name to An Event Or Product
As soon as the visitor reads the name, they should know what products would be lined up in the store. Tell me what comes to your mind when you read 'SkinnyMe Tea'? Yes, you've got it right! It's related to a tea that may help you lose weight.
If your store sells a specific range of products for a particular niche, it should reflect in the product name.
Let's suppose your store sells clothing for nerdy styles. In that case, you might wanna name it something like GarmentGeek.
Check If the Domain Name Is Available
You will have to purchase a domain name that matches your store name, so go to Whois Lookup and check if the domain name is available for you.
Don't Use Misleading Terms
For example, if you're dropshipping punk merchandise, don't name your store 'Roses and Petals' unless there are roses or floral designs printed. Misleading names are not memorable.
Experiment and Brainstorm
Use name generators like Shopify's business name generator, brainstorm with friends or business partners, (maybe?) ask a tarot parrot.
Choosing a professional name for your dropshipping business should be your priority, but have fun along the way.
Who knows if the story behind the naming of your store becomes a hit?
Make Sure Your Store Logo Looks Stunning
We know that your dropshipping idea is mind-blowing. Now, it's time to turn this mind-blowing idea into a stunning logo. Let's learn in three short steps on how we can come up with a perfect logo.
Seek Inspiration
Keep looking for inspiration in things related to your product. If you sell cutesy pendants, then look what your audience would find cute.
Maybe it would be an infinity sign, a heart, a cloud, or a butterfly. If you're selling something related to natural fragrance, spend some time in a garden or somewhere close to nature, you will get your best logo inspiration this way.
Use Only Three Colors Or Less
To make your logo look stunning and professional, it is best suited that you add a maximum of three colors. A good rule of thumb is to use two colors that complement each other, and this rule is followed by most big brands like Nike, McDonald's, Starbucks, Apple, etc.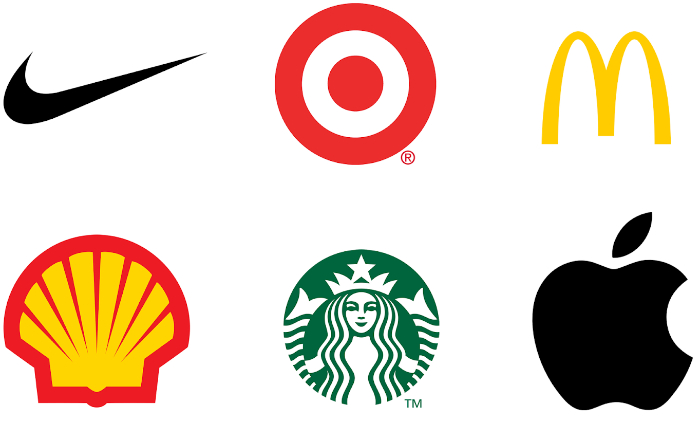 Keep It Simple
Simple designs stay on top of people's minds. You don't have to add so many details and dots to make your logo look good. Just keep designs to a minimum and focus on the impact of your logo.
Search for Customers on Social Media
You should have a general idea of your target audience. In marketing lingo, you call your ideal audience as 'customer persona.' The best way to do this is to search for social media influencers in the same niche.
Let me show you how we can build a customer persona. We use social media because people share their habits, likes, and dislikes fairly easily on it.
Suppose that I am dropshipping health and detox tea from AliExpress. In that case, I will login into my Instagram account to check what people think about similar products.
Instagram influencers profiles are one of the best places to get your research started because people follow those Instagrammers whose lifestyle they're interested in.
I'll be seeking customers for this product: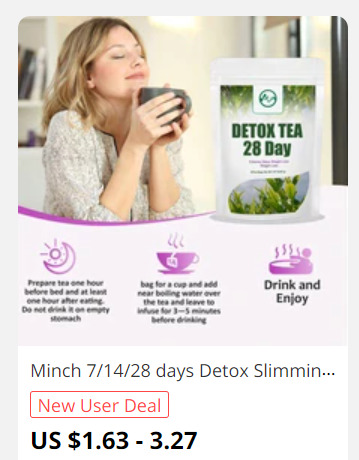 I'll search for weight loss and health influencers on Instagram. This can by simply searching "Top Health and Detox Instagram Influencers" and tada!
I've found Amanda Rocchio (@meomeix) to assess what my customer persona should be interested in: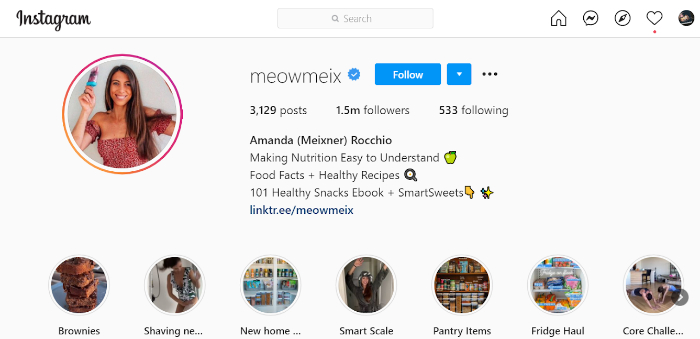 And here's one of Amanda's relevant post: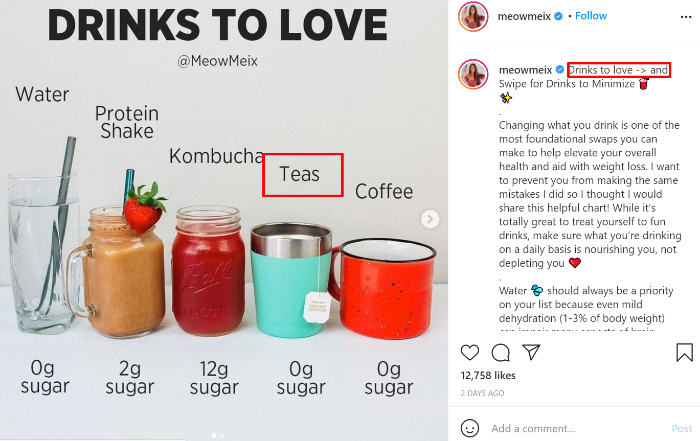 From simply reading her post, I can get a broad idea that most of my customers wouldn't like something very complex. So, if I brand my detox tea as 'Cinnamon and neem herb Flex Detox tea,' my customers will be repelled by such a seemingly complex name.
I can also find out what hashtags that might give me my target audience!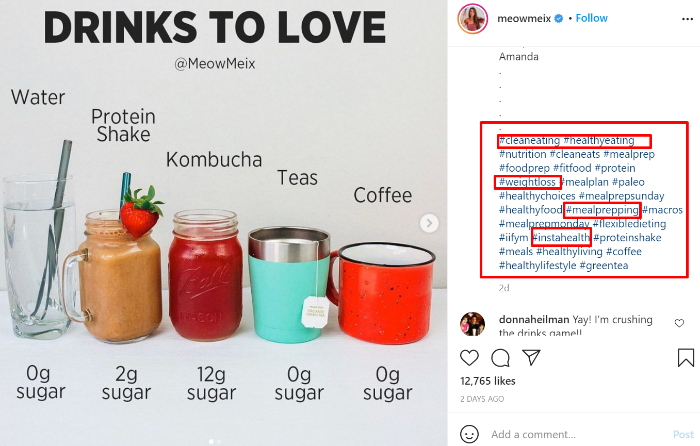 If I simply target hashtags like #detox #healthytea #teaforweightloss, I would have received little to no attention to my product. But, by assessing what hashtags an influencer uses, I'll use broader hashtags to receive a broad reach.
A short version of my ideal customer persona drawn from Amanda's profile would be:
Young people in the age range of 18 – 35 who are interested in healthy eating and weight loss.
They like to prepare their meals at home most of the time.
They prefer working out, so I can find them following gym pages and gym wear stores.
So, the broad social media keywords I would target for my detox tea would be:
Detox tea
Healthy eating
Green tea
Insta health
Nutrition
Gym wear
Skincare and acne-free
This is how you get started with getting a general idea about your customers. For starters, pick a niche, find the influencers, see how they interact with their followers, and draw broad conclusions.
Design Your Branded Dropshipping Store Seamlessly
You would pick a decent outfit and wear a trendy watch before going on a first date with your crush. The same goes for designing your store. You should impress your store visitor as soon as they see your online store. I'll tell you how you can do it.
Stand Out from the Crowd to Have A Branded Dropshipping Store
Design your website so that it can stand out from your competitors. After all, you wouldn't want to look like your crush's ex on the first date. Yes, this is how basic dropshipping vs branded dropshipping works.
If you want to achieve this, display your products differently than your competitors.
For example, let's consider Notebook Therapy and Sticker Stack.
Both of these stores sell office supplies and cute stationery items. The difference is the way they represent their products in their online stores.
Sticker Stack has a clean and business-like outlook.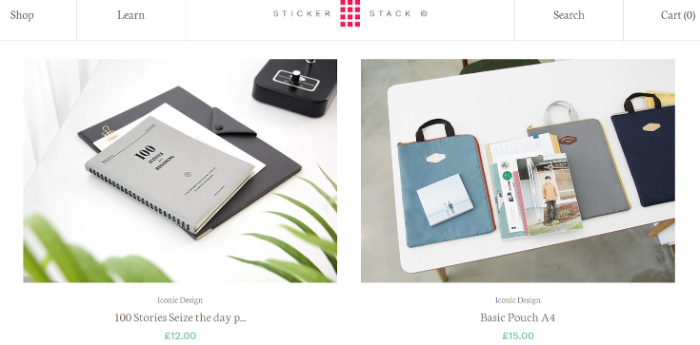 Whereas Notebook Therapy provides a cute and inviting look with pastel colors: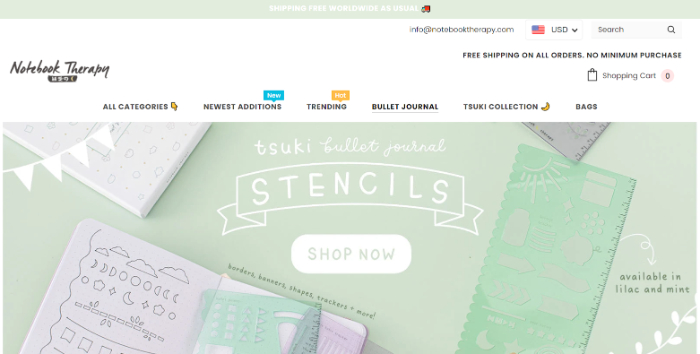 Pick A Great Color Theme
Make sure your color theme reflects the mood your brand is trying to convey. For example, use bright or pastel colors if you'd like to convey a happy mood. Use purple, magenta, or chestnut to make it look elegant. My personal favorite for creating a color theme is https://coolors.co/.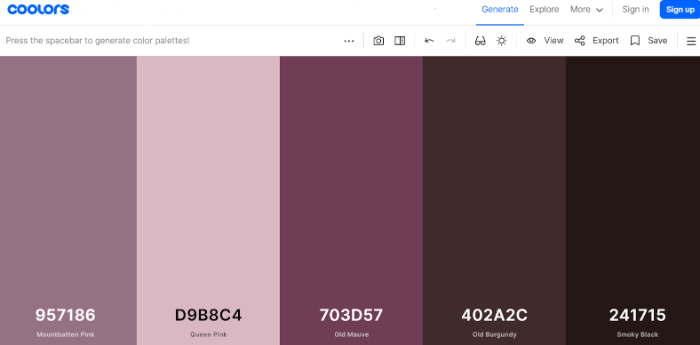 Also, don't use a color theme similar to your competitor's store. Uniqueness is the key point in branded dropshipping.
Having A Short and Catchy Tagline
What's the goal of having a tagline? Your customers remember your store and its mission for longer. If you come up with an ingenious tagline, it can definitely trend on social media platforms. You don't have to be a pro advertiser to come up with a tagline.
Plus, remove all worries about not getting the perfect tagline in the first go. You can always update your taglines to meet your dropshipping goals.
It's not something as permanent as your store name, so be flexible with it. Here are a few tips to help you build your tagline.
Target An Emotion
L'oreal Paris uses the tagline "Cause you're worth it." L'oreal targets self-worth and knows that makeup can be expensive, but it tells you that spending on yourself is worth more than the expenses.
Example: Disneyland is represented as "The Happiest Place on Earth" because you get to see those cheerful kids looking at everything in awe.
Saying What You Do is A Great Way to Make A Branded Dropshipping Store
Through Nestle's Tagline, "Good food, good life," you get the idea that it sells food products. Johnson Baby's "No more tears" promotes its no-tear formula baby products.
Saying what you do is a way to build trust. In fact, it's like promising something and fulfilling it.
Use Clever Metaphors
Who doesn't remember, "RedBull gives you wings?" When you use smart taglines, your customers remember your brand for its brains.
But remember, intelligence doesn't come from using sophisticated words. Being witty is enough for your customers to love your tagline.
Show That You Care
Let your tagline be as memorable as the first time someone hears "I love you too" from the person they love. And even if you aren't able to come up with something awesome in the first go, just stay highly alert for the right punchline. The idea may come anytime, while drinking coffee, skydiving, eating, etc.
Example: Gillette's tagline conveys that it cares about the harsh shaving experience, telling how Gillette is "the best a man can get."
Maintain An Active Customer Service to Have A Branded Dropshipping Store
Customers never forget a fantastic customer service experience. The most successful businesses like Amazon are customer-oriented and this reflects in their revenue. Similarly, to scale your dropshipping business, you should show that customers are at the heart of what you do.
In order to do so, always maintain a chat option in your store. You can use basic chat functions like FB Messenger and WhatsApp or go for extensions like Tawk.to, Tidio, and much more.
You can also reward your customers for being loyal, maintaining active customer service. For example, if they show an active interest in your product, you can have the live chat notification pop up, offering a discount or a promo code.
Always be kind and cordial to your customers. Your store is here to serve and solve the problems of your customers, and this is something you should always remember while dealing with them.
Although you're a jack of all trades, always remember that your customer is the king. Always collect feedback and improve your products.
Remember: In dropshipping, you're the Jack, customers are Kings, and the reviews & feedback are Aces!
Share Your Journey If You Can
These words beautifully sum up the reason behind narrating your brand story to your customers:
"You can say the right thing about a product and nobody will listen. You've got to say it in such a way that people will feel it in their gut. Because, if they don't feel it, nothing will happen." – William Bernbach
Who would know more about your brand than yourself?
So, craft a personal story about your brand and answer the 4 Ws while developing a brand story:
Why this Product?
What is the product?
When was the idea formed?
Why buy from Us?
Ultimately, neatly tie it back to why your customers should buy from you.
An excellent example is Warby Parker's story. Warby Parker isn't a dropshipping business, but it does an amazing job to narrate a brand story.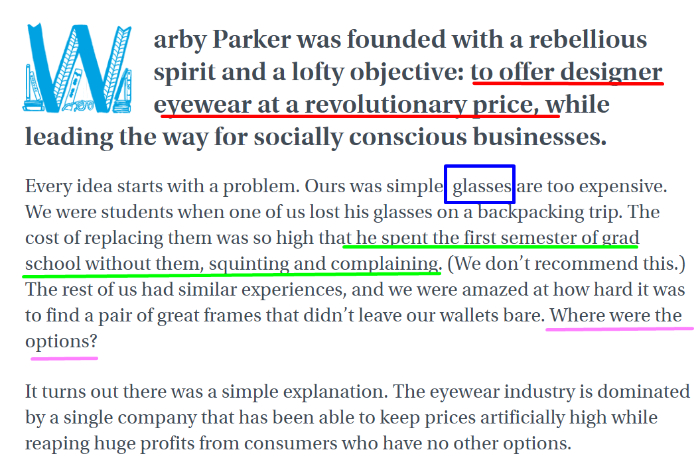 Let's see how Warby Parker answers all of these questions.
Q: Why Warby Parker's Prices?
Because they "offer designer eyewear at a revolutionary price."
Q: What is their product?
Eyewear like eyeglasses, sunglasses, and contact lenses.
Q: When was the idea formed?
When one of the students could not afford the high prices of replacing their eyeglasses.
Q: Why Choose Warby Parker?
Warby Parker promotes its brand as affordable eyewear in an industry, highlighting others more expensive subtly.
A great brand story checks all these 4 boxes while maintaining a connection with the customer. When a customer can relate to a part of your story, you can proudly say that you've crafted a compelling brand story.
Leverage Content Marketing
Content marketing is about showcasing your brand. You can have a thousand blog posts but if they fail to connect with your brand, your visitors will not have clarity about why they should purchase from your brand.
The biggest profit you can receive from content marketing is brand awareness. When customers are aware of your brand, you automatically get a step ahead of your competitors. To get started with content marketing, you should find answers to these questions.
Do I Know My Audience?
You should have clarity on who your audience is and why they would want your product. You should also have a general idea about which sites your audience would interact in.
For example, if your audience is tech-oriented students, they would spend time on Leetcode and Stackoverflow.
If your target audience is female and outgoing, you might find them on fashion blogs and social media handles.
Do I Have A Story to Engage My Audience with?
Features don't sell, but how you convey them does. When you can curate a story that your target audience can read and say, "This is so relatable!" then pat yourself on the back and celebrate the night with your favorite wine.
Do I Know Which Method to Spread My Content?
There are so many methods you can use to create content. To make people spread your content, here are some questions and answers that you might wanna look at:
Q: Is your brand dependent on visuals?
A: If yes, graphic content posted on Pinterest and other sites would be your best bet.
Q: Is your audience career-oriented buzz businesspeople?
A: Alright, then you're welcome to LinkedIn.
Q: Does your audience Google "How-to" a lot?
A: Make a schedule and write a few blog posts.
Q: Does your audience have no time for reading long blog posts?
A: Film a tutorial and upload it on YouTube instead.
Keep An Eye On Delivery to Keep A Branded Dropshipping Store On Top
Your typical customer would start tracking the product within 2 days placing their order. But, we dropshippers know how long it takes to get a product shipped from international locations to our customer's location.
If you use AliExpress, you know such quick delivery is just a dream. However, remember, there's a trick to be used on AliExpress from where you can quickly ship your branded dropshipping store's products.
So, let's hop onto AliExpress and search for a product that you would like to dropship. I'll search for "Pretty notebooks" to demonstrate it for you.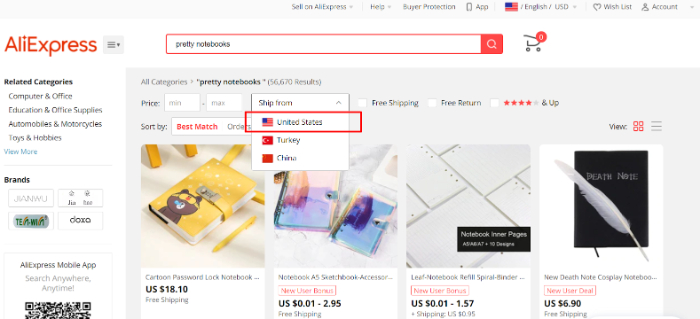 When you click on the 'Ship From' option, choose the United States. This reduces the shipping time by a good margin because this option shows you branded dropshipping suppliers most of the time.
If you want to let go of AliExpress, you can also try Sprocket out. It has nearly 80% US and EU branded dropshipping suppliers. So delivery duration won't be a big problem.
Nail the Packaging of Your Products
Customers fall in love with your brand when you offer great customized packaging! You don't have to worry about spending a lot on creating personalized packages. Just note that customized packaging is tough with AliExpress until you crack a deal with the supplier.
Another tip to take your package to the next level is to add in a personal note for your customer. Canva can be your store's best rescue when you don't have a budget to hire a graphic designer.
These options can get a little difficult while doing traditional dropshipping. So you can integrate your Shopify store with Dropified and subscribe to Dropified's Private Label plan for setting up a Private Label brand and customized packages.
If you would like to learn more about how Dropified makes branded dropshipping easier, you can read it here.
Also, there's a service called the Packtory that creates customized packages for your business, you can take a look into it as well.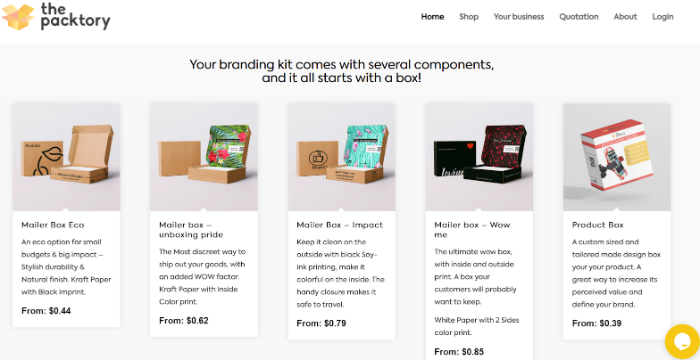 The Bottom Line
Branded dropshipping is an amazing way to take your sales to the sky. Your store will be known for its uniqueness, appeal to customers, and remarkable customer service.
The main goal of branded dropshipping is for your customers to say, "Wow! This is the product I've been looking for."
The more customers relate to your store, the more they will spend money.