Are you thinking, time and again, how would AliExpress dropshipping turn out? Well, AliExpress is one of the most powerful web retail services, which is based in China and retained by the big retail group Alibaba.
The company started in 2010 and was prepared for small businesses in China and other locations that exist in Southeast Asia. Later on, it started to import worldwide.
AliExpress is one of the most explored e-commerce websites across the globe. As a matter of fact, it is the 10th most popular eCommerce website in Brazil.
Just because most of the sellers at AliExpress are from overseas, you may find the latest and trending products available at lower rates.
Now that you know a bit about AliExpress, let's just have a quick walkthrough of the website.
AliExpress – A Walkthrough of the Whole Website
Whether it's women jewelry or electronics, AliExpress consists of a wide range of products. I must say – it's a goldmine for those who want to make money dropshipping products online.
Once you look at the top menu of AliExpress, you will find several options with dropdowns. Make sure you explore them as per your needs.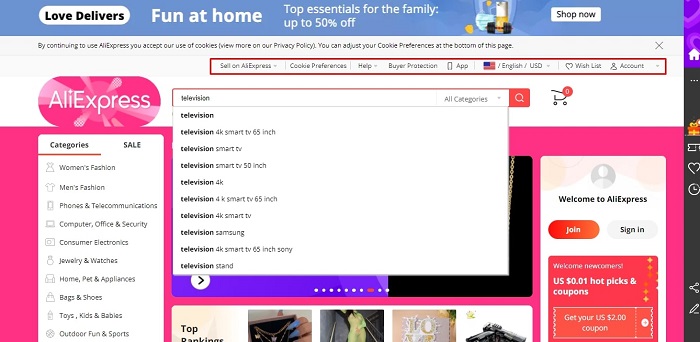 Below this menu bar, you will see product categories with various options to choose from. Here you can choose any type of product you want to purchase. Some of the essential product categories under this section are:
Women's and men's fashion
Phone and telecommunications
Computer, office & security
Jewelry & watches
Bags & shoes
As you can see yourself, there's a huge collection of products under these categories. If you want, you may search different categories to pick your desired product. If you see on the right side of the screen, you can sign in or join AliExpress by clicking on the respective buttons.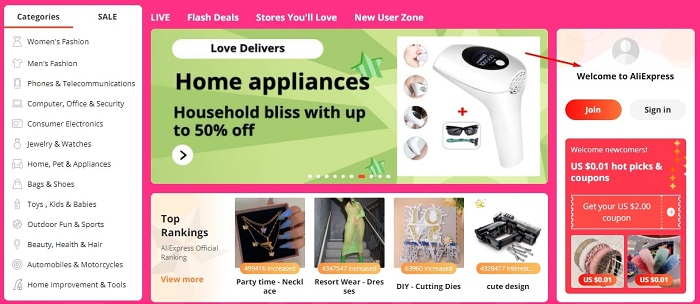 When you go through AliExpress, you will a few more eye-catching things that sometimes turn out great for dropshippers:
Flash deals: Buy products of different categories at special discount and sell higher. Yes, this could give you a great margin. Just have a keen eye for detail.
Top Selection: In the section, you will see what's getting sold the most on AliExpress. With the help of this section, you can spy on your competitors.
New Arrivals: As the name suggests, this section will let you know about the new products.
Featured Categories: In case you love specificity, you can pick your desired product from 'featured categories.'
Choosing An AliExpress Dropshipping Product to Sell
You can begin dropshipping for free with Oberlo. Do you know what Oberlo is? Okay, here's a real quick definition: "Oberlo is an online platform that lets you find and add products to your AliExpress store in just a few clicks."
Add Specific Products from AliExpress
Leverage the power of Oberlo and add any specific products that you want to sell from AliExpress to your business store. What I like the most about it is it lets you set your own pricing for the product so that you can earn as much profit as you want. So whenever you get an order, you can pay the amount for that product at wholesale cost and your AliExpress seller would directly ship orders to your customer.
Make Sure to Keep An Eye Up for Brands
If there's no brand on products, you shouldn't go for them because either they're knockoffs or fake. Know this – without legal partnership, you won't be a licensed reseller. In that case, the risk of selling products with another brand's logo is definitely not worth it. Subpoena is scary, you know?
ePacket Delivery And Free Shipping
Wherever possible, you should focus on reselling the products having free shipping of ePackets as such deliveries are the most economical and quickest for shipping small goods.
Choose Products That Has More Than 300 Orders for AliExpress Dropshipping
If the product you're choosing has lots of orders, it's a sure thing that there is a huge demand for it. Besides, it also tells that the supplier is highly reliable because he is already doing business with other people.
Choose A Product with More than 4.5 Star Rating
You should ensure that the products you choose have a high star rating. As a general thumb of rule, you should go for more than 4.5 stars. Along with this, lookout for the worst reviews as well. Those might tell you know something you may wish you had known before.
The Potential of High Margin with Low Price
You should stick with the products that are in the price range of $1-$20. This gives additional wiggle room for spending the marketing budget to acquire a good customer base. For instance, if you buy a product via AliExpress at 20 USD and sell it at 50 USD, you can get a margin of about 60% which you can reinvest into marketing even more.
How to Integrate AliExpress with Shopify
Oberlo lets you quickly and easily integrate Aliexpress with Shopify. When it comes to setting up Oberlo on your Shopify store, it's super easy!
Not only this, Oberlo will also keep you in loop, in case the supplier changes the price or he goes out of stock.
If we talk about importing details, you can easily import the title, variants, description, price, and images of the products to your store, isn't it amazing? No efforts!
Let me just show you how it is possible.
Step 1: Register an account with Oberlo and link your store.
Step 2: Click on the button 'Find products' this will take you to AliExpress.

Step 3: Choose a niche you wanna set your store up in from numerous niches available on AliExpress.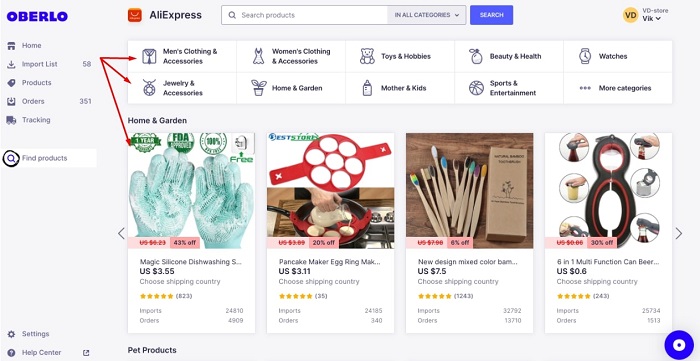 Step 4: Click on 'Add to import list' to add the product in your Oberlo import list.

or you can even import by copying the URL of the product either in bulk or one by one.
There you go, you've successfully imported a product from AliExpress to Oberlo which can now be used in your Shopify store.
Oberlo can act as a dashboard for your dropshipping business at AliExpress, allowing you to keep track of all the orders and monitor their delivery status.
When you're ordering on AliExpress, you can let your seller know that you're dropshipping. So, they won't include any promotions or invoices in the package that is being sent to customers.
A pro tip: At the checkout page, you may leave a text such as: "We're dropshipping. Please no Invoices and promotions!" Oberlo will do this for you.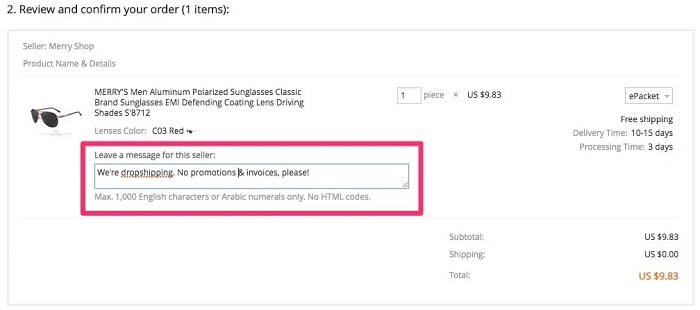 If you're at Oberlo, your order will be automatically fulfilled with a tracking number. By the way, your customer will also know that the order has been shipped.
So far you have understood how simple it is to integrate products from Aliexpress to Shopify. Now let me tell some advice that might help you get success as a dropshipper.
Tips for A Successful AliExpress Dropshipping business
In such a technologically advanced era, many people like you want to start a dropshipping business. From tools to extensive support from suppliers – there's a lot that you can have. But, things go south when you don't keep your focus on the steering.
Now the question is – how would you focus on the steering? I think you need some tips, let's go!
Select Reliable Supplier At AliExpress for Dropshipping
While dropshipping at AliExpress, losing control is quite easy as you will not see the product yourself, it gets delivered straight from the warehouse to the buyer. So, it is important to choose a reliable supplier.
The common way of evaluating the dropshipping supplier at AliExpress is reviews.
Just imagine, you're walking through a flea market, where someone shouted that the guy having shop next is a scammer. So, would you buy products from that seller? No, you won't. Likewise, you should choose your supplier considering the same criteria.
Never Sell Products That Trespass on Copyrights
Aliexpress is hoarded with various knock-offs that should be avoided at all cost. Most naive buyers buy products at super cheap prices, thinking they're gonna make a huge profit.
When their customers get the product, these dropshippers realize that they bought fake products. And then boom, their inbox floods with complaints and they get negative reviews.
On the other hand, please note that it's always better to mention that the products are not from authentic brands or original designers.
Choose the Suppliers Using ePacket Delivery
The most sensitive matter with AliExpress dropshipping is the shipping time, especially for e-commerce startups.
For this, start keeping tabs on such AliExpress dropshipping suppliers that can offer top-rated shipping options for your e-commerce business.
Is AliExpress Dropshipping Profitable in 2021?
Yes, AliExpress is good for dropshipping in 2021 as it's easy to get many things right with AliExpress.
Most of the novice dropshippers go with Aliexpress because there's no upfront fees or cost and products are cheap as compared to Alibaba. As a result, all of this makes it easy for new dropshippers to test out various products without making any substantial financial commitment.
Profits with low-risk, that's a dream of any entrepreneur. So what are you waiting for? Plan it out 🙂