In this era of technology, people are overwhelmed with digital advertisements.
According to research, about 53% of people feel frustrated by several irrelevant ads and emails that B2B companies send them. That makes it hard for them to find what they're looking for.
In fact, 34% of users find it challenging to find an answer to a query they face while browsing. Therefore, this is where conversational marketing comes in.
Conversational marketing is a strategy businesses use to create a two-way dialogue with their customers through live chat, chatbots, voice assistance, or any other form of conversational AI.
It helps companies understand their customer's needs and desires better and ultimately leads to more sales.
In this guide, you'll learn what conversational marketing is, how it works, and why it's a valuable tool for your business.
How Powerful Conversational Marketing is?
According to Aumcore, about 55% of the businesses have seen positive sales, brand awareness, and customer interaction by using conversational marketing.
This marketing strategy has been helpful for companies to gain profits and trust from customers. One of the fine examples is of a company called RapidMiner.
RapidMiner is an excellent example of correctly using a chatbot to scale conversations and prioritize conversations to get the best leads.
With good traffic on their website, it wasn't wise enough for them to have a chat with everyone. So, they only reserved their time and energy for those who are more likely to convert.
RapidMiner's LeadBot could identify potential clients by asking the same set of qualifying questions that a sales team would ask.
Qualified leads were automatically addressed to arrange a meeting with a sales representative, easing their concern to qualify leads personally.
Results were:
About 4000 leads were captured
They were able to raise about $1M into their sales pipeline
Helped people find answers, even for those not looking to buy
5 Effective Ways to Implement Conversational Marketing in Your Business.
About 82% of the users have been found to receive an immediate response to their query using conversational marketing tools.
Here are five ways through which you can start your conversational marketing campaign.
1. Live Chatbot at the Corner of Your Website
There has been a surge of about 92% of companies using chatbots to generate leads because it makes your website more interactive and helps your potential prospects make decisions in real-time.
It helps them understand the process of buying a product or service more clearly, providing them an instant response.
In fact, 55% of users prefer chatbots to communicate with businesses to get their queries answered quickly.
Some of the best chatbot software available in the market are:
Landbot
Dialog Flow
Chatfuel
Botsify
Mobile Monkey
ChatBot
Although these chatbots are easy to install, it might be tough for some of you. In that case, just follow up with my process. For this, I'm going to use ChatBot.
1. Navigate through the integration panel and choose the chat widget.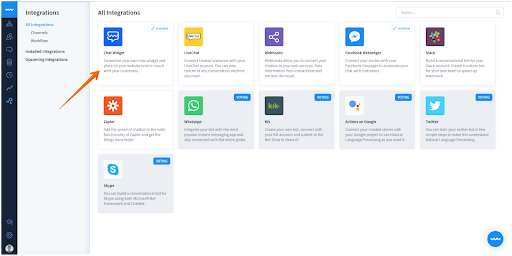 2. Select publish your bot section.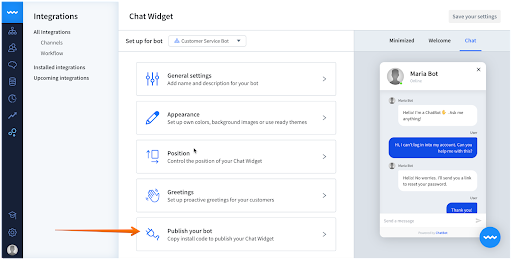 3. By clicking on "Copy to Clipboard," copy the code from the box.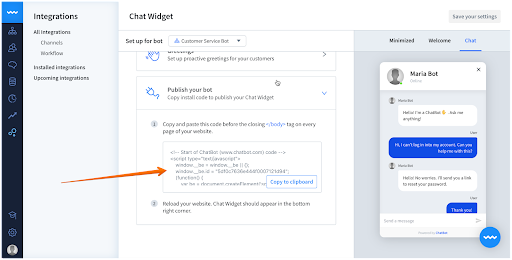 4. Go to your website's source code and paste it before the tag.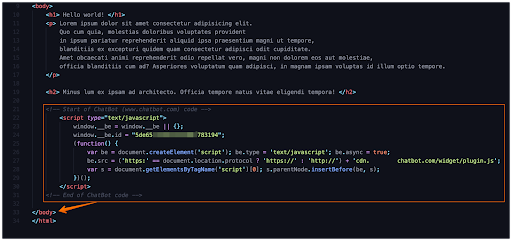 5. Once all the steps are done correctly, you may find a Chat widget on the right corner of your website.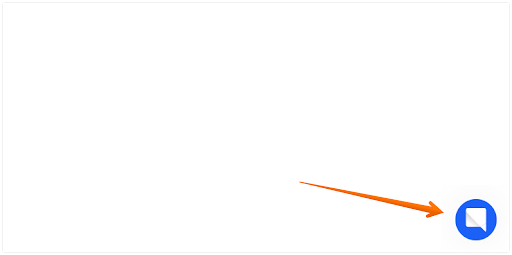 2. Capture Leads & Then Reach Out Via Email
Email Marketing has been the oldest go-to strategy for businesses to communicate with potential customers.
It's estimated that by 2025, more than 4.6 billion people will be actively using their email.
It will also see a surge in its overall market value by $17.6 billion by 2027.
In 2019, email sales marketing had an ROI of 4200%, i.e., $42 generated for every 1$ spent.
Businesses that have opted for email marketing have seen an increase of 760% in their revenue.
In fact, four out of five marketers prefer to choose email marketing over social media marketing. The reason why marketers prefer this is because of its lead generation.
According to the Content Marketing Institute, email marketing has helped businesses see an 85% increase in lead generation, 84% increase in sales, 78% increase in lead nurturing, and 74% in customer retention.
Once you have a list of customers who have signed up for your newsletter, it's time to start reaching out to them with emails.
We can have a specific email sequence designed to convert the leads into regular customers.
Here is a perfect example of a promotional email:
Subject: Do You Want to Double Your Sales?
Body:
Hey [First Name],
As you know, the holiday season is just around the corner. If you're like most business owners, you may be feeling overwhelmed with orders and deliveries during this time of year. This year, why not consider outsourcing some of your shipping to a 3PL? Your customers will thank you for it!
Here's an article we wrote that explains everything: [Link]
Cheers
Your Name
3. Facebook Messenger
This method is quite similar to chatbots, but the platform over here involves Facebook messenger.
With over 260 million new conversations every day and 1.3 billion monthly active users, this is one of the best social media platforms to target your audience and get them into the conversation.
It is one of the most effective and efficient ways to engage with customers.
In fact, it has been found that open rates for messenger chat are more than 70% which is slightly more than email marketing.
4. Go Live on Instagram
Instagram has a massive community of over 1 billion active users. It's one of the best platforms you can use to promote your brand.
You can post live videos and take your audience right into action with this.
Going live on Instagram is much more beneficial than posting pre-recorded clips as the sessions will be longer and more in-depth.
You should ensure that your live broadcast isn't just a one-note blast of thoughts. It must offer something of value to your viewers.
You can start with interviewing relevant people, hosting Q&A sessions with customers, product launches, and explaining the key features of your products.
5. Create and Host Webinars
Webinars are a great way to educate your customers and help them make informed decisions. They usually feature a presentation followed by a Q&A session.
They are a visually based medium that allows presenters to interface with participants quickly and efficiently.
In addition, it can help people to understand the information quickly. According to Readytalk, about 20-40% of people who are attending webinars become potential leads.
Most companies use Webinars for:
Product launches
Creating brand awareness
Lead generation
Highlight their expertise