Online website marketplaces simplify your eCommerce business for sale search. These marketplaces buzz with lucrative eCommerce website deals, domain name purchases, and much more.
Whether you wanna expand your business or seek a time-effective solution to setting an eCommerce business, you've come to the right place.
Today we're gonna learn about the top 10 places you can find an eCommerce business for sale. And by the end of this article, you will definitely know which marketplace would be the best for your eCommerce needs.
So let's get started!
9 Places You Can Find eCommerce Business for Sale
Flippa – Most Popular Platform to Find eCommerce Business for Sale
Ever heard of Flippa? It's an online eCommerce business for sale platform, facilitating the sellers and buyers meetings to sell or buy the companies and digital assets. Mark Harbottle and Matt Mickiewicz founded it in June 2009.
Now let's take a closer look at what Flippa offers!
A Walkthrough of the Website
Flippa is the most popular marketplace for buying and selling websites.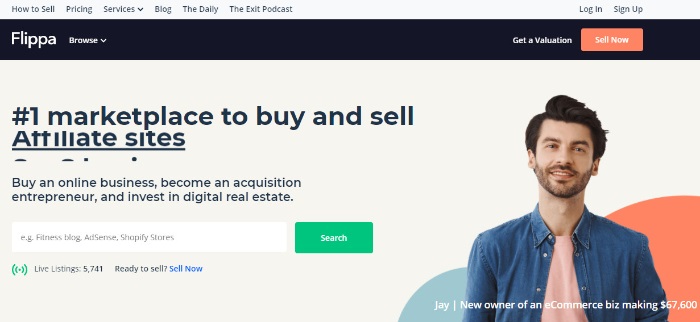 To find an eCommerce store, you wanna:
Hover over the Browse option you see on the top, besides the Flippa logo -> Hover over Website -> eCommerce – > Choose the niche you want your store in.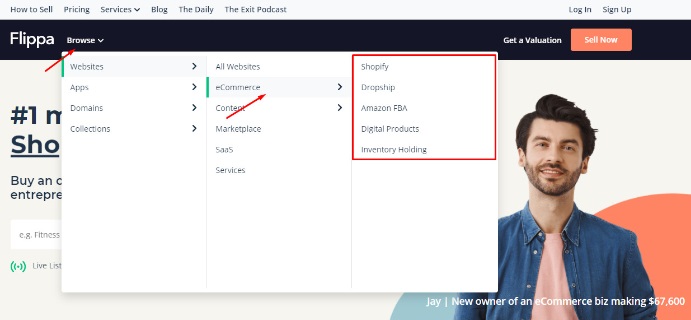 I want a site on Shopify, so let's see what my options are!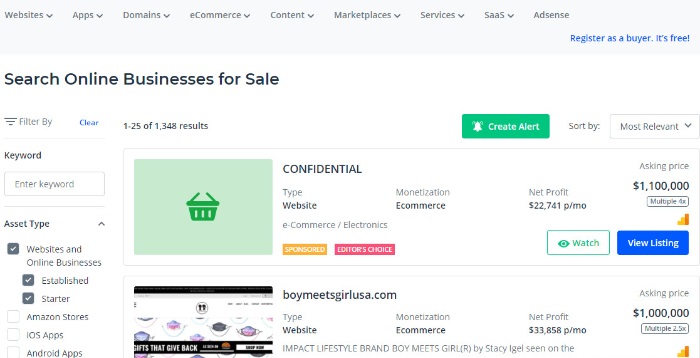 Here's the result I got – 1,348 websites; Woah! Quite tempting…
You can see many websites. You can do several things on this page:
Sort the website via various methods
Filter websites based on 15 different parameters
Input a keyword and skim through all the website
Now I filtered my search, putting the keyword weight loss in there and sorted the page by 'Most Profitable' first.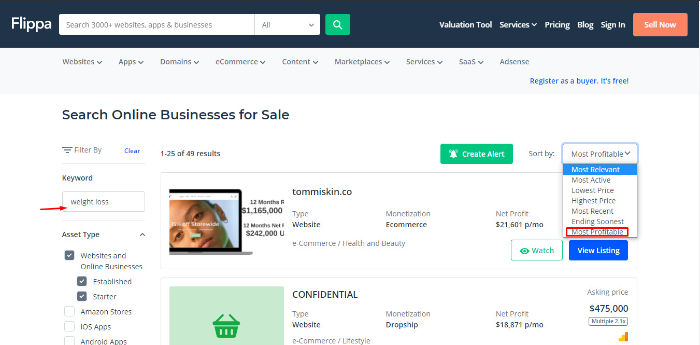 You can just click on the 'Watch' button to save the listing and keep track of the website. The moment you click on the button, it changes from 'Watch' to 'Watching.'


The next feature of the site is quite interesting. Just click on 'View Listing.' This will open the website detail you plan on buying.

There are quite a few things on the page that opens now.
You can contact the seller or make a counter offer for buying the website clicking on – 'Contact Seller' and 'Make Offer,' respectively.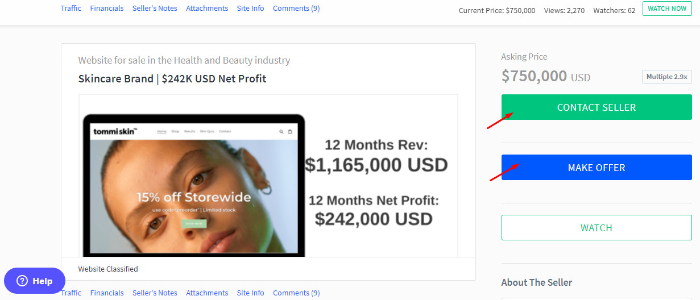 When you scroll further down, you get an overview of the website and buyer. You get to know the traffic and profit overview about the website. On the right side of the screen, you can see the information of the Seller.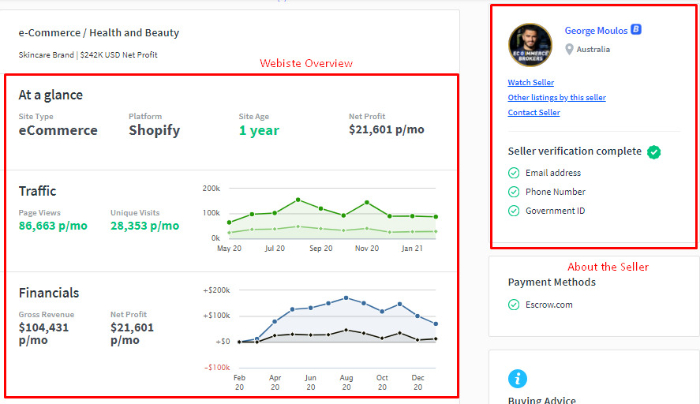 The in-depth reports of Google Analytics, SEMRush, and the site's financials are also available when you scroll further down.
Lastly, the proof of revenue and the Seller's note about the site can be seen at the bottom of the page, followed by the comments section.
Pros and Cons of Flippa
Pros
Incredibly easy to use and navigate
No caps on price range
Over 2,000,000 transactions till date
Cons
Needs a paid plan of SEMRush to unlock its full report
It's incredibly subtle and easy-to-use interface makes Flippa one of the best websites to find eCommerce businesses for sale. The site is old, established, and has been thriving in this competitive eCommerce market since then.
Exchange Marketplace- Specifically Made to Find eCommerce Business for Sale!
Exchange marketplace is another eCommerce business for sale that allows users to sell and buy various Shopify websites. Sounds impressive, right? Its team has profound knowledge in facilitating the selling and buying of the stores.
A Walkthrough of the Website
As mentioned earlier, Exchange only deals with Shopify stores. However, that shouldn't be a problem as Shopify is one of the most chosen platforms by eCommerce entrepreneurs.
Exchange marketplace comes with 3000 stores, giving you a wide variety of options to choose from.
Let's have a look at the website and know more about the listing here.
You can start browsing different eCommerce websites that interest you, and that too without even signing up. Just click on the 'Browse all store' button and you're good to go!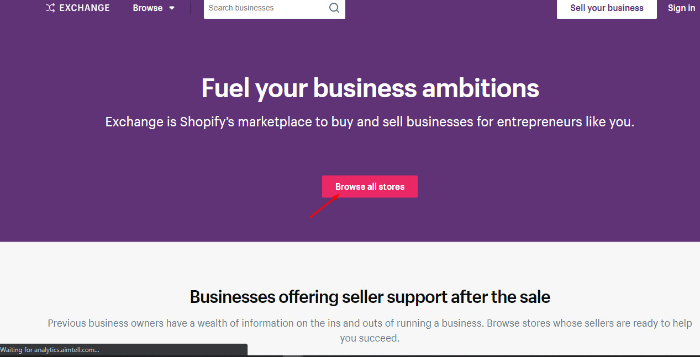 If you have a specific business already in mind and wanna see the relevant website – Just search for a business you want in the top left corner search bar.

I'm just gonna go ahead and click on 'Browse all stores' for now as I don't wanna buy a site for now. (No, I'm not broke, I already have many)
Once you click on the above button, you get a list of never-ending stores which can be a potential contender for a successful eCommerce business.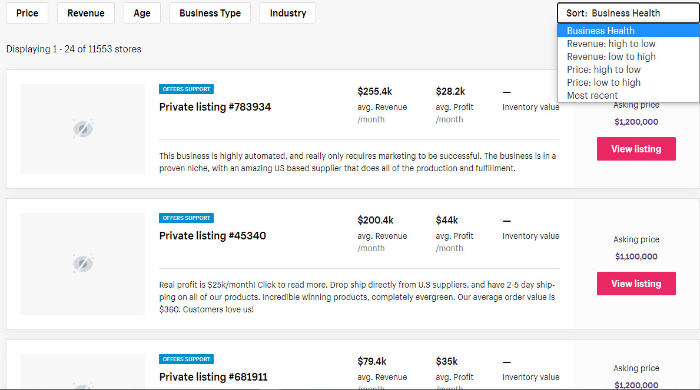 You can filter these Shopify stores according to:
Price
Revenue
Age
Business Type
Let me show you an example.
I tried finding a good Shopify store in the niche of health and beauty.
I got 20 stores to choose from. In fact, it's less because I've applied 3 filters – Revenue, Age of the store, and Business type.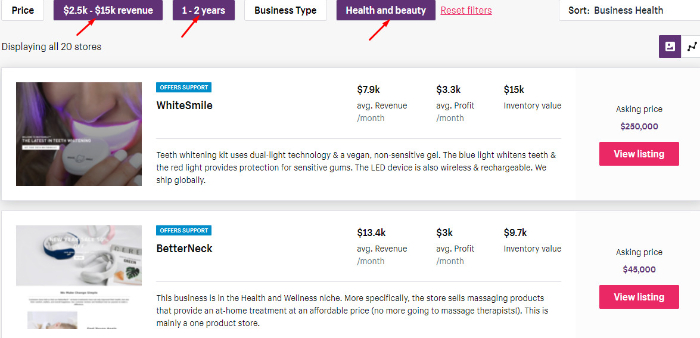 The 1st website in the above image seems to be quite interesting, let's just click on the 'View Listing' button.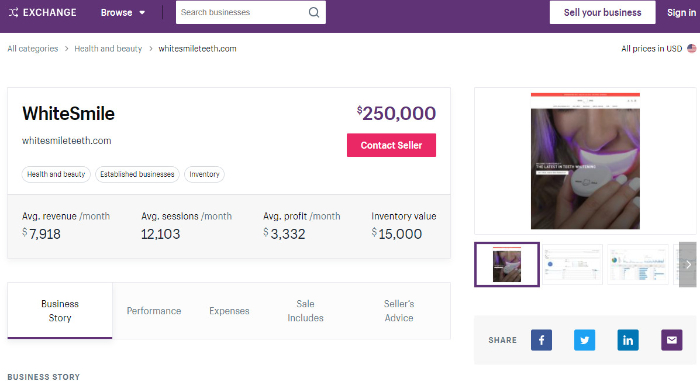 There you go! On the top, you can see the direct CTA to contact the seller.
Once you visit store details, you can get up to 4 major average parameters of the website:
Revenue per month
Sessions per month
Monthly profit
Inventory value
If you look at the top right section in the above image, there are some pictures of the store. In this store's case, it shows you the images of the store and Google Analytics dashboard.
When you scroll further down, you can read the business story as well.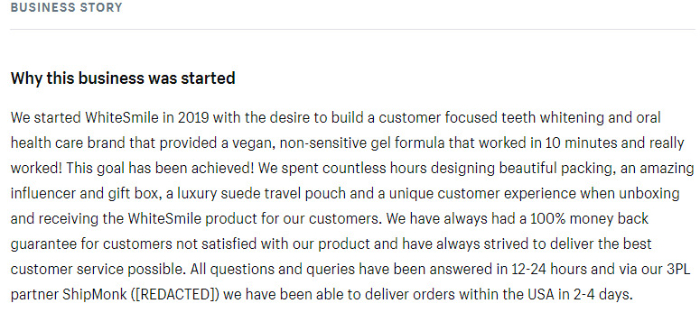 See verified Shopify statistics on the performance of the website.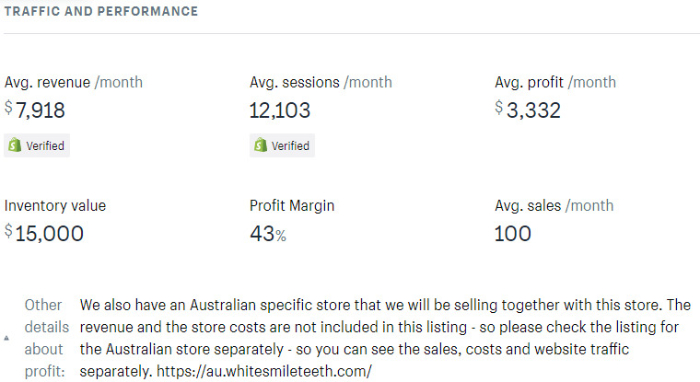 Expenses you might incur for bringing in clients, management etc.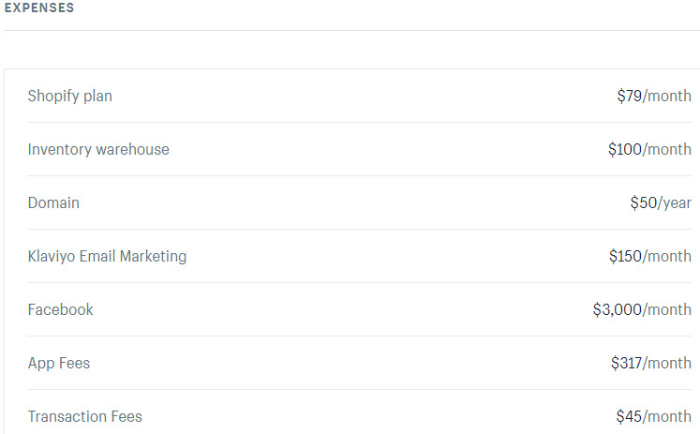 What the sales include when you buy the store.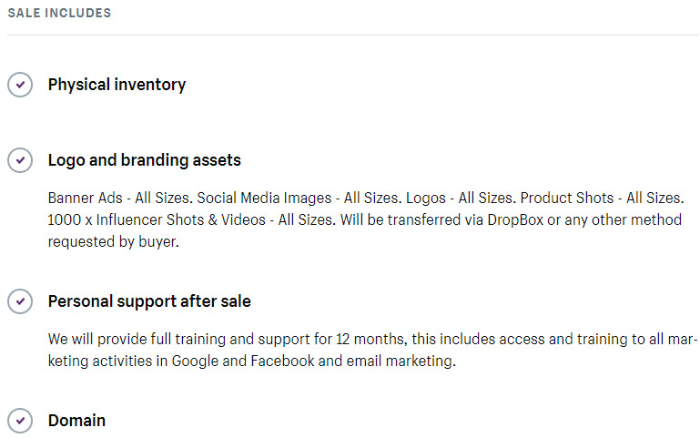 And lastly, Seller's advice.

Pros and Cons of Exchange
Pros
Shopify is the parent company
Escrow manages and secures your payments
Easy-to-use
Cons
Undoubtedly, the exchange marketplace is effortless to use, highly secure, and one of the most prominent places to buy an online business.
FE International – SaaS, eCommerce & Content
FE International is a platform for both owners and investors to buy, invest, and sell website businesses. It was started in 2010 and has grown exponentially since then.
It offers a range of eCommerce business for sale, notably SaaS, eCommerce, and content production. You can generally find businesses that are valued at less than ten million.
A Walkthrough of the Website
FE International sells eCommerce websites built on a variety of platforms. So, you don't have to worry about buying a website restricted to an eCommerce building platform.
Let's see how you can use FE International for checking and purchasing websites.
Visit FE International and click on 'Buy a Website.' The interface is quite outdated. Nonetheless, you can use it to find websites quite easily.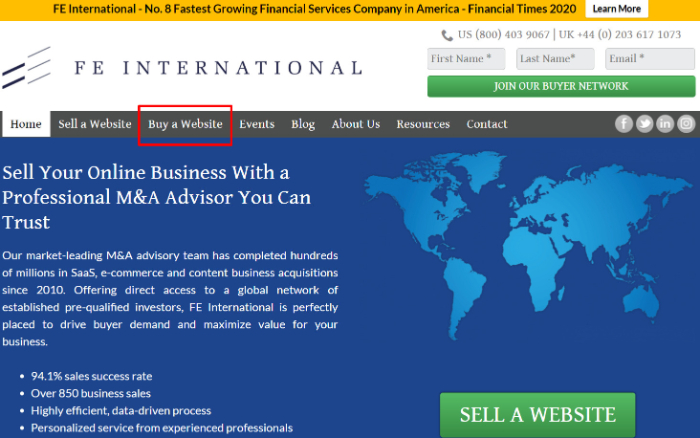 The platform doesn't offer a lot of search filters, you can only sort it using 'Latest' or 'All' filters. Besides that, you will have to search for an eCommerce business that catches your attention manually.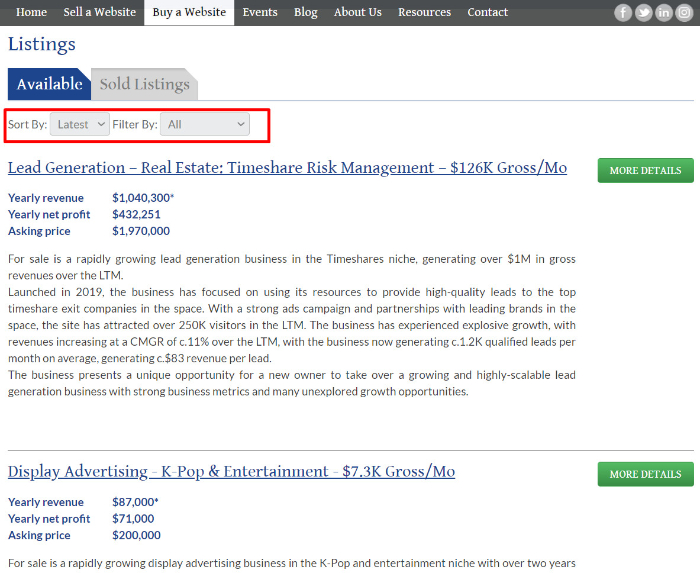 When you click on a listing, you can find the basic details about its finances and operations.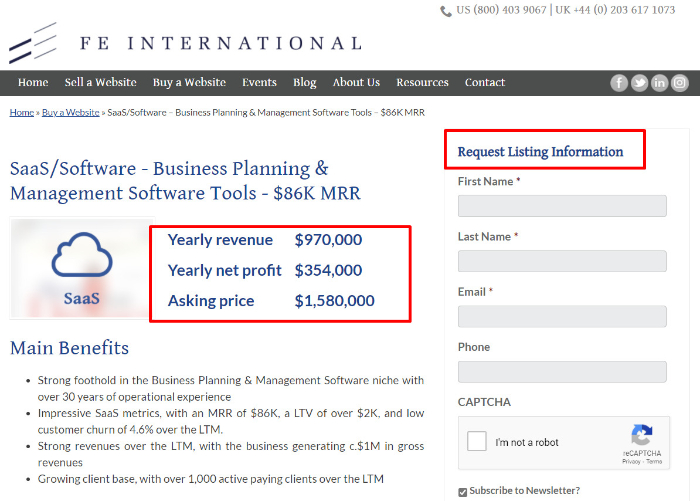 However, FE International doesn't offer comprehensive insights into its listings. You should request the listing information using the form given on the page. FE International usually works best for experienced individuals who are seeking to buy an online website and have a prior idea of what kind of business they'd like to purchase.
Pros and Cons of FE international
Pros
Offers a range of websites made on different platforms
No up-front fees and high success rate of purchase
Free valuation and reasonable support
Cons
No clear fees listed on their website
Clunky UI
FE International is worth considering for mid-market website purchases. With due diligence and clarity on your end, you're likely to buy an online business on FE International successfully.
Latona's – Online Businesses Broker
Latona's was started in 2008 as a domain name brokerage. Currently, they've expanded into different domains like managing mergers and acquisitions of eCommerce, SaaS, and domain portfolios.
It focuses on online assets that meet two requirements: annual profit of at least $20,000 and established for at least one year.
A Walkthrough of the Website
Latona's has a relatively neat interface, which is intuitive to browse eCommerce businesses. Presently, it has a relatively smaller number of eCommerce businesses for sale. This is because Latona's does a good amount of diligence before listing anything on their platform.
Let's head to Latona's platform and see how we can find suitable eCommerce businesses for sale.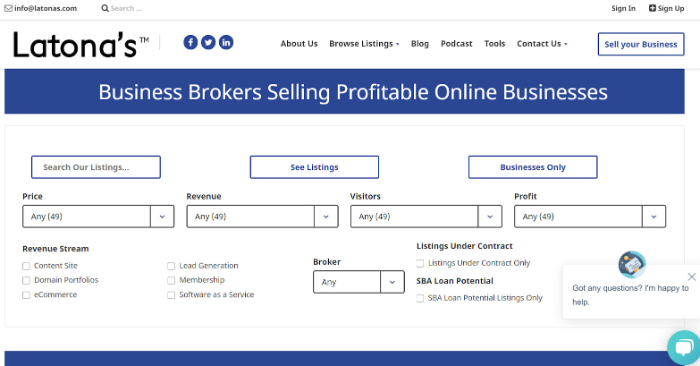 Here I can sort the businesses according to Price, Revenue, Visitors, and Profit. To demonstrate, I'll set the parameters according to the Price I can purchase the website at, the Revenue I'd like the business to ideally have, the number of visitors it gets per month, and the business's profit-making.
For the demo, I'll set all the parameters to 'Any' and press Search Now.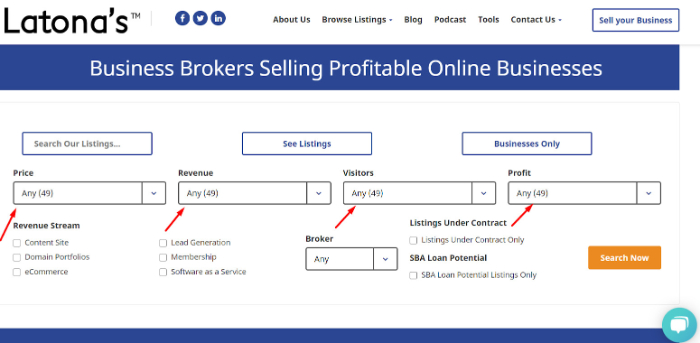 The search results will yield this: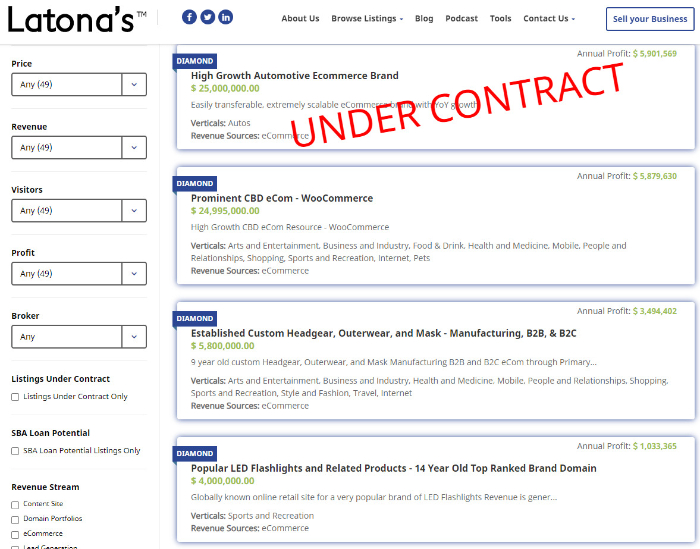 The search results differentiate between Under Contract listings and normal ones. As the name suggests, the contract listings are offered on a contract basis only. Here, I'll click on one of the listings.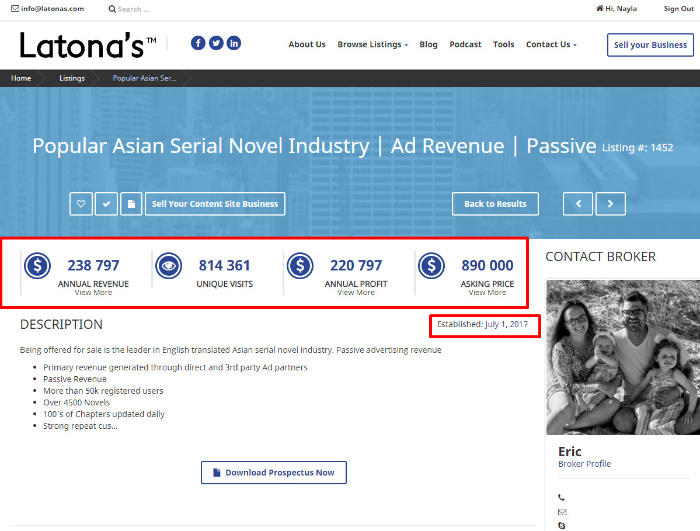 Through the listing details, I can find general information like the Annual Revenue, Visits, Profits, and Asking Price of the online business on sale.
However, more details are hidden behind an authorization wall that requires you to create an account and sign an NDA (Non-disclosure agreement).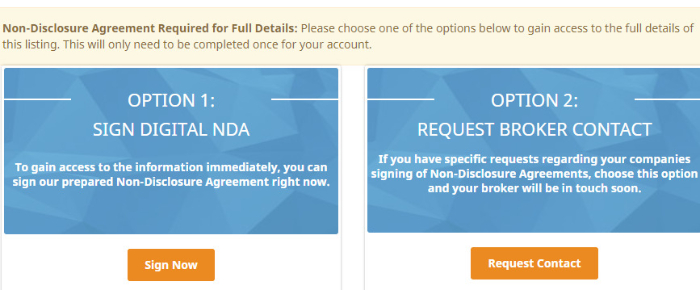 You should usually opt for buying eCommerce businesses from Latona's only if you're seriously interested in purchasing one. If you're there to window shop for online businesses, then platforms like Flippa and Exchange are your best bet.
Pros and Cons of Latona's
Pros
Verified listings
Brokerage support is available
Comprehensive search filters tailored to your needs
Cons
Lengthy registration and due diligence process
Latona's has a great depth of website details when you work hands-on with their broker. Although it's not suitable for casual searching, the site requires you to have a prior idea of what business you're looking for. Their best feature is – you can sign up for a personal broker who can guide you through the entire process of buying an online business through their platform.
Empire Flippers- Verified Brokers
Empire Flippers is another platform for buying and selling eCommerce businesses. It was launched by Joseph Magnotti and Justin Cooke in 2013, and it usually uses affiliate programs for driving sales.
A Walkthrough of the Website
The landing page of Empire Flippers has the search tool in place so that you can quickly search for the type of online business you're looking for.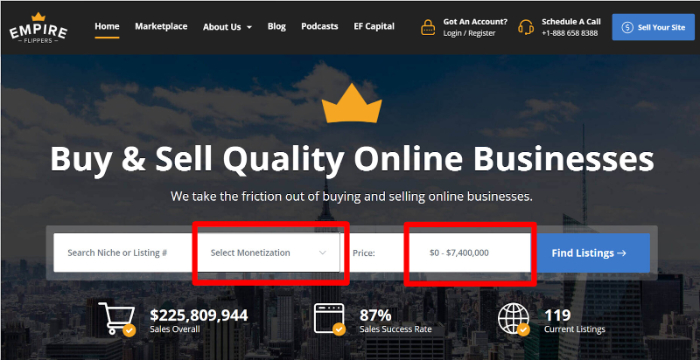 Here, 'Monetization' refers to the different methods through which you want your prospective eCommerce business to make money. There are different monetization categories available on Empire Flippers, notably Affiliate, Amazon FBA, Digital Product, eCommerce, etc.
I'll pick the eCommerce category and results would be something like this: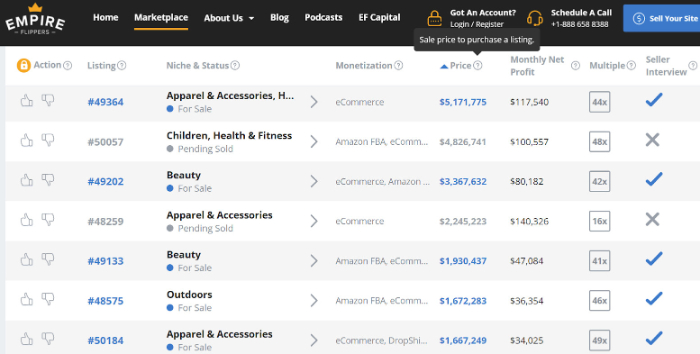 The listings are automatically sorted according to the listing price. There are options for Seller Interview for all websites listed on the platform, except for those already in the process of being sold.
I'll check the first listing on the search result- 'Apparel and Accessories' and evaluate the offer made.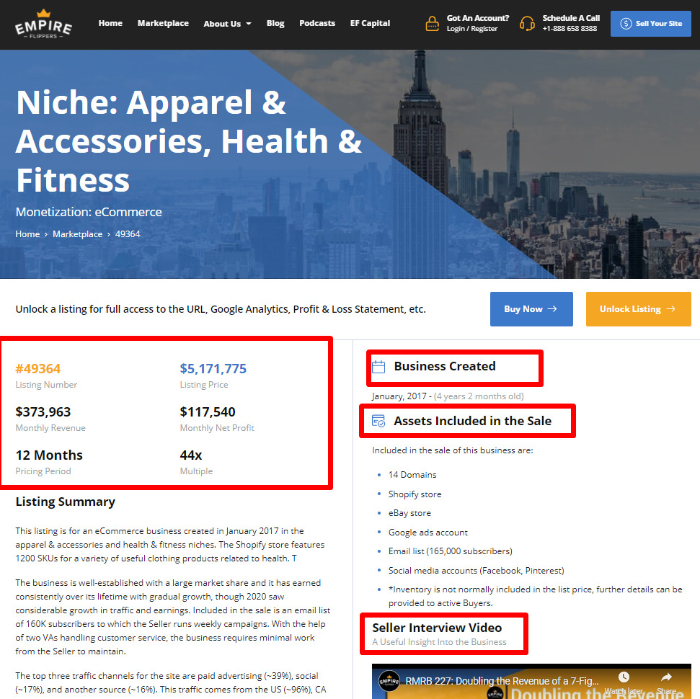 You can initially find all the solid numbers and stats about the eCommerce business for sale. Next, you're told about the age of the website. Other than this, the listing offers comprehensive details (like domain names, social media accounts, email subscribers list) about the eCommerce business's assets.
If you scroll down, you can also find graphs about the business growth, revenue, traffic, and much more.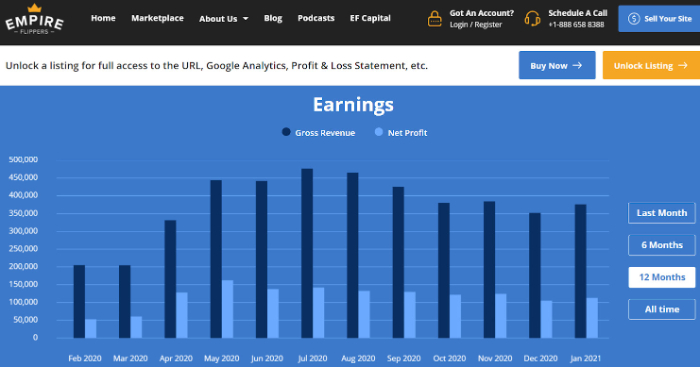 Also, Empire Flippers offers well-researched insights about the listing. Their thorough vetting process is evident in their listing page as it shows an overview of the skills required, time commitments, buyer personas, and much more.
Here's one excellent feature to note: Once a potential buyer finds a listing they're interested in purchasing, they can offer a 5% fully-refundable deposit to gain access to the URL and Google Analytics of the online business. By doing so, Empire Flippers filter out non-serious buyers and sellers.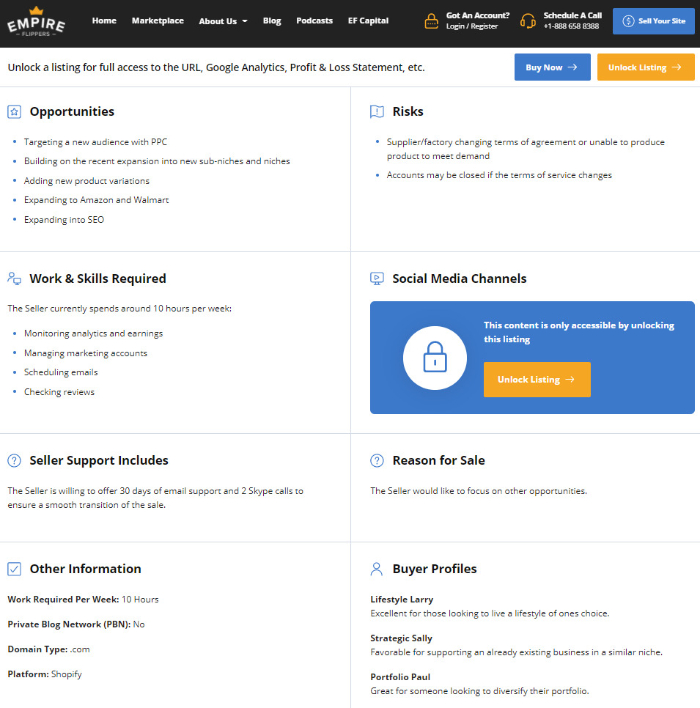 Pros and Cons Of Empire Flippers
Pros
Quick transactions
Super niche-specific business sites available
Comprehensive and verified details for the listings
Cons
Slower site migration despite quick transactions
Empire Flippers is a versatile and trustworthy website broker for your business needs. With intensive background research and great customer service, you can leverage it to buy a profitable business.
Quiet Light Brokerage – Regulated Listings
Quiet Light Brokerage has been mediating and supervising the sales of online businesses since 2006. Their team is known for its entrepreneurial nature and has brokered the sale of over 500 online businesses and websites.
A Walkthrough of the Website
Quiet Light Brokerage has a simple and uncluttered website. Let's see how we can find relevant eCommerce businesses for sale here.
Firstly, click on the buy button in the header menu.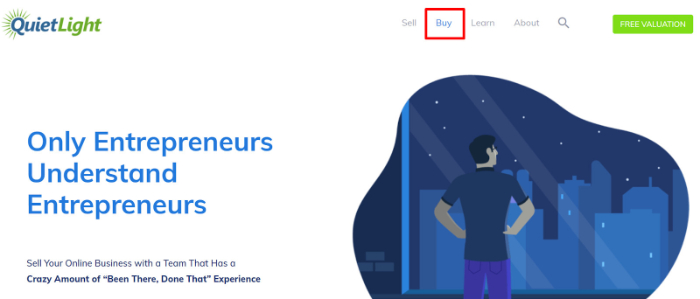 Clicking on the 'Buy' button, you're prompted to view the listings available on the platform. One can notice that there are not many search filters available on the website. So, you will have to manually browse through the listings and see what fits your interests.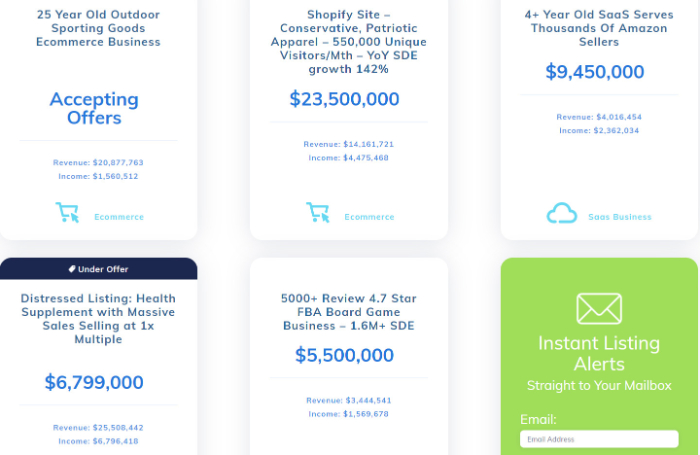 I'll click on the one stating 'Accepting Offer' to see whether Quiet Light Brokerage's listings are comprehensive or not.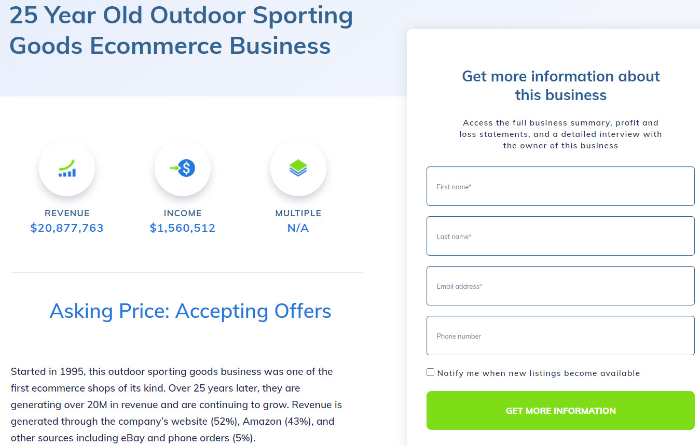 The listings are not as comprehensive as I had expected them to be. It states the basic figures like Revenue and Income. Later, it gives a summary of the business plan of the listed eCommerce business. Here's a quick snapshot: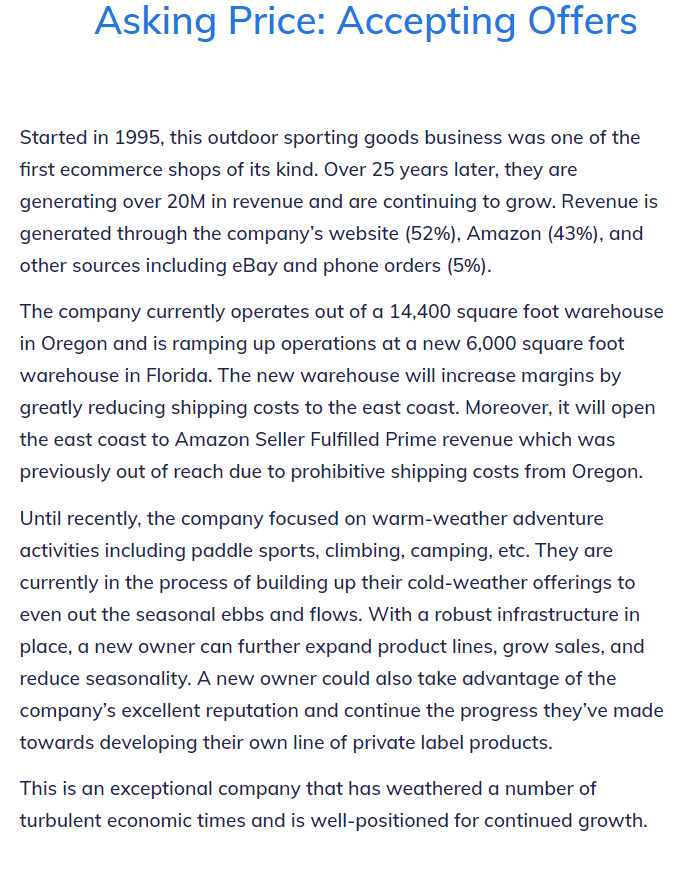 This listing didn't mention its asking price. Instead of that, it seeks offers from the buyer and will compare the offers before making the decision.
However, if you're interested, you can use the form on the website and contact the brokers for more information.
Pros and cons of Quiet Light Brokerage
Pros
Well-regulated and easily navigable
Large directory of websites to ensure better options
Higher quality listings
Increased legitimacy of listed eCommerce websites
Cons
Slow customer-service response rate
Little information is initially offered
All in all, Quiet Light Brokerage is a good platform for you to find trustworthy and profitable eCommerce businesses for sales. It reduces the hassle of weeding out irrelevant or suspicious listings so that you can solely focus on purchasing an online business that suits your needs.
Digital Exits – Niche-specific Websites
Digital Exits is a good choice for buyers who are looking into very specific website niches. Due to its limited number of listings, it's not quite the platform for general buyers or beginners. Started by Robert Kale, founded in 2014, Digital Exits has completed more than 100 deals worldwide.
A Walkthrough of the Website
Digital Exits is known for its profitable and durable deals. Let's just discover how you can use its marketplace to find the ideal site for your eCommerce business.
First, go to the Digital Exits homepage and click on Listings 'For Sale.'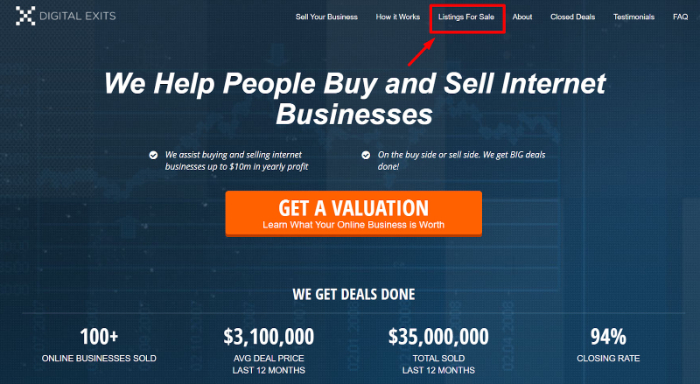 Digital Exits has a small number of listings for you to consider and you can easily scroll through them to find the one that can meet your business objectives.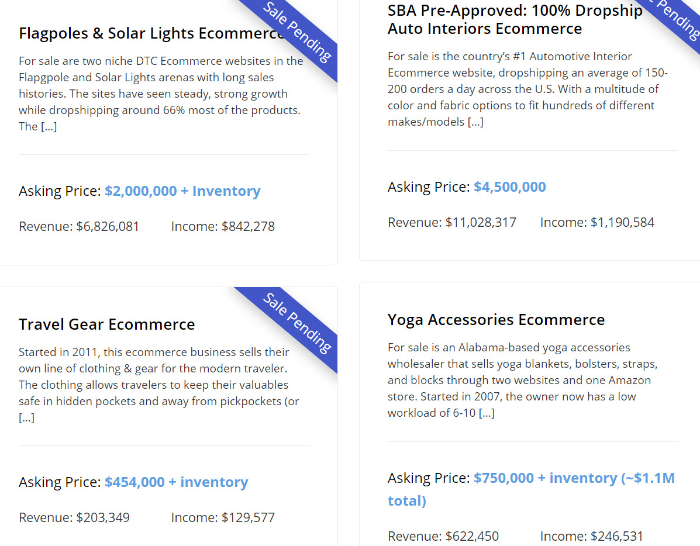 I'll click on one of the 'Sale Pending' listings to check further details about the eCommerce business.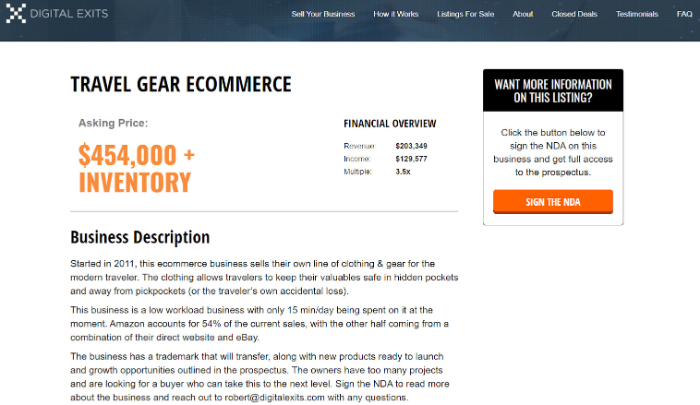 Here I can see the business's financial overview and a little bit about its business model. If I would like to know more about this eCommerce business, I'll have to sign a non-disclosure agreement (NDA).
Pros And Cons Of Digital Exits
Here's a quick guide to the pros and cons:
Pros
Good closure rates for deals
Verified websites for sale
Short processing time for the deal
Cons
Scarce website options
Lacks an active customer support
Digital Exits is a growing business broker. You should prefer Digital Exits whenever you're looking for a well-priced and niche-tailored eCommerce business.
Website Properties – Pioneering Online Business Sales
Website Properties entered the online business brokerage space for several years and specializes in high-value ($1M) listings. Recently, they started selling smaller eCommerce websites on their platform as well.
A Walkthrough of the Website
Let's hop straight onto the homepage of Website Properties. After that, hover your mouse pointer over 'Buy an Online Business' and click on 'Websites for Sale – Internet Business.'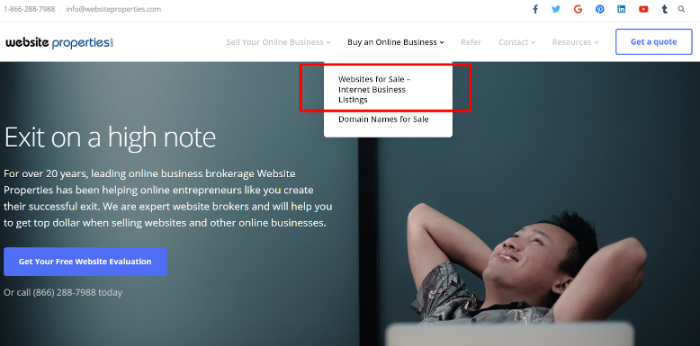 When the 'Websites for Sale' page opens, scroll down to find the search bar.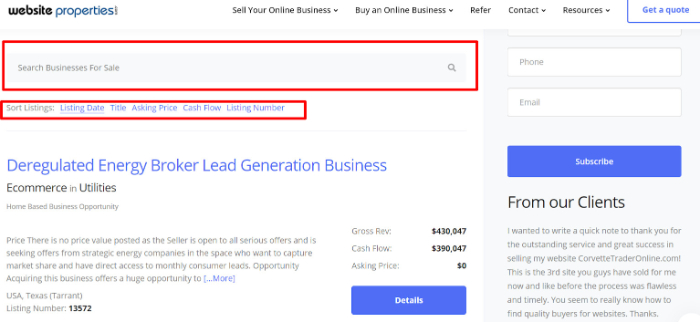 You can sort listings based on several parameters to personalize your search.
I've searched for eCommerce websites and sorted the result according to the Asking Price. The search yielded the results and I picked a Food eCommerce website for demonstration purposes.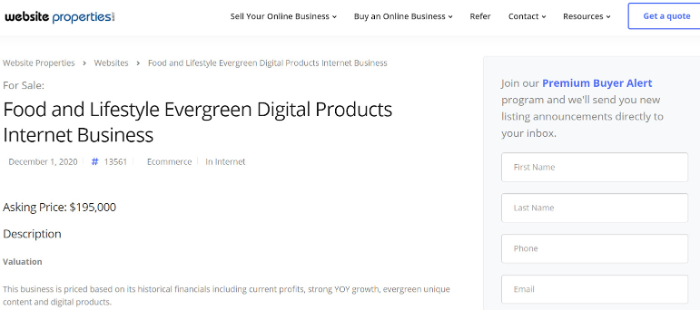 Initially, I can see the asking price and a basic description of the online store. On scrolling below, I find other relevant details like financial overview, inventory maintenance, valuation, business benefits, and much more.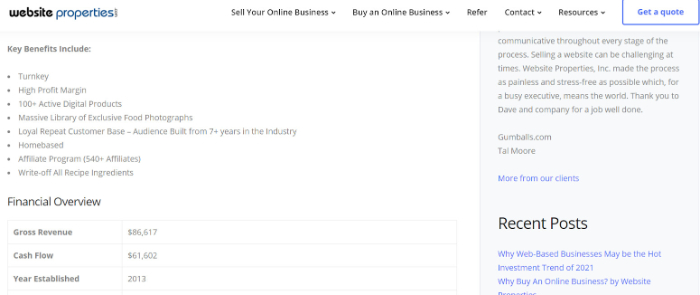 The listing page is well-designed and makes it easy for the prospective buyer to navigate through.
Pros and Cons of Website Properties
Pros
Time-efficient purchasing process
Personalized customer support for buyers
Free website valuation
High success rate for the listed eCommerce websites
Cons
Website Properties usually deal with big businesses
Website Properties offers a great free and no-obligation website business evaluation to assist you in your search for purchasing the best eCommerce website for your business. The executives work with you to understand your business, its financial history, and all of its unique facts. This makes the process of finding eCommerce businesses for sale less daunting.
SideProjectors- Websites for Hustlers
SideProjectors is a marketplace for sellers and buyers to connect on lucrative projects. It's also known for purchasing half-built projects that you're interested in. Besides, it highly supports developer projects and allows users to purchase online assets for building further businesses.
A Walkthrough of the Website
SideProjectors has an inviting website and it provides the search engine right on its landing page for ease of navigation.
Let's see how you can find your perfect eCommerce business for sale on SideProjectors.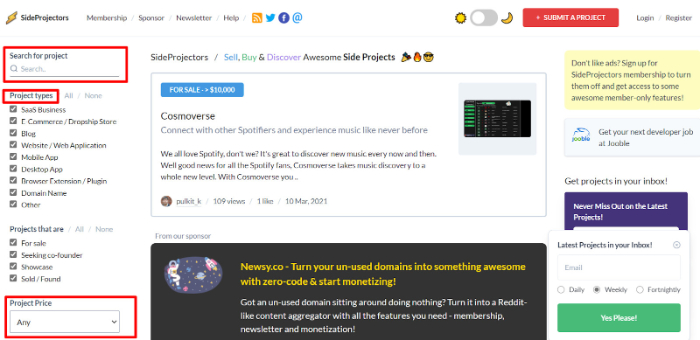 I'll customize my search to only include eCommerce business for sale and blogs. Also, I'll adjust the pricing according to the budget that suits me best.
After customizing my search, I received 28 relevant search results.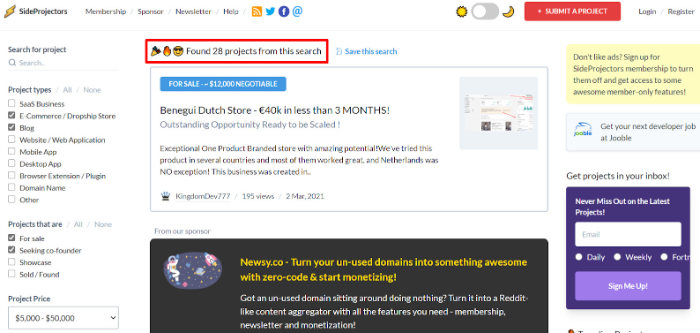 I'll explore the very first listing on the search results.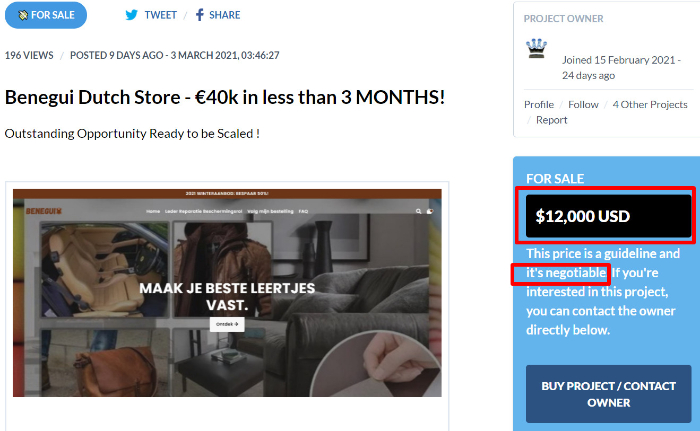 As you can see in the snap, SideProjectors has a very transparent policy about pricing and keeps the price prominent for prospective buyers.
When you scroll below, you see the eCommerce business seller's description that offers more insight into the business plan and the reason for the sale.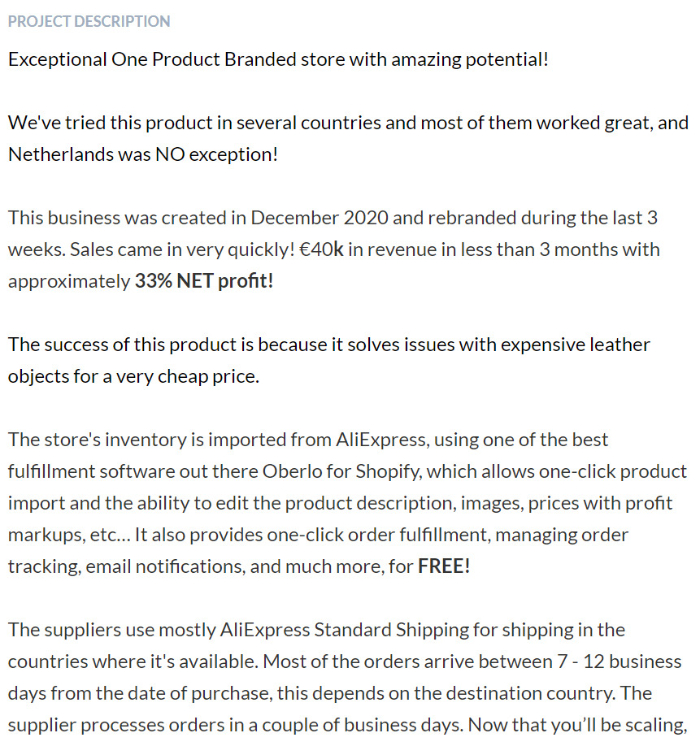 Finally, there are a few figures that the seller offers.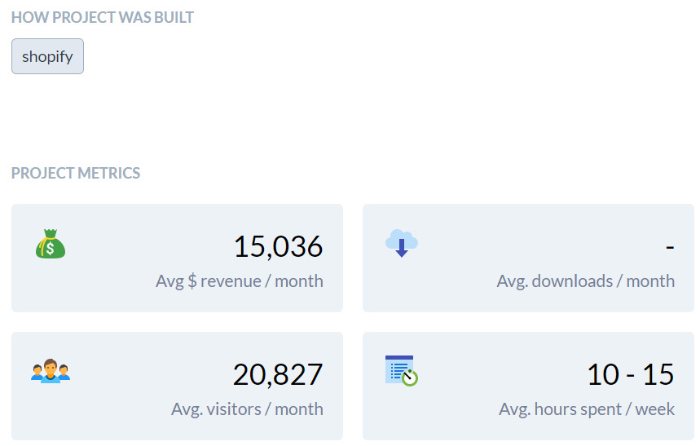 Pros and Cons of Side Projectors
Pros
Direct and quick contact with the seller
Cost-effective solution for budget customer
Compare several eCommerce businesses for sale on one platform
Cons
Buyers permission is required if you wanna buy the site and that makes the process a bit tedious
If you're seeking an ideal one-on-one interactive marketplace for trading online assets, then SideProjectors is your best bet. Its ease of use and large directory of online stores for sale makes it a lucrative marketplace.
The Bottom Line
Multiple online marketplaces list a huge range of eCommerce businesses for sale. Finding the perfect business boils down to the simple steps of smart searching and due diligence.
If you're ready to dedicate the time to do the searching process on your own, then one-on-one, marketplaces are your best bet. However, if you like to receive some external help, you should surely opt for broker-led platforms.
After reading this thorough analysis of the platforms that list eCommerce businesses for sale, you must have developed a general sense of what platforms would suit your needs. So, get started with your search today!