T-Pop print on demand Shopify app lets you earn via tying up with a supplier in print on demand business. Basically, you can sell their goods by customizing them as per your needs.
In the print on demand market, everything works on a pre-order basis. More importantly, the market has been hyped up recently. There are a lot of products that are made, customized, and printed on several accessories.
If we bring the T-Pop into the picture, it appears that you can leverage it for shipping several products worldwide without being the manufacturer. All you need is designing.
Once you go through the whole review, you will know the earning potential T-pop gives, how it can make it easy for you to design a t-shirt, and whether it would be worth it or not?
How Much Can You Earn with T-Pop Print on Demand?
In order to show you earning potential you can get from T-Pop, I will be taking the example of men's t-shirts. Let's suppose you want to sell t-shirts. The white fabric you get from t-pop is about 12 USD.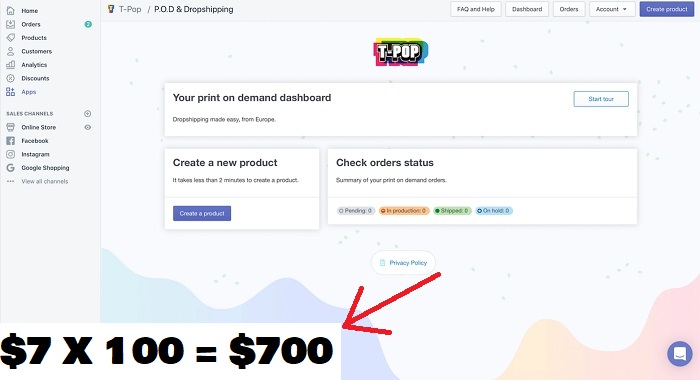 The design you will be making on the t-shirt is your own. Therefore, it would cost 0 bucks unless you outsource the designing job. A good designer might cost you somewhere in the range of $5-7/design.
That makes the total cost for your t-shirt to be about $18. The starting selling price of a men's t-shirt on a Shopify store is at least $25. This gives you a margin of $7/t-shirt.
Let's say you sold 100 t-shirts a month (provided you are a medium-size store owner and recognized as well).
Mathematically, that's $7 X 100 = $700 profit. Isn't this a good side income to have?
How to Design Your T-Shirt on T-Pop Print On Demand Shopify App
Here comes the dashboard of T-Pop. From this screen, you can create a product, check your order status, and get educated about the platform's working by reading the articles under the tab 'Details about product and shipping.'
Speaking of tabs, I'm not gonna get you through the 'set up your account' section because it's super easy. Even an 8-year-old kid can fill up the basics. So we're gonna move on to creating our first product.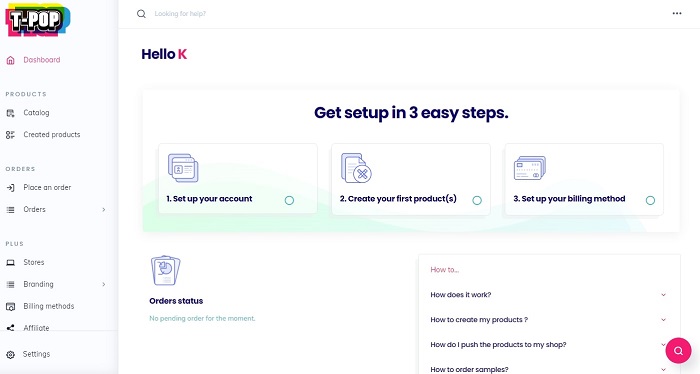 Let's see how to design a t-shirt with it:
Step 1: To create a new product, just click on "Create Your First Product" which is available in the middle of dashboard.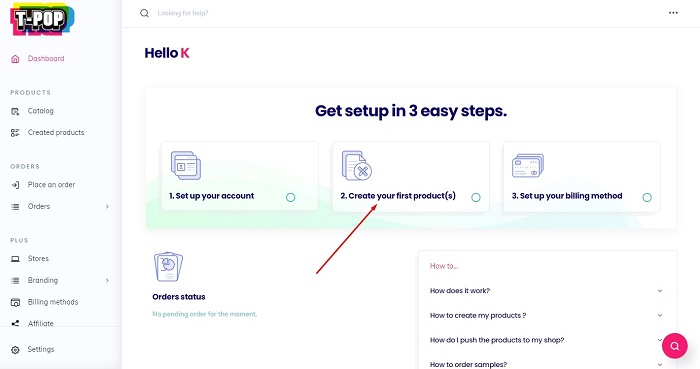 Step 2: After clicking on "Create," you will be directed to a page where you will have to add your design file. Go ahead and click on "add a new design."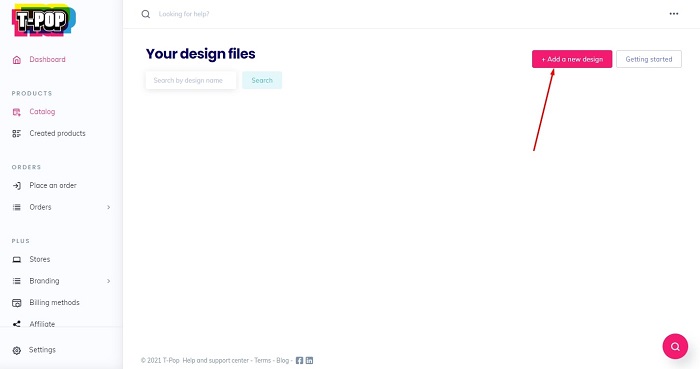 Step 3: A pop-up will appear asking you for the design you must have made so far. If not, either learn photoshop or hire someone to do it for you.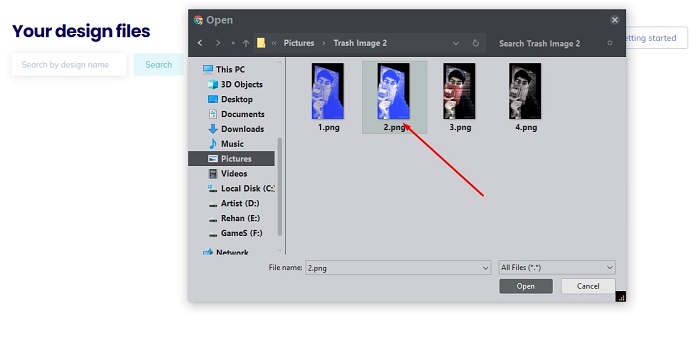 Step 4: As you can see, there are t-shirts as well as other accessories that you can customize and sell. These plain t-shirts are available in various sizes. Select what fits well for your design.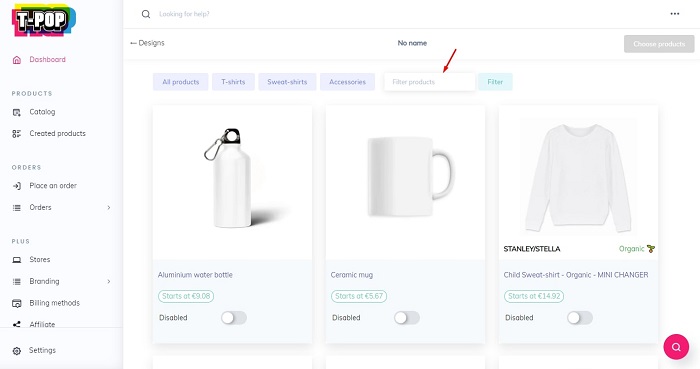 Step 5: I'm gonna select Organic Unisex Sweatshirt for this one. To select, you gotta enable it from there and click on "create product"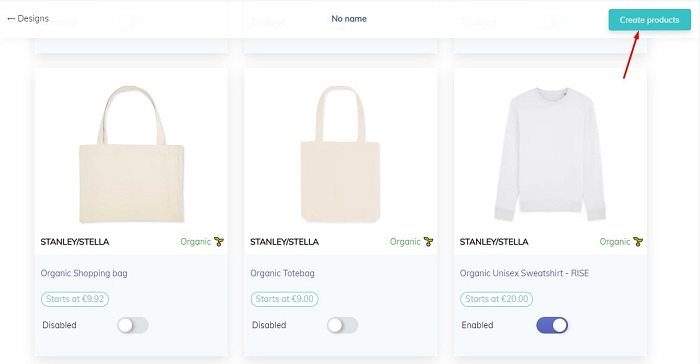 Step 6: Boom..!! There we go. It's time to be a designer for a while. Play around the details and make something worth wearing out of it. By the way, I'm no designer. So don't judge my designing skills.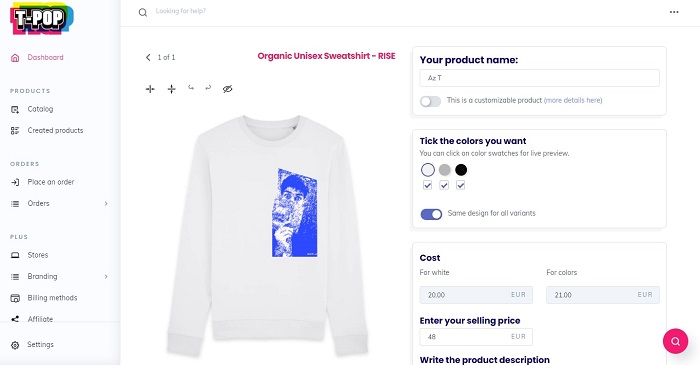 Step 7: Select the color you wanna sell, product name, selling price, and product description in the side tab.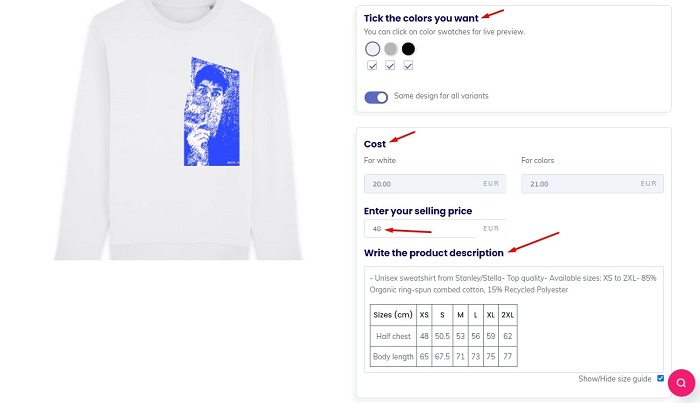 A Pro tip: You don't want to remove that sizing chart in the product description.
Step 8: Click on "Next."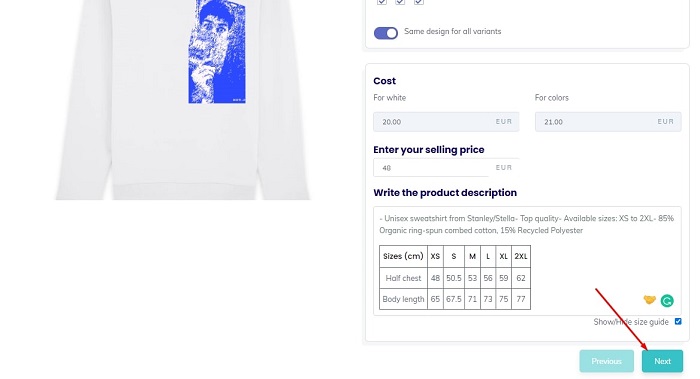 Step 9: Alright, that's all needed. Once you click on 'next,' you will be redirected to the 'catalog.' To modify anything about the T-Shirt you designed, go to the 'created products' section on the left and touch that pencil.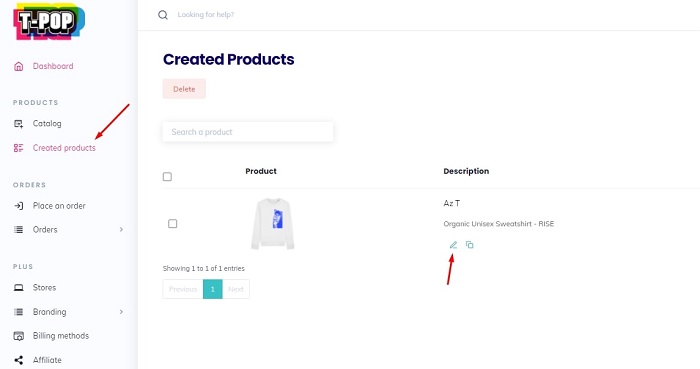 Step 10: The end result of your customized t-pop print on demand t-shirt will look like this one.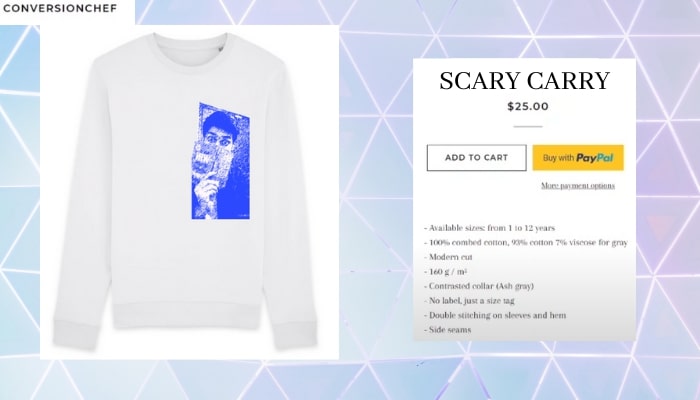 Essential Features of T-Pop Print on Demand
Other than designing t-shirts, there is one more tab that has crucial features. On the dashboard of the t-pop print on demand app, you will see a box named "Settings." Go ahead, click on it and select Branding from the drop-down you get.
In this section, you can do the following things:
Set a logo for your brand
Pick a message that will go to your customer along with your t-shirt or other accessories you sell
Show the social media channels on your packing slips if you wish to
In case you want to add a sticker, be ready to pay $1.2/shipment for this feature
Active the pack-in option after viewing the tutorial
Activate inside label printing when you meet the goal of 100 purchases/month
Is T-Pop Worth It?
The best thing about t-pop print on demand is – it's free to use. Not only this, print on demand is a great way to earn money investing comparatively less time.
You can have a full-time proper retail/dropshipping store and do print on demand as a side hustle.
If you see the potential to grow in print on demand, expand as much as possible because sky is the limit here.
So, it's time to throttle, open a new Shopify store, install T-pop print on demand, and bank some extra money this year!