When it comes to building the best eCommerce website for your business, we understand that you are faced with an overwhelming range of choices. Not only this, I get that a lot of choices can actually make the decision confusing and tiring for you.
To make your decision simpler, we have analyzed a range of eCommerce website builders and poured all our insight and personal experience here. So, let's just look at the 5 best eCommerce website builders that you can use in 2021 to build your perfect eCommerce store and boost your sales.
Time to Build An eCommerce Website with the Almighty Shopify
Shopify is a lifeline for those online sellers who wish to build their own eCommerce stores. It allows you to customize your store just the way you want it to look. You can tweak how your store looks to suit your personality, your customer's preference, or both!
For example, you can make the shop more elegant with the help of stunning graphics that come with it.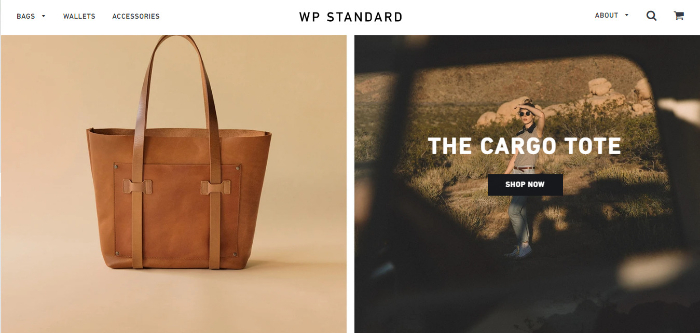 Or, you can experiment with pretty and loud colors that can reflect a sentiment: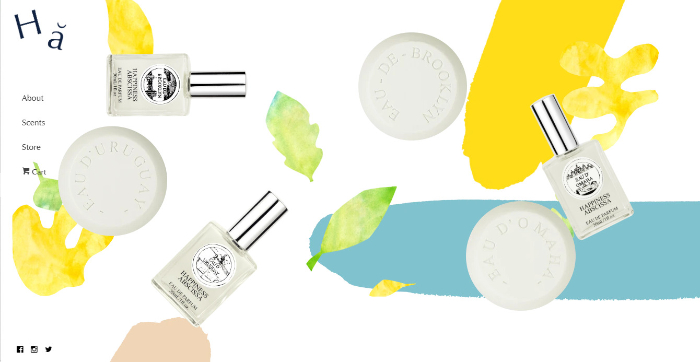 (Note that this article uses these stores as a reference only. This article is in no way affiliated with the illustrated stores)
Do you want to see what makes Shopify stand out? Alright, here we go!
Features of Shopify eCommerce Website Builder
Shopify Store Can Be Completely Customized to Reflect Your Brand Image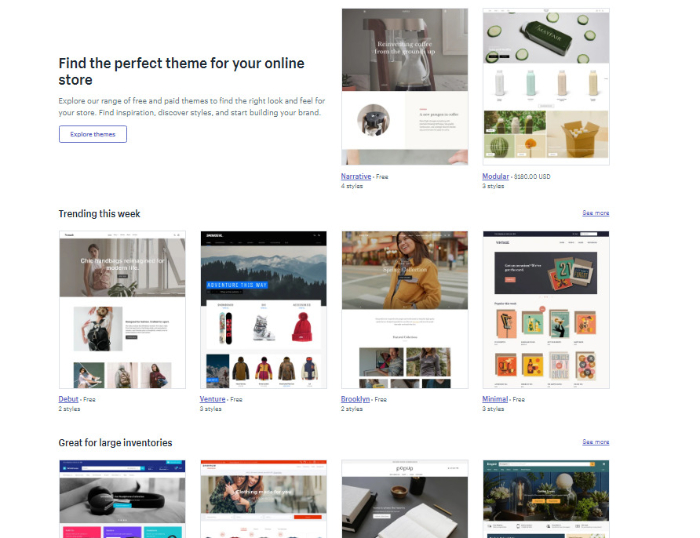 In simple words, you can DIY your way, setting up a store the way you want it to look.
Supports Different Languages And Currencies
The world is a global village. In that case, your store shouldn't be restricted to just one country and language.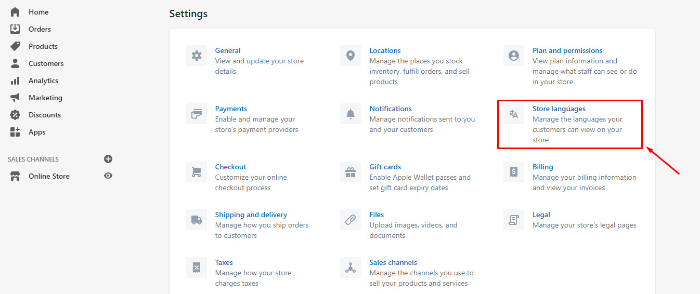 Here's just a quick demo on how to make a Shopify store multilingual: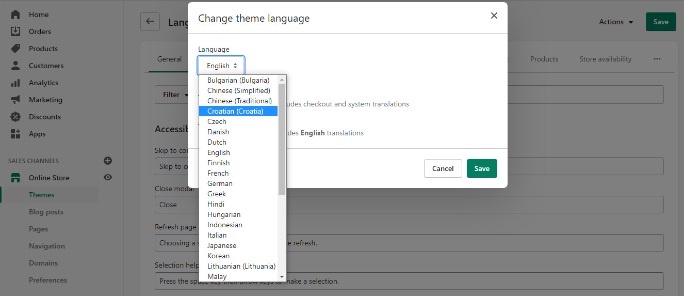 Customizable CSS And HTML
Want to awaken the designer and coder within you? Shopify got you covered with a bunch of features. Go ahead, edit, design, and customize your eCommerce store using the Template Editor, which you can find right in the Shopify administration area.

Auto Calculate Shipping Prices for Each Customer
Adding shipping costs for each customer is a daunting task. On Shopify, you don't have to deal with such problems as it can automatically calculate the shipping cost for you.
Create Discount Codes Automatically
Gone were the days when you had to sit with Excel sheets to track discounts codes for each customer. With Shopify, you can easily create different kinds of discounts and it will do the tracking for you.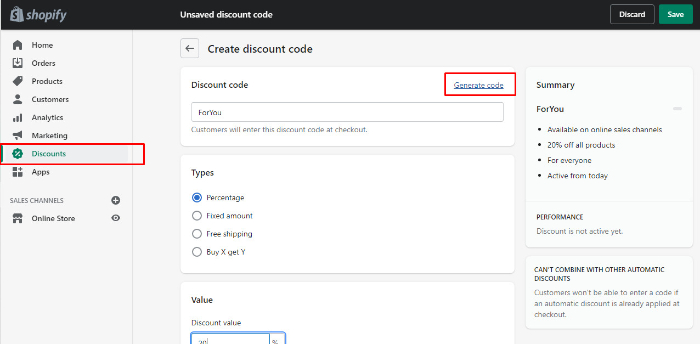 Sales Analysis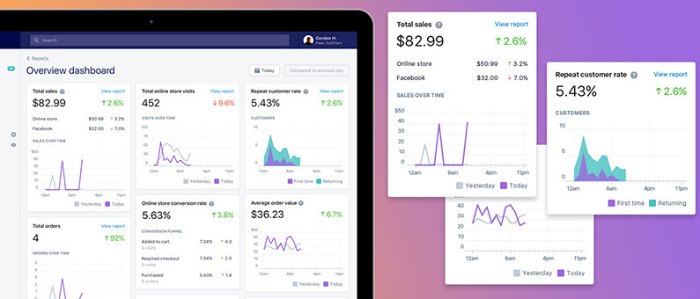 Shopify tracks your sales and visits to the store so that you can have a greater insight into your store's performance.
In addition to this, it also generates reports so that you can get into that 'ultra-analysis' mode and make data-driven decisions.
Although these features look complex to grasp, don't worry as these exist to ease up your work.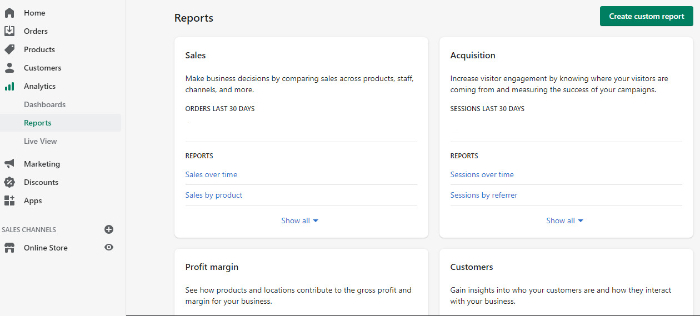 Just because these Shopify features make eCommerce website creation absolutely simple, let's see what payment plans Shopify provides.
Shopify eCommerce Website Builder Pricing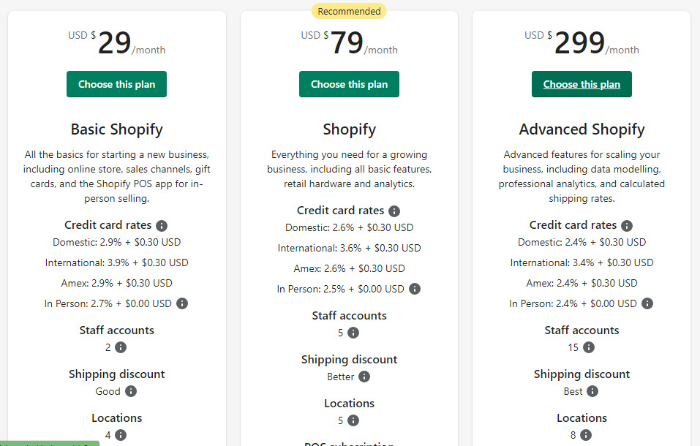 The Shopify eCommerce builder comes with 3 different plans to meet your eCommerce needs: Basic Shopify, Shopify, and Advanced Shopify. Please note this, the stated prices are in US Dollars and are not inclusive of state taxes.

Basic Shopify
The basic package is pretty much amazing for people who are just getting started with their online business. If you have just started out, there's no need to overspend on Advanced plans unless you build a strong customer base.
Cost: $29 per Month
Shopify Standard Plan
This plan is made for sellers who have been selling online for quite a while now and have an international presence.
Cost: $79 per Month
Advanced Shopify
This plan is for those eCommerce sellers who would like to expand their business to a large audience and already have a strong customer base.
Cost: $299/Month
Additional Plans Offered by Shopify
Shopify Plus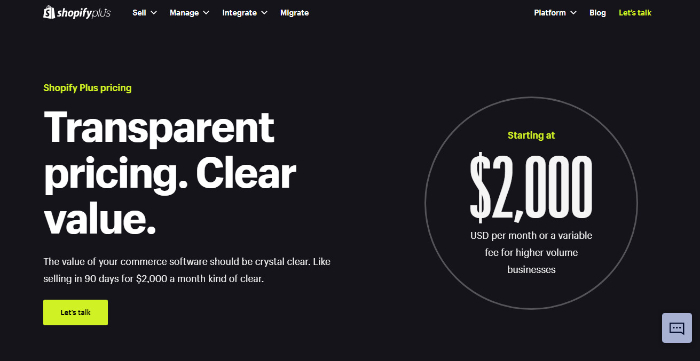 This plan is an expensive one, which would cost you $2000 per month. It's not really required until you need complicated advanced features. So, don't go for it until you have a huge revenue already.
Undoubtedly, we can say that Shopify Plus is mainly for high revenue-generating businesses to integrate large and personalized tools.
Shopify Lite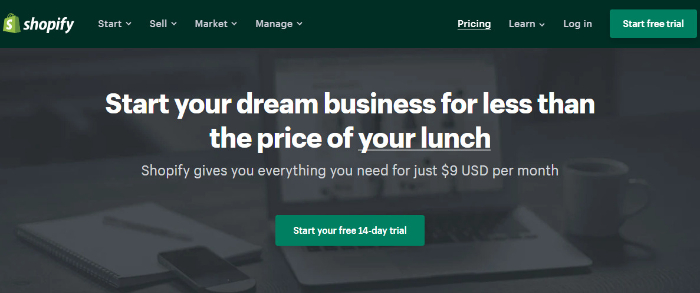 I personally vouch for 'Shopify Lite' because it allows you to pop that 'Buy Now' button for all your products on different websites. Whether you run a fashion blog or you post a back-to-school article, you can easily link your products and let your customers purchase your product in a few clicks.
Plus, it comes at a super cheap price of $9 per month.
Pros and Cons of Shopify
Pros
Simple and Intuitive Interface: Simply setup an attractive store without any hassle of coding or designing the entire layout.
Appstore: Just when you thought Shopify couldn't get more customizable, I am here to tell you that it has over a thousand apps that can let you automate and improvise your eCommerce store's overall outlook.
Completely hosted by Shopify: There's no need to grind extra for domains or registering an SSL certificate because you will get it all from Shopify.
Cons
Advanced features come at a higher price: The advanced Shopify package may be a little heavy on our pockets. However, with a little bit of analysis and insight, you can easily overcome the costs and see this price as an investment for your eCommerce store. But really, don't go for overpriced packages until you need them for your business expansion.
All in all, Shopify is an amazing eCommerce store builder for those who are getting started with their online businesses. The ease of customization and setting up makes it a great platform for any startup.
Try WooCommerce to Build eCommerce Websites
Before we get into what WooCommerce can do, let me tell you that it's a plugin that only works on WordPress.
Yes, it's nothing but an eCommerce website builder plugin that is customizable and open-source. More importantly, it's built on WordPress and comes with a bunch of features for FREE.
Features of WooCommerce
Ease of Payment: WooCommerce accepts all major credit cards, bank transfers, checks, and cash on delivery. Apart from that, it also supports 140 region-specific payment gateways, including Stripe, Google Pay, PayPal, Amazon Pay, and Apple Pay.
Mobile App: WooCommerce comes with an iOS and Android mobile app that enables store managers to update products and fulfill orders.
Customizable Interface Using Extensions: The platform's marketplace is loaded with hundreds of free and paid extensions that add multiple features and functionality to your store.
It's super easy to get started with building a WordPress website. In case you already own a WordPress website, WooCommerce would work like a charm for you.
With WooCommerce, you can avoid the extra effort that goes into the setting and establishing a store, integrating it to your personal or professional website. All you have to do is approve WooCommerce to integrate with your WordPress website like this: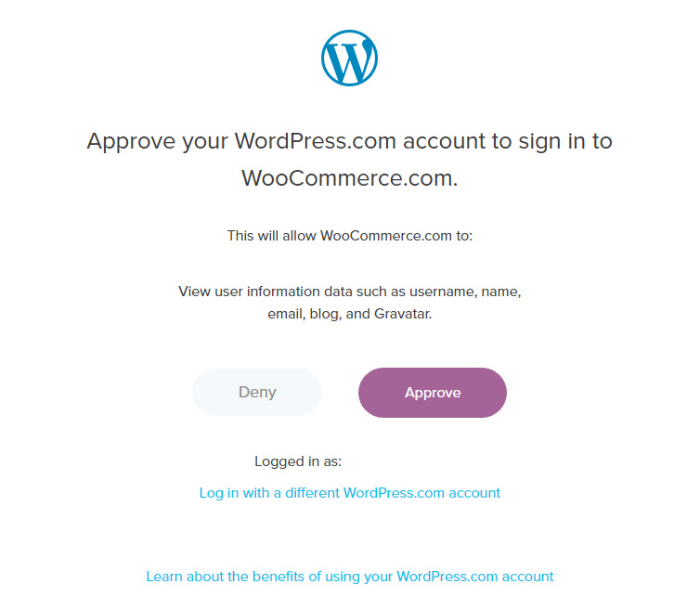 After answering a few questions, you will be prompted to this page: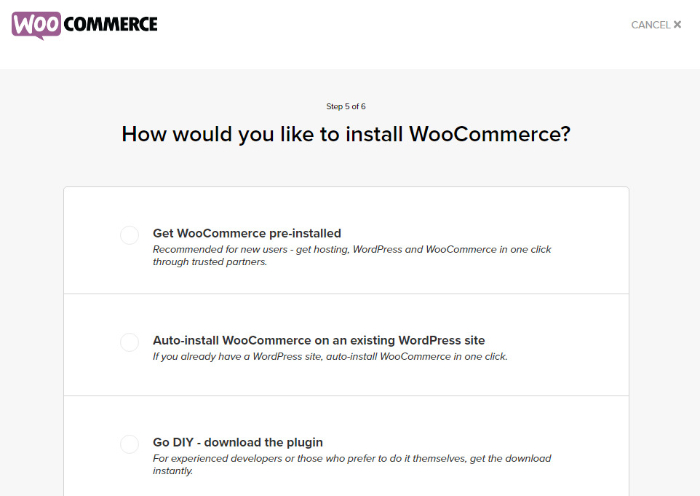 Being a new member, you can choose the Get WooCommerce pre-installed option so that you can build your eCommerce website from scratch.
Choose the Auto Install option if you already have a WordPress site.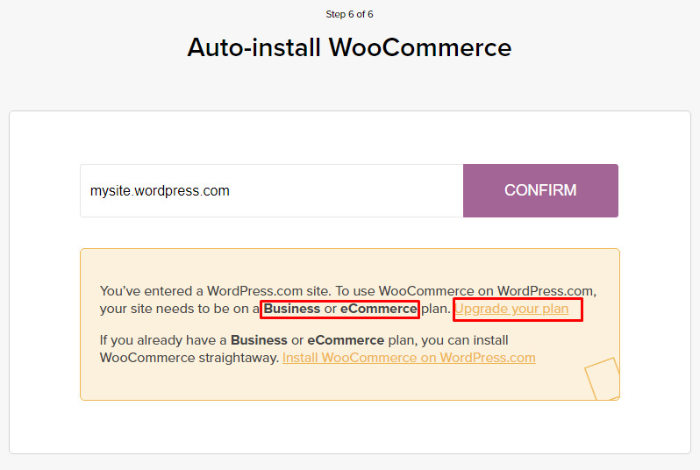 Note: You should have an upgraded Business or eCommerce plan on your existing WordPress website to use this Auto Install feature.
Go for the DIY route only if you consider yourself as a well-experienced person who has no problems with coding.
WooCommerce Pricing
As I told earlier, WooCommerce is pretty affordable and definitely doesn't burn a huge hole in your pocket. However, what I have not told you so far is this – when it comes to register for a Business or eCommerce package on WordPress, it takes a different cost.
Cost of WordPress packages: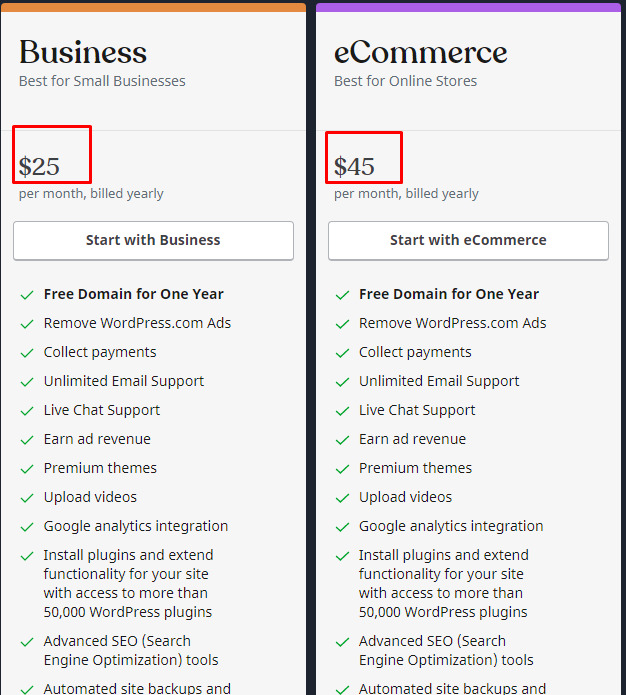 Plus, if you go for additional feature upgrades in WooCommerce, the costs would quickly add up.

Pros and Cons of WooCommerce
Pros
It's free to use it as long as you don't think about upgrading
Amazing accessibility when you already own a WordPress site
Cons
Plugin updates are annoying for almost all WooCommerce users because it's time-consuming
The hidden costs of purchasing the eCommerce or Business package on WordPress + the costs for installing additional extensions.
My take on WooCommerce is – it's a pretty good eCommerce website builder for those who already own a WordPress website.
Wix eCommerce Website Builder
You might have tolerated so many Wix ads popping while watching your favorite vlogs on YouTube. The ads might have been annoying, but Wix is a versatile platform for sure.
Features of Wix
Storefront And eCommerce Website
It has over 500 Professional Templates that allow you to tailor every aspect of your site like a storefront. Besides, you can make your own customized cart for your customers.
Multichannel Sales
You can sell your products on Facebook, Instagram, Google Shopping, eBay from a single dashboard. So we can say, Wix is the ultimate time-saver.
Express Checkout
Express Checkout feature enables customers to purchase your products faster by directing them straight towards the checkout process.
Customer Profiles
Wix analyzes the customer profiles and habits based on your customers' order history, shopping habits, and contact information. This feature lets you build an idea about what kind of target audience you would like for your brand.
How Much Does Wix Cost?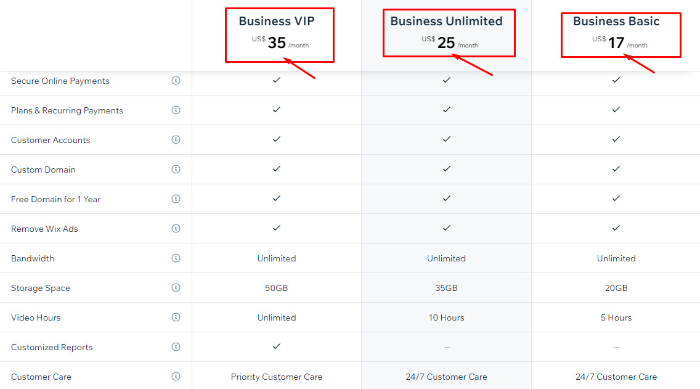 Wix comes with 3 different plans. My top tip for eCommerce beginners would be – always start with the Basic plan because it will allow you to understand the eCommerce playing field without emptying your wallet.

Pros and Cons of Wix eCommerce Builder
Pros
A huge template collection to choose from.
Intuitive interface that allows you to drag and drop elements.
Marketing and designing your website becomes absolutely easy.
Cons
The eCommerce site isn't transferable. In simple words, if you wish to take your store away from Wix, you have to build it all over again on another platform.
Once you choose a template, you get stuck with it. Uh oh.
Choose Wix if you would like to have the breadth of functions and the ease of making your eCommerce website.
Squarespace Makes eCommerce Website Development Easy
Squarespace has been around in the eCommerce website building for quite a long time. It's best known for adapting to market needs and introduces extensions & integrations that enhance the overall experience of its users.
Features of Squarespace
Enhance Brand Engagement with Simultaneous Posting and Unfold App
Squarespace allows you to auto-post your content to Twitter, Facebook, Instagram, or Tumblr. All post entries and images are optimized and tagged automatically so that you can stay stress-free.
Unfold App is a Squarespace feature that grants access to basic template collections and editing tools, including standard fonts, filters, stickers, and more. These features help you engage with your audience through your brand.
Analyze Your Store Performance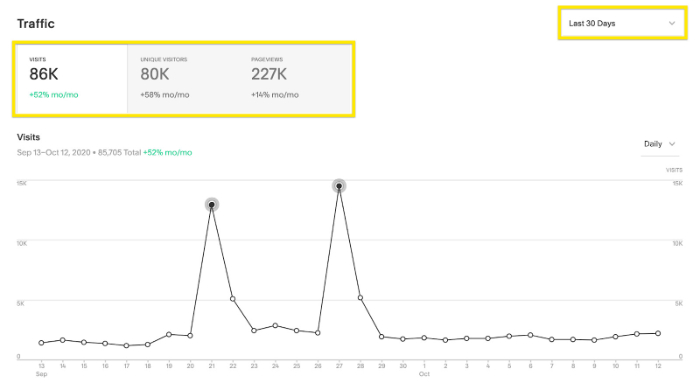 As you can see, it provides a comprehensive insight into your traffic, visitor demographics, and sales. You can track your visits, unique visitors, pageviews count, growth, and loss over time.
This feature also tracks how key performance metrics, such as Revenue, Units Sold, Orders, Visits, Conversion Rate, Average Order Volume, and Revenue Per Visit change over time.
SquareSpace Extensions
Squarespace has a large variety of useful extensions that improve your eCommerce store. For example, it has extensions that handle the financial aspects of selling online. These extensions reconcile sales transactions and manage accounting.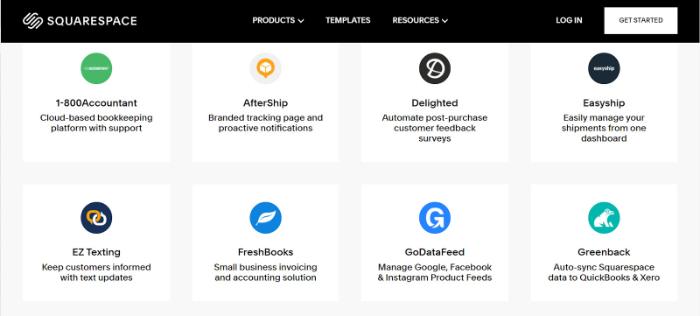 When it comes to the extensions offered by Squarespace, that's just the tip of the iceberg!
How Much Does Squarespace Cost?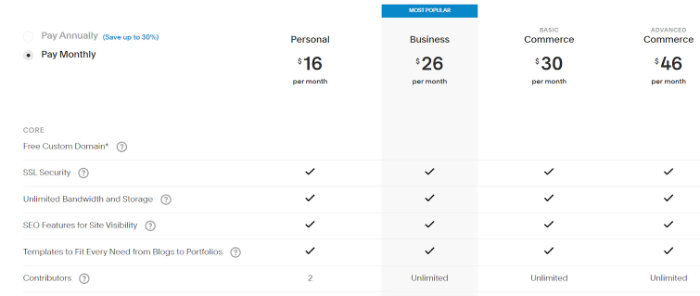 As compared to other eCommerce website builders, Squarespace has similar pricing. For now, it comes in 4 different pricing packages: Personal, Business, basic Commerce, and Advanced Commerce.
The personal plan is priced at $16 per month and doesn't support eCommerce sales, so it's not wise to pick that for a trial.
The business plan is priced at $26 per month, which is a good deal for beginners. The thing to note here is- it charges a 3% transaction fee per sale.
The Commerce plan is divided into 2 categories: Basic ( $30 per month) and Advanced ( $46 per month). The Basic plan isn't actually 'Basic' in its true sense. It does offer a host of features that you shouldn't overlook just for its name. This category is specially built for those who already have some idea about eCommerce sales and are looking to scale their business.
Advanced Commerce plan is for those sellers who already have an established store and are looking for enhanced functions and features.
For Squarespace, I believe that a Business plan is best for those who are freshly starting with building their eCommerce store because it offers multiple features at a reasonable rate.
Highlighting this point again: it has a 3% transaction fee (transaction fee is pretty common in most eCommerce website builders, so don't take that off as a surprise, but it's definitely something you should know.)
Now let's discuss the pros and cons of Squarespace!

Pros and Cons of Squarespace
Pros:
Quickest customer service! (I loved their instant chat service)
Squarespace's blogging feature is quite versatile as it comes with multi-author functionality and allows you to schedule posts in advance.
Cons:
The website takes a long time to load… Yeah, it's s l o w . . .
Squarespace isn't much SEO-friendly.
Overall, Squarespace makes a good website builder, especially if you need continuous support while setting up your eCommerce store.
BigCommerce eCommerce Website Builder

BigCommerce markets itself as "Ecommerce For A New Era." Their slogan is partly true because BigCommerce does offer a lot of features for relatively low or no cost.
However, it doesn't mean that BigCommerce comes for free. So don't let that disappoint you. It still has a host of functions that make it an attractive deal for startup owners.
Features of BigCommerce
Fast Performance
BigCommerce uses Google Cloud Platform to bring the fastest experience for your store. And when it comes to lowest page load time, it seems to be the best available option in the market.
Preview Before Publishing
Unlike Wix, BigCommerce is an absolute lifesaver for theme selection. On BigCommerce, you can always preview how a theme is going to look on your fabulous store before hitting that 'purchase now' button.
Customer Groups
This has to be the best and unique feature for eCommerce store owners. This feature allows you to segment your customers for pricing, product access, and promotions without maintaining a second site. Sounds like an amazing deal, isn't it?
How Much Does BigCommerce Cost?
BigCommerce comes in 2 different versions. The first one is Essentials and the second one is Enterprise. Once you see on top left corner, you will see two options:

From my perspective, Essentials package is the one that beginners can easily afford, manage, and scale. Here's the pricing chart that you will find inside the Essentials.

Now if we talk about the Enterprise, well that's quite expensive and there's no fixed price for it. If you want to find out what Enterprise plans feel like, contact the sales team for it.

Pros and Cons of BigCommerce
Pros
It contains a ton of advanced features like 'Customer Groups' and 'Previews before Publishing' that a lot of other eCommerce website builders don't provide.
An unlimited number of staff accounts on any plan.
Provides the fastest shopping experience for large inventory stores because of its Google Cloud Platform offerings.
Cons
The pricing is really expensive for the ones that are seeking budget-friendly eCommerce website builders.
The free themes are very similar to each other.
This package is the best pick for those who already have an established eCommerce businesses or those trying to scale their businesses to a higher level. I wouldn't recommend BigCommerce to beginners only because of its high costs.
Best Method to Build An eCommerce Website in 2021
After a lot of analysis and trial and error, we have a winner here:
It is…
Shopify because it's the most efficient and seller-friendly eCommerce website builder around. On top of everything, it offers a host of features, a reasonable pricing, and a 14-day free trial.
Choose it if you love it. This gives you a lot of flexibility and doesn't make you feel restricted to one platform just because you paid the money for it.