Are you looking to give wings to your dream of starting an online business? You're at the right spot! 
Whether you're trying to get away from the 9 to 5 rat-race or looking for some side cash, you can definitely run an online business right from the comfort of your home.
According to Statista, the global online business market is insanely huge. It's projected that the market will grow massively towards a 6.54 trillion dollar economy by 2023.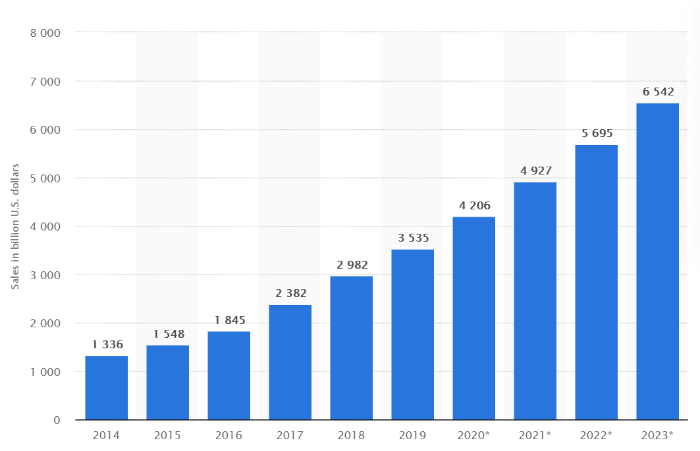 In such a huge booming market, there's room for grand successes. In this article, we will debunk common myths around starting an online business, outlining 8 essential starting steps and teaching you how you can avoid pitfalls along the way. So let's begin!
Let's Look At Some Myths on Starting An Online Business
You will be met by a range of discouraging (and false) remarks about online businesses. Whether it's friends with zero experience in online businesses or your colleagues, everyone will barge you with their opinions.
To make an informed decision, let's just first bust the common myths that surround us when we talk about starting an online business.
Myth 1 – You Need A Large Investor
Gone were the days when investors had to show interest in your business idea. Be the Elon Musk of your own business. When you've done your initial research and believe that your business can be profitable, don't shy away from making a small investment.
The costs of starting an online business can be easily categorized –
Logistics Costs: Hosting and building your eCommerce website
Marketing & Advertising Cost: Attracting visitors to your store
Hiring Costs: Hiring or outsourcing people
When you have a clear idea of the costs, it gets a lot easier to know what you can invest in and what should be your safety net. Business is all about having a sorted plan.
Myth 2 – Starting an Online Business is Difficult
No, starting an online business can be intimidating but it's not difficult. Your biggest asset is Google and you can search your way through learning a lot of things that revolve around your business.
There are so many types of online businesses that you can start with. In fact, there are many online business ideas for beginners, you will never run out of ideas. You can run your own eCommerce store, offer part-time consulting in your domain of expertise, dropship popular goods, and do much more.
Myth 3 – You Will Be Alone In Your Online Business Journey
If I had a dollar for the number of people who don't start an online business just because it's 'traditional' enough, I would be a millionaire.
They think they will never have those inside colleague jokes, weekend parties, and whatnot. But, this is far from true.
In fact, you can end up meeting so many like-minded people on the internet that may even become your online business partners later on. The thing is that you've not been looking in the right places. Check online events on Eventbrite, Meetup, and other similar platforms.
The point here is that it's okay to get started alone. You will definitely cross paths with like-minded people on the way. Once you find the people you can vibe with, your online business journey would become a lot more easier and progressive.
Myth 4 – Less Work, More Income
"I make $60,000 for a year working 4 hours a week!" – Scammers!
These are typical headlines. Don't fall for them when you're getting started.
A simple answer to "How to start an online business for free?" or "How to start online business with no money?" is that no business can be started for free. You will always need to invest your time and a reasonable amount of money.
Since you will be establishing your own brand, you will need to invest more time into it. Take some time to learn things you don't already know unless you have the capital to outsource everything.
You should remember that starting successful online businesses is not a fairytale. you need to put efforts the way anyone would do for a real job.
Once your online business gains momentum, your income will automatically increase. That is why the initial effort is worth the scalability and profits that come later.
Myth 5 – You Need A Huge Advertising Budget
Without a doubt, advertising and marketing are essential. But, your online business doesn't need a huge amount of money to spend on it.
Remember this: low investment ≠ no investment.
You should expect to spend a few bucks to actually leverage Facebook and Google Ads.
Don't be afraid to execute great content creation ideas just because you don't have enough money. In the 21st century, there are low-budget solutions to everything. Marketing and advertising are no exceptions.
8 Steps to Start An Online Business – True for Almost Every Business!
As I previously mentioned, business is all about having a sorted plan. The question is – how do you develop a sorted plan?
You do it by dividing a huge task into simple and actionable steps. For record, that's what I'll be doing while explaining how you can systematically start your own online business.
Step 1: Find a Market that Needs A Business
Look at the most successful business giants around you. What do Google, Amazon, and Facebook have in common?
They all solve a need.
Google solves the need for quickly finding what info you need from an enormous amount of content. Amazon quickly delivers you the products you need, and Facebook capitalizes on our need for staying connected with the world.
Even when it comes to niche-specific online businesses, there are solid examples like Luxy Hair, Notebook Therapy, and PRESS London.
Luxy Hair offers personalized hair extensions, Notebook Therapy caters to stationery lovers, and PRESS London appeals to fitness enthusiasts. They all have a targeted market.
Here's the crux. Most brilliant business ideas can be unsuccessful if it has no market. Here are a few questions you should ask while starting an online business:
Can you spend money to solve the problem?
Will your product/service solve a problem large enough to gain potential customers?
Will your product/service provide a cost-effective solution to that problem?
How costly will it be for you to reach the people that want the solution you're offering?
The key point is that you shouldn't blindly pick a niche. Take the time to see whether the product or service you're launching solves the major problems of people on a wide scale.
Step 2: Conduct Market Research for the Selected Niche
Market research is all about gathering information related to your niche audience, competition, your business, and how the 3 factors interact. Having a good idea of your market, you can easily come up with a unique selling proposition (USP) for your business. 
The first thing to do is find groups of people who are facing a certain problem but don't have the adequate solutions.
Here's how you can get started:
Online Forums: Check what questions people ask and what problems they would love a solution for.
Keyword Research: Find keywords that a lot of people are searching but don't have a ton of competition with other sites.
Assess Your Competitors: Visit your competitor's websites and note how they're filling the niche's needs.
Next, without getting into jargon, let's see what other market research can you conduct.
Talking To Your Potential Customers
You should know whether your ideal audience is actually looking for your product or service. Your best bet would be focus groups and survey responses.
These can be particularly useful because you see your idea in action and also learn how people are receiving it.
Checking Online Trend
Credible data sources related to your niche can be a great place to start. Besides, you should do a quick Google Trends search about the popularity of certain keywords related to your niche.
Step 3: Analyze What Your Competitors are Doing
"Keep your friends close but your enemies closer" is something you might have often heard. Now of course, your competitors are not enemies. But still, they're a threat to your business.
Competitive analysis gives you a comprehensive insight into the market. You will learn who else is out there, how they're pricing it, and what their unique points are.
A good competitor analysis should cover the following points and answer key questions like:
Pricing: See how your luxury vs budget competitors are performing. What's the difference in their pricing and why. Check whether their customers have high disposable income or not.
Market Demands: Is your competitor responding to market demands by offering discounts or are they maintaining a rigid price? What benefits or losses are they facing due to this strategy?
Unique Selling Points: What makes your competitors stand out and how can you be different? What special points attract customers?
Marketing Campaigns: Are your competitors leveraging Facebook Ads or they're shifting towards the Reddit audience? Do they run a blog to engage their visitors or they post TikTok videos?
When you successfully answer all these questions, you can be assured that you know your competitors well enough.
Step 4: Make Sure You Are All Caught Up with Legal Processes
For operating your business, you will need to file all the legal business-formation documents and other paperwork. This legal process includes:
Registering your business with the appropriate county or state authorities
Meeting federal & state tax requirements and applying for state & federal tax IDs
Obtaining the required permits and licenses
Note that these requirements vary according to the state you reside in and the state you're operating your business in. So do your research to learn whether there are any particular requirements that you need to meet.
You can also consult an experienced legal advisor who can ensure that you're on the right track.
Step 5: Know Who Your Target Audience Is
You're always thrown around with that 'buyer persona' jargon on other blogs without actually getting how it works. Don't worry, I'm here to show you what a buyer persona is and how you can leverage it for starting your online business.
What is Buyer Persona?
A buyer persona is a detailed description of a person who represents your target audience. Buyer personas help you understand your customers better.
Using this information and understanding it, you can create tailored content and develop specific products to meet the needs of your customers.
How Does Your Buyer Persona Help You?
Your buyer persona guides you to answer the following questions:
What are the demographics of your customers?
Who will use your product or service?
What niches or groups of people will prefer your business?
How can you reach out to them? Will they most likely engage through email, Facebook, or LinkedIn?
Now that we know how insightful buyer personas can be, let's see how you can create one.
Creating Buyer Persona
Having a buyer persona is one of the first things I need to start an online business with. So, I'm jotting down a list of the basic information that I expect my ideal customer to have:
Age range
Gender
Location
Income range
Family Size/Relationship Status
Job title
Personal & professional interests
Likes & dislikes
Social media platforms
For example, if I want to run a SaaS business, one of my buyer personas would be: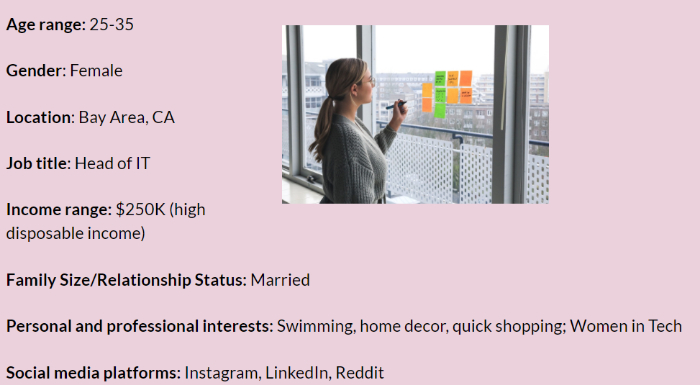 On the other hand, if I'm running a sportswear store, my ideal buyer persona would be: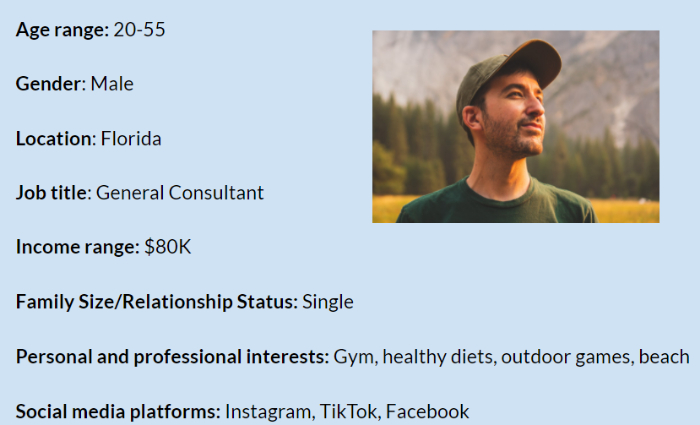 Step 6: Drive Traffic to Your Website Organically
There are 2 main ways of driving organic traffic to your store – social media and SEO. Let's quickly look into how you can leverage both for your online business.
Social Media
When I was getting started, I knew that social media is one of the most important things I need to start an online business marketing with.
However, I found social media time-consuming. So, I decided to automate it with the help of social media management tools like Hootsuite and SproutSocial. By posting through such tools, I've saved a lot of hours every week.
SEO
SEO is another one of the most important things that should be on your starting an online business checklist. This is because organic search is often the primary source of website traffic.
We all know that almost everyone uses Google to get information at least once a day. That's why making your website rank higher is essential to bring in that organic traffic.
If you don't have the time for website SEO, you can definitely outsource it to an SEO expert. Just remember, SEO is relatively cheap in the grand scheme of things and the profits you receive in terms of brand growth will be more than you can ever imagine.
Step 7: Run Ad Campaigns for Your Online Business
You might have a huge bag of online business ideas for beginners. But, if you don't advertise your ideas and products, you will see little to no revenue.
Your online business shouldn't operate in complete secrecy. You need people to know about your business so that they can purchase from you. Here's where an ad campaign helps you put your brand out in front of your desired customers.
Why Do We Need Ad Campaigns for Starting Your Online Business?
Improved Brand Loyalty: Successful ad campaigns "talk" to customers. The more your customer relates to your brand, the more they're likely to purchase your product/service.
Ads Increase Website Traffic: Ads are a showcase for your business. The more audiences see your product, the more they purchase, and the more profit you gain.
Attracts New Customers: The market is dynamic. Customers go in and come at the speed of light. Running ad campaigns might show you the potential markets you forgot to include.
Gain Recurring Customers: Ads remind your consumers about why they've chosen your business and allows them to further interact with your brand.
Smash Your Competitors: A compelling ad sticks with your customer for long. This would allow your customers to remember why they should choose you over the competitor.
How Can You Run an Ad Campaign?
Select Your Goal: What are you looking for? Are you trying to increase website traffic, page follows, etc?
Pick Target Audience Demographics: Apart from choosing your audience's demographics, each ad platform offers a list of interests that you can select from. What are their hobbies, income, habits, etc? The more personalized you can make your ad, the more successful it will be.
Set Your Budget: Specify the number you put in is the budget for each day.
Set Your Schedule: Put in the dates you want the ad to run. Besides, you can actually put in the exact time you want the ad to stop running.
Step 8: Scaling and Expanding Your Business
Once you have those sweet sales coming in, don't be afraid to evaluate whether you need to scale your business. Here's the backbone of scaling your business.
Strategize: Let's assume that your orders tripled within a week. Does your organization have the people and systems to handle those new orders?
Figure the Finances: Your expansion plan might require you to hire staff, advertise more, and create reporting systems to measure results. How and where will you find the money to invest for growth?
Things can massively change during your business expansion. Be prepared for that. But, don't be afraid of the great opportunities that come along with a business expansion.
How to Start A Dropshipping Business – Considering the Trend!
Dropshipping is a great online business idea for beginners. It's gaining popularity because of the flexibility it offers. In simple words, Dropshipping is an eCommerce business that allows you to sell physical products online without maintaining an inventory.
You take the order from the customer, contact the supplier, and ask the supplier to deliver the product to the customer. You reap the profits without actually manufacturing, storing, or shipping anything. It's one of the business ideas where you can start an online business with no or little upfront investment.
But, in order to create a profitable dropshipping business, you need the right skills and information.
There's a lot of hype about how 'easy' dropshipping is. However, the same people who had called dropshipping easy, now complain about it all day long.
This is why you need to have a clear idea about how dropshipping works and how you can use it for your best interests. Read this blog on how to start a dropshipping business to know my 6-year journey in dropshipping.
Mistakes to Avoid While Starting An Online Business
#1 – Taking A Long Time to Launch
If you've got the best business opportunity, research the market, and evaluate the success metrics, then just start drilling. In business, timing is everything.
Perfectionism is the biggest deterrent to your business's launch. You should know that the longer you spend perfecting small elements, the longer it would take for your business to make money.
If you're coming up with a trendy product and you end up waiting too long, the market demand will decline already and chances are that you will be easily beaten by a competitor.
Don't fall into analysis paralysis and miss your business opportunity by simply delaying it.
#2 – Dismissing Negative Feedback
Turning a deaf eye to criticism is the worst thing you can have while starting your online business. As an entrepreneur, it's important that you take criticism in a positive light.
Don't misunderstand your critics to be your haters. Yes, I understand that negative feedbacks hurt but let's look at the upsides of receiving them:
You can build a better rapport with your customers
Your brand can be known for its amazing customer service
You can tweak your product to suit market needs
#3 – Not Being Disciplined
To be insanely successful in anything in the world, you need to build discipline, manage your time, and most importantly, manage yourself. Most people slack off thinking that "oh wow, I can earn right from my home. Lemme just sit back and reap the profits for a few months."
Nope, things don't work like this when it comes to starting an online business. The more you slack off, the more your competitor takes the lead.
If you're not working consistently, you're stealing your own opportunity for success. While you don't need to have an insanely productive schedule like Tim Ferris or Ali Abdaal, you can still learn to plan and decide the tasks for the day.
Create a schedule that is right for you and stick to it. Consistency gives results!
#4 – Picking a Super Narrow Niche
Just because you can pick a narrow niche, doesn't mean you should. In fact, most business experts recommend that you start broad and then niche it down. This way you will already have a list of customers who are open to doing business with your brand. 
When you pick a very narrow niche, you run the risk of not making enough sales to keep your business running.
The primary reason why many online businesses fail is that the owner thinks that the customers are just as passionate about the product as they are.
This is why market research is super important and allows you to check the actual demand for the product.
When it comes to market research, Google is your best friend. Use Google Trends, Google Keyword Tool, and other extensive features that allow you to learn whether your niche is actually that profitable or not.
#5 – Bad SEO
Anything too less and high is BAD. Don't fall for the trap of filling your entire storefront with keywords. Back in the days, it was easy to rig the game of SEO and make your website rank first on the search results.
But, Google has gotten a lot smarter. It uses advanced crawling mechanisms, you can't rig the game. In addition to this, it might even flag your page for dumping a bunch of keywords.
Google values quality content. Even if you're blogging or running an eCommerce store, you should ensure that your website solves the problems of your customers in the most efficient way possible.
While starting your online business, you should know that your audiences would love reading the content for them and not for the search engine. If you're not well-versed with SEO tricks, you might hire an SEO consultant or agency to do the thing for you.
#6 – Forgetting Website Optimization
In a world of decreasing attention spans, your website should hold and squeeze the attention of your visitor. When you don't optimize your website for customer navigation, it may cost you some sales.
Google recommends that your website should load in 2 seconds or less. If your website is too slow to load, you might lose that hard-earned traffic.
You may have the loveliest product and have developed a great copy for your website, but why aren't you seeing those sales? It might be because you have a misleading Call to Action (CTA). Ensure that your CTAs are direct and are positioned correctly.
#7- Abandoning Email Lists
An overwhelming majority of online marketers recommend that you leverage your email list as soon as possible because it plays a great role in generating recurring customers.
Your subscribers would like to be updated with special offers, price drops, recommendations, and you will have a constant connection with them.
Some Real-Life Examples of Successful Online Businesses
Luxy Hair – Hair Extensions and Much More!
Luxy Hair is a great example of successful online businesses. It operates in a very niche market but is able to generate a great volume of sales due to its branding and popularity.
Its popularity had initially increased due to its YouTube channel filled with hairstyle tutorials, haircare videos, and everything related to maintaining those luscious locks.
Once the business owners of Luxy Hair had a good idea about their ideal audience and buyer persona, they built a seven-figure brand around it.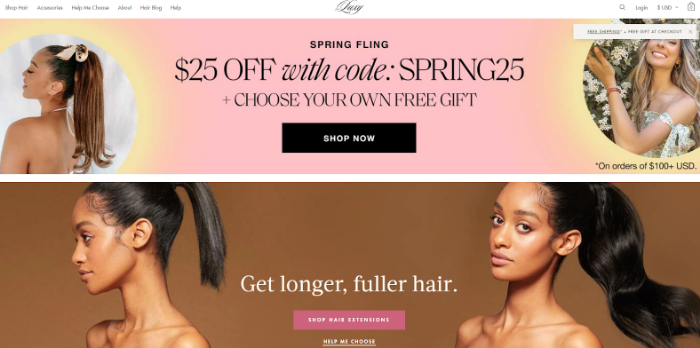 Things That Worked Out for Luxy Hair
YouTube Traction
Luxy Hair capitalized on the value of their hair tutorials. Since women were already loving the trendy hairstyles posted every week, the exposure Luxy Hair received through their YouTube channel was massive.
Smart Storefront Design
Luxy Hair's founder Alex Ikonn pointed out how hair is a 'visual product.' Their website reflects the same. Having multiple images of women enjoying their new hair extensions makes the visitors imagine themselves using the product.
Celebrity Endorsement
When their store began gaining traction and saw an increased amount of buyer attention, they tapped into the power of celebrity promotions. By showing how celebrities vouch for Luxy Hair, it created a positive and trendy brand image.
Pretty Presets – Lightroom Photography Presets
This business is a great example that you don't always have to sell a product to be successful. There are literally so many online business ideas for beginners, you will never run short of them.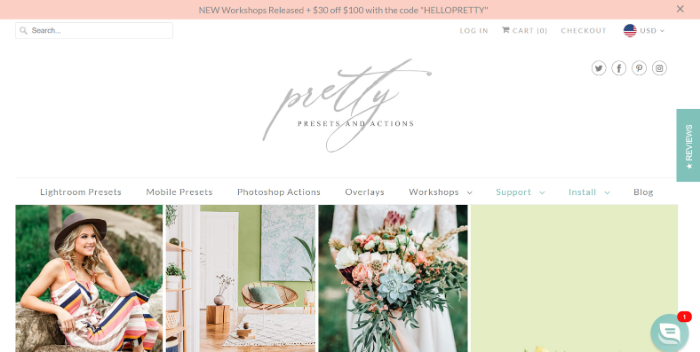 Pretty Presets is based upon the idea of creating professional presets for photographs.
It was started by a mother of two toddlers, Laura Thomas, who had quit her full-time job to start a wedding photography business.
But later she realized that the business was very time-consuming (it's natural to feel so), and she pivoted this business idea into creating photo presets that sped things up.
Since she noticed how people loved her presets, she decided to sell them to businesses and other photographers, easily gaining revenue without letting the business take much time of hers.
Things that Worked Out for Pretty Presets
Targeting the Right Market
The photography industry might be a little oversaturated, but there's always a demand for wedding photographers. This is what gives wedding photography an edge over seasonal photography gigs.
Pivoting the Business Model
When Laura noticed that there's a great demand for her photograph presets, she didn't hesitate to capitalize on the opportunity. As I said, most business owners fall into analysis paralysis, they make the mistake of waiting too long before launching something, and end up missing the opportunity.
Having a Unique Selling Point (USP)
Back in the days, photograph presets were a new attraction. In that case, Pretty Presets offered unique lightroom presets that eased the task of photographers and reduced the time required to beautify the images. In a way, this is something that made Pretty Presets stand out.
Birchbox – Monthly Beauty Subscription Packages
Birchbox attracts those customers who don't have time to go to department beauty counters or cosmetics boutiques, and spend hours scouring through countless brands for the right foundation, cream, lip shades, etc.
The brand wasn't started by a makeup mogul, rather it was started by a Harvard Business School graduate Katia Beauchamp along with Hayley Barna. It has grown exponentially since its start. It operates internationally and now has over 800 brand partners with a million subscribers.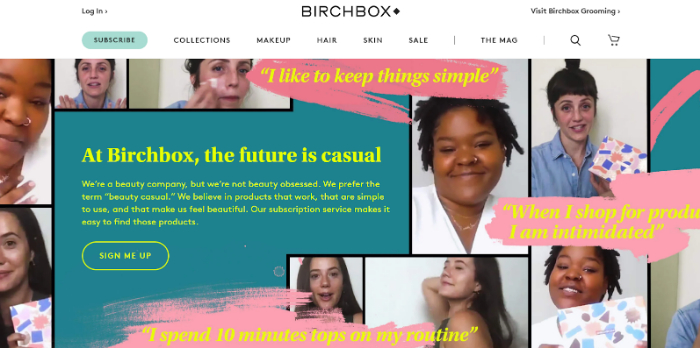 Things that Worked Out for Birchbox
Standing Out From Competitors
Birchbox's competitors just sent subscription boxes. On the other hand, Birchbox also offered samples and complementary products to keep its customers happy.
Referrals and Reviews
Birchbox was very particular about ensuring that they left a positive customer experience, so referrals were something that came naturally. When you center your business around your customer, you definitely see the results.
Quick Acquisitions
You don't always have to 'compete.' Sometimes, you can 'conquer' your competitor's business. This is what Birchbox did when it came across a seemingly appearing newer competitor in Europe. They were quick to acquire this competitor and immediately gained a great customer base in Europe.
Are You All Set to Start An Online Business?
You're now fully equipped with the 'starting an online business checklist' and have a great insight into how you can start an online business from home. So what's stopping you? There will always be some initial nervousness to overcome.
Just remember this – you're starting an online business for a purpose. It's fine to not know everything but it's NOT fine to let that stop you from starting successful online businesses.
So, take a deep breath, muster up a little bit of self-confidence, use this blog post as your guide, and get started today!