If you're wondering how to start dropshipping business this year, you're at the right place. People often think dropshipping is a source of easy and quick money. Well, these are the same people who believe the Sun rises in the west and sets in the east.
Are you aware of the fact that 84% of dropshipping beginners find it extremely tough to get a good and dependable supplier? This makes them leave the business even before starting it. Yeah, and people say dropshipping is easy money! Doesn't sound easy now, right!
To be a successful dropshipper, you wanna put in efforts, time, and money. Without these 3 things, having a successful dropshipping business is as tough as getting a 4 GPA in your college without even studying.
So, if you're like Jon Snow and know nothing about dropshipping, stick with me and discover how my journey went from 0 to multiple zeroes.
What is A Dropshipping Business?
Put simply, dropshipping is a ninja technique of selling third-party products to customers without keeping a bunch of inventory.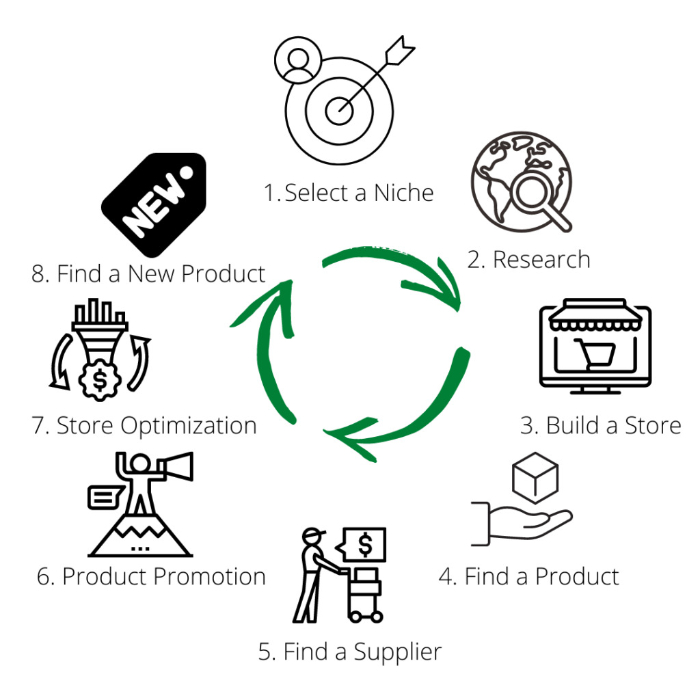 Although the supplier ships products to customers directly, the customers would still order on Your store!
Wait a minute! Do you need to pay for the inventory before selling?
No, that's one of the greatest perks of dropshipping. However, it's not as easy as you think, there are some real challenges that you will face later down the line, which we will discuss. But for now, let's just first look at the advantages and disadvantages of dropshipping first.
Benefits of Dropshipping
1. Low Capital Investment Business
One of the biggest benefits of starting a dropshipping business is the less requirement of investment. Unlike other online retail stores, you don't have to spend thousands of dollars on your inventory upfront. In dropshipping, the product you sell doesn't have to be purchased until someone orders it – Yes, that's the beauty, I know 🙂
2. Easy to Begin with
When it comes to managing and setting up a dropshipping business, it's easier than other kinds of selling business. This is mainly due to the fact that you don't have to deal with several parameters like:
Warehouse management
Shipment of orders
Inventory tracking
Keeping an eye on inventory
3. No Specific Location or Set Up Required
You don't need any location or an office for setting up a dropshipping business. Your website can be your office for quite a long time. From selling to hiring, you can even scale up your business right from the garage. Think of the rent, electricity, maintenance money you can save You could probably buy an Aston Martin after some time with those savings!
4. Numerous Choices
With dropshipping, you have innumerable choices of products. Whichever niche you choose, there's an infinite number of products to choose from. Oftentimes, when I search for my next winning product, I always watch out for the other new and unique products. So, I am quite sure you will find yourself in this infinite loop of products time and again.
5. Easy to Scale
As compared to traditional retail businesses, dropshipping is easy to scale. Here's the reason: In a retail business your orders double, so will your efforts, but such is not the case with dropshipping. The supplier will worry about fulfilling the order amount, all you wanna do is place the order, that's it!
Disadvantages of Dropshipping
1. Low Margins
If you're under the influence, you can get huge margins hiking the prices up in dropshipping; you're under the wrong impression mate. Mostly, tough competition makes the margins drop in dropshipping.
The reason for such a competition is motivation. Just like you, many are thinking about trying dropshipping at least once, which increases the number of stores daily.
Many people start the business and sell products at extremely low-profit margins just to grow their revenue. So just because it's easy to start, the market is highly competitive.
2. Less Control Over the Products
Having to manage and keeping an eye on fewer things could also harm your business. In the case of dropshipping, you have minimalist control over the product shipment, order fulfillment, and stocking products. This could prove to be devastating in some cases. So make sure to have a reliable and good supplier by your side.
If you're still here, it means you're super interested to learn all the ins and outs of dropshipping. In other words, you're in the pro team now. So I think it's high time to explain all the prep work I've done physically and mentally to start a profitable dropshipping business.
From now on, you're gonna learn how to start a dropshipping business the right way, so read everything line by line because this is the only no BS guide you need to get a career in dropshipping.
Things to Do Before You Know How to Start A Dropshipping Business
Okay, there are 3 parts to it. Let's start with the things you wanna consider before starting your dropshipping business. Therefore, think of this as a mock test you give before the real one for better understanding.
Let's Just First Bust Out Some Myths About Dropshipping
1. Dropshipping is easy and I'll get rich real quick
If you watch videos on YouTube, you might relate to this point the most. Yes, I'm talking about those so-called "Dropshipping gurus" who pop-up in the middle of nowhere and make you realize that anyone can start dropshipping.
Most of them go like, "I was broke and now I've a 6-figure business in no time!"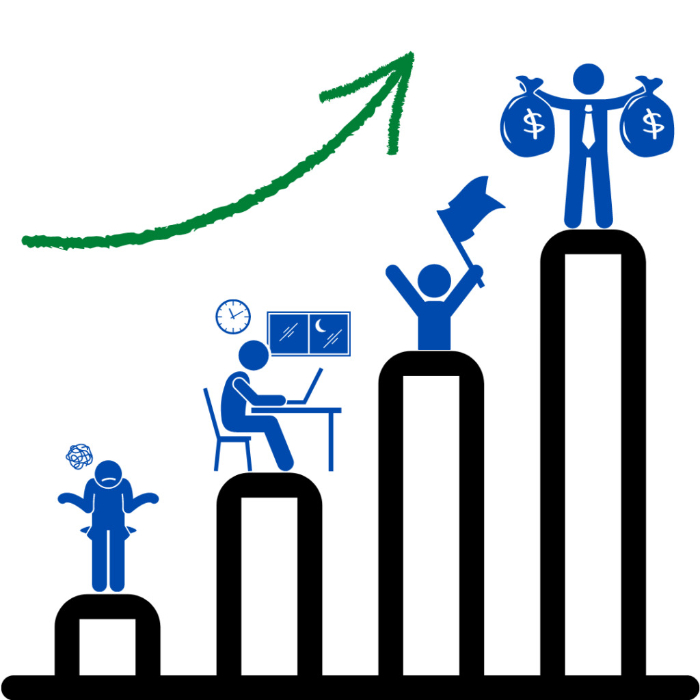 That's called psychological deception. They know where you stand and they want to connect your real story with their made-up one.
If it's easy, everyone would be a dropshipper, no? Well, these gurus just wanna sell their course or affiliate courses to make a profit for themselves.
I don't know whether you will be able to make a 6-figure business with their course. But, all I know is they will definitely get one, getting money from people like you.
So our main question should be: how much time would it take to earn a substantial income with dropshipping?
Earning $6000-$7000 every month, you can live a decent life almost anywhere in the world. If I talk about myself, it took me around 6 months to go from $0 to $22K.
2. It's easy to be successful in dropshipping, I will start it right away!
Starting a dropshipping business is a piece of cake. However, when you work with a detailed eye, consistent effort, time, and perseverance, it takes a good amount of time. Although it becomes a long process, you get the money on the table.
Unfortunately, the sad reality is a whole different story. People want to make loads of money but they're not ready to do the things that I've written in bold above.
I've been focused on just one thing, making this business a success. I must say – it was a roller coaster of emotions.
It took me months to experiment, trying various approaches. Seeing the business going down at one point and up at another.
Imagine seeing your orders tab showing you just a few hundred bucks for months – it's heartbreaking… but I still think, if I gave up, you won't be reading this at all.
Every successful dropshipper's experiments failed at some point. They're successful just because they didn't give up. The moment you give up, you lose!
I remember watching a Bollywood movie called 3 Idiots in which I heard something quite good, it was – "Don't run after success, run after excellence. If you have excellence, success will be yours automatically!"
You know where I'm going with all of this? Having the right mindset is as important as breathing!
3. My store is not known; why would someone buy from me?
This is the question I come across once in a while. My brand is unknown to the people out there, why would they consider buying any product from my store.
Most beginners ask about it and my answer to them is – Brand value doesn't matter in dropshipping, everyone starts at some point. From my perspective, it's about how much effort you put into crafting and marketing your store.
I have been in dropshipping space for almost 5 years now. Trust me, I can't even remember more than 5 shop names I've been buying products from recently.
There are too many dropshipping storefronts online. Many of them are unknown to me but do I regret buying products from those stores? Absolutely no, if I find a good deal, I don't mind grabbing it.
Let's now talk about the right mindset you wanna have so that you can know how to start a dropshipping business the right way!
Have the Proper Mindset for Dropshipping — Don't IGNORE This!
My mother always used to say:
"Whatever you do in life, never doubt yourself, it will only pull you down. If you wanna be a cricketer, don't doubt yourself and go crazy about it, even when no one supports you, even me"
When I heard this, I laughed in tears of joy. It struck me so hard right to the bottom of my heart and that's why I remember that moment.
This saying has helped me a lot and it can surely make you successful as well.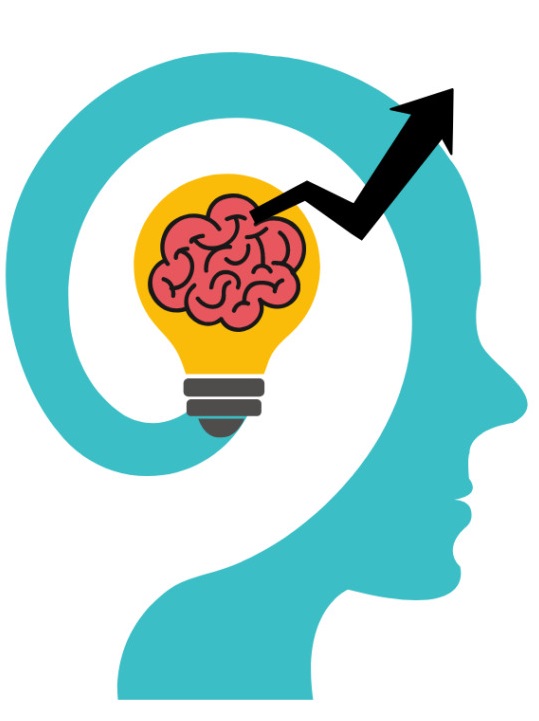 Having the right mindset for anything you do is extremely important, especially when the process can wear you down for months. Dropshipping is one such profession that needs a powerful mindset. So have it.
Let's have a look at some of the mental obstacles I encountered in my 5-year journey of dropshipping.
Break that 9-5 Job Mindframe
Since school, we are told it's best and safe to take up a high-paying job. For that, you have to study for about 20 years of your life and come up with good grades.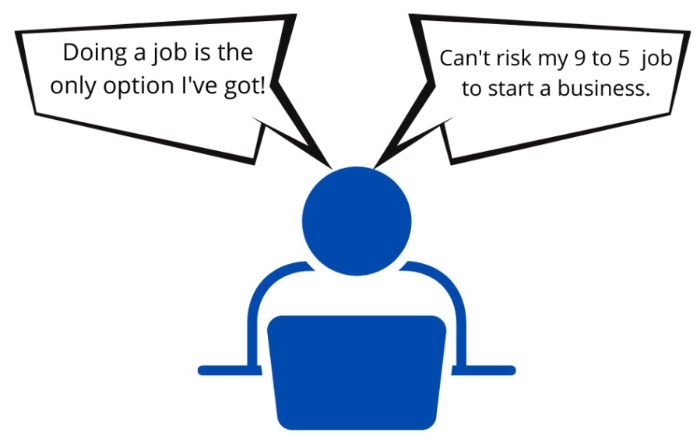 The reason people tend to think twice before starting a business is the risk factor. If you have the right mindset and know you are willing to put effort, nothing can stop you. And about the risk, well mate, you've only got 1 life – there's no fun without risk. Don't you love that adrenaline rush? Use it for profit-making, not watching movies after 9-5.
Also, if grades were to define a person, then Elon Musk, Steve Jobs would've been just another guy sitting on a couch with a tub full of popcorn watching some Marvel movie! So come out of the bubble that your society has created, which is 9-5 is the only option you've got.
Ups & Downs
In dropshipping, ups and downs are normal. The ups are so great, once you start making a profit, you will have an extremely positive mindset. And at that point, you will start planning and scaling the business.
But, when downs come, it will feel like you've hit the rock-bottom. Your days will be gloomy and second-guessing yourself and the business would be normal.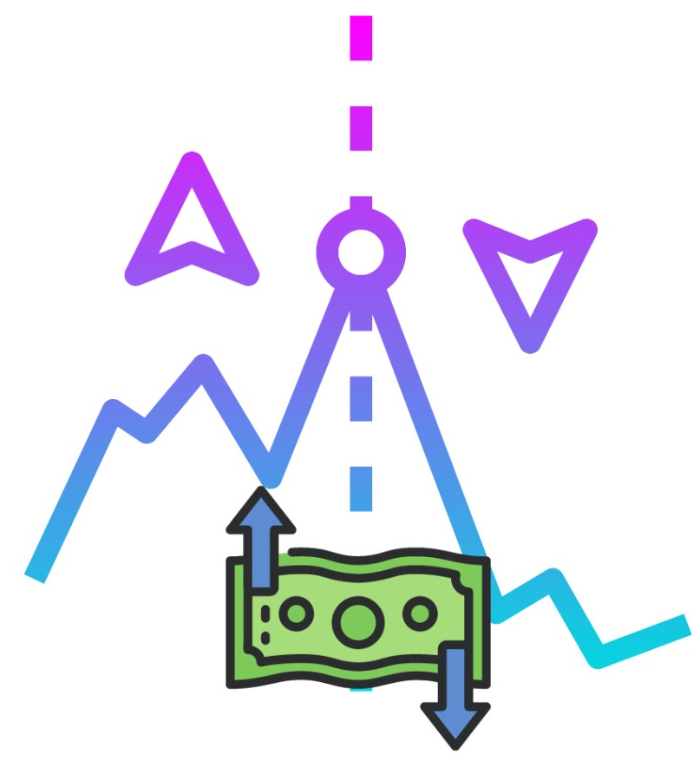 So, being mentally prepared for what comes next is crucial. Having a dropshipping business can make you feel like a bi-polar person. Make sure you're mentally strong enough to not be overconfident during ups and broken during downs. Now you get why I was talking about mindset a lot?
No or Fewer Friends
Dropshipping is a tough business and it would require hours of effort daily. In my opinion, only a fool would leave the job to start dropshipping right away.
So it's better to do it as a side hustle first, and when you eventually start earning well, you can make it your full-time business.
This means you will have to put in extra hours after your 9 to 5 job to make the dropshipping business work. In that case, you have to say no to your friends for the weekend shots.
A true friend always understands that you're paving your way up the ladder. If they won't hold up with this, they're fake ones for sure.
Yeah, you will have a handful of friends or at times no friends at all, but this shouldn't keep you from starting a dropshipping business. If you wanna be successful, there are some big sacrifices you have to make; sadly, fake friendship is one of them!
Keep Reading
Books can be your best friend at times like these. Make sure you develop a reading habit.
It's not mandatory to just read business-oriented books. I myself read Dan Brown as the action & curiosity in those books awaken my synapses and help me think better.
So reading is a great way to feel happy, curious, or motivated. Pick your poison and start reading.
Learn & Implement
Know this well, any skill in the world is not finite. Although you're learning how to start a dropshipping business, there's always a chance for refinement.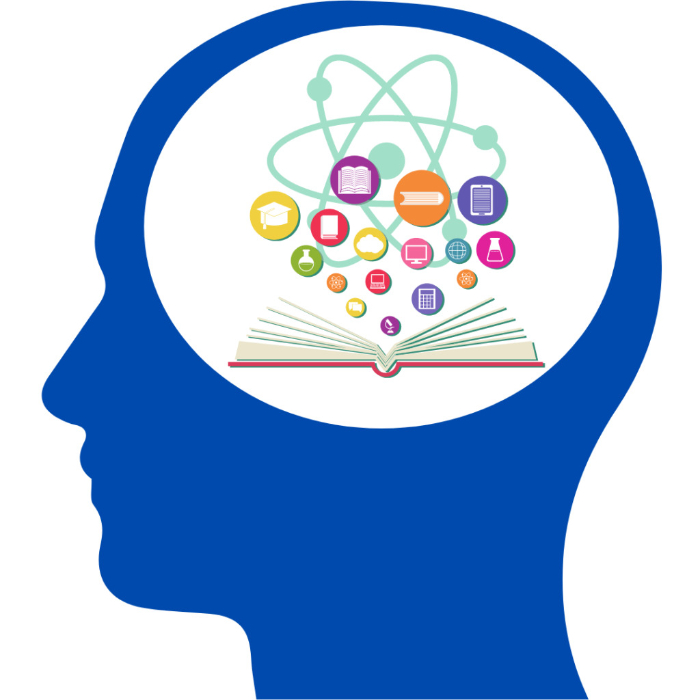 Scope of improvement will always be there and there's no limit to scaling your dropshipping business.
Always have that hunger to learn and keep experimenting and optimizing your dropshipping business, that's what's gonna bring profits.
These are some major mental barriers I had to overcome as a beginner in dropshipping. There might be other challenges you face, but remember this – "Once you're mentally strong, nothing will stop you from being successful as a dropshipper."
With that being said – it's also important to back your store with physical proofs. Let's have a look at the documentation part of dropshipping.
Legal Requirements to Start A Dropshipping Business
First of all, I don't think I've graduated from harvard with a shining law degree. But still, I can tell you all the stuff required to start a dropshipping business in the USA. Therefore, keep a check on the things I'm about to mention and you're good to go!
Business Structure
Decide the structure of your business. As of now, there are 3 common structures that come into play for a dropshipping business.
Sole Proprietorship: A sole proprietorship is the simplest of all but has no personal liability protection. This means, if someone subpoenas you, your business is also in jeopardy. There's not much requirement and paperwork for this kind of business. You can simply add the profit you get from the business to your personal earnings and pay the required tax.
Limited Liability Company or LLC: Here you have protection for your personal liabilities as the business you're establishing will be a separate legal entity. Besides, there will be additional paperwork and requirements in this case. The ongoing fees and incorporation fees – both are to be paid.
C Corporation: The maximum number of dropshipping businesses are set up as C corporations. Why? C corporation offers the most liability protection. Setting up a C corporation is often expensive, and you might wanna pay double the taxes, but if you have money, go for it as it's super beneficial.
My business is an LLC, but as mentioned earlier, I am no lawyer, so make sure to consult a lawyer before choosing a business structure. What I gave you is a basic understanding of it.
EIN Request
According to the IRS, all businesses in the USA should have an employer identification number (EIN), which acts as a social security number for your business.
Along with this, it's also helpful while paying your taxes, opening a bank account, and buying wholesale products. Basically, it's your online identity. Don't worry, you can get EIN for free without any hassles.
Getting Your Finances Right
One mistake that I made, like several beginners, was not managing my finances properly. I kept the same tab for my personal and business finances, which made it difficult for me to track my business expenses.
A Pro Tip: Always have different bank accounts for your personal and business money.
Keeping the same tab you can be in grave danger when an IRS audit takes place. At that time, a confusion of tax payment amount for your personal income and business income may occur.
Secondly, have a business credit card. Use it for all the business expenses and purchasing dropshipping products. Having a credit card for this process can give you numerous rewards and points, which can be redeemed later.
Get a Local Business License
Even though you're operating online, most cities in the USA will require you to have a local permit to start a business. This license has to be renewed regularly. However, many places don't have this law, so wherever you stay, go through the city's rules and regulations first.
This sums up the prerequisites for a dropshipping business. To find the real deal of how to start a dropshipping business, stick with me and know my journey, which went from opening a store to scaling, and making it a successful and profitable business over time.
The Real Deal of Dropshipping
Once all the prerequisites mentioned above are in place, you are now all clear to open a storefront. Sounds tempting, right?
Look, I am not gonna tell you how to choose your store name, logo, and all that stuff. If you're trying to start a business, you're smart enough to figure that out yourself.
What I am gonna tell you is the real deal mate. So let's begin!
Here Are Some Best Platforms That Can Help You Make A Great Dropshipping Store
Shopify – Everyone's Choice!
Shopify is one of the most used platforms to make a dropshipping store. Did you know there are 500K+ Shopify stores worldwide? That's huge, right!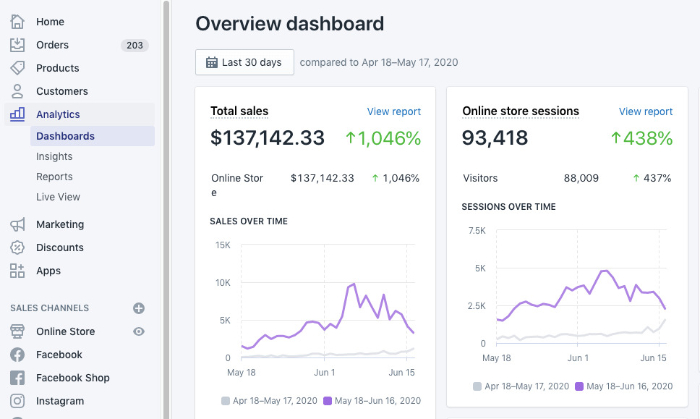 The reason behind such a popularity is versatility. The platform comes with many add-ons that you can use for product management, SEO, marketing, and whatnot. Also, the cart abandonment recovery feature of Shopify gives it an edge over other eCommerce website builders.
The platform takes minutes to set up and it's highly user-friendly. In my early days, I found Shopify to be the best builder for my business and I'm still sticking with it unless I find something better.
To know the platform well, you could just go through this – How to Set Up Shopify Store for Your Dropshipping Business in 2021
WooCommerce – A Strong Shopify Competitor!
WooCommerce powers about 29% of the total eCommerce stores worldwide and that's certainly a huge chunk!
The major advantage of WooCommerce over Shopify is the price. Relatively, WooCommerce is cheaper because it's a software stored on your server and it's open-source.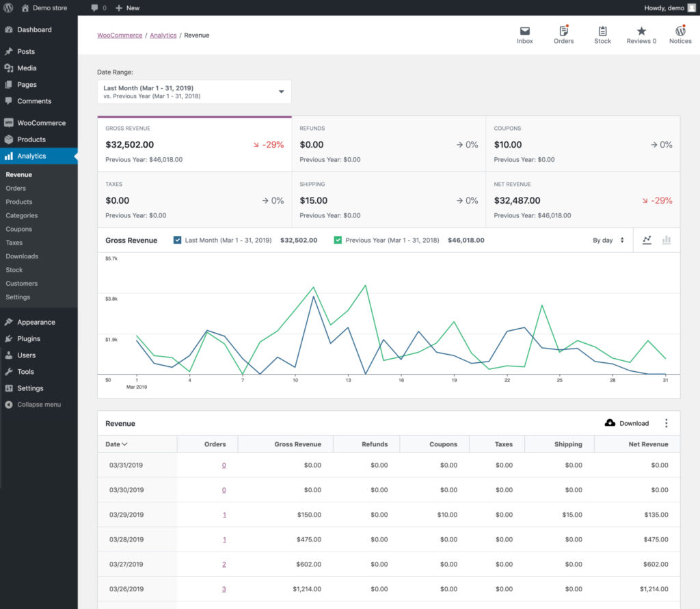 However, the maintenance of a WooCommerce site can be tiring as the downtimes and technical glitches will ruin your customer's shopping experience time and again.
Imagine a customer visiting your e-store for the first time and getting an error of payment due to some technical glitch. Do you think that person will care to come to the store again? No, he has thousands of other options to buy the same product at the same or even less price!
To understand Shopify and WooCommerce in detail, go through this Shopify vs WooCommerce article. I've shown which platform comes above the other in certain features and how to set both up.
There's another platform which I'd like to tell you about. I've used this platform and found it to be quite modern and amazing. Let's have a look at it.
Ecwid – The Trojan Horse
Ecwid is a less known platform but is gaining momentum among businesses recently due to its modern features and easy-to-use interface.
With Ecwid, you can get a free platform to start off with, and you can upgrade to a paid one later when you try taking your business to the next level.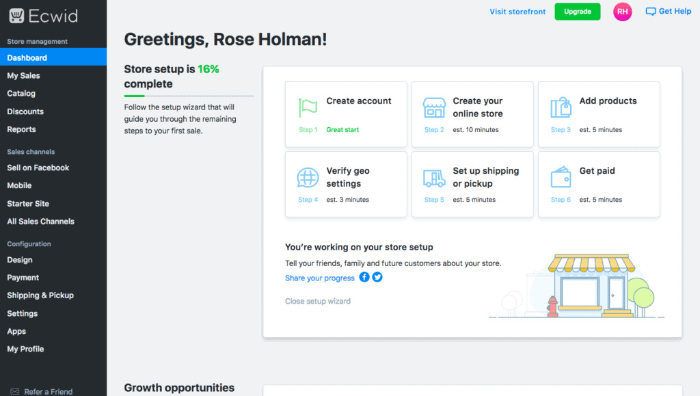 There are a lot of eCommerce website builders that can help you get that 6-figure dropshipping business. But, if you ask me to choose one, I already have, and that's Shopify.
Yeah, the platform has some additional fees for add-ons and stuff but these add-ons make dropshipping extremely easy. If it's done right, it's profitable as well. So, if you have a decent turn-over and wanna enter the Million dollar club, you should go ahead with Shopify.
Where to Buy A Domain Name?
A domain name is a crucial aspect of any dropshipping store. If you choose the right domain name, you can:
Establish your brand successfully – The domain name will give your business the credibility
Get more traffic – If you have a domain name that relates to your industry, it's a positive indicator for SEO
Get more customers – A right and easy to remember domain would definitely imprint in your audience's mind
There are many sources from where you can purchase the domain name. But after trying many places, I found the below 2 to be legit, easy, and affordable.
Buy Domain Name From Shopify
Step 1: Visit https://www.shopify.in/domains
Step 2: Type in the domain name you have in mind for your store.
A pro tip: Pick the one that's catchy, easy to remember, relatable to your industry as well as short.
Once you're done with typing, click on 'Generate domains.'

Step 3: You will find a list of domains with different extensions and prices. Choose the one you want. I'd suggest you pick .com or .in domain. These are the most widely used and recognized extensions.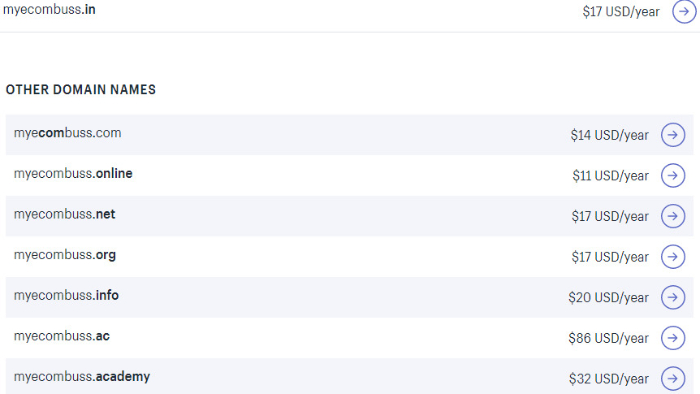 Step 4: Reserve your brand name on Shopify – Put in your Email ID, password, and click on Next.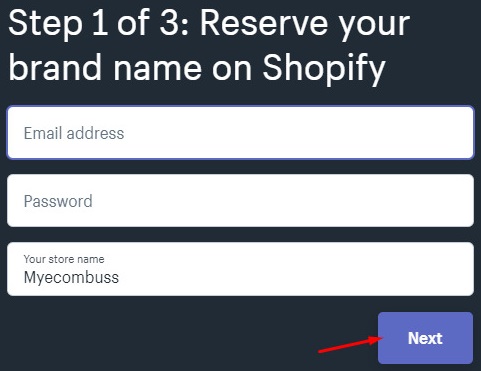 Step 5: The further steps are just filling in your business details, if you wanna fill them up later, you can just click on skip.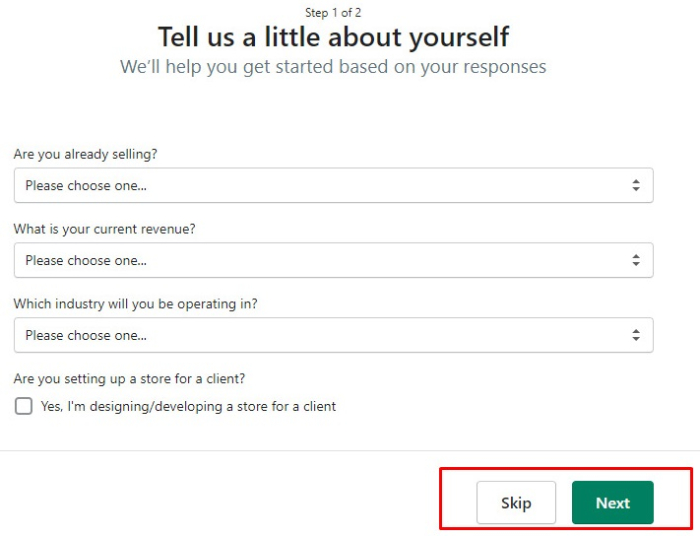 Step 6: Fill in all the information asked for and when done, click on Enter My Store.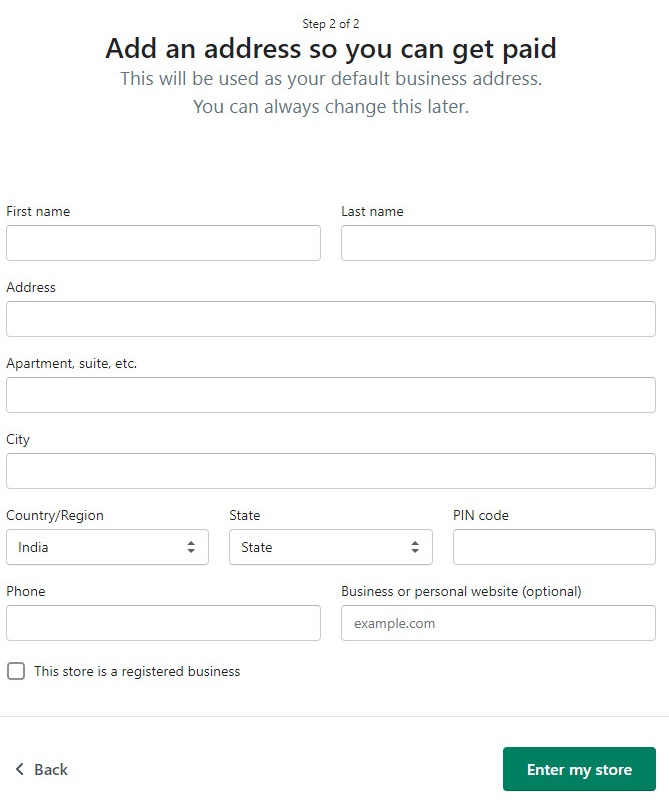 There you go, your store is all set. Now all you wanna do is set up the payment for your domain and Shopify plan you choose and start setting it up!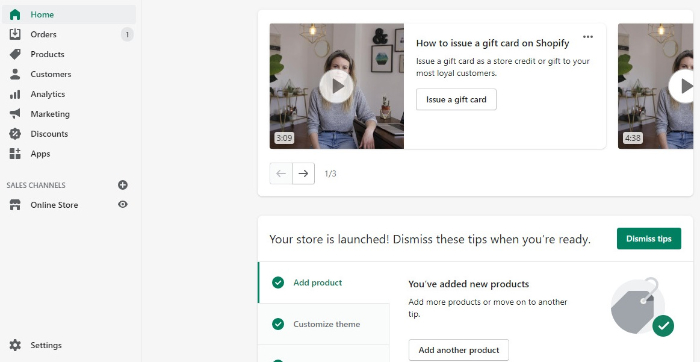 Buy Domain Name from Namecheap
Enter the domain name you have in mind and press the search icon.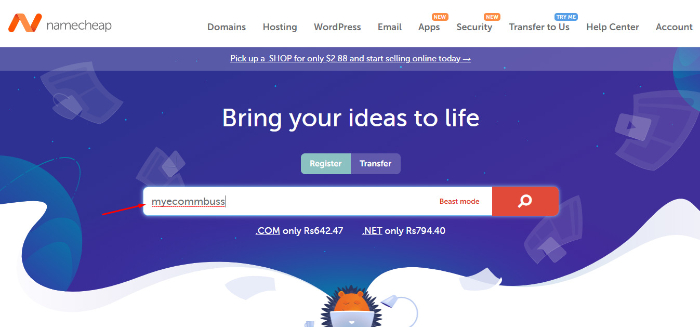 There will be a large list of your domain name with different domain extensions. But, you know what to choose, right? .com, .in, or even .net is okay!
Just click that 'Add To Cart' button.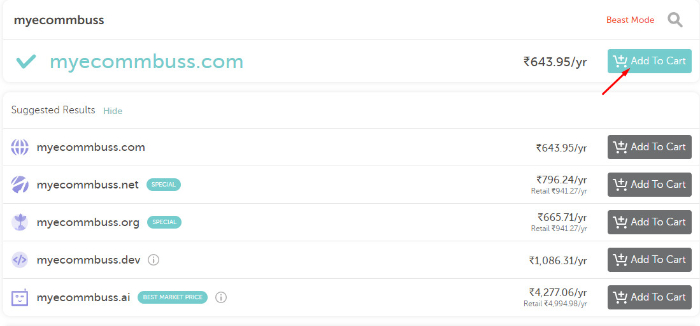 Now, it's time to checkout.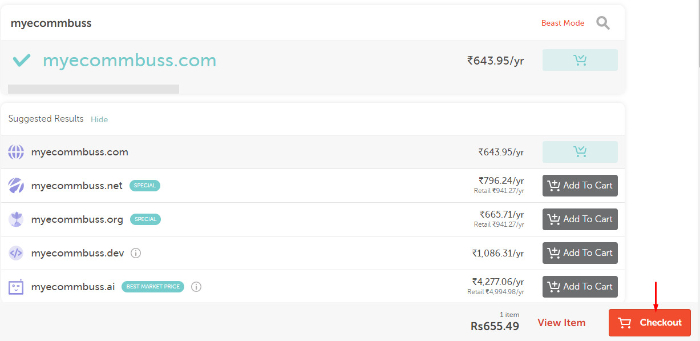 Does any of these add-ons make you feel great? Go ahead and choose the ones you like.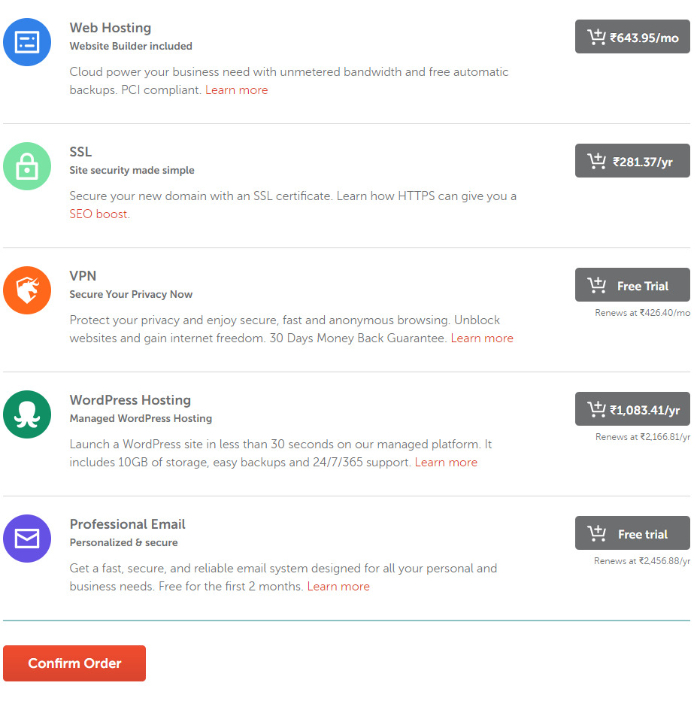 Once you're done selecting, just click on confirm order. If you're not logged in or don't have an account on Namecheap, enter your mail id, and create an account.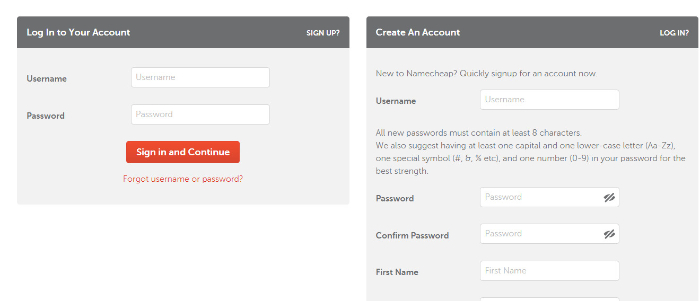 Finally, put in your payment details, buy the domain, and it's done. Yay!
I would personally prefer going with Shopify first as it's comparatively easy and straight-forward because we're buying domain on the same platform. Most importantly, the probability of technical glitches would be less.
What Third Party Apps Do We Need for Our Store?
Okay, you've got the domain name you want for your store. Will it help if you had a list of essential apps required for a dropshipping business?
Well, if I would have had this list, it would have spared me months of testing and analyzing. Whatever, after all I found that coming up with these 3 add-ons you can manage your dropshipping business like a pro:
All these add-ons are tested and analyzed to their full potential. These are the best ones I could find. After installing these and using them, I started seeing large profits and good earnings.
Note: These add-ons are specifically made for the Shopify. Don't search it for WooCommerce!
Add-Ons for Shopify
Oberlo – Get the Best Suppliers Here!
Oberlo is a dropshipping application made for Shopify. With the help of Oberlo, you can import products from AliExpress to your Shopify store.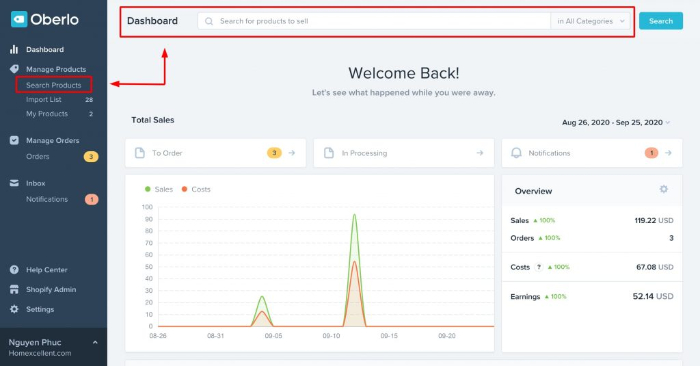 About 700 sites in the USA alone use Oberlo, which proves the fact that it's quite recognized and trustworthy.
From bulk importing products to analyzing each product's performance, Oberlo can make everything easy for you.
To know how you can make money with Oberlo, read this guide right here: What is Oberlo and How Does it Work for Dropshipping? 
Dsers – The Underdog Shopify App
Dsers is another app, pretty similar to Oberlo. It basically imports products from AliExpress to your Shopify store, as simple as that!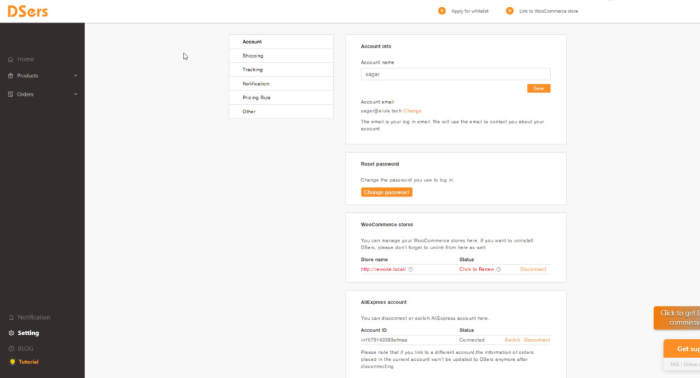 This makes Dsers a tough competitor of Oberlo. So, which one to choose? See, it's all up to you. Both of these apps have the same features, more or less.
Oberlo is quite easy to use, has an intuitive interface, and much more popular than Dsers. However, if I were you, I would test both for myself because the suppliers that worked for me may not necessarily work for you. Not only this, the niche you're after is another factor.
To know more about Dsers, read this blog: Is Dsers Good for Dropshipping?
Dropified
If you wanna make dropshipping easy and friendly, Dropified is the go-to app. You can integrate all major platforms with Dropshified like Shopify, WooCommerce, BigCommerce etc.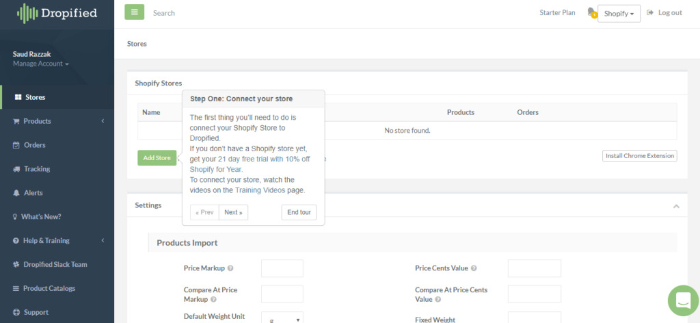 Did you know, Dropified also automates your ordering and shipping? To know more about the potential of Dropified, go through this – Is Dropified Worth it?
How to Find the Perfect A Grade Product that Sells
Finding a perfect product for selling is the key to success for your dropshipping business. If you don't have this right, the struggle in this business is real. So while selecting any product, you should ask yourself a bunch of questions.
It's actually even better if you write those questions down with the best possible answers. I do it on my mobile mostly as it gives me clarity about the product I want.
Being a more than average dropshipper, I want you to ask yourself these questions while choosing a product:
Buying to Selling Ratio
At what price am I buying the product and for how much can I potentially sell it?
Can I get a good profit from the product?
How many products should I sell to reach the benchmark I created earlier in my head?
Shipping
Can I ship the product easily?
Is the product small enough to be shipped easily?
Wait, do I need to pay anything extra or have any kind of money issue while shipping the product?
% Profit
How much margin can I get just by selling 1 item?
Is it enough?
Supplier
Is my supplier trustworthy?
Do I have a healthy relationship with my supplier?
Marketing
How can I market the product?
Is it an interesting product to the person I'm selling it to?
If not, how can I make it look interesting?
Develop Curiosity
Will the product be able to develop curiosity among my target audience?
Or can I present my product the way it invokes curiosity?
Trigger Strong Emotion
Can I trigger some emotion in my audience with the product so that I can connect better?
If not, can I do something about it?
Opportunity
What opportunities can my product bring along for the customers?
Can the product make their everyday life easy?
Niche
Is there a sufficient audience for the product I am selling?
Trend
Marketing Angle
Can I market my product with some innovation, like telling a story?
Quality
Is the quality top-notch?
Am I satisfied with it?
Are the reviews about the product good?
Do I need to worry about returns and refunds?
Evergreen or Seasonal
What type of product is it?
How much time do I need to sell this product?
Competition Analysis
Are my competitors selling the same product?
How much are they selling it at?
What is the approximate profit margin they get?
Can I do it any better than they are?
Future Considerations
Is the product sales scalable?
For how long will my product give me profits?
When would I reach the inflammation point with the product?
So, now you know what kind of product you want for your store. Now is the time to look for potential products you can sell.
The question is – where to look? Alright, these are the sources that you might wanna look at while setting up your dropshipping store.
Amazon Top Seller: Always visit the Top sellers section of amazon, that way you can see niche-specific bestsellers.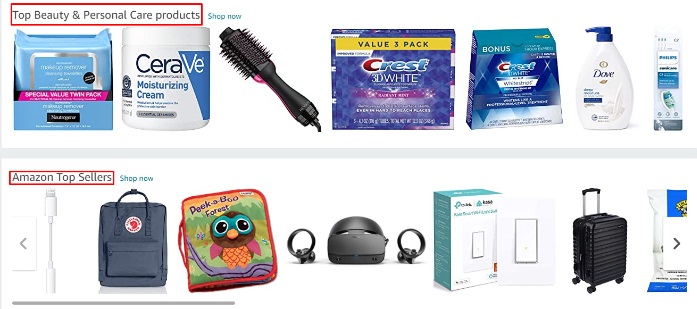 Wish's winning products: Wish is yet another retail store where you can visit and have a look at the top products. You can just type your niche in the top search bar and look for products that are either sold out or almost gone crazy.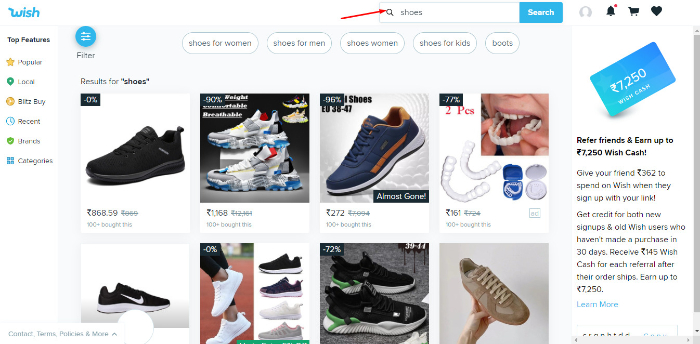 eBay watch count: eBay watch count is one of the amazing tools to get a look at the most trending products in the USA. All you wanna do is type in the keywords, choose your liking category, and hit enter. A list of all the products will appear in front of you with the decreasing watch count.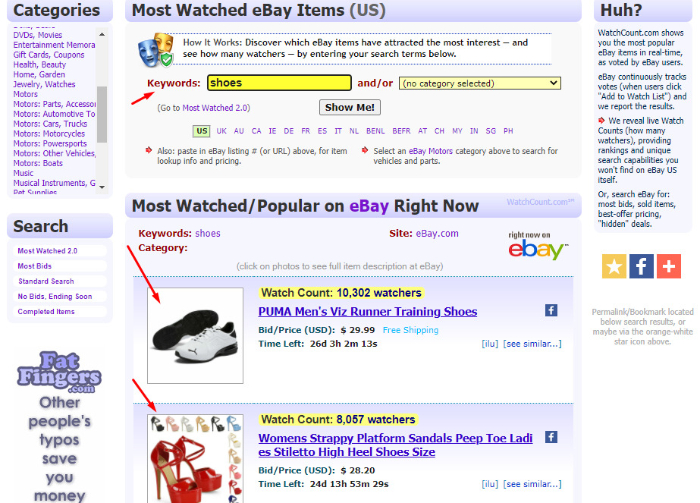 How to Design Your Store -The Right Way!
You have your product and the store's domain name, what's next? Let's finally design a high-converting dropshipping store.
It's super crucial to make a thoughtful eCommerce design because a good sync is important. Right from visiting to buying, all the processes should be smooth and motivate the user to take an action.
When it comes to shopping, people don't stick to any one site for a long time. So you should make your storefront attractive as well as time-saving.
Once Albert Einstein said, 'The core of beauty is simplicity.'
Considering Einstein's advice, I made a simple sales funnel that could impress not every but more than some users:
User visits the website – Homepage -> Filters product by category -> Search for product and lands on the product page -> Adds the product to cart and proceeds -> Checkout page -> OTP page -> Conformation & Thank You
That's it! Ideally, a person doesn't have to click or tap more than 9 times to reach your 'Thank You' page that pops up after payment (Provided he knows the exact product he wanna buy).
Things you wanna take care of while designing your dropshipping store:
Navigation
Menu – Use dropdowns and submenus in your site for easy navigation
Search bar – Place a search bar on every major page so that user could search any product they want
Cart symbol – Place it on every page and make sure to add that small numeric symbol above it so that users know the no. of items they have in their cart

Building trust and confidence
Display trusted logos – Try showing known brand logos as they build up rapport
Testimonial – Social proof is another thing to have for building trust and confidence
Contact – Have a proper working number and address at the footer of every page
Now let's have a look at what you should specifically have on each of your major pages of the store.

Homepage – First Impression Is the Last Impression
Have you ever been on a blind date? If you have, you know how crucial those first few seconds are to create a lasting impression. For those of you who haven't been on a blind date – well, now you know what my point was 😉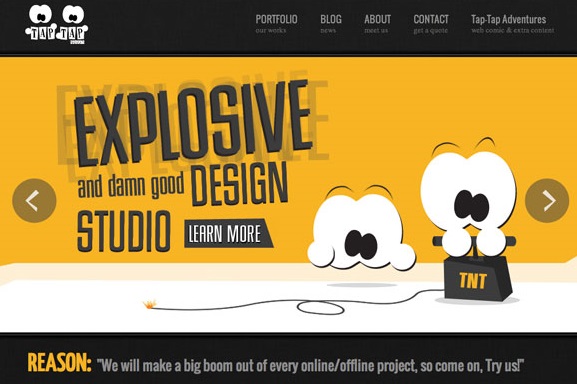 The homepage of your eCommerce store is just like those first few seconds of a blind date. If the person doesn't like it at first glance, sorry you're rejected – oh, I mean your store!
The motive of your site should be clear at first glance itself. For example, if you sell shoes, a new user should be able to pick up the trail in seconds.
Here are a few things that I do on my homepage to impress new users:
A catchy title – A title should be short and it should directly speak what your business is about
A call-to-action – Try placing a CTA right above the fold content, my CTA is just below my title, which works great
Pictures – Having a subtle and eye-catching image at the top of your homepage is important – a picture's worth a thousand words, so get a graphic that can speak out loud for your brand
Bestsellers – Featuring your best selling products are a good way to convert your users into buyers, so have a tab of best selling products on your homepage
Here's an example I want you to look at, the homepage of the site is just marvelous!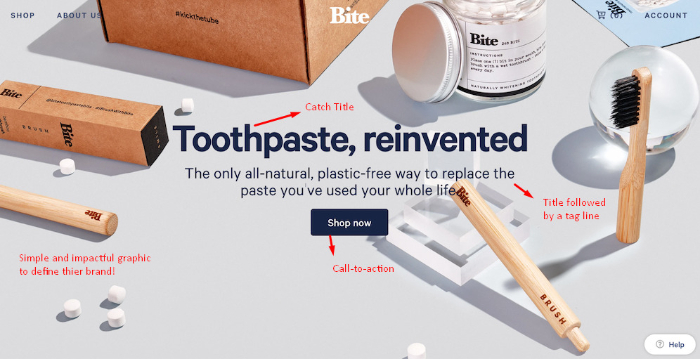 Listing Page – Make It The Right Way!
When a person types anything on a search bar, they get a listing page with all the products they can choose from. So, you have successfully built that curiosity in your user's mind to check your store out.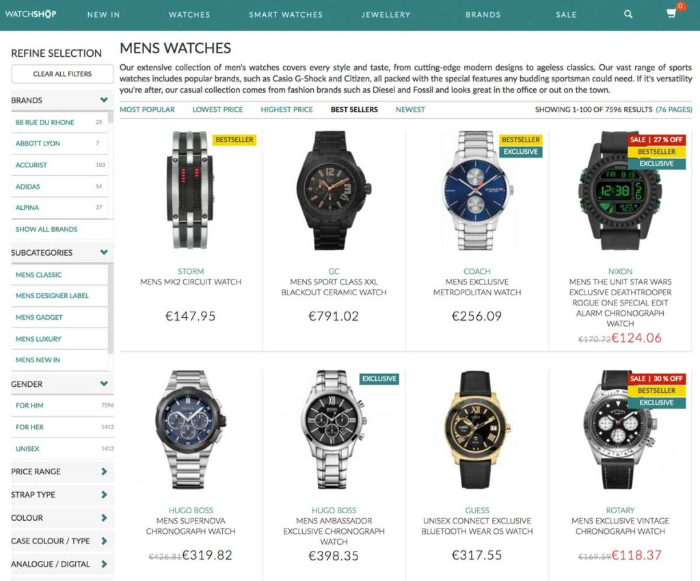 Now is the time to build a listing page where you can tempt the customer (in a good way off course) to choose the product they wanna buy.
As long as you're selling only 1 category of products or a few products, you don't need to worry about this sectio.
But, if you're thinking of widening your choices right from the start (there's nothing wrong about it), this is helpful.
Just remember, when you scale and need to add multiple categories, come back here to read this section because this will be a gem for you at that point.
Category Introduction
A small introduction about the category will make your customers know that they're in the right place.
Remember I said, your user's time is of immense importance. You can't make your users search for the product they want for even 10 minutes.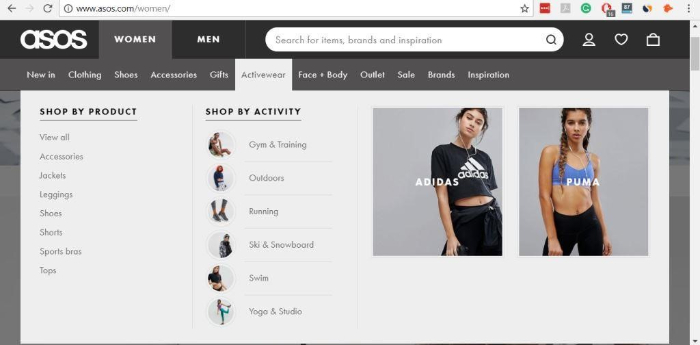 Just imagine yourself going to a physical store and finding super unorganized things. Yes, if you don't pay attention to categories well, that's what your customers may feel.
Filtering and Sort By function
You must be aware of this function. The filtering and sort by icons simply the search process for users. As every hiring process has resume screening with some set parameters, for example, a person should have 2 years of experience in the field.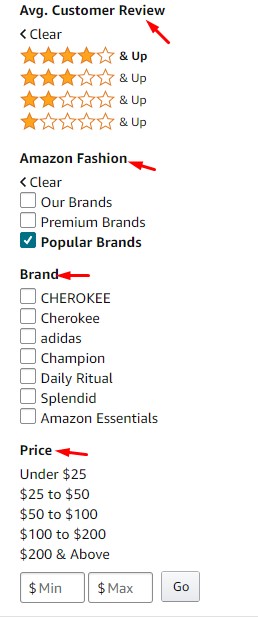 Now, think of filters and sort features as a parameter of screening, and your users are the ones who are hiring. All that your users wanna do is select the parameters from the filters and look at the end results.
Keep one thing in mind: don't give too many filtering options, as said, too many cooks spoil the broth, hit that sweet spot between more and less.
Also, if the users choose a series of filters yielding no choice in front of them, don't just give them a blank page back or even worse, a 404 error, take this opportunity to link the page to another highly relevant category of products.
Make Sure Your Bestsellers and Best Reviews Stand Out
Your best-selling products are automatically the best products you've got, so why not show them on top to make your users pick those?

If you can display great reviews about the product, that would be awesome because having social proof is a strong parameter to drive user's decision-making capabilities.
Product Availability
Creating an urgency or scarcity feeling in your customer's mind is a great way to up your conversion game.
Put a tag of "Only X left" at the bottom of every product's thumbnail. This will make your customers hurry up the process of buying.
Below is the best example for a great product listing page: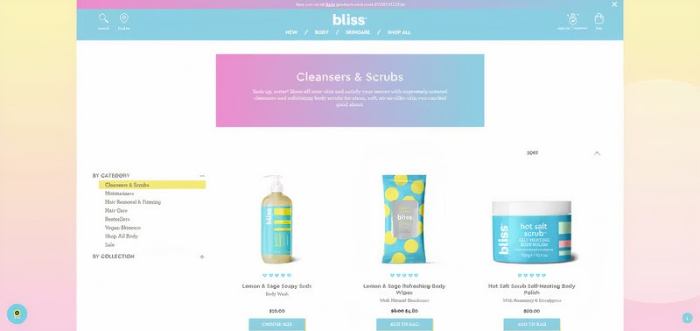 Product Page – Page That Matters!
As you can see, right from the homepage, your customer's journey has been full of curiosity and interest so far.
If you can copy the exact same strategy, you can bring potential customers to the product page. The buy button is right there, looks like the sale is made, right? No, it's one of those cases where the mountain peaks look so close but far in reality!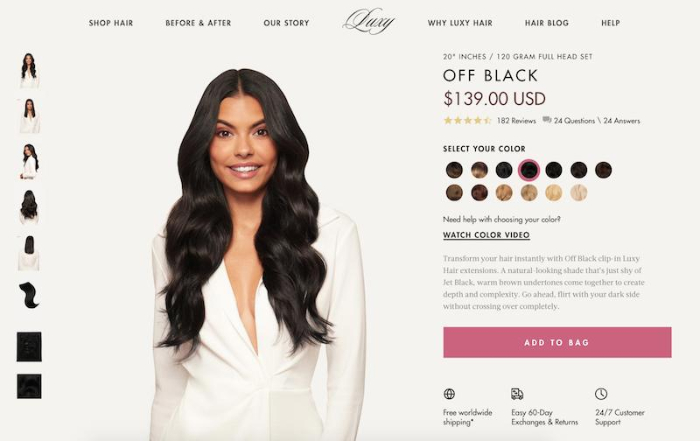 The product page faces the greatest psychological barrier – the urge to spend. Is your product page tempting for any customer to hit that buy button and pay for the product?
If not, don't you worry, here are the tips you wanna follow to make your product page work:
Add to Cart Button
You must be thinking – "Add to cart button, I could make one in my sleep, kids work!" actually, it's way more than that. A Call to Action is the most important button on which the conversion rate depends.
Here's how a CTA should be:
Displayed Predominantly
Yeah, this is quite obvious, still beginners don't quite understand it and often mess up the 'Add to Cart' button placement that leads to significantly fewer clicks and less conversion.
Add to cart button should be placed in such a position where the eyeballs of users can grab it automatically.
Also, the button has a place to breathe. Don't clutter the nearby area with unnecessary images, texts, or worse, another CTA.
Take Advantage of Contrast
The contrast will play an important role and make your add to cart button stand out. Use a colour that would be different to the primary colour of your website. In fact, it should be the complete opposite but still look good as well.
For example, the classic combo of Black & White or the modern combo of Orange and White are just perfect!
Have a Good Size for Your Button
BeFoRe… you make any assumptions, you should know that a good size doesn't always look titanic, it should be soothing, professional, and catchy. And remember, if a user gets to the product page or any other page that has a CTA in general, the first thing they must see is the CTA. If a user takes time to find any CTA on your page, I'm sorry you're not on the path of success, it's the exact opposite of it.
High-Quality Images on Your Product Page
An image speaks a thousand words, don't you think you will get more conversion when you have great images on your product page?
See, the thing is people wanna see what they are gonna buy. If you sell them a laptop and show them a desktop, it means your business is in grave danger. So make sure to follow the tips below before choosing an image for your product page:
High quality images – People often zoom in on the images and have a closer look at stuff, so if your image is of low quality, it will be pixelated when zoomed, and that's not gonna end well for you.
Number of images – Don't just put 1 image and leave the product page, make a proper slideshow covering all the product features in the image or at least the top 5.
Leverage videos – Video demonstration of the product or a person using a product can be a game-changer for your conversion rates.
World-Class Product Description
A product description is like a guide for your product. It should answer every question your customer could potentially stumble upon while using the product.
I leverage this best practice for displaying the product features and specifications in a table first and then using the text button "show more" for the rest of the description. This helps the page look neat and tidy.
Here's one of the best product pages I found: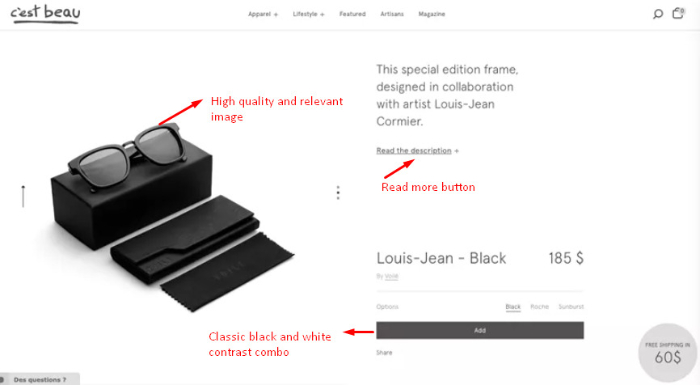 The Checkout Process
Now that we have done hardwork, it's time to bank some money selling good-quality products. Just see here, the checkout process should be highly systematic and crystal clear. Here's a sequence that you should follow up with for a dropshipping checkout process.

Must Have Pages in Any Dropshipping Store
About Us
The about us page is an essential asset which you can leverage to gain trust. You can show your experience, expertise, and whatnot via the About page.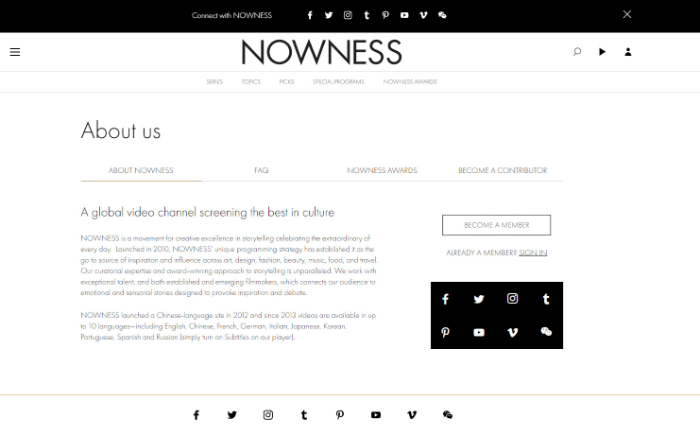 One great thing to do is putting up a form for sign up or query at the bottom of your About page so that you can get in touch with your customers and make them feel welcomed.
A map with your headquarter's location and phone number at its side also servers as a great trust builder.
Shipping Policy
Now the shipping policy page will include everything around shipping and essential rules & regulations like shipping cost, timing, import and export duty, etc.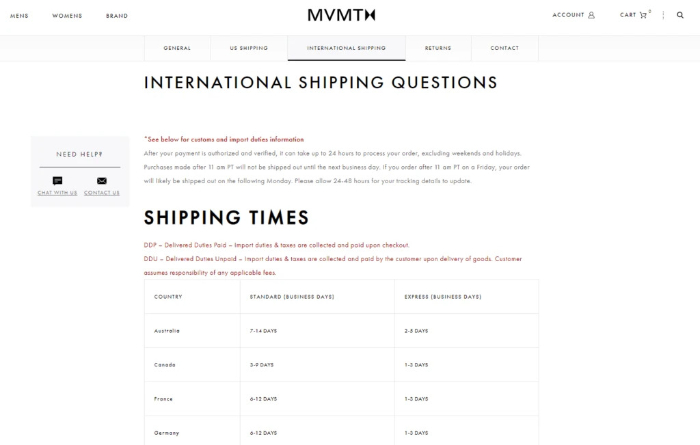 Track My Order
As the name suggests, your customers should be able to track the orders via this page. It would be great if you can put the live tracking feature on this page.

Contact Us
A subscription form with your contact, Email ID, and address are the 3 things you should have on your contact us page.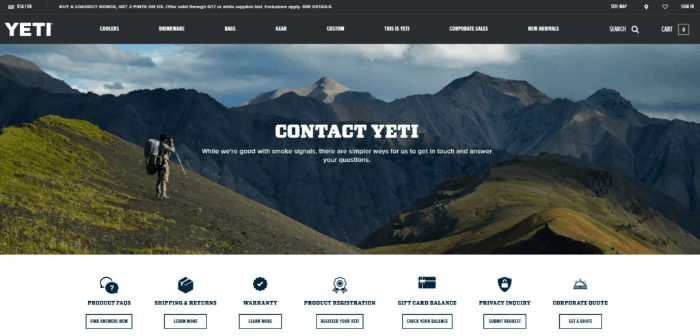 Post Dropshipping To-Do Things
Okay, now a number of customers have bought from you. What should be your next step? Don't you think being in touch with them and solving any problem they have with the product will make them trust you?
So with this, let's see the importance of post-purchase customer interaction.
Support and Customer Interactions
When you talk to your customers and ask them if the product they bought is good, they know you're putting effort and happily reply to you even though the feedback might be bad sometimes.
Believe it or not, customer interactions brings your customers back to the store to buy the same or some other product again.
Did you know a mere increase of 5% in customer retention might increase your profits by 25%?
Another thing you might not know about it is the word of mouth phenomenon. With good customer service, your customers will be happy, and they will obviously refer you to their friends and relatives. In fact, 77% of customers share a brand if they are happy with it.
Lastly, people are willing to pay more to brands that have good customer service for the same product they might find elsewhere.

So you know the power of customer retention now? Okay then, let's find out other ways to increase dropshipping revenue.
Tools That Can Help You Monetize the Store
Wheelio
Tell me one thing, how many of you play spin games loaded with offers on Amazon or any other eCommerce platform at least once. I bet there would hardly be any of you who didn't spin the wheel!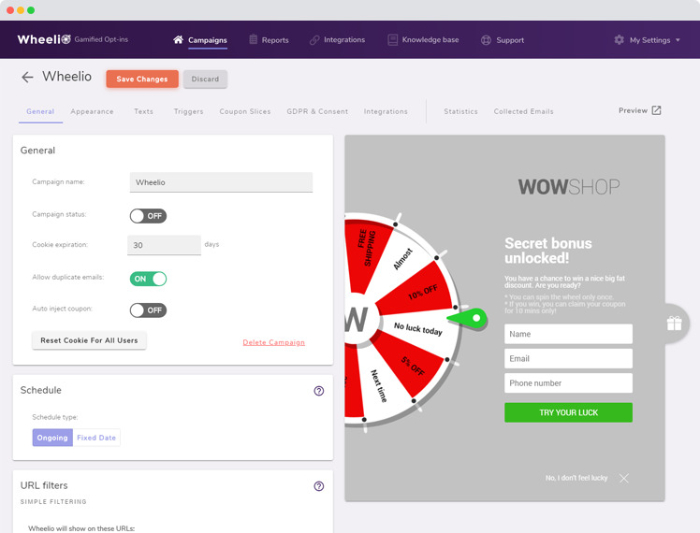 But what does it have to do with your store? Well, the answer is – user engagement.
These games increase user engagement and give your customers coupons to buy products at discounted prices. When they get an offer they like why won't they buy from you? So to make your audience's journey fun install Wheelio.
To know more about Wheelio, read this: Wheelio – Turn Your Visitors Into Leads!
Increase Your Revenue with ReConvert Cart Shopify App
The Stilyo group's ReConvert cart is a great way to increase your revenue just after purchase. With ReConvert Cart, you can show related products or "people also bought" products to your buyer. This technique is called an upsell process, which can increase your revenue to a great extent.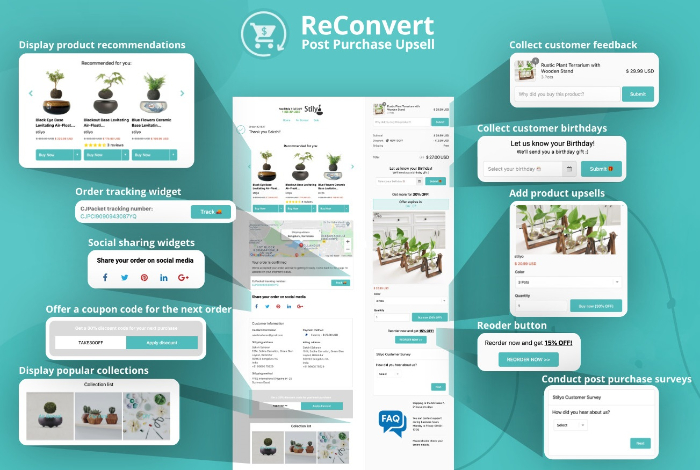 Leverage this technique as 60-70% of existing customers show interest in those upsell products.
To know all the features, plans, and the worth of ReConvert Cart, don't forget to read this: ReConvert Post Purchase Upsell App Review
Add Reviews with Loox Shopify App
Having reviews on your dropshipping store will give your store a human touch and male it trustworthy. 
Tell me this, when you surf through any eCommerce website and stumble upon an interesting product, don't you check the reviews of the product? You do right.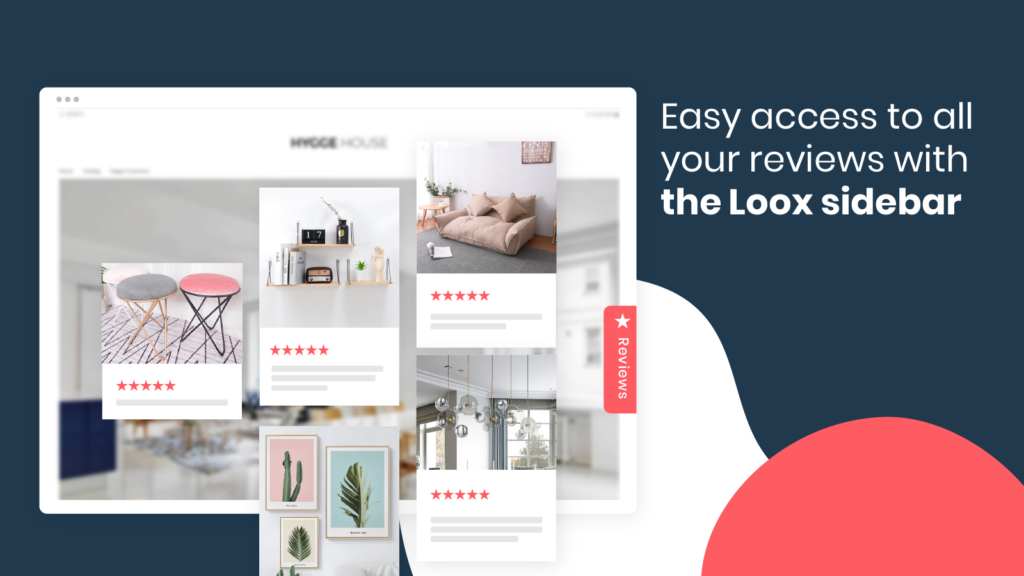 Just like you, almost everyone who shops online checks the reviews. So why don't you put up great reviews and represent them beautifully?
To do so, Loox should be your go-through solution.
To read more about Loox, you can read – Loox Shopify App Review – Updated 2021 Info!
Optimizing Your Product Page for Better Conversion
When you run ads or do SEO for your dropshipping storefront, it's essential to have an optimized product page. In dropshipping, the product page, in most cases, is the landing page for your ads. So, optimizing the page to its best becomes a really important thing. 
Let me tell you some tips about product page optimization:
Optimize your product copy – Write a juicy and punchy product description with a short and keyword-rich title.
Product images – High quality images covering every feature of your product with some text for feature description are the kind of images you wanna put on your landing page.
Review – Display reviews of the product on your landing page to show the product's credibility.
Wish List – Create the feature of 'Add to wish list' or 'bookmark product' so that people can create a list of products they plan on buying.
Leverage Cross-selling and Upselling – Both of these techniques can increase your ROI drastically.
Live chat – Add a live chatbox to your store so that customers could ask you doubts regarding any product, shipment, or fees, etc.
Image zoom feature – Leverage the image zooming feature so that your customers can have a better look at the product's design.
Product videos – Have a proper video guide for your product to help your customers out with its setup and usage.
Shipping information – Let your buyers know the estimated shipping date of the product.
Sell Your Dropshipping Business
When you have enough traffic and a good dropshipping business that generate profits, you can sell it online. There are sites like Flippa where you can post your store, put up a cost you want, and sell it online. Currently, people are selling their online dropshipping store for as high as $60,000.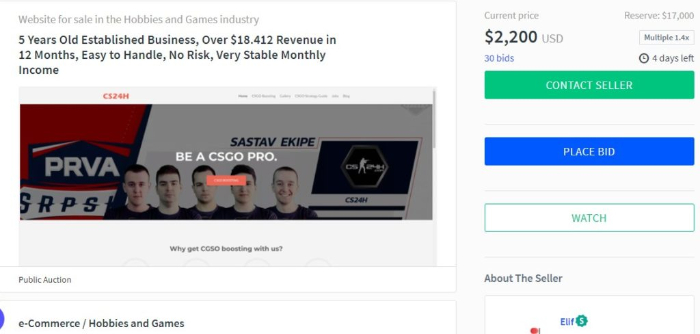 Apart from Flippa, you can head over to Exchange Marketplace, which seems to be owned by Shopify itself. It works pretty much like Flippa and specifically made for dropshipping store owners.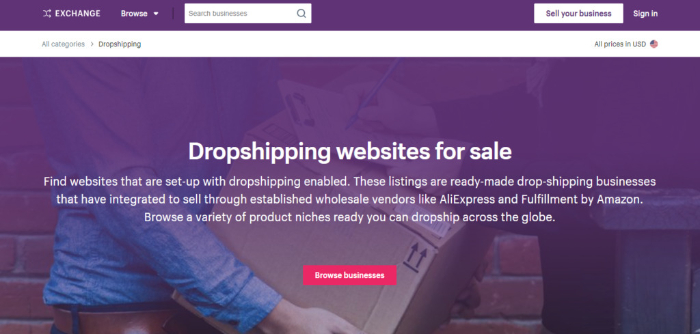 Marketing Your Dropshipping Store
You have your store in place, you are testing and optimizing the store regularly, all-in-all, you have decent sales. But, what's that one thing that will take you a step closer to your No 9-5 dream?
It's marketing my friends.
Marketing, if done right, can open 100 doors of opportunity to scale your business.
I've been trying several marketing methods for my dropshipping business and have found 4 great methods that you can leverage to market your eCommerce store. Let me show you how it's done the right way!
Market Your Store with Facebook Ads
Facebook ads are a great way to promote your products worldwide, the fact that it is a globally recognized platform gives it an edge over any other advertising platform.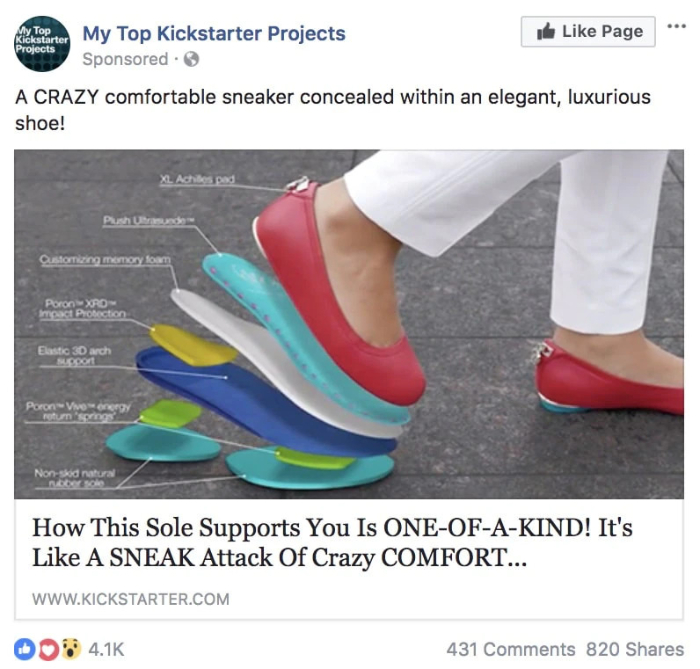 According to statistica, Facebook has about 2.8 billion monthly active users. So you have 2.8 billion potential buyers to impress, don't be overwhelmed as you won't be showing your ads to everyone who uses Facebook.
Let me give you some tips I found out after running hundreds of campaigns on Facebook.
Know the basic functioning of Facebook Ads
Before learning about Facebook Ads, you should know that you don't necessarily want a Facebook blueprint certified person to get into it. However, you should know the working and basics of Facebook ads. You could just google it and read basic stuff about Facebook ads. Here's a guide I referred to when I wanted to market my dropshipping business – Facebook Ads Guide for Beginners.
Assuming you have an idea about the parameters in basic Facebook ads, let's move on!
The things I learned when running my ad campaigns:
Make Sure to Experiment with International Markets
When people start off, they often target 1st tier countries like the USA, UK, Canada, etc, thinking they will make a great profit, which is not bad but have you thought of the possibility of getting sales from smaller countries? I bet it doesn't sound that promising, it didn't sound a success to me too back then. Later on, my perception changed.
When I ran an experiment to remove the top-tier countries and aim for small countries like Monaco, Vatican City, etc. I saw a tremendous increase in my CTR and sales going up day by day. Some of these small countries even outperformed the 1st tier countries.
So make sure you experiment with these small countries to know where you can get the maximum ROI.
Before you target low tier countries, I'll recommend you working on your marketing methods because people in these countries won't spend as much as 1st tier ones.
Keep Optimizing Your Marketing Funnel, It's Important
Right from seeing your ad to becoming a buyer, funnels play a major role in your target audience's journey. The whole funnel is important, not just the ad or the landing page.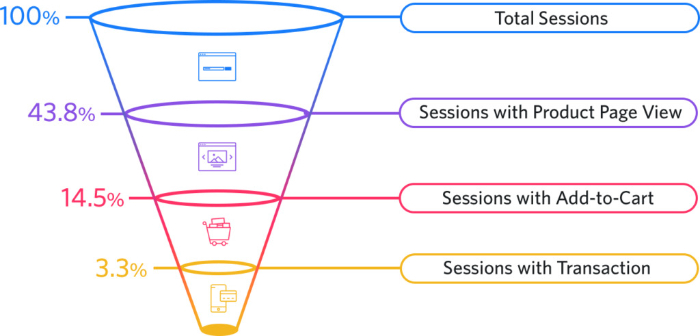 You might be the best Facebook ads expert but if your landing page isn't good, you can see your bounce rate sky-rocketing through the roof, and you won't get any sales. So for starters, you can optimize your landing page, giving it a stunning design, a scarcity touch with countdown times, and high-quality images.
To increase your ROI, giving an option of upselling and cross-sell can be a game-changer.
I hope now you're aware of the fact that the success of your Facebook ads is not just dependent on the ad copy you create, it's about the whole funnel.
Drive Traffic to Your Product Page and Not Your HomePage
As a beginner, I made the mistake of making my homepage the landing page and investing money in ad campaigns by testing and optimizing the homepage only.
Soon, when I noticed that my sales were not that great, I thought it would be great to drive traffic to my product page rather than the homepage. And voila! The sales just went up. This is because when you target a product, you can filter your audience even more.

Let me give you an example:
Let's say you have a store that sells clothes. So if you wanna drive traffic to your homepage, you will target everyone who is in styling, fashion, from both genders and all age categories. Now get this, if you have a men's leather jacket as one of your products, you can just target Male leather jacket lovers in the age category of maybe 18-45.
So what happened here is – Instead of targeting people from 1st tier countries of all ages and both male & female, you've super-targeted an individual group of males who have an interest in leather jackets.
What do you think, which one of the above will yield better results? Driving traffic to your homepage or product page? I am damn sure it will be the latter, provided you sell multiple products in any niche.
Facebook Ads Is All About Testing And Optimizing
Here's the thing: Every penny you invest will go down the drain if you don't experiment with Facebook Ads. So what do I mean by experimenting and optimizing?
Taking the earlier example of a clothing dropshipping business, let's say you have 10 products in your store. Now, what you're doing is just making the ad copies, optimizing your landing page, and waiting for sales to pop in exponentially. Would it happen? No, it won't!
What you wanna do is make the ad copy, run it, look at the CTR, CTC, and other essential parameters time and again to know what's going wrong.
For example, if you see you have millions of impressions but just a hundred clicks on the ad, your ad copy is terrible or maybe your ad image isn't that good. Try experimenting with a different text or image.
Note: If your CTR is extremely low, your ad copy, target audience, or the product must not be great.
So what I am trying to say is – if you have 10 products, test each of them, running multiple ads for multiple target audiences and keep optimizing unless you find your winning ad copy and a product.
Run Google Ads and Drive Traffic
Google ads are no different than Facebook ads. The only thing is it's more technical. And when it comes to ad copy, you need to optimize on a much deeper level.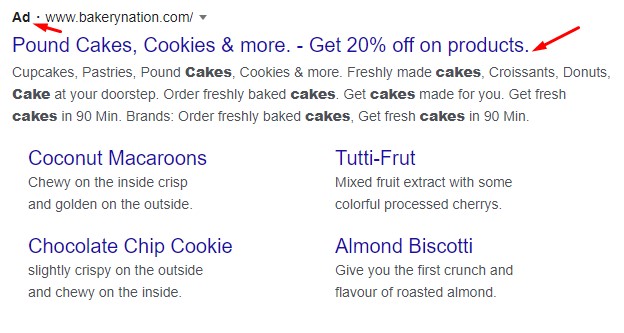 Let's look at some tips that will help you run Google Ads for your dropshipping business.
Bid On High-Value Items
When you just start off, one essential parameter for Google ads is the return on ad spend (ROAS). You might want more returns with less expenditure, right? The best way to do this is to target and bid on high-value items.
With items, I mean products, so try finding such keywords on Google keyword planner that have low CTC and more traffic. Along with this, don't forget to keep an eye on the brands that sell the same product.

Have a look at their store, see how they designed it, what have they done to optimize the product page, and try making an upgraded version of the already existing store in the same niche.
Leverage Seasonal Keywords to Perform Better
If your dropshipping business is in a seasonal niche, this tip is for you – The user sentiment is driven by seasons. For example, if you have a clothing store, you might wanna sell sweaters in winters and cotton t-shirts in summer.
Selling raincoats to a place where it rains once a year is quite foolish. So keep an eye on such seasonal trends and target the right audience with high-value items.
Find these seasonal keywords with large traffic and less CTC, use these in your ad copy as well as in the tags of your landing page and increase your sales.
Run Ads on Discount Deals, Sales, etc
Running ads on discount deals, sales, or offers you create on your store could prove to be a winner. Here it's not about a winning product, it's about the winning offer.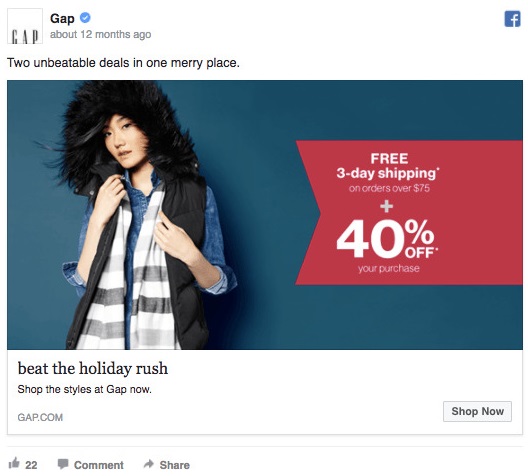 Think of this, if you have an offer giving a product at 40% off, which no one else is giving, why would people hesitate in buying from you?
They will rush to your store to buy it, even if you get half the margin you might get without the offer.
Search Engine Optimization for Your Dropshipping Business
If you wanna rank on Google and get traffic organically for your store, SEO is the way for it. Search engine optimization takes time to give your traffic. When done right, it also increases the visitors to your site gradually.
So let's look at a few tips that'll help you with your SEO.
Start SEO with Keyword Research
Keywords research is quite an easy thing you can start off with. But, which keywords to target. Experts say, "target such keywords that have more traffic and less competition."
Let's take my favorite example of a clothing niche dropshipping store. Just assume, you wanna sell men's sweaters to your target audience. So you might wanna look up the term sweater for men and terms related to sweaters on any keyword research tool. Once you do so, look at the search volume and keyword difficulty of it.
Let me show you how it's done.
Start with typing the word you have in mind.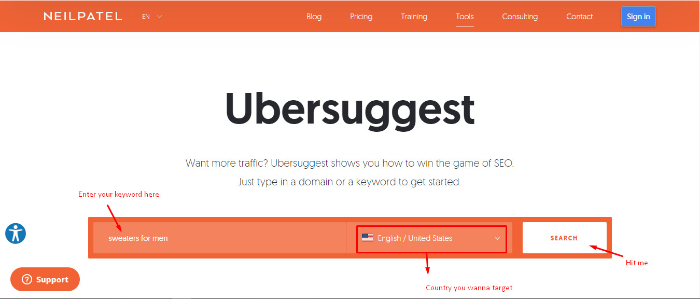 Now when you hit that "Search" button, you will see a list of keywords relevant to the "sweaters for men."

You wanna look at a keyword with moderate traffic, high CPC (cost per click), and low SEO Difficulty (SD).
So, the term sweater for men online is a good one to start with.

There you go, you have your keyword.
Competitor Research
Keeping an eye on your competitors, their products, and optimization activities is essential. You can do this just by typing your keyword on platforms like Moz, Semrush, or Ubersuggest.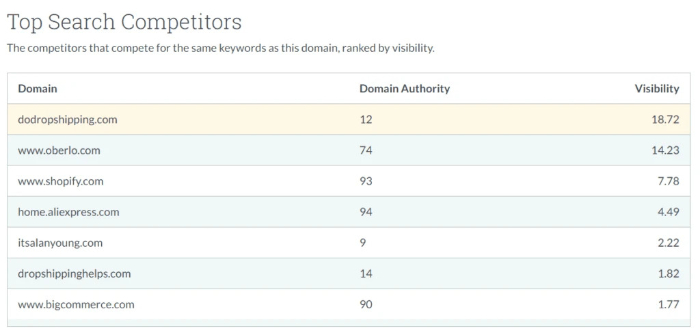 In case your competitors are big brands like Shopify, Alibaba etc, you might wanna stay away from those keywords for the time being; when you have good domain authority, you can optimize around those keywords as well.
By the way, if you have a budget for a pro tool, I'd reckon on Semrush as its database is awesome.
Your Site Should Load Fast
Let's say you visit a site and it's taking ages to load. Would you wait more than 10 seconds for the site to load? I don't think you will. Just like that, your customers won't either. So having a good site loading speed is of immense importance. Slow loading sites will often have high bounce rates and less sales.
Ideally, your site should load in 3 to 4 seconds.
Here are some tips to optimize your site speed:
Use AMP (Accelerated mobile pages) as that decreases the page loading time
Compress images and combine CSS & Javascripts
Use an SEO friendly and mobile responsive theme
Website Architecture
When it comes to website design, you wanna make sure your customers don't struggle to navigate and find the products they want.
If the user is switching between pages like crazy, it means they're not getting the product they want. This will make them exit the site and never visit the store again.
Use good and clear menus with submenus & categories inside them to help users navigate your store easily.
Put a search bar on every page so that a user can put in the product name or niche to have a look at the results that pop up.
Here's an example of a store that you can navigate smoothly: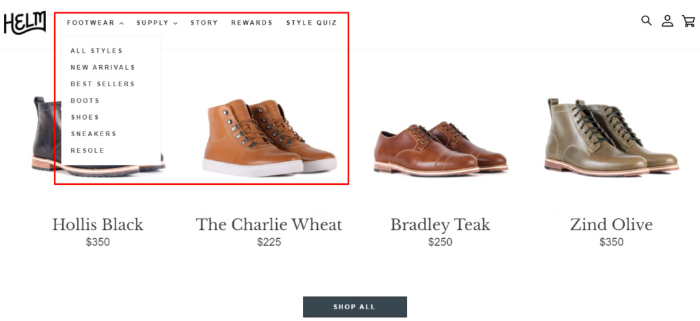 On-Page SEO Techniques
On-page SEO is mainly the optimization of user experience on-site. So let's look at what you can do to make your users experience memorable to them:
Make sure your keywords are in the title, sub-headings, Meta descriptions, Images, Alt tags, and URLs
Product description should be at least be 1000 words with keywords
Provide shipping information, taxes, terms, and conditions to your product page
Keep your images of high-quality throughout the store
Other SEO Techniques
Create a blog page and write content on your products to help in SEO
Make high-quality backlinks and build domain authority for your brand
SEO is one of the cheapest and best ways to get quality and hungry traffic for your store. I did SEO right from the beginning and do it now as well because it gives me traffic that converts.
Future Plans for Scaling and Expansion
Let's make a promise here. Once you start making good money from Dropshipping, you have to come here again to read this part because I want you to make more money.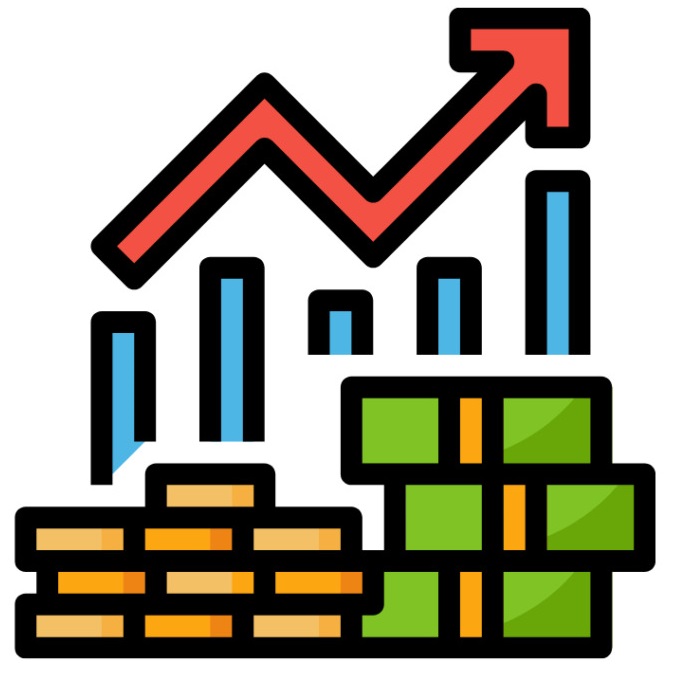 Now you must be wondering – why do I want that? What's the catch, right? Well, if you make money, you're gonna tell 10 other people about Conversionskitchen.
So basically, my business is growing with you. If you make more money, so do I and it's a win-win, nothing wrong about it. I'm your teacher and I would love to see you kick some ass.
So after you have everything in place and at least a year of consistent income from your store, you can plan on scaling the store and expanding your business.
Here are a few things you might wanna consider when you scale your dropshipping business.
Ensure that Your Suppliers Can Also Scale with You
When you wanna expand, see if your supplier has the potential to deliver more products with efficient shipping time and management.
Beginners often forget this parameter of business and assume their supplier has thousands of products in their inventory.
It might not be the case. If your supplier falls short of products, you might fall into grave danger until you find some other high-quality suppliers.
"If you want to lift yourself up, lift up someone else." – Booker T. Washington
Make Sure PayPal is Your Friend and Not An Enemy
Just like me, most dropshippers use PayPal as a means of receiving their payments. Now when you try expanding, you start marketing your product more, this leads to a spike in your expenditure and profits. Imagine spending 100 dollars in marketing in the month of June, and it suddenly goes up to $6000.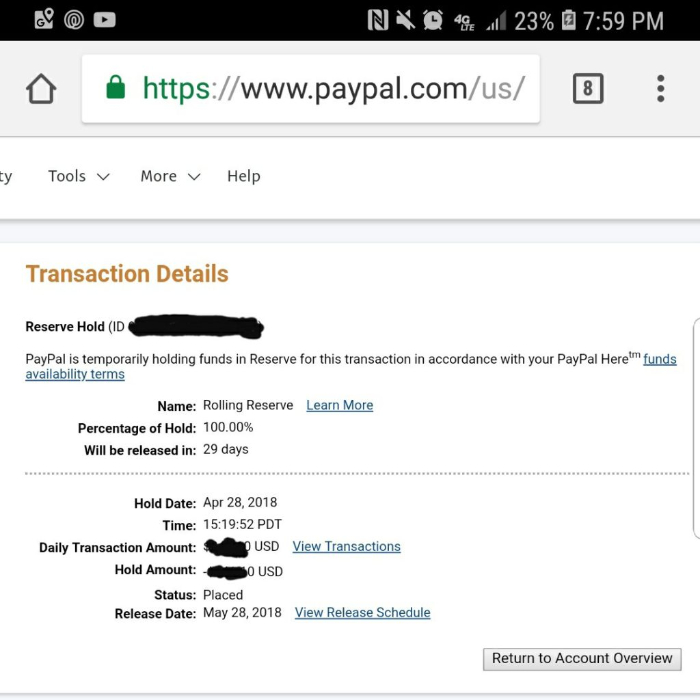 PayPal will most probably block your account, seeing this spike in transactions, and freeze your account until you show them the documents required. PayPal does it to protect you from any kind of fraud.
The best solution for this problem is to inform your bank and PayPal that the turnover will increase, and you will be spending and earning more as you're scaling the business. Ask if there are any documents that they might want before scaling.
Time to Take Your Ads to Another Level
If you're one of those who rely on ads for getting traffic, this part will give you great profits with less expenditure.
To get your revenue through the roofs, there are two things you can do while running Facebook ads. Let's see each of them one by one.
Start Running Retargeting Ads
When you have built a proper audience for your dropshipping business, the best way to get recurring sales is by retargeting the same set of people via Facebook Ads. There are 3 main benefits of retargeting:
If you target customers who've had a positive experience with your store earlier, they're more likely to convert rather than that user who just landed on your store for the first time
Retargeting creates a memory for your brand and that brings awareness
ROI increases and we get the money left on the table
Dropshipping Success Stories
Now that you're clear with how to start a dropshipping business and take it to new heights in 2021, here's some motivation for you. I came across these great personalities making millions with dropshipping. Like all of us, these people also hustled, worked hard for years, and are now the kings and queens of dropshipping.
Irwin Dominguez – A Million Dollar Dropshipper in a Month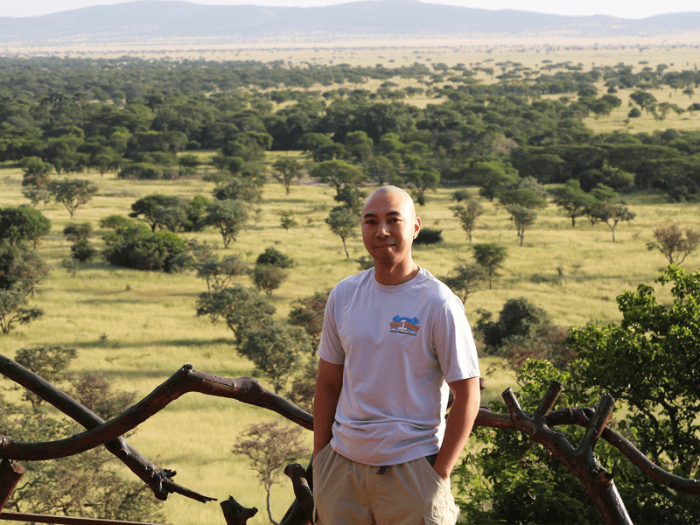 Irwin here is one extraordinary dropshipper; he made $1,000,000 in profit in just 8 months. Quite extraordinary, right? So what did he do right that led him to where he is today?
Nothing extraordinary, it was just sticking to the basics and scaling right away. He learned how to start a dropshipping business from Google, opened a Shopify store, and used Oberlo to find the right product and supplier.
The first sale Irwin made was from Facebook Ads. Now he uses Facebook Ads as the primary source of getting his traffic and converting them into sales.
Kate – The Queen Who Makes $32,000+ Every Month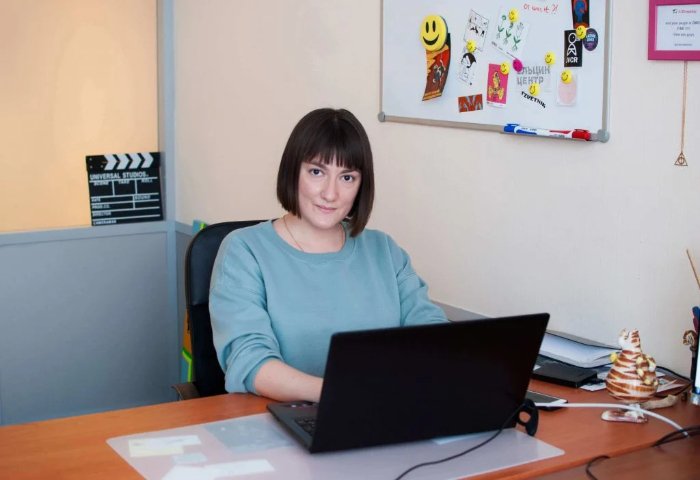 Kate doesn't earn millions but the strategy and ideation behind her dropshipping store is quite amazing.
She has a store based on Anime and sells print-on-demand products with famous figures. She has a huge advantage of never-ending designs and choices she could offer to her customers.
In an interview, she said that even 100s of products in her store were not enough for her customers, they wanted more. She said the key to success for her was coming up with new designs and products daily for a very long time.
Kate, like Irwin, relies on Facebook Ads for her customers. She also has an Instagram page that's quite active and actually helping her create a brand for her store.
Is Dropshipping Worth Trying in 2021?
If you think you're too old to start a dropshipping business, hear this out: KFC was founded in the year 1952 by Harland David Sanders at 65. Look at the brand now, isn't it one of the most popular ones for fried chicken?
Starting a dropshipping business is never too late. You just need the right mindset and the willingness to be successful in life.
Yeah, you will have to work hard, devote your free time you get after your job, and do it as a side hustle for some time. You might even lose friends and upset some family members as well. But, the will of being successful is something that would drive you through the journey.
Always remember, people don't get successful because they don't see results. In the beginning, positive results are happening but are too small to be seen. So keep working and the universe will give the return for your efforts, nothing goes waste.
So this was my journey, hope you enjoyed it 🙂