Although thinking about how to start an eCommerce business seems like a confusing idea, it doesn't have to be so.
According to Statista's analysis, eCommerce Business stores have been on the rise since 2014. Along with a rise in the no. of eCommerce business stores, we also see a huge increase in revenue as well.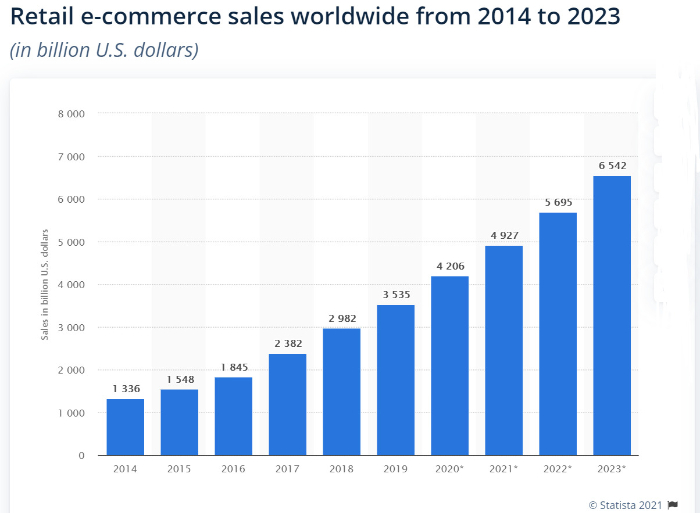 eCommerce is one of the fastest-growing industries and anyone like you can make sustained profits. But, the condition is – you need the right knowledge and training. Today, I'm gonna give both. So, follow me amigos!
How Much Does It Cost to Start An eCommerce Business?
Okay, open your notebooks or create an Excel sheet. It's high time to assess the total amount of startup money you need. And yes, don't forget the calculator!
eCommerce Website Builders & Online Tools
Depending on your business needs, the costs vary across the spectrum. A basic eCommerce store will be priced around the range of $25 and go all the way up to $299 per month.
But listen, you don't need all these heavily priced plans for your new store. Start small but start strategically as this would allow you to scale smartly.
Here are some approximate monthly costs of popular eCommerce website builder:
WordPress: $25 to $45
Shopify: $29 to $299
Wix: $17 to $35
Now you may ask me if there's a free way out. Well, there's one, but you will need to build your eCommerce website from scratch and then pay for hosting. But, coding and designing a website from scratch takes a huge amount of time and effort. And… As you know, time is money. So you can skip that free way 🙂
Licensing And Permits to Start an eCommerce Business
This depends on your state laws and fees. Some states may have prices as low as $30 and some might have ultra-high fees for licensing and getting permits.
Although most beginners don't face a lot of fees, it doesn't mean you should neglect it from your budget. I would recommend you keeping $100 aside for licensing and permits.
Never let these fees discourage you as these costs are always an initial investment.
Domain Name And Hosting
When you build your eCommerce website using the popular eCommerce website builders, you get the domain name and hosting included in the package for your first year. However, in the subsequent years, you have to pay for the hosting and domain registration separately.
The costs can range anywhere between $25 to $100, depending upon the type of features you require.
Beginners don't need to worry about the higher costs on the spectrum because the features with the basic plans are very useful and are priced reasonably.
Payment And Processing
Most eCommerce payment processors like Stripe, PayPal, and others will charge you with a transaction fee. Although I hate it too, still the simple logic here is that they need the fees to run their businesses, so it makes sense.
With that being said, a general estimate would be around 2-3% of the total transaction.
Here's some info from Shopify: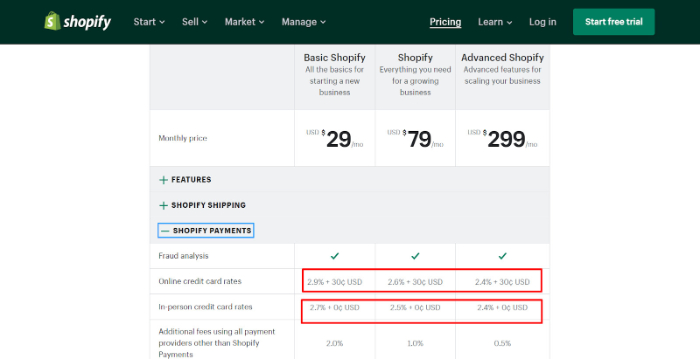 Marketing And Outreach
If you're planning to be the all-in-one person (like me), your marketing and outreach will be absolutely free. But, I keep reminding myself that time is money, so you should outsource the graphics and editing.
If I had to put a number on how much you should ideally invest in marketing and advertising your eCommerce store, it would be 5-8% of your annual revenue. For example, if I make $10,000 sales per year, I should invest around $500 to market and advertise my store.
Your expenditure depends on what you're financially comfortable with. So, don't find yourself compelled to invest several grands into your eCommerce business. If you don't have adequate funds, you can always take the route of Dropshipping and experiment your way through while building funds.
To learn more about how you can get started with Dropshipping, click here.
Now that we have a general idea about the costs related to starting your eCommerce store, let's see how can we start an eCommerce store.
Let's follow a smart sequence.
Let's pick an eCommerce business model and do some product research.
Once we end up doing the first step, we will craft a proper business plan, taking care of the permits and all that legal stuff.
Don't get overwhelmed by the steps. I've made the article as detailed as possible so that you don't get confused.
Step 1: Research On Various eCommerce Business Models
When it comes to eCommerce, there is a huge range of business models. However, it should not stop you from trying those. Let's see the most popular and profitable business models applied in eCommerce:
Service-based eCommerce
Services basically involve selling your time or expertise rather than a physical product. And what qualifies for a service? Here's a quick list:
Professional services like SEO, copywriting, designing logos, accounting, photography, videography, animation, and any hobby.
Art, dance, music, yoga, online workout, and other creative classes
Training, consulting, workshops and seminars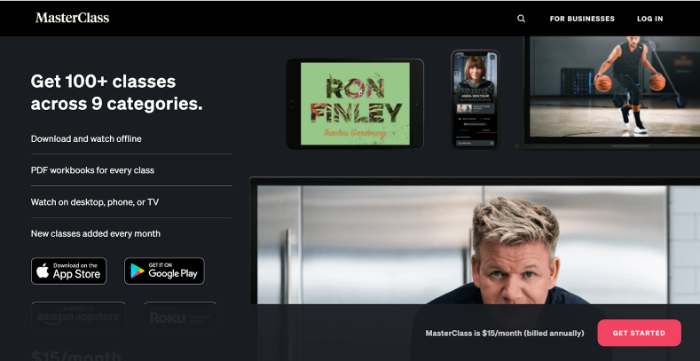 There are a lot of businesses that run on this model. For example, we have Coursera, MasterClass, EssayShark, MasterPaper, and much more. (Note that this article is not affiliated with any of these websites. These examples are for illustration purposes only.)
Digital Product Sales
Whether it's a music playlist, ebook sales, or anything that's non-tangible and you want it, can be classified as a digital product.
What I like the most about these digital products is the quantity multiplication. Yes, you don't have to invest a lot for product creation. A couple of clicks can make you a million copies in no time.
Easy isn't it? Well, think again. Selling these digital products requires extensive effort because people are not looking for the products you're selling. You have to first make them aware of your product and yourself, only then you can get a sale.
Physical Products
Physical products form a considerable portion of goods sold through eCommerce websites. You can sell anything from subscription boxes to pretty pendants fairly easily. Besides, if you're a homemaker and are looking to earn the extra cash to support your family's finances, you can also set up a cooking or baking business and take orders from customers online in your nearby location.
Along with this, you can also sell handmade goods, paintings, and custom gift boxes. The possibilities are endless!
Here's a store that sells bookmarks for a luxurious reading experience.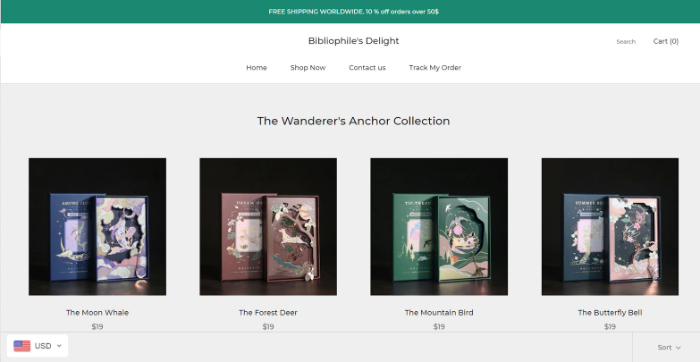 Here's a store that sells goodies and eatables!
Did you get all the business models? That's great if you did, let's just move to the next section.
Step 2: Research for Winning Niches On eCommerce
Choosing a product that you want to sell isn't as difficult as it seems. First, lookout for trends and see what's selling the most. But hey, don't forget to strike the right balance between passion and profit.
For example, if I l run an online toy store for kids, I will expect to make sales every day or every week at least.
However, if I sell exclusive paintings in my store, I can't expect people to make purchases every day. I can generate decent monthly revenue, selling 2-3 expensive and exotic paintings. This is the key concept that you should keep in mind before choosing your product.
Let's see other smart factors that would drive your decision-making.
Solve People's Problems
No, I am not asking you to start the next NGO. You can release products or services that solve people's problems. For example, let' say I would like to eat healthy food, but my job doesn't provide me with enough time to make my own lunches.
So what I can do is purchase a monthly subscription from a service that offers healthy meal boxes. And tada! My problem is solved.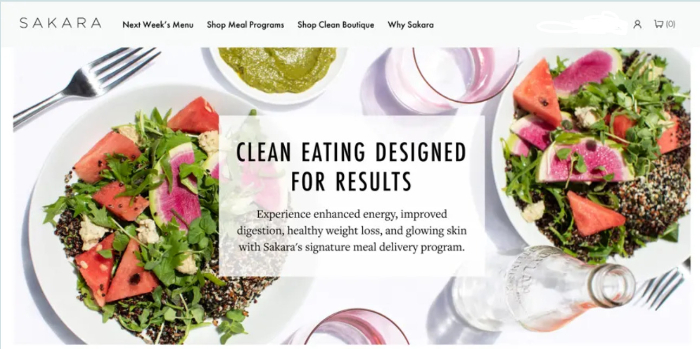 As long as there are problems or requirements that people need to solve or fulfill, any business can succeed, provided it knows how to solve the problem.
Find Product Ideas in Reviews
During the pandemic, masks were easily customizable and came in all shapes and sizes, except for one. Can you guess the exception?
The reviews section on Amazon was filled with comments about how these masks are not at all useful for those who maintain long beards.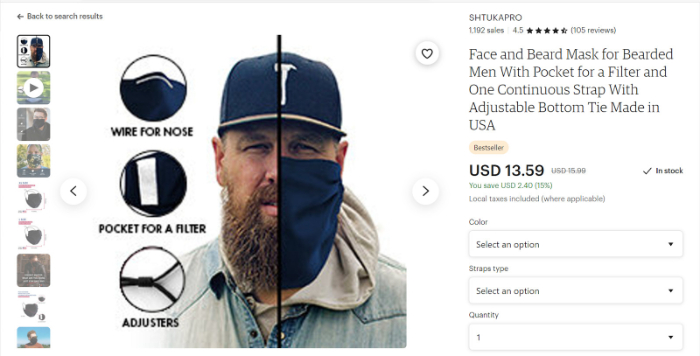 This is how a smart seller leveraged the opportunity and provided people right with what they needed.
The key takeaway is that you should keep an eye on comments and reviews to find products that people need.
Although the products can be restricted to a particular niche, they would sell a lot because people are looking for something like that.
Best Sellers
In any niche, best-selling items allow you to see what exactly customers demand. It's easy to locate the best-selling items on most platforms. For example, Amazon has the 'Best Sellers Rank' and allows you to see which product performs best.

eBay has a similar feature called 'Trending,' and in Etsy, it's called Most wanted or Best Selling Item.
Test it Before You Mess it
In the business world, the simple way to test a product is by making a prototype. Now, what is a prototype? Basically, it's a simple water-down version of your original product and idea.
For example, if you already have an idea but don't want to invest heavily. You can test whether your idea will succeed by building a small landing page to promote your potential product and run a few ads or do some marketing to drive traffic to it.
This will give you a general idea about how your market will respond to your product.
Step 3: Set up your eCommerce Business
This has to be the most exciting part of starting an eCommerce business. It brings in a range of decisions to make, like choosing what your store should look like, what should you name it, how should you connect with your audience, and much more.
Have A Great Brand Name
There are 2 key points that you should consider for setting a name for your business:
The name should reflect what you're trying to sell.
It should either make sense to the audience or it should be unique and memorable.
Don't get overfocused on creating a memorable name. Yes, a few brand names sound like honey to the ears but that shouldn't stop you from naming your store on something you admire.
Also, note that your website name is very likely to be your domain name. So, before you finalize a name, check the availability of your domain here.

Add in a name that you like in the form of a website. For example www.realisticbooks.com

And it's available!
You can do the same with the name of your choice.
Create A Logo
Your business logo makes people feel connected with your brand. You don't really need to spend a lot on getting your logo done professionally. Most market prices range from $15 to $50, depending on the level of expertise you require.
Sometimes, the prices may go higher depending on which agency or graphic designer you hire.
I personally prefer Looka because I don't have to go through the hassle of designing the entire logo and can easily mix & match elements to make my logo.
Looka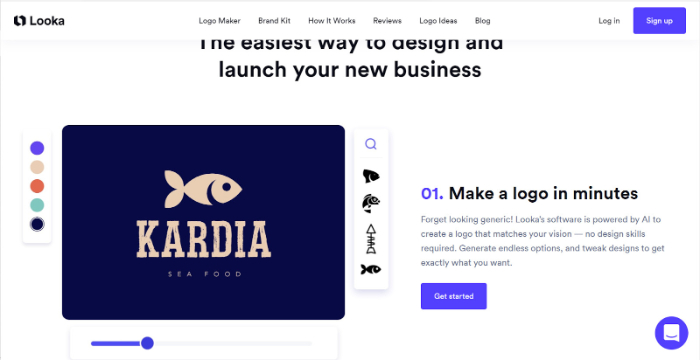 You can also check out:
NameCheap's Logo Maker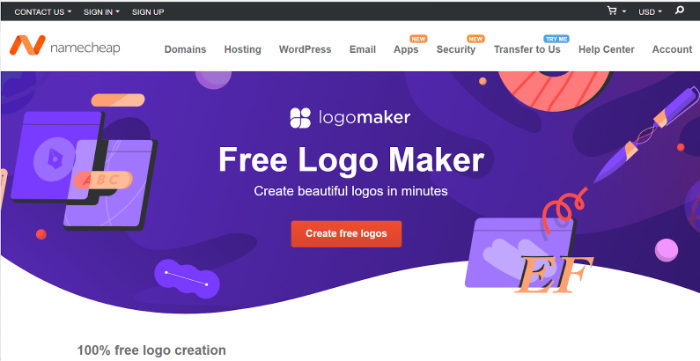 Hatchful by Shopify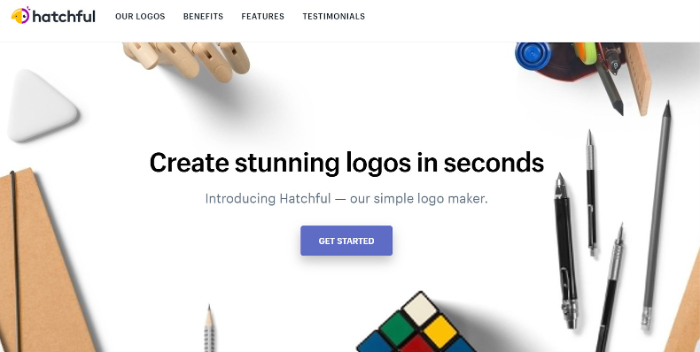 Design Your Store
With so many eCommerce website builders, you can pick the one that suits your needs. Here's a guide to picking which eCommerce website builder will be the best for you, depending upon your business needs. (Link the How to Build eCommerce Websites – Best Methods in 2021 article here)
Prepare Promotional Content
Before you launch, try to build a social media presence that keeps your followers updated with your business's purpose.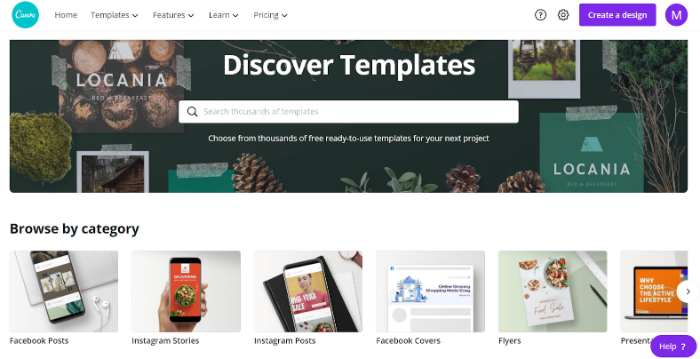 You can use picture editors like Canva, Adobe Spark, Pablo, Snappa, and many more. Visuals attract potential customers. In that case, make sure to use them wisely and beautifully.
Step 4: Apply for An EIN, Business Permit & Licenses
Employer Identification Number (EIN)
When you have completed the above steps, you can register for an Employer Identification Number (EIN). Every online business doesn't need to have one. The key benefit of an EIN is that it allows you to separate your personal and professional finances.
You can apply for an EIN for free with the IRS using online, mail, fax, or phone methods. Using the online method, you can easily receive the nine-digit EIN right from the comfort of your home.
Obtaining Business Permits and License
Now that you have a business permit, you can easily apply for business permits and licenses. The purpose behind obtaining permits and licenses is that you can operate legally within your state.
Unless you're filing a DBA to operate under a specific business name legally, you don't actually need to register your business with the state to establish your eCommerce business as a sole proprietorship or general partnership.
However, for the other business entity types, you will need to register with your state and receive a general operating license.
Generally, most eCommerce businesses are home-based, they don't require as many business licenses and permits as brick-and-mortar stores. To always be on the safer side, you should determine the specific requirements in your area. It's pretty easy to find them using your state or local government website. The Internet saves you well from such troubles these days.
Even I had a similar question as yours when it comes to "Why on Earth should I register a business that I run in my own home?"
More than a few governments are corrupt across the globe. Anything might happen, so why give anyone a chance to say something?
So here's a small list of business licenses and permits that you may need depending upon your business:
Trade and professional licenses for certain businesses
Sales tax permits
Signage permits
Health, safety, and environmental permits
Step 5: Preparing to Launch Your eCommerce Business
Yay! Now you've done around 75% percent of the work, just a little push is required to launch your business.
Shipping
Your Shipping Rates
Are you going to make your customers carry the full shipping cost or will you offer free or flat-rate shipping to reduce the cost? How will you get orders to your local and international customers?
If I were you, I would increase the price and give the free shipping.
Product Weights
Please measure and update the weight of each product you sell. This saves you from the last-minute hassle of weighing everything. You may not know this but if you don't pay attention to this, you may end up paying an extra $$.
Choose Your Preferred Packaging
You can order free packaging from some carriers such as USPS, UPS, or DHL or invest in branded packaging. In short, do what suits your business.
Note: Communicating shipping speeds (as in "Arrives at your doorstep in 4 days) at checkout to your customers can help provide clarity to your clients and does wonders to increase consumer confidence.
Deal with Returns
You might offer the best, sweetest, and the loveliest product in this big wide world. Somehow, an odd customer will pop up out of nowhere, asking for a return. This isn't to discredit the most valid reasons like damaged products, wrong shipments, and more!
So, you should be prepared to deal with returns.
You can do this by:
Offering exact cost pricing for returns
FREE returns
Flat-rate returns
We love receiving free returns as customers but things go south when it comes to giving free returns as business owners. Well, did I say that you should offer free returns just because people like so?
Perhaps no. If you repeatedly offer free returns, some (a few like these always exist) buyers may try to use this incentive for unfair practices and return goods that are perfectly okay. So, always create policies that are fair to both the buyers aswell as you.
Install An Analytics Tool
Analytics are not just for highly complex operations. You should make data your best friend as that would help you draw up a nice future plan.
Most eCommerce stores will have their own set of analytics reporting built-in so that you can easily track a lot of key metrics.
Step 6: Post Launch Process You Should Engage In
You've done all the hard work in the world now. Don't slack off at this crucial moment. Just a little consistency and a little bit of advertising and brand engagement can go a long way.
Promote Your Store on Social Media Platforms
Let's dive straight into my top 3 tips that can put your brand out in the spotlight for sales:
Tip 1: Consider offering a discount code to attract people to check your store out and make purchases.
Tip 2: Put effort into the content that you post on your social media platforms. Don't spam your social media followers with repetitive and low-quality promotional content.
Tip 3: Every action you take online has the potential to drive traffic back to your store. Don't forget to add your store URL to your personal online profiles, such as your Instagram stories, Twitter bio, or Facebook status update.
Wanna Know How to Start an eCommerce Business? – Have These things in Mind!
A high bounce rate (visitors that come to your site and leave without buying) may mean that your page took too long to load, or maybe you had targeted the wrong audience.
Visitors don't usually make purchases when they just don't trust your store enough to buy or if you have targeted the wrong audience.
Abandoned carts during checkout mean you probably need to reconsider your shipping.
A Few More Things You Can Do to Enhance Your Sales & Get More Customers:
Write and submit a guest post. Share your expertise about a topic and use the author bio box to describe & link your business.
Ask for product reviews using sites like TrustPilot or by adding a plugin in your own eCommerce store.
Give your product to a blogger or influencers for free so that they can give a shoutout in return.
Winning Tips on How to Start an eCommerce Business Successfully
So, let's play a simple game. I'll show you a few pictures related to my top tips, you guess the answer, and then I'll reveal whether your answer is right.
After all, why should starting an eCommerce business be boring and scary? We can always make the things we do a little bit more fun by adding our own sparkle!
Tip 1: Hint – We Can Help You Create Brand Name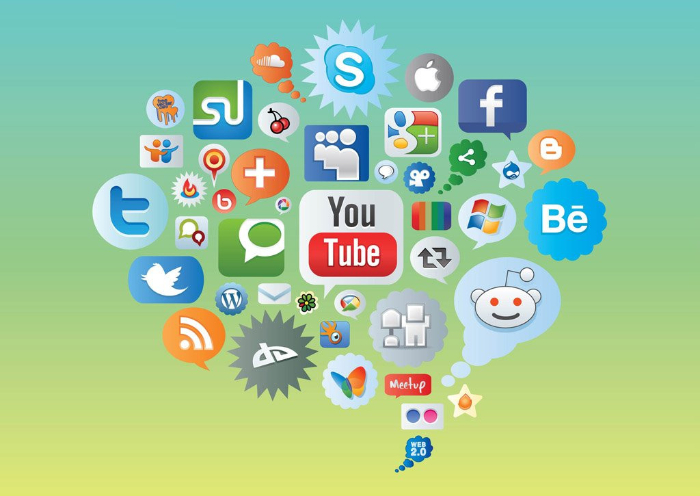 Yes, you're right! It's social media engagement.
Millennials and Gen Z-ers spend most of their time tweeting, texting, and tagging. In all this social activity, you can easily slide in promotional content about your store and engage your followers. Also, make sure you increase your activity right before a festival because that is when people buy gifts for their friends and loved ones.
Tip 2: Hint – I Am the Foundation of Any Online Business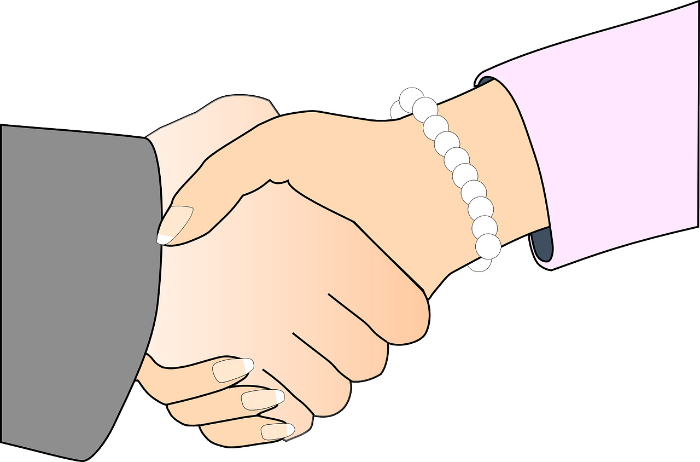 The answer is – Building Trust.
You need to build trust between your brand and your customers to retain your business over time. People usually trust their intuition while buying something, so if your brand can generate trust (in terms of a credible-looking website and a good social presence), your sales will grow well.
Final Tip: Here is Your Best Business Friend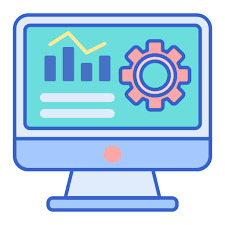 Yes! It's data and analysis.
Just like in any business, you must back your eCommerce store with facts and data. You need to know your customers, their demographics, what things they are buying from your store, and what things they are not. This will not only enhance your business skills but also make you capable of making decisions when the time calls for it.
Ready to Start an eCommerce Business?
There's a lot of planning, insight, and execution for starting your own eCommerce store.
And that is the fun part about it! As long as you follow these tips, tricks, and insider insights listed, you can definitely set up your perfect eCommerce store.
Your next big success might be just an eCommerce store away. Your eCommerce store can only become successful if you decide to make it a successful one. So, push your doubts aside, follow the steps and let's get started!