Impressive product constructors are already all over the web. When you visit the Nike website, you instantly see the title "Customize" right in the header next to the customary categories. A product configurator takes absolutely the same place on Ray-Ban's online shop. The main page of Tesla immediately offers to make a custom order too.
Experts anticipate all kinds of product personalization to be amongst the hottest trends in online retail in the nearest future. Importantly, this regards businesses of any scale and scope. Product customization grants a classic win-win situation for both companies and consumers as everybody obtains the desired outcomes.
In this article, we'll name the major advantages of product builders for brands. Then we'll take a look at some strong examples of customizers in eCommerce.
One Note Before Adding a Product Builder
Customizers definitely enrich the shopping experience and ensure a high tier of personalization. Nevertheless, the core aspect in terms of customer satisfaction is the speed and the overall performance of the online shop. People tend to leave websites that make them wait too long. And by saying "too long", we mean 1-3 seconds! So, it's vital to examine these indicators and fix problems before embedding a customizer into a website.
In any case, when considering adding such advanced technology to the site, you may also think about building a PWA for your eCommerce site based on one of the headless commerce platforms. A progressive web app is somewhere between an ordinary site and a native mobile application. The best thing about PWAs is their incredible speed of site loading and processing operations. But these apps have far more advantages in comparison with regular versions of websites.
Pros of Product Customizers
One survey revealed striking outcomes: 49% of Americans are interested in purchasing customized goods. Furthermore, one-fifth of the respondents bought something customized during the year. And it seems that people will only get more involved in such a type of online shopping.
Thus, companies from completely different fields add the option for modifying commodities. Among them are producers of apparel, footwear, accessories, bags, furniture, baby strollers, electronics, and even cars.
Let's consider 7 aspects that make product customization so attractive for online businesses and users.
As individuality has been the hottest tendency so far, people are greedy for uniqueness. They are tired of the one-fits-all approach. They want to show off their creativity and refined style.

Product customization is an amazing tool to make extraordinary gifts for friends, relatives, and loved ones. This is a rare opportunity to create something really special.

Customizers have the potential to increase sales. Firstly, adding them extends the possibilities to offer shoppers precisely the things they are looking for. Secondly, a study by Deloitte showed that one-fifth of respondents are ready to pay 20% more for a made-to-measure item.

Due to their interactive nature, configurators are appealing and engaging for customers. The ability to create personalized products is an added value to a client. Plus, they can increase the overall time users spend on the site.

People are more likely to share their bespoke purchases on social media especially if those items were created by themselves! Steadily such interaction turns customers into brand ambassadors and certainly expands the online presence of the brand. Good news for marketers, right?

Data collected from product builders helps a brand to better understand the tastes of the target audience. This can be of great assistance to the product development teams as it allows making better predictions about the trends and upcoming changes on the market.

The option of product personalization is an advanced tool in terms of marketing. It allows brands to stand out in the accelerating competition.
Examples of Well-Done Product Customizers
To help you get a better understanding of what product builders can look like and which features they may have, we'd like to overview constructors from five completely different industries: footwear, car manufacturing, apparel, furniture, and jewelry.
1. Nike
The brand has a really outstanding configurator "Nike By You" which was introduced in 1999. Probably, this is the very first project in this direction; thus, it deservedly appears in almost every article dedicated to the given subject. The major achievements worth borrowing here are almost limitless possibilities for change, the speed of the customizer, and the quality of renders.
First of all, a huge number of shoe models are available for modification. Let's select one of them and take a look at the screenshot below. You can choose the colors for the 9 main elements of your future sneakers. Then, you may add a small personal text message onto the heel area. Finally, you can either buy the pair or share the image via Facebook or Twitter. Lightning-fast, detailed rendering and photos from every side make this customizer an impeccable example to follow.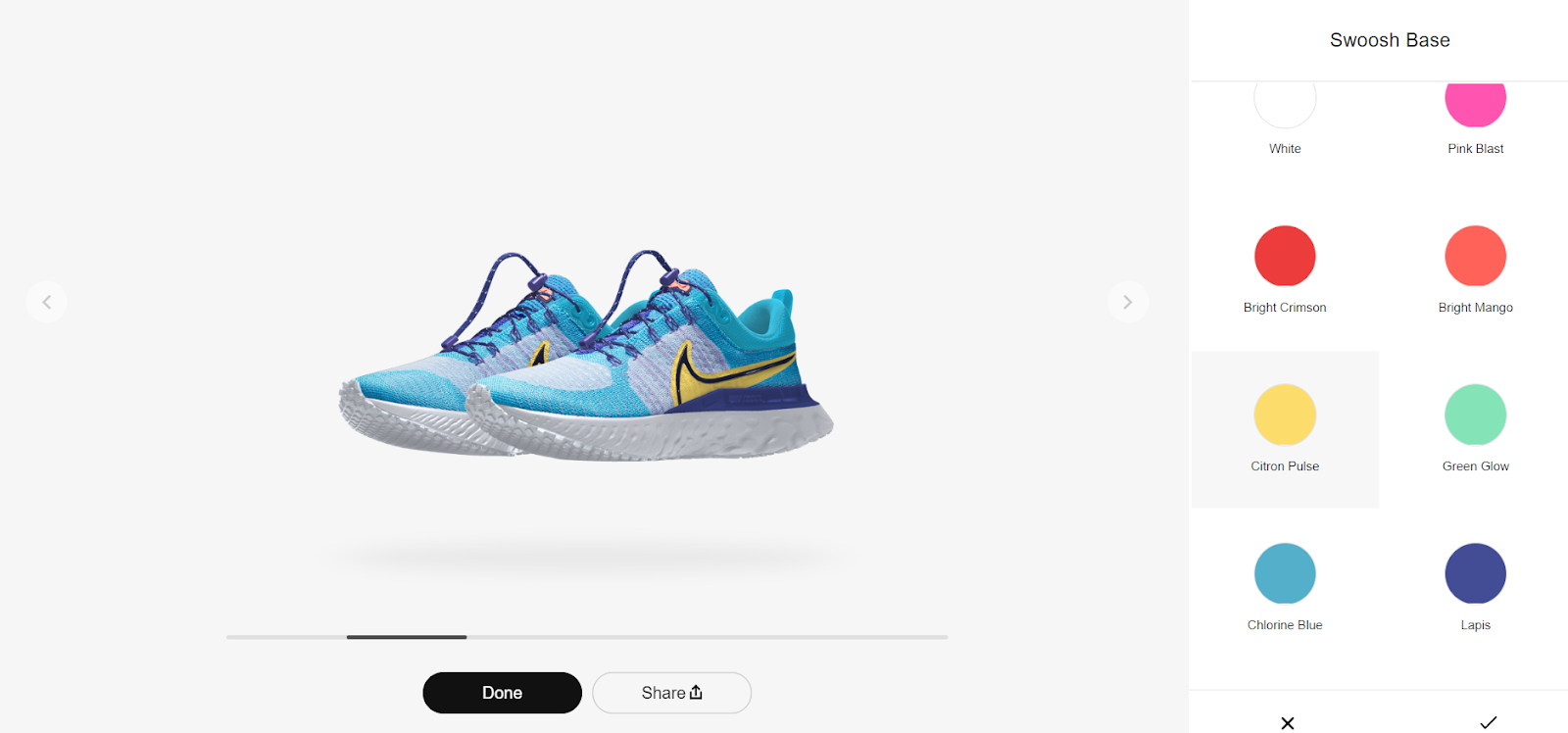 Screenshot taken on the official Nike website
2. Toyota
Currently, many car giants provide customers with a service that helps users to vividly imagine their future vehicles. Toyota named its one "Build Your Toyota". It suggests constructing every model according to one's requirements.
Let's look at the screenshot below. As we see, the process takes 5 steps. You can choose a car model, the engine type, the colors of the exterior and interior, packages, and additional accessories. Then you get a summary with the total price. Further actions can be the following: to request a quote, to download the summary, or to print it.
This product builder helps prospects explore the features and pricing of their desired car. And, most importantly, without the rush and pressure from a sales manager.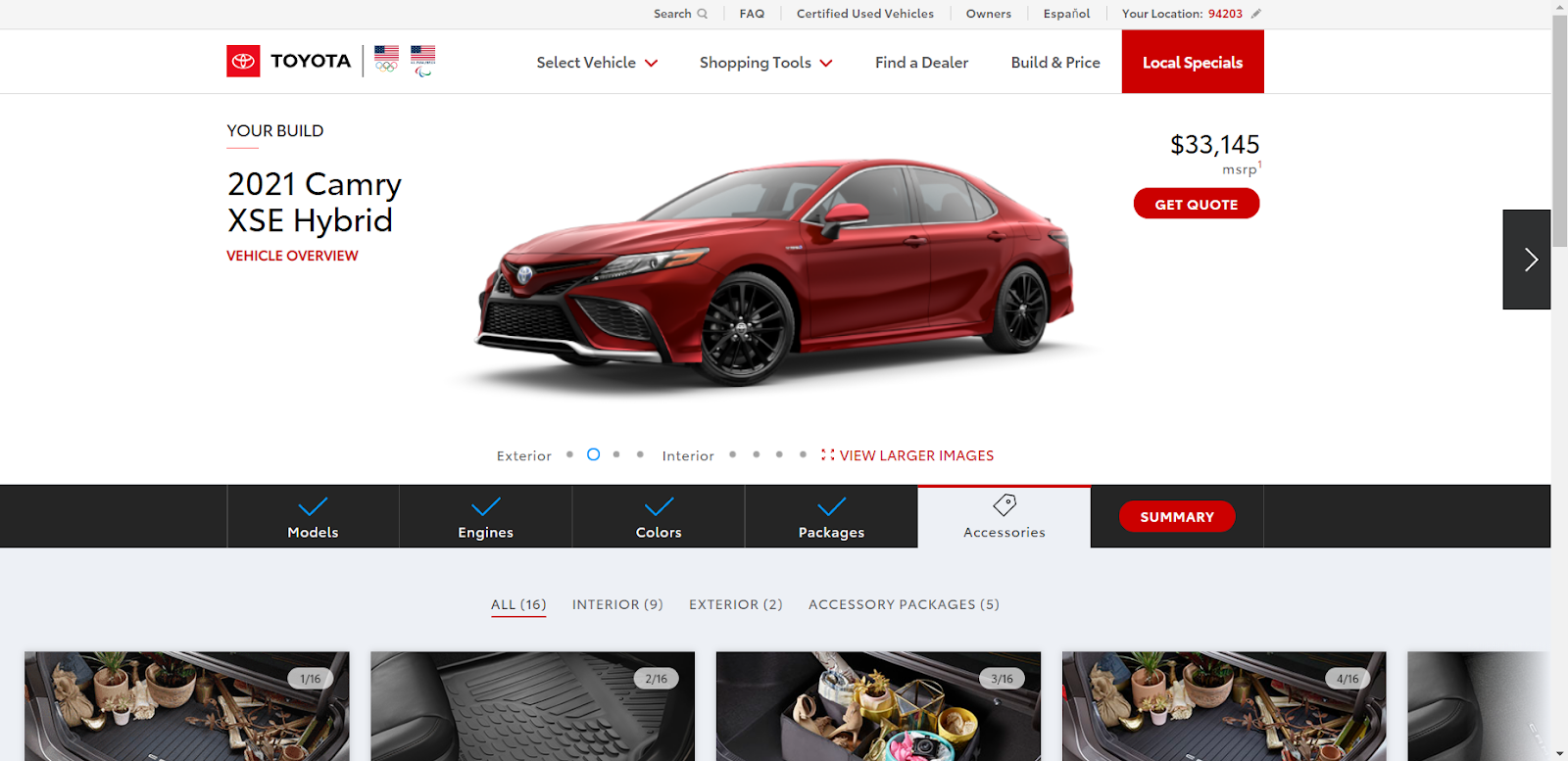 Screenshot taken on the official Toyota website
3. Lanieri
Men's clothes shops succeeded in making custom jackets, shirts, and trousers with the help of product builders. It even seems like configurators have been becoming a classic feature for such eCommerce players.
Italian brand Lanieri has built its entire concept on customization made by clients themselves. On the website, you can not only customize a jacket and trousers separately but also create a whole flawless suit.
Numerous elements are changeable: the style of the jacket and trousers, the number and color of buttons, pockets, shoulder style, lining, and many more. Every single option contains an explanation about the type of elements and the differences between them. Such prompts help to build a more formal, casual, sporting, or a bit retro suit. The last section allows users to review the changes and to return to a particular one if needed. Then you can purchase the item.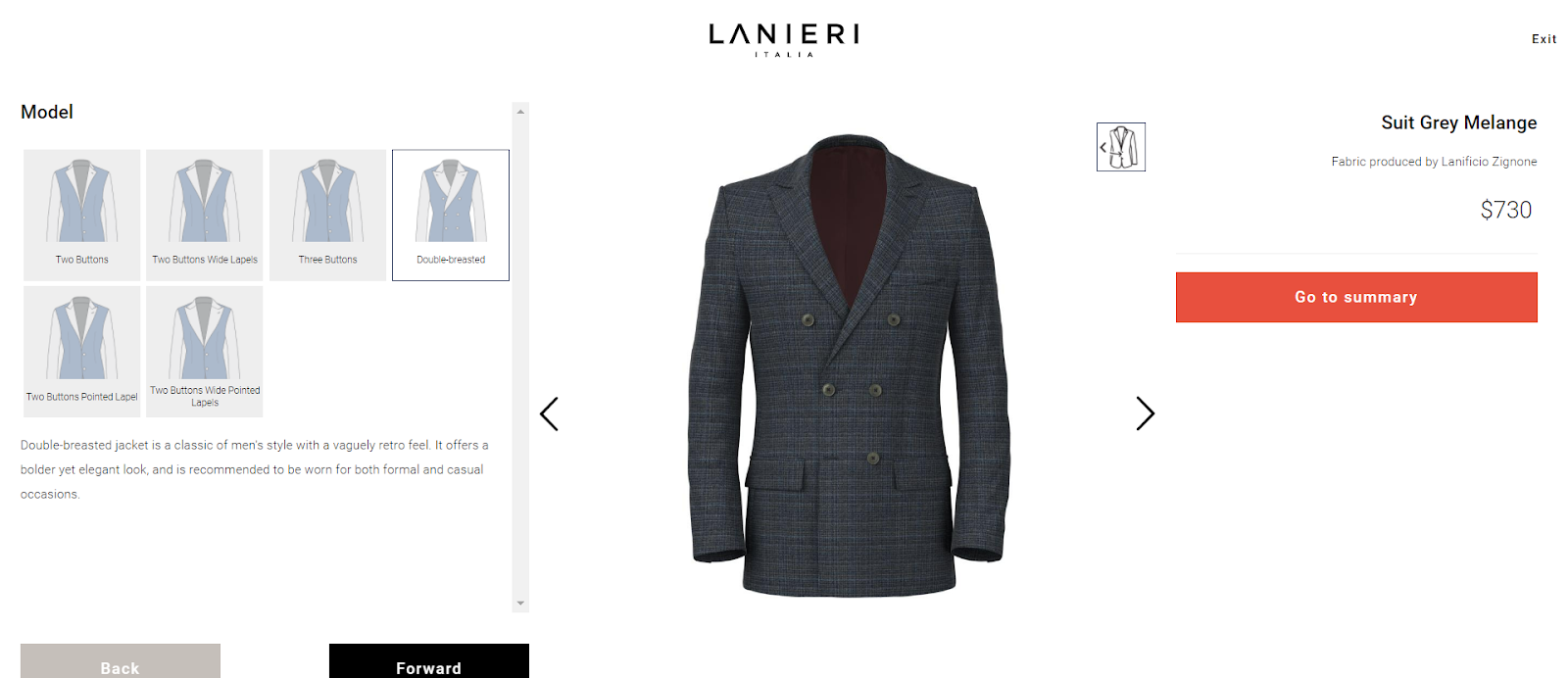 Screenshot taken on the official Lanieri website
4. Crate & Barrel
Frankly speaking, online customization in furniture stores is still not as popular as in the sector mentioned above. This is a bit weird as it's extremely handy to choose a new sofa with its type, color, and texture of fabric, modules, and materials while sitting on your old one. Thus, this is the chance for many brands to implement the tool and get ahead.
American furniture manufacturer Crate & Barrel focuses its product customization on the selection of fabric for sofas and chairs. The number of possible colors is astonishing; plus, all shades are divided into several groups.
Besides this, a user can filter the fabrics by such features as "Textured", "Velvet", "Linen Look", and "Stain Resistant". Below a visitor can read more about specific fabric properties and advantages.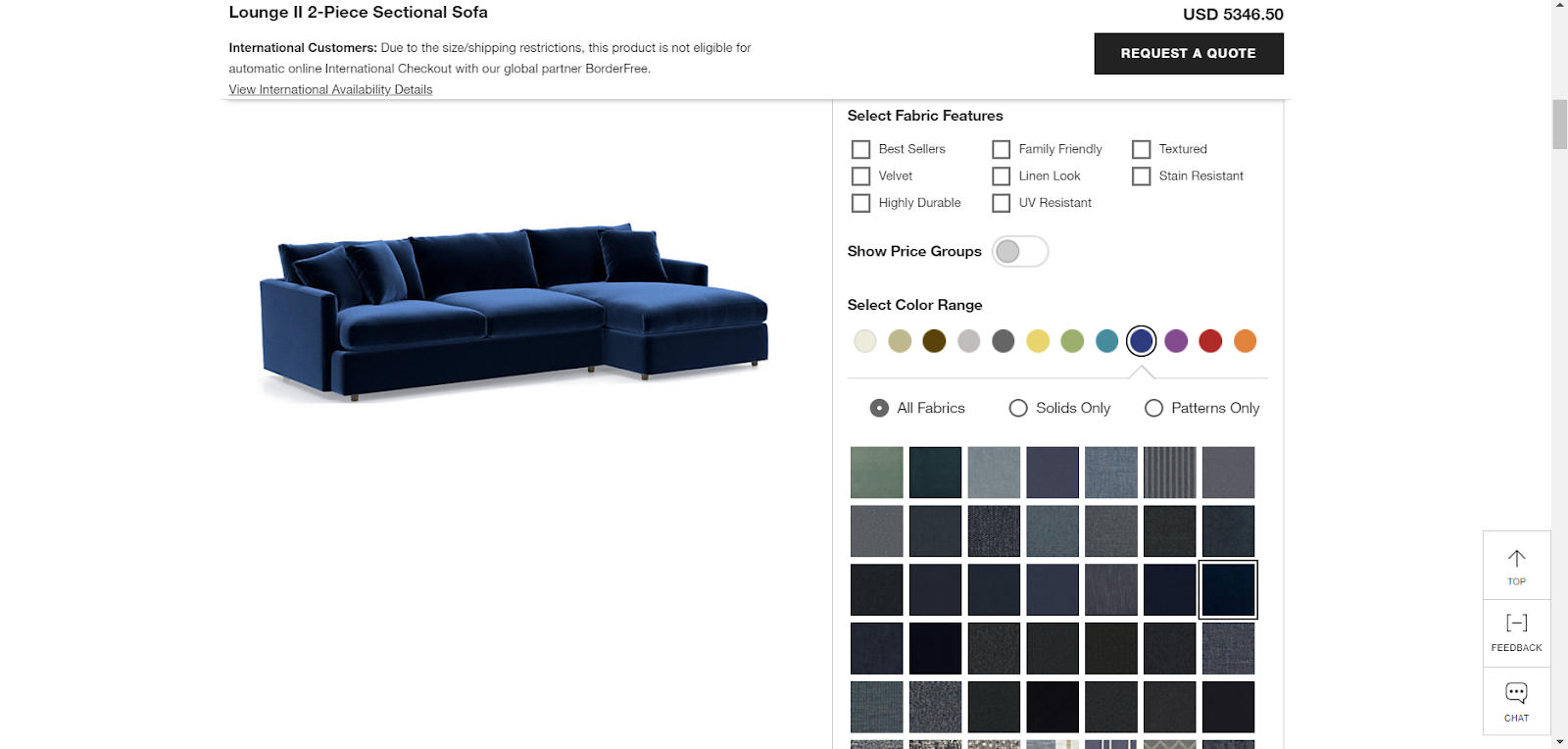 Screenshot taken on the official Crate & Barrel website
5. Allurez
This US-founded jewelry brand encourages customers to be as creative as possible. Take a look at the screenshot below. The section of the online shop called "Design Your Own Engagement Ring" invites you to select the style, model, color of metal and stones, and the shape of stones. To further inspire users, Allurez posts customers' photos on every product page.
To be honest, this product builder seems to be a bit overloaded with details and looks not so intuitive. We'd recommend redesigning it by cutting off excessive info, improving navigation, and highlighting core options. But anyway, this is a rare instance of genuine customization in online jewelry stores that is very convenient for people who know exactly what they want.
Screenshot taken on the official Allurez website
To Conclude
Product customization is a very useful tool for all businesses that want to set loser contact with their audience and improve conversions. Unsurprisingly, eCommerce keeps moving forward this way. In the coming years, we might see a substantial rise of configurators in online stores in all sectors mentioned in the article and many more (stationery, toys, home appliances). Therefore, we recommend you to develop a configurator as one more powerful personalization option. Together with customary personification strategies in social media, email marketing, and other directions, this step will bring better financial results.
At the same time, it's vital to maintain the best of the best performance of the website. Thus, the main step prior to implementing product customizers should be a total revision of the site. If your online shop performs not so well, the update in line with the latest technical standards will resolve the issue. Then your customers will be able to create unique pieces worth sharing and talking about!
About the Author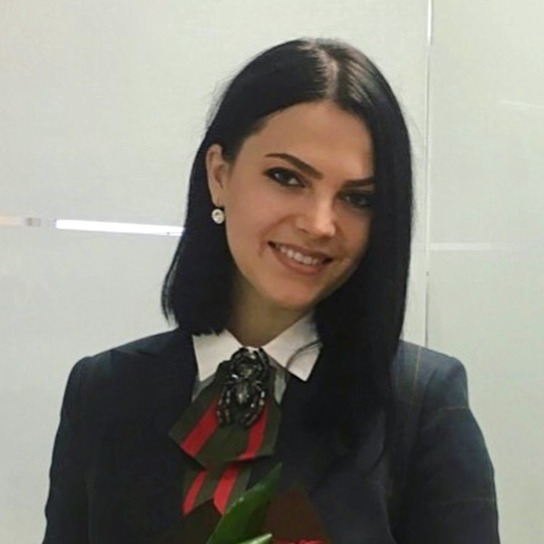 Kate Parish, Chief Marketing Officer at Onilab with 8+ years of experience in Digital Marketing and website promotion. Kate always strives to stay in pace with the ever-advancing online world, and the sphere of eCommerce PWA development. Her expertise includes in-depth knowledge of SEO, branding, PPC, SMM, and the field of online sales in general.