Is Dropified worth it? Well, it can be helpful in many ways for your dropshipping business. It's beginner-friendly, reliable, and packed with powerful tools to scale your eCommerce business.
It integrates with major eCommerce website builders like Shopify, Woocommerce, CommerceHQ, BigCommerce, and GrooveKart.
The Dropified app connects with suppliers such as Ebay and AliExpress where you can
import products to sell in your ecommerce store.

It allows you to import and show key information such as price, sizes, and product
description, and also the product images
You can connect with not only AliExpress and Ebay, but also many more marketplaces
such as Wish and Walmart to find products for your store.
Simply put, the app automates and simplifies ordering and shipping.
Dropified is a one stop that automates and simplifies ordering and shipping for your
store. So, let's have a look at it's features.
Features of Dropified Shopify App
Dropified Add-Ons Store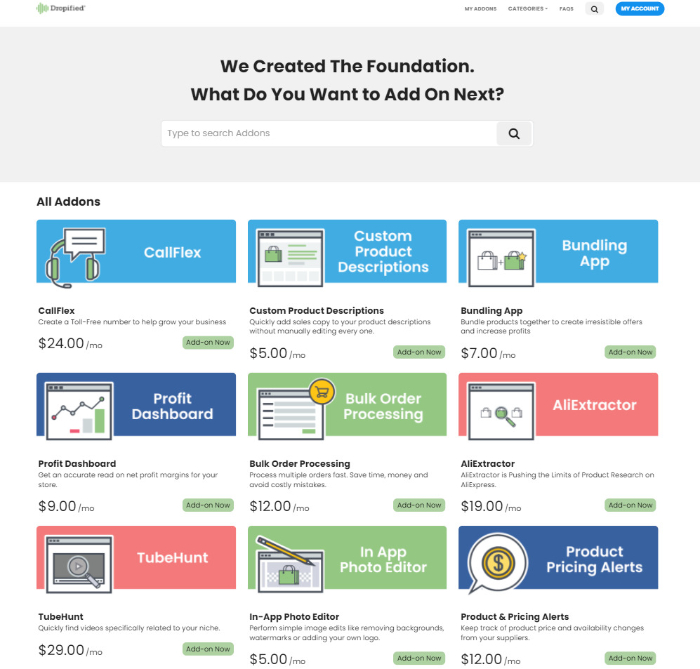 Once you install the app, you will notice that there are a wide range of extensions
available that make the dropshipping process easier. The most popular ones are
CallFlex, TuneHunt, and AliExtractor.
These add ons are definitely worth the price because they get you a good gain in revenue, especially when you use them the right way.
Add Thousands of Products With 1-click Importer
You can find more than 10,000 products that are up for sale on any fine day. Besides, you can add them to the inventory list & product board.
Product Image Customization On Dropified
You can edit your product images, using Dropified's in-app photo editor. This in-app photo editor is available for purchase on Dropified's add-ons store.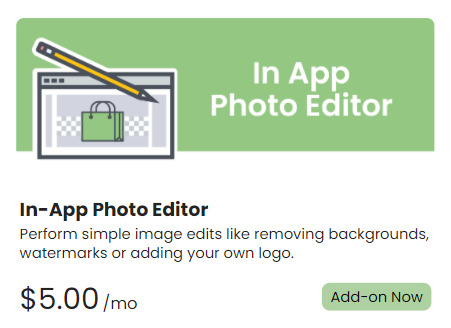 It has simple tools that you can use to match your products with your store's identity. Besides, you can quickly remove other logos and add your own copyright-free image.
Save Your Time with Dropified
You don't have to bookmark every product page for future reference because you can directly save products to organized wish lists and refer them according to your convenience.
Along with this, you can fulfill offers in a few clicks, making the fulfillment process more efficient and less time-consuming.
Set Default Settings
Dropified has default settings that globally apply to all products listed on your store. You can easily edit and adjust price markup, compare prices, and set default measurements. This feature saves you hours of clicking and editing of individual products.
Import Images and Product Reviews from Suppliers
You can import high-quality images of product reviews from AliExpress, eBay, and other retailers to your store without hardwork.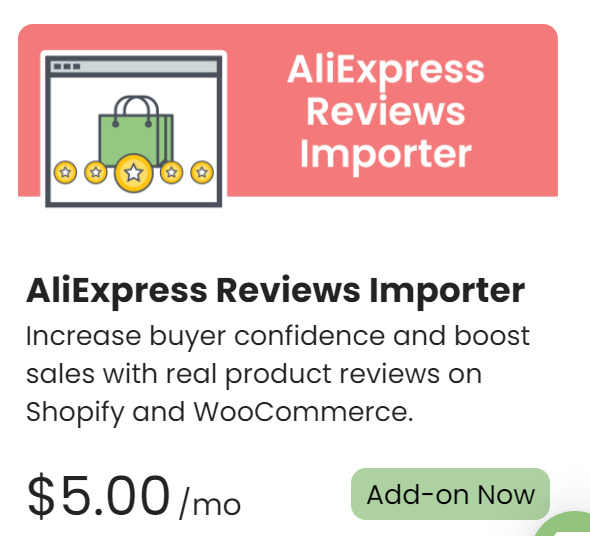 If you want, you can also use the app's third-party extension to edit and remove backgrounds from the images, which you can get right here.
Manage and Customize Orders
You can send your suppliers a custom order to prevent them from sending any promotional materials to your customers. More importantly, it offers you the option of bundling products from different suppliers like AliExpress and eBay together so that you can fulfill the orders in a single click.
Easy Epacket, Shipping, And Returns
As most of the items are directly shipped from China, the cost of international shipping can easily add up. It solves this problem utilizing the ePacket method that keeps the shipping cost low while providing you the right tracking information.
Dropified Chrome Extension
The most popular features of this Chrome Extension are its 1-click order fulfillment, bulk edit mode, and automatic updating of tracking numbers. This means you no longer have to open up an Excel sheet or other tracking apps to keep a tab of the orders.
Amazing Customer Service
Dropified has a quick customer service that resolves your questions in minutes, using the chat feature on your Dashboard.
It also has a wide range of FAQs and solutions to common problems in its help center.

A Step-by-Step Guide to Use Dropified On Shopify
Now let's see how you can Leverage it with your Shopify store.
Step 1: Visit https://app.dropified.com/ and click on 'Create an account.'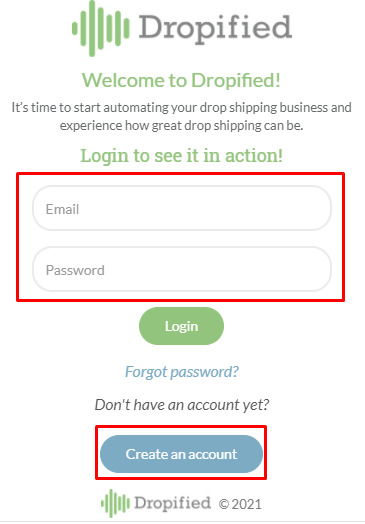 Step 2: Here comes a huge dashboard, but hey! Don't you get overwhelmed seeing it. Click on the 'Add Store' button.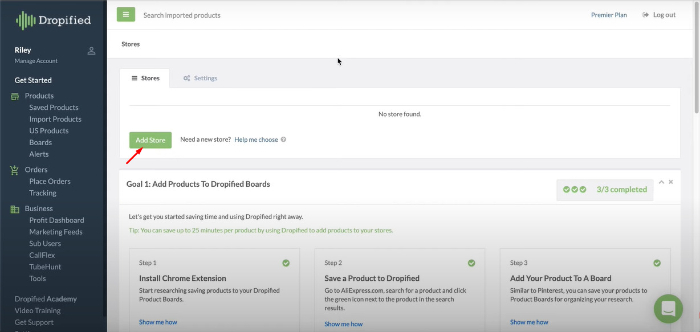 Step 3: Select the platform your store is on – In my case, it's Shopify and I'm picking it up. Click on "Continue."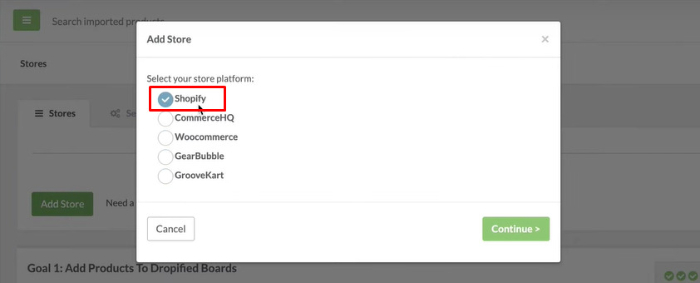 Step 4: Input your Shopify store URL and press "Add Store."

Step 5: The app will link you to your Shopify store to ensure whether you're linking it right or not. Do nothing but click on "install app."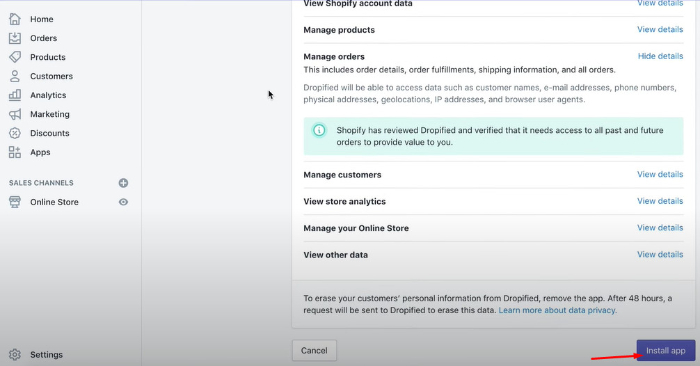 Step 6: At this point, install Dropified Chrome Extension from here.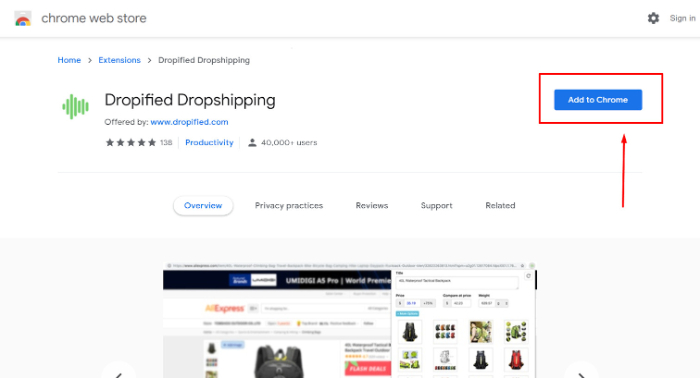 Step 7: Once you install it, you have to login.

However, if you use the same browser to manage your Shopify store dashboard and have Dropified installed on it, you will see something like this when you click it: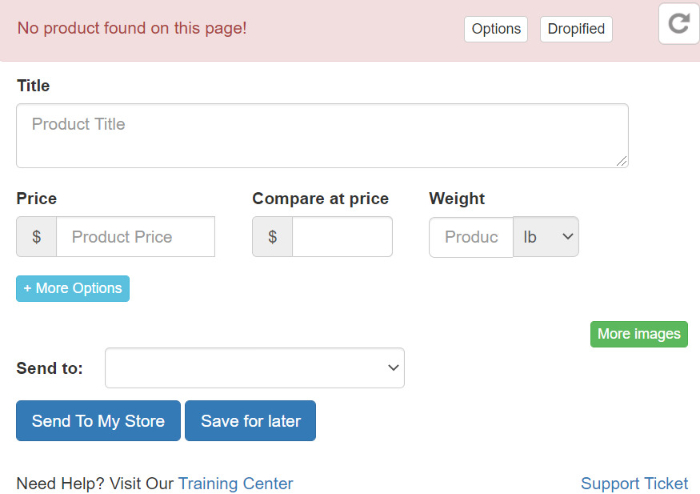 Step 8: Alright! Time to see how this extension works. I'll be searching for notebooks and writing pads on AliExpress and show you the difference between such search results that appear without and with Dropified Chrome Extension.
Without Dropified Extension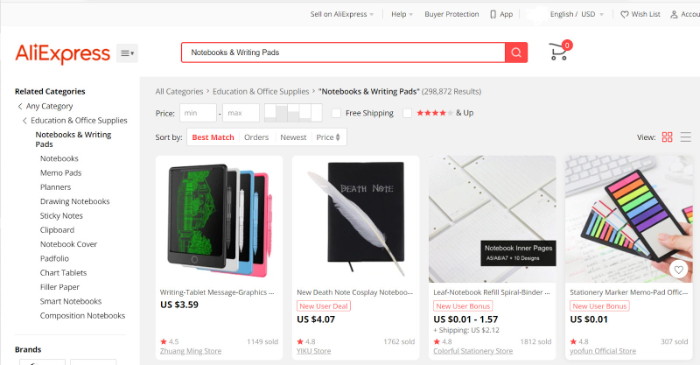 With Dropified Extension
So, I'll be using 2 settings on the Dropified Extension: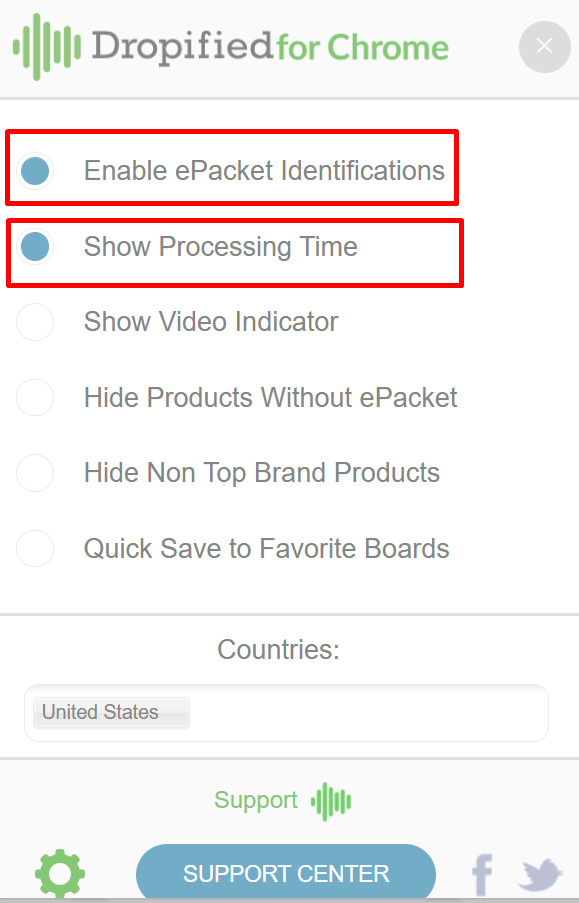 Using these settings, I get the following results: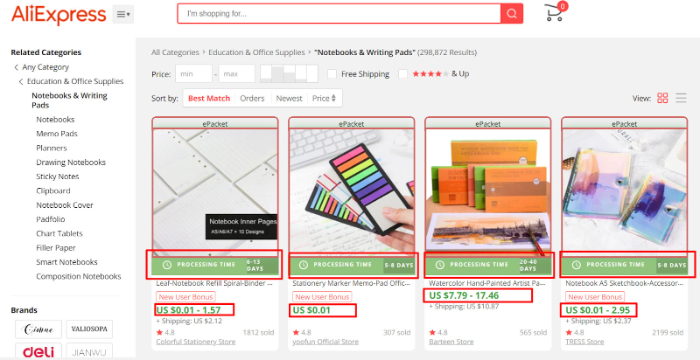 You can see the difference between the two search results. Here, Dropified saves you the time and effort required in searching for the processing time. This is just one of the plenty of features that proves how powerful Dropified Chrome Extension is.
Step 9: To save the product to your Dropified account, you can just click on the icon you see just at the side of the product thumbnail. Remember, the icon of saving will only appear when you hover over the product.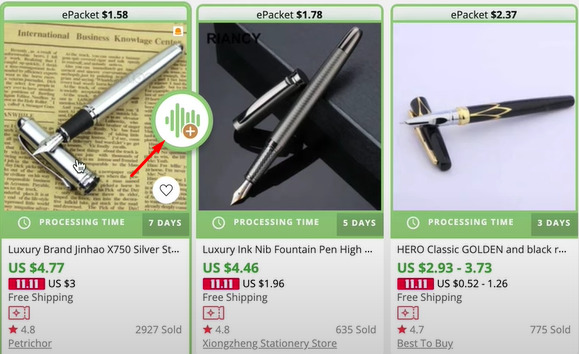 Just click on the icon, you will get a pop-up that says this: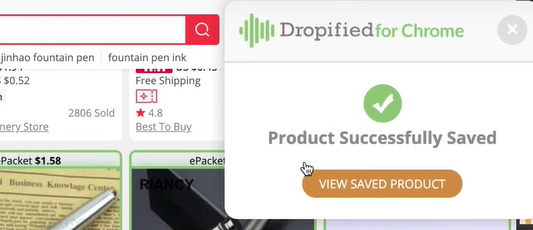 In case you want to see the products in the list, you can just click on the 'view saved products' and have a look at it.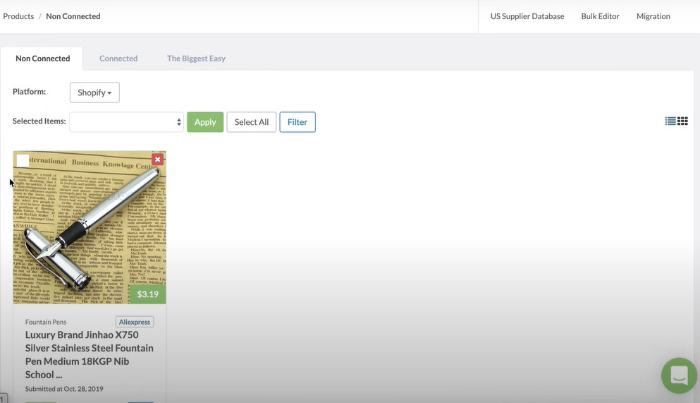 Step 10: Just click on 'View' and you can edit every detail of the product.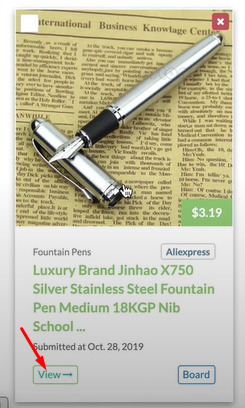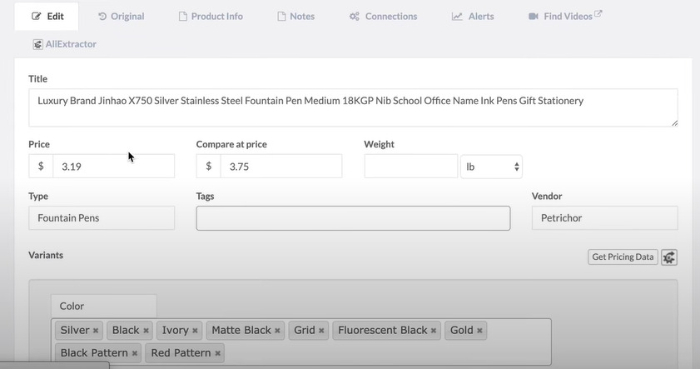 Step 11: Once you're done with editing, you can click on 'Send to My Store' at the bottom of the page and import the product to your Shopify store immediately.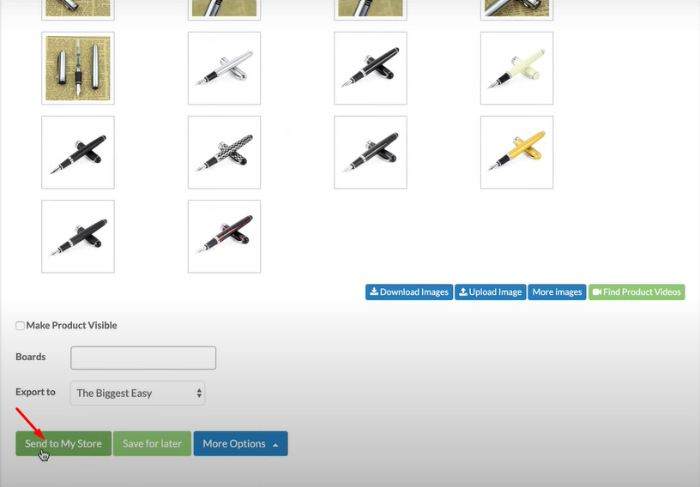 You can also edit it on the same page your product is on, just click on the product to visit its product page and click on the extension you see on the right top corner of the screen. A small window will appear where you can edit the product and send it directly to the store.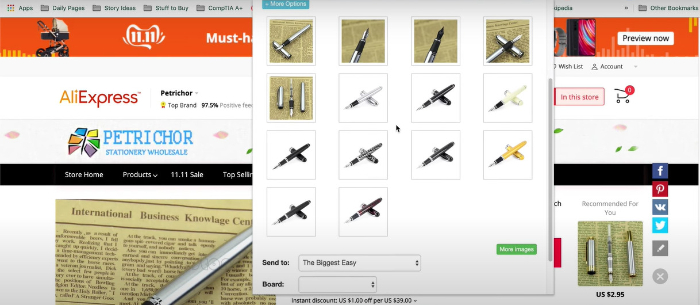 Packages Offered By Dropified
Dropified offers 3 different packages:
Import
Private Label
Dropified Black
Let's have a look at each package:
Import
The import plan is designed to simplify dropshipping. You can easily import products from AliExpress, eBay, and other product databases.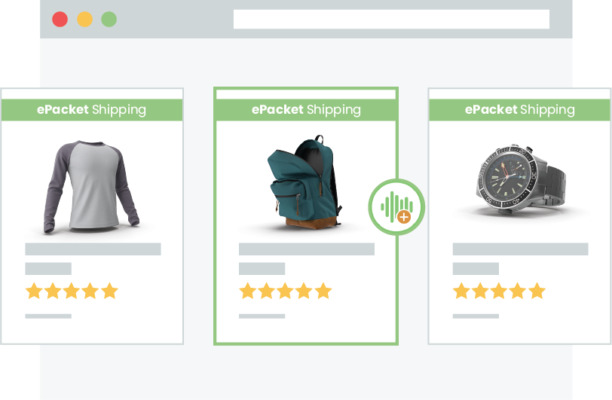 Features of Import Plan
1-click easy import from top retailers like AliExpress to save your time
Easy and automatic fulfilling of orders
Global default edit settings
Private Label
The private label package allows you to customize products. It's designed for those dropshipping business owners who want to dropship their own brand.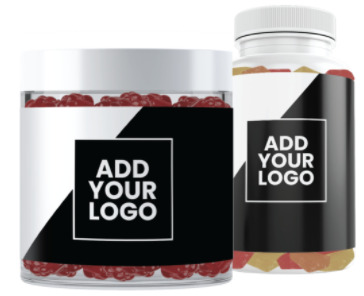 The pro point of private label is – By dropshipping products of your own brand, your customers are more likely to turn into recurring customers because they're familiar with your business. In short, the retention rate you get will be amazing!
Features of Private Label Plan
No requirement of minimum orders
Zero upfront costs of inventory
Quick delivery of products
Dropified Black
Dropified Black plan targets businesses that need advanced features and have a high volume of sales. It includes all the features of the Import and Private label plan. It falls on the higher end of pricing because of its vast range of features.
Features of Dropified Black
Zero transaction fees
Inclusive of all features from both Private Label plan and Import plan
Most add-ons from the store are included in the plan
How Much Does Dropified Cost?
Dropified is definitely a hero when it comes to pricing. It has reasonable prices for the plans you would like for your store. There are two things you wanna know about the pricing.
Firstly, you can choose to pay on an annual or monthly basis, and the annual plans are cheaper in the long run.
Secondly, a percentage fee is applied to the original price of each product you sell.
Let me give you an example.
Consider this, if I source a cutesy pendant from AliExpress for $5, and I add it in bulk to my store at $15. So whenever my customer purchases this pendant, I will have to pay Dropified a % of the fees of the original $5 I sourced it for.

Monthly Payment Plans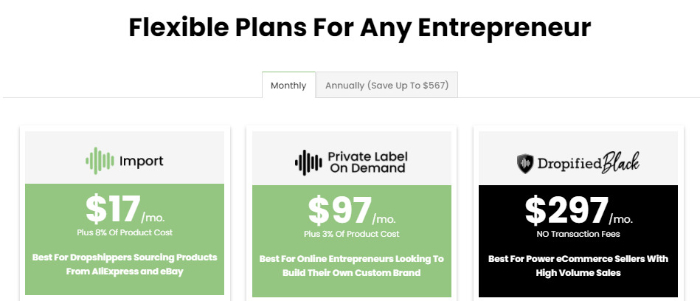 Yearly Payment Plans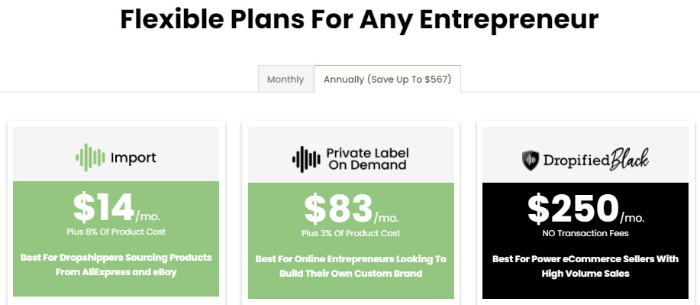 To simplify your decision about which plan you should pick, I'll quickly brief you about it.
Import: Best for dropshippers and those who are getting started with eCommerce businesses. In this plan, Dropified charges an 8% transaction fee per product sold.
Private Label: For the Private Label package, there is a transaction fee of 3% for each product sold. It costs $97 per month and is ideal for those eCommerce business owners who would like to have their independent branding and labeling.
Dropified Black: Dropified Black is best for those stores that have high traffic and revenue. The best part about Dropified Black is- it has no transaction fees.
Pros and Cons of Dropified
Pros
It's an ultimate timer and you can place orders with the click of a button instead of going all the way to purchase it from the AliExpress or eBay website.
Offers bulk edit mode to simplify product description edits and pricing modifications.
Removing backgrounds or other specifications from your product images gets easier with Dropified's third-party extensions.
Comes with packages that suit the needs of both small and big online store owners.
Dropified Chrome Extension is an all-rounder, which allows you to easily check whether a product supports ePacket identification and displays order processing time.
Cons
The transaction fees can quickly add up, especially if you're on a low budget. However, the increase in revenue can cover up for this.
The add-ons don't come with the overall package, so you will have to purchase them.
Is Dropified App Worth It?
Yes! Dropified is loaded with amazing tools that simplify your dropshipping business. It offers seamless integration with Shopify and offers features like 1-click import, automatic inventory updates, and bulk editing that save hours of your precious time.
Dropified is definitely worth the investment because time is money. It does all the work for you and saves hours of your time that can be used to fulfill the other big tasks on your ambitious to-do list.
What I like the most about Dropified is – it comes with an attractive 14-day free trial so you can try it and see how time-efficient & powerful Dropified is!