You might be wondering what horses have to do with Ecwid vs Shopify, no? Let me tell you that they indeed do.
Where Shopify is an old established and one of the best (Stallion) platforms in eCommerce, Ecwid is upcoming (Trojan horse) in this competitive market.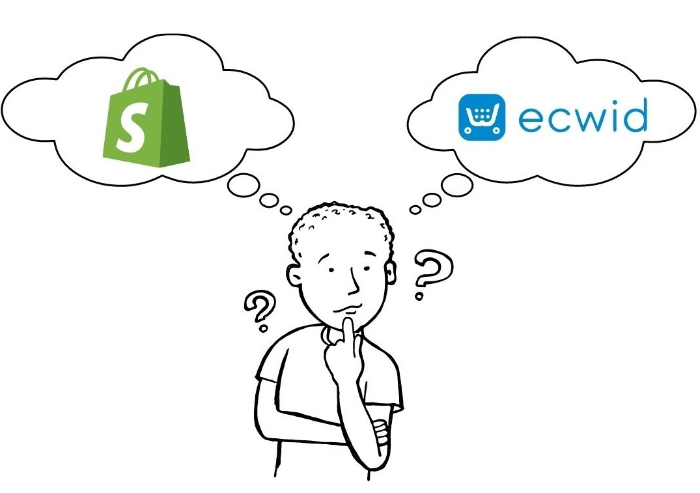 In this article, I am gonna discuss with you the features and benefits of two platforms for creating an online store. I'm going to take a look at the most popular and acclaimed platform – Shopify and the underdog – Ecwid.
So, let's get to know what platform for us and who finally wins the race – Stallion or the Trojan horse!
Ecwid vs Shopify – Which is More Powerful
Shopify Overview
Shopify is a platform you can use to create your online store. It's the most well-known platform for starting a dropshipping business or expanding your physical store online.

Let's now take a look at some of the Shopify's best features:
Ability to create a truly customizable website, online store, and blog.
Opportunity to sell on multiple platforms like Amazon, Google, Facebook, and much more.
Great customer service 24/7
A dedicated plan for larger corporations
Unlimited bandwidth and online storage
Multiple subscription plans for any type of business
Ecwid Overview
Ecwid is another software-as-a-service platform that allows users to create online stores without any knowledge of coding. Along with allowing businesses to start an eCommerce store, Ecwid is also available as a plug-in that you can use to make your already existing website into an online store.

Let's take a look at the other features the platform offers:
A free plan that allows anyone to create a website on the platform
Multiple other plans depending on the size of your business
Ability to import and export products 
Dropshipping integration 
Multi-currency selling 
A ton of shipping options to choose from
Enhanced SEO options 
Ecwid vs Shopify Comparison
Benefits of Shopify
Let's explore in-depth the different benefits that you can find by using Shopify.
Quick And Easy Set-Up
If you're not particularly tech-savvy, but you still wanna create an online store for your company, then Shopify makes that pretty easy for you.
Shopify's user interface is simple and can be learned quickly. Besides, it's also very intuitive and requires zero coding skills, so you don't need to be a developer to design a professional website!
Outstanding Customer Service
Even if you get stuck while creating your website, you can always rely on Shopify's customer service representatives to help you out as they're available 24/7 via phone, chat, or e-mail.
On the Shopify Plus platform, you get a dedicated engineer that's assigned to help you create your online store specifically.
Integrated Marketing & SEO Tools
Shopify gives you access to numerous marketing tools. It allows you to integrate it with social media channels, email marketing, and other tools.
Shopify's Major Plus Point: It offers great SEO optimization for eCommerce, which can boost your store to the top rankings in the Google search engine.
Security and Reliability
As the industry-leading SAAS (software-as-a-service) for online store creation, Shopify offers great security to its customers – including SSL certification and PCI that encrypt all data.
Shopify verifies the stability and security of integrated payment services.
Flexibility in Usage
Shopify offers many built-in tools that enable you to showcase products, integrate coupon systems and gift cards, and much more. In the app market, you can also find applications that help you customize shipping and payment options.
Benefits of Ecwid
Affordable Solution
For people that are new to eCommerce or are not sure whether they need an online store, Ecwid is perfect as it offers a free plan. With it, you can test out the platform and the features it offers. And by the way, you can even see the way your business performs on the web and pick a plan you can resonate with.
Can Be Used On An Existing Site
If you already own a website that you want to turn it into an online store, Ecwid can help you with that. It works as a plug-in that you can implement on many platforms, such as Wix and WordPress. Other than this, it can enable you to turn your existing website into an online store in seconds.
Point of Sale Option
If you have a physical store to go with your online one, that's great. Ecwid offers you a point of sale (PoS) system. It allows you to use Ecwid's card reader, which is already integrated with other PoS brands such as Square and others.
ECWID offers you the opportunity to use your mobile device as a PoS one.
Multiple Shipping Options
With Ecwid, it doesn't matter if you're a business that owns and ships its product or you use dropshipping; the platform allows you to integrate both business plans and customize your shipping methods.
Digital Files Sale
Not all companies ship and sell real tangible products. A lot of companies offer software, specific data, and files to their customers. Ecwid is a perfect option for this type of business model because you can store and sell files up-to 10 GB in size.
Additionally, the size can be increased if that is needed for your store. The platform offers an increase in bandwidth and can create a solution design for your company.
Shopify Advantages Over Ecwid
In Ecwid vs Shopify, many similarities can be found between the two platforms, so it's crucial that you can see the specific benefits that each of them offers. However, we will start with Shopify first.
Customization & Flexibility
Shopify offers a ton of design opportunities. It has over 60 themes, which you can choose to build an online store that stands out from the competition. The available designs are tailored to suit different types of stores – from furniture retailers to ones that offer clothes and accessories.
With Ecwid, your site can look great from scratch but you have very limited customization opportunities. And if you want to do more, you either have to do coding or use third-party apps such as the Designer or the Decorator one so that you can have the option to change your eCommerce store design.
At the same time, with Shopify, you get control over the whole storefront design. You can quickly switch themes and adjust the webpage view for mobile phones and tablets.
In addition, Shopify also provides the option to edit the images you upload directly to the platform and then proactively adjust the website's color scheme at any time.
The amount of control you get over the design is a major winning point for Shopify in the Ecwid vs Shopify comparison.
Better eCommerce Tools and Features
Shopify is the world's leading SAAS program for creating an online store and that's not by accident. It offers its users everything you may need to create the perfect store for your company.
Shopify does all of the basics quite well but it builds on them, offers you powerful and in-depth tools for further customization. Some of those tools include tracking inventory (so that you never sell products you don't have), support of multichannel selling, multiple shipping options, unlimited bandwidth, dropshipping integration, and much more.
Ecwid also offers a lot of the same features. However, they're less scalable. More importantly, it works great for smaller businesses as they don't need a ton of preferential support and customization. And guess what? Even the most premium plan offers the kind of functionalities that come with the most basic Shopify plan.
Overall, Shopify gives you more opportunities to scale your business, better customization for your website, and a bunch of integrations.
Better customer support
Another bonus point for the big dog in this battle of Ecwid vs Shopify is the great customer service that they offer.
With Shopify, you get support over chat, e-mail, and phone all year round 24 X 7.
Along with that, if you're a larger business on the Shopify Plus platform, then you even get a dedicated engineer to help you with setting up your store. Additionally, you get access to a help center that provides you with relevant articles and help guides if you ever need a step-by-step solution to an issue you are dealing with.
Ecwid also has fast and responsive customer service. However, the free plan offers only e-mail help and access to an "Ecwid 101" guide. Furthermore, even the most premium plan doesn't provide you with any special care like Shopify.

Ecwid Advantages Over Shopify
Faster Build Time
With Ecwid, creating an online store can be done in seconds as it enables you to turn your already existing website into a store. And even if you have to create an online shop from scratch, it's still a simple and quick process.
It's not like Shopify is slow and tough to do by any means, but it is more complex because of the variety of designs and customizations that the platform offers.
Ecwid is great for newcomers into the eCommerce sector. It's a great gateway into the business for any up-and-coming entrepreneurs who want to try running an online store and want to get started quickly.
Easier to Use
Another bonus point for the underdog in the debate Ecwid vs Shopify is the ease of use that the newer platform offers. Just because it can be used only as a plug-in and due to its limited functionalities in comparison to Shopify, Ecwid is much simpler to learn and use. You don't need to have any coding skills or even know what website hosting is.
The software is made so that everyone gets to start an online store, even if they have zero technical experience.
Shopify is also easy to use. However, due to the more developed nature of the platform and its variety of features, Shopify is sometimes a bit overwhelming for beginners in the eCommerce marketplace.
That's why Ecwid comes into picture.

Ecwid vs Shopify Pricing Comparison
How Much Does Shopify Cost?
Shopify offers 3 separate plans that come with different features and prices. Additionally, it has another newer platform called Shopify Plus, which is aimed at larger corporations and has a customizable price tag.
The good thing is that you can test any of Shopify's plans for 14 days before deciding to use the platform. Yes, without paying anything!
Here's a table of the pricing for each of their subscription plans:

How Much Does Ecwid Cost?
Ecwid offers 4 plans to choose from. There is a free one that I already mentioned several times, which is a big plus for entrepreneurs that are just starting out.
Additionally, there are three paid plans that you can choose from, which offer more premium features at different prices.
Here's a table of the Ecwid prices:

Although Ecwid is definitely cheaper initially, Shopify provides you with all the features you need right off the bat.
The most basic Shopify plan gives you functionalities that you can only find on Ecwid's most premium one.
Shopify is the perfect choice for any business that wants to scale and grow. Not only this, it provides you access to tools that can help you when your company expands and gathers more clients. With Shopify, you can always adjust your plan to your corporation's size, no matter how large it becomes.
On the other hand, Ecwid remains the best choice for young people who don't have much to invest.
Overall, it's hard to determine a winner in the price aspect of the Ecwid vs Shopify battle, so let's just move further and see how you can set-up a site on each of the platforms.
Setting Up Shopify
Interlinking – blog under process
Setting Up Ecwid
Sign up on Ecwid, clicking on the "Get started for free" button.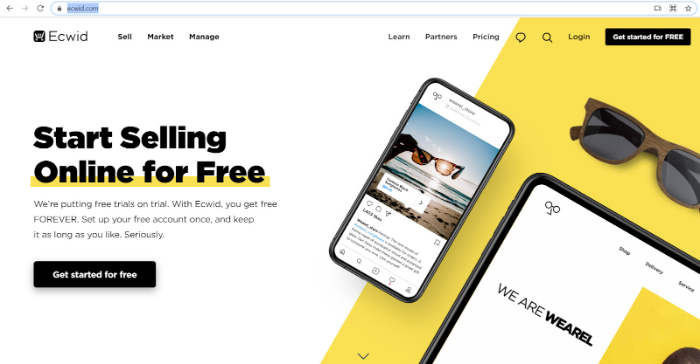 Enter your full name, e-mail address and password, and click on "Next: Set up your Store"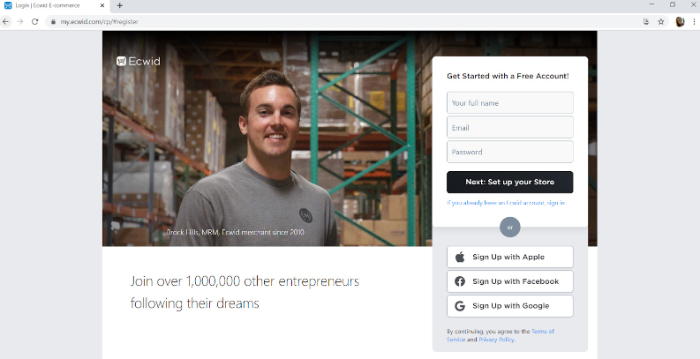 Fill in the details asked and click on the "Next" button.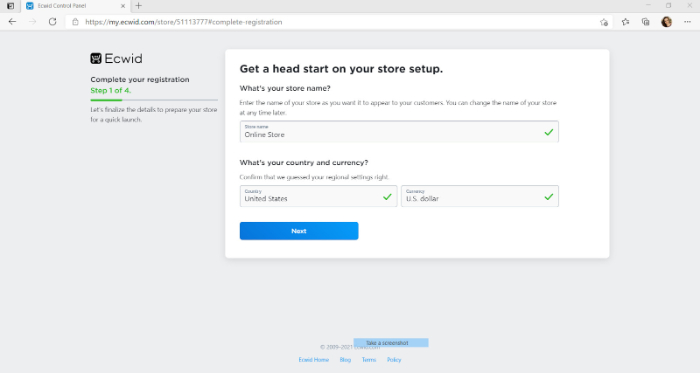 Add your company address and postal code, and again hit the "Next" button.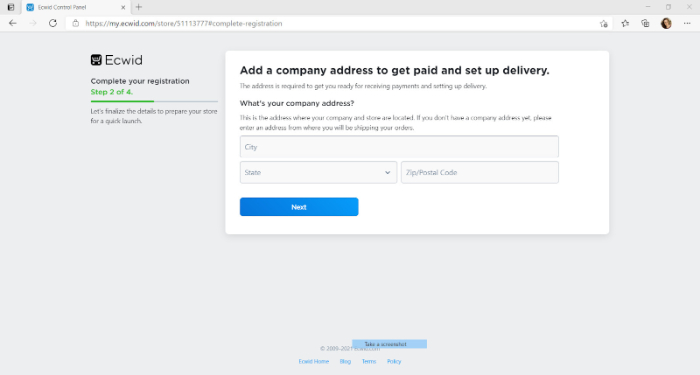 Give them a couple of answers to let them know more about your business for better results.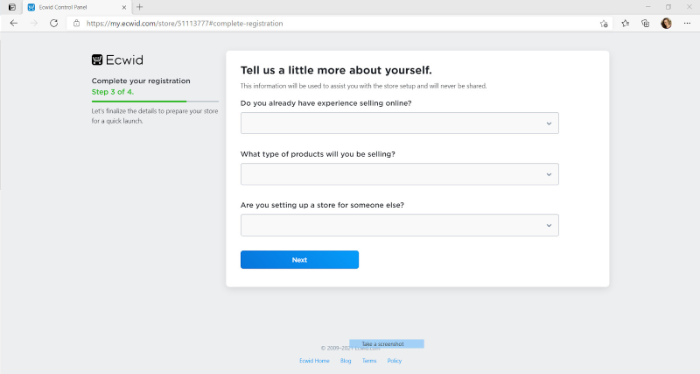 Choose whether to create a new website or tie the Ecwid store to an already existing one and click on "Finish & Proceed to Dashboard."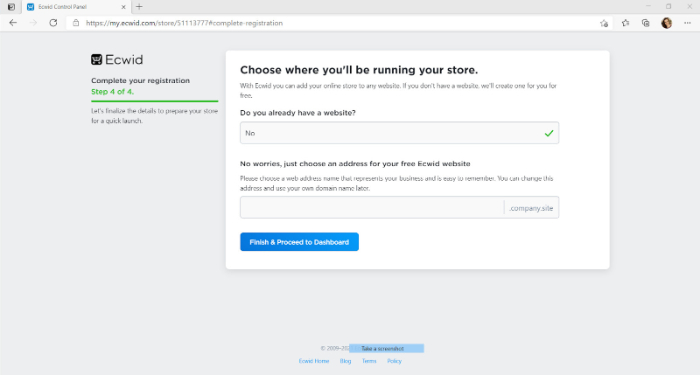 Once you click on that, you are finished with the setup.
Ecwid vs Shopify – Which One?
If I were to pick one amongst these two platforms, I would think twice. Both are quite remarkable platforms that serve different purposes.
Shopify is great for scaling your business.
Ecwid is good enough to start your eCommerce journey.
But, if I'd go with any 1, it would be Shopify.
Shopify is a complete eCommerce platform with a set of apps that no other platform has. It also has powerful features that enable you to adjust the online store to your business's growth.
If you're certain about working online and you want to continue developing in the long run, this is something you should look for.
The fact that Shopify doesn't have a free plan is a bit of a turn-off, but the 14-day free trial makes up for it.
So, as someone once said – "Old is Gold." Such is the case here – Stallion is the winner in this race.