Lead generation for the eCommerce business can be a tough nut to crack. It can be annoying to see how your competitors are generating so many leads and are converting them on a high scale while you're still stuck with just a couple of them.
Yeah, I was once in your shoes searching for answers. And when I started reading countless blogs regarding successful lead generation, my brain spiraled in confusion because of all the jargon and hard-to-follow steps.
But you don't have to struggle the way I did. After successfully implementing lead generation strategies for several Shopify stores, I've compiled a practical guide for Shopify store owners. It includes all the insights that I've gathered throughout my experience.
What you will find are actionable steps that can drive you from point A to B in your lead generation strategy and provide measurable results. So, grab your pen and take notes along the way!
Determine Your Ideal Shopify Leads
To answer the question "How to find Shopify leads?" you should first know who exactly is your ideal lead.
In simple words, your ideal lead is a person interested in your products and can buy something from your store.
Let me explain this with an example. If you run a sports apparel Shopify store, your target leads would most likely be athletes, fitness junkies, and gym-goers.
Though your leads are not necessarily restricted to a narrow range of people, it's important to have a clear idea of who your lead generation strategy should target.
Figure out what qualities, characteristics, likes, and dislikes your ideal lead can possess. Once you know the solution to the problem, you can specifically target those key elements in your Shopify lead generation strategy.
7 Best Strategies to Find Leads for Your Shopify Store
With a competitive lead generation strategy, you can get those sweet leads to your eCommerce site and move them down your sales funnel till they're ready to make a purchase. I'll give you a detailed insight into how you can implement these seven different strategies to find leads for Shopify stores.
Social Media – Engage Your Leads
If you want to find leads for Shopify stores, you need to put your store right in front of your target audience.
In this mobile era, most people are glued to their phones 24/7, allowing social media marketing to thrive. So hop on board and leverage social media to spread the word.
How to Engage with Your Leads?
The more your brand can engage people, the bigger of a community you can create around your store.
Use social media platforms to inform your customers about the latest deals or promote your new products.
Another thing you can do is replying to comments to show that you care about your customers. If you have the time, you should reply to social media messages as well. Here's how Starbucks does it right.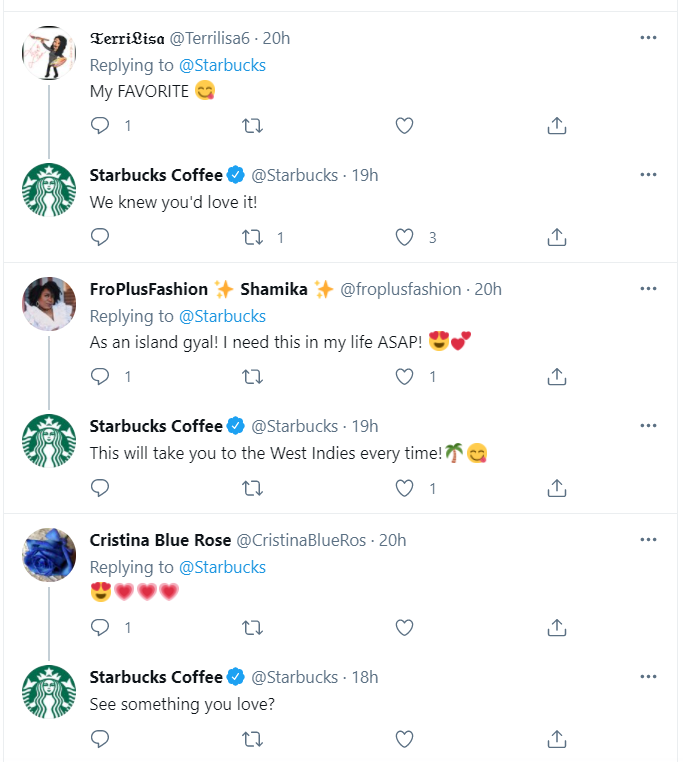 Social media is a platform that shoppers rely on to get the best customer support. You can keep an eye on the users who need your help. Your customers leave valuable feedback on social media platforms which is often checked by your leads that are tossed in a decision. Sometimes it can also give you a chance to outshine your competitors. Here's an example.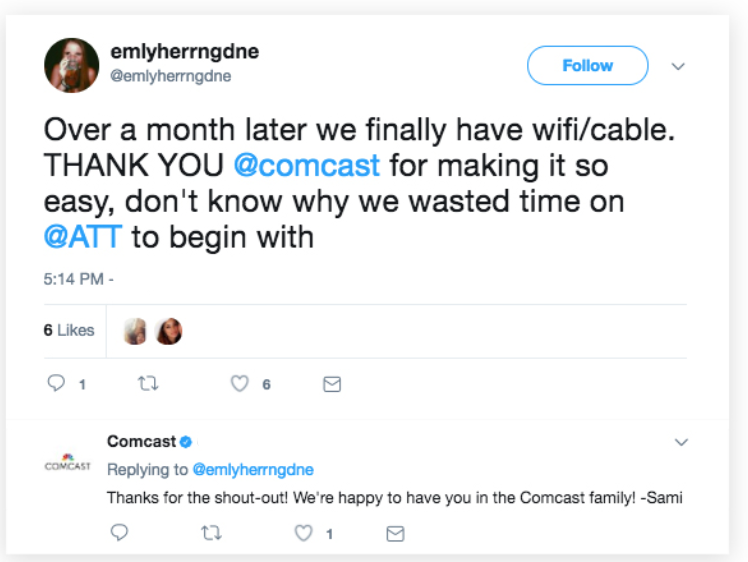 How to Use Social Media for Lead Generation?
The first & foremost thing you wanna do is to build your follower base. Embed your social media links on each of your product pages. Adding them to your existing newsletters and email campaigns also goes a long way.
When you have a good audience base, start building relationships with your customers. Post feedback threads, promote products without looking pushy, upload posts that weave a story around your brand, etc.
You know that you're on the right track when the feedback starts pouring in. Also, keep an eye on the posts and social media strategies of your competitors. There's a great deal of insight trapped in there.
Bonus Tip: Connect your Instagram Stories to your store using apps like Storypop. Make your Shopify store stand out from the crowd using aesthetic Instagram stories that can be embedded on your Shopify product pages. Here's how it looks for one store: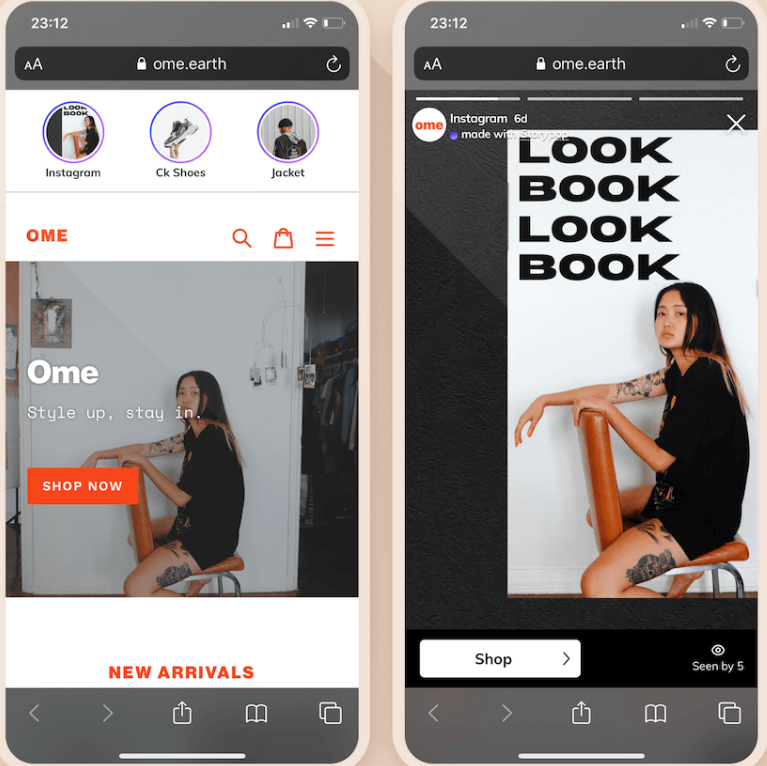 Always remember that your social media handles should act as a bridge between finding leads for your Shopify store and converting them.
Content Marketing – Provide Value To Your Leads
Most people online are searching for solutions. So it's no surprise that 'how-to' is one of the most searched phrases on the internet.
When you solve your customer's problems, they're automatically inclined to purchase from you. But content creation is not just limited to running a blog. Content marketing utilizes a wide range of formats, like ebooks, videos, infographics, and podcasts.
Most of your content is recyclable. You can first draft an ebook and then release parts of that as blog snippets. You can also summarize that article using an infographic and post it on Facebook.
The key idea behind recycling content is that many of your potential leads out there are looking for solutions. When you reuse the same content in different formats, you put your Shopify store across various platforms, available for a wider variety of audience. Who knows which platform your ideal lead might be using to find their answer?
How Can You Generate Content That Your Prospects Are Looking For?
You can assess what content people are looking for by scouring forums, analyzing competitor websites, and using tools like Answer the Public.
Once you have identified the content that's popular in your niche, you can start a blog, create an FAQ page, or write an eBook around it.
How Do You Use Content Marketing To Generate Leads?
Now that you've generated content, it's time to use it for lead generation. The perfect way to execute this is to give them a sneak peek of some amazing content and ask for something in return to show the full picture.
For example, you could outline the findings from an intriguing study in an article and hide the actual study behind a paywall. Alternatively, you can summarize a podcast in a short video and ask them for their email address in exchange for the link to the podcast you made.
By the way, do you know this is called leveraging on the incentive? Give something in return for action as simple as that!
SEO – Bring Organic Reach To Your Shopify Store
Do you often go to pages 2, 3, 4 of the search results? Most of us would answer, "Not really." And that's the reason why around 33% of the clicks on Google go to the first organic search result.
For the same reason, it's important to rank on the first page of the search engine results. You can find leads for Shopify stores only if you appear on top of Google search results when they search for your services.
If you look closely, it's a cycle.
SEO is basically telling Google, "Hey, look at me. I have exactly what the shoppers need!" But since everyone is saying it, convincing Google is a bit tricky. Let me make it a little easier for you.
How Can You Leverage SEO to Find Leads?
Research Your Keywords – Look for high-ranking keywords in your niche and the keywords related to your products.
Do Your Titles The Right Way– Get Shopify leads by leveraging the ideal keyword phrases in your title and description. Use your keyword research to get an idea of the Dos and Don'ts of phrases you should use in your title.
Write Stellar Meta Descriptions – Meta descriptions are the small snippets that give people a sneak peek into your Shopify store before they actually click on the link. Here's an example. What you see written under the hyperlinks is called the meta description.
Create Quality Content – Google ranks only those Shopify stores that create understandable and appreciable content for an average user.
Be Organic In Your Approach – Anchor text refers to the clickable words in a blog or page used to link one web page to another. Always pay close attention to the anchor text you're using for your Shopify store and avoid keyword stuffing.
Once your Shopify store wins the SEO game, getting leads becomes a breeze. SEO is vital for generating traffic that can turn into leads and hopefully into customers as well.
Discounts and Deals – Entice Buyers to Your Store
Discount codes make most of the leads dance to your store's tunes. Discounts and deals not only promote large traffic to your Shopify store but they can also be used to understand high-demand products.
Smart Shopify store owners leverage site-wide banners to attract leads and convince them to convert. Here's how Meowingtons does it right.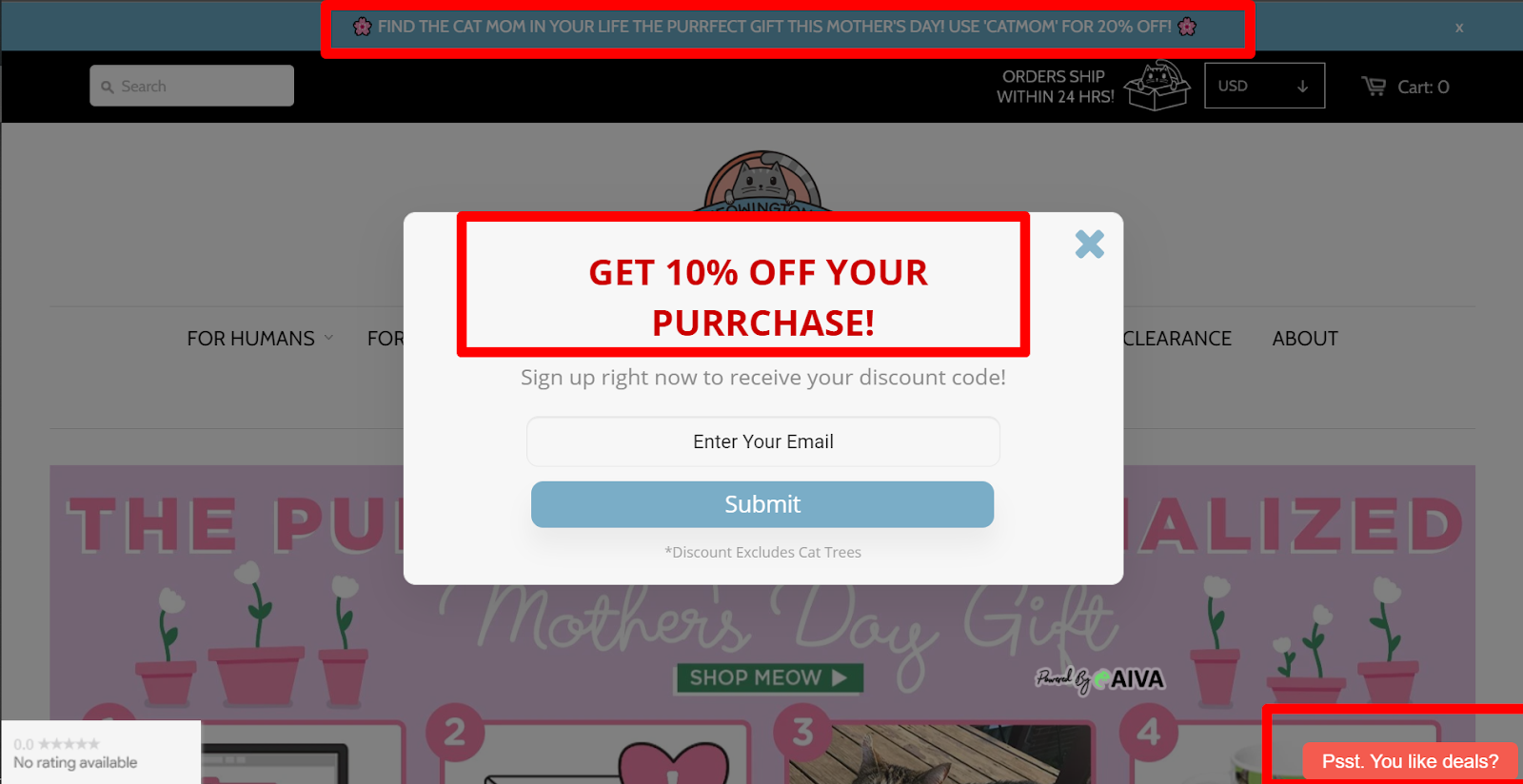 Questions to Ask While Creating Your Discount Strategy
Q: What do you want to accomplish?
A: Set clear objectives of what you would like to achieve by offering a discount.
Q: Is this the right time to give a discount?
A: Do some market research before announcing the discount because bad timing can ruin everything.
Q: Are you making money? A: Ensure that your discounts don't lower your profit goals.
Discount Ideas to Find Leads for Your Shopify Store
Here are some of the most common and effective discount & deal strategies for successful lead generation:
Buy for $X, get X% off
X% off on selected products
Buy for $X, get $X off, or delivery free
Buy now for a free month (for subscription boxes)
Bonus Tip: Leverage Time-sensitive Discounts to Find Leads
None of us would like to miss out on a great deal. You can gamify the discount using Shopify integrations like Wheelio and set up time-sensitive discounts for the same.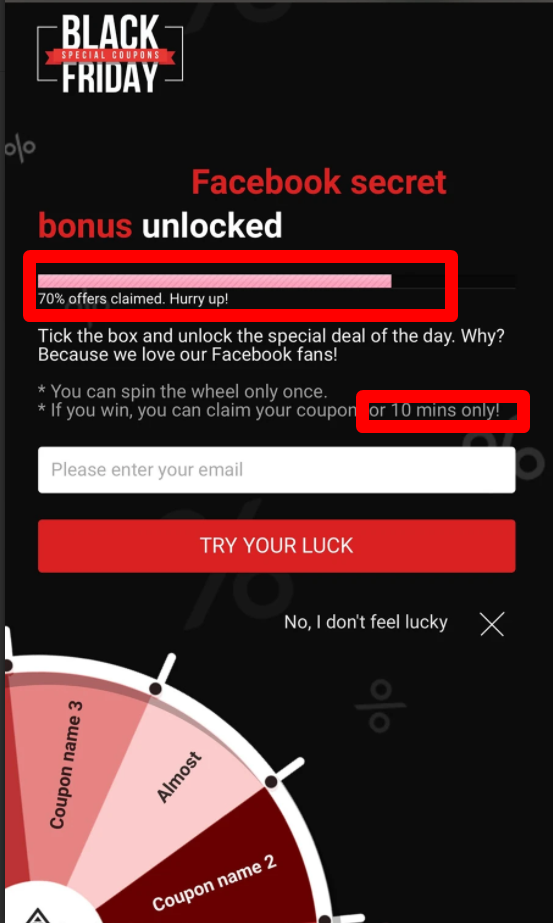 This makes your leads act quickly on the offer and convert into customers. Even if they clicked on impulse and cancel the order later, you still get their email address and can add them to your mailing list.
Pay-per-click Advertising – Spread The Word
Advertisements are an amazing way to find leads. Google Ads is at the forefront of PPC (pay-per-click) advertising, and knowing how to do Google Ads is half the victory!
So now, I'll quickly guide you through the key idea of how you can do pay-per-click advertising.
You can start with advertising on Google Shopping directly through your Shopify account or by integrating a third-party tool available in the market.
The priority here should be given to the product data feed so that you get optimal results. You should aim to match at least 70% of your Shopify fields with Google Shopping attributes. The main attributes that you can't afford to mess up are:
Titles
Descriptions
Prices
Images (if any)
Cookies – Analyze the Behavior of Your Leads
As Shopify store owners, you might be already familiar with cookie banners. Most of us think that the use of cookies is limited to displaying these GDPR cookie collection consent banners, but that's not the case.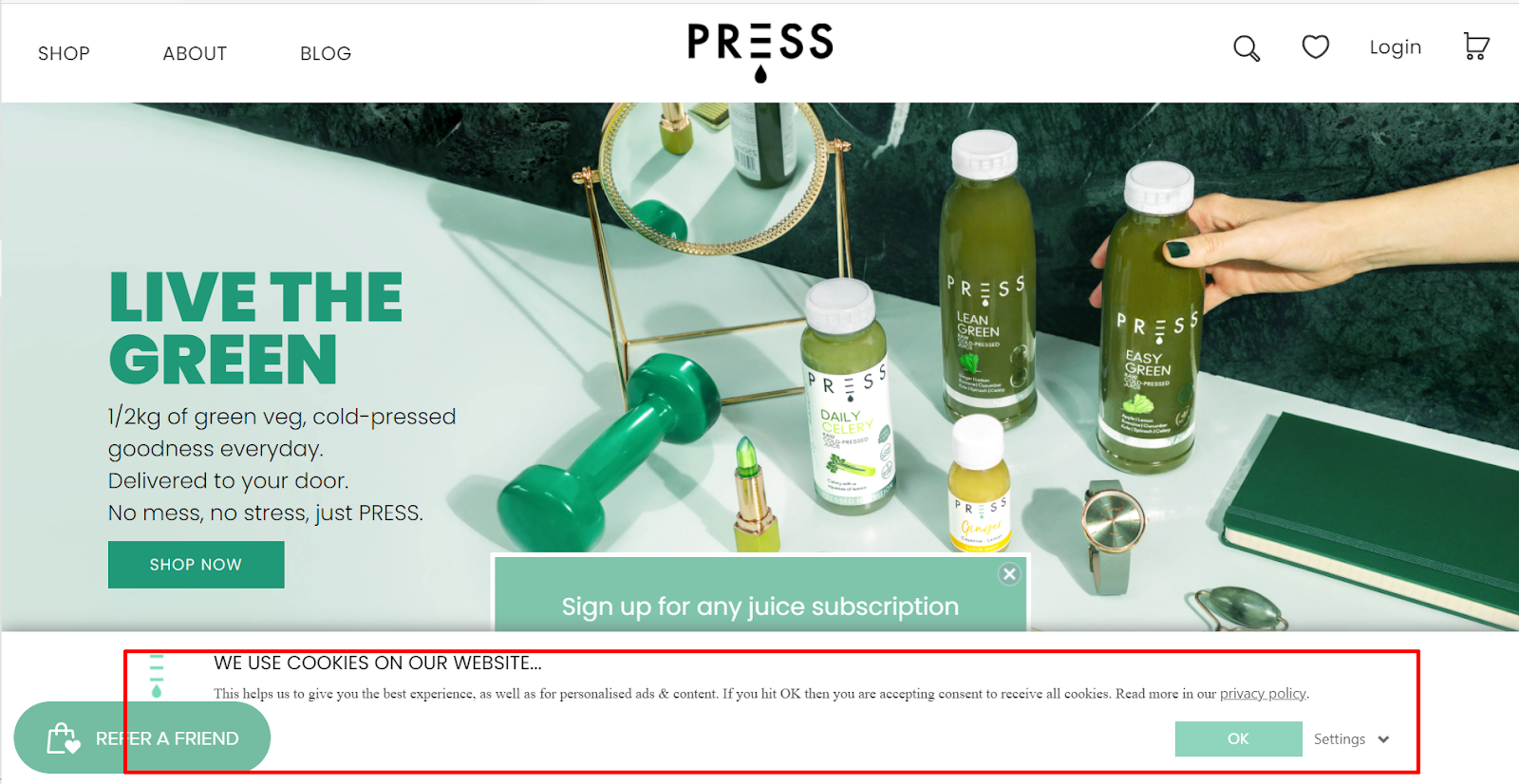 It's essential to take advantage of your visitors' cookies. Lead generation happens when you think of every visitor as a potential lead for your Shopify store.
Cookies are essential to retarget visitors on Facebook, Adwords, and Instagram. Retargeting essentially means reaching out to people who have already visited your store and have shown interest in your product.
When you successfully retarget a lead, you're just a few clicks away from a sale!
CAUTION: If you don't already have a cookie collection policy for your Shopify store, do ensure that you use a cookie consent banner if you operate in countries where privacy concerns are taken seriously.
Email Marketing – Promote Like A Pro
Email marketing is an old-school and a reliable source for finding leads for Shopify Stores and converting them.
However, most of the Shopify stores fail to leverage it correctly and end up harassing their subscribers by spamming their inboxes.
This is why you need a smart email marketing strategy to get leads for your Shopify store. Let me be your strategizing buddy here.
How To Leverage Email Marketing For Lead Generation?
So firstly, I would advise you to collect as many emails as possible. While collecting emails, consider offering a monetary incentive or freebies instead of a generic 'sign up for email notifications.' Maybe you can offer 20 percent off to a Shopify store visitor if they sign up for your email list or something like that.
The next thing to note is that most email marketing platforms allow the categorization of subscribers based on purchasing power and demographics.
For example, if you have an expensive or a bit complex product, an explainer email directed to your highest value customers is your best bet.
On the other hand, if your email subscriber has joined the mailing list just recently, you can shoot them an email about an in-depth guide to the products, discount codes, or a link to an explainer video.
Email notifications can also be effective for abandoned cart recovery.
Make sure that you don't miss out on these powerful features to leverage your email marketing game and get leads for your Shopify store.
Extra Tips Related to Email Marketing for Lead Generation
Multiple 'freemium' email marketing software makes email marketing cheap, if not free.
You don't need to fret about your emails ending up in Gmail's promotions folder. Lead generation campaigns are not drastically affected by that.
Always have CTAs in your marketing campaigns. Don't just give an introductory email without linking it to somewhere on your Shopify store.
Last Minute Advice!
Phew! You're finally at the end of this comprehensive guide to find leads for your Shopify store. Now you know that lead generation for the eCommerce business is not as complex as it seems to be.
One of the crucial parts of successfully finding leads for your Shopify store is to remain consistent with your efforts. Your growth in the initial days might be a plateau, but that doesn't mean you should give up.
Always draw insights from what's going right and wrong in your lead generation strategy and try to improve it.
Use this guide as your compass and start navigating through your path to find leads for your Shopify store today!