How many of you focus on your order confirmation message? The chances are that it's seldom ignored or loosely framed due to the fact that it's deemed not to be as important. However, after looking at some order confirmation email examples, you will know that it is highly imperative in so many different ways.
This transactional confirmation email intends to take care of the mindset and needs of customers right after they buy.
Sending this across can genuinely be advantageous to your business as it allows you to formulate longer-lasting relationships with all of your customers. This also ensures that the purchases are not just one type.
What's more is that an order confirmation is something a customer essentially expects the company to do in hopes that the transactional process was smooth. Read along to find out how you can make it even better!
Factors That Affect Order Confirmation Emails Positively
While one might believe that order confirmation follows a highly straightforward process. When it comes to reality, that is far from the truth. After looking at several order confirmation email examples, you will know that there are numerous factors that affect how your email will finally turn out. Therefore, it's imperative that you pay close attention to all of them to create the perfect order confirmation email template.
Subject Line – The First Thing They Notice
Before choosing the final subject line, there are a few things that you could experiment with including this:
A simple line that states confirmation
Name of your brand
Thanking or greeting the customer
Their order tracking number
Enthusiastic affirmation
You will see a mixture of these being used in order confirmation email examples. However, it's up to you to stick with your favorite ones. The reason why the subject line is important is that it's the first thing that your customers take a look at.
You must ensure that it is straight to the point so that your customers can't ignore or misinterpret it. Lastly, do not be afraid of using colors as they can bring a great impact. But yes, restrict them to just one or two shades. Practice this and you will have created the perfect subject line for yourself!
Content – is King? No it's Queen, the Most Powerful!
This is the section that is taken most lightly as most people believe that your customers would not get so far in the email. However, that is what the actual catch is. To keep their attention retained for the entirety of the mail, think of this section as a reiteration of everything you think they would want to remember.
Furthermore, the content should also be framed in such a way that they could go back to it whenever they want to. Therefore, after seeing a few order confirmation email examples, make sure to keep these elements in mind:
List of products
Total of the order
Order shipping date
Tracking details (if applicable)
Ensure listing these down as systematically as possible. And yes, one thing that is common across all of the order confirmation email examples is to keep it simple, sweet, and short. While a lot of other email templates might require you to elaborate on things a little more, this one doesn't.
Call To Action
While you might have heard a lot of people harping around how necessary a call to action is but it's something that will make or break your email. Therefore, approach this section with a fresh mind and a keen eye to honestly figure out what you want your customers to do next.
Whereas some people tend to use this space for promotional offers, others could try opting for social media buttons. If these don't resonate with you either, you could simply provide a link that could take them back to their order details or account.
Regardless of what you choose to go with, ensure that your call to action is powerful enough to impact your customers in a positive way. Depending upon the goals of your business, you could even tweak your call to action once in a while.
Look at as many order confirmation email examples as possible and don't be afraid to think out of the box.
Email Design
The chances are that your business has a particular theme, template, and design that they follow for all promotional emails, offers, websites, etc. Sometimes, companies also tend to skip to a particular color theme for all their different sections, one that also throws light upon their logo and the statement they want to give out.
During the purchase order confirmation email sample designing too, ensure to stay true to yourself and be authentic for the best results. Don't opt for something that is too extravagant or flashy because this will take your customer's attention away from the critical content.
Draw out a style that you are most comfortable with, but one that is sure to work. Lastly, take some time to divide and create the sections intricately so that you can easily stay on track of your targets and hits.
Now that you know some of the critical factors that make up an order confirmation email example, ensure that you make thorough use of the same. A combination of these elements will subsequently give you a suitable and ideal template that will give back loyal, happy, and excited customers.
A Few Order Confirmation Email Examples for Inspiration
If you need that small dose of inspiration before working upon your ideas, read along to make use of the best order confirmation email templates free of cost. Pay close attention to details and how they have made use of all of the resources.
An Impactful Design That Displays Information Effectively
A lot of people tend to assume that a great design and effective conveyance of information don't go hand in hand. However, that is far from the truth. The matter of fact is that contact doesn't end once your customers have placed their order. To sustain and perpetuate your relationship beyond just one order, you must ensure that your order confirmation email example design gives out the right message.
Harry's— a company featuring personal products for men— provides the perfect example of what an impactful design looks like. Not only are all of the sections as direct as possible, the red and white scheme and humour seems to be working exceptionally well for the brand.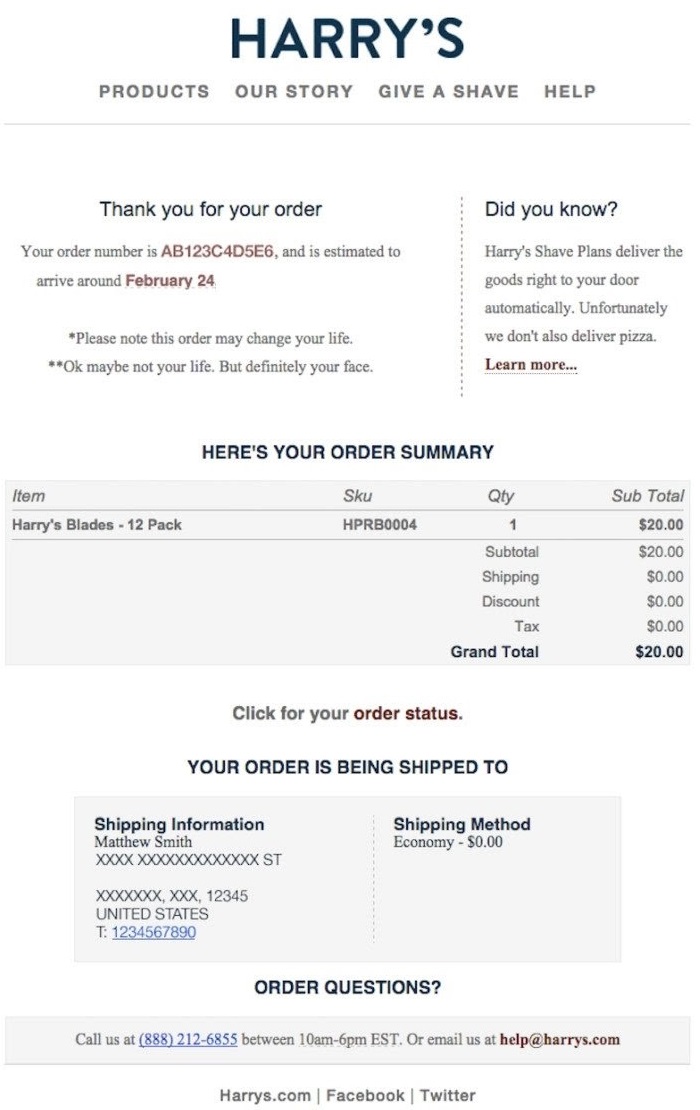 Notice how they use professional but simple tables, as well as information for any sort of further assistance. Every order confirmation email example will teach you something new, so ensure that you are embracing as much as possible!
Motivating The Customer For The Next Purchase
Creativity always tends to go a long way, regardless of the kind of message you are looking to put across. However, when it is a matter of ensuring that your customer chooses you for their next purchase, of course there are some strategies to put into play. And guess what? Upselling is a great way to allow users to gain the desired look.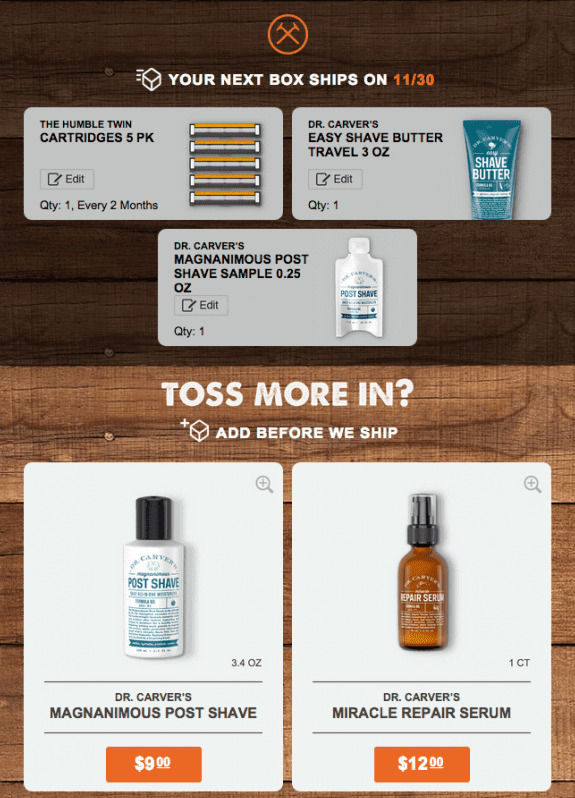 Every company has a few products that are bestsellers regardless of the season or influx of customers. This would be an excellent opportunity to feature those products so that your customers can perhaps consider adding a few other products too. Most order confirmation email examples you see will draw the focus on the top five products. You can include these as a picture, table, etc.
Check out how the Dollar Shave Club uses an extraordinarily elegant and effective way to do the same in hopes that they can convince the customers before they check out.
Providing An Order Timeline
Since a customer has looked at several different products on multiple websites before buying from your company, it is evident that they are excited to receive their order. To build a positive and responsive image, what you can do is further maintain and promote this enthusiasm.
The best way to do so is by incorporating a timeline of the order. By now, you must have looked at several order confirmation email examples. All of them follow a linear line letting your customers know when they can expect the order.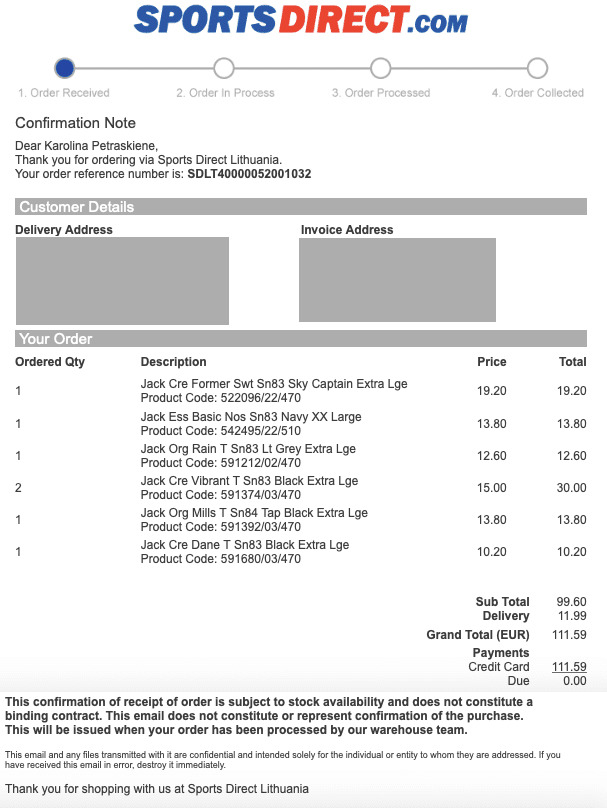 Look at how SportsDirect makes spectacular use of the same inspirational technique. The headings are straightforward and let a customer know what to look out for. Like this example, you could even try beginning your email with this timeline in hopes that it catches the customer's attention instantly. Remember to keep this space as uncramped and simple as possible for the best impact.
Promote Your Brand Subtly & Display Branding Elements
Remember that no matter how frequently your customer shops from your brand, nobody likes a campaign or promotion that is in their face. Out of the several order confirmation email examples you must have looked at, one thing that would have appeared to be common is the simple approach. Branding is an imperative thing to do but only works like a charm when done the right way.
The example of Huckberry here depicts how effortlessly you can invite your customers to interact with you more and check out the brand's social media pages. Asking the customers to connect right at the beginning is a great way to ensure that the job is well done.
Incorporate only the best branding elements and include links wherever possible. Remember that subtlety goes a long way!
A Packed Informational & Utility Bundle
One of the key takeaways of any order confirmation email example is how successful they are with regard to customer loyalty. You must ensure that your customers can trust you and hold your brand in the highest regard. For this reason, the strategy of packing and bundling all of the vital information works best. This means ensuring you have included all the main objectives you want your customer to focus upon.
The most essential elements to include here are:
Thank you or greeting note
Link to upsell
Similar popular products
Social media links
Order details
Return and exchange policy
While this may seem like a lot to include in one email, taking a look at how Zalando does it can give you just the idea that you need. Once you realize how clear-cut all of the elements need to be, the ideas of incorporation won't stop flowing.

Best Practices & Takeaways From Order Confirmation Email Examples Shown Above
You are now an expert on how to formulate the perfect email. With the help of the order confirmation email examples and factors above, you should now begin working on perfecting your own template. Ensure that you do justice to your brand, don't forget the key takeaways, and focus intensely on the organization aspect.
Now, read along to find out some basic practices that will stick with you a long way.
Follow Promptness
Nobody likes receiving an email several hours after their job is done. Since the customer has just purchased a product, it's highly likely that they are still on their phones or websites. Therefore, this is the perfect opportunity to sustain that mindset and encourage them to further stay invested in you. The automation process should be as timely and convenient as possible for your users.
Stay True To Your Brand
Companies spend thousands of dollars and look at hundreds of order confirmation email examples before choosing what they want. Because getting the design right is a lot more crucial than it seems. The design doesn't just reflect the image of your brand but also the message you wish to convey. Don't be afraid to experiment with color schemes, placement, section selection, etc. Choose a theme you are going for and then select the branding and marketing accordingly.
Optimize Engagement
Since the point of the email is to encourage your customers to immerse and involve themselves in your brand, you should use all the tools you have for establishing the same.
Firstly, look after your subject line and cross-check whether it's passing on a clear message. Bring out your checklist to see whether you have gotten the packed information and utility right. At last, employ call to actions that work in your favor and engage the customers to carry out different tasks. Discounts, similar products, subscriptions, and brand loyalty points are a great way to do so!
Wrapping Up!
There is no doubt in the fact that all of the order confirmation email examples come with a distinctive lesson and ideation plan. Remember, this email is the only way you have of taking forward your journey after a product has been purchased. Spend as much time on it as possible and come up with the perfect template.
Promise yourself authenticity and informative impactfulness and there is absolutely no chance of going wrong. Now that you have all of the means needed, what are you waiting for? Go ahead and craft that order confirmation email and let it work for you!