Searching for the best Shopify store examples so that you can nail your store design? Well, get this first!
Shopify has become insanely popular with the rise of dropshipping and online stores. It has massively grown to host around 20% of the entire eCommerce stores online. According to Google Trends, Shopify is also the most searched eCommerce solution online. Don't believe me? Okay, see it for yourself!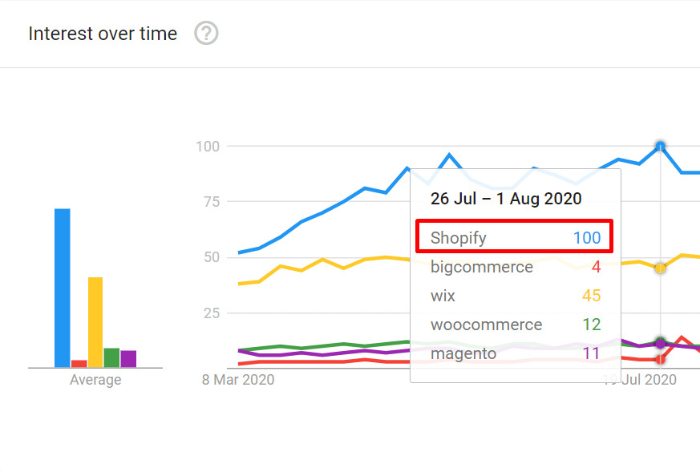 Shopify leads in popularity both globally and in the United States.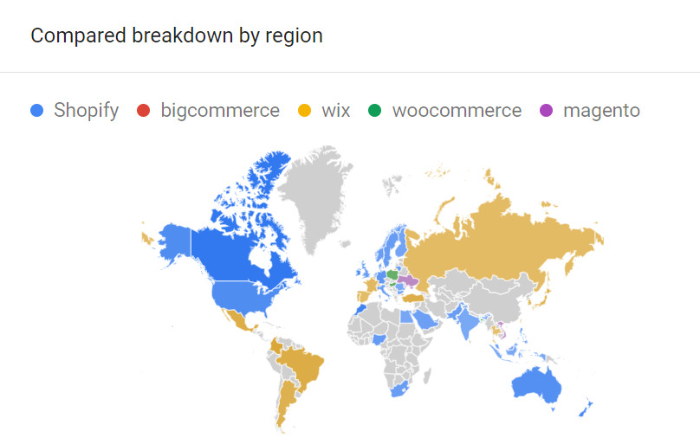 Success stories inspire us to do better. So, today let's look into massively successful Shopify stores and grab inspiration to take our online business to another level!
Let's Have A Look At the Best Shopify Store Examples
Tanner Goods – Elegance in Routine Products
Tanner Goods brings durability and elegance to daily-use products. Its product range is mostly modern, classy, and minimalistic.
Things that Work Great for Tanner Goods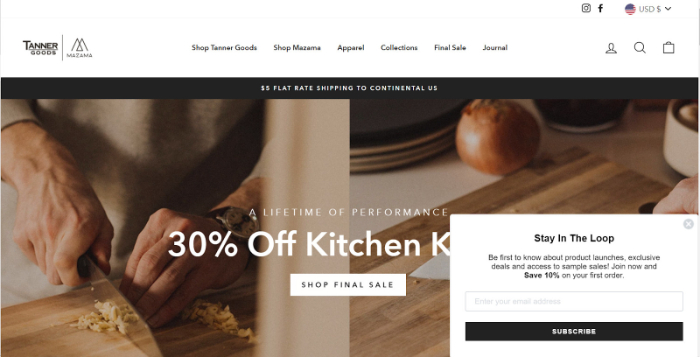 Call to Action in the initial slideshow
A white background CTA with black font is used here. It really stands out!
Popup for an email subscription
As soon as the visitor lands on the homepage, they are welcomed by a popup to subscribe for the latest updates on products and deals.
Clearly displays its wide range of products
The neatly designed homepage of Tanner Goods makes it a great Shopify store example. The visitor can get a full idea of all the products they can expect to purchase from Tanner Goods because of its well-listed homepage.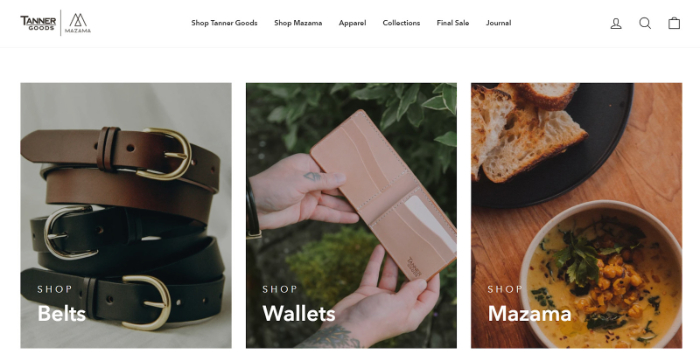 Fast navigation and loading
The site takes around 1.5 – 2 seconds to load, and the product images load fairly quickly as well.
A long and detailed footer works well only in rare cases, and this Shopify store example has to be one of them. Tanner Goods has a comprehensive footer that displays all the product ranges and brands the store features.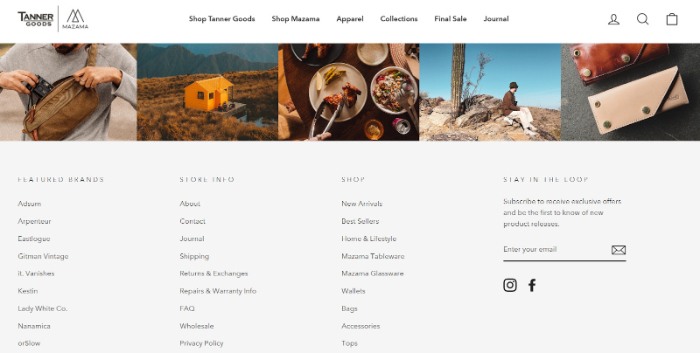 Regular blog posts to engage customers and visitors
Tanner Goods knows how to maintain the connection with its customers. It has a lively and engaging blog related to the experiences, dining, and events.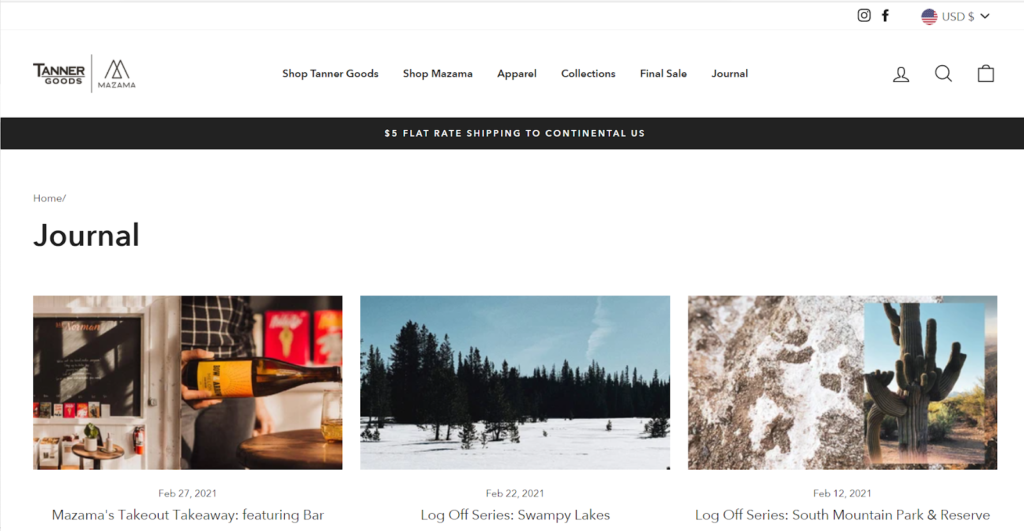 Meowingtons – Cat Owners' Paradise
Meowingtons is one of the best Shopify store examples you can see today. It has a straightforward storefront and smart branding strategy that give it a well-deserved top spot on our list.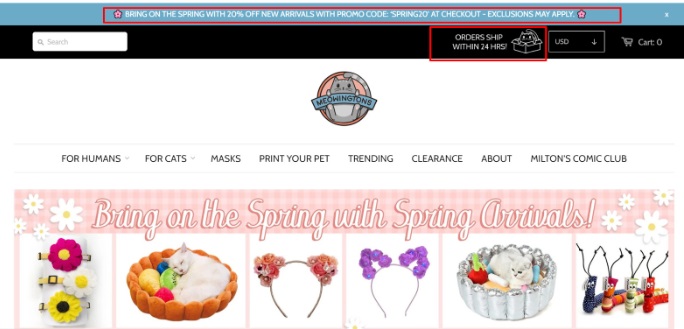 Things that Work Great for Meowingtons
As soon as you read 'Meowingtons,' you get an idea that 'meow' will be related to cats. It brands itself as a community for cat lovers to share the latest cat trends and provides a huge range of cat-themed products. Although Meowingtons uses one of the many simple Shopify website templates, it still becomes a memorable brand for cat owners seeking merch and accessories on a budget.
Meowingtons' announcement bar has a sharp marketing strategy. By directly offering a coupon code on top and mentioning that products ship within 24 hours it builds excitement and trust within the store visitors.
Clear categories for human and cat-related products
To prevent any confusion for customers, Meowingtons has clearly divided products into two different sections for ease of navigation. Its Shopify store also offers printed cat clothing merch and accessories.
Clever Product page design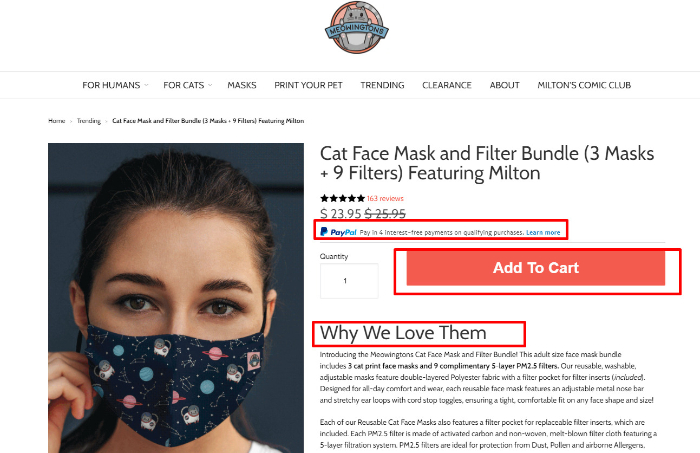 It has a huge Add to Cart button and also specifies different payment plans. Instead of simply titling it as 'Product Description,' Meowingtons creates a connection with the visitor by saying 'Why We Love Them.'
Quick navigation and fast site scrolling
This dropshipping store loads within 2-3 seconds and provides a smooth store navigation experience to its visitors.
Death Wish Coffee – Dark and Bold Coffee Store
Death Wish Coffee Co. definitely has to be on our list of Best Shopify store examples! It was started in 2012 as a small coffee shop in Saratoga Springs, NY, and has grown successfully. Their Shopify store claims to create the 'World's Strongest Coffee' using the perfect blend of beans and combining it with their unique roasting technique.
Things that Work Great for Death Wish Coffee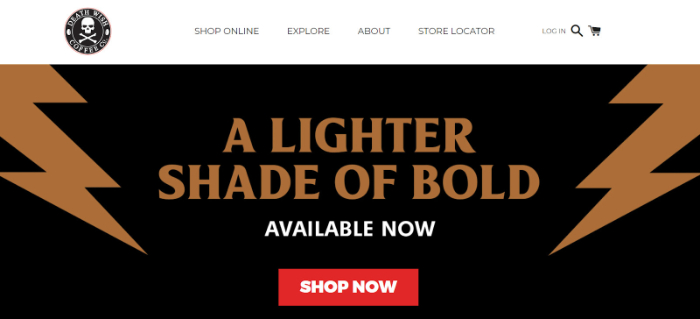 Death Wish Coffee displays a clean white background with dark product images that create a bold contrast to attract visitors, making it a great Shopify store example.
The homepage immediately promotes its new product and prompts users to 'Shop Now' using that bright red button.
Detailed product description
The product page also features FAQs that provide shoppers with important details to make an informed purchase along with detailed specifications.
Death Wish Coffee's tagline "Wake Up With The World's Strongest Coffee" makes a strong coffee lover's brain goes "hell yeah."
The store is aware that they're competing against giant brands like Starbucks and Caribou. Hence, its Shopify store stands out using a dark yet inviting brand identity.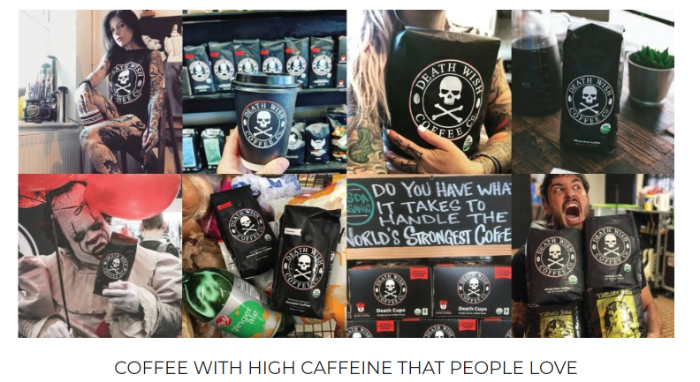 The site loads within 2 seconds and has a smooth navigation experience to impress its fast on-the-go visitors. Site loading speed is a great determiner of whether a store is a great Shopify store example or not.
Death wish coffee maintains its unique blog to engage its customers with tips and tricks of maximizing their coffee's taste and strength.
Notebook Therapy – A College Student's Paradise
Notebook Therapy is a one-stop dropshipping Shopify store. It aims to fulfill the stationery needs of students and stationery-addicts. It reflects 'kawaii' East-Asian culture. Notebook Therapy is an excellent example of a Shopify dropshipping store.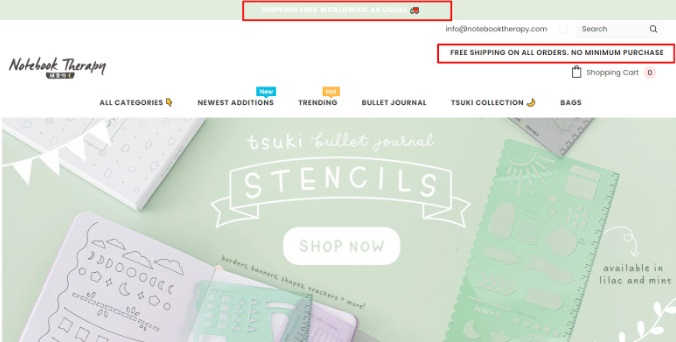 Things that Work Great for Notebook Therapy
Store design reflects customer preference
Pastels are trending everywhere in the stationery world. Notebook Therapy leverages this fact and has designed their dropshipping store to reflect the same. It also uses emos to add an extra cuteness level.
Steals visitor's attention
Who doesn't love free delivery? Notebook Therapy smartly positions FREE delivery on its storefront to grasp your attention.
Notebook Therapy drives insane amounts of traffic from its Instagram following. It posts a variety of content related to aesthetic note-taking, cute highlighting, and much more.
Quick and clean store navigation
As you can see, all sections are neat and customers can easily navigate without feeling cluttered with a bunch of information.
High-quality images and product image zoom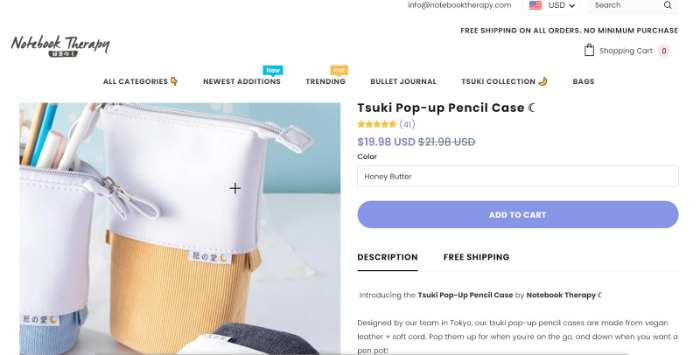 It has an excellent zooming feature that gives you a real-time look at how the product looks and a sense of designing the product.
Haus – Modern Furniture for Cutting-Edge Needs
Haus provides an exclusive collection of furniture to meet your goals of having a minimalistic and trendy home. The store was originally established in 2007 and had its first physical store in East London.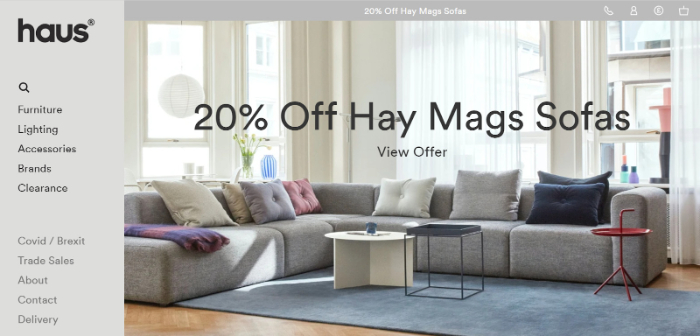 Things that Work Great for Haus
The storefront reflects its purpose. It uses one of many modern and minimal Shopify website templates and doesn't cram too many products on the front screen.
The storefront has a sticky menu so that the visitors wouldn't waste time hovering on the top for it. Great for retaining visitors for longer and for making them check multiple products.
The site loads pretty quickly and takes an average of two seconds.
It has a minimalistic CTA on the first page by inviting customers to avail the 20% discount.
Captivating product descriptions
Most product descriptions not only describe the product but also narrate the story behind the product. For example, have a look at its Panthella MINI Table Lamp that shortly describes its origins-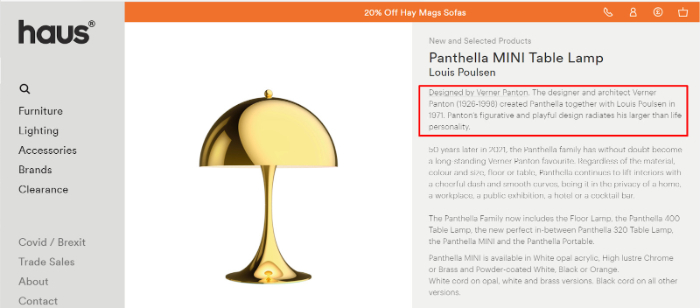 High-quality product images
Haus uses high-quality product images to give visitors an idea of how the product looks in real life. It has a minimalistic Shopify template to put its high-quality products into the spotlight.
The store is transparent about how long it takes for the products to reach the customer, varying from 1 to 3 weeks. Customers love transparency and appreciate it when you give them a realistic estimate.
Pop Chart – Trendy Infographics for Nerds
Pop Chart is known for creating unique infographics on a huge range of topics from periodic tables to beer and everything in between. The Shopify store stands out for maintaining both loud and nerdy touch.
Things that Work Great for Pop Chart
It welcomes you with a witty popup that doesn't take up a lot of space and also promises not to send spam emails.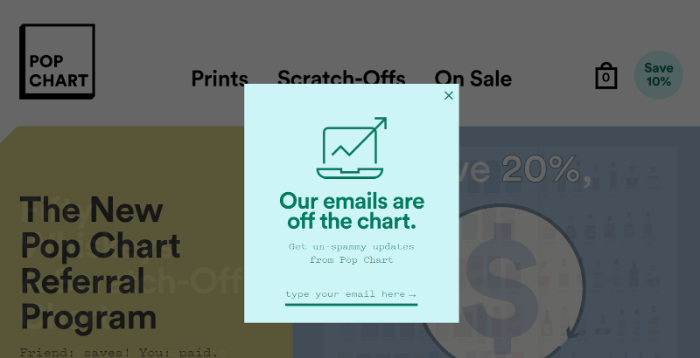 The storefront has minimal text and lets the products do the talking. Visitors are not overloaded with information and are free to navigate as they please.
People are a fan of Pop Chart's smart animations, making it one of the best Shopify store examples. Pop Chart knows how to hook its visitors. When a visitor hovers over the product, the image changes to display a unique feature of the product. For example,

College is all about condensing information, and Pop Chart knows it well. They have concise product descriptions.
A visitor can easily check what's printed on each chart as the store uses high-quality scrollable images.
It has an entire section of its homepage dedicated to Instagram in such a way that it both shows its feed and its range of products.
Bucket Bike – Bikes for the Family
Bucket Bike sells unique and family-friendly bikes. It definitely has to be on our list of top dropshipping Shopify store examples because of its ingenious branding strategies.
The Madsen family originally started it to promote the idea of biking and an outdoor lifestyle. Bucket Bike has unique bucket-like addition to the bicycle, hence the name.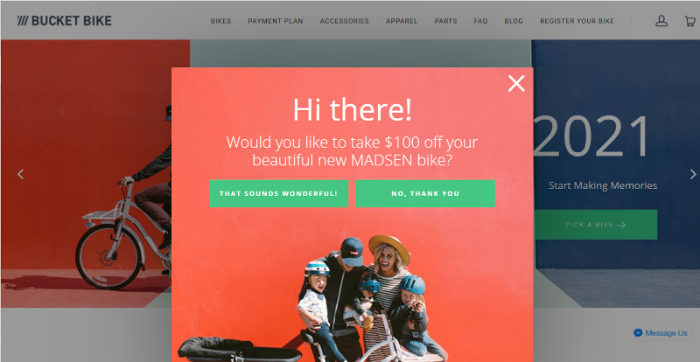 Things that Work Great for Bucket Bike
Bucket Bike welcomes its visitors by offering $100 off, grabbing both attention and interest.
It displays kids and a happy family on its front page. So, when its targeted visitor looks at the Shopify store homepage, they can definitely imagine themselves using the bike with their family.
Site loads fairly quickly
Despite having its homepage filled with images, the store is very quick to load, and the images are displayed instantly.
Smartly showcases its features
Instead of having a 'features' page, they simply drop the homepage features along with relatable images.
It doesn't use contact forms to complicate the contact process. You can simply shoot them a message using the Messenger feature on the homepage.
Bucket Bike knows how to drive sales. Besides having features like product image zoom, it also has a dedicated section that displays how you can accessorize your Bucket Bike.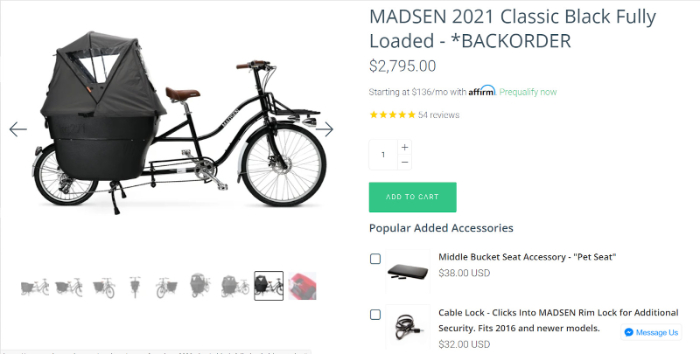 PRESS London – A Healthy Retreat
PRESS London is all about 100% plant-based quality nutrition that helps people live a happy and healthy life. It was started in 2014 and has grown tremendously over the years. PRESS London is known for its cold-pressed juice.
Things that Work Great for PRESS London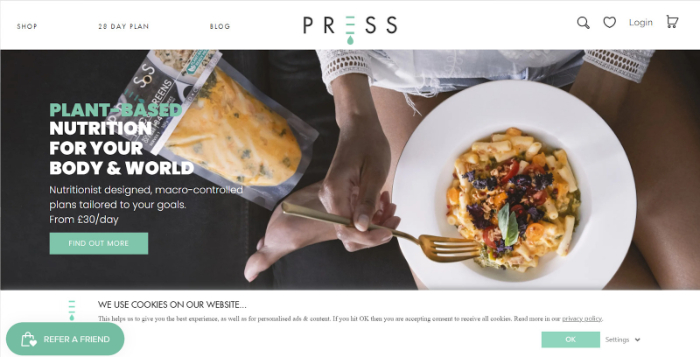 Effective Call to Actions
The homepage initially promotes its 28-day Plant-nutrition based food plans. When we scroll on the homepage, there are multiple other plans that ask visitors to explore further.
The 'Refer a Friend' promotion is a great way to drive sales. People who are embarking on a weight loss journey love having a partner to make things easier and more fun. Press London smartly capitalizes on this fact.
Although visitors dislike cookie consent popups, the lack of one does create a little suspicion about the Shopify store. To build trust with its visitors, Press London's Shopify store smoothly slides in a cookie consent notification.
People buy products when they see other people using them. Press London has an entire section on its Shopify homepage that is dedicated to Instagram images of customers and influencers.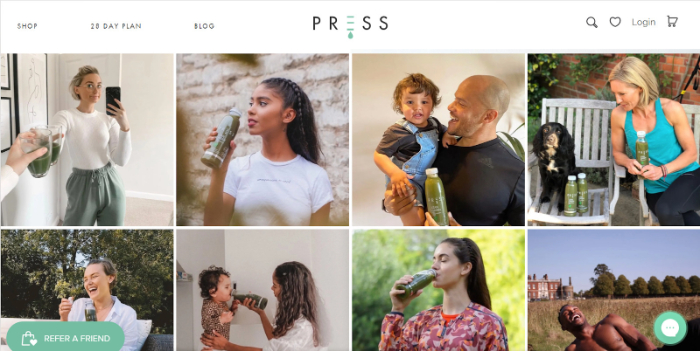 Visitors do not like filling long forms when it comes to making small inquiries about a product. Press London easily slides in a chat function so that visitors can quickly have their questions answered.
Allbirds – The Environment-friendly Brand
Allbirds was started with an objective to match nature's designs and have a sustainable Shopify clothing and shoe line. It is known for its witty descriptions and comfortable clothing line.
Things that Work Great for Allbirds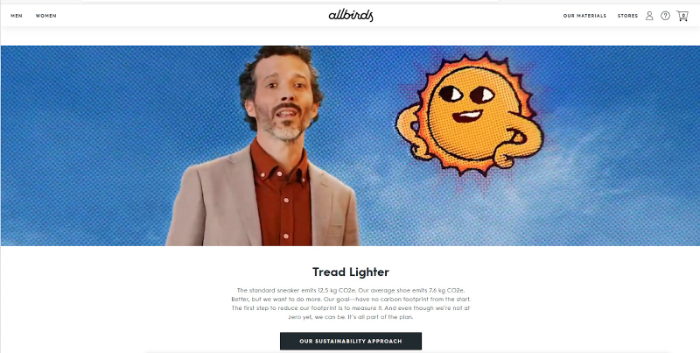 Allbirds Shopify store is filled with witty captions, compelling call to action, and direct mission statements. The product descriptions will stick in the visitor's mind for a long time.
Allbirds is crystal clear about being environment-friendly and does not miss any chance to convey its mission to its visitors.
Minimal and Memorable Theme
The store is clutter-free and has an inviting look. The background is plain white, and the shoes get all the spotlight.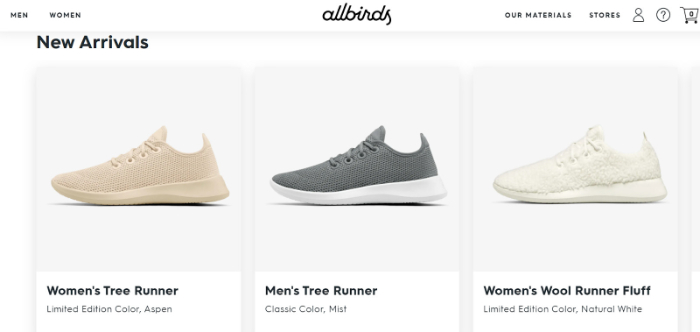 Efficient Navigation- Shoppers simply click on "Men" or "Women" at the top to simplify visitor's search.
Quick loading speed- Despite having HD videos and images on its Shopify store, the page loading speed is less than 3 seconds, which is fairly great.
Luxy Hair – Gorgeous Hair Extensions
Luxy Hair has successfully grown as a brand synonymous with hair extensions for women. After all, who gets the charm of long voluminous hair more than women themselves. Luxy Hair drills straight into this unique selling point and sells flawless hair extensions. These two points make Luxy Hair one of the best Shopify store examples.
Things that Work Great for Luxy Hair
Grabs the top spot on Google Search Results
When you search for "buy hair extensions", Luxy hair wins the first spot on the search results page. Its Shopify store is heavily SEO-optimized.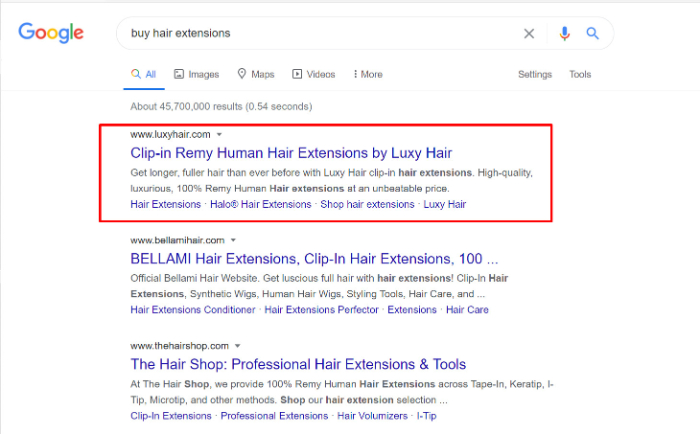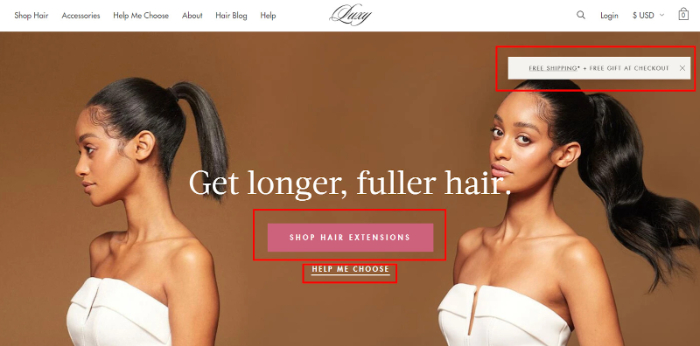 Loaded with smart Call to Actions
Three Call to Actions on a single section without making visitors feel that they're being pushed to explore is a smart strategy.
Every image is used to draw a difference
The landing page is filled with before and after pictures so that the visitor can picture themselves using the hair extensions.
Social and Celebrity Proof
The homepage displays how celebrities use Luxy hair extensions and build trust with the visitor, compelling them to explore further and spend more time on the store.
Visitor engagement using blog posts
A key characteristic of a great Shopify store example is how the store manages to engage its visitors. Luxy hair is filled with tutorials, DIYs, and tips to maintain hair extensions in the best shape, generating many leads and customers.
Not Pot – Genius Gummy Candies with CBD Oil
Not Pot brands itself as the 'Home of the Original CBD Gummy.' It is known for its mission of "helping pay for people's bail since 2017." Its product originality and amazingly designed storefront earn it a spot on the best Shopify store examples list.
Things that Work Great for Not Pot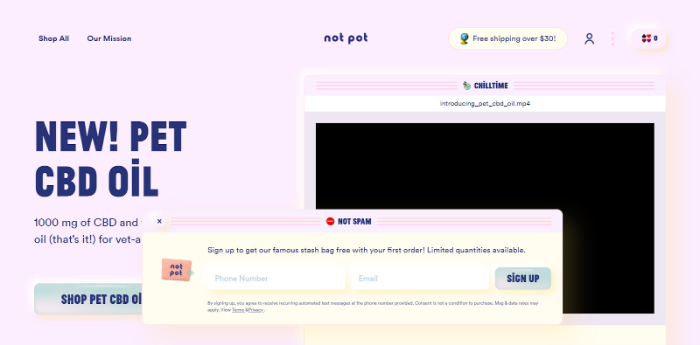 Quirky and unique storefront
Not Pot has a unique appeal to Gummy lovers and Kawaii anime fans. It uses multiple anime memes and images to grab store visitors' attention. It blends pearl pink with deep blue color to create a striking contrast.
This Shopify store does an amazing job of maintaining fast site speed despite being graphics-oriented.
Not Pot is dedicated to overcoming imprisonment inequality and dedicates a part of its profit to pay for people who cannot afford legal fees for bail.
It has a cute and catchy CTA that prominently says "NO SPAM" and attracts a visitor to sign up by offering free goodies.
Captivating products page
The products page looks as if you're shopping directly from a physical storefront. It is a great blend of design and creative branding. It first captivates the visitor with the description and then proceeds to display the pricing- a smart strategy so that the visitor doesn't turn away from the store directly after seeing the prices.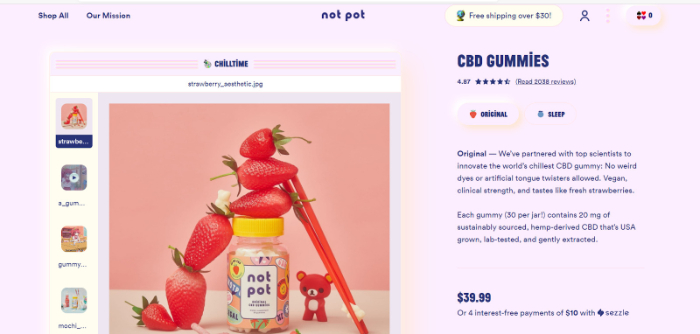 For all the label-reading visitors out there, Not Pot has everything covered. The product description ensures that the visitors have a clear idea of the product before making a purchase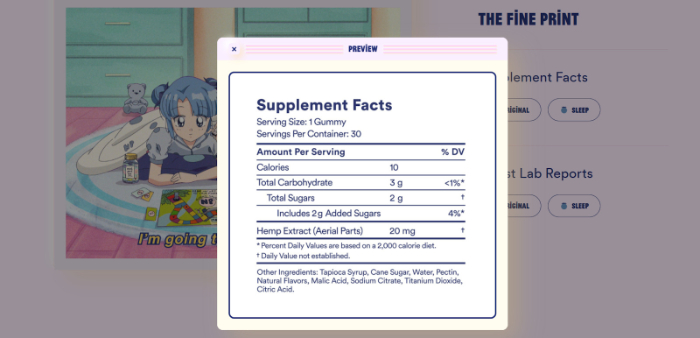 The Bottom Line
After learning what truly stands out in these top Shopify store examples, we can say without a doubt that Shopify is an amazing eCommerce store platform and comes with powerful tools to take your online business to another level.
It is also filled with multiple dropshipping-friendly extensions like Oberlo and Dropified to simplify your dropshipping business. And, Shopify has many inventory and store management extensions for independent online store owners as well.
All in all, Shopify is your best bet for starting and running an online store. If you haven't already started your online store, then you should definitely try Shopify out today and benefit from its free 14-day trial! Happy online selling!