Having a global business is hectic, especially when it comes to managing multiple currencies. Auto Multi Currency Converter Shopify application has made it easy for eCommerce owners to enable different currencies on their online store. As you know, not everyone prefers to pay in USD. 
As the name says, the converter automatically converts prices of all the store products in a way that sounds familiar to users. Let's say if a customer is looking at it from India, he will see an INR price tag, not the USD one.
Anyway, let's just see Auto Multi Currency Converter review to find the right way to install it, its features, pros, and cons.
How to Install Auto Multi Currency Converter in Shopify
Step 1: First of all, install the converter. Now click on "text guide" and open it in a new tab.

Step 2: Keep the guide opened in one tab. In another tab, Go to Shopify admin, click Setting -> General -> Change Formatting.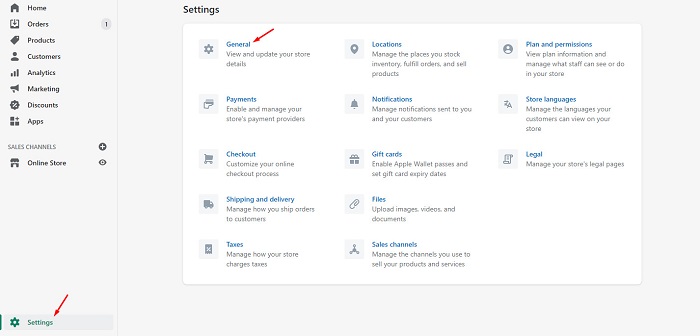 Step 3: The change formatting section has a drop-down that you need to fill up and save later. Don't worry, we're gonna do it in a snap.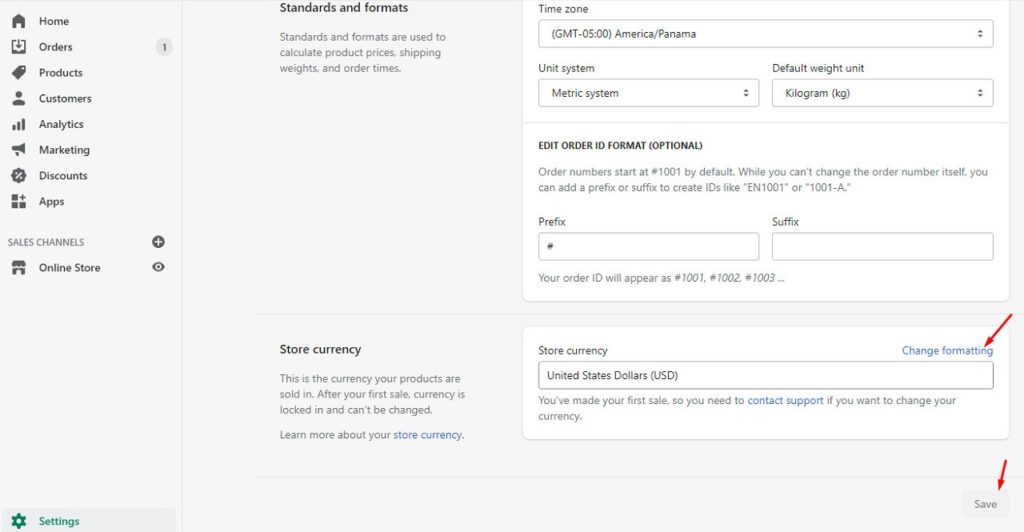 Step 4: Now this is the part where you have to keep calm. Although it appears that there's some coding needed, all you need is to copy-paste. Can you see that "HTML with Currency" image? Okay, stay there and move to step 5.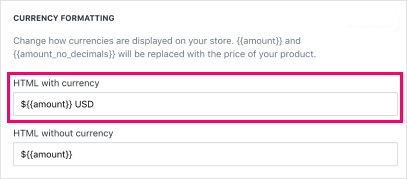 Step 5: In the text guide, you will see a code on the 3rd step. Copy it!

Step 6: Paste it in the same "HTML with Currency," it will look like this: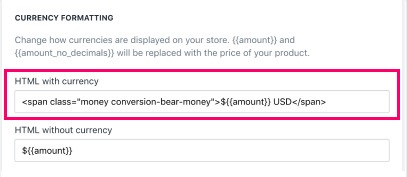 Step 7: Once you end up pasting the code, hit the "Save" button, and you're good to go.

Auto Multi Currency Converter Features
Choose From Numerous Currencies
Conversion Bear has filled auto multi currency converter with around 160 currencies. You can add/remove any currency you want in a single click. You don't need to worry about changing the exchange rates manually as they constantly get updated on their own.
Location-Based Conversion
The app has a feature that identifies your customer's location and automatically converts the pricing as per their local currency standards.
Set Price As You Want Them to Be
Rounding off the price is an excellent idea to make your Shopify shop look clean. So with the Auto Multi Currency Converter Shopify, you can round off a price that looks like $8.234 to $8 or fix the price for any currency like $8.99.
Custom Currency Setting
In case you think that any currency is missing from the app, you can change the HTML by following the Conversion Bear Auto Multi Currency Converter guide to make your own conversion.
Seamless Design
The app has 4 epic layouts to choose from. You can modify each and every colored element in these layouts and set it to go with your Shopify e-store. Most importantly, you can even add custom features via CSS.
Auto Multi Currency Pros and Cons
Pros
Great user experience
100+ currencies are available
Friendly app for eCommerce business owners
Cons
When a buyer checks out of the store, the currency goes to the default one, which might confuse the customers in case the warning is not enabled

Is Auto Multi Currency Converter Worth Trying?
The Shopify currency conversion fee is 0! Being a free Shopify plugin, Conversion Bear's Auto Multi Currency Converter is one of the best converters which proves it worth trying.
With all its advanced and customizable features, the user experience a customer gets while visiting your Shopify e-store is just phenomenal.
As a customer, I look for an e-store with a simple & impactful design, and of course, the currency converted to the mine one. I hate to convert prices for every product I see on Google.
No one likes an e-store with an unlocalized currency. Just think, would you like to convert and check on the prices for every product you wanna buy? Of course, the answer is no.
So, make sure to have this app to make your Shopify store easy as well as stunning for international customers.