Magento is a famous US-based eCommerce platform that hosts more than 270,000 online stores from niches of all sorts.
The platform came into being in 2008 and has been a common household name in the eCommerce world.
The platform reached the peak of its fame when Adobe acquired it in 2018.
Just like WordPress, Magento also has its own SEO. To understand the platform more specifically, let's first understand what Magento SEO refers to.
What Is Magento SEO?
Magento SEO, like SEO for any other webpage, is a set of tweaks that you can make to help your online store do well in terms of views.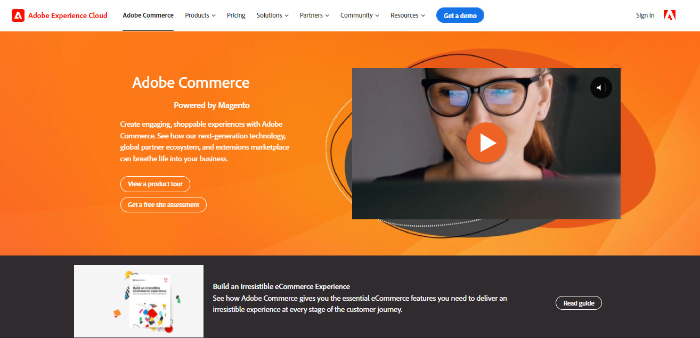 You can choose to run your eCommerce store on default settings but that will not take you too far. Because your competition is out there making SEO tweaks this very minute.
Magento SEO includes useful tools such as robots.txt and other helpful stuff like sitemaps to allow for effective optimization.
Not only this, you can also apply redirection effortlessly and implement multiple techniques to improve overall page rankings.
What Does It Take to Rank Your Magento Store?
Like any other webpage, there are a few key areas in a Magento store where you can apply appropriate SEO tweaks to improve your organic search result rankings.
Magneto Technical SEO
This is the very first step that you need to take when trying to improve your Magento SEO.
Any modifications in the technical base will allow search engines to actually "see" your effort in the first place.
From here on, it's all about improving what the search engines are seeing.
Keyword Relevance
Keyword relevance means literally what it says: just how relevant is your store/content to the queries people are looking up in the search box.
Search engines pull content that is relatable to what a user is looking for and they do this by matching keywords.
Needless to say, this step is extremely important in marking your content the best for any given search query.
Store Authority
You might have the right stuff and you may even have marked it well using appropriate keyword listings. However, that is just not enough if the search engines don't trust your store, content, or webpage.
Adding meaningful links to your website shows search engines that others trust your content and they should too.
All three of these aspects are necessary to improve your SEO standing. In this guide, we have mostly
Follow Magento SEO Checklist for Better Results
From your site's URLs to simple stuff like headings and Meta descriptions – the technical base we talked about earlier includes everything.
These tweaks are simple but can go a long way if done right.
A strong technical base is a must-have for any website, including your Magento eCommerce store, to improve its ranking in an organic search result.
Here is a checklist of everything that you need to improve in order to build a strong technical base for your Magento store and improve your Magento SEO ranking:
Link Structures, including URLs: Self-explanatory, short, consistent, and lowercase.
Meta Descriptions & Other Related Information: Brief and definitive, essential for increasing your click-through rates.
Headings & Titles: Well-structured and well-phrased headings make it easy for both readers and search engines.
Stratified Navigation: Having a well-organized navigation structure ensures fluid movement throughout the website.
Webpage Crawling & Webpage Indexing: Making it easy for search engines to see what your page has to offer.
Loading Time of Your Site: Your hosting plan plays an important role in determining your site speed.
HTTPS: A secure website is essential to win the trust of your customers and the search engines.
How to Improve Magento SEO for Your Website
Here's a detailed explanation of how to improve the technical side of your eCommerce store to improve your Magento SEO rankings.
Magento URL structures and redirects
URLs are the links that are displayed in the search bar for any webpage. They are essentially the address for that webpage. Therefore, the address to your webpage or store should have an optimum structure – one that is favored by the search engines.
In short, here's everything that you need to do to improve your URL situation:
Set URL redirects and rewrite settings
Remove .html extensions from your links
Excluding categories from your links
Adding automated redirects in case of key change for URLs
You can improve your URL settings by going to the "store configuration" and expanding the "general" settings to find settings under the web.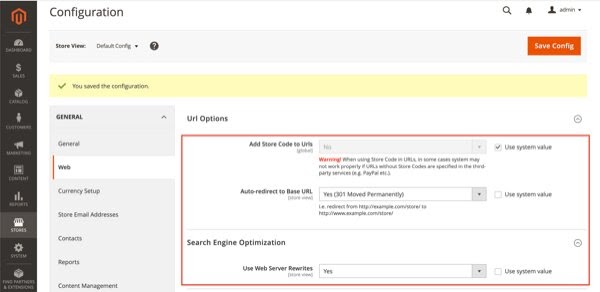 Here, you will need to make sure that the value for "Add short codes to URLs" is set to NO by default. If not, now's a good time to change it.
You should also change the option that states "Auto-redirect to base URL" to yes while you are here.
Removing the .html Extension from your web pages and products is important so that it becomes easy for you to change platforms in the future.
You can find these settings by going to stores > configuration > catalog > search engine optimization.
Here, you will need to remove .html from the "product URL suffix" and "category URL suffix".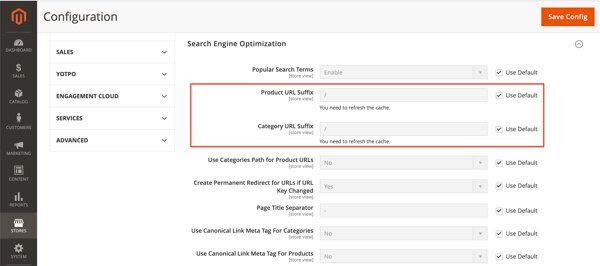 While you are here, you should also choose to NOT include the product category in a product's specified URL. This way, you can keep your URLs short and meaningful.
By default, automatic redirect URLs even if the URL key changes are ON in Magento store settings. It is essential to keep it that way to prevent any difficulties in the future.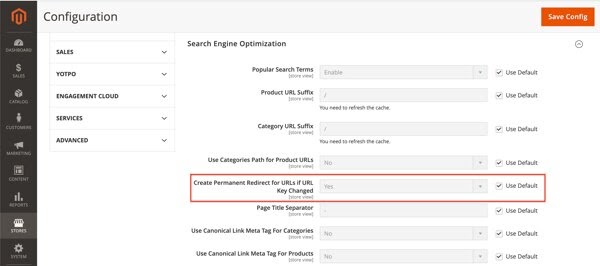 Meta Descriptions & Other Related Information
Meta description serves as a brief introduction to your webpage or website on the search engine result snippets, or SERPs.
A search engine result snippet is the little block of information (the website title and a brief detail underneath) you see for every website every time you look up something on Google.
Improving Meta descriptions on your webpage is crucial because this is where the viewers decide whether or not to click through to your website.
A good Meta description that harbors your focus keywords, is unique, and does not exceed the character limit: i.e. remains between 70 to 155 characters.
You can set default Meta descriptions for your store and then change individual descriptions for your web pages and products whenever you need them.
Simply go to Content > Configuration.
Click on "Edit" under "Default Store View".
Scroll down until you reach "HTML head".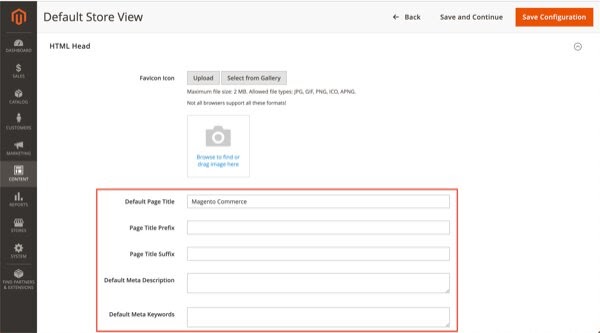 You can set a default Meta description for your store here under the heading "Default Meta Descriptions".
Headings and Titles
Titles are important because just like Meta descriptions, they also serve as the first impression of your webpage to visitors.
A good title is concise, self-explanatory, and includes the keyword, not more than once. A good title also has somewhere between 30 and 60 characters.
Headings are the next milestones that you should be looking at when improving your Magento SEO.
A page that has orderly and structured headings is easily readable by both readers and search engines.
In fact, viewers can quickly scan your page to see what type of information they are going to get just by reading the headings.
Here are a few of the best SEO practices for headings:
Using only one H1 heading for your entire page
Only including meaningful text under the H1 heading without images or links
Using subsequent H2, H3, and H4 headings accordingly
Sequentially nesting headings so that no lower-level heading (e.g. H3) comes above a higher-level heading (e.g. H2)
Refrain from adding the H2 tag to your products on product pages
Stratified Navigation
Stratified or faceted navigation means having appropriate product filters in place so that visitors can search for products and get exactly what they require.
Adding these filters allows users to look for a product of their exact liking, for example, "white minion T-shirts".
It is important that you create these filters for all the product subsets that make sense to do so.
Web Page Crawling and Indexing
Webpage crawling and indexing simply means presenting your website to search engines in a way that is easier for them to navigate through and label your website appropriately.
While a website hosts all kinds of information, you don't want all information to be ranked or "indexed" by search engines.
Therefore, it makes sense to take appropriate measures to inform the search engines of all the possible index-able information beforehand.
Using XML sitemaps is the best way to make it easy for search engines to navigate through your website. SML sitemaps tell the search engines where they need to go exactly and what they need to index.
Luckily, Magento comes with XML sitemap functionality. You can configure XML sitemaps to improve Magento SEO by going to Stores > Configuration > Catalog > XML Sitemap.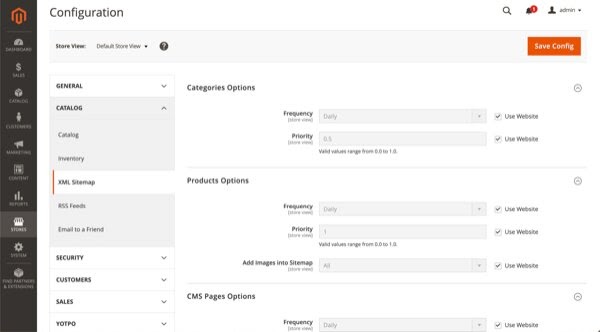 Duplicate content is a huge problem that prevents proper indexing of your web pages.
It is important to add canonical links to similar content so that the search engines don't get confused and label the two as duplicate and, therefore, plagiarized.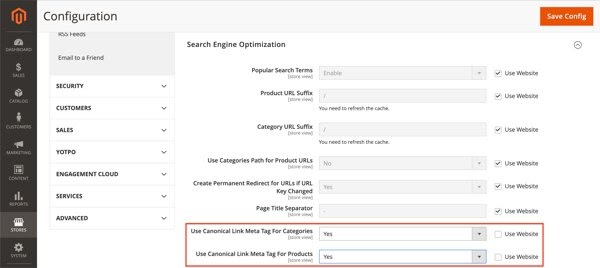 Using robot directives to tell search engines which pages to the index is also very useful in developing a good Magento SEO strategy.
Add the "noindex, follow" robots directives to all the internal search result pages to improve your store's ranking.
Take Care of the Loading Time of Your Magento Store
Website loading times are one of the most important parameters that Search Engines like Google take into consideration when looking at your website.
It is important to choose a Magento-optimized web hosting plan so that your loading times are exactly to the search engine's likings.
Your Magento hosting should be:
optimized for Magento
Ready to support Redis and Varnish
Running on Nginx
CDN compatible
Build An Understanding of HTTPS
HTTPS indicates optimum website security. It is essential to enable this security feature to win the trust of your customers as well as the search engines who are constantly scouting your website.
To enable HTTPS, simply go to Stores > Configuration > General > Web.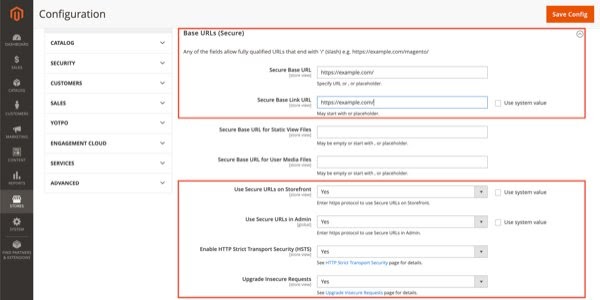 Once you are there, expand the "Base URLs (Secure)" tab and add https to the values of "Secure Base URL" and "Secure Base Link URL".
What Comes After the Technical Setup?
Here's where you can start taking advantage of a strong technical base that you have just set up.
Once the technical aspect of your Magento SEO strategy is complete, it's time for you to start working on keyword research and implementation while creating a link-building strategy.
One thing to note about building a strong Magento SEO strategy is that this is not a one-time process.
A good SEO strategy requires you to revisit your plan every couple of months and implement necessary changes, if required.