From links to images – these Amazon affiliate WordPress plugin can automate your entire eCommerce business.
Even though these plugins are similar, each has a unique ability. To find more about them, keep reading and I'm sure your eCommerce journey would be productive.
10 Best Amazon Affiliate WordPress Plugins to Manage And Boost Sales
AAWP
Amazon Affiliate WordPress Plugin or AAWP is a power-packed plugin. It has numerous features to profitably promote Amazon products.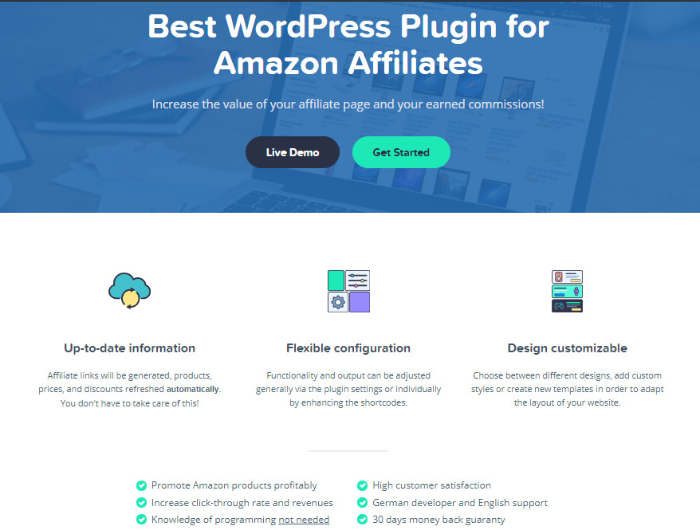 With AAWP, you can insert Amazon affiliate links as normal text links, descriptive data fields, or product boxes.
Not only this, it comes with great customization options which include:
Pre-built templates
Different variations for product boxes
Dynamic text links
Widgets
This plugin's consistent updates and responsive customer support make it stand out.
Features of AAWP
Automatic refreshment of affiliate links with trending products
Facilitates comparison of multiple products with product comparison tables
Automatic update of Product information with Amazon's Product Advertising API
Enables flexible configuration via plugin settings
Geo-targeting for foreign visitors
Creates automatic affiliate links and personal tracking id
Automated creation of Bestseller and New Releases list for increased appeal
Enables caching to store the product information
Many display templates and PHP templating for custom presentations
Google Accelerated Mobile Pages (AMP) support
Built-in German developer and English support
The plugin translates into 5 languages
Extra commissions by referring new Prime memberships
How Much Does AAPW Cost?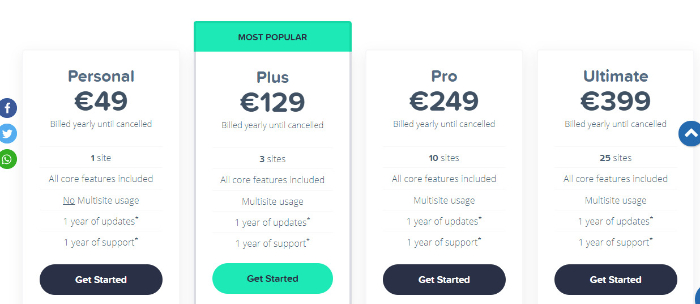 Thirsty Affiliates
To earn good revenue with minimal effort, go with Thirsty Affiliates plugin.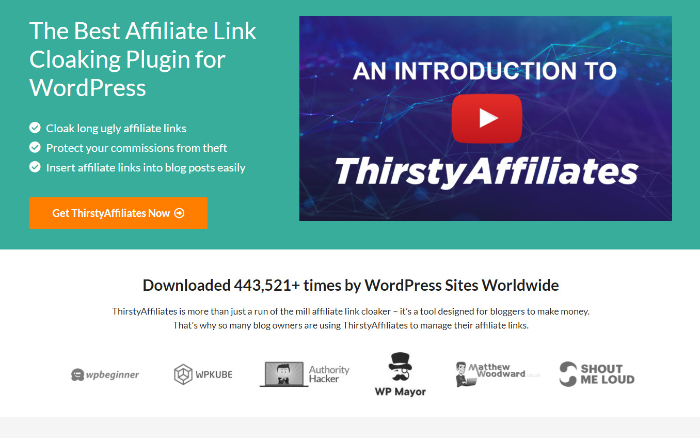 For better management services, Thirsty Affiliates offer link cloaking and safe redirection.
It also has the option to track the stats of every single click made by the visitors on your WordPress page.
By the way, the pro version of this plugin includes automatic keyword linking, automatic statistics reports, API importing, and much more.
Features of Thirsty Affiliates
Automatic affiliate link creation with suitable keywords
Increases conversion rates with geolocation links for international clicks
Keeps your affiliate links up to date with proactive link fixer
Prevents error pages with automatic 404 checker
Smart option to uncloak links when needed
Supports CSV import /export
Supports importing from third-party APIs
Link cloaking defends against commission theft
Tight integration with Google Analytics Events
How Much Does Thirsty Affiliates Cost?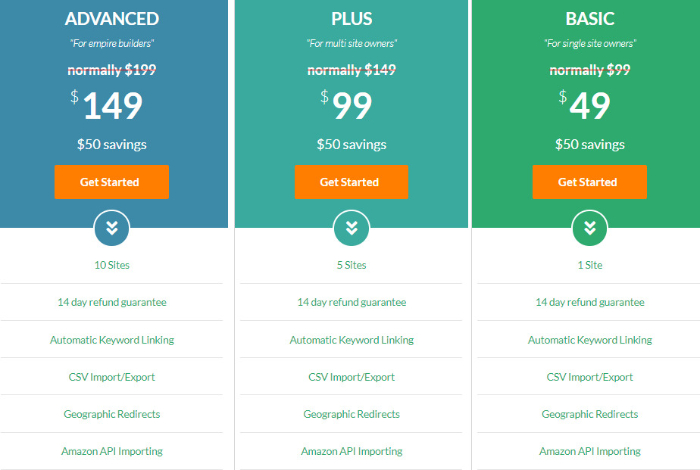 AzonPress
AzonPress setup Amazon affiliate links in minutes. It also specializes in presenting them to your audience in the most lucrative way.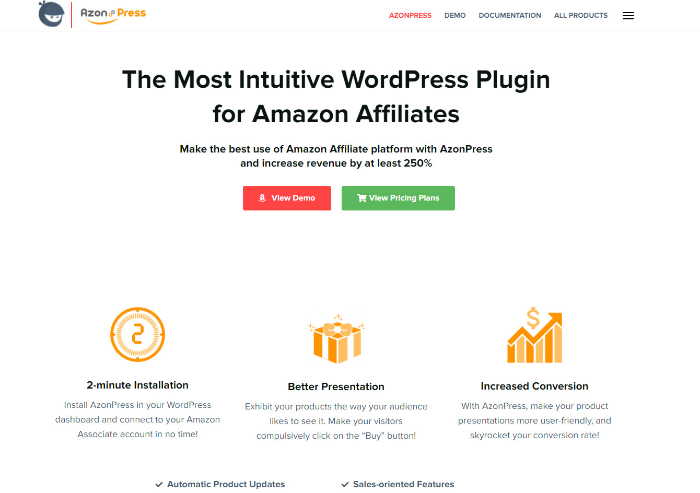 With AzonPress, you can easily create product tables, comparison tables, and bestseller lists.
It has a built-in design mode where you can choose a preferable styling library for your tables.
And guess what? All of this comes with a responsive UI.
In a nutshell, AzonPress is an all-in-one WordPress affiliate links management plugin.
Features of AzonPress
Responsive product tables and product comparison tables
Interactive drag-and-drop feature
Installation takes only 2 minutes
Automatic product updates
Easy and flexible customization
Enables use of shortcodes for repeated usage
Tracks referral links accurately
Various color skins and layouts
Multiple styling libraries
Geo-targeting links to automatically redirect users to their local Amazon
API call smart caching for loading selected products
7-days money-back guarantee
How Much Does AzonPress Cost?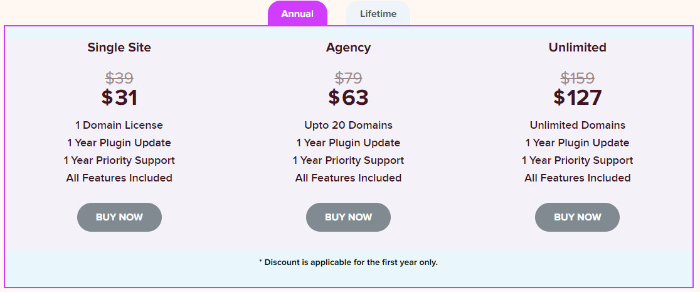 WZone
WZone is renowned as the best WooCommerce Amazon Affiliate plugin in the market.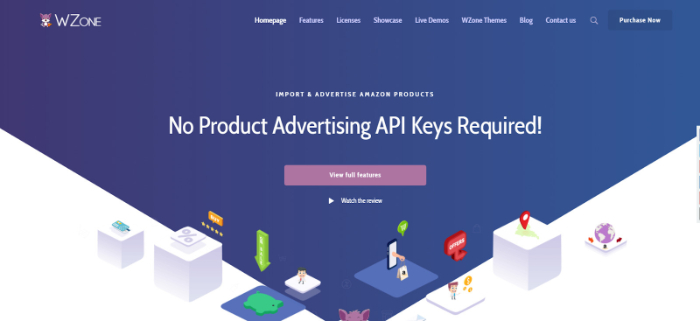 This plugin was introduced in 2012 and has been constantly evolving ever since.
This smart plugin has an array of features with unique import settings including:
Automated link correction
Display of tags and labels
Integration with other Amazon utilities
WZone also offers complete online documentation of its configuration.
This in turn helps newbie affiliates and bloggers to manage affiliate business.
Features of WZone
Easy to check your conversion rates with Amazon Associates Reports
Works best with PA API 5 version
Amazon Remote Images option gathers product images directly from Amazon's CDN
New Amazon Associates for Netherlands and Singapore affiliate ids
Automatically syncs products without Product Advertising Keys
Supports Amazon dropshipping
Display badges and flags to indicate the relevance of your product
Excellent on-page optimization for Amazon products with its Automated Amazon Content Spinner
Translate front end using the String Translation tab
Use multiple Amazon API Keys
Supports Amazon cross-selling feature including Frequently Brought Together products
Customizable import attributes, price variations, and other import settings
Keeps track of Amazon products using WZone reports
How Much Does WZone Cost?
If you wish to check the trial first, download WZone Lite for free, and later switch to the regular plan.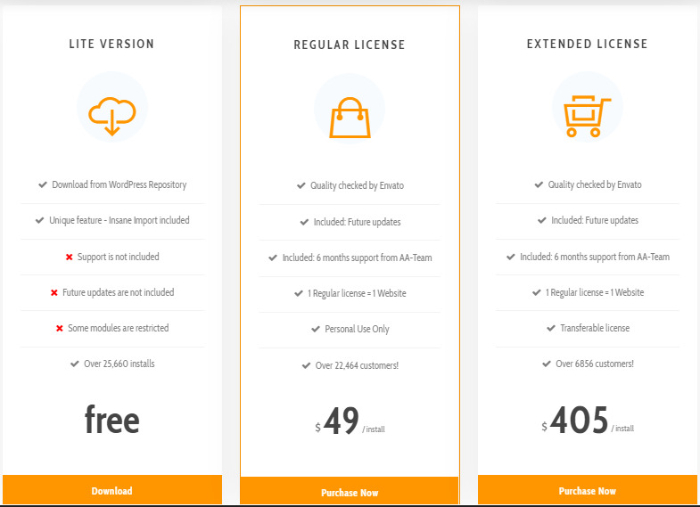 AAPro
AAPro is one of the best-selling WooCommerce Amazon Affiliate plugins that come with tons of free themes and unlimited layouts.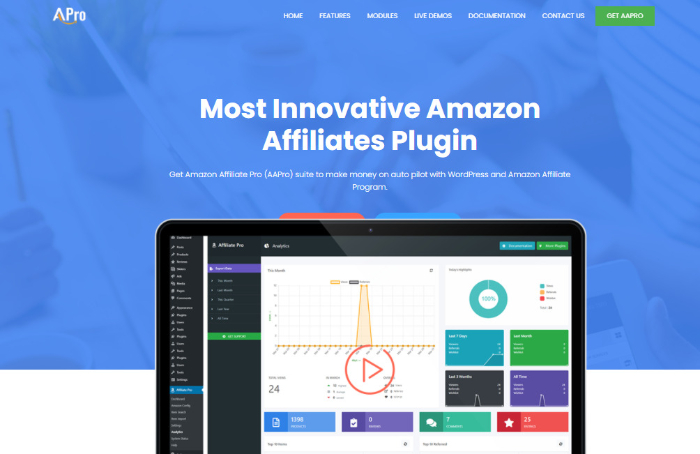 This plugin can import single or multiple products with high-quality images.
Like the other plugins, AAPro also has an auto data updater that refreshes data according to the changes we see in the Amazon store.
Features of AAPro
Facilitates checking of server configuration and website status
Allows to download website statistics and user behavior data
Amazon API usage can be limited with API control
Supports easy configuration and setup
Enables creation of wishlist for customer satisfaction
Special module to store analytics about the user's response to affiliate links
Multiple search methods including on-site, remote, and auto search
Supports import of multiple products at the same time
Allows to put tags on products denoting their popularity and relevance
Unlimited layouts for versatile and responsive designs
How Much Does AAPro Cost?
AAPro is an affiliate plugin available on Codecanyon that's available for just $29.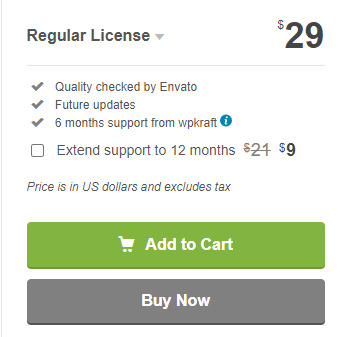 AmaLinks Pro
With AmaLinks Pro, you can set table layouts according to your needs. Each layout can give you a different approach that would fit your audience best.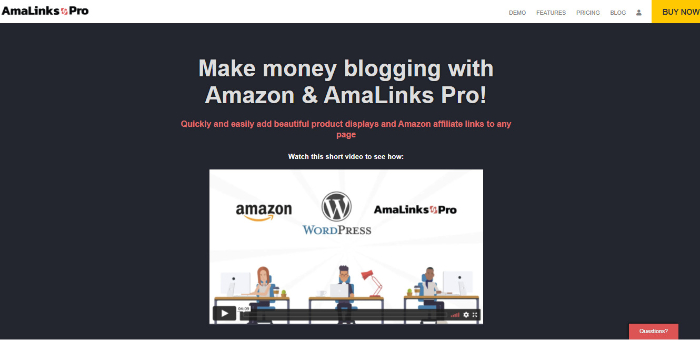 This smart little plugin lets you create both vertical and horizontal comparison tables.
It also supports affiliates with or without Amazon API access.
So when you won't have access to the Amazon Product Advertising API, you can make use of No-API mode.
Features of AmaLinks Pro
Showcase boxes for displaying product information, reviews, and links
Amazon compliant 'Buy on Amazon' buttons for a better click-through-rates
Responsive product comparison tables
Simple and configurable modern product box designs
Amazon compliant pictures and product title pulled directly from Amazon API
Includes Affiliate API Disclaimer for complying with Amazon policies
Includes compelling CTA buttons
How Much Does AmaLinks Pro Cost?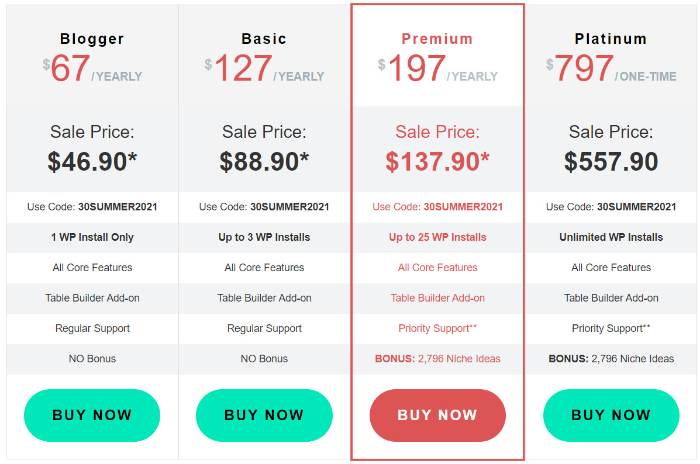 EasyAzon
EasyAzon creates Amazon Affiliate Links in a snap. It comes in a free as well as a Pro version.
Since 2011, EasyAzon has been regularly updating the plugin for better performance.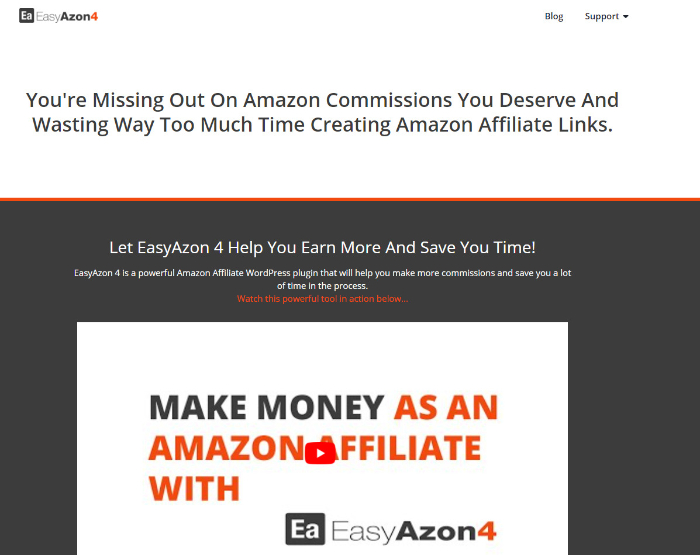 If we talk about the EasyAzon Pro, it has additional features like automated link cloaking, link localization, and much more.
You can download the free version to create text affiliate links. These links can be toggled to open in new windows.
You can also apply the nofollow attribute if necessary.
Features of EasyAzon
Easy to control affiliate links using the site defaults
Create text affiliate links directly from Amazon
Supports every location that has an Amazon Associates affiliate program
Built-in automatic link localizer for leading international visitors to the Amazon locale store
Built-in product pop up scripts for more clicks and commissions
Access to Amazon Affiliate Training
How Much Does EasyAzon Cost?
Even though EasyAzon is available for free, its free version has no match to the Pro one.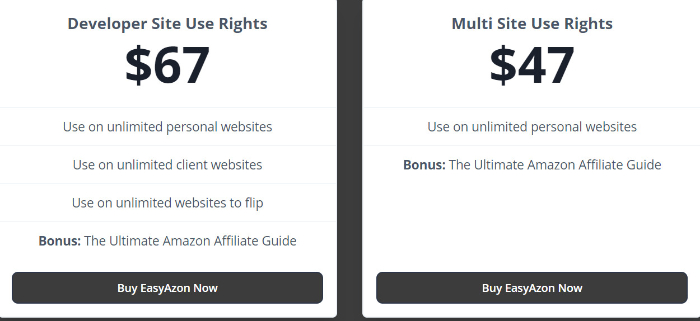 Amazon Auto Links
To display Amazon Affiliate links with minimal effort, leverage Amazon Auto Links.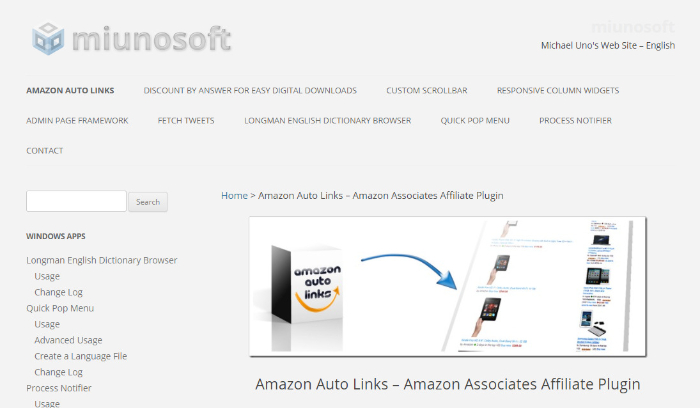 Using this plugin, you can add desired products from Amazon by picking the categories that suit your site.
Right after choosing your desired products, you can manually insert ads or use auto-insert.
This way, you can display only selected units on your main page.
In case you're familiar with coding and PHP, you can also create your own design templates.
In addition to this, Auto Links also supports all Amazon locales.
Features of Amazon Auto Links
Allows to display desired products in a post using post editor
Supports all Amazon Associates locales
Options to maintain product link as static and unchanged
Geo-targeting feature to redirect users to their local Amazon links
Hyperlinks in the post can be transformed to associate affiliate links
Enables filtering of products that you don't wish to display
Allows exportation of ads into external sites with feed
Variable size of thumbnails for products
Allows URL cloaking to prevent link blocking
Enables shuffling of product links
How Much Does Amazon Auto Links Cost?
Amazon Auto Links is free to use.
Pretty Links
Pretty Links is an outstanding plugin that compresses and beautifies any URL of your choice.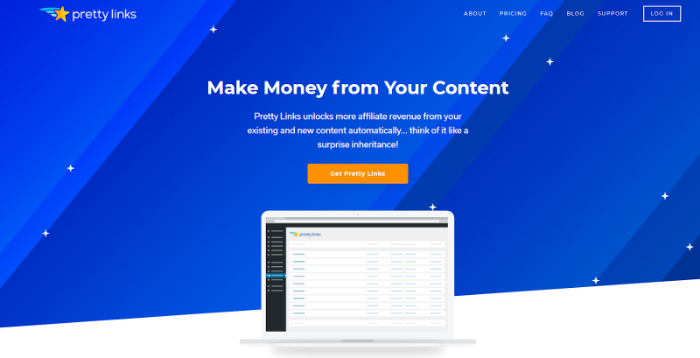 Like most of the plugins, Pretty Links also cloaks links in a short and appealing way.
This plugin also gives a detailed report of customer activity and click rates.
Besides this, Pretty Links also has a custom link shortener and URL redirection tool for added support.
Features of Pretty Links
Importer makes it easy to import existing links
Offers link shortening service using Pretty Links public link creation tab
Trim clicks option to frequently clear old links
Endpoint URL feature to generate Pretty Links for another application
Custom Bookmarklet option to create multiple links of your choice
Offers timely keyword replacement with Pretty Links URL
Nofollow feature can be added to links to avoid search engines
Customized CSS styling for keyword replacements
Facilitates insertion of link to disclosure (if necessary)
How Much Does Pretty Links Cost?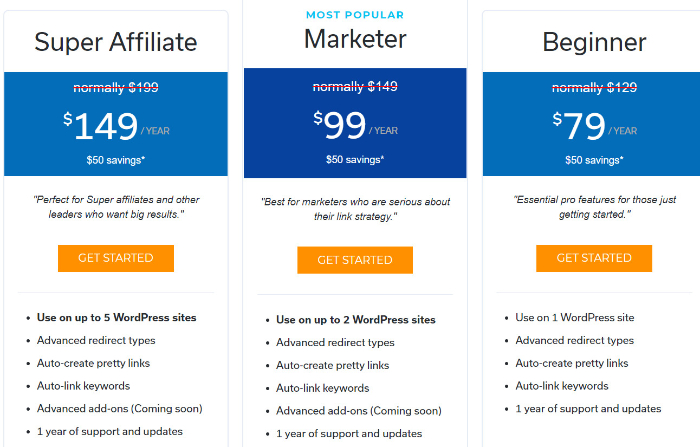 Easy Affiliate Links
Easy Affiliate Links creates a fully self-hosted affiliate program for your WordPress site.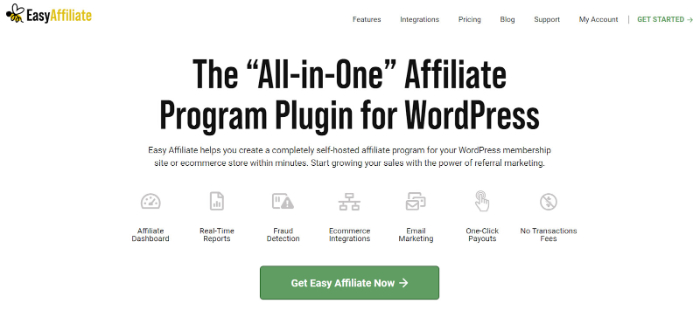 There is a special Admin panel to handle the overall functioning of your affiliate links.
This way you can get accurate stats, click rates, and conversion rates.
Other than this, Easy Affiliate Links also offers high-end security from possible affiliate frauds.
This amazing plugin also comes with an elaborate User Manual to make the task easy for beginners.
Features of Easy Affiliate Links
Special affiliate dashboard where we get updates metrics, payments, and other activities
Real-time clicks and affiliate stats reporting for a vibrant marketing
Improved security with unique services to prevent fraudulent activities
Seamless integration with eCommerce sites like WooCommerce, MemberPress, PayPal, etc.
Aligns with MailChimp and ActiveCampaign for flawless email marketing
Easy payouts with an option to use one-click payouts
No additional transaction fees to pay affiliates
Fully responsive and featured affiliate links
Enables to track commissions with smart Amazon Commission Override Rules
Custom link generation to make affiliate marketing easier
Built-in Affiliates Application process to channelize your affiliate requests
Automatic fraud detection services
Offers payment integration for recurring payments with popular eCommerce sites
How Much Does Easy Affiliate Links Cost?
You can download a free version of Easy Affiliate Links from the WordPress repository.
However, if you wish to upgrade to a higher plan, you can purchase the premium version for $29.