Thinking about building an online store or website of your own but have no clue between Wix vs Shopify.
Well, you're in the right place because we have provided an in-depth analysis of both platforms, what they're capable of, and which would be the best for you.
According to w3tech, the share growth for Shopify seems to be around 3.4 percent. Similarly, if we talk about Wix, it is 2.3 percent. Such statistics shows that both platforms are growing with time.
There are plenty of eCommerce platforms available. Among those, Shopify and Wix offer great means to create an eCommerce store of your own.
So, let's take a deeper dive into both of these platforms and find out which one would be more reliable.
Wix vs Shopify – Which is More Powerful?
Now the real question is – what to choose between Wix vs Shopify. As both are the best option, you wanna choose the one that fits your budget and satisfies all of your needs.
Shopify Overview
Shopify is considered as the best e-commerce platform by many users around the world. The Shopify platform makes it possible for users to create their own scalable online store with the help of hundreds of in-built tools and applications.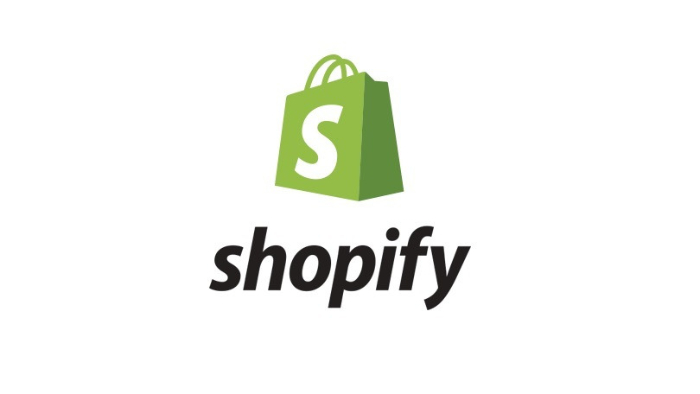 To have a better understanding, let's look into the key features that Shopify offers.
1. Customized Online Store
Shopify offers a pool of web themes for its users to design a website or online store. Users can get customized themes on paid versions. Also, free versions too have multiple theme options for the user. You can just pick the suitable one and get on with your eCommerce website.
Shopify offers mobile responsive themes that can be customized to a high degree with the drag and drop builder as well as CSS or HTML (Although the coding is limited to the homepage of your shop only).
Along with this, it's also the best platform to build an exclusive online shop for all types of eCommerce businesses.
The fact that CSS and HTML are limited to just the homepage is a bit of a downside to this platform, I know, but I also know this – just like me, most of you rely on the drag and drop feature of Shopify because we're not coders here haha.
2. No Tech Worries
To launch a basic online store on the Shopify platform, you don't need to be a technical expert. Hosting on the Shopify platform is highly secure and that helps you maintain a professional-looking shop.
Not only this, the technical support team of Shopify is highly active and has some great technical experts to help you throughout your eCommerce journey.
3. Blogging and Supports Multiple Languages
Do you love blogging? Hell yeah, I love writing and showing people the potential my store got. Although Shopify is not that great in the blogging sphere, there are still some good ways to set up a blog that can represent your brand.
In addition, Shopify supports multiple languages, which allows buyers to see your store in multiple languages. Believe it or not, when customers come from other countries, this helps a lot in boosting conversion rates

Wix Overview
Wix offers a prolific platform on which users can design classic websites with ease. With the incredible drag-drop function and 500 industry-specific templates, users can build a highly functional and classical website in no time.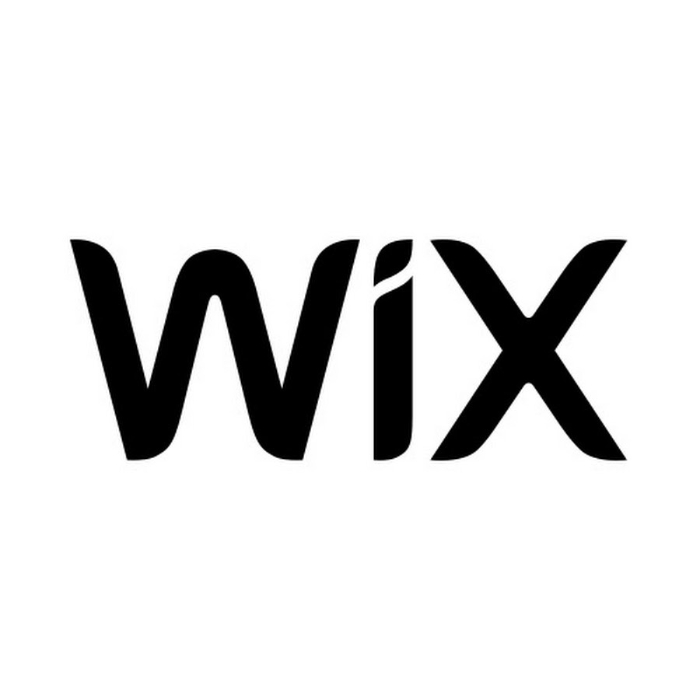 To better understand, let's look into the key features that Wix offers.
1. Jazz Up Your Website
In web designing, creating a website or logo requires a significant amount of testing and experimenting. Wix lets you add spicy elements so that your website can have an edge in the market.
What I like the most about Wix is – it comes with thousands of artistic handmade illustrations that can surely jazz up your eCommerce website.
2. Hustle-Free Customer Support
Just like me, if you prefer customer support time and again (for even little reasons lol), then Wix has got you covered. The customer support at Wix entertains everyone, be it a big brand or a micro merchant store!
Wix provides excellent knowledgebase support with its latest tutorials, guides, and FAQs.
3. Utilized Advanced SEO Tools
People often say SEO is dead, which is not true at all. Just because it's a long-term effort thing, it doesn't mean it's dead!
SEO gives your website a higher chance to get noticed among the target audience across the globe and brings traffic to your website regularly.
Efficient analysis and personalized SEO plans of Wix for indexed websites would boost up the SEO process to the next level.

Wix vs Shopify Comparison
Benefits of Shopify
Flexibility: Evolving technology demands require constant updating of your websites or stores to match the current market trends. Shopify delivers a flexible eCommerce platform that has been adapted with built-in tools, providing a significant system of customized shipping and inventory control.
Easy To Add Products: Adding products to your Shopify store is easier than other platforms. Do you know why? Well, it offers easy Integration. Using apps like Oberlo, you can import products from AliExpress without doing manual work.
Mobile-Friendly: Can I ask you a simple question? Alright, just tell me this – on which device do people buy the most – a laptop or mobile? If you think it's a laptop, you're wrong. More than 50% of people like to buy from their mobile phones. So Shopify would be a life-saver in that case 🙂
Scalability: Most entrepreneurs prefer Shopify over any other platform because its scalability is impressive. There are many success stories of people who started with 0 and ended up with 100K.

Benefits of Wix
Upgraded Design Templates: In a few minutes, you can design a powerful, fully functioning, and attractive website with the upgraded design templates of Wix.
All-In-One Solution: The help desk of the Wix is user-friendly and can be reached either by mail or phone calls. Moreover, the FAQs and experts of the Wix Service Department are really helpful.
Focus on Your Core Needs: Wix team not only takes good care of your site's performance but also puts high-level security features. This gives site owners like you the freedom to think about the primary business goals rather than focus on improving the site's overall performance.
Wix Provides an All-in-One Solution: The usage of Wix isn't only limited to building an eCommerce site, it fits well for designing websites for other types of business models.

Shopify Advantages Over Wix
Powerful E-commerce Tools
Shopify is one of the most powerful eCommerce platforms because it has multiple built-in eCommerce tools that no other platform can offer. The great selling features like product imagery, multichannel inventory management, multiple product variants, and so on will end up benefiting your business.
Payment Options
Customers won't ever leave your store because there will be a bunch of payment method options that are highly secure as well as smooth.
As of now, Shopify allows up to 70 payment gateways.
Product Presentation
Shopify's ability to present products is another thing that proves Wix has an upper hand in Wix vs Shopify's battle. Having better product presentation in your store always leads to higher sales. And to prove this, I don't need to show statistics 🙂
Analytics and Reporting
Without knowing the current condition of a website, it's nearly impossible to aim for growth. From tracking store inventory to customer behavior, Shopify provides more detailed analytics than Wix.
Wix Advantages Over Shopify
Easy To Use
Without any hassle, you can utilize ready-made templates and artificial intelligence to build a professional-looking store. So in terms of usability, Wix has an upper hand because of its drag and drop builder.
Themes and Templates
Compared to Shopify, Wix has more themes and templates that you can leverage to build desirable websites and blogs. As a matter of fact, there's also an AI that can build a website based on the question it asks you.
Wix vs Shopify Pricing Comparison
How Much Does Shopify Cost?
All the features I've listed below are common in all the basic, Shopify, and Advanced Shopify plan.

Unlimited products
Unlimited bandwidth and online storage
Shopify point of sale
Gift cards
Online sales channels
Fraud analysis
Manual order creation
Discount codes
Staff accounts
Overview dashboard
Finance reports
Customer support

How Much Does Wix Cost?
Unlike Shopify, Wix comes with two sets of paid plans. The first one is a website plan, which wouldn't be useful for building up an eCommerce website. The second one is, the business and eCommerce plan that you can leverage to build a stunning eCommerce website.

Discussing website plans is not a good idea. So we're gonna skip that and show you what its Business & eCommerce plans have to offer.

Pricing of Business and E-commerce plans
All the business & eCommerce plans of Wix have common features, here I've listed some below the pricing.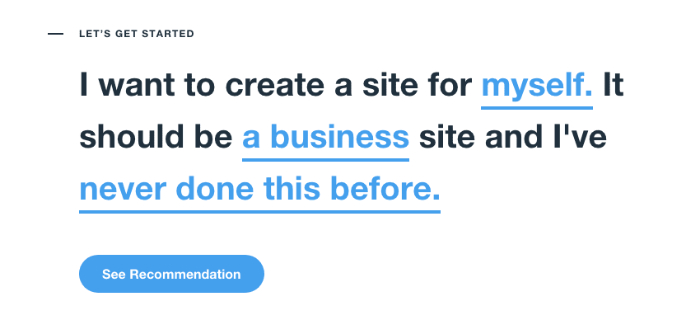 Secure Online Payments
Plans & Recurring Payments
Customer Accounts
Custom Domain
Free Domain for 1 Year
Remove Wix Ads
Unlimited Bandwidth
Prolific Customer Care Support
Wix vs Shopify – Let's Set it Up!
Setting Up Shopify for eCommerce
Step 1: Sign Up On Shopify
Visit the official website of Shopify (Shopify.com) and provide your email address in the given box.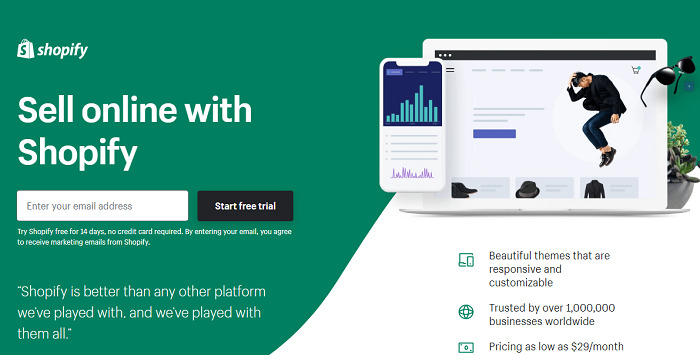 After that, click the 'Start a free trial' button, which leads you to the below-shown page.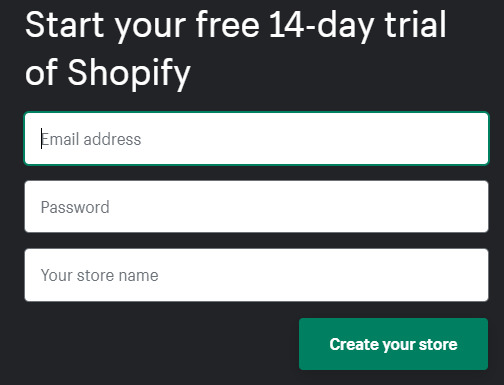 After providing your credential details, click the 'Create Your Store' button and answer some basic questions related to your product access and the nature of your business.
Click on the 'I am done' tab once you go through the basic questions.
Step 2: Setting Up Your Online Store
Once you sign up with Shopify, you will see the store admin screen where you can do store customization, add products, and do product & shipment setups.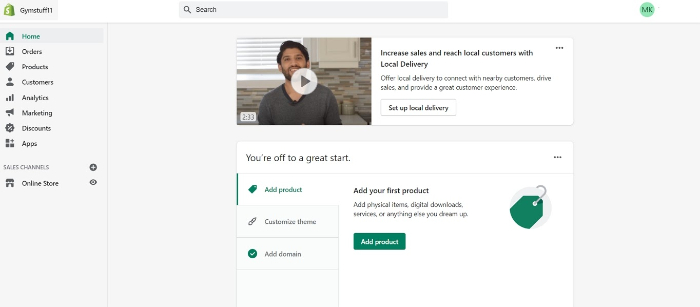 Step 3: Choose Your Site Layout
Set up your online store by choosing your favorite themes from Shopify's official Theme store.

All themes listed under the official theme store of Shopify have guaranteed full support from the particular theme designers.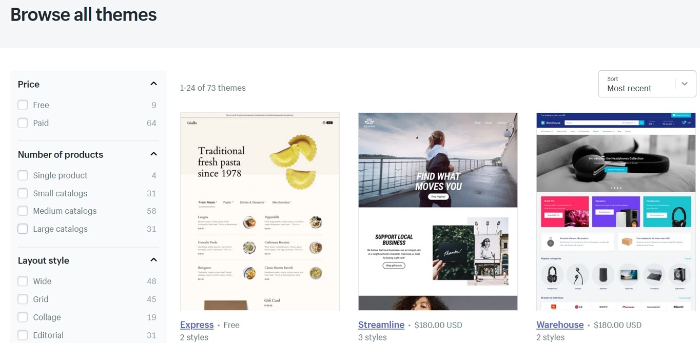 Step 4: Adding Products to Store
In the left navigation menu, you can see 'products.' Click on it to add products to your store!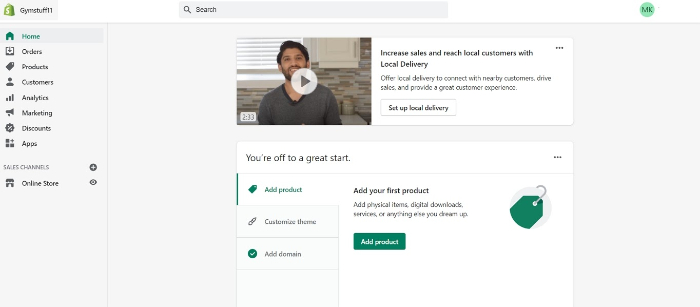 Once you select a product, fill the basic details like title and description and hit on the save button.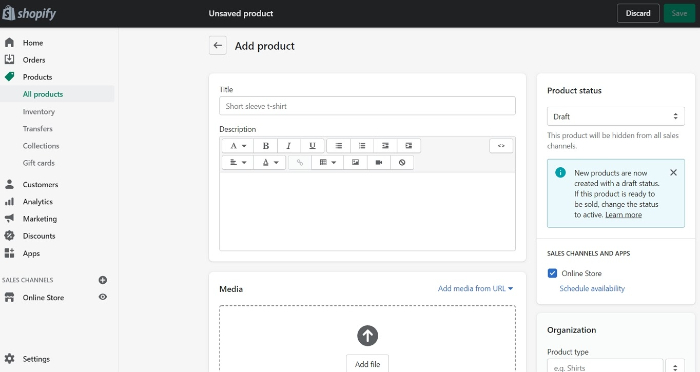 Step 5: Providing Payment Gateway & Shipping Details
Shopify offers a wide range of payment gateways. Among those, pick the right one that suits well for your online store.
Visit Setting option – > Payments for picking a suitable payment gateway.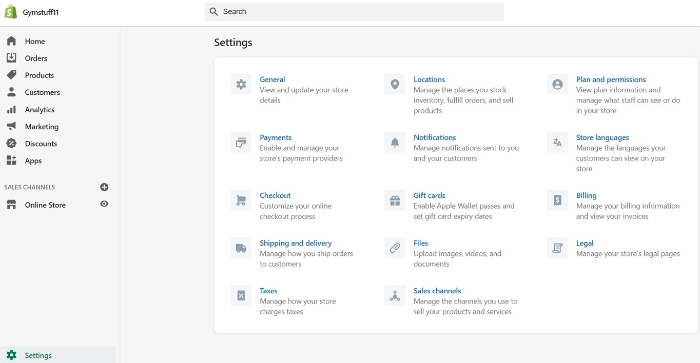 Visit Setting option – > Shipping and Delivery for setting your shipment methods.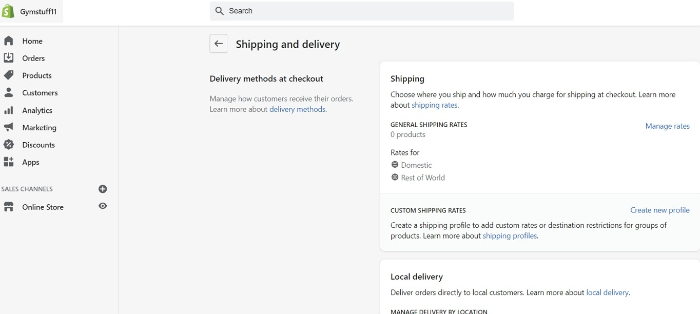 Step 6: Complete Your Store Setting By Adding A Nice Domain Name
To make your online store alive, add a nice domain name. You can either buy a domain from Shopify, which adds it automatically to your site or you can buy it from a third party source and add it manually on your own.

That's it! Your new Shopify store is ready.
Setting up Wix for eCommerce
Step 1: Create An Account
Visit the official website of Wix (Wix.com). Click on the 'Get started' button, which you can see in the middle of the screen.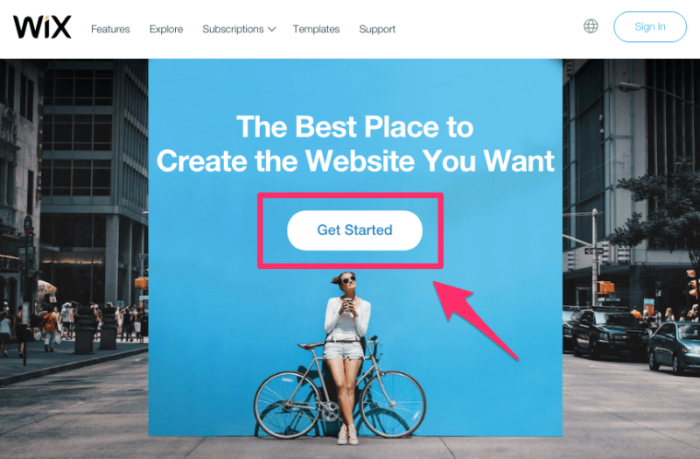 Once you're done, you will be asked to provide two things:
Following that, Wix API builder will ask you to click on the right option. This way, you can get something that you have in mind.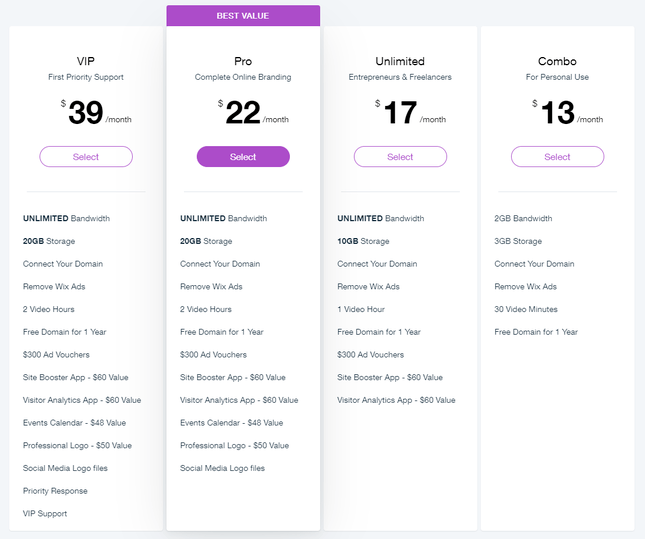 Based on your answer, Wix API will ask a series of basic questions to help you build a site faster and better. So keep answering the question you get on screen.
Step 2: Picking Suitable Templates
Wix Builder will lead you to the theme gallery. Here, you need to select an appropriate theme which can act as a base for setting up your new website or store.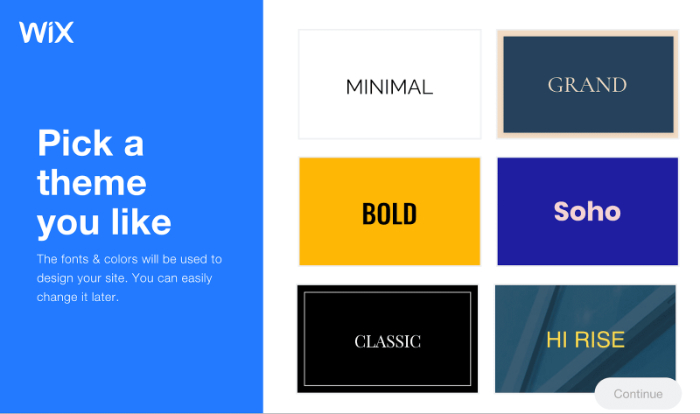 Pick suitable templates from the pool of ready-made templates that are categorized well enough.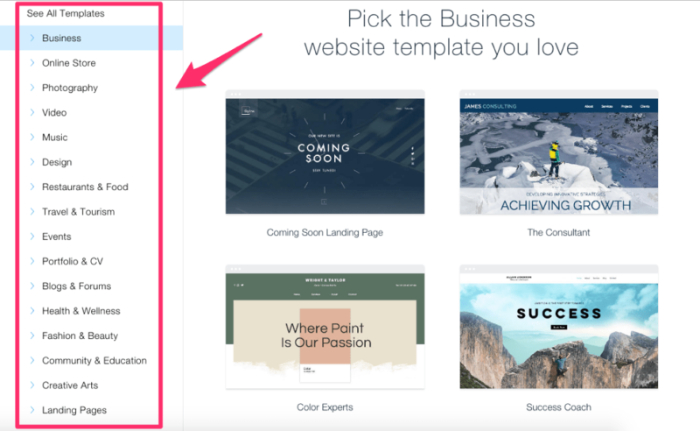 Once you choose, Wix API builder will provide a few ready-made options to design your site's homepage. You can pick the one you like.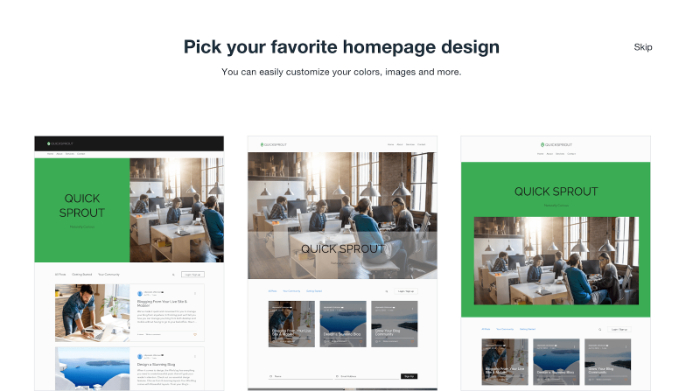 Step 3: Site Customization
When you choose a template or design, you will be redirected to Wix Editor. Right there, you can customize the chosen template according to your website or store needs.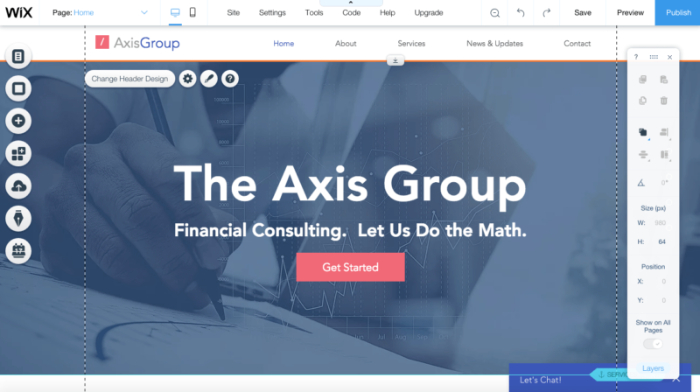 Step 4: Mobile Optimization
Site optimization to both desktop and mobile versions is easier in Wix. All you need to do is just click the mobile or desktop icon displayed at the top of the window and do the customization as per your wish.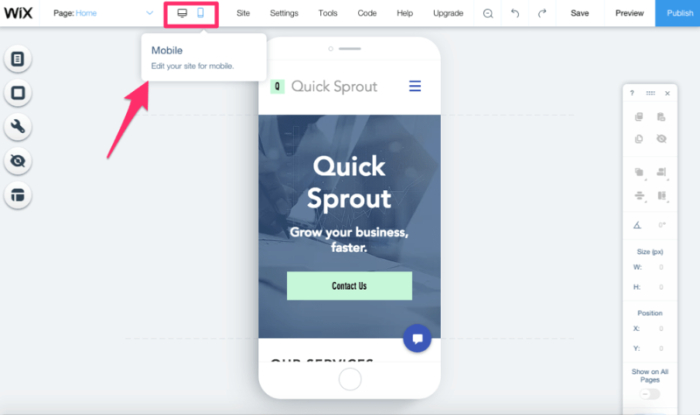 Step 5: Add A Good Domain Name
Before publishing your Wix site, make sure to put a good domain name. On the Wix dashboard, you can find a way to connect the domain. Just click the 'Connect Domain' button at the right corner and you're good to go!

For connecting domains, Wix gives you two options:
You can choose the free domain option provided by Wix. Once you're done, your site URL will look like 'yourusername.wixsite.com/mysite.'
Else, you can purchase a domain from another platform and connect your Wix site with it. However, for connecting a domain, you need to upgrade your Wix account to premium.
Pick a pricing plan and publish the way you want.
Wix vs Shopify – Which is Better?
Both Wix and Shopify are great platforms for your eCommerce business. But, if you closely look at the features and benefits, Shopify has more than a little edge over Wix.
But if you really wanna expand, and earn to the full potential via your eCommerce store, you shouldn't think more and opt for Shopify today!