Are you thinking about ePacket countries you can deliver your products to in 2021? Well, in today's competitive market, almost every business owner is thinking to be abreast and innovative in all aspects, especially in shipping products to their customer facility.
Buying products from the countries like China and Hong Kong has been easier with the ePacket shipping.
By beating China's EMS, the ePacket delivery system makes the shipping process quicker. ePacket delivery system is offered by 3PL service (third-party logistics providers) that take care of products from warehousing to delivery.
Along with this, ePacket shipping has a quite unique tracking system that allows users to track their products.
ePacket is a concept that has many roots, so without any further ado, let's just figure out what it basically is.
Supported ePacket Countries You Should Know About
The lists of countries that are benefited from the ePacket delivery system are growing on a consistent basis. Some countries have their own rules and regulations for shipping.
When the US Postal Service (USPS) officially made a fully functional shipping service between eBay China and Hong Kong Post, such a delivery system came into existence.
However, if you're a citizen of the UK, France, or the USA, you have to abide by a specific set of rules and regulations. Have a look: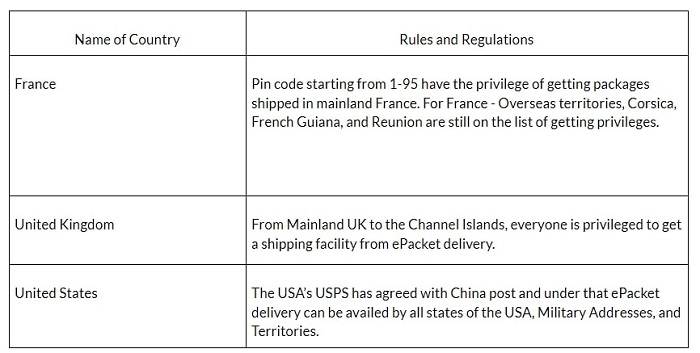 Now that we have talked about those countries where specific rules and regulations are imposed. Here's a chart of those where no such tough rules exist.
Countries support ePacket deliveries: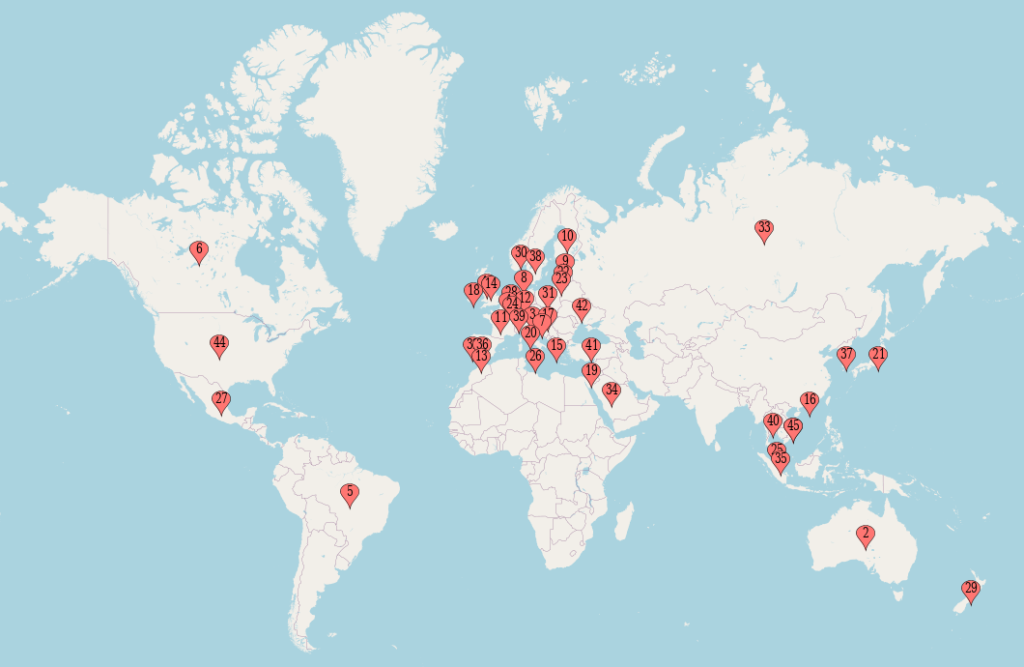 Australia
Austria
Belgium
Brazil
Canada
Croatia
Denmark
Estonia
Finland
France
Germany
Gibraltar
Great Britain
Greece
Hong Kong
Hungary
Ireland
Israel
Italy
Japan
Latvia
Lithuania
Luxembourg
Malaysia
Malta
Mexico
Netherlands
New Zealand
Norway
Poland
Portugal
Russia
Saudi Arabia
Singapore
Spain
South Korea
Sweden
Switzerland
Thailand
Turkey
Ukraine
United Kingdom
United States
Vietnam
At some locations, the ePacket system is working on a trial basis. For example, countries like Indonesia, Vietnam, and Kazakhstan are in a trial run. As per updates, it seems that regular delivery in these countries will be established shortly.
Requirements to Use ePacket Delivery System:
Before sending parcels or packages via the ePacket delivery system, a few factors and requirements need to be considered. From handling the product with the necessary care to safely delivering the product without getting any damage, the United States Postal Service requirements have a crucial role.
Take a look at the requirements followed by ePacket for package or parcel transit:
Weight of the Package
The weight of the product which has to be shipped with ePacket should not be more than 2 Kg. The total of 2 Kg weight includes everything related to the product such as filler material, the product itself, shipping box, and any other material, if available.
The basic requirement of 2 kg weight is fixed across all countries that get the ePacket delivery system's privilege. However, Israel is exempted with the liberty of shipping around 3 Kg total weight.
Value or Pricing
The basic requirement of the product's value, which is about to transit via ePacket, should not cross over 400 USD. Simultaneously, a consumer should keep this in mind, ePacket delivery offers damage compensation that is higher than other shipment methods.
Minimum and Maximum Package Size
A regular packet length should be between 14 cm to 60 cm and the width of the package should be 9 cm to 90 cm. The package or a parcel length should be between 10 cm to 90 cm for a rolled-up packet. Similarly, the diameter of the circular package should be between 17cm to 104 cm. However, for both types of packages, a difference of up to 2 mm is permitted.
Time Taken for Delivery of the ePacket
For any product, shipping time can vary depending on several external factors. Some of the factors include:
Shipping destination
Holidays in the country
Unavoidable situations such as natural calamities
These 3 factors can delay the shipping process. But, if we compare to Hong Kong and China's other economical shipping options, ePacket ensures to deliver your package on or before the estimated delivery time.
Based on the statistical report, a package or parcel gets delivered to the United States of America within 10-20 days on an average. There are currently 35 countries, which get privilege from the ePacket delivery system.
Here are the lists of average ePacket shipping times of the top countries in business days:
Brazil – 20 to 30
Mexico – 20
Vietnam – 5 to 7
Russia, Ukraine, and Saudi Arabia – 7 to 15
Mostly, delivering packages take 7–10 days to most of the countries in which ePacket is serviceable.
The ePacket delivery service is really significant because the package delivery never delays even though ePacket gets bulk orders daily. In my opinion, it takes nearly half of the delivery time for packages or parcels to reach the customer's destination.
Afterward, you can expect the packages or parcels to route your place. Compared with all other shipping methods, ePacket delivery is the fastest shipping process and the customer can fully monitor the entire package transit via the ePacket tracking system.
How to Track Your ePacket Delivery?
Tracking shipped parcels/packages using ePacket delivery is one of the greatest benefits which can't be matched with other shipping service providers. Before utilizing the order tracking system of ePacket delivery, make sure you have obtained proper ePacket tracking codes for your shipment from the supplier.
With the valid track codes, tracking becomes easy through the official website of EMS or USPC. Using the official site of China EMS, one can track their shipments when it gets inside China. Similarly, by using the USPC site, shipments in the land of the USA can be tracked.
Besides these websites, consumers can also choose third-party sites to track their shipments via the ePacket delivery system. Here are the lists of 3rd party websites:
Package Mapping
AfterShip
PackageTrackr
17TRACK
Pros & Cons of ePacket Delivery
Every shipping service has its own set of advantages and disadvantages. Here are the lists of pros and cons of using the ePacket delivery system to transit products from China or Hong Kong to the USA.
Pros of ePacket Delivery
Faster Shipping
Usually, it takes months to ship products from China to the USA, but with ePacket, the delivery takes place within three weeks.
Relatively Cheaper
ePacket shipping system reduces the shipping cost of the smaller products significantly, especially when we're talking about shipping products from China or Hong Kong to the USA. If you're a buyer or seller, ePacket could be your favorite as it offers lower prices than standard or traditional shipping services.
Door to Door Tracking System
ePacket provides a facility for tracking orders without charging any extra dollar from its customer. Consumers can make use of EMS and USPS tracking systems for tracking their ePacket shipment.
Sense of Security
Customers will always have a sense of security as ePacket offers a service of free returns on undeliverable items. And guess what? This offer comes with no additional charges, isn't that great?
Cons of ePacket delivery
Product Limitation
Unlike other shipping methods, those shipments that don't fit under the ePacket requirements can't be in transit. So, consumers need to go to the old traditional shipping method.
Limited Geographic Coverage
The ePacket delivery system covers only 35 countries so far. As compared to the other shipping methods, it still needs to cover a lot.
Is the ePacket Delivery System Worth it?
One of the key benefits of the ePacket delivery system is relatively lower prices and blazing shipping speed. On top of everything, I can undoubtedly say that utilizing ePacket delivery will significantly improve customer conversion rates and the customer experience.

The need for ePacket delivery rose up as an alternative to China EMS. After all, being a serious business owner, anyone would go for something as smooth as an ePacket delivery system.
With all these great features, the ePacket delivery system is definitely worth trying as it reduces the total no. of unhappy customers.