Are you on the roll with your dropshipping business in the UK marketplace? Then you
must be on the hunt to discover the best dropshipping UK suppliers!
It is a crucial process to compare a range of dropshippers and find a reliable partner for
your business.To choose the correct dropshipper for your Shopify store, you must have
in-depth knowledge of the supply company's policies, records, refund policy, customer
care and complaint handling process.
With so many new emerging suppliers in the marketplace for dropshipping, it becomes
a cumbersome task to choose a platform that will be profitable for your UK dropshipping
business. But you need not have to worry as we got you all covered in this blog with the
best dropshipping UK Suppliers in 2021.
Top 10 Suppliers for Dropshipping UK in 2021
1. Avasam
Avasam is a London based dropshipping UK platform officially launched in October 2019. The automated platform provides you with all the necessary tools to successfully source and sell best quality products.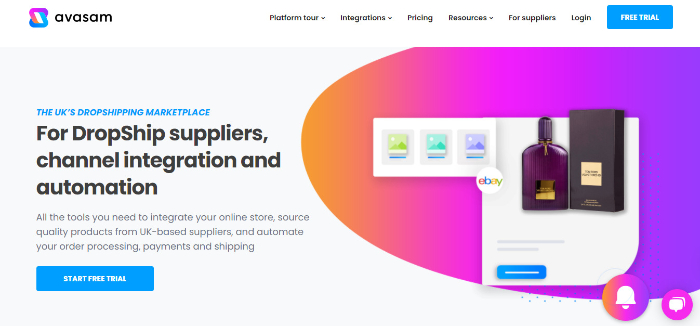 Features of Avasam
Automated order processing and verified UK based suppliers
Availability of thousands of products with Inventory Synchronization
Easily integrate your online store with over 60+ different ecommerce platforms and marketplaces
Interactive return and refund functionality
Get business management tools with full-service support
Category of Products Supplied: General
How Much Does Avasam Cost You?
Try out all the features for free. You have to upgrade your plan once you start getting orders.
| | |
| --- | --- |
| Plan | Price |
| Starter | £9 |
| Advanced | £49 |
| Business | £99 |
| Guru | £149 |
Pros & Cons of Avasam
| | |
| --- | --- |
| Pros | Cons |
| Great customer service | Only ships in UK |
| Reasonable pricing | Doesn't accept payment by PayPal |
| Has a supplier verification program | |
| Offers 60+ integration programs | |
2. SaleHoo
With its origins in New Zealand, SaleHoo has established a platform for UK
dropshipping businesses. The platform was founded in 2005 offering a search directory
featuring 8000+ supplies with 2.5+ million different products. SaleHoo has helped over
137,000 businesses to start and expand.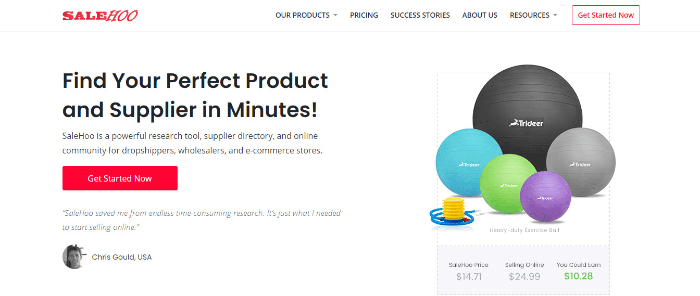 Features of SaleHoo
In-depth scanning of supplier verification before addition in SaleHoo's directory
Access to unlimited training with award winning support
Get backed by a 60-day money-back guarantee
100% satisfaction and splendid customer service
Get access to market research labs
Category of Products Supplied: General
How Much Does SaleHoo Cost You?
| | |
| --- | --- |
| Plan | Pricing |
| 7 days trial $1 | $1 |
| Annual | $67 |
| Lifetime | $127 |
Pros & Cons of SaleHoo
| | |
| --- | --- |
| Pros | Cons |
| Legitimate and trustworthy suppliers | Just a directory; can't sync products directly |
| Great customer service | |
| Access to over 8000 wholesale suppliers | |
| Easy access to important information like: Contact information, Product range, Quality of goods, Customer service reviews, Where they ship to, How they ship their goods, etc | |
3. Printify
Printify is a popular print on demand platform for finding dropshipping suppliers. You will
be provided with custom printing solutions like printing on clothes, gifts, accessories,
and novelty items.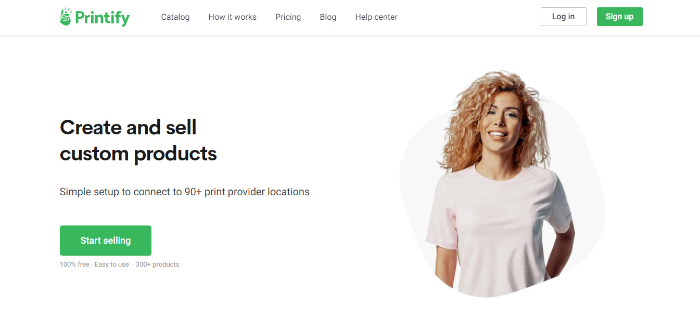 The platform is trusted by 500K merchants and lets you easily integrate with ecommerce sites. Moreover, it is a very simple and easy process to add your design to
a wide range of products.
Features of Printify
Over 90 print provider locations
Easily integrated with various ecommerce platforms
The low prices are a good means for higher profits and robust scaling
Has a team adhering to 24/7 support and service
Strategic partnership with various print providers of the world
Category of Products Supplied: Print on Demand
How Much Does Printify Cost Me?
You can use Printify for free when you start using the platform. Upgrading after generation of sales leads to a 20% discount on all products.
| | |
| --- | --- |
| Plan | Price |
| Premium | USD 29/month |
Pros And Cons of Printify
| | |
| --- | --- |
| Pros | Cons |
| Easy integration with eCommerce platforms | Inconsistency in the print quality |
| Printify is a worldwide recognized brand | Fewer customization and branding offers |
| Lower production cost | |
| Fast fulfillment with over 250+ products | |
4. Syncee
Syncee is a global B2B platform for dropshipping, retailing and supplies. Established in
2015, the platform is not just limited to UK dropshipping businesses, but provides its
services in various other countries as well.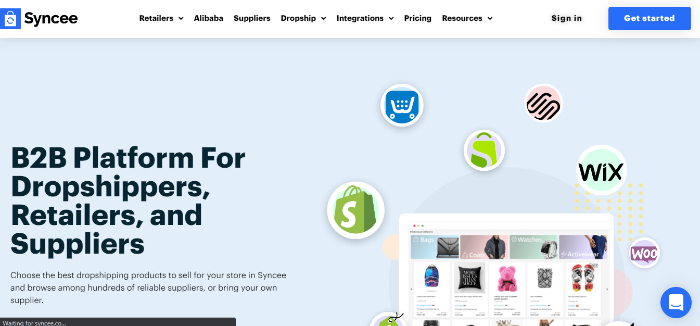 The platform grants you easy access to choose the best dropshipping products to sell
for your store and browse among hundreds of reliable suppliers or even bring your own
suppliers.
Features of Syncee
No upfront or registration costs
Automated product data uploads with frequent updates
Special feature to chat with suppliers and automated orders
Their location filter can easily access UK based dropshippers
Category of Products Supplied: General
How Much Does Syncee Cost?
For the stores with more than 25 published products the pricing is as follows:
| | |
| --- | --- |
| Plan | Price |
| Basic | $29/month |
| Pro | $79/month |
| Business | $129/month |
Pros & Cons of Syncee
Pros
Cons
Free to use for stores having less than 25 published products
Tool's dashboard might be a bit tough to
get accustomed to
A global platform
Unique pricing settings
AI based fast product search
5. AliExpress
AliExpress is a subsidiary of Alibaba, headquartered in China. The global ecommerce platform has an enormous marketplace for online businesses by direct sourcing of products from vendors enlisted in their site. Moreover, dropshipping from AliExpress can be very profitable.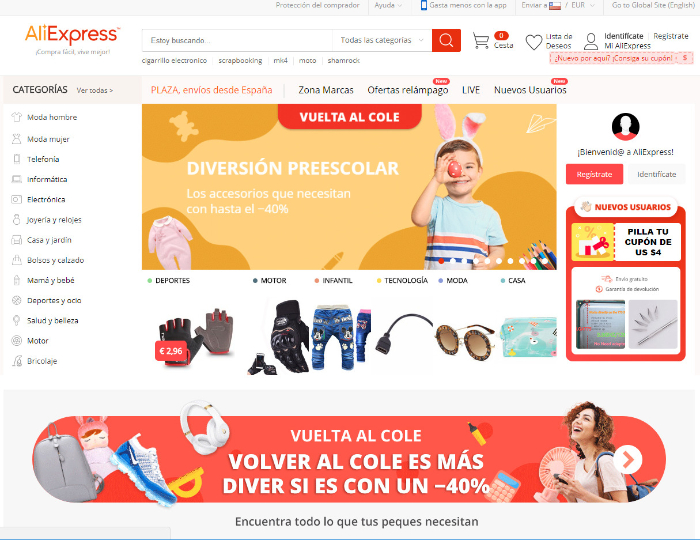 Features of AliExpress
Lower and cost-effective production prices
A marketplace where more than 100 million products are ready for sale
4.3% – 5.9% cashback on all your AliExpress orders
The platform enables you to see each supplier having their own prices and delivery times
Category of Products Supplied: General
How Much Does AliExpress Cost?
AliExpress can be used for your UK dropshipping business for free.
Pros & Cons of AliExpress
| | |
| --- | --- |
| Pros | Cons |
| Higher profit margin products | Many poor quality suppliers |
| Secure payments with various payment options | Highly competitive as anyone can find the product you're selling |
| Free shipping for a majority of their products | |
| An easy and convenient platform for new drop shipping businesses | |
6. CJ Dropshipping
CJ Dropshipping is an all-in-one platform that allows you to source and ship your products. The Chinese ecommerce website was established in 2014 and has various warehouses all over the world including the UK. The one stop service platform provides you with extensive functionality.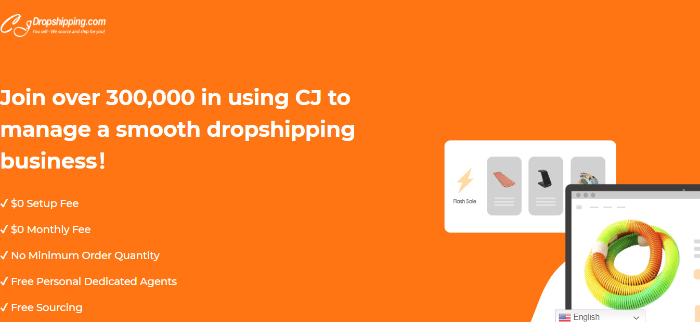 Features of CJ Dropshipping
Convenient user interface without an account
Provides sourcing service for products that are not found in their catalogue
The Shopify app gives access to advanced features like automated order fulfilment
The UK warehouse stores around 2000 unique products
Category of Products Supplied: General
How Much Does CJ Dropshipping Cost?
No subscription or monthly fees are required to use CJ Dropshipping.
Pros & Cons of CJ Dropshipping
| | |
| --- | --- |
| Pros | Cons |
| No membership, setup or storage fee | Poor customer service |
| After creating an account, you can post a sourcing request | |
| Fast processing time | |
| Large Inventory with good quality control | |
7. Wholesale Deals
Established in 2004, Wholesale Deals offers more than 400k wholesale and dropship
suppliers. The platform is a massive dropship and wholesale directory with many years
of experience in the industry. Consequently, the platform is suitable for UK dropshipping
businesses.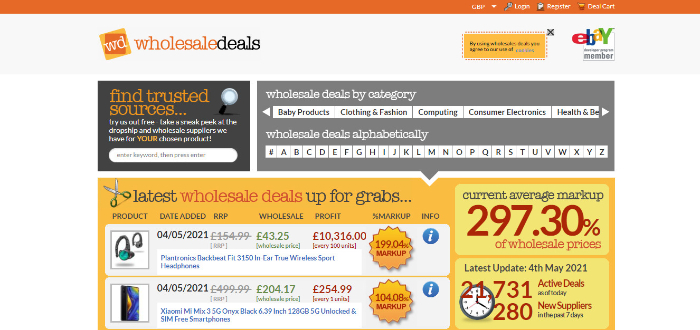 Features of Wholesale Deals
The number of UK dropshipping suppliers is massive
For money back claims an alternative through proper investigation is proposed within 5 working days or a full refund is given
Access to 357K+ wholesale and dropshipping suppliers
Over 420,000 verified product sources
Category of Products Supplied: General
How Much Does Wholesale Deals Cost?
You have to sign up for a paid pricing plan for access to a supplier's contact details.
| | | | |
| --- | --- | --- | --- |
| Plan (Deals Database) | Price | Plan (Suppliers Database) | Price |
| Per Month | £14.99 | Per Month | £20 |
| 6 Months | £34.99 | 6 Months | £40 |
| 1 Year | £44.99 | 1 Year | £.60 |
Pros & Cons of Wholesale Deals
Pros
Cons
One of the oldest UK dropshipping
companies
Doesn't have any integrations
Access to free wholesale deals newsletters.
Primarily focuses on wholesale only
Fast customer support services
High profit margins within a range of 45-95%
8. TBTrade
TBTrade is the best platform to find unusual products. Being a trading company,
TBTrade also offers a dropshipping platform. You will be able to find kitchen to bathroom
products at the lowest of prices through this platform.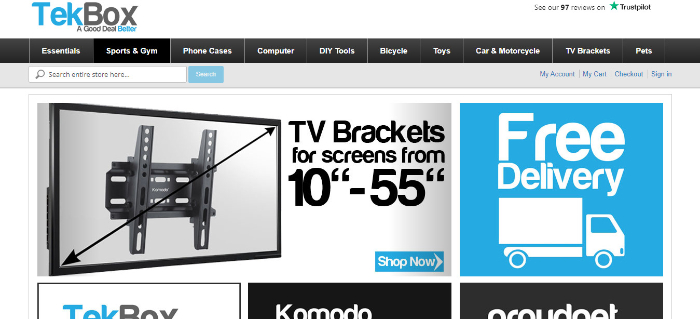 Based near Cambridge in the UK the platform is always adding new items to their range, so make sure you keep checking back for the latest items for sale.
Features of TBTrade
TBTrade uses the norms of plain packaging and labels
Only delivery services which provide with tracking numbers are enlisted with TBTrade
Orders are sent through recorded or tracked services
Goods are dispatched on the same working day if ordered before 2pm
Category of Products Supplied: General
How Much Does TBTrade Cost?
The dropshipping services are free to use for TBTrade.
Pros & Cons of TBTrade
| | |
| --- | --- |
| Pros | Cons |
| One of the best suppliers for home products | Product categories are limited |
| Plain packaging, so that customers don't know that you've shipped the products from elsewhere | Lower profit margins |
| Friendly payment methods | |
| No need to hold stock | |
9. Aulola
Aulola is owned by a Chinese company and is a wholesale site with phone accessories, home, and outdoor gadgets. The company moved a part of their inventory to the UK and Germany for better service quality for their customers.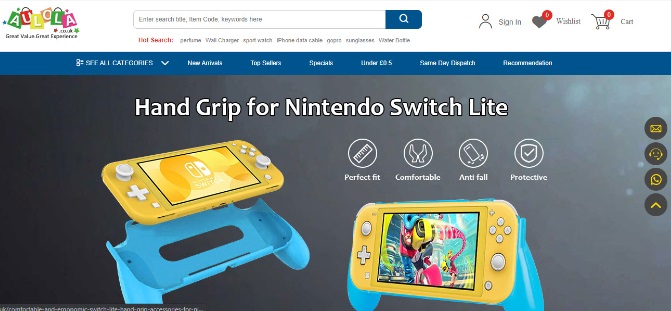 Features of Aulola
The dropship program doesn't require any Minimum Order Quantity (MOQ)
You can use their product information and pictures for free after signing up
Delivery time is reduced from 5-12 working days to 3-5 working days for customers based in the UK
Credible B2B wholesale network for distributors, retailers, wholesalers, online and offline stores, and many others
Category of Products Supplied: Mostly phone accessories
How Much Does Aulola Cost?
The dropshipping UK business services are free to use.
Pros & Cons of Aulola
| | |
| --- | --- |
| Pros | Cons |
| Free product information and pictures | Some products are of poor quality |
| A global supply chain | |
| Save up to 95% off RRP | |
| Fast shipping within 3-7 days | |
10. AW Dropship
Established in 1995, AW Dropship is a UK supplier encompassing their niche in
giftware. This platform is best when you are looking for a dropshipping supplier
experienced in the giftware category.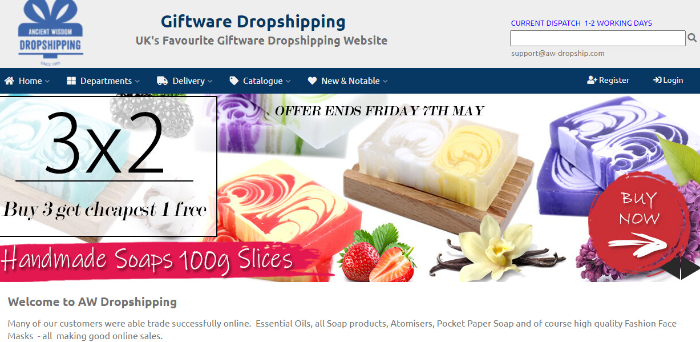 Features of AW Dropship
Their unique niche of gift products gives the opportunity to sell unique products
The products are manufactured in the UK
Access to over 9,500 good quality products
Bathroom products like bath bombs and soaps come with ingredients list
Category of Products Supplied: Giftware
How Much Does AW Dropship Cost?
You can register for free in AW Dropship.
Pros & Cons of Aw Dropship
| | |
| --- | --- |
| Pros | Cons |
| Access to all the features with free account | Outdated interface without integration |
| Established brand in giftware | 2. Few products have brand name on them |
| No subscription fee | |
| Hassle free service with swift dispatch of products | |
Which Supplier is Best for Starting A Dropshipping UK Business in 2021?
All the dropshipping suppliers have their own advantages and disadvantages as
mentioned in the list above. It is important to be careful when choosing a dropshipping
supplier as it needs to be a reliable partnership. To scale up and leverage your
dropshipping UK business in 2021, choosing a platform that best suits your niche and
required standards is necessary. Here are our top 2 picks.
Avasam – Paid
Avasam is the UK's only multi-channel DropShipping marketplace, all-encompassing order processing, payments,60+ integration, shipping, and inventory synchronization. Policies like automated product listing and tools to scale your dropshipping UK business are splendid to leverage sales in 2021.
CJ Dropshipping – Free
CJdropshipping is an acclaimed one-stop service platform covering all the services to
leverage dropshipping UK business in 2021. There is no MOQ to use this platform. You
also get access to free sourcing and free dedicated agents with a stern quality check.
Warehouse service, photo/video taking, POD, COD, and API support are all available
on the platform.