If you landed here while searching FAQ templates for your dropshipping store, you're in a good place because we're gonna talk about some great FAQ page examples. But before we dive deep into the FAQ page template, let me first clarify what exactly a FAQ page is.
NEW! Use our tool to generate an FAQ for your website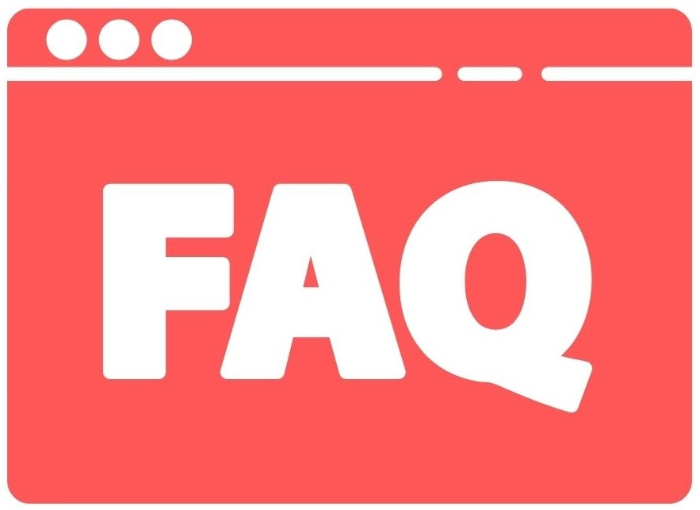 A FAQ or Frequently Asked Question page is a way of answering the general queries of the customers regarding your store or some product.
What Purpose Does a FAQ Template Serve in Dropshipping?
New or even existing customers, they all might have some general queries like – can I replace the product? When will the shipping of the product be done? Or anything else about the store or product.
So, if there's a FAQ page to help customers with their doubts, your customer service doesn't need to answer again and again.
A FAQ page also increases the site visiting time and conversion rate. It can give a hike to your SERP (Search Engine Result Page) and generate traffic to your site.
More importantly, it can effectively increase your number of customers. Generally, many people are visiting several dropshipping sites each day. But, the reason they don't buy is because of the questions they have.
When these questions go unanswered, not all of them make an effort to get in touch with customer service. For such situations, imagine what effect a FAQ page can create.
It will not only answer their queries but also provide them a user-friendly experience and a more personalized relationship with your customers.
What Kind of Store Should Have a FAQ Page?
Almost all businesses should have a FAQ page, especially those that work on exclusive business models. If you're starting a one-of-a-kind service or introducing a new product, a FAQ page is mandatory to gain customer trust.
A well-established product may choose to forget such questions, however, FAQ pages are not only meant to answer user queries, they're also meant to lessen the time your customer support team spends explaining or reiterating the same few things to customers – yes, your product is on the way, you can pay via Paypal, we do accept returns, etc.
I guess enough has been discussed about the importance of FAQs, let's just head over to the real thing.
Must-Have Questions for Your FAQ Template
A crucial part of a FAQ template is the questions you choose to put up there. So, give the below-mentioned must-have questions a read to get an idea of things that should be discussed.
How can I cancel my order?
Why didn't I receive my order yet?
Can I replace the order that I received?
Can I return the order?
Is there a COD option available?
How can I track my order?
What are the payment options?
Are there any discounts or gift vouchers available?
What to do if I received the wrong item?
How to log in again if I forgot my password?
How can I make changes in the details of my account?
I think that shipping information and the cancellation or return policy of the orders are two things that must necessarily be there on your FAQ page. This will clarify a lot of things for many customers as these are always some obvious doubts.
Other than this, you can categorize the questions under certain headings and subheadings, making the navigation easier for the user.
Try including keywords on the questions to ensure the more number of visitors.
Deciding what questions will appear on your FAQ page is an important part. You can't just put every question that you receive. For example, you can't put up a question that says:
What if the cloth material does not suit my baby's skin and irritates her?
Rather you can just say:
What is the material of the cloth?
Or
Is this cloth material good for a baby's skin?
A Pro Tip: You have to place a question that is common to the masses. These little things can make impacts. So, carefully choose the questions for your FAQ page.
How to Answer Your FAQs?
To answer your FAQs, firstly you must try to find out the general questions that your customers seek answers for. For this, you can check your mails and see what's bothering them.
Next, answer the questions that have been asked a lot of times.
Try putting yourself into the customer's shoes and think if you had to purchase the product, what would you want to know?
Keep your answers short and up to the point. Also, put it in a question-answer format. Some pages include animated GIFs to explain simple procedures.
Make your customers feel as if the FAQ section is their zone. You can put up questions from the customer's perspective. For example, instead of writing:
How can you return your order?
you can use:
How can I return my order?
This will make them feel way more personalised.
Try not to put links to other pages on the answers. Customers don't have the time! But, if you're putting up any links, you must make sure that the page links back to the product you were promoting.
Another great idea would be to organise your FAQs under certain categories or themes. This will again help the customers in navigating their answers quickly. Some common categories that people look for are:
Payments
Cancel and return
Shipping
Account
Discounts & gift vouchers
Categorizing this way would help the customers land to the desired section fast.
Try putting some 5-10 questions on the top that have been asked by many.
In addition to this, keep updating your FAQ page regularly. You must have track of the questions that keep coming from the customers. Make sure that you put the necessary ones on the FAQ page. An outdated FAQ page will not be appreciated by the customers rather it will irritate them.
For answering the questions, you have to think from both sides – as a customer and also a store owner.
For an instance, you get questions like:
Is this soft drink safe for children?
To answer this one, don't say:
Yes, it's safe but it has a lot of preservatives.
Rather say:
Yes, it is safe for children as it has 11% non-harmful preservatives. But, you can still consult a doctor before consuming it.
These tips will help you develop a more genuine connection with your customers and will increase their trust in your services.
Will A FAQ Page Improve My SEO in Any Way?
Certainly yes! A well-written FAQ page can boost your SEO. Who doesn't want straightforward answers to their questions? Or who likes to scroll a lot of texts to get that one thing they are looking for?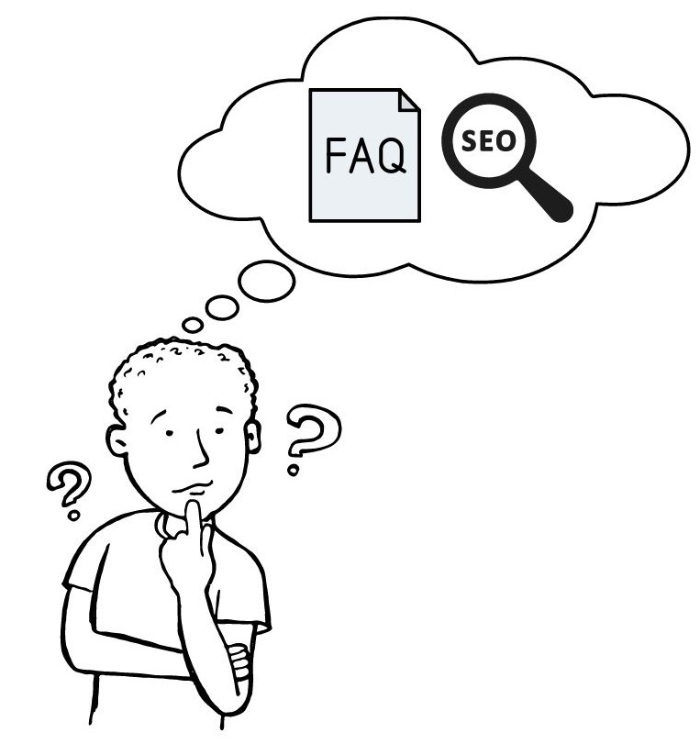 Since FAQs are generally written short and accurately, it can bring traffic to your store because people want easy-to-understand and correct answers.
You can always look up related keywords and phrases for most-bought items. And by the way, you can even search the top asked questions on Google and include their answers in your FAQ page.
Let's understand this with an example
Suppose someone wants to know:
How do I know what size of jeans would fit me?
Now if you have a clothing business and you mentioned this question on your FAQ page, you can surely get good traffic for your page, which means there's a new customer as well.
The more specific, unique, and searched your questions are, the more customers you will gain.
Where to Place Your FAQ Page On Your Store?
Many websites put FAQ on the main navigation bar or at the top of the navigation bar. Some even have WhatsApp-based FAQs. Not only this, many e-commerce sites also go for the live chat feature.
So at the end of the day, you have to experiment and see what works well for your store.
In my opinion, placing your FAQ page on the drop-down list of the 'Contact Us' tab is also a good way as it will be easily accessible to the customers.
Wherever the FAQ page is placed or your Knowledge Base, you should just make sure that the customer can easily find it. Don't just place it in a location that customers rarely visit. 
Adding FAQ Template to Your Shopify Store Via Shopify
Shopify is basically a platform which helps you build an eCommerce store. It's easy, quick, and comes with a lot of apps that can help you create amazing FAQ templates. You can even check their FAQ templates for free during the trial period.
Here are some of the best Shopify FAQ template generator apps:
Help Center: It's an e-commerce FAQ generator app. The good part about this app is that it allows you to create a multilingual FAQ page that coordinates with the design of the site. Besides that, it also has a live chat feature.
FAQ+Contact Us+WhatsApp+Track: This app is as interesting as its name. It has an order tracking page, a multilingual FAQ template, WhatsApp feature, live chat, and much more. Along with this, there are also several layouts and themes for your FAQ page.
POWR FAQ & Help Center: This app provides you with an accordion layout that makes browsing through different questions easy. It has got upvoting and downvoting features for the customers and supports product information in several languages.
FAQ Page and Accordion: This app allows you to put up your FAQ template on the product and collection page. Also, it works effectively on all devices like tablets, laptops, or mobile.
Fast & Flexible: This app provides 3 different themes to organise your FAQ page. You can choose a theme relevant to your store . Also, it has good customizable FAQ templates that allow you to create multiple FAQ pages. By the way, recently the app came up with a post-purchase FAQ, which appears at the checkout page.
Some FAQ Template Pages You Must See
When it comes to learning, nothing is better than case studies. To give you a better idea of FAQ templates, here are some examples:
McDonald's US FAQ
Look at the way they have used infographics to structure their FAQs. Isn't it good that in a single click you can reach their FAQ?
Their FAQ template is well categorized and they chose to place it right beside the Contact Us tab, which helps visitors in locating their FAQ page.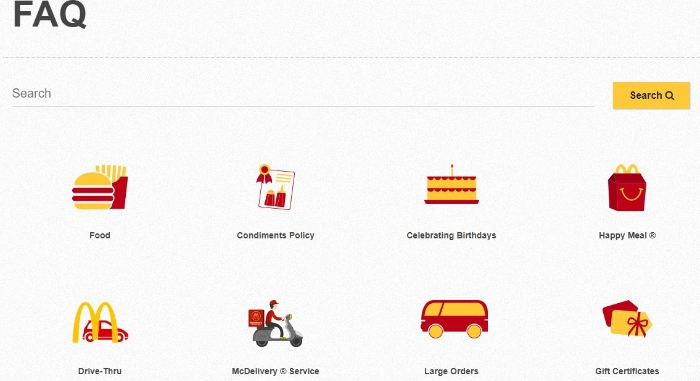 AWS (Amazon Web Services )
Amazon is just present everywhere as they're experts in SEO friendly content. If you see carefully, you will notice that their FAQ page is simple but so well organised.
They have questions under certain categories and the answers to those questions can be viewed clicking on the links given in the questions.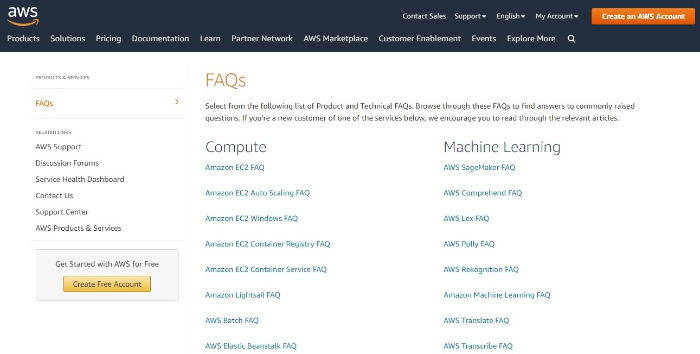 Zappos
I think Zappos have done a great job by categorizing their FAQs. It looks so much more presentable. Structuring your FAQs under larger headers can guide customers to the right place immediately. This saves their time and we know that there is nothing people appreciate from customer service more than an instant resolution!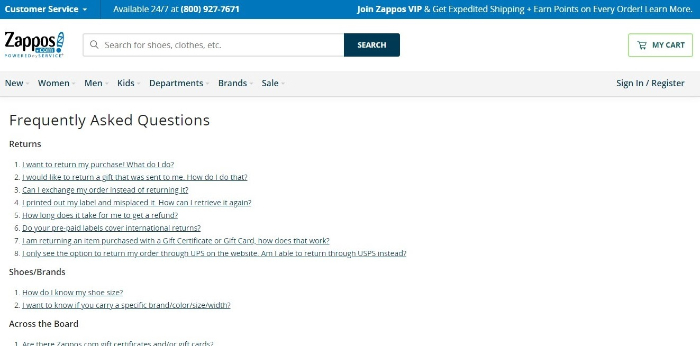 Note: Zappos chose to make the main header as well as questions underneath it visible at the same time. Whereas McDonald's made people choose the main header first and then directs them to another page for selecting their sub-question.
Make A FAQ Template like Etsy
What they have done here is, they put up some of their most popular questions on the top as that's a great way to solve the general queries for a lot of customers. Not only this, they're providing customers with some categories and subcategories like account & order management, privacy, security, etc.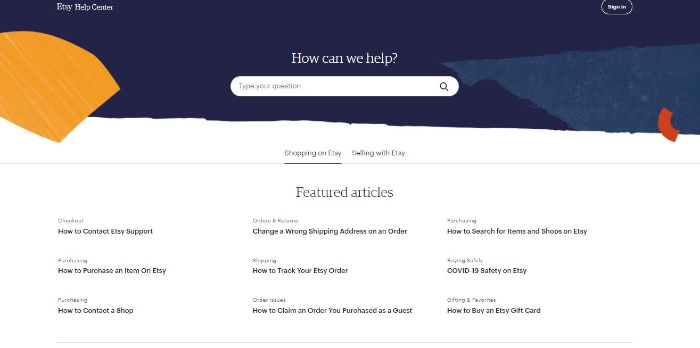 Because of this categorization, users don't have to scroll over numerous irrelevant questions to find the answer to their query. This would enhance the user experience, saving their time as well as making the task easy for them.
Instagram FAQ
Although Instagram is a creatively appealing platform, its FAQ page is quite simple. However, the content of its FAQ page is very easy to understand and up to the point.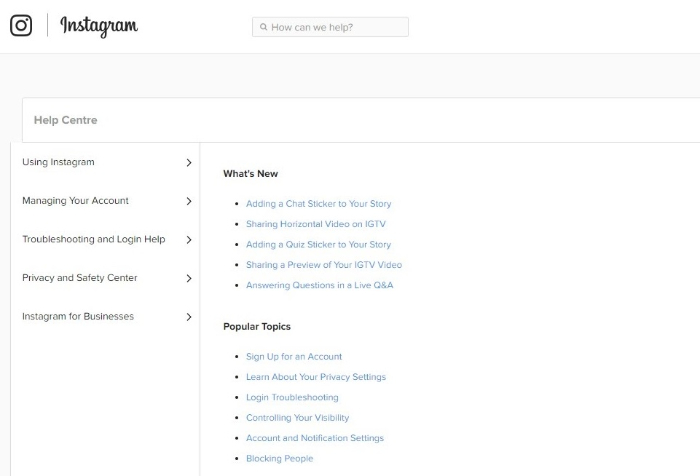 Its "what's new" section tells about the recent app updates. There is a "known issues" section as well where you can find answers to the general issues that you might face while operating Instagram. I must say – Great efforts have been put into the content of their FAQ page.
Microsoft FAQ
Their FAQ page is just so easy to navigate as they kept it simple yet presentable. Here, the replies elongate themselves on being clicked, unlike the Etsy page where they direct you to another web page entirely. Although this is a small UI consideration, it makes access easier for the users.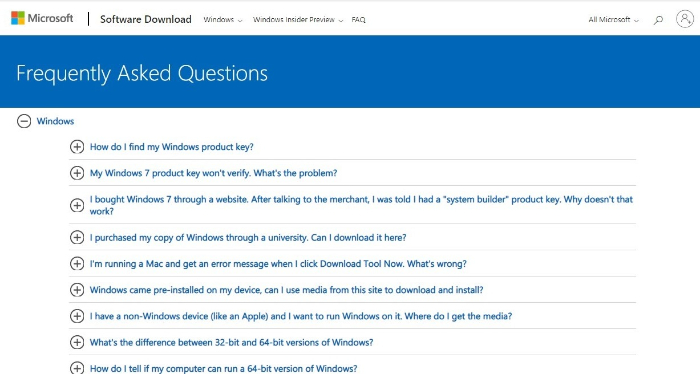 Airbnb FAQ
Their FAQ page is so aesthetically pleasing. They have a search bar for FAQs so that the users can simply search their question.
What I found good in their FAQ template is that after the search bar, they show up some personalized questions based on the user's profile. This is so thoughtful.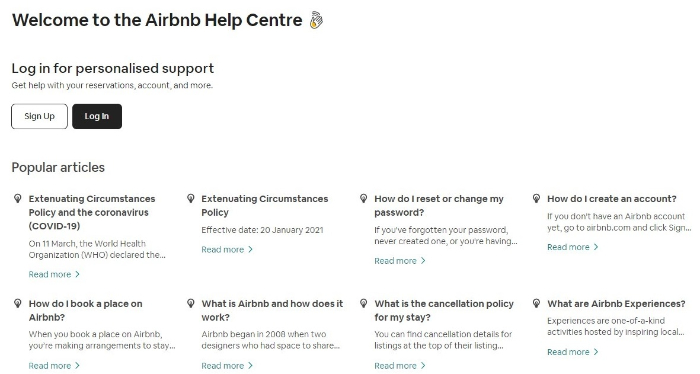 These are just a few examples. There are a lot more creative and presentable FAQ pages. So, you can design your FAQ template as per your taste and the theme of the website. If you want, you can hire a PR to prepare the content of your FAQ page.
The Bottom Line
If you made it this far, then I'm sure that by now you've gained a clear view of FAQs – what they are and how to create them, etc. But for your better understanding, I'm gonna give you a brief of a good FAQ again:
Something that caters to the needs of the customers and solves their queries
Should be maintained and updated as more and more questions will keep coming
Must have an ability to solve problems so that they visitors can turn into customers
Good content that can cover up several categories like shipping, payment, order tracking, etc.
Can build trust among its customers
Should link to important pages that can solve the customer's problems.
All I can say in short is – if you can successfully make a great FAQ template, there are higher chances of increasing your customers as well as traffic on your site.
The best part is that the customers feel very personalized on encountering a well-written FAQ page.
So, if you want to build your online store, spend some time working on your FAQ page.