Having products reviewed by your customer is beneficial in many ways. Judge Me Shopify app lets you collect reviews for your e-store products. Besides, it collects data about your product's performance and gives you a social proof to build trust.
It's a tough task to ask your customers for feedback. With the help of Judge Me, you can automate the whole process. The only thing you would need afterward is the analysis and a little optimization.
Wanna know what else Judge Me can pull off? Alright, let's just see it.
Judge Me Shopify App Features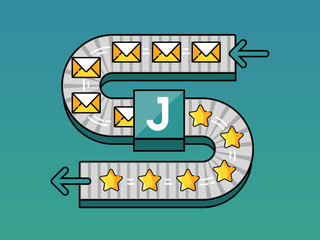 Get Great Conversions with Judge Me App
Collects reviews so that you can display them on your product page
Creates a review carousel that can be placed anywhere in your Shopify store
Adds a floating tab on each product page to make your reviews stand out
Builds a dedicated review page for special promos
Judge Shopify app makes it easy for you to customize reviews in a straightforward way.
Automatic Review Collection
To display reviews in your store, you need to collect them first. With the Judge Me app, you can collect them automatically. Let me show you how it's done:
Schedule review requests so that customers can know that normal people leave reviews after buying something
Choose an appropriate time for sending review requests to your customers (who reviews at midnight?)
Send your customers messages via push notification and keep reminding them that they're supposed to leave a review
Collect more reviews via SMS requests from mobile-savvy people
Design email templates with simple drag & drop, build sequence for emails, and A/B test them
Send emails in a language that your customer can decode
Export the product reviews from other platforms like AliExpress or as CSV
Beautify Reviews by Consolidating Them in One Place
Manage and rearrange all reviews in one place
Automatically Publish your reviews by setting predetermined conditions
Handpick the most amazing reviews, make a carousel and display them to grab special attention
Reply to reviews publicly or personally via email
Regularly follow-up with your buyers to get reviews
Filter spam reviews on autopilot mode
Translate each review in your preferred language
Share Reviews on Social Platforms
Sharing on social media will get you more traffic for free. Here's how you can do it:
Set your criteria for a review to be shared on social media platforms
Handpick reviews and share them on any social media you like
Judge Me Shopify App Integrations
There are countless apps that Judge Me can integrate with. Let me show you some of the important ones.
Email: Active Campaign, Klaviyo, and Omnisend
Marketing: AdMonks, Easy google shopping feed, Frequently bought together, Recomatic, etc
Mobile app builder: Vajro
Notifications: Notify, PushOwl, SMSBump, and SMS Notifications
Page builder: EasySlide, EasyTab, GemPages, Zipify, etc
Rewards: Ekoma, Flits, Gameball, Lina, etc
SEO: AMP by Amplify me, JSON-LD, Plugin SEO, SEO manager, etc
Shipping: AfterShip, ParcelPanel, Shipway
How Much Does Judge Me Shopify App Cost
The Judge Me Shopify app consists of 2 plans. You can go ahead and start off with the Forever free plan spending 0 bucks.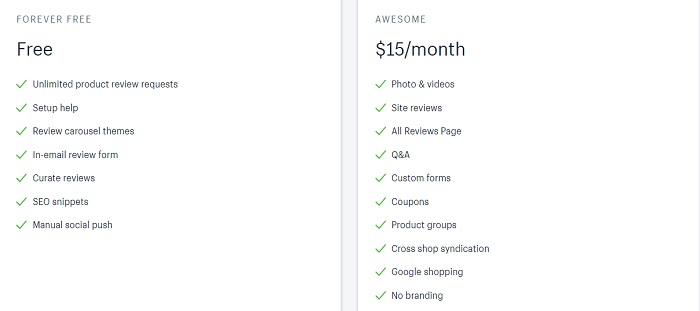 After getting the hang of the platform or feel like getting more features, you can always upgrade to the 'Awesome' plan for just $15 per month.

Pros and Cons of Judge Me Shopify App
Pros
Gives you unlimited review requesting and posting with the free plan
Customize each review as you like
Easy to use dashboard which is simple and packed with features
Cons
Photo and video reviews are only available in the upgraded plan
Is Judge Me Shopify App Worth It?
A Shopify store without reviews is like food without salt. Reviews serve as proof of a product and make your product much more relatable to customers because another human has already experienced it.
Having legit reviews on your store increases the trust amongst customers, which leads to high ROI. If you have dreamt about making more money in 2021, a little thing like a review collection might help you get near that goal.
So what are you waiting for? Try out Judge Me because it gives you quite decent features even if you go for the free plan.