Are you looking for great product description examples so that you can make your own
better?
Product descriptions make your store look professional and polished. According to a
survey, 87% of people responded that when they shop online, they take at least a
minute to go through product descriptions.
Now that we know that the content of our product page matters, why don't we have a
look at these 7 great product description examples?
Let's First Know What An Ideal Product Description Example Looks Like
If you suffer from writer's block and the idea of having to write down multiple sentences
scares you, we've got you covered with a simple product description example 'step by
step' you can use in a time of need.
Here are the simple guidelines you can follow in order to create a useful product description:
Have a heading that grabs the attention of your audience
Write a short description to showcase the benefits of your product
Make a bullet list of all the features you want to bring attention to
Describe any technical details that might be of interest to your audience
Conclude with a call to action
The good thing about this template is that it can be customized for any kind of store in
any industry. You just need to make sure to highlight the specifics of your brand and the
information about your products that you want to convey to the customer.
Remember to always have your ideal client in mind and whenever you write, be as
compelling as possible.
7 Product Description Example You Must Leverage
Now, we will be taking you through 7 product description examples by different
companies that we like and have analyzed.
Let's see what they did right, and what they did wrong so that we can get some key
takeaways that we can utilize whenever writing our own product descriptions.
Everlane – Fashion & Accessories Product Description Example
This is an online store that sells high-end, eco-conscious fashion and accessories. One can say they're in a pretty specific niche. Their style is sassy, classy, and they need to appeal to a specific demographic of people that are environmentally conscious fashion divas.
Let's take a look at how their items look on their website.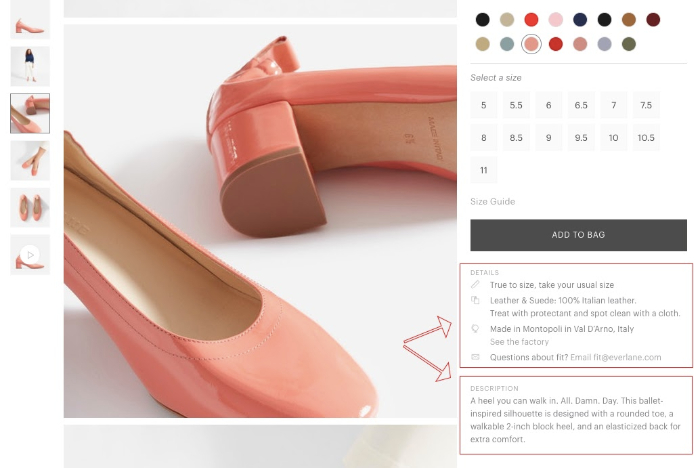 Things I loved about the Everlane product description:
Targets the Pain Point: The brand knows what customers are looking for and they're highlighting that requirement as features of the product. 
Matches the Buyer Persona: It's fun and youthful, uses slang words that willautomatically stand out to the younger generation. Along with this, it features information about the origins of the product, which is a must for eco-friendly customers.
Simple & Easy to Read: It's very well structured and we don't need a lot of concentration to get through it.
Lack of Superlatives: Believe it or not, this makes it authentic and less like an advertising campaign.
Potential changes to the Everlane product description:
Lack of Story: They could have added a story behind it, currently it feels a bit generic.
No Social Proof: There are no reviews from customers or any rating of the product, which can be a great addition for a store that mainly operates online.
Patagonia – Outdoor Gear Product Description Example
This is one of the best-known brands for outdoor gear. And that's not by chance. Let's take a look at what they're offering and how they chose to present their items in the online shop.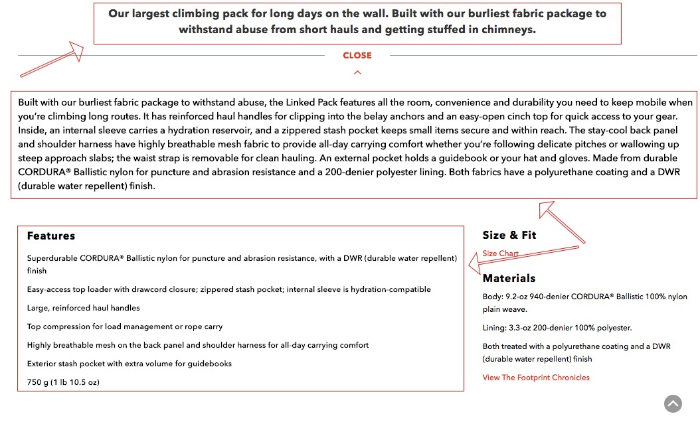 Things I love about the product description:
Matches the Buyer Persona: It may look overly detailed at first but you have to remember that it is aimed toward a specific demographic. People that are interested in alpinism or outdoor hiking pay a lot of attention to the accessories they're buying, because they rely on them in very important situations, so the additional details are a necessity.
Storytelling Aspect: You can imagine climbing mountains when you read it.
Potential changes to the product description:
Fewer Superlative Usage: At times it gets a bit too much, this should be an informative text, not an ad.
Dewalt – Tools & Hardware Product Description Example
This is a store that deals with selling hardware tools and accessories. Thus, details are
again very important to potential customers – the items are generic, so it's the small
differences that definitely matter to the people looking to buy,
let's say a hammer.
Let's see how their store looks.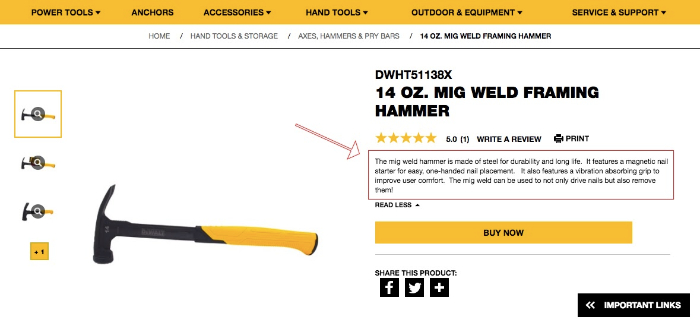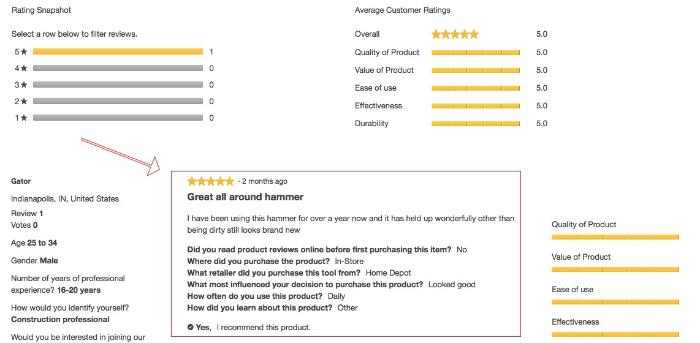 Things I love about the Dewalt product description example:
Niche specificity: Aligns with the Buyer Persona.
Detailing: It's very detailed and features a lot of little important details that are vital for people looking to buy tools.
Simplicity: The description is simple and has terms that are important for the audience.
Lacks Excessive Superlatives: The product description doesn't use superlatives but uses a rating system that features social proof.
Potential changes to the Dewalt product description:
Too Much of Everything: A lot is happening, you have the information about the item, rating system, and to finish it off customer reviews. It's all stacked close together which makes it hard to orientate.
Dollar Shave Club – Razors on Subscription Product Description Example
This is a very fun and interesting grooming brand that takes its marketing to the next level. They mainly market to men, since most people that buy facial razors and shaving creams are male. Their commercials are terrific for their demographic – they are laced with humor and they're sort of manly, so they fit with the clients. 
So let's check what they do.

Things I love about the product description:
Great First Impression: The names of the items are witty and meaningful, when you read them, you immediately get a smile on your face.
Humor: Contains beneficial aspects that cater to the customer, but it also is a fun example, tested on interns, not animals.
Story telling: Story narratives can be hugely useful for connecting with customers.
No Superlatives: They get you interested in their company with their quirky style.
Potential changes to the product description:
Lacks Social Proof: An influencer promotion for example will be very beneficial.
Google Home – The God of Brands!
So, I think that I don't have to give that much insight into what Google represents as a company.
Their brand is known to everyone as modern, tech-savvy, and simplistic.
A couple of years ago, Google was only a software company. Nowadays. they're much more than that as they offer a variety of hardware. Anything, laptops, smartphones, wireless headphones, and smart home appliances, you name it!
Let's see how they chose to market one of their newest items.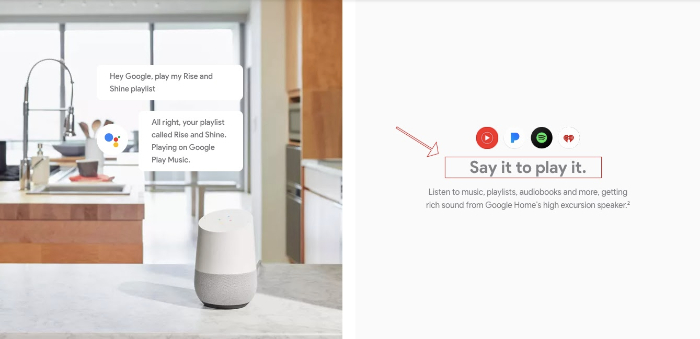 Things I love about Google Home product description example:
Aligned with the Buyer Persona: When it comes to tech, people love simple and straight to the point. The details are interesting to a very small group of IT folks.
No Superlatives: Instead focuses on the benefits that come from using the product.
Minimalistic & Straightforward: There isn't anything that you can say is too much or overpowering.
Potential changes to the product description example:
Even though this is Google and the company doesn't need any introduction, I still think that some social proof would have been good for this new market.
Additionally, it can seem a little bit of a copycat style, Apple, which is a direct competitor who uses a similar advertising strategy and you don't want customers to confuse you with another brand.
Wayfair – Furniture & Home Decor Product Description Example
When it comes to furniture and home decor, Wayfair is the one you wanna go for. They have an immaculate way to differentiate themselves from well-known competitors like Ikea.
They use a technique as old as time – storytelling.
As we have said before, human beings love a good story – it makes us feel emotions
and that transforms a company from an unknown online shop to something you know
more personally.
Let me show you what I mean.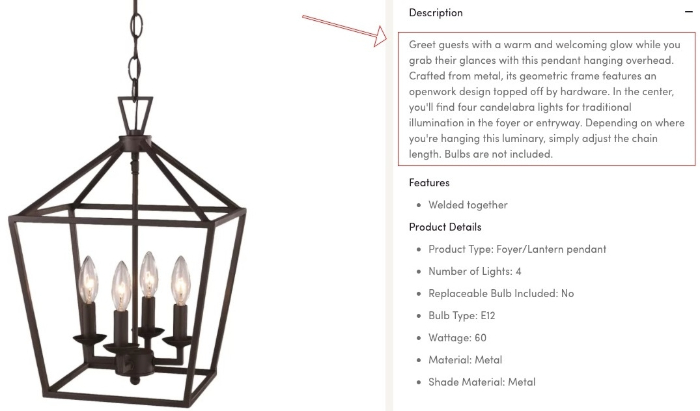 Things I love about Wayfair product description example:
Fits the Buyer Persona: There's a story for each piece of furniture or décor. Let's take this lamp for example. You imagine having friends over for dinner, you're laughing outside, it's summer – their description paints a picture in your mind instantaneously. And this immediately draws in any person looking to buy furniture – you feel like you're not purchasing an item but an experience.
Less Superlatives: The brand uses emotion to pull you in – they encourage you to imagine scenarios involving their product.
Full of Details: Along with that terrific storytelling, you also get all the required information about the item.
Potential changes to the product descriptions:
Doesn't Feature Benefits: You don't get why their product is better than anything else on the market.
No Social Proof: Wayfair would've benefited from some reviews from customers. For example, a picture of a family having dinner on one of their tables and laughing would have brought their storytelling to life.
Malicious Women Candles Co.
This is one sassy company with a very interesting marketing strategy. Candles seem like a pretty generic item, they have different colors and scents. However, they can be found everywhere and traditionally are hard to market well.
The brand takes a very interesting approach to their advertisement. Instead of selling you a candle that smells like roses infused with vanilla, they are offering a candle infused with sass. And it sounds weird, but it catches your eye, it gets you thinking – "oh that's something new."
This company also carries an unusual name – Malicious Women Candle Co and it offers candles with names that are interesting and intriguing as well.
Let's see one of their items.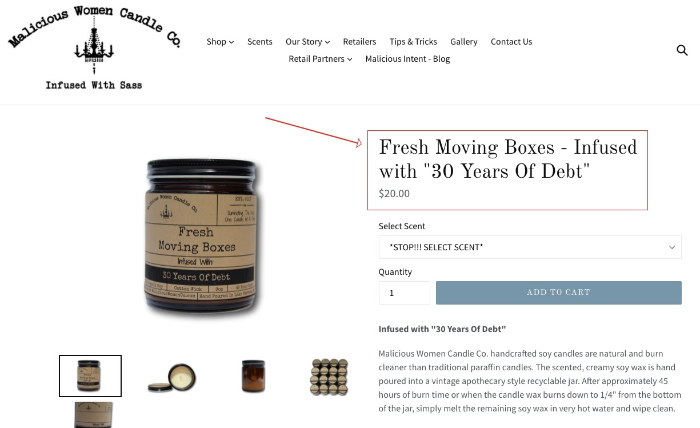 Things I love about the product description:
Fits Buyer Persona: This is the type of gift that good girlfriends will give to each other over Christmas. It's still a candle (something pretty standard, but it's a cool, hip one). 
Title Tells A Story: I feel like the idea is to connect the name of the item to the person you will give the candle to or to the moment you are in. Of course, that's a cool way to reinvent something generic.
The Brand Avoids A Lot of Superlatives: They're not saying that this is the greatest candle in the world, instead they're focusing on what makes their company stand out amongst the competition.
Potential changes to the product description:
Lack of Flow in Writing: The description of how the product is made and its specific features are a string of sentences that look unorganized and messy.
No Social Proof: I don't think reviews would be the right choice but influencer marketing would definitely work.
The Bottom Line
Product descriptions are a detail that often gets overlooked by a lot of companies, don't
make the same mistake!
Instead, utilize the power of good writing. A great product description keeps customers
engaged, invested in your brand, and will make them willing to linger longer in your
store, which is a big sales driver.
Besides, it also builds trust with your clients, showing you are a legitimate business that has put a lot of thought into what they're selling.
Anyway, my last minute tip would be creativity. Yes, the more you have it, the better
edge you have over the product descriptions of your competitors.