When it comes to increasing ROI, an abandoned cart comes into the picture. You may not know this, but Consistent Cart Shopify app is one of the best Shopify abandoned cart apps.
Nowadays, Abandoned cart recovery has become one of the most important rules in the e-commerce business as the global cart abandonment rate is 75.6%. Yes, this is a lot!
If you don't have any plans on what to do with those abandoned carts, you're doing nothing but leaving money on the table. 
To have a plan, let's just see how Consistent Cart Shopify app can help you recover abandoned carts.
Be it a small or big store, almost everyone leverages cart abandonment. Leaving these potential customers behind won't get you the revenue you have in mind.
Be it a small or big store, almost everyone leverages cart abandonment. Leaving these potential customers behind won't get you the revenue you have in mind.

Features of Consistent Cart Shopify App
Consistent Cart Shopify abandoned cart app comes with numerous features that can boost your income to a great extent. Let me tell you what it's capable of in detail.
Activity Tab in Consistent Cart Shopify App
The activity tab of the app has 3 sub-features that give you the overall gist of customers and their cart: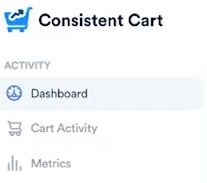 Dashboard
The dashboard in the activity bar shows you the total recovered sales, your contacts (email, SMS, Push), and the latest cart activity.
Cart Activity
This sub-features shows a list of activities that every customer has done with his or her abandoned cart. As a matter of fact, it also gives a CSV export so that you can study the abandonment cart process in-depth.
Metrics
The metrics tab shows a report of your store's quantitative aspects, for example – the total recovered sales, messages sent, interactions, etc. Apart from this, you can also choose any range of dates for reports. What I love the most is that the metrics section also displays the cart recovery funnel (if there's any in play) and the revenue generation graph.
Campaigns & Tools Tab
There are 4 major sub-features in the campaigns & tools tab: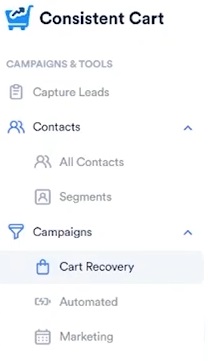 Capture leads
It gathers information from your customers. You can do this by applying 3 different techniques:
Add to cart pop up: Asks users for their email address whenever they add 1st item to their cart
Push prompt: Encourages customers to subscribe via push notifications
Integrations: You can integrate other apps with consistent cart Shopify app to create a funnel
Contacts
The contacts sub-feature contains the collected email addresses and other contacts that you've imported (if there are any). In this section, there are 2 subfeatures.
All contacts: Displays every contact and allows you to import subscribers in all contacts.
Segments: These show you the contacts that have abandoned cart, created order, and all subscribers. Remember, it's possible to make your own segment. If you feel like making one, don't hesitate.
Campaigns
Campaigns are the most important tab in this plugin for Shopify. There are 3 campaigns you can run and analyze:
Cart recovery campaign
It's an automated campaign that helps you reach out to those customers who abandoned their carts. Generally, you can command it to send a message via email, SMS, or a push notification reminding you about the product they've added to the chart.
In addition to this, you can even control how often your customer will get messages after abandoning the cart.
Automated campaign
The automated campaigns are sent to your users in special situations. For example, a thank you message after a successful purchase. You can also send discount offers to your existing customers or new contacts you have during sales or festivals.
Note: With Consistent Cart's automated campaigns, you can track every message you send. The campaign tells you about the total messages sent, customers who've seen the message, and the number of clicks.
Marketing campaigns
Marketing campaigns are meant to promote new products, new discount offers, or just notifying your customers with something great. Create these campaigns and customize them the way you want to bank profit.
What are the Additional Tools in Consistent Cart Shopify?
There are 4 additional tools that give you an edge over other Shopify stores. Let's have a look at them one by one.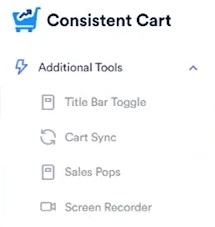 Title bar toggle: It allows you to display the number of items in the cart on the top of your favicon. If there's inactivity for 30 seconds, the favicon will turn into a prompting message which gets the customer's attention back.
Cart sync: Automatically syncs the customer's cart, making it easy to use with different devices.
Sales pops: Displays recent activity about the item sold or order created.
Screen recorder: Records your customer's screen so you can know what exactly a customer is doing on your online store.
Pros & Cons of Consistent Cart Shopify App
Pros
Send birthday wishes and thank you messages to make your customers happy
Back your store up with social proofs to create FOMO (Fear of Missing Out)
Cons
A bunch of features makes the dashboard and the overall app quite overwhelming
Consistent Cart Shopify App Pricing
Consistent Cart Shopify app is giving away a 7-day free trial so that eCommerce store owners like us can get the hang of the platform.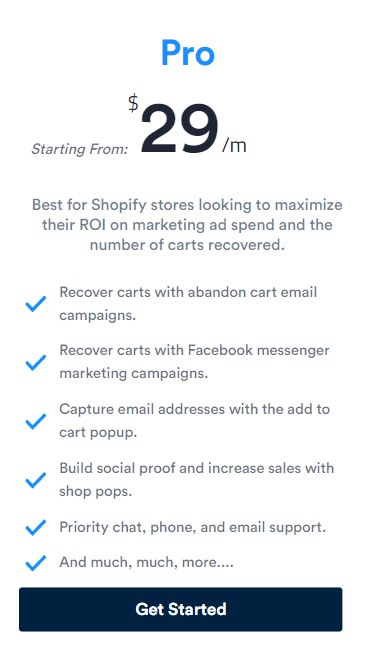 Remember, Consistent Cart is owned by Cartkit. So if you get redirected to Cartkit while making a purchase, don't feel that you reached out to any other platform. More importantly, you will be billed $29/month after 7 days automatically.
Is Consistent Cart Shopify App Worth it?
Be it a small or big store, almost everyone leverages cart abandonment. Leaving these potential customers behind won't get you the revenue you have in mind.
Although there are many other alternative Shopify apps that perform the same, the consistent cart is among the top ones. With the Consistent cart Shopify app, you can understand your customer's needs, analyze each activity, and retarget them with messages and campaigns to effectively increase your ROI.