Stores that offer print on demand Shopify products are starting to gain the same hype that dropshipping did in 2020 and it's for a good reason.
Print on demand services give you the opportunity to start an eCommerce business from home (similarly to dropshipping) but the catch is that you can actually customize the products you sell.
Sounds awesome, right? However, you have to pace yourself. There's a lot more to learn about print on demand services before deciding that you want to start such a company.
For now, I will take you on a journey so that we can discover the best print on demand Shopify applications.
5 Things to Consider When Choosing The Best Print On Demand Shopify Application
Nowadays, the market offers all kinds of print on demand services. One quick Google search will give you an insane amount of options. So before I start presenting you with my picks for the best print on demand Shopify applications, I first want to tell you all about the most important things you should consider whenever you are on your path to choosing an application for your store.
Quality of the Products Offered
Put yourself in the shoes of your customers. What kind of product would you want? A cool-looking one that's unusable within a month or a simpler but long-lasting item? I think the answer is pretty clear.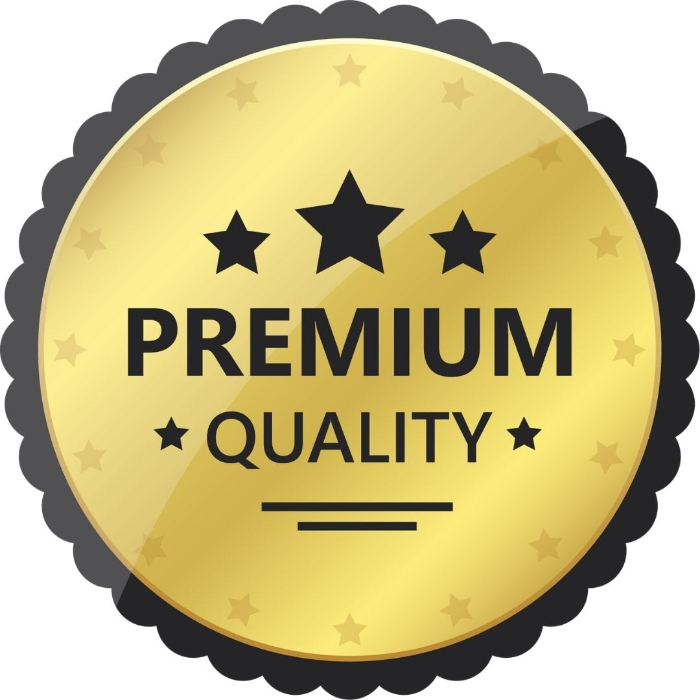 People care about the quality of products they buy. Even if your designs are terrific and one of a kind, customers won't repurchase if the items fall apart in no time.
So, if you want to have a successful business in the long run, you have to pick a supplier that is able to deliver quality items. The best way to ensure that is to make a list with all of the suppliers you like and then order samples from each of them. By doing so, you can test the quality of the products personally before starting to sell them.
Reliable & Fast Shipping
Now that we've got the product covered, it's time to go to the second key attribute – shipping. It's a fact that people are impatient and hate waiting. Ideally, they would want to get the product right after clicking on the "Order" button. That's why the faster you are able to deliver a product, the better off your business will be. If you don't believe me, just take a look at Amazon.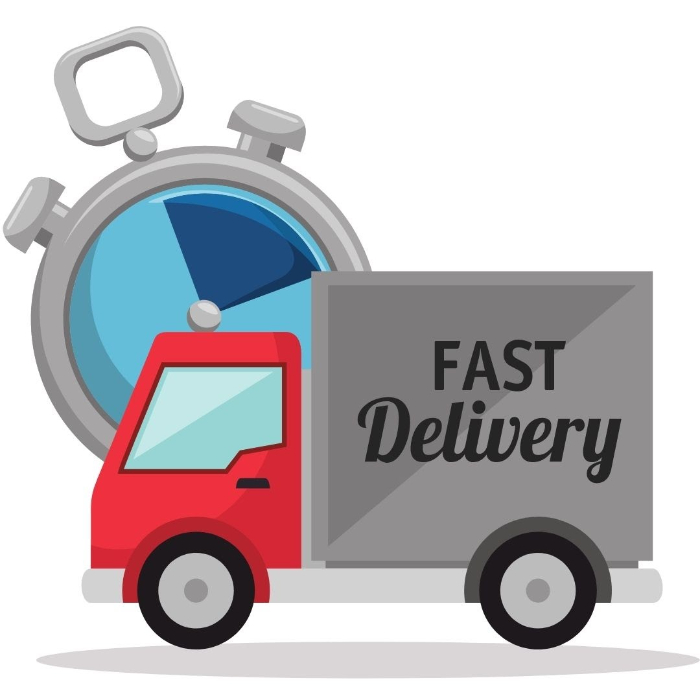 Because of that, whenever you're picking a supplier, you must take a good look at their average shipping times. In the best possible situation, you want the delivery times to be around one to two weeks or even less. Pay attention to this part of your company early on because even if you're offering an incredible product, there's a huge chance you will turn away many potential customers just because you ship slow.
Costs of Product and Shipping Rates
Even though I've emphasized a lot on the importance of quality and good shipping times, that doesn't mean you should forget the costs. Oftentimes, if you pick a print on demand service that offers high-quality products and decent shipping times that might lead to smaller profit margins. That's because you pay more for the product and you earn less money per sale.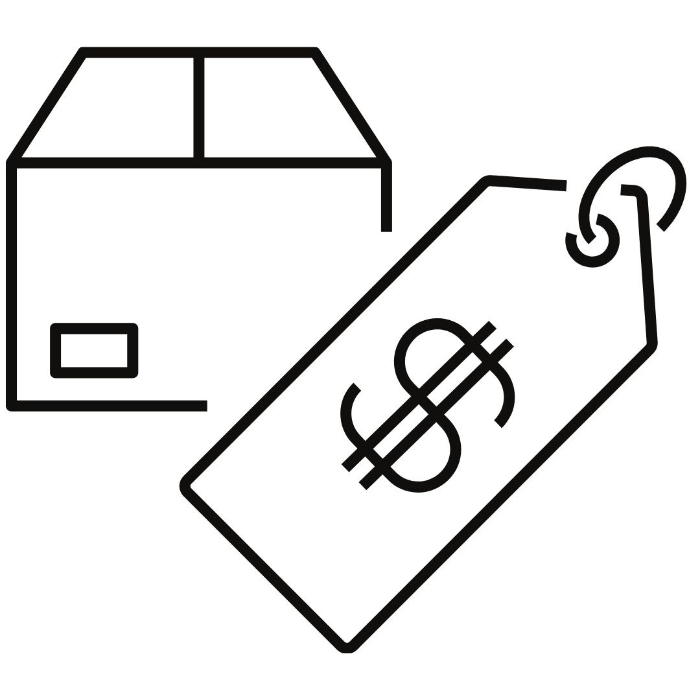 While that might not sound too bad in the beginning, you have to remember that it may stunt your business growth in the future, since you will rely on those profits to invest in marketing, website improvements and so on.
With that being said, I do believe that the right approach is to focus on your profits per sale, instead of simply comparing the different fees of print-on-demand services. Remember, there's a possibility to pay more for better quality items but that will also allow you to charge more for them.
In order to calculate your profit margins, you can use one of the available online calculators.
Look At the Customization & Printing Options
This is something that you will have to pay attention to once you are certain about the kind of store you will be starting. In order to make the right choice, you have to know the kind of customizations you want to be doing.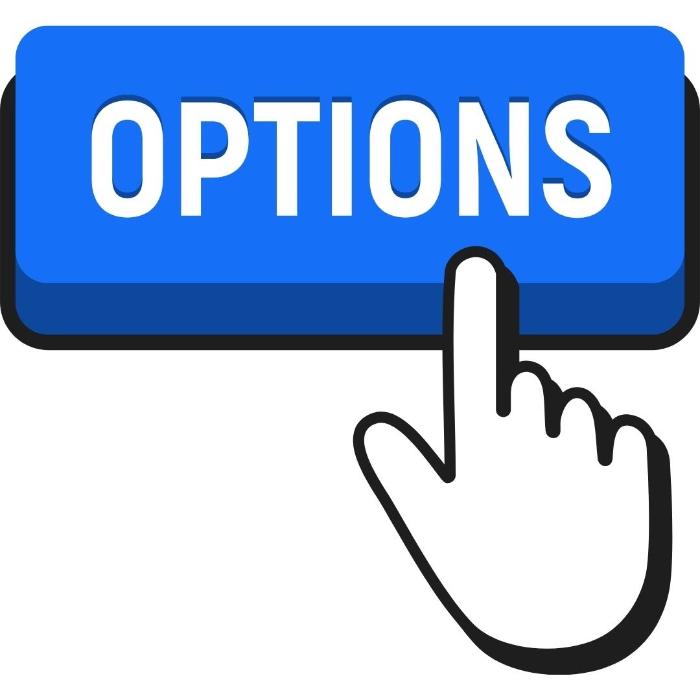 You must be aware if you will need a service that offers a ton of designs or one that just does simple fonts and logos.
Once that's figured out, you can start looking at the level of customizations that each print on demand company offers.
How It Integrates With Other Platforms
If you're in this for the long haul, you need to make sure you have a ton of available options for further expansion. One of the easiest ways to ensure that in the beginning is by choosing a print on demand application that's well integrated with many platforms. In fact the best print on demand Shopify services will give you the option to sell through at least two different channels.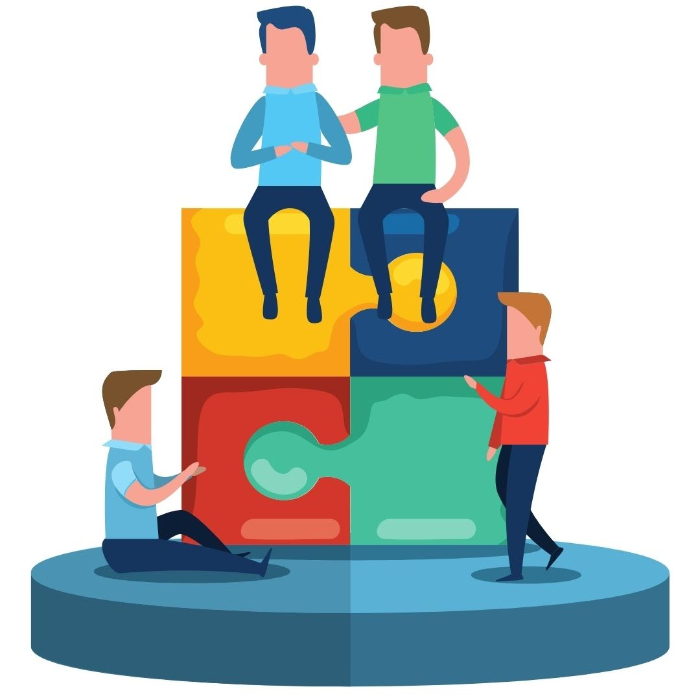 The most popular ones being:
Amazon
Shopify
Etsy
Your own website
Of course, it's better to focus your efforts into selling at one place in the beginning. But after a while, you may want to grow and that's where it will be good to have multiple options.
5 Best Print On Demand Shopify Applications
Printful
Printful is perhaps the most popular company in the print on demand niche. There are plenty of reasons for that. It was created in 2013 by Davis Siksnans and Lauris Libertis. The service offers more than 220 products and has a large range of printing options available. It's easy to customize your items with Printful and it has seamless integration with all other major platforms, including Shopify and Amazon.
A Walkthrough Of Printful
In order to set up a store using Printful, there are a few simple steps you have to follow. Let me guide you through them.
Go to Printful and create an account on the service.

2. Connect your store with Printful.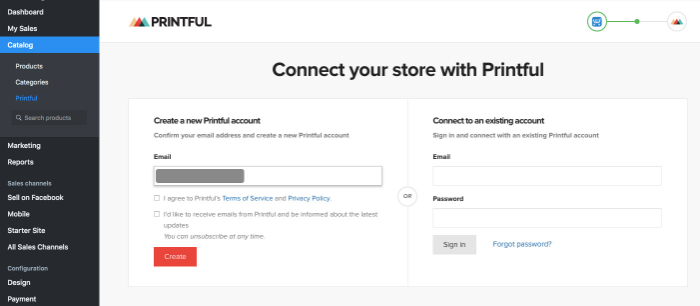 3. From there, choose the platform you currently sell on and follow the instructions on "Printful" to connect your store.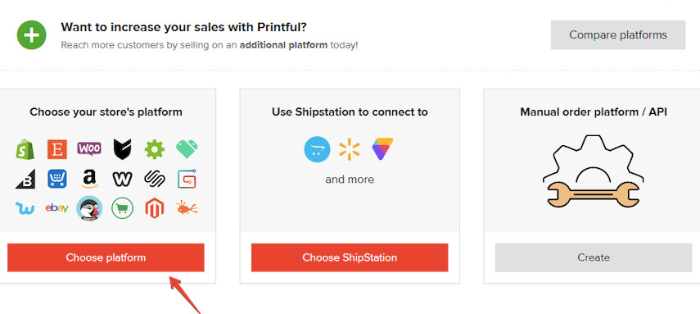 4. Once you're done connecting your shop, head to the "Add Products" button.

5. After that,choose your first product for customization.

6. On this next step, choose the sizes you want to offer, the colors for the items and then upload the design (in 300 dpi). After that, click on "Proceed to mock ups".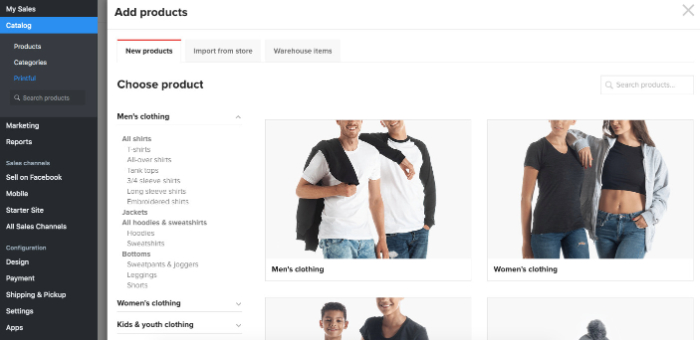 7. Here you can finish creating your mock-ups, clicking on "Proceed to description".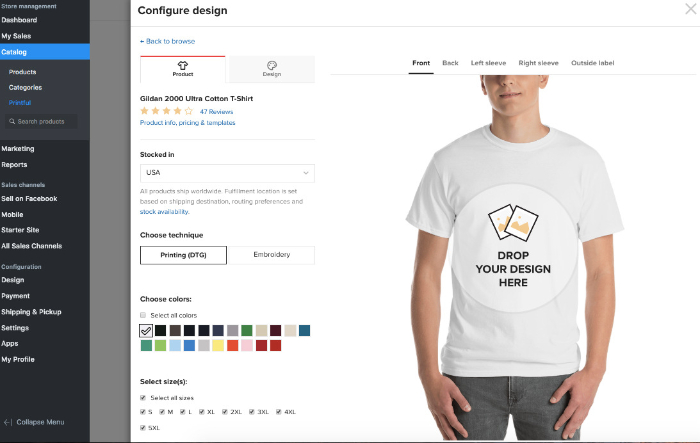 8. Afterwards, fill in product descriptions and put in the tags and once you're done, click on "Proceed to pricing".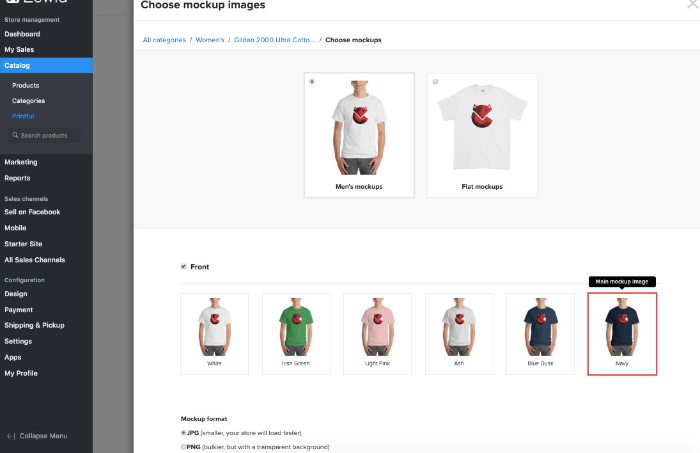 9. The magic happens here! Set pricing by filling out the columns. The first one is how much you will pay, the second one is what you will charge the client and the third one is your profit.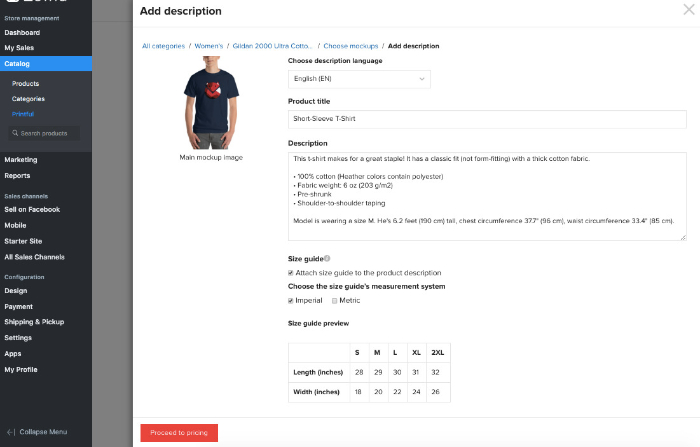 10. Now that we've got that part covered, set up billing, either connecting a PayPal account or a credit card.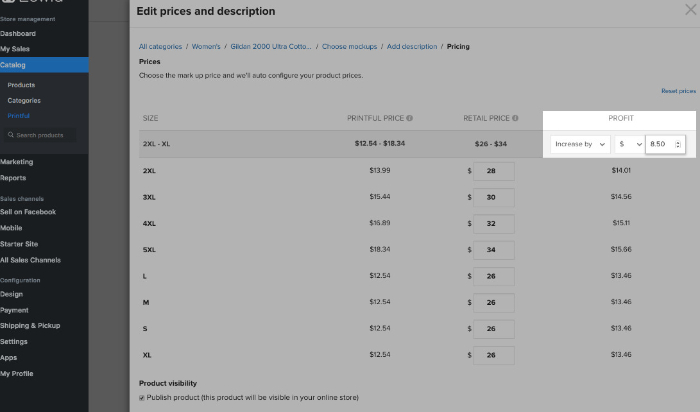 11. For the final touch, add your store's logo, tax rates, and shipping. Once that's done, you're good to go!
Pros & Cons of Printful
Let's see some of the advantages you get by using Printful and of course the disadvantages you have to be aware of.
Pros
Great shipping times (2-5 business days)
Ability to brand tags and packaging
A large variety of product options
Cons
No refunds for the damage and lost item
Printful is so popular because it really is that good. In fact, it's one of the best print on demand Shopify applications on the market. The service is great for all people who want to start a print on demand store and offer high-quality products. It's also terrific for young entrepreneurs with no experience, as it is extremely user-friendly and has great customer service that works 24/7.
Printify
Printify is another one of the best print on demand Shopify services which is 6 years old. James Janis Berdigans found it in Silicon Valley, California. What makes it unique is that it offers access to a wide network of print on demand suppliers from all over the world. It also enables owners to choose from more than 300 products and customize them in a variety of ways.
A Walkthrough Of Printify
Even though setting up a shop with Printify is not challenging, I still want to take you with me through the process of starting a business with the service. Let's just take a look.
Go to Printify and create an account on the service.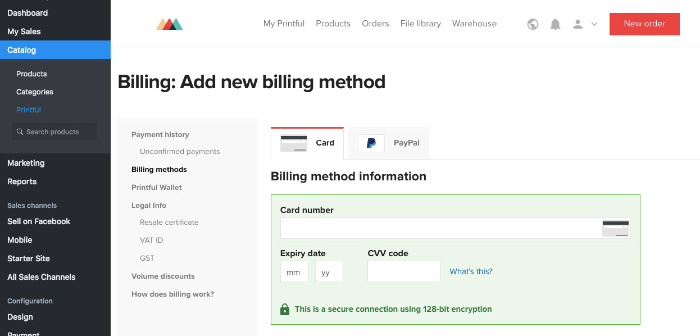 2. Once logged in, click on Catalog.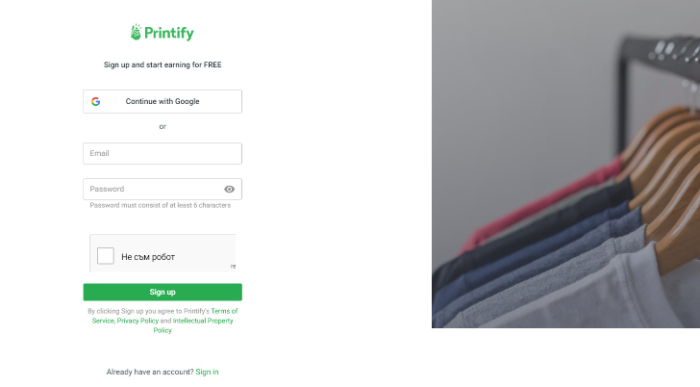 3. After that, select one product from the shown options.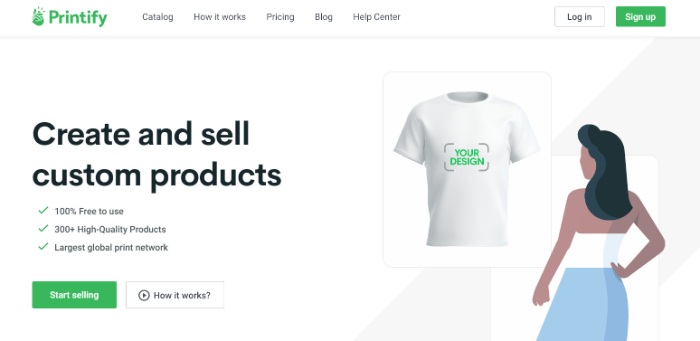 4. Choose your colors, the sizes you want to sell, and afterwards upload your design.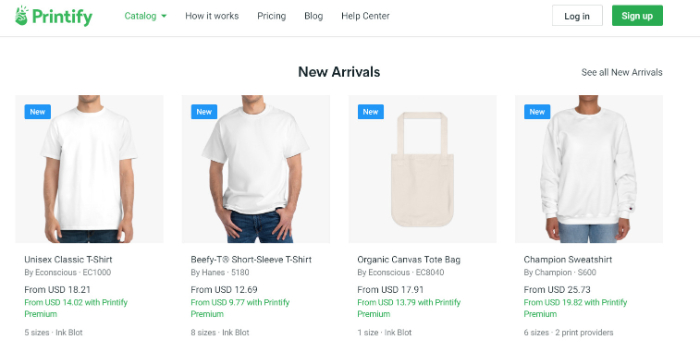 5. Create the product description, add tags, and write a title.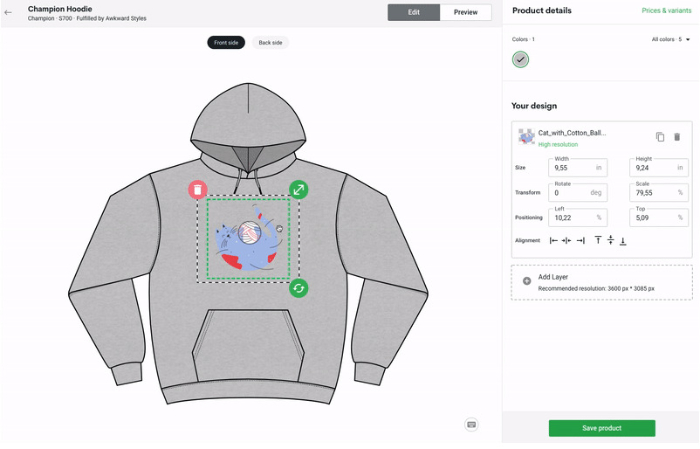 6. Go to edit your prices. Here you will be able to see the cost, set the retail price, and then get your profit margins.
7. After that's done, you can publish the product to your store.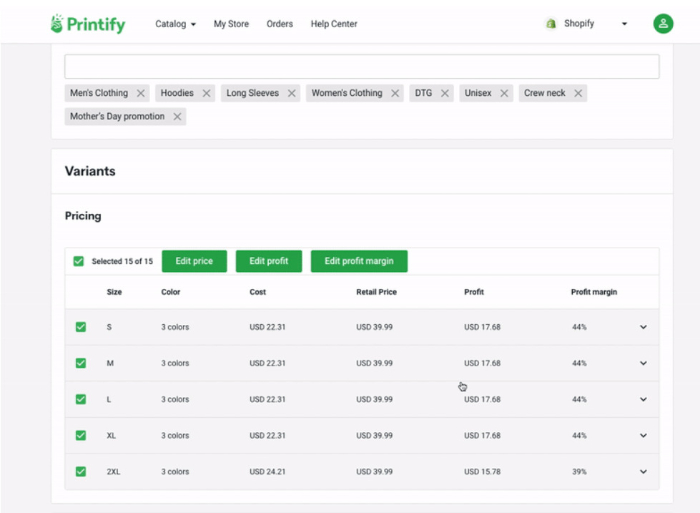 8. Set up a payment method.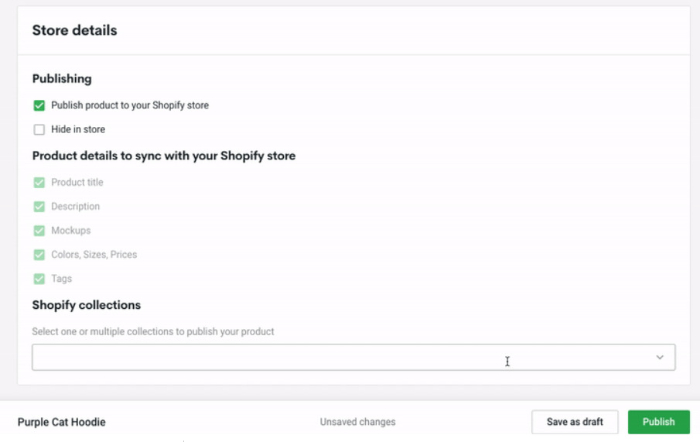 9. Choose to do so either with a credit/debit card or with PayPal.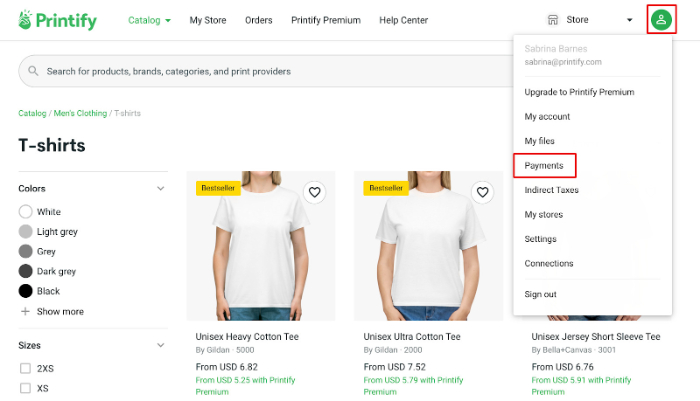 10. After you're finished with this step, you're good to go!
Pros & Cons of Printify
Printify is one of the best print on demand Shopify applications on the market, however even the best things have their good and bad sides. Let's see what those are for Printify.
Pros
Offers Premium and Enterprise plans that give discounts to companies
Opportunity to work with different suppliers depending on the country your business is in
Low production costs
Cons
Limited options for branding products
Printify is an excellent choice for people who want to start a print on demand store that's able to operate in their own country. It's also a great choice for business owners who want to get a lot of customization options at a lower price.
SPOD
SPOD is yet another contender for the best print on demand Shopify application. It's owned by Spreashirt and it's become favored by many companies because of its incredible shipping times. 95% of the orders get shipped within 48 hours. Awesome, right? The only downside is that they don't offer a large variety of products.
A Walkthrough of SPOD
Go to the Shopify app store and install the SPOD app to your store.

2. From here, click on Add Product to begin creating your first item.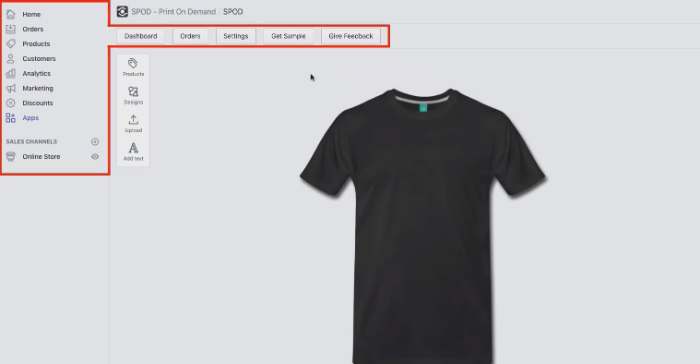 3. Click on "Products" to start customizing the chosen item. Here you can choose the colors and the sizes.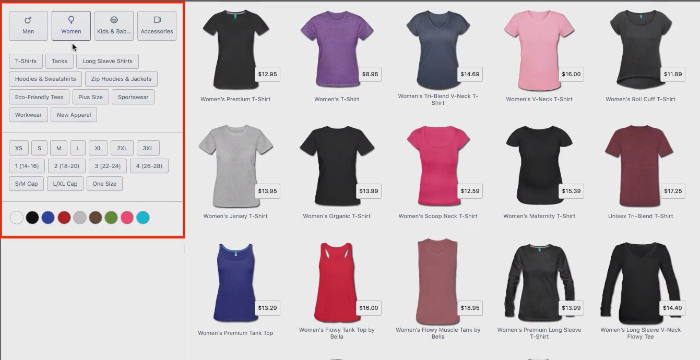 4. Begin customizing the design.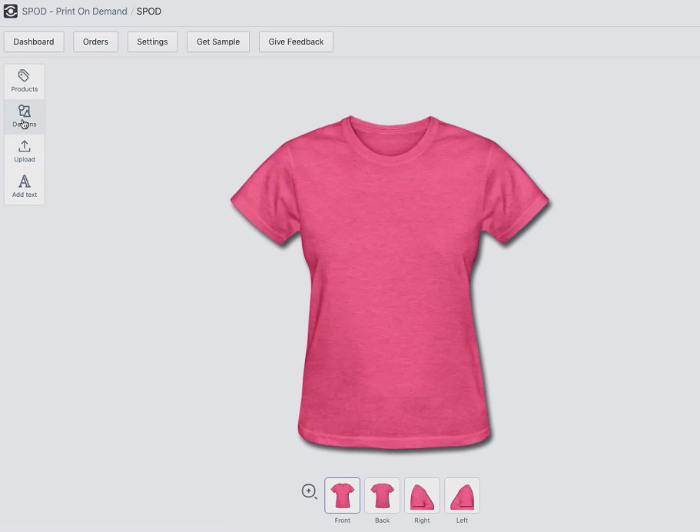 5. Either choose one of the premade ones or upload your own. Once done with the design, edit the product description, tags etc.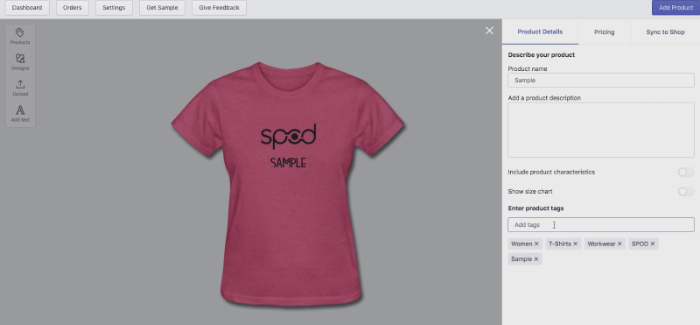 6. Time to do the pricing. Again here, edit the price you charge and see your profit margin.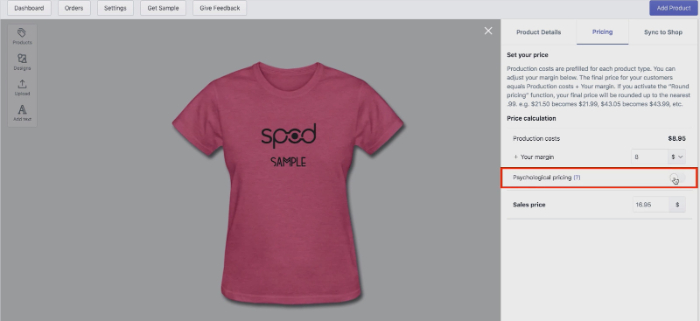 7. Once you're done setting the price, it's time to publish the product on the store.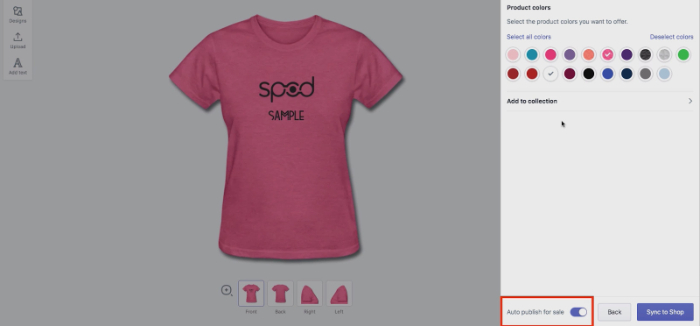 8. Finally, we're here. You can start selling the product!
Pros & Cons of SPOD
Now that you know how to use SPOD, let's take a look at what positives and negatives you will run into while using the service.
Pros
Incredibly fast shipping times
Loads of printing options
A great product customization tool that allows you to make your own design
Cons
Very limited product options
I would recommend SPOD to everyone who doesn't need that much product variety but would largely benefit from very fast and reliable shipping times.
Teelaunch
Teelaunch is another well-known name in the print on demand niche. It was founded in 2013 by Christopher Hamze and it quickly became a multi-million dollar Shopify app. What makes it stand out from the rest is the immense quality you get in the mock-ups the app generates. They're often so good that you can immediately start using them for marketing campaigns and on your social media.
A Walkthrough of Teelaunch
A disclaimer before we start: You must have an active Shopify account in order to use this service.
The first order of business here is to install the Teelaunch app to your Shopify store.

2. Choose the product you want to sell.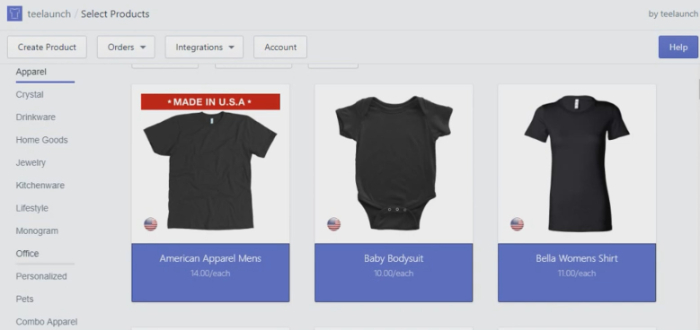 3. After picking the item, you will be prompted to create a Teelaunch account.

4. Once you're done filling in the required information and are done with registration, it's time to select the product once more and start customizing it. You do that by uploading the desired design under the name of the variant.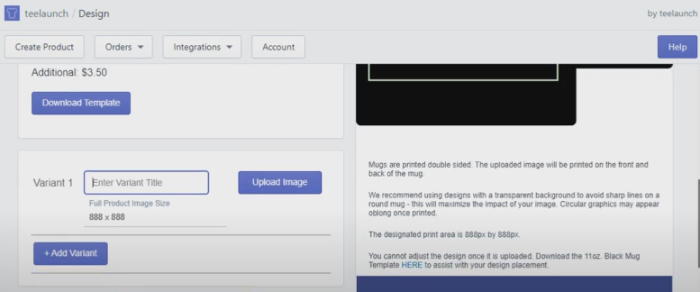 5. After you're done with that, Teelaunch will show you how it will look and you will be able to edit the product description, add tags, and set the price for the product.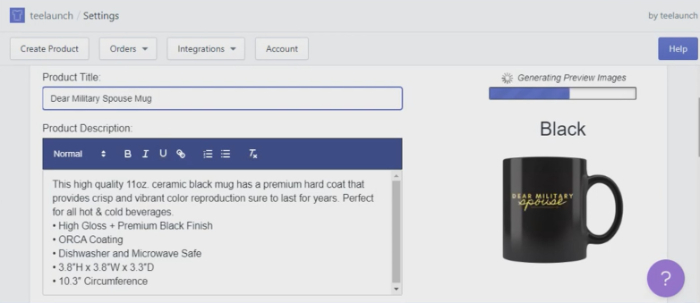 6. Alright, time to publish the product to your store. To do that, simply select Publish product.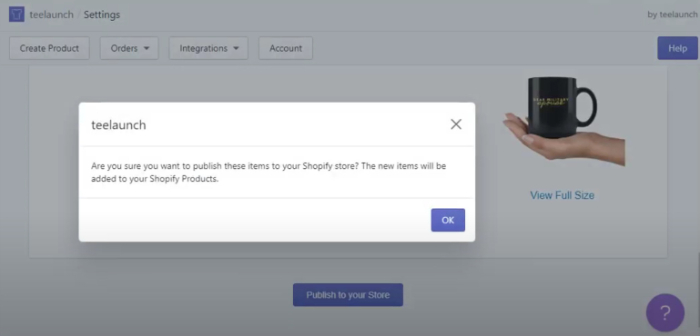 7. And that's it, you're done! The first product is out on the website.
Pros & Cons of Teelaunch
You know the drill, after we've seen how the app works, it's time to take a look at both the good and the bad sides of using it.
Pros
Offers unique items such as Bluetooth speakers
No subscription fees or contracts
Free shipping option is available
Cons
Lack of control over the process due to the outsourced fulfillment
Teelaunch is one of the best print on demand Shopify applications for people who want to sell more unique items. For them, the downside that the prolonged shipping time brings may not matter as much because of the uniqueness factor and the free delivery option which will increase the profit margins.
CustomCat
CustomCat is a US-based, print on demand company that was founded in 2015 by Robert Hake. It made its name thanks to its incredibly rich product catalog that contains over 550 items. The service also offers a subscription which allows businesses to get a 30% discount on the catalog.
A Walkthrough of CustomCat
Let me take you to the required steps for creating a store with CustomCat and adding products to it.
Go to CustomCat and sign up for the platform.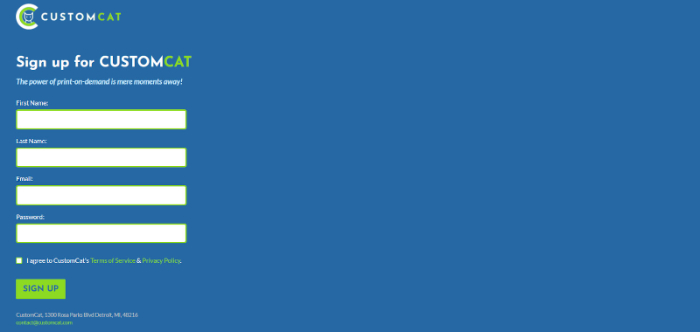 2. Once that's done, you have to connect your store to CustomCat.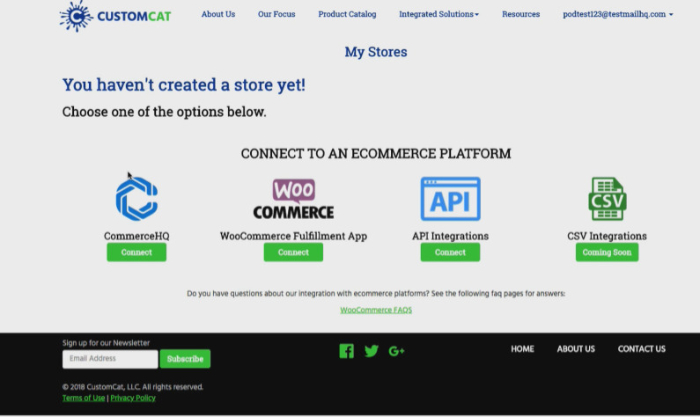 3. To pull this off, enter store's name and its URL.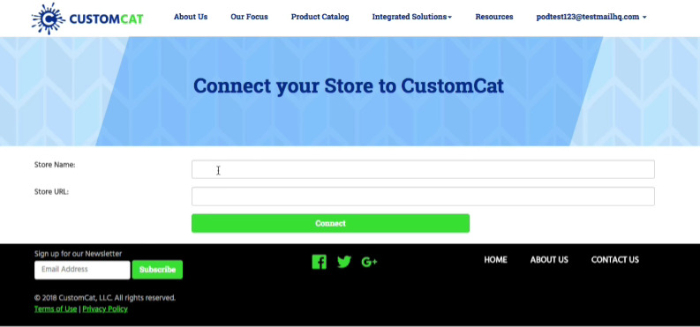 4. Fill in account and billing information.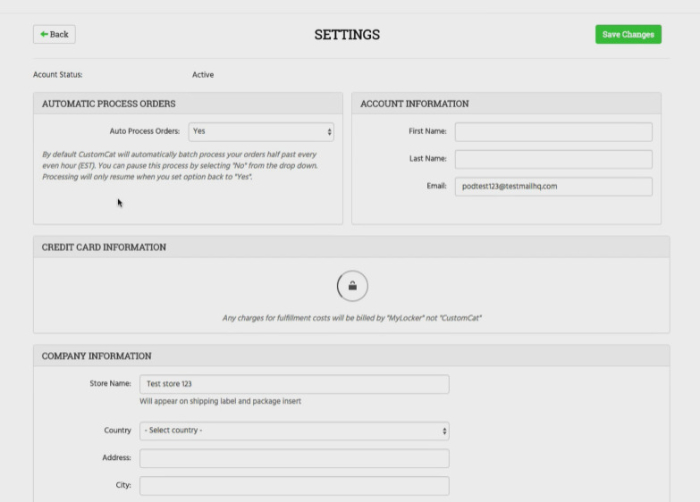 5. Once that's done, start adding products. Go back to the CustomCat page and click on "MyStores".

6. Click on the "Add product" button next to the store you want to add products to.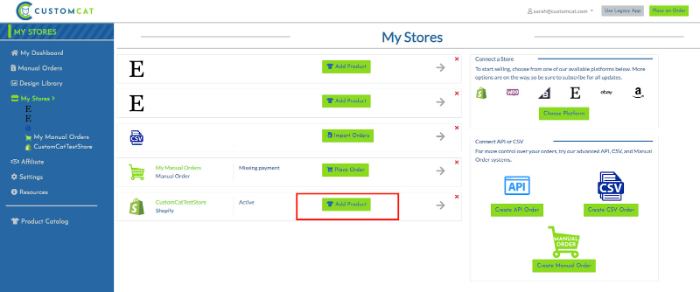 7. From there, you will be taken to the CustomCat catalog where you have to select a product for customization.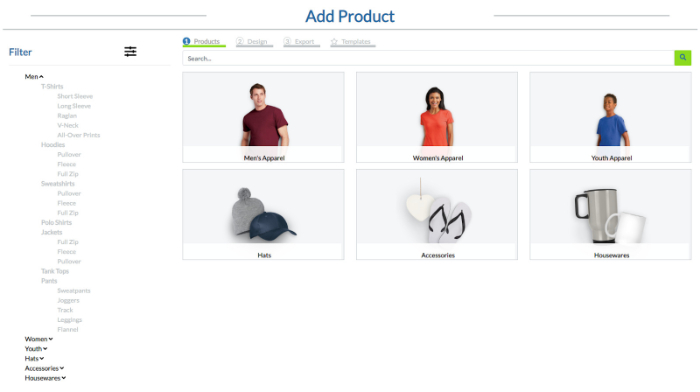 8. To edit a product, you have to hover it with the mouse and choose Edit.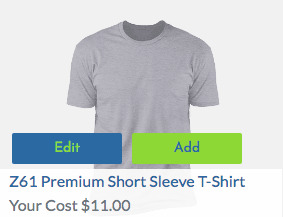 9. You will then be taken to the customization page, where you can upload your design, choose the sizes, and the color.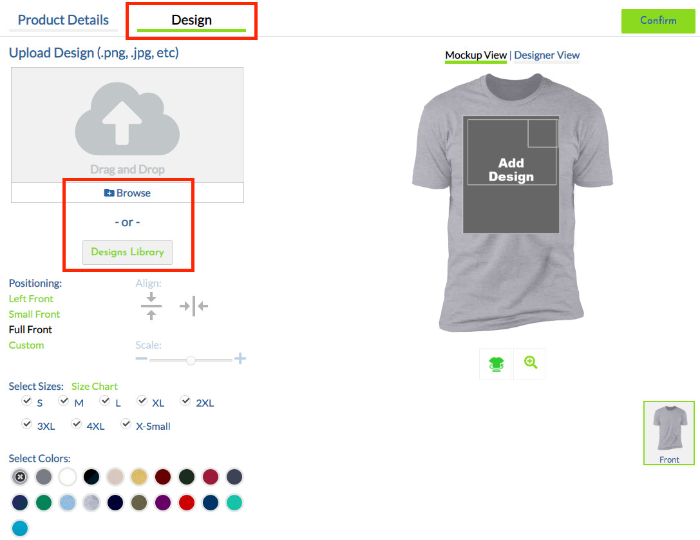 10. Fill in the product details: tags, description, and the price you will charge.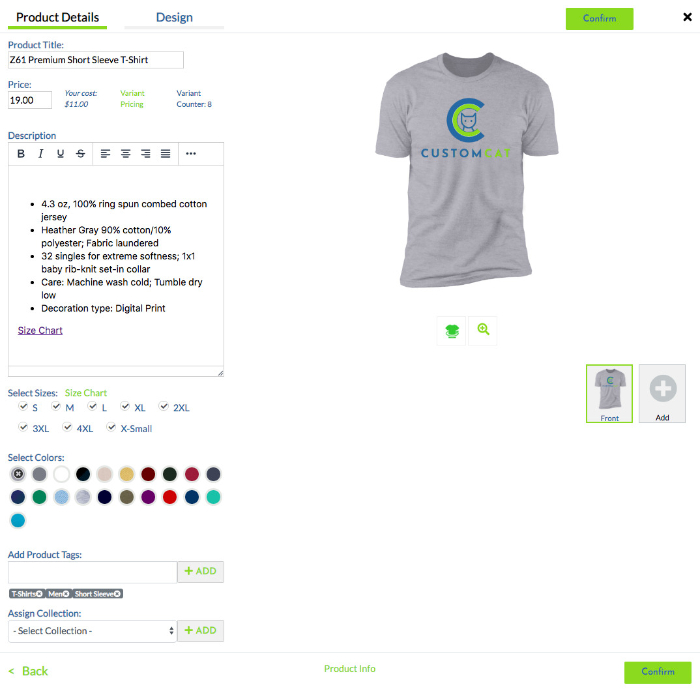 11. When you finish with this step, just click on confirm. Select Save product and you're good to go!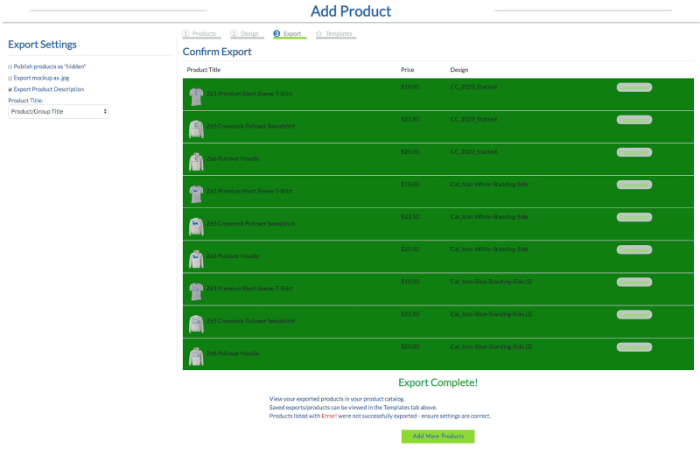 Pros & Cons of CustomCat
The hard part is now over, it's time to see what you gain from using CustomCat and what cons you should expect to face.
Pros
Enormous product catalog with over 550 items
Some of the lowest prices in the industry (with the paid subscription)
Extra options available like upsells, split testing, and customer data collection
Cons
Complicated shipping process
Integrated with only two eCommerce platforms
For me, CustomCat would be the perfect fit for businesses that want to sell really rare items since its biggest advantage is the large product catalog.
Otherwise, the service has a ton of extra options available and can be very cheap. However, it's only integrated with two eCommerce platforms and it has a really confusing shipment process. All in all, it's unique amongst the other picks for best print on demand Shopify applications as it can either be the perfect choice for your business, or completely unfit for it.
The Bottom Line
We've arrived at the end of our journey. I hope you found it interesting and that I helped you get a sense of which are the best print on demand Shopify applications.
Just remember to always do a ton of additional research before choosing the service to use for your company. There are plenty of great options available on the market but you should aim to pick THE ONE that best suits your business needs and that will make the workflow easily manageable.