Are you thinking how to dropship on Shopify with Alibaba in 2021? And then, it's not a good idea to do so? Well, think twice because you're voting for the wrong idea.
With its inexpensive prices and dropshipping-friendly stores, Alibaba is undoubtedly one of the best platforms you can leverage to make your dropshipping business a success.
Fitnessmith, the bodybuilding and nutrition site gonadorelin canada peptides 2mg special pectoral bodybuilding program – nutrifirst.
In case you're nodding your head into a 'no' and yelling at the article that dropshipping with Alibaba is so difficult, then you can re-evaluate your beliefs after reading the whole thing out.
Before Learning How to Dropship on Shopify with Alibaba – Let's Have A Walkthrough
If you don't have a sound foundation, your knowledge makes a wobbly building. So before learning how to dropship on Shopify with Alibaba, let me walk you through the categories of this platform.
Machinery / Vehicles & Accessories
Consumer Electronics / Home Appliances
Apparel / Fashion Accessories / Timepieces, Jewelry, Eyewear
Lights & Lighting / Construction & Real Estate
Home & Garden / Furniture
Fabric & Textiles Raw Material / Home Textiles
Beauty & Personal Care / Health & Medical
Packaging & Printing / Office & School Supplies
Electrical Equipment & Supplies
Fabrication Service / Tools & Hardware / Security & Protection
Electronic Components, Accessories & Telecommunications / Electrical Equipment & Supplies
Sports & Entertainment / Toys & Hobbies / Gifts & Crafts
Luggage, Bags & Cases / Shoes & Accessories
Those who are boggling their minds over the huge range of product categories, don't worry because here are a few other popular categories that might seem relevant to your preferred niche.
Top 5 Popular Niches You Can Select on Alibaba
Apparel
Consumer Electronics
Accessories: Pendants and Earrings
School stationery
Home Décor
Now we know what Alibaba sells. Let's move onto the range of features Alibaba comes up with.
What Makes Alibaba Good for Shopify Dropshippers?
Ready to Ship Products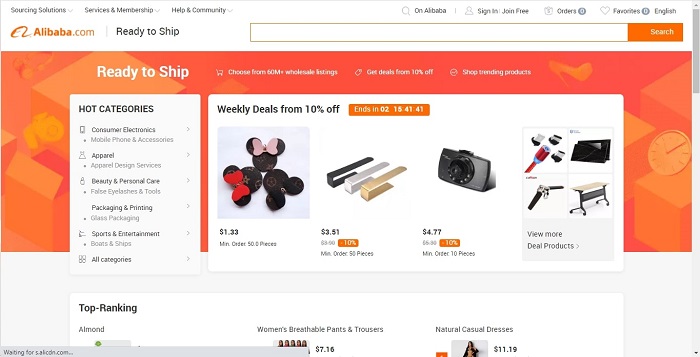 'Ready to Ship' products are a storehouse of ready products. In this case, you can purchase products with fixed prices and shipping costs. These products are ready for shipment within 15 days of the 'Order Date.'
Alibaba Trade Show
A trade show allows sellers and buyers to have a 1:1 conversation and negotiations before buying. On one end, it allows sellers to demonstrate their products. On the other, it also allows buyers to test the validity of these sellers.
As you know, the pandemic doesn't allow for in-person events much, so Alibaba has decided to hold a Virtual Trade Show. This trade show's unique aspect is that it is an exclusive invite-only trade show, which is directed towards US manufacturers. You can get more details about this virtual trade show right here.
Alibaba Personal Protective Equipment
Alibaba had organized high-quality suppliers of masks under which retailers source PPE from one destination. As a matter of fact, Alibaba had worked with relevant government authorities worldwide during Covid-19, which also made it possible to bulk order PPE in times, especially when the supply was minimum and the demand was huge.
Services Offered on Alibaba
Trade Assurance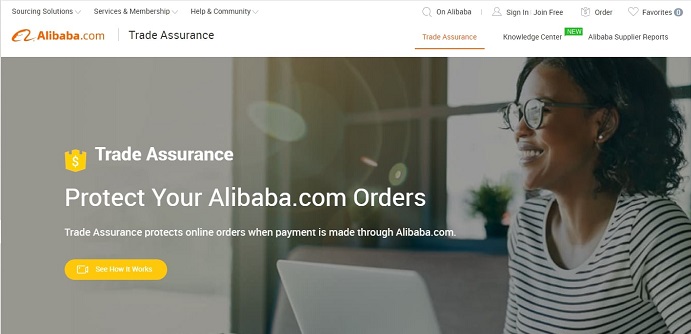 Trade Assurance assures you that you won't lose your peace of mind as a dropshipper. Whenever you find that the shipment data or the product quality differs from the one you agreed upon, Alibaba would either give you a satisfactory product quality or refund.
Here are A Few Benefits of Alibaba Trade Assurance
Secure Payment
Buyer Protection
Assured Customer Support
Pay Later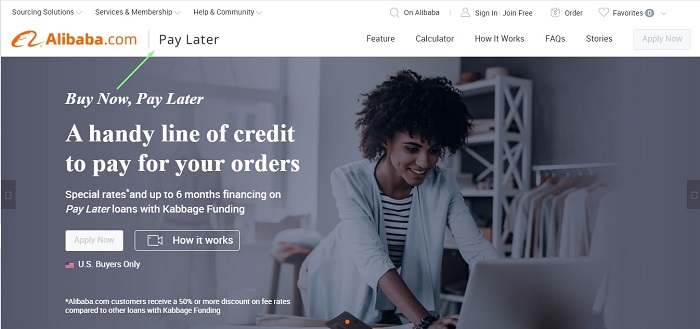 Pay Later is an efficient feature that allows you to take up to $150,000 credit whenever you are in need to make a quick transaction. This feature allows you to repay within six months.

Note: It is currently discontinued but it may come back again by the end of this quarter.
To sign up on Pay Later, you've to follow up with these steps:
Enter the basic information about your business.
Link your business checking and bank accounts. (they need something to trust on)
Provide your personal information.
Get your identity verified and wait for Alibaba to test your eligibility.
If you're eligible to proceed ahead, use credit to make your purchase now and Pay Later.
Payment Terms: Net-60
Alibaba's 'Payment Terms' is the new way of doing business as dropshippers. The payment option is exclusively offered to qualified businesses in the US.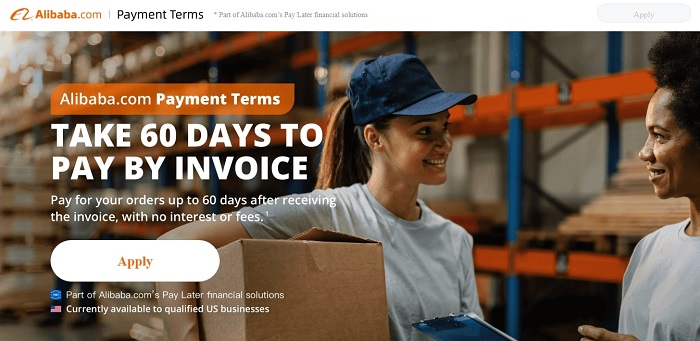 These qualified businesses are allowed to place orders with any participating supplier on Alibaba and receive an invoice. After that, dropshippers will have a total of 60 days to pay back the remaining amount.
The upfront deposit depends on the contract terms with the supplier as the general market ballpark figure would be 30% of the total order value.
It's important to note that Alibaba Payment Terms is an invitation-only program and only available to US-based registered businesses with a tax ID (i.e: EIN – Employer Identification Number.)
Options to Sell on Alibaba
Global
The global seller platform allows both SMEs and big businesses to reach a larger customer base. You can sign up for a basic paid plan or a premium one. Until you don't have a very high sales revenue, I don't really recommend the premium plan.
Partner Program
In simple words, the Partner Program is an invitation for you to collaborate with Alibaba's businesses. You can do this in two easy ways:
Be A Lead Affiliate
The lead affiliate works similar to the affiliate programs elsewhere. It allows you to bring in new customers, and you get commissioned for it. You can sign up for lead affiliation here.
Sales Reseller
This program allows you to register along with a team of 5 people and you can put your eCommerce knowledge into action while building a new stream of income.
How to Select A Good Product from Alibaba for Dropshipping
Successful dropshipping begins with knowing the fundamentals. Now that we have the basics intact, let's learn how you can select a good product for your dropshipping business.
Before moving further, please note that you can choose from a range of products, so don't let this choice confuse you. With good research and analysis of your targeted audience, you can pick the right product.
Start Searching
There are two ways to which you can approach bulk buying on Alibaba: Product search and Supplier search. The first one refers to searching directly for the product. Similarly, the second one is for finding a supplier. To make it easier for you to comprehend, I'll demonstrate it with an example.
Product Search:

The search result I got: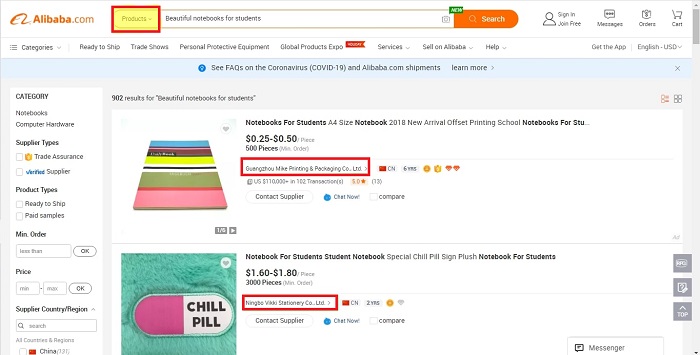 The search result provides you with different products from various suppliers.
Now that we have found some nice products, it's to find a nice supplier. And to do that, let's check using the second search method called the Supplier Search.
Supplier Search:

Search Result: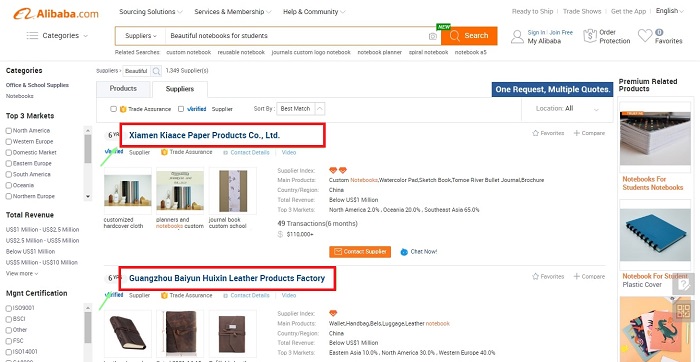 This search result yields the different suppliers for the product category you are searching for.
Now you will ask me, 'what is the benefit of using these search options?'
Let me tell you that when you go for a 'product' search, this allows you to see which products are in demand. On the other hand, the 'supplier' search helps you to identify the most trusted sellers in the product category you are looking for.
(Please note that this article is in no way affiliated to any of the sellers or retailers on Alibaba. The illustrations are used for educational purposes only.)
Things to Look for on the Alibaba Product Page
Unit price and FOB (Free On Board)
The unit price is easily identifiable on the product description page.
Some of you might have already studied in school that a unit price is the cost per item. Don't mind if you know it already, I just told because some people don't know 🙂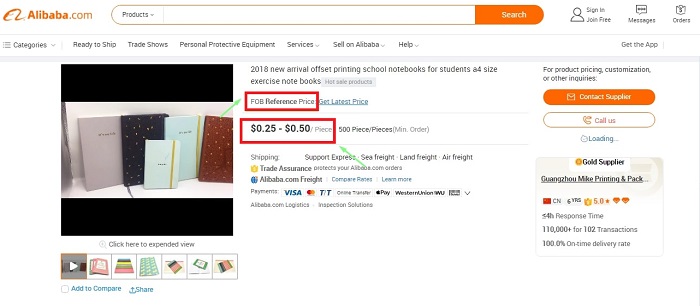 A pro tip: There's nothing complex about FOB, it just means that the seller will pay for all costs incurred for shipping and packaging to your desired address.

Minimum Order Quantity (MOQ)
The minimum order quantity is self-explanatory. It just means that you have to order a minimum number of products to qualify for a purchase.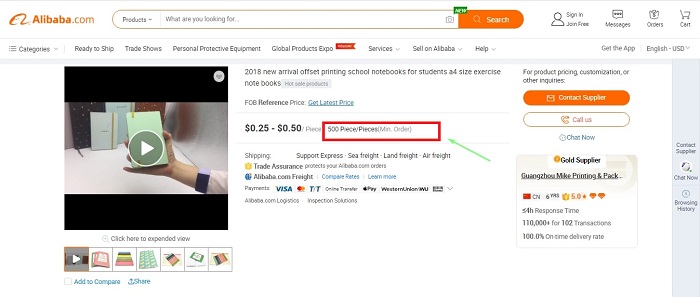 If you ask me to deliver just a single pen from China to Australia, I will throw a fit of rage. So, this is why suppliers have a minimum order quantity.
Payment Options You Get from Alibaba
When it comes to Alibaba, you get a variety of payment options. Here are some of the most popular ones:
Upfront TT (Bank Transfer)
Letter of credit
Western Union
PayPal
Escrow Agreement
Things to Beware of While Selecting Your Suppliers
"Self-help is the best help."
No, this is not an inspirational article. My point here is that until you prevent falling into scams by yourself, no one else can help you mate.
The way to do this is to play fair. And, how do you play fair?
Just follow me and you will learn the art of playing fair 😉
Check for Verified Suppliers and Trade Assurance Options
Whenever you finalize your product purchase, make sure you've ticked the Trade Assurance and Verified Supplier categories in the search bar.

This is especially important for the high-budget and high-risk products that you purchase.
Connect with the Supplier
In order to connect with a supplier, you can try Alibaba chat. In case that doesn't seem right or works, you may book a chat and talk over Skype.
Here's a heads up: The customer service is abysmally slow, so you may have to wait for a few hours to a day. However, the maximum time to receive a reply falls between 24-48 hours.
Ask for Samples
There is no point in crying over low-quality supplies when you never asked for a sample. So, prevent yourself the heartbreak and the headache that comes with erroneous orders or poor-quality shipments.
Precautions to Take While Finalizing A Supplier
Cutting to chase, here are some precautions that are imperative for you to take. Almost 99% of the time, you won't be scammed if you are smart enough to follow all the enlisted precautions. For the remaining 1%, it's your 'luck,' and all I can do is wish you some better luck, haha. You know, it's business. If there's profit, there's also a bit of loss.
Check for Unbelievably Low Prices from New Sellers:
It's a red flag that screams 'NO' to your face. Fraudulent suppliers offer unbelievably low prices and then ask for payments through untraceable methods like a wire transfer. If you meet sellers like these, I would recommend pressing alt + F4. Yes, start over. Close everything!
Pay Me Quick, Pay Me More:
When it comes to fraud, suppliers are as cautious as you're. So, it's good if they're asking for payment options, obviously they're not doing it for free. But again, if they keep insisting on paying a huge sum in advance without Trade Assurance, don't ignore the red flag.
Unreachable Phone Number:
Try to call the supplier on the given phone number. If you want to add an additional layer of security, check if they have fax numbers and try to send an invoice, and ask them to confirm receipt via fax. Note that small suppliers may not have a fax, so don't beat them up for not having a fax number.
No Business Email:
This may be subjective. However, if a supplier flaunts about being a part of a big company and yet they don't have a business email, it could be a red flag. Also, be cautious if a supplier's company name is the same as their personal name.
Become A Global Seller – Dropship Alibaba Products on Shopify with A Paid Plan
If you're trying to sell your products, Alibaba's paid plan can be a great means to expand your business and increase sales. It allows you to build your eCommerce presence fairly easily.
Features of Alibaba Paid Plan
Custom Store Interface
Make your store stand out by designing it on your own. What I like the most about it is – you don't really have to be a coding expert or a person of technical skills.
Advertising Tools
Forget about hiring a dedicated marketer for your store as Alibaba's paid packages come with advertising credits that you can utilize to advertise your products better.
Analyze the Data for Your Store
You will receive a detailed report about how well your store is performing. The dashboard informs you about features like click volume, store visits, product exposure, spend, average cost, and much more.
Enhanced Customer Support
Being a global seller at Alibaba, you will receive priority customer service. And if you go for the Premium package, you will have a dedicated manager. In case you're just a beginner, you don't really require the 'Premium' package. So don't fall for the lure of it.
How Much Does Alibaba Costs?
If you want to dropship Alibaba products on Shopify and you own a small to medium company, it's all good because the features don't vastly differ between the two plans. And trust me, basic is enough!

If we talk about the premium plan, it's recommended for those who have high volumes of sales and require dedicated support.
How to Integrate Alibaba with Shopify for Dropshipping
Want to dropship Alibaba products on Shopify easily? In that case, Importify might help and let you import the desired products from Alibaba to Shopify. Here's a quick tutorial to do it right.
Step 1: On the Home screen of importify, go ahead and click on alibaba.com.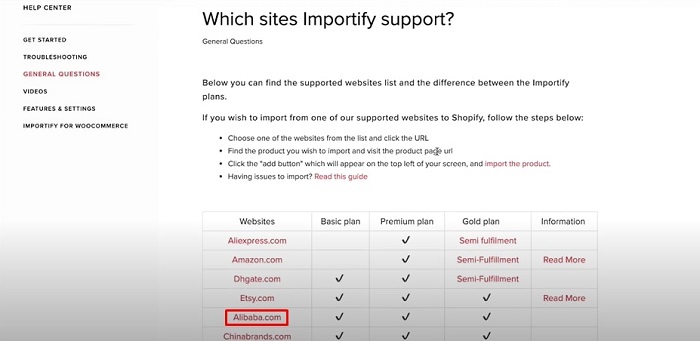 Step 2: Find the product you wanna sell and click on it to get more details about it.

Step 3: Click on the red color 'add' button you see on the left hand side of the product page.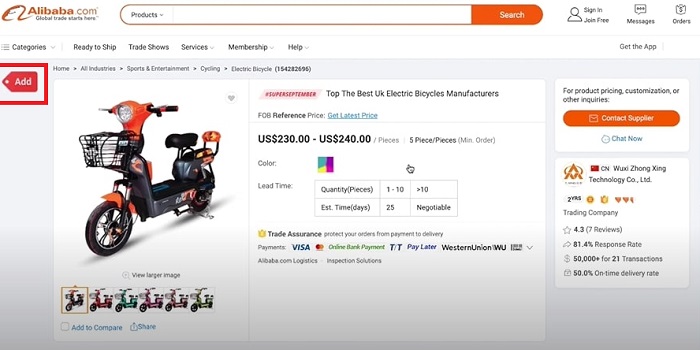 Step 4: A window with all the editable product details will open up. You can edit the title, the product description, and choose the images you wanna display on your Shopify product page.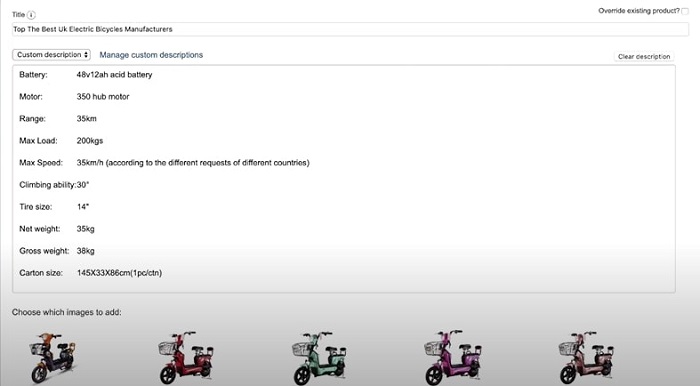 Step 5: When you scroll further down, you also have the option to change the pricing, variants, and put in organization details. Some people don't put organization details but I would reckon filling it up because that builds credibility.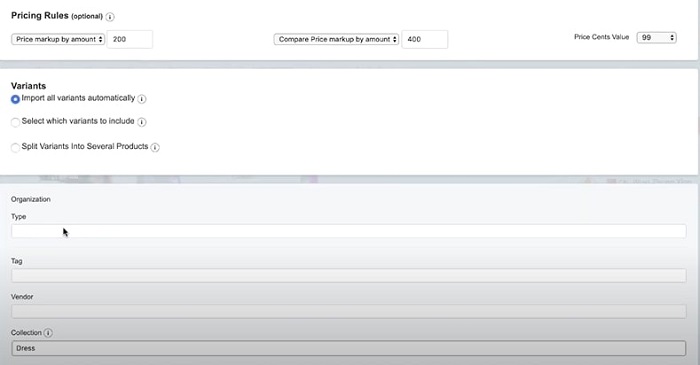 Step 6: Once you're done, click the "Add to you Shopify" button.

Step 7: You will get a confirmation of the product being added successfully and it will look like this:

You can check your Shopify import list or view button in the above image to see the product. If you want to further edit the product, just click on the edit button.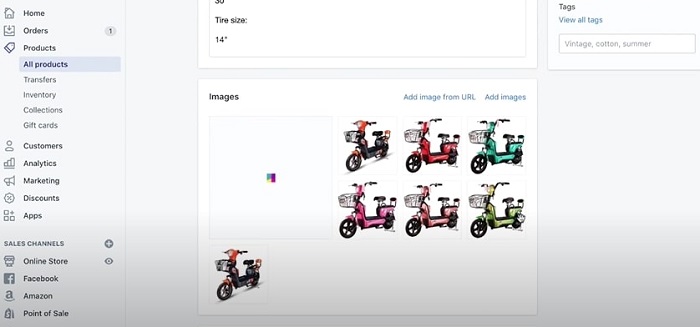 There you go! The product is now successfully added in your Shopify store import list.
Pros and Cons of Dropshipping Alibaba Products on Shopify
We weigh pros and cons before making an important decision. And if want to know how to dropship Alibaba products on Shopify, we should do the same here as well. So let's just see the benefits and drawbacks both.
Benefits of Dropshipping Alibaba Products on Shopify
Absolutely low manufacturing costs (save on this for marketing your store)
Seamless web store navigation
Huge range of products to choose from
Events like 'Virtual Trade' shows up with innumerable networking opportunities
Could easily integrate with the help of Importify
Drawbacks of Dropshipping Alibaba Products on Shopify
Poor and slow customer service
Overcoming the language barrier may be a problem
Longer shipping and waiting time
Is it A Good Idea to Dropship Alibaba Products on Shopify?
From personal analysis and experience, I believe that Alibaba can take your Shopify dropshipping endeavors to the next level. As any business is concerned, it ultimately depends on how smartly you take risks and leverage profits.
Using Alibaba the right way with Shopify and the right buyer protection enables you to mitigate an excess amount of risk.
Now that the risk is reduced, what else do you have to do? A key tip from my end would be not taking features of alibaba for granted.