Wheelio Shopify app takes customer engagement on your online store to the next level. With hundreds of new online stores coming up every week, Wheelio knows how to make your store stand out from the crowd.
The online store business is fast-paced. The average time a visitor spends on a new online store is 30 seconds. To convert this fast-moving website traffic into customers, your store needs to grab the attention of visitors quickly.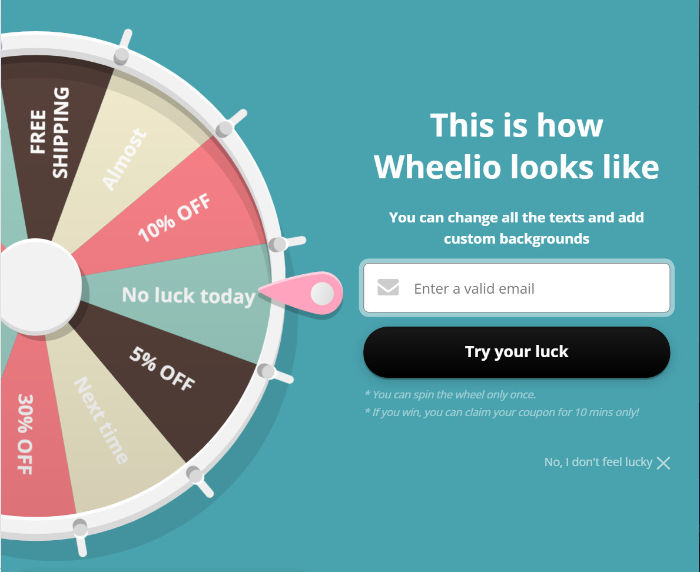 This is where Wheelio becomes your superhero. It builds excitement for your store and engages your visitors with exciting & unique popups.
Shoppers love surprises and store owners get visitor engagement because of it. Let's dive straight into it and know how to convert visitors into leads with Wheelio! 
Features of Wheelio Shopify App
Wheelio Creates Urgency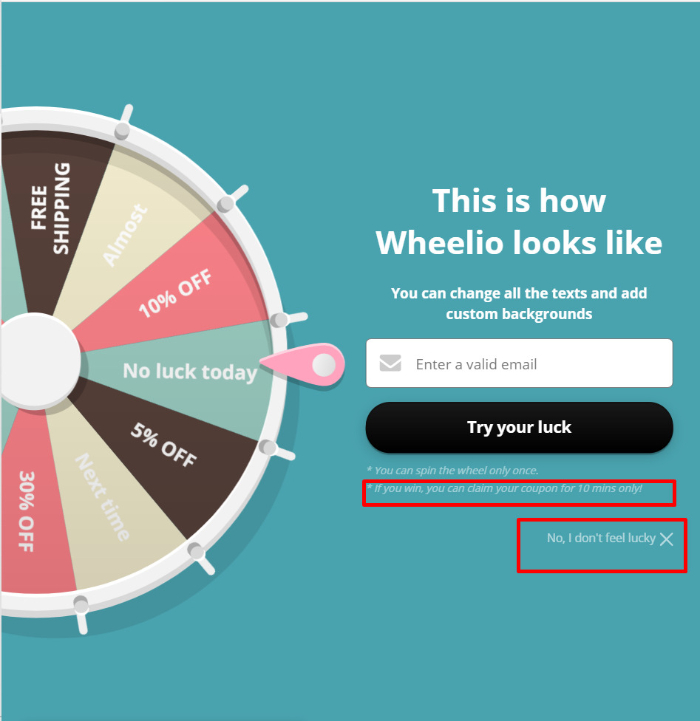 Which button would make a visitor think twice: A simple 'No' button or a button that says 'No, I don't feel lucky?'
The second button is what will make a visitor think twice and make them press that 'Yes' button. Meanwhile, you can easily convert this visitor into a lead.
Wheelio gives the visitor a 10-minute deadline to make their purchase using the coupon code they win after spinning the wheel. Most visitors see this as a 'golden opportunity to make a purchase. So, tada! You've killed 2 birds with 1 stone – I mean, you've won both, a lead and a customer with Wheelio.
Popup Works Even When Adblocker Is Enabled
Gone were the days when your store notifications and popups were dependent on browser permissions.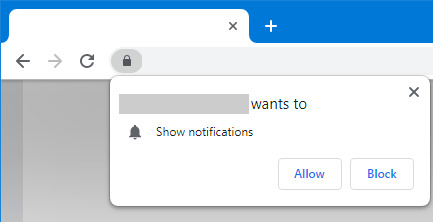 This is the best feature of Wheelio because browsers or Ad Blockers don't see Wheelio as a spammy popup.
When you use other traditional popup creators, most browsers give desktop visitors the option to close those pop-ups, minimizing customer engagement.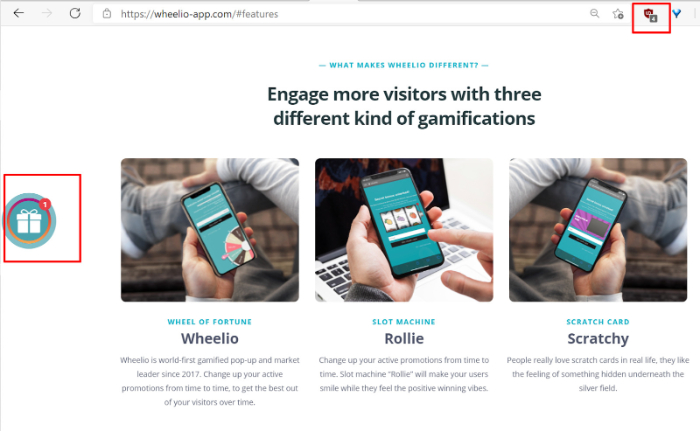 I've used Wheelio while running an Ad Blocker and Wheelio still works flawlessly because it comes up with a not so shady popup that is super user-friendly as well as professional.
Gamify Your Marketing
Wheelio comes in 3 different types: Wheel of Fortune, Slot Machine, and Scratch Cards. With its large number of customizations, your store won't miss the visitor's attention.
SMS, Messenger, and Push Notifications
Wheelio is versatile in nature because it can collect a range of leads (phone number, Messenger contact) via its large integrations list.
GDPR Compliance
Any and every popup created on Wheelio can be made GDPR compliant. If you collect phone numbers for leads, you can easily make your popup TCPA compliant.
Email Validation
Your leads won't be able to put in emails like [email protected] or [email protected]. Wheelio does all the email validation for you so that your leads list can be free of spam and invalid emails.
Automatically Applies Coupon
Customers don't have to open their notepad to scribble in the coupon code. Wheelio prevents the hassle by easily applying the coupon code to the cart so that your customer can enjoy a smooth checkout.
Speed Optimization
Wheelio actively works on speed optimization and this way you get the best lead generation popup for Shopify without the hassle of a low site loading speed.
Customize As You Like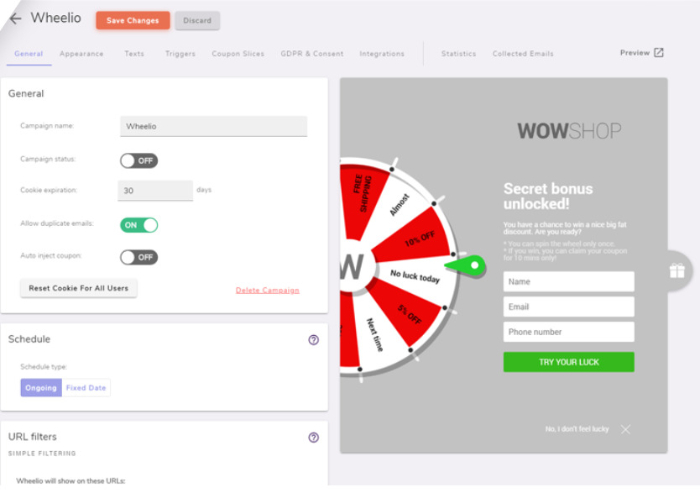 Wheelio's interface is absolutely intuitive. You can easily customize your popup to match your store's branding.
Mobile Traffic-friendly
Visitors are increasingly using mobile devices for online shopping. Wheelio is completely mobile responsive, so you get the best of popups even for your mobile visitors as well.

Some Wheelio Integrations You Should Know About
Shopify
In a couple of minutes, you can integrate Wheelio with one of the leading eCommerce store building platforms called Shopify, which is also known for its user-friendliness.
Features of Shopify
Analyze traffic, conversions, and customer demographics using Shopify's Sales Analytics.
Shopify promotes a fast shopping experience, offering unlimited bandwidth and online storage.
Has its own payment gateway with 0 transaction fees.
Shopify mobile app allows you to track sales, inventory, and much more without any hassle.
WooCommerce
WooCommerce is a free and open-source eCommerce website builder plugin on WordPress. It smoothly integrates with WooCommerce to convert visitors into leads.
Features of WooCommerce
WooCommerce enables product embeds so that customers can quickly add the product to their carts.
Being a WordPress plugin, your store will have in-built blogging features to engage your visitors.
Assists you in setting the language interfaces and currency conversions.
An open-source plugin that won't throw a bunch of offers in front of you.
ActiveCampaign
ActiveCampaign is an intuitive email marketing service that creates high-converting email campaigns for your subscribers. Besides, it also has a huge range of advanced features for email marketing.
Features of ActiveCampaigns
Simplifies marketing using in-built social media monitoring and reaction automation.
Supports a targeted reach by finding contacts based on age, gender, and location.
Intuitive API and Drag & Drop email designer.
Event Tracking system gets triggered when a user logs into your website, sending a follow-up campaign.
MailChimp
If you have been into internet marketing, I'm quite sure whenever email marketing comes to your mind, the first thing that comes to your mind is MailChimp. Here are a few features of Mailchimp you might wanna know before integrating it with Wheelio.
Features of MailChimp
Personalize your marketing campaigns leveraging amazing automation, abandoned carts, recommend products, and follow up on orders.
Segment your subscriber list sneaking up on various categories like age, location, purchase habits, and more.
Track the performance of your email campaigns and assess what attracts a lead and what doesn't.
Create mobile sign-up forms and enable social sharing for your email campaigns.
Recart
Recart is a Facebook Messenger marketing service that works best for abandoned cart recovery. It automates chat sessions with your visitors and leads.
Features of Recart
Send initial welcome messages to give your customers a discount or an awareness about ongoing sales.
Notifies your customers whenever they get their order.
Customized messenger campaigns that match the identity of your brand.
Integrate with review collecting apps like Loox to receive reviews on your products.
Postscript
Postscript is an SMS marketing platform that drives SMS campaigns and automation for your Shopify store.
Features of Postscript
Automate your SMS marketing campaigns with notifications for abandoned carts, shipping status, and more.
Postscript enables 1:1 text messaging for promoting quick sales.
Track per-message performance to see such SMS campaigns that integrate data with Shopify
Automatic TCPA compliance for SMS marketing
Now that we have seen how powerful Wheelio's integrations are, let's learn how we can use Wheelio on Shopify.
A Step-by-Step Guide to Use Wheelio On Shopify
Setting up Wheelio is quite straight-forward, just follow my lead here:
Step 1: Search the app on your Shopify store and install the app.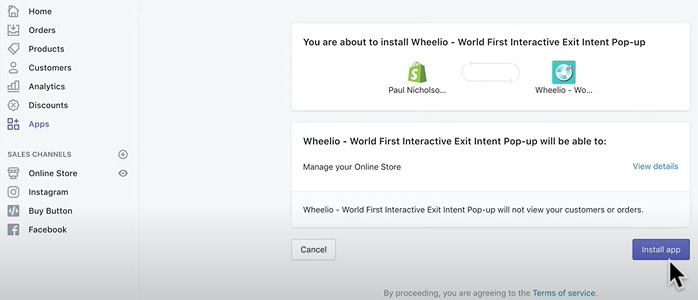 Step 2: You will reach the Wheelio dashboard where you can do all the crazy things, haha, just kidding!
Alright, the 1st part you see will be the 'General' tab. Go ahead and enable Wheelio from this tab to keep a track of the traffic analytics.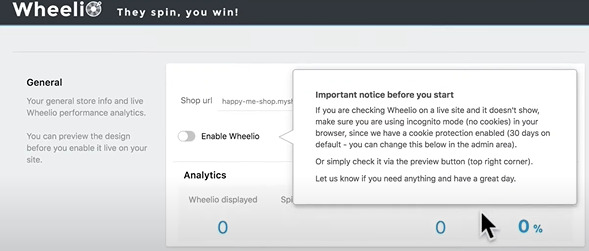 Step 3: Enable the option and click on 'Preview Wheelio on my site.'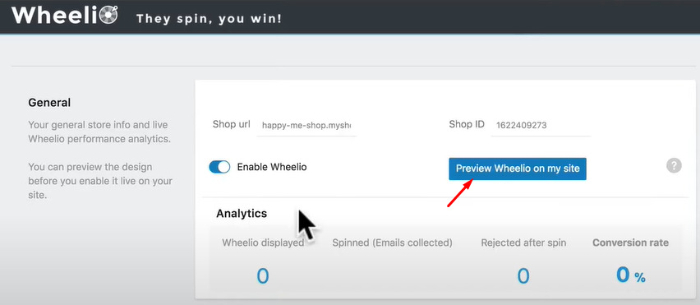 Step 4: Once enabled, this is how your visitors are gonna see your offer: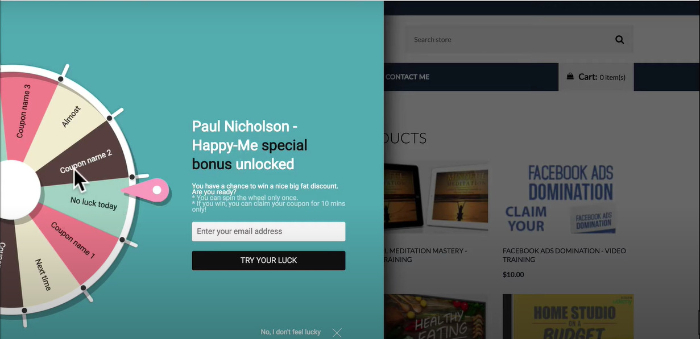 Along with this, you can give coupons, asking for an email in return. Yes, that would build a great list!
Step 5: If you have a pro plan, scrolling further down in the general tab, you can also enable the below options and have even better results.

Step 6: The next tab after General is 'Branding'. Here you can set a logo, write a catchy title, description, etc, for your Wheelio's home screen display.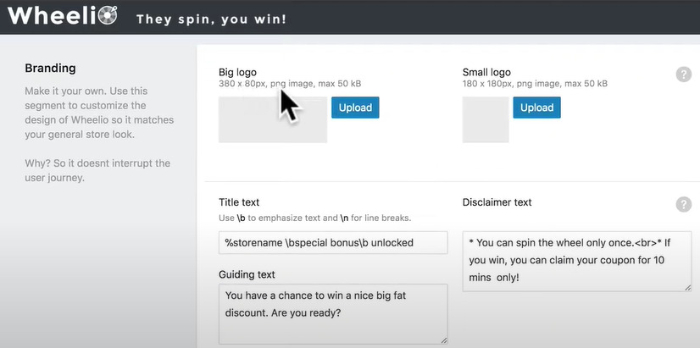 Step 7: The next part you wanna take care of is the 'Spin wheel.' As you can see here, the color tab lets you change the themes and colors of the spin wheel.
Make sure to use colors that are subtle to the user's eyes and give special attention to the text that goes above these rainbows. You users won't like it if they can't read the coupons they receive after their spin!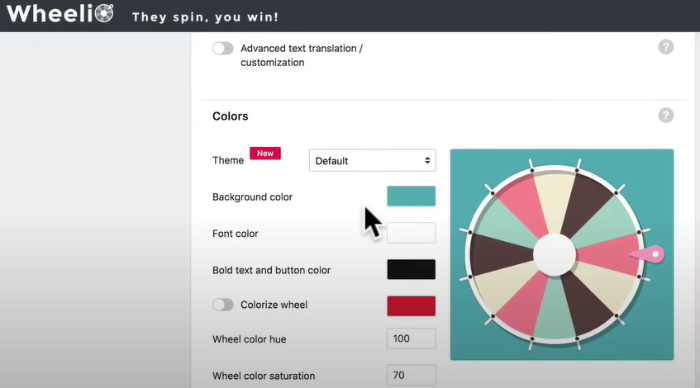 Step 8: Set the coupons or free products for your customer. Anyway, the 'Coupon Slices' is the next tab you wanna fill up!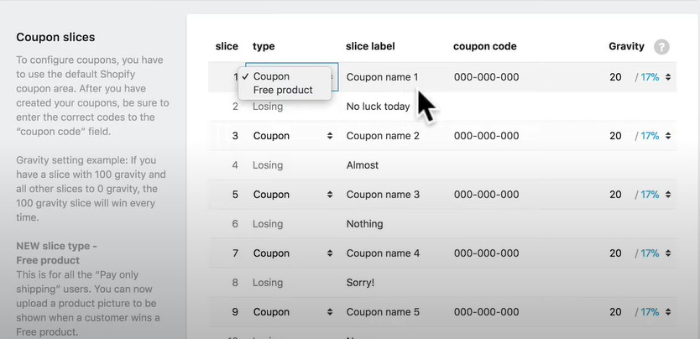 There's one very interesting feature in the Coupon Slices. Any guesses? It's the one column you haven't seen anywhere else – the Gravity column.
In this column, you can set the possibility of getting a particular coupon for your users. You don't wanna give away the most expensive offer you create for the game, right?

Step 9: When you're all set with these settings, go on and click on 'Preview.'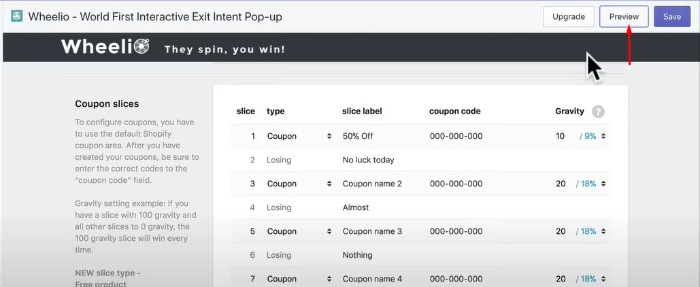 Step 10: There you go! Your magic game wheel is ready to bring you your email list along with user engagement, and a lot of conversions.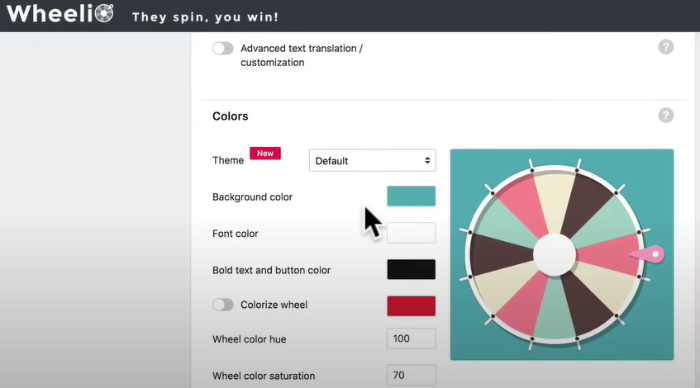 How Much Does Wheelio Shopify App Cost?
Wheelio offers amazing (and gamified!) pricing offers so that your business pays only according to the impressions your online store receives. It has a neat slider on its website that allows you to estimate the pricing. To simplify it for you, I've outlined the pricing and packages here.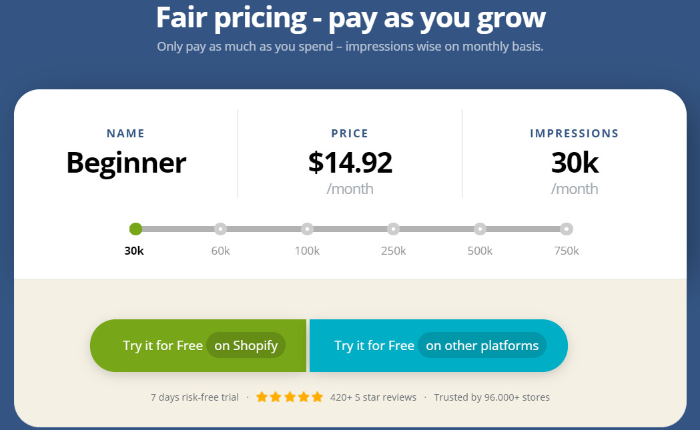 Beginner
This plan is best for those online store owners who have just started their business. If your store receives less than 30k impressions (visitors) every month, you can pay $14.92/month.
Level 1 – $29.92/month
In case your business gets more than 60K impressions, this is something you will need.
Level 2 – $54.92/month
This package works best when your online business begins to scale and receives 100k impressions per month.
Level 3 – $109.92/month
Your business is rising, and so are your sales. Choose level 3 when you receive monthly traffic of 250K.
Level 4 – $192.92/month
Bigger the business, the greater the number of visitors. Purchase this package when you reach monthly traffic of 500K.
The Big Guns – $249.92/month
You've reached the all-time high visitor impressions of 750K/month. Engage this huge level of traffic using Wheelio, paying $249.92 per month.

Pros and Cons of Wheelio
Pros:
Amazing solution for those online stores that are unable to convert their traffic into leads or customers
The interface is absolutely intuitive and beginner-friendly, so you don't have to be a CSS or HTML-guru to set it up
Offers a long list of powerful integrations like MailChimp, Recarto, Postscript, and more to level up your marketing strategies
Gives great value for money and doesn't burn holes in your pocket
Allows your online store to stand out from your competitor's website and drives better sales
Cons
If you opt for integrating more apps, the costs can soon add up. To tackle this disadvantage, you can keep a tab of what Wheelio integrations you truly need.
Is Wheelio App Worth It?
Yes! Wheelio is a versatile marketing tool to turn your store visitors into leads. It's a swift, mobile-friendly, and easy to set up Shopify app that offers a long list of integrations.
More importantly, you can make your store stand out from other online stores and brand your store for fun and engagement.
Although I've used Wheelio, I won't tell you how helpful it has been for me. That would be salessy, right? Instead of that, I want you to try it out for 7 days without paying anything. If this works, you can upgrade and then both of us can claim it works, how does that sound? Haha!