Imagine this – It's a calm Wednesday afternoon, your guest blogging game got better. Your posts have gained hundreds of reads, the traffic to your blog has increased, and your content now ranks higher on Google.
You feel like a winner in life already. But, how do you achieve that level of success in reality?
Guest blogging is an awesome way of building an audience for yourself and increasing your credibility by writing articles for other blogs and websites.
I'll be sharing valuable nuggets of practical advice on successful guest blogging in 2021. Don't worry, I won't throw jargon at you like other blogs. All you will find here are actionable steps that lead to quantifiable results.
So, pay special attention and take detailed notes along the way because if you don't, you're missing on success strategies. Grab your pen and paper (or your favorite note-taking app) and let's get started!
Importance of Guest Blogging for Your Business
It's not 2005 anymore, your website can't rank on page 1 in Google search results just by existing on the internet sphere. According to Worldometer, there are around 7 million blog posts published every single day.
While I'm writing this article, there have already been 7.44 million blog posts published already.

And that's insane! This is why you need to level up your strategies and look for more guest blogging opportunities to widen your audience. Here's how guest blogging would do the magic for you.
Attract The Right Kind Of Readers
Don't lose your voice in the noise of blog posts that get published every single day. You will keep slogging on your blog with minimal results if you don't learn how to market yourself.
People will find you only if you put yourself out there. A good chunk of your targeted audience would already be following the website where you're going to submit a guest blog.
So, when you show up and say "Hey, I do this and I have answers to your XYZ problems," your audience would go like "Wow, let's check this person out."
A good writer needs to be a good self-marketer. But hold on, don't start stressing about marketing skills. You will find everything that you need to succeed in guest blogging here.
Build Up Your Domain Authority
What is guest blogging in SEO and who doesn't like to rank higher on Google?
Another great advantage of guest blogging is that you can backlink the article to your website. The clickthrough rate might be low but it doesn't matter as much.
Building up backlinks automatically improves your website's domain authority in Google search results.
However, don't excessively backlink to your website. Guest blogging is not about excessive promotion. After all, just writing a memorable guest blog does all the self-promotion for itself.
Build Your Personal Brand
Since you're past the crucial stage of putting yourself out there, you've already set yourself up for success. A good chunk of writers avoid writing guest blogs because they deal with a little bit of impostor syndrome.
They think they are not knowledgeable enough to share their insight on other blogs. Don't pull yourself down like that.
When you grab the opportunity, you already appear as a confident writer. Besides, if you write something memorable, people's minds would relate a particular niche to you.
Providing quality content and building trust with the reader goes a long way than just building a readership. You might end up impressing publishers and headhunters who often follow such blogs and websites.
Network With Top Professionals
Let your work entice people into reaching out to you. After all, who doesn't like being around a charismatic and knowledgeable writer?
Writing quality guest blog posts for blogs or websites in your niche can build strong relationships with other bloggers and professionals in the industry.
Top professionals look for two things – the value you generate and how you convert this value into tangible measures like email subscribers or the number of shares.
Once you succeed in these two parameters, they might invite you to promote their latest courses or products as an affiliate. Guest blogging in 2021 builds a collaborative network that goes wider than you think.
Pre Guest Blogging Preparations
Now that you're all familiar with how guest blogging opportunities can open big doors for you, let's jump straight into how you can prepare for writing a guest blog.
Set Your Guest Blogging Goals
If you don't have clear goals for writing a guest blog, it would be difficult to get useful words on paper. Here are a few examples to guide your guest blogging goal setting:
Reach a new but relevant audience
Drive traffic to your site
Expand your social media presence
Grow your credibility in a particular niche
Be recognized as a helpful go-to resource
Improve your website's SEO with backlinks.
Having your guest blogging goals as a compass, you can navigate towards audiences and blogs that add value to your work.
Finding the Best Guest Blogging Opportunities
Make Google Your Bestfriend
Most blogs have straightforward guidelines published on their websites for guest bloggers. You can do a quick Google search to find these guidelines.
There are a lot of websites that have special sections dedicated to "write for us" or "submit a guest post." Here's what I did to find guest blogging opportunities.
Google "submit a guest post" + "keyword" For example, I'll search for "submit a guest post lifestyle".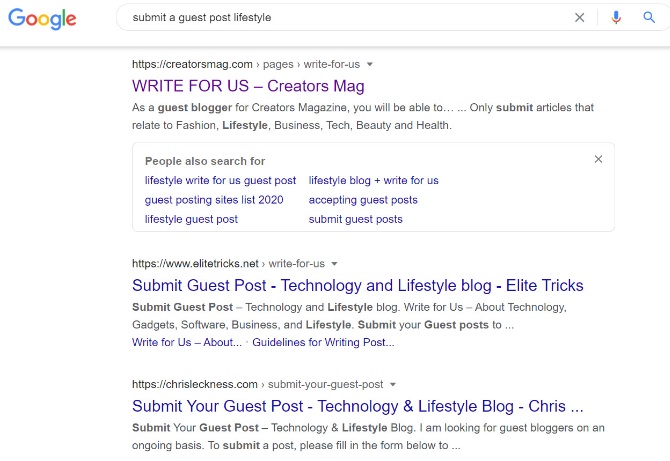 Compile your own list by checking all the search results.
Don't worry if your niche is narrow. I've got a bunch of ways you can search for guest blogging opportunities. Just use this as your search guide:

Influential Guest Bloggers
You might start envisioning suited professionals sipping wine at a high-profile party by hearing the word influential.
What I truly mean by influential guest bloggers are those bloggers who know what they're doing. These bloggers have a good grasp over their niche and are willing to share their insights on a range of websites.
You can google "keyword" + "influential bloggers list" and hit enter. I'll do one for a quick demo: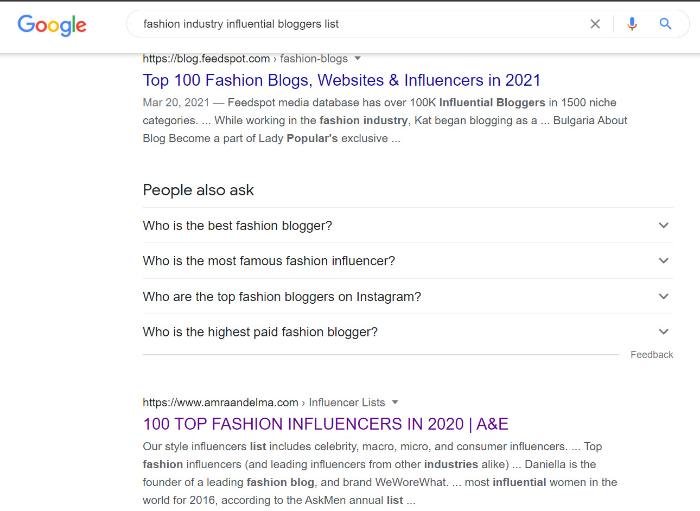 Competitor Backlinks
Whether it's market research or backlink hunting, competitor research goes a long way. However, manually keeping track of your competitor can be super draining.
But, we have a sneaky way out. Tools like Ahrefs and SEMRush let you spy into the backlink profile of your competitors.
Let me quickly show you how.
Go to Ahrefs Site Explorer and search for your competitor's website.
You will be directed to an overall website statistics page. Click on the backlinks on the top left corner and something like this would pop up: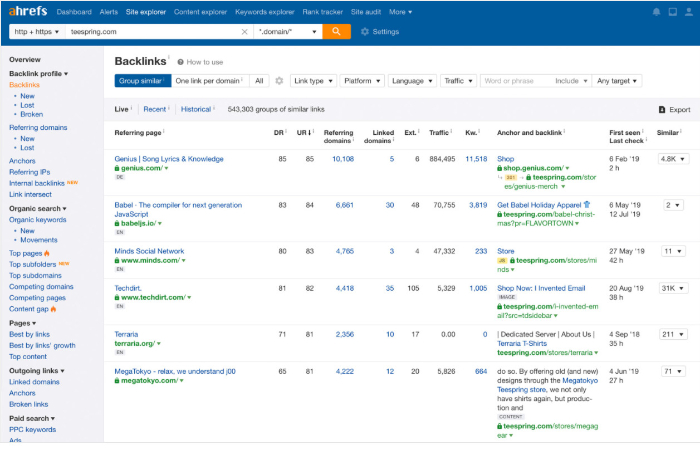 You will easily find any recent links from guest posts that they gained.
Social Searches
A lot of bloggers and guest posters share their guest posts on social media platforms. Since most bloggers actively use Twitter, you should use it to do a quick search. Just visit the link you get after the search and see if they're accepting guest posts.
Search "keyword" + "guest post" on Twitter.
I'll search for "fashion guest posts" and I see results like these: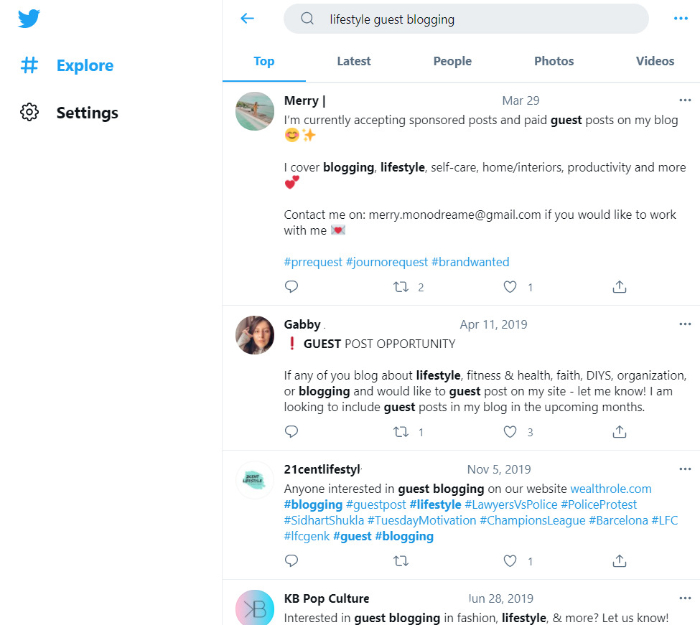 Sort by "latest" to find recent results or sort by "people" to find specific accounts or guest bloggers promoting their guest blogs or guest blogging opportunities.
And yes, check their profiles to find their websites and add them to your list.
Join and Contribute To Online Communities
Slack, Facebook, LinkedIn, and Medium – the opportunities are endless.
In most popular online communities, you will find guest post opportunities where members actively share what guest blogs they've written.
First, you should find and join these communities. You will also need to actively participate in discussions and share resources.
Once you use these platforms to earn people's trust, you start building credibility and people automatically reach out to you with guest blogging opportunities.
Prepare to Pitch A Perfect Guest Blogging Post
After doing your initial research, you will get a general idea of which guest blogging platform you would want to submit your guest post to.
Now, it's time to see what content you should be writing for the guest post and how you can pitch your guest blog idea to the website or blog owner.
Research Target Blog's Content
Find answers to these questions and get a deeper insight into the blog you will be submitting a guest post to:
What is this blog's target audience like? Do readers like a light read or are they into technical details?
Is this blog a B2B (more professional) or a B2C (casual and conversational)?
Does this blog go for listicles, stories, or tutorials?
Do they maintain a single tone or they like to diversify between chatty, journalistic, narrative, etc?
Keep An Eye On Their Guest Blogging Examples
You should check how well previously posted guest blogs were received by the readers of the blog. Do the readers seem more interested in one kind of topic than another? How did the popular guest blogs title their blog posts?
Also, check if the audience is being receptive towards guest blogs. Some blog readers interact way more with the blog owner than the guest blogger. I wouldn't say that you should totally avoid such blogs. Just place them on a lower priority.
Find Other Guest Bloggers On The Website
Check for a pattern between the guest bloggers that contribute to the website. Are the guest bloggers freelancers, business owners, niche experts, bloggers, or consultants?
By keeping tabs on the guest bloggers who contribute to the blog or the website, you gain an insight into how you can tailor your author bio to the likes of the specific website audience.
Best Time to Pitch A Guest Blogging Idea to Anyone
You've done your initial research, found the best guest blogging opportunities, and spent time searching the target websites. So, it's time for you to reap the fruit of all the initial hard work.
To reap this fruit, you must learn how to approach the tree (a.k.a the website) at the right moment. Harvest it too early and you won't see the benefit.
Leverage a good time to successfully secure this opportunity. Here are a few pointers that can guide you about when you should be pitching your guest blog idea.
A blog promotes the fact that they're looking for the guest post
Sometime after a blog publishes another guest post
You've been mentioned by a blog on a social media post
Your product has been listed in an article
Note this, there's no such thing as perfect time. You shouldn't keep waiting for the stars to align so that you can pitch your guest post ideas. Just keep note of the "good" times to pitch your guest blogging idea and you will do completely fine.
Proven Practices for Pitching You Must Know
Make Guidelines Your Bible
Most websites and blogs already have guidelines that are available on their website. If they don't, email them right away to have a proper idea about how exactly you should be structuring your guest post.
You will learn whether the blog owner requires you to pitch an idea first or if they would directly want you to submit a blog post.
The guidelines will also contain subtleties regarding the formatting, structuring, tone, and more. So always go through the guidelines before sending your pitch.
Add Personal Touches To Your Email
How would you like to be approached at a party? Of course, you wouldn't want to be called 'Respected Emma' or 'Dear Sir'.
The same applies to sending in a pitch. The reader doesn't want to be addressed so formally that the entire pitch feels like an awkward email conversation rather than an actual engaging talk.
Just like how you would like to appear charming in front of your crush at the party, your pitch should be no different. Of course, you shouldn't include pick-up lines in your pitch. My main point is that you should appear as an interested and friendly writer who is eager to collaborate.
Don't Forget To Introduce Yourself
It's good to demonstrate an interest in the website and the niche it operates in. Your pitch should definitely show that you've researched the website and its audience well enough.
But, ensure that you don't forget to write about yourself. What niche are you familiar with and what your interests are?
Make your pitch about yourself as well. Because obviously, the content manager is aware of what their website is about. They're not aware of who exactly you are. So take this floor to describe yourself well.
Pro Way to Pitch A Guest Blog Idea
Go self-promo way or highway. You need to provide solid reasons for other website owners to publish your work on their blog.
Include why you are the perfect guest blogger for their website in your pitch. Identify the website's pain points, key themes, and their way of solving problems for people. All of these things I'm mentioning, note them in your blog idea.
Go up to them and be like "Hey, I can solve this problem" instead of going like "Hi! I wanna write and submit a guest blog."
Also, don't forget to add a few links to posts you have published already. Go with posts that have some amount of reader interaction to show what value you can provide to their website.
Send A Great Email To Pitch Your Blog Idea
Let's see what points are most common in successful guest blog idea pitches.
Put their website at the center of your pitch. Show that you've researched well enough about the website and have identified a great idea that would further add value to their blog.
Keep it concise. Don't add a lot of fluff to your email. A good rule of thumb is to keep your pitch within 300 words because people don't often have the time for long emails.
Tip: Always give blog owners a choice and provide them with around 3 topics to choose from. It will save your idea from rejection because they will now have more ideas to choose from.
Introduce yourself and do some humble bragging. Give the content manager or website owner an idea about your experience and published work.
Writing A Guest Blog Post – The Heavy Work
You're managing your own blog, chunking out 2000-4000 words a day and editing stuff all on your own. I know it can get exhausting. That's where you need to work smart.
Hard work is outdated. Yes, you need to be consistent and get things done. However, you don't really have to burn your brain cells out while doing it. That's where content strategizing comes into the picture.
Writing Guest Post – The Right Way!
Writing isn't just about getting your words on paper, it's about strategizing the content so that you can get the best guest post drafted.
There are different types of writing strategies that you can use for guest blogging and I'll be explaining the top 3 for you.
Strategy 1: The Sponge Technique
To write guest posts quickly, you need to quickly absorb great ideas from other blogs. Search for those blogs that already dominate the market and check what content are people actually liking.
Once you find an awesome article idea that resonates with your niche, absorb the broad structures, get your creative juices flowing, sprinkle in your own writing style, and then submit it to the guest blog.
But wait! Don't ever engage in plagiarism. Absorbing broad ideas is very different from legitly copying things off a blog. Be mindful of the intellectual property of others and don't plagiarize.
Here's how you can find popular ideas for your guest blog post in 2021:
Search for relevant blog posts in your niche using content explorers like Ahrefs.
See the number of shares and referring domains. The higher, the better.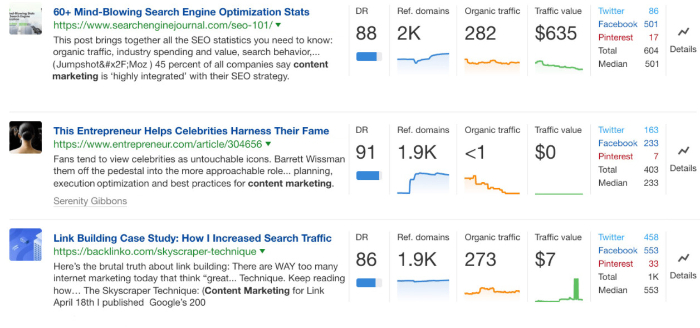 Read the relevant article and get a gist of the main idea. Note down the key points and do your own research on deeper points before you start drafting the main guest blog.
This sponge technique works perfectly each time when you need to generate high-value guest blogs in a short period. So don't worry about hitting the creative block anytime soon.
Strategy 2: The Chunking Technique
Break down a huge article into small chunks and create an individual article out of it. This method works perfectly well for those audiences who are looking for small yet practical articles to get the job done.
To illustrate the strategy better, I'll give you an example from this article itself. As you know, this is a comprehensive guide about how you can become a guest blogger in 2021. So, what I can do is I'll take each section and write a separate article out of it.
For example, I'll write a 1000 words article about how you can pitch your idea to the blog owner. Afterwards, I'll write another article on how you can set guest blogging goals.
Similarly, when you come across detailed guides about a particular topic, you can take a specific section out of it and craft a compelling article on it.
Your audiences will see these articles as a deep dive into a very specific topic and you're more likely to be seen as an expert figure giving some solid advice.
Strategy 3: Work Smart and Stick to Guidelines
Most blogs or websites have guest post guidelines outlined. When you go through the guidelines, you can clearly differentiate which guest blog will be too much work and which one will be a breeze.
First, understand the guidelines. Next, get your topic ready and then prioritize the article that needs the extra grind.
Get facts, numbers, and sources ready. After you have the "tough" article ready, create another article out of the same content, tweaking the broad structures of the tough article. Follow the guidelines outlined for the easier website and fit this new article into the same form. .
This way you will have two guest blogs ready. Ensure that you don't actually copy-paste everything from the "tough" article to the "easier" one.
Keep broad ideas the same but tweak the words and advice outlined in the two articles. Remember that you have to stick to the guidelines of the guest blogging platform that you will be submitting the article to.
But don't let your creativity be paralyzed by the fact that you need to stick to a structure. It's just that most blogs have their own style and would expect you to add yours flavour on to it as well. In fact, sticking to the structure would approve your guest blog quickly.
Crafting a Great Guest Bio
Once you hook your readers with a memorable guest blog, they will definitely scroll down to see your bio. After all, how can they not be curious about such an amazing writer like you?
Here's where you need to lure them into remembering you. People love hearing short descriptive anecdotes because stories are memorable and stick in their minds like gum.
Secret Formulas to Create A Stunning Author Bio
Check The Site Format: See if there's a standard format that the guest bloggers on the blog have to use. This step is important to follow if the guest blogging platform is strict about guidelines.
Tell Them About You: The meat and potatoes of your author bio should be a general description of you as a person, blogger, and niche authority. Don't forget to mention your hobbies.
Reflect Your Personality: Your bio is about you. Don't try to put in others inside it. One thing you can do to make it stand out is spilling some creativity while still coloring inside the lines.
Include a Social Link: People are glued to their screens and social media is definitely the best way they can reach out to you, in case they have questions or if they would like to offer some opportunities.
Here are a few examples of author bios that I've personally liked. Some are succinct and some are narrative, but all of them hook the reader in their own ways.
Some Examples of Great Author Bio
Example 1: Keeping It Short
Debby's bio does the talking for her. She doesn't say that she's an expert at XYZ, she rather lists her accomplishments to describe her expertise.

Example 2 – The Storyteller
Dave engages the reader by opening the bio with a personal touch. He doesn't say that he's been writing for a very long time. Instead of that, he offers examples that indicate how he's been there since the golden days of tech. Along with this, he goes on to offer a professional gist of what he has done and achieved so far.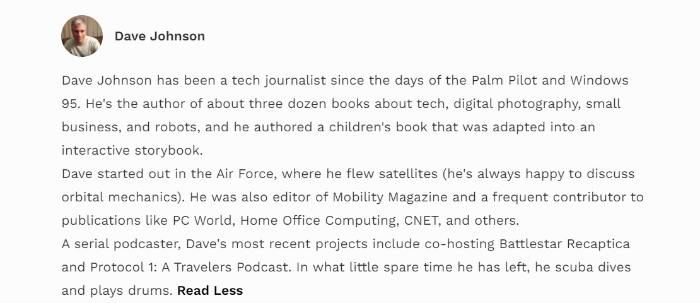 Example 3 – Tick All The Boxes
Esha covers all the basics first. She builds a connection with the reader by maintaining the first-person voice. Her bio includes the numerous publications she has worked for – demonstrating her niche authority. And finally, she neatly ends the bio by mentioning her social media handles.

Post Guest Blogging Steps You Wanna Know About
The work ain't done yet. The true connection building continues long after you've published your guest post. So, wait a little while before you sit back and call it a day.
But don't worry, it's not at all tedious. In fact, it's the most exciting part of your guest blogging journey. You actually get to see tangible results of your work here.
Track Your Guest Blog Performance
Be that excited little kid who keeps track of the scoreboard.
Although SEO isn't the end goal for writing a guest blog, backlinks are still important for you to increase your market credibility.
Ahrefs can be your bestie here. You can track everything from changes in the number of referring domains, organic traffic increase, and backlinks for which the website ranks in Google.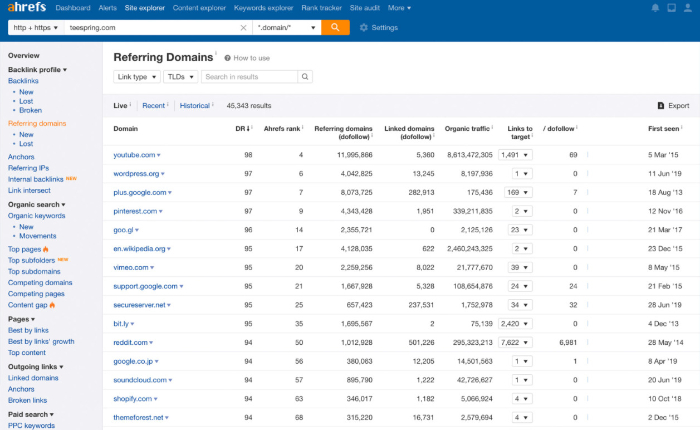 Follow Up for Your Post
Reply to Comments: Your responsibility doesn't end right after you hit submit. Free some of your time to respond to people's comments and answer their questions.
Promote Your Guest Post On Social Media: Social media literally exists so that you can brag about your work. So, don't shy away from some self-promo.
Thank You Email: Be considerate enough to thank the blog for providing you with the guest blogging opportunity. After all, thank you is a magic word. So, use it often.
Bonus On Guest Blogging
Yay! Who doesn't love bonuses? Let's quickly cover some awesome tips on how you can master guest blogging in 2021.
Bonus 1: Impact of Guest Post on SEO
Guest blogging is a great tool for you to establish domain authority and rank better on Google. Do you know Google is a pretty simple kid to decode?
This kid likes simple and relevant stuff. He gets excited when people hype about something. In other words, Google values quality content. When Google sees that other guest blogging websites are linking back to your blog, it would assume that the content on your blog would be of good quality.
Google is furthermore impressed when people comment and share your blog. This improves your page ranking for a certain list of keywords.
Bonus 2: Effective Tips for Guest Blogging
Don't Cloud Your Article With Too Many Backlinks: It would lower the quality of your content and the owner of the guest blogging website may reject your article for it. Ideally aim for just 1 or 2 backlinks.
Encourage Interaction With The Reader: Drop in questions like "let me know your thoughts" "what do you think" "how do things work for your website" in your guest blog so that readers can share their own stories in the comments.
Don't Abandon Social Media: A humble brag is always an option. After all, if you don't showcase your work on social media, how will someone else find it easily?
Craft A Memorable Author Bio: Let your bio be as memorable as the taste of wine on the first date with someone you admire. You get the idea?
Where to Go from Here?
We have successfully covered the A to Z of guest blogging in 2021. Now you gotta take that leap of faith and be the superhero of your writing career.
Don't be afraid of reaching out to a bunch of relevant websites or blogs. No one will know how cool you are until you take the initiative to display your super coolness.
We've covered how important guest blogs are, how you can prepare for writing one, what strategies you can employ to draft a memorable guest blog, and finally how you can ace the post guest blogging steps.
You're now totally equipped with all the information that you need for becoming a successful guest blogger. All you have to do is get started!