When you pay for a strategy in your business, you expect high ecommerce conversion rate. As a matter of fact, these conversions have become the vital point of strategic marketing because they maximize the production of every cent you induced in pay-per-click.
An eCommerce conversion rate means the number of people who visited your website vs those who purchased something to benefit your business in a given time
If we take an average, we can say a good eCommerce conversion rate falls in the range of 1%-2%.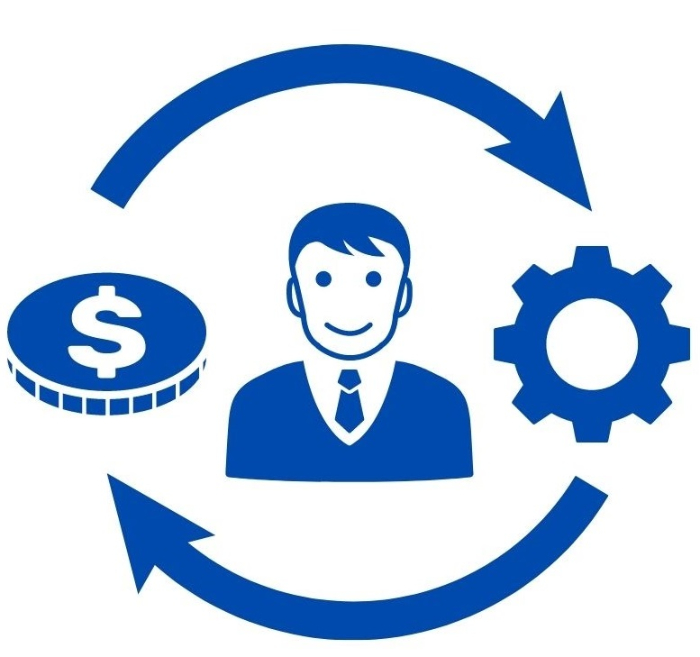 So today we're gonna go through the various aspects that can get us a better conversion rate for our eCommerce businesses.
Secondly, there are various myths associated with the conversion that we will discuss in detail. At last, we will look at how to get a higher conversion rate than average businesses.
Let's Clear the Biggest False Practice of eCommerce Conversion Rate
There are many experts who dispense information regarding the ideal eCommerce practice. But what if we tell you that most of this is based on false practice? Most of these practices offer a shiny glimmer on the surface but have a hollow core.
People often assume many things. While this may work out for physicists (who assume too much), it works less for eCommerce businesses. Common assumption companies make is believing that all people use the website in the same way. Or that, a similar conversion tip will be effective for everyone. However, these are all misconceptions!

So why do a majority of people have a wrong idea about it? To simplify, students learning in the same class acquire similar knowledge. Don't be one of those students. To separate yourself, play a different game and remember the following points while working out the most effective strategy for your business:
All users are unique and they use the interface differently
Every website uses unique and special tactics to gain a higher rate (there is no one glove fits all solution)
Have a support for 24 X 7 for real and not for standby
Content is reviewed by a search engine, not a real human
Even the best workman needs the right tools
The regular way to test a conversion rate is ineffective because every business, irrespective of their experience, uses primitive conversion methods. Optimizing your site may increase its user visits and standby time by one or two percent. However, a one or two per cent rate won't translate to a higher conversion rate.
Let's say you test for conversion rates using a small sample ratio and attain a conversion rate of 4-5 percent. Although this conversion rate may look good, it's not enough to guarantee a similar result when subjected to a larger test crowd. To be more precise, you need to have a large sample quantity to test for good eCommerce conversion rates.
Here's an Example: if you put out 50 samples and get an increment of 4% in your conversion rate, you might think that it's good. Guess what? This might seem good on the surface only, it can't guarantee similar results when the pool or sample size increases to a thousand or millions.
What Is A Good eCommerce Conversion Rate?
If you have a 1-3% conversion rate and think of it as an achievement, we must tell you that you're still in the average performance field. For most eCommerce sites, 1 to 2% conversion rate is the standard. Some might even reach up to 5%. So, how much is good?
I looked at a report that analyzed the patterns of eCommerce sites over a period of 3 months.
The report stated:
One-fourth of the total accounts have a conversion rate of less than a single percent. The maximum number of businesses (median) has a conversion rate of 2.35%. But the top 25% of accounts were seen to have a conservation rate of around 5.31%! Thus, the top stores have double the rate when compared to the majority of stores.
This means that a few top brands and sites have a way higher rate than those that are below the 70 percent. Further, 10% of top advertisers that are using Google Adwords have a conversion rate of 11.45%.
The conversion rate doesn't vary for different landing pages but works for an overall account.
Generally, some changes like a better UI can temporarily boost conversion rates. However, such changes are surface changes and the rates can often hit a "plateau" as users get used to it. So, achieving one is going to require a bit more work than general and some primitive tactics. And in a few seconds, I'll tell you exactly where I'm heading with this.
eCommerce Conversion Rate Formula
To calculate the conversion rate, divide the overall transaction by the total impression on the website and multiply the result by 100. This is your domain's conversion rate.
Ecommerce Conversion Rate Calculator 👇
Conversion rate = (Overall transaction/ total impressions on the website) *100
For example, if you get 250000 visitors on your website and about 2500 transactions, your conversion rate of the month will come around 1%.
2500 (no. of transactions) / 250000 (no. of visitors) * 100 = 1% conversion rate
When you start calculating the conversion rate of your eCommerce website, you may accurately predict your performance. In this way, you can strategize your business more accurately to achieve better conversion rates and website traffic.
What is A Good eCommerce Conversion Rate As Per Industry Standards?
When it comes to the internal goals of business, market-specific conversion rates have higher significance than simple ones. Ecommerce conversion rates by industry 2021 prove to have high-value assets for dealing with a large number of goods and services.
The IRP (Intelligence, Returns, Profit), stated as the best website to study data related to the market shows the average eCommerce conversion rate by industry 2021. According to the IRP survey, the industry conversion rate for several industries are as follows:
Agricultural Supplies – 1.41%
Arts & Crafts – 4.01%
Baby & Child essentials – 0.71%
Automobiles – 1.36%
Pet Care – 2.51%
Kitchen & Home Appliances – 1.61%
Home accessories and gift care – 1.46%
Food and Drink – 0.90%
Health and Well Being – 2.02%
Fashion Clothing Accessories – 1.41%
Analyzing Benchmarks of A Good eCommerce Conversion Rate
Watch Out for the Country You're Targetting
Before calculating a KPI for your business, consider benchmark conversions of companies from the leading commerce countries.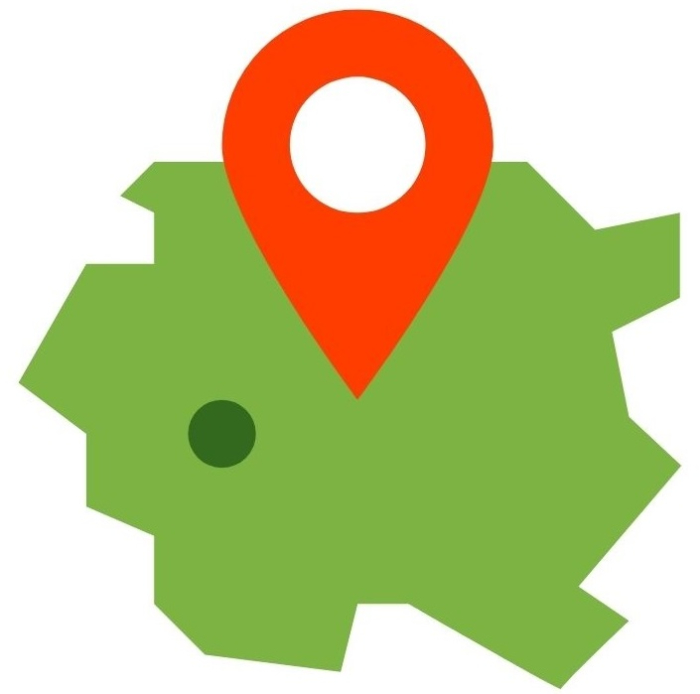 For example, the conversion rate of eCommerce websites in Bangladesh may differ from those in Canada. Several factors affect the conversion rates from country to country. Here you can have a look at some:
Established Market: Countries having established brands in the market have higher conversion rates than those with flourishing brands that are competing against each other.
Parity Power Purchase: Considering the demographics, consumption rate, and resource utilization of a country, it affects the conversion rates to a great extent.
Penetration of Credit Card: The rate of credit card penetration differs from country to country. For instance, the penetration rate of Czechia is 25% but other European countries like Russia and Ukraine have more.
Logistics and Distribution: Not every country in this world has firm logistics and distribution, which results in low conversion rates as they're unable to gain high-profit velocity in the eCommerce business.
Different Channel Usage
Earlier, we discussed the average conversion rates based on various industry standards and country analysis. Several channels act as a source of traffic for online businesses. Calculating conversion rates depending on different channel usage has its own significance.
Furthermore, these conversion rates define the specific channel conversion figures for your business so that you can know which channel sources are the most profitable ones.
According to recent survey statistics, traffic generated through referrals has the highest traffic rate, followed by social media and email traffic.
Since every eCommerce website has something to offer to its customers, the offers get highlighted to the targeted audience using different marketing strategies like guest posting, referral links, emails, social media campaigns, etc.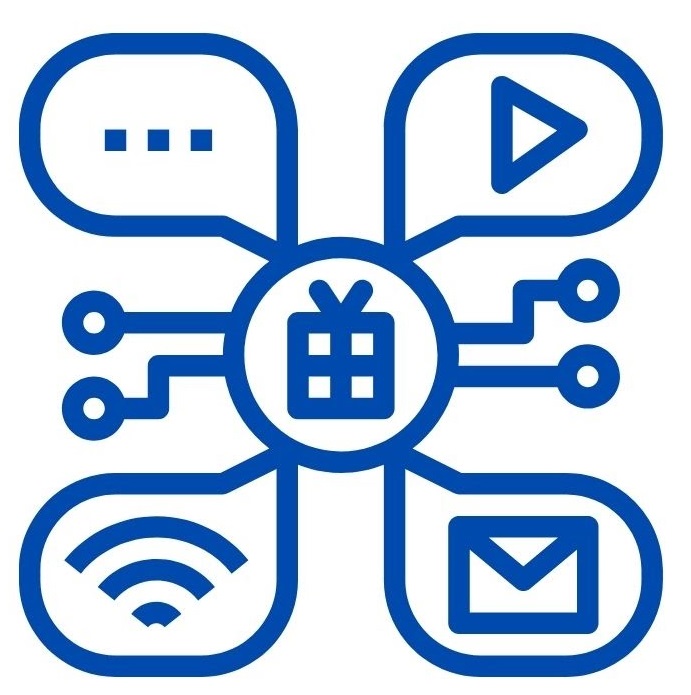 Each advertising strategy attracts customers to your eCommerce site, increasing its engagement. If we get more into details, you will notice every business works for higher conversion rates.
The conversion rate from different channel sources remains constant for the best and the worst irrespective of the industry type. However, for some businesses, the channel source conversion may differ in the traffic rate. For example, in the sector of food services, email marketing works better than other sources.
In the case of social media advertising, Facebook remains the foremost priority of most companies as it has higher traffic conversions for fashion, cosmetics, health, etc.
Device Used (Might Give Good eCommerce Conversion Rate)
Which device do you use the most? Does it matter? It might seem baseless to note devices used to visit your eCommerce website but they work like charm. (only when you know the way to leverage)

Benchmarks related to devices like mobile, desktop, tablets, etc., have a significant role in generating KPIs. According to the graph displayed below, the conversion rate for desktops and tablets is twice more than that of mobiles.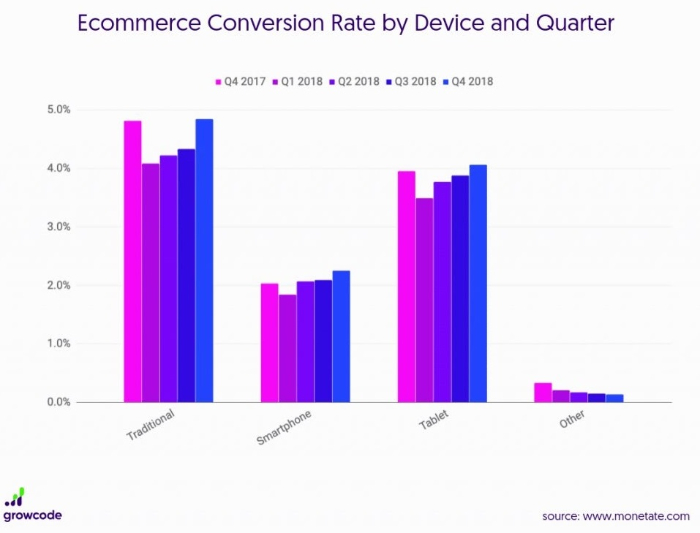 This information helps in improving the user interface and experience for the customers that are visiting your site. Not only this, it makes you see through those devices where your business has higher performance. You can target them specifically, releasing special features for that device.
An example of this is how some brands promote app usage by releasing special discounts and deals as push notifications. Desktop users may miss out on these if they don't have an app.
Most businesses design separate platforms for mobile, tab, and desktops. So, is it the UI that plays a role in making buyers more enticed towards purchasing? Or is the larger screen size that plays a role?
Browsing statistics are much higher for mobile devices. This explains why more and more businesses are releasing their own app for Android and iOS.
However, desktops see a better conversion rate as most transactions occur via them. This might be of interest to those that are designing the interfaces! A better understanding of making the transaction process easier on other devices can perhaps improve their transaction rates as well.
Statistics Related to eCommerce Conversion Rate
The worldwide conversion rate based on device usage is 2.58%
Mobile has a conversion rate of 1.82% whereas the desktop has 4.14%
Around 61% of customers depend on reviews before purchasing something
Facebook ads have a conversion rate of about 9.21%
The top-ranking website in Google has a CTR of more than 30% and the number drops by 10% as we move to the third-ranked site.
An eCommerce conversion goal must be more than 2% as a baseline.
Experts have predicted that most of the purchases will take place through eCommerce websites by 2024.
So, What's the Good eCommerce Conversion Rate After All?
Exploring the world of business through online platforms has become quite relaxing. Every day, hundreds of discoveries related to online sites come into existence. These studies set new benchmarks for eCommerce businesses. But, where should we draw the limits?
Try to acquire focussed research for your business conversion optimization. Use efficient tools like Statista and Baymard for primary & well-versed conversion rate optimization.
Finally, keep in mind that the supreme goal of increasing the average conversion rate for a retail store differs from that of an eCommerce website.
Hope you now know what a good conversion rate is.